Simple soup recipes, our guide to preparing and cooking some great tasting soups, packed with a rainbow of different vegetables and pulses.
This "20 simple soup recipes" post features our favourite soup recipes, all together in one post. Along with some helpful hints and tips to help you make the best bowl of soup!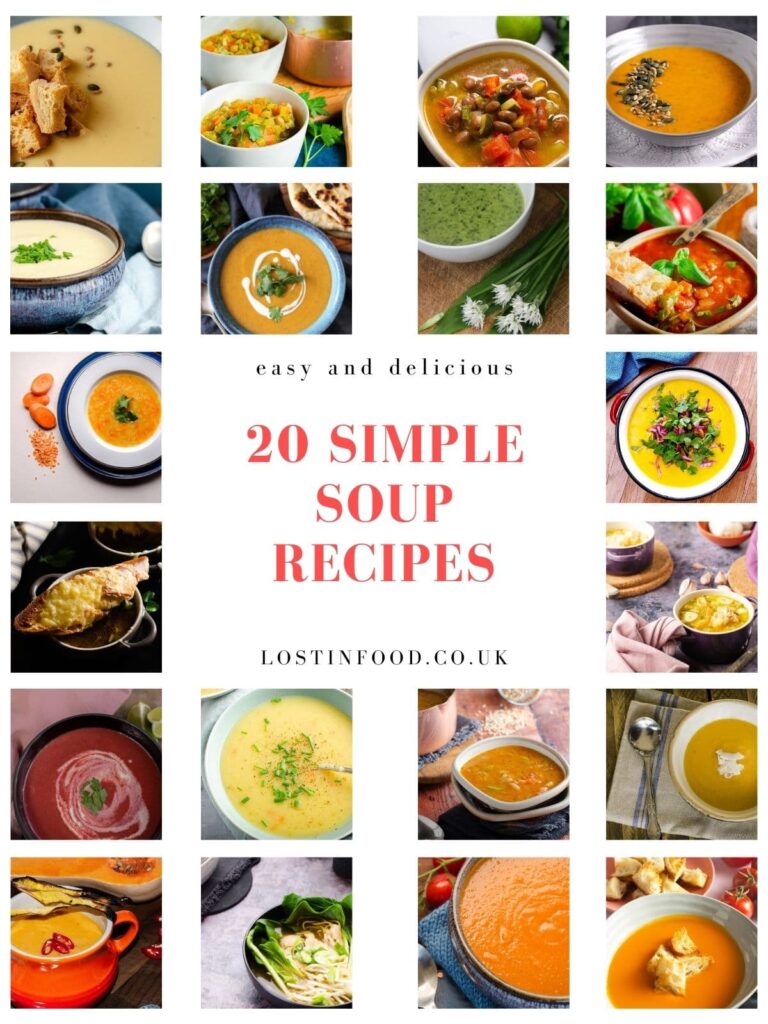 I love homemade soup, you really cannot beat it. Most soups are really simple to cook as you will see from the the simple soup recipes we have linked here.
Soup is ideal for year round dining!
Cooking a good bowl of soup is a lot easier than many people might think and I don't believe there is any better way to heat yourself up on a cold day.
That said, do not be mistaken into thinking that soup is dish for the colder months. Our Courgette & Pepper Soup is one of my favourite soups and our readers agree with me.
This soup remains in our Top 20 most popular posts all year round! Furthermore, it can be prepared, cooked and on the table in less than 30 minutes!
Soup is a great way to load your diet with vegetables!
Almost all of these soup recipes are entirely vegetable based. There are a couple that use meat or meat based stocks, however, the majority are vegetable based.
That is not to say that adding meat to a soup is a bad thing, quite the contrary. More that it is just not always necessary.
Depending on the soup you are making, vegetables on their own can be more than sufficient to produce a tasty bowl of soup.
Homemade soup is healthy and tastes better than anything you can buy in the shops!
As soup is mainly liquid it keeps you hydrated. Soup is also packed with nutrient rich vegetables and pulses which are also great for boosting your immune system.
To keep soup super healthy I recommend keeping dairy to a minimum.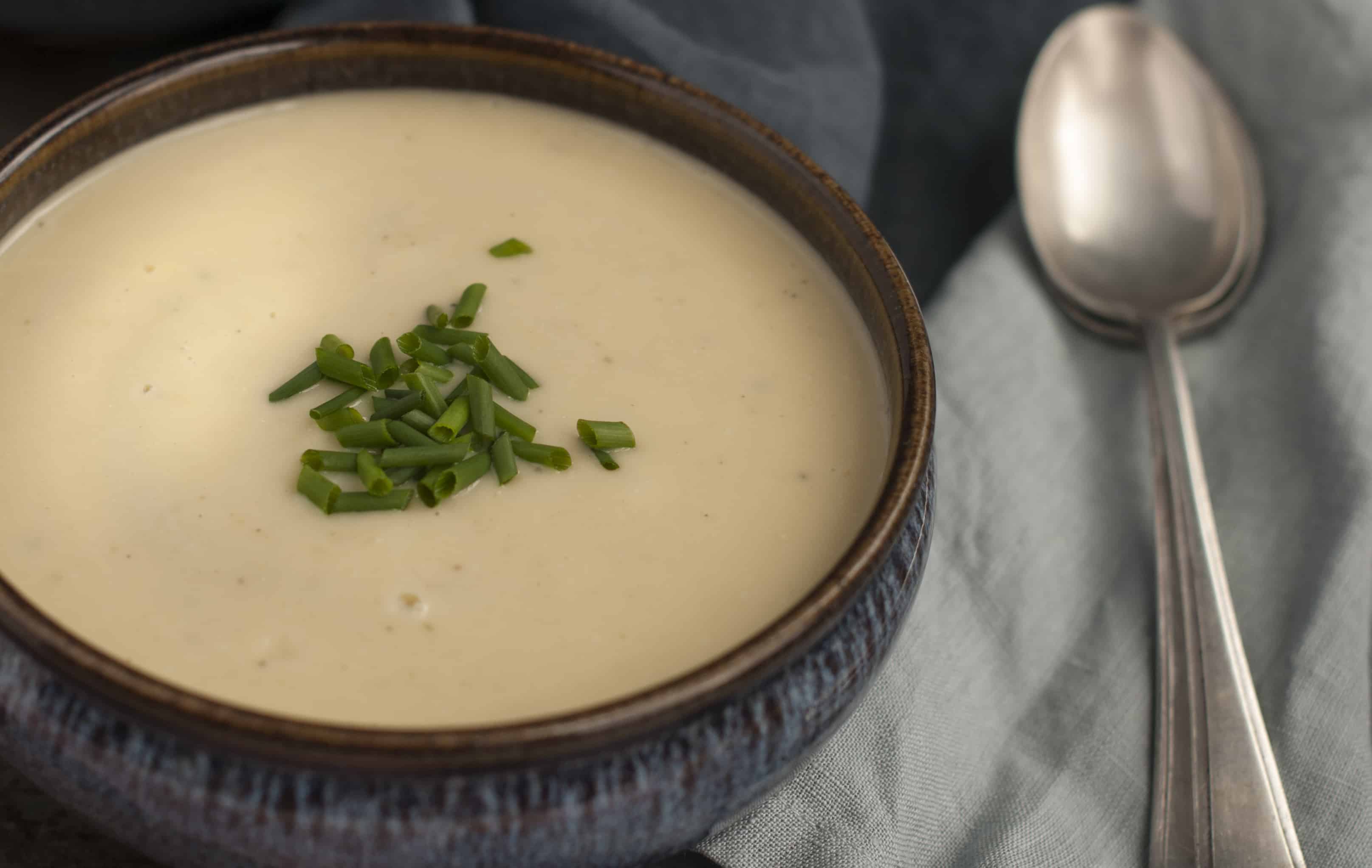 Soup makes a tasty main meal!
I know there are those that simply don't see soup as a dinner or light supper dish. However, my family have at least one soup based evening meal every week and there is nearly always a pan of soup on the hob at a weekend for lunches.
Soup is also one of my favourite lunches to take to work. Heat up leftovers in the morning and pop into a flask ready for enjoying at lunchtime.
How to make good soup?
I believe that the easiest way to make a tasty bowl of soup is to get the base right. The base for most good soups that I cook include onion, carrot, celery and more often than not a little garlic. Saute in either a little oil or butter.
All soups I cook start off with a simple base, then I add the rest of the vegetables and meat if I'm cooking with, say, chicken. Once these have had a quick saute, I add in the stock and cook everything until soft.
Stock:
When it comes to making soup I sometimes use my own stock which I make in bulk and store in the freezer.
However, more often than not, I use shop bought stock pots for speed and ease. I always have a supply of Knorr Stock Pots in my cupboard, they are my favourite and what I make almost all my soup with!
Next decide if you want to make a broth/stock based soup or a creamy soup?
Broth or stock based soups:
A broth is a stock based soup, where there is no added cream. Most soups will cook like this and any cream is only added at the final stages of the cook.
A great example of this style of soup is Vegetable & Barley Broth. This soup is a simple vegetable broth with added pearl barley and butter beans (which help thicken the soup), all cooked together in a tomato stock.
Cream based soups:
A cream based soup is made pretty much as described above, in that you cook the vegetables as you would for a broth or stock based soup. However, at the end of the cook you add a little cream to the soup.
This Creamy Parsnip & Nutmeg Soup is blitzed to a silky smooth consistency once cooked. A little cream is added, just enough to add richness, but not too much so that you overpower the flavour of the vegetables!
Use vegetables that are in season:
Finally, where possible, I like to use vegetables that are in season. Cooking with the seasons means that you always enjoy vegetables when they are at their very best.
For example this Wild Garlic Soup is something I enjoy in April and May when our woodlands are carpeted with this glorious green leaf.
However, over the cold Winter months I love to make Jerusalem Artichoke Soup, as that is the only time I can lay my hands on wonderful earthy Jerusalem artichokes.
How to thicken soup?
A traditional way to thicken soups is to add a little flour to the vegetable and oil/butter when cooking out the vegetables.
However, I simply do not do this as it is unnecessary and I find can lead to a more gloopy textured soup which I don't enjoy. Instead I prefer to thicken soups using one of the two following methods: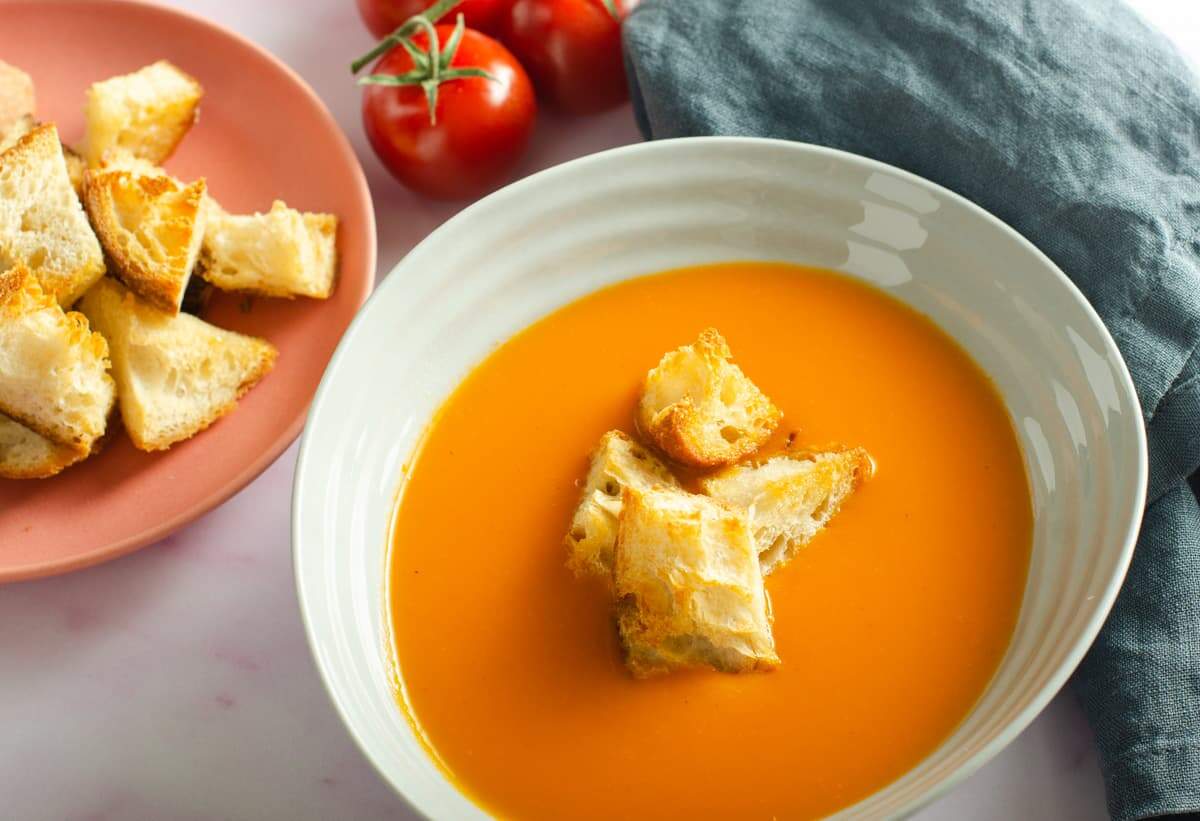 Potato:
Add a potato into the soup while you are cooking it and when you come to blitz it down the starch in the soup not only adds a thickness, but also a creaminess to the soup, without the need for added dairy.
Our Simple Tomato Soup uses a potato to both thicken the soup and add a creaminess to the soup, without the need to add any flour or dairy to the soup!
Pulses and Grains:
Another way to thicken a soup is to add a handful of beans, pulses or grains to a soup. Beans, red lentils, yellow or green split peas and pearl barley will all thicken a soup without the need to add any flour.
This Bean & Vegetable Soup is a great soup, packed full of mixed beans which are also full of protein. This vegan soup is a meal on it's own, just serve with a little crusty bread.
Allergy advice:
These simple soup recipes are great for most diets, just ensure that you use produce that is suitable for anyone with a limited diet.
Gluten free soup:
Worth mentioning at this point, if making soup for a coeliac or anyone following a gluten free diet, ensure that the stock you are using is gluten free too.
Dairy free soup:
It is really easy to make a soup entirely dairy free. When making a dairy free soup, follow the guidelines for making a vegan based soup noted below.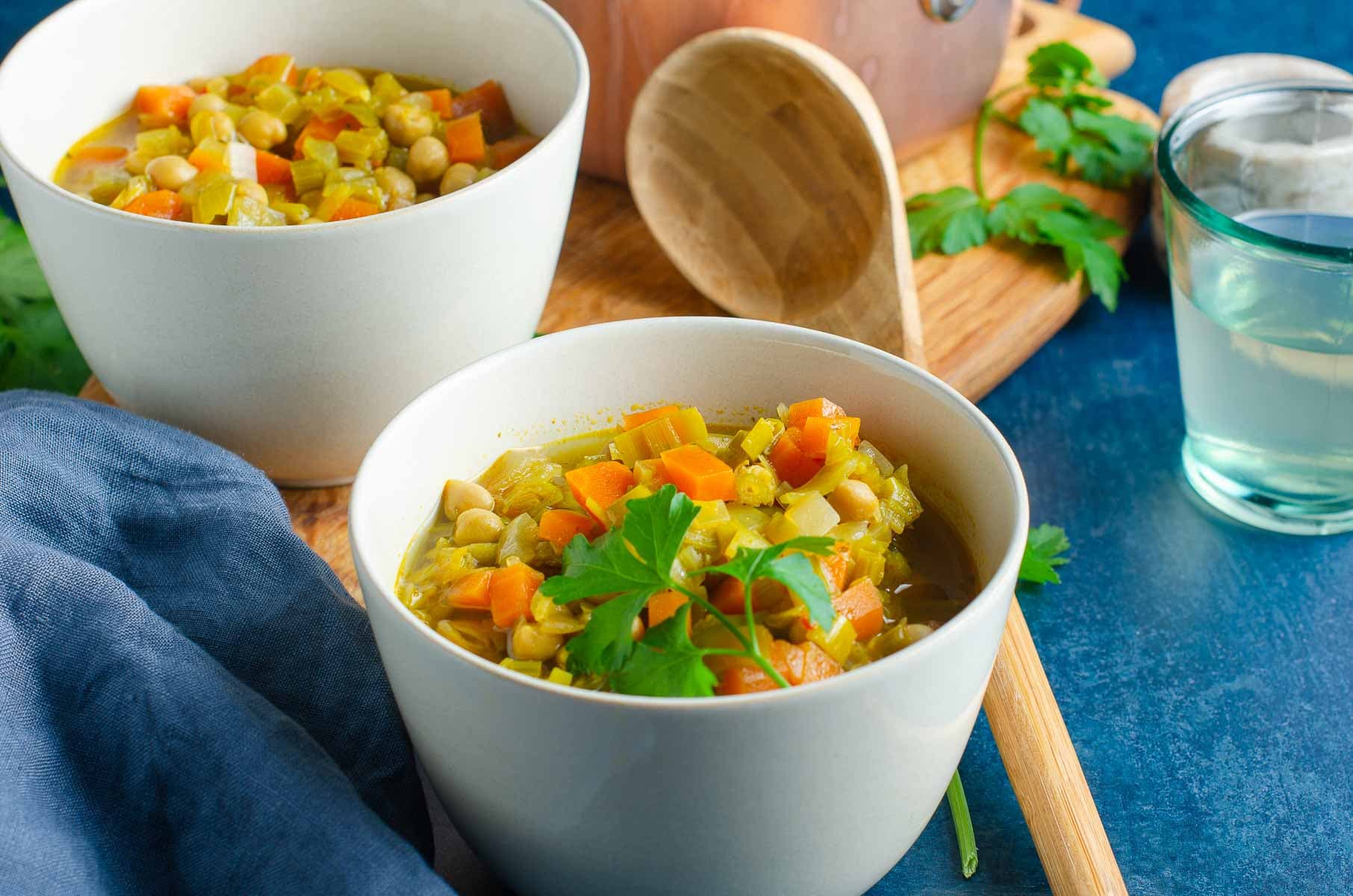 How can I adapt a soup to suit a vegan diet?
Given the high quantity of vegetables and pulses used in soup, it is straightforward to adapt soup to suit a vegan diet.
Top tips for ensuring soup is vegan:
When cooking and softening the vegetables for the base of the soup, always use either olive oil, sunflower oil, coconut oil or rapeseed oil in place of butter.
If the soup contains a creamy element substitute the cream with coconut milk. We use coconut milk in a number of our soups, like our Spicy Pumpkin Soup, and it is delicious.
Ensure that the stock you cook with is a vegan vegetable stock.
Use only vegetables, pulses, grains or beans in the soup – omit all meat products. This Vegetable & Chickpea Soup recipe does just that and is easily one of my favourite soups (it can also be prepared and cooked in under 30 minutes)!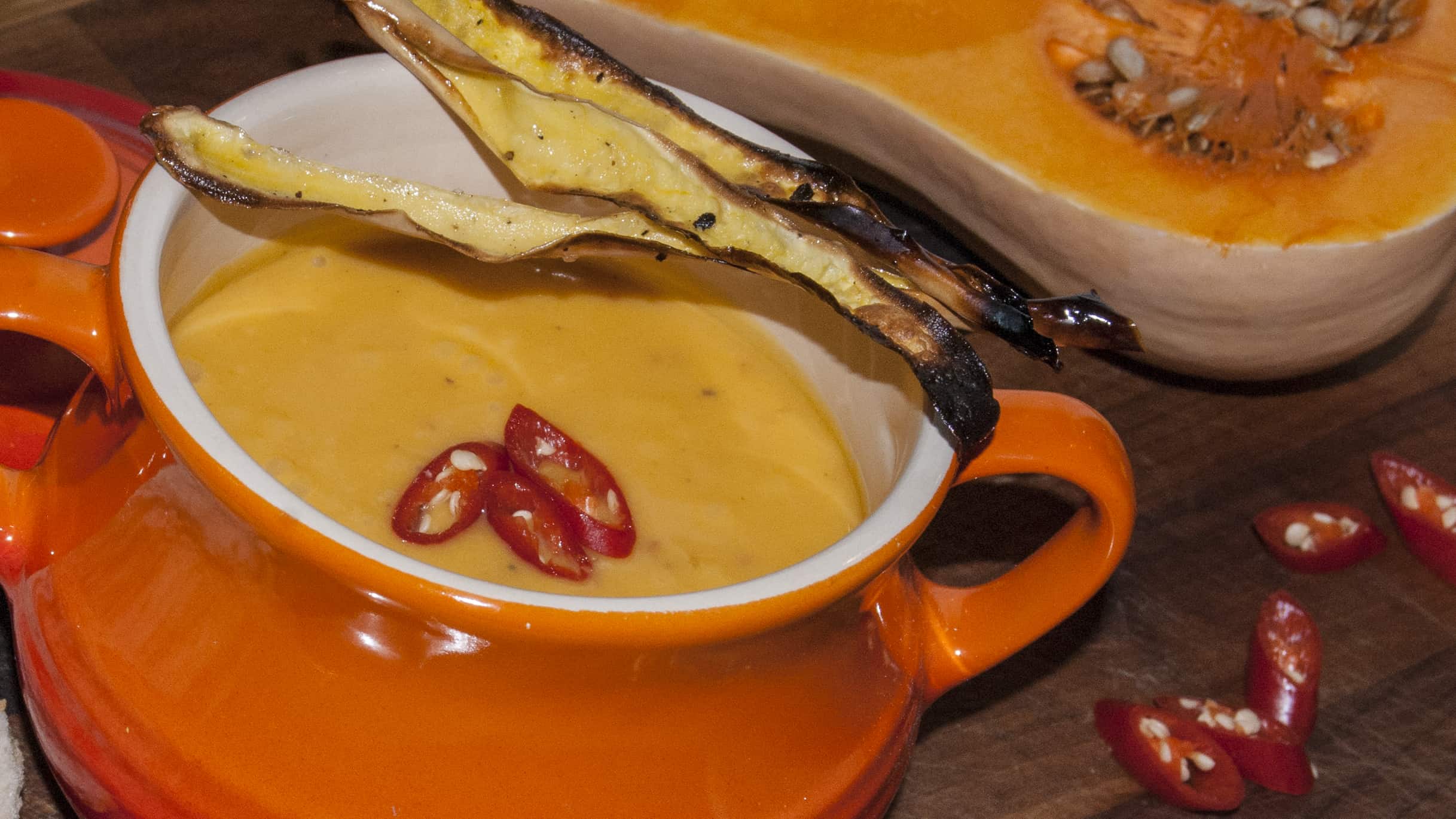 Simple tomato soup recipe:
I find that most people enjoy a good tomato soup and here we have two really simple tomato soup recipes. Tomatoes are so full of flavour that there really is not too much that you need to do to them.
Our first simple tomato soup recipe is called just that Simple Tomato Soup! This soup is quick to make and we have thickened with potato to give it a creaminess without the added dairy.
This simple tomato soup recipe also happens to bear a resemblance to the tomato soup that you find in a red can!
Our second simple tomato soup recipe is one of my favourites and something I batch cook and freeze so I have all year round. This Tomato & Basil Soup marries two of my favourite flavour combinations.
Simple lentil soup recipe:
Lentil soup is a simple soup recipe that most of us can make. Cook red lentils with carrot, onion, and a little stock and you have the base for a very simple lentil soup recipe.
This Easy Scottish Red Lentil Soup recipe from Farmersgirl Kitchen, is a great tasting lentil soup, made using a few simple ingredients. I really enjoy a simple red lentil soup, it is a soup I make often at home and I always cook extra for the freezer.
I like to add a bit of spice to this Spiced Lentil Soup with Tomato. The spice adds flavour to the soup, but not chilli heat! This takes a simple lentil soup recipe and elevates it with just a few additional store cupboard ingredients.
Red lentils have also been added to this Thai Sweet Potato & Lentil Soup to thicken the soup. The delicious soup is flavoured with Thai red curry paste and the creamy element comes from adding coconut milk.
Simple onion soup recipe:
My favourite simple onion soup recipe is Traditional French Onion Soup. This soup is one of my favourite foods to eat. However, despite appearances, it is a very simple onion soup recipe to cook.
Lot's of sweet onions cooked down in beef stock and topped with a cheesy gruyere crouton. Perfection in a bowl!
For a different twist on a simple onion soup recipe, there is our Garlic Soup. It is made in a similar fashion to the French onion soup, the garlic is cooked in a simple broth based soup.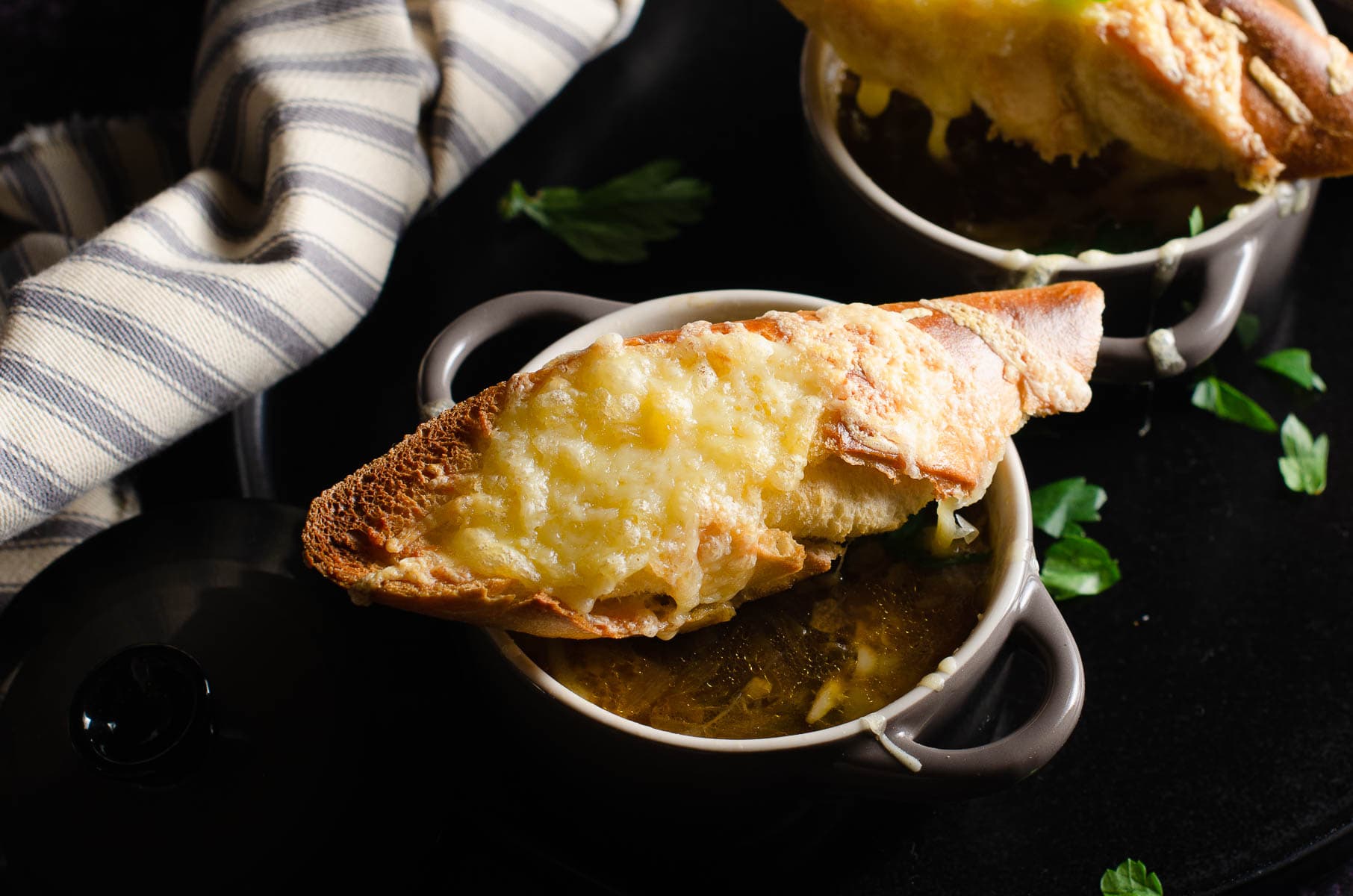 Simple chicken soup recipe:
A simple chicken soup recipe is one that we should all have in our repertoire. There is nothing more comforting than a bowl of chicken soup and our Simple Chicken Noodle Soup really is a hug in a mug.
Made using an Asian style chicken broth, flavoured with garlic, ginger and soy, this simple broth is packed full of flavour.
We have added chicken, beansprouts and some pak choy, but you could use a piece of salmon or pork belly with the broth and any variety of vegetables you fancy.
Another simple chicken soup recipe is this Chicken, Peanut & Lentil Soup from Feast Glorious Feast.
Here the simple chicken soup recipe is elevated with the tasty addition of peanut satay and coconut milk for added creaminess. A few extra ingredients packing a real flavour punch!
What vegetables can you use in soup?
I use pretty much any vegetable in soup and it doesn't have to be fancy either. This Quick Leek & Potato Soup uses very little ingredients but packs a real flavour punch.
There are no limits on the vegetables you can use, but here are just a few of my favourites:
onion, leek, shallot, garlic
celery
carrot
beetroot
parsnip
turnip or suede
potato
broccoli
cauliflower
tomato
bell peppers
courgettes
chilli
root ginger
How can I add extra flavour to a soup?
Adding flavour to a soup is really easy as most vegetables and any meat you add are packed full of flavour.
However, to add an extra flavour into my soup, I like to add curry pastes. This Thai Beetroot Soup uses the fresh flavours in a Thai red curry paste to balance the earthy beetroot in this deliciously simply soup.
Another great simple soup is this Creamy Vegetable Curry Soup from Curly's Cooking, where a simple curry paste, in this case a tikka paste, is used to flavour the vegetable soup.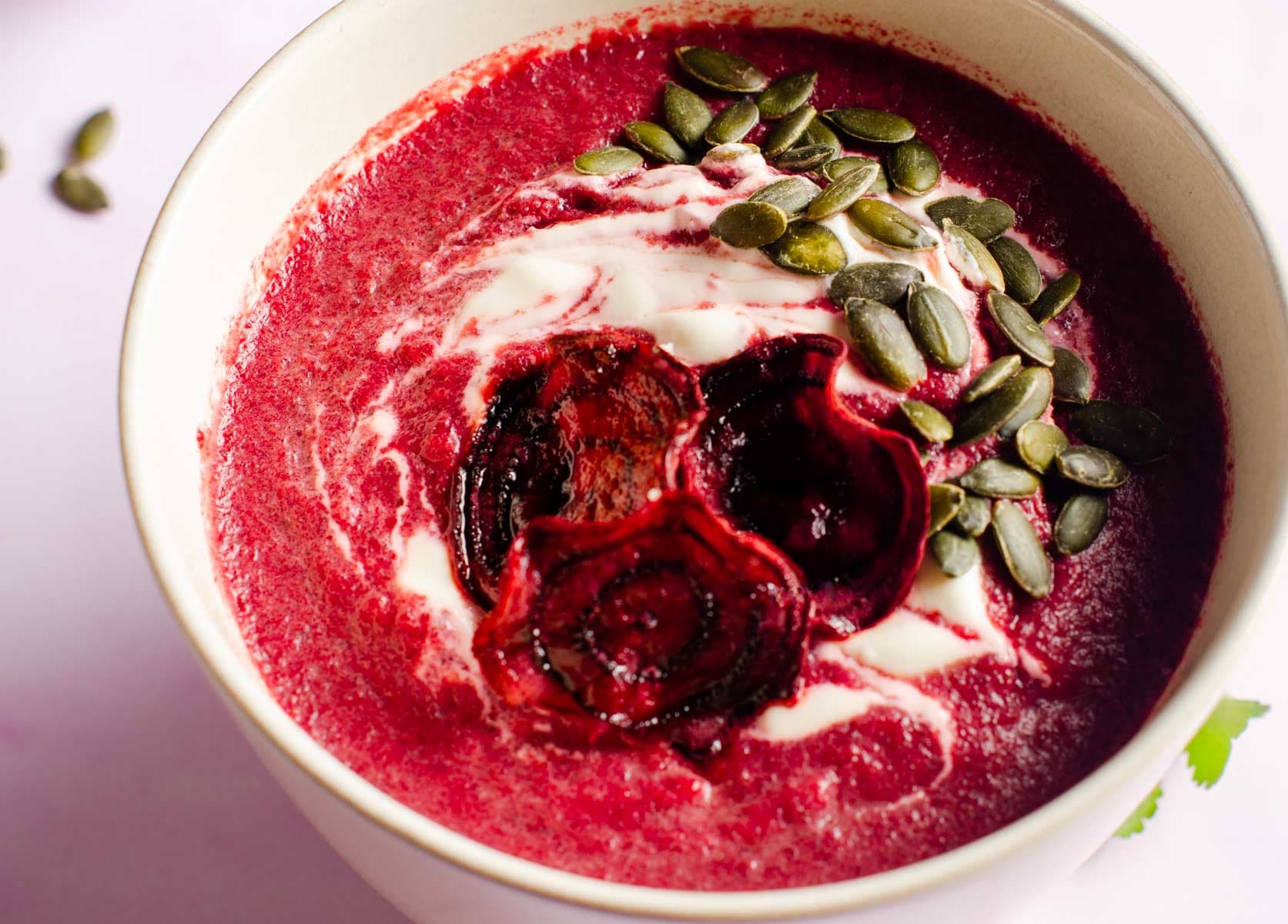 What to do with leftover soup?
If you have leftover soup it will keep covered in the fridge for a couple of days. However, if like me, you have batch cooked a large pan of soup, simply decant into boxes ready for the freezer.
Once cooled, place the lid on and pop into the freezer for 3 months. When ready to enjoy, defrost the soup overnight in the fridge and heat up to piping hot the next day before serving.
And finally …
I hope this has given you plenty ideas and some encouragement to make your own soup. Once you start, there will be no stopping you.
There really is nothing better than a bowl of freshly made soup!