Wild garlic soup using the best wild garlic the season has to offer. Foraged fresh leaves picked that morning making the freshest of soups.
Wild garlic soup is a seasonal favourite of mine, but one I only really get to enjoy during April to June. I love wild garlic season and eat it as much as I can during it's short growing season. I look forward to it's arrival on our woodland floor every year.
I forage the garlic leaves in the woods local to my house where they grown in abundance. Wild garlic soup is so simple to make and has a beautiful freshness to it and it's always the first thing I cook with this fragrant green.
I woke up this morning at 3am, never the best start to a day! The only way to feel remotely human was to just keep going. After meeting Michelle I decided a mini mid-week adventure was in order.
So we headed off to forage some wild garlic as I fancied making a soup with this seasonal green. A far better option than sitting feeling sorry for myself for the lack of sleep!
We arrived at our stop, a huge patch of wild garlic, growing in the woods close to where we live. Only then did I notice I was wearing sandals and cropped jeans.
Completely unsuitable for a foray into the woods where the nettles grow in abundance right alongside the garlic! Therefore I sent Michelle in with the bag!
Lunch today was a deliciously light soup, Spring in a bowl. I have to say risking my friends ankles to the ever ready stinging nettle was definitely worth it!
Recipe steps: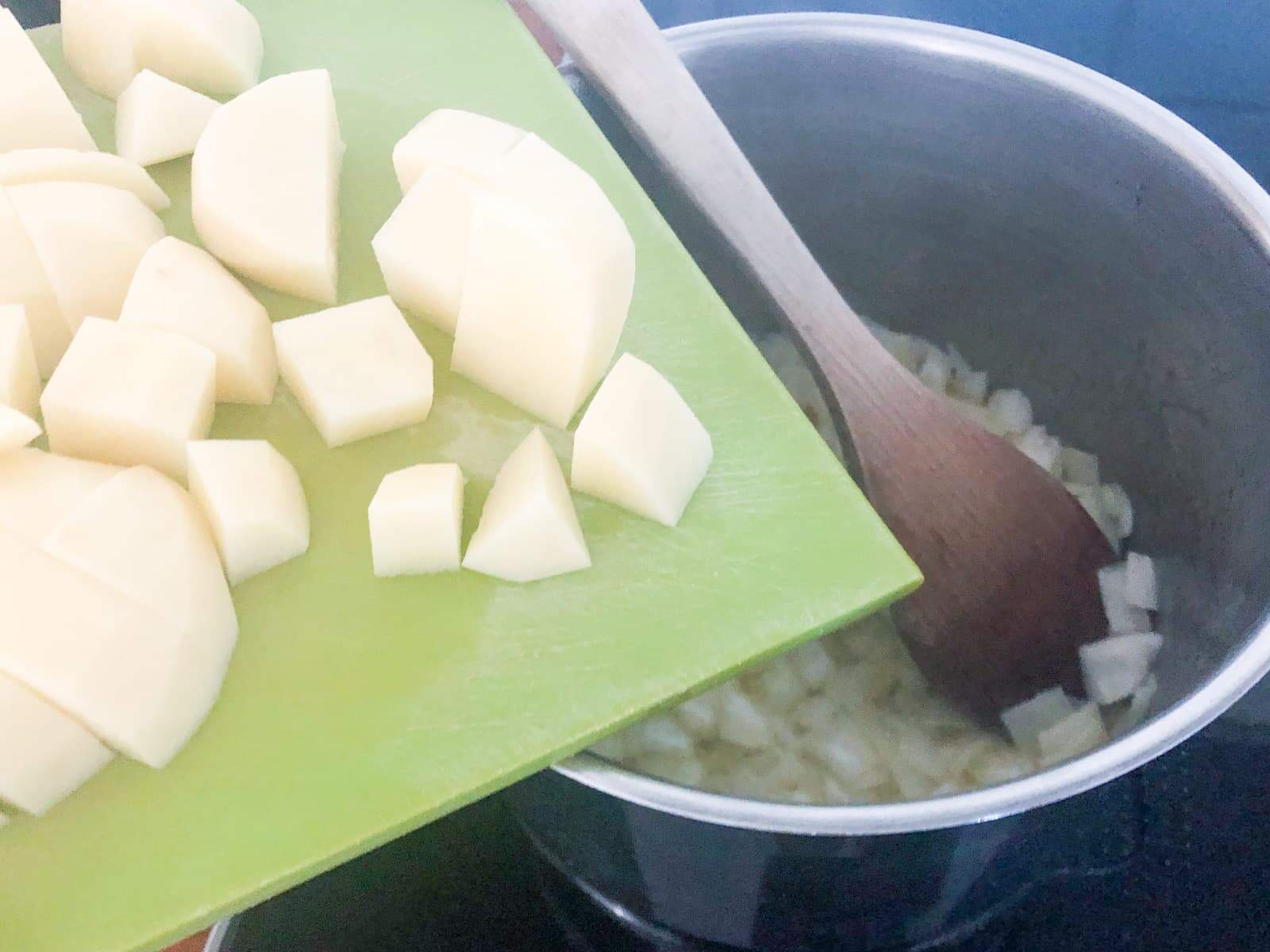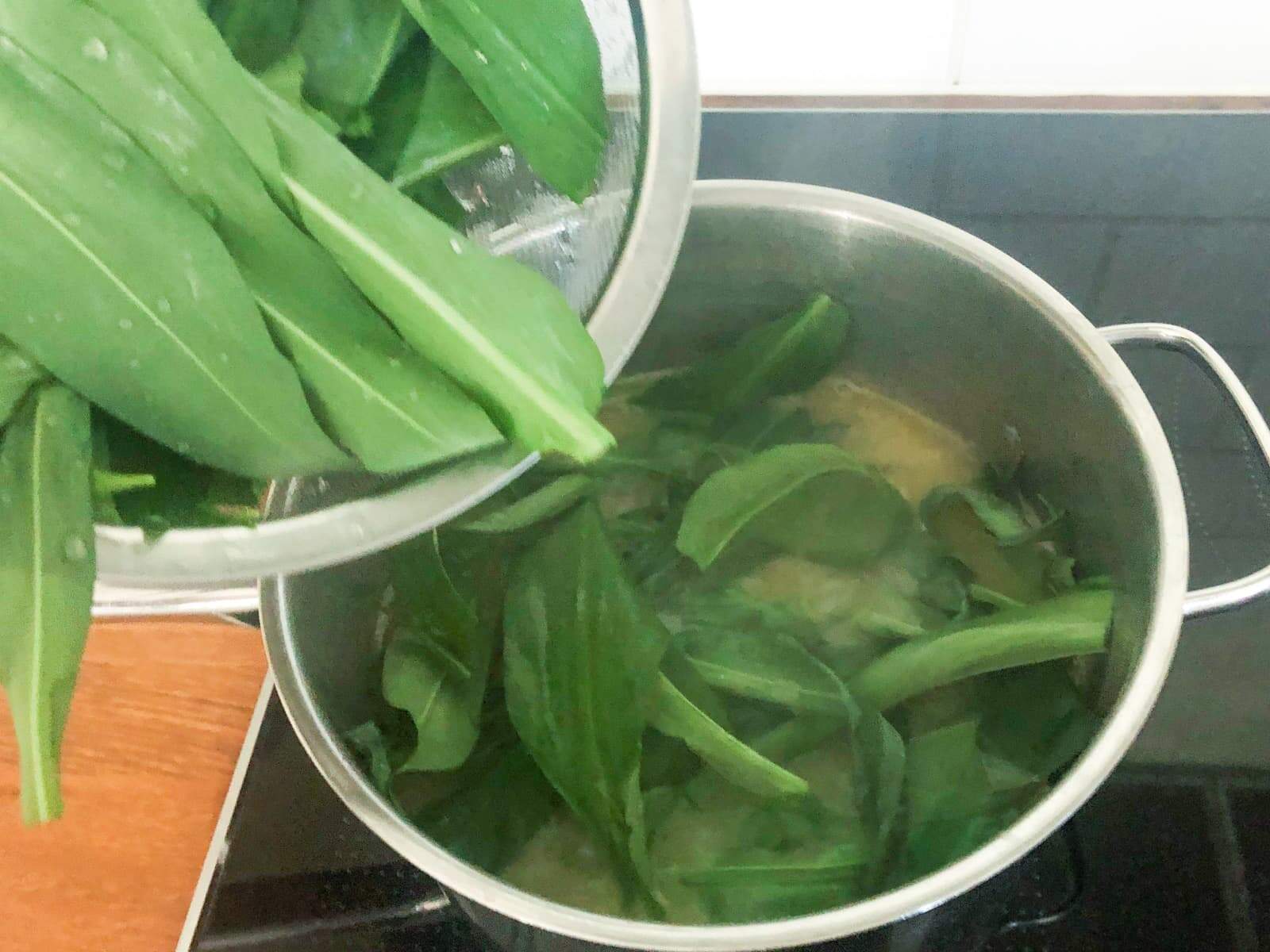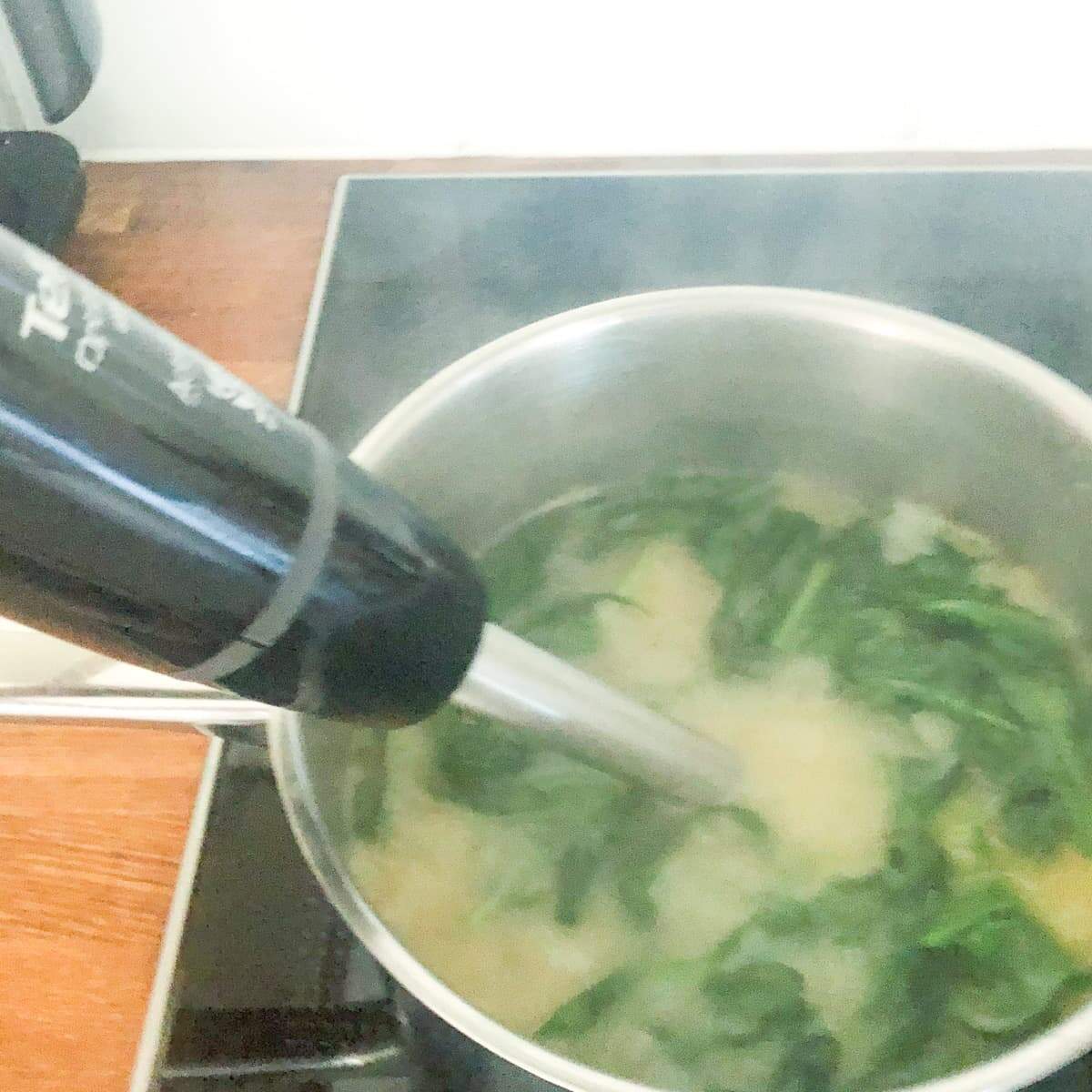 What does wild garlic taste like?
Do not be put off by the pungency of this green, leafy herb. The aroma of wild garlic hits you well before you arrive at a patch of it and it can be quite overpowering! However, the taste is a lot more mellow than the smell of a decent handful might suggest!
Wild garlic has a mellow garlic flavour, somewhat like a garlic chive. The flavour is far fresher and herbal, rather than pungent like a garlic clove. This makes it ideal for eating both cooked and raw.
Worth noting, wild garlic is best picked when young, before it flowers, that's when it is at it's most flavoursome. However, that's not to say that you can't enjoy it once it is in flower.
What does wild garlic soup taste like?
Michelle was very sceptical about this soup, but I promised her she'd enjoy it. Indeed, there was a lot of very uncertain faces around my own dinner table when I first made this soup.
However, the raw pungency of the leaf really does not come through on the taste. In fact the taste is somewhat surprising, what you have is a light, beautifully fresh soup that tastes of Spring in my opinion. It's not heavy on garlic, but light, bright, clean tasting soup.
How to pick wild garlic?
Finally, if you fancy foraging some wild garlic please be mindful. Don't pick from the side of the road as there is too much pollution here from cars.
Wear appropriate food-wear, brave the nettles and get right into the woods where you will find the best leaves. However take care to pick only the leaves, don't pull too hard otherwise the bulb will come with you destroying the plant!
Can you make this recipe ahead of time?
As with most soups, wild garlic soup can be made ahead of time and reheated when you are ready to eat. What I do in this instance is make the soup and blitz it to smooth. Only adding the cream into the soup when I'm reheating and ready to serve.
Can you freeze wild garlic soup?
Wild garlic is only around for a couple of months each year so I like to make the very best of it while I can. For that reason I like to make double quantities of this soup, enjoying some and freezing a portion for later. This is how you can extend the enjoyment of a herb that is only around for a couple of months.
Simply make the soup, allow it cool complete before placing it in containers ready for the freezer.
Pin the recipe:
Additional recipe suggestions:
If you enjoyed this recipe then why not try some of our other wild garlic recipes:
For some great hints and tips on how to make a great bowl of soup, have a read of our 20 Simple Soup Recipes post. This features some delicious soup recipes for you to try!
Wild Garlic Soup
Wild garlic soup using the best wild garlic the season has to offer. Foraged fresh leaves picked that morning making the freshest of soups.
Print
Pin
Save
Saved!
Ingredients
40

g

butter

1

medium onion

(chopped)

3

medium potatoes

(peeled and diced)

1.5

ltr vegetable stock

300

g

wild garlic leaf

100

ml

double cream

salt and pepper
Instructions
Melt the butter over a medium heat and add the onions, saute until soft. Add the vegetable stock and potatoes to the pan and simmer gently until the potatoes are cooked.

Add the wild garlic to the pan and allow to wilt for a couple of minutes then blitz the soup until smooth. Stir through the cream, season to taste and serve.
Nutrition Facts
Wild Garlic Soup
Amount Per Serving
Calories 139
Calories from Fat 72
% Daily Value*
Fat 8g12%
Cholesterol 27mg9%
Sodium 79mg3%
Potassium 568mg16%
Carbohydrates 12g4%
Protein 3g6%
Vitamin A 3825IU77%
Vitamin C 20.6mg25%
Calcium 72mg7%
Iron 3.6mg20%
* Percent Daily Values are based on a 2000 calorie diet.
• Please note that the nutrition information provided above is approximate and meant as a guideline only •
Share on Facebook
This recipe has been linked up to Cook Blog Share, head over and check out some more great recipes from fellow food bloggers.