There is nothing like a bit of free food that you can pick up for yourself whilst out walking, I'm quite partial to a bit of foraging. Whether it be raspberries and blaeberries in the Summer; apples and brambles in Autumn (yes, there is apple tree I know of in the middle of nowhere); or in the case of our walk this morning, a bag full of wild garlic.
Wild garlic (or garlic chives as they are sometimes known) grows thick in the woods and along the sides of rivers. I found a nice big patch of it really near my house just the other day whist driving on back-roads avoiding heavy traffic. What a delight to see a sea of lush green leaves and pretty white flowers – aha I thought, I'll return later. So I did, with Michelle in tow so that she could share the spoils, being Canadian Michelle has neither seen nor used wild garlic. Now the smell of a decent patch of wild garlic is somewhat overpowering, however I assure you this doesn't come through on taste. If you imagine a chive taste with a hit of garlic to it and that's about it, not too strong, nor harsh.
With our bag of goodies it was straight home and out with the food processor.Wild garlic isn't about for long so finding ways of preserving it are ideal. I made a wild garlic & mint chimichurri sauce and a wild garlic butter – now boxed and in the freezer for use later. Both of these are delicious with grilled beef, lamb or chicken, just take it out of the freezer when you need it. The last few remaining leaves where chopped up and along with some butter and sour cream, added to tonight's mashed potato – delightful!
wild garlic chimichurri
Print recipe
Ingredients
120g wild garlic leaves
80g mint leaves
240 ml olive oil
30 ml red wine vinegar
zest of one lemon
salt & pepper
Directions
Place the wild garlic and mint leaves in a food processor and pulse to a fine chopped consistency.
Gradually add the olive oil and continue to pulse. You want to leave some consistency to the sauce, therefore the pulse method works well.
Place the sauce into a serving bowl, stir through the vinegar and lemon zest. Season to taste.
Set the sauce aside for an hour before serving to allow the flavours to combine.
wild garlic butter
Print recipe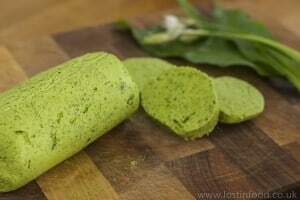 Ingredients
250g salted butter
100g wild garlic leaves
zest of one lemon (grated)
black pepper
Directions
Take the butter out of the fridge and allow to soften a little at room temperature.
Place the wild garlic leaves in a food processor and pulse to break up the leaves. Add the remaining ingredients and blitz until it is all combined together.
Spoon the mixture onto some clingfilm in a sausage shape. Fold over the clingfilm and holding the ends together roll gently back and forth to form a regular sausage shape. Place in the fridge and allow to chill for an hour.
Once the butter has been chilled it is easy to slice and can be used immediately. However if you wish you can slice the butter block, place the slices in a box and freeze until you need it.
0