Our easy no bake dessert recipes all together in one place. These recipes are quick to prepare, flavourful and the ideal sweet treat for any occasion.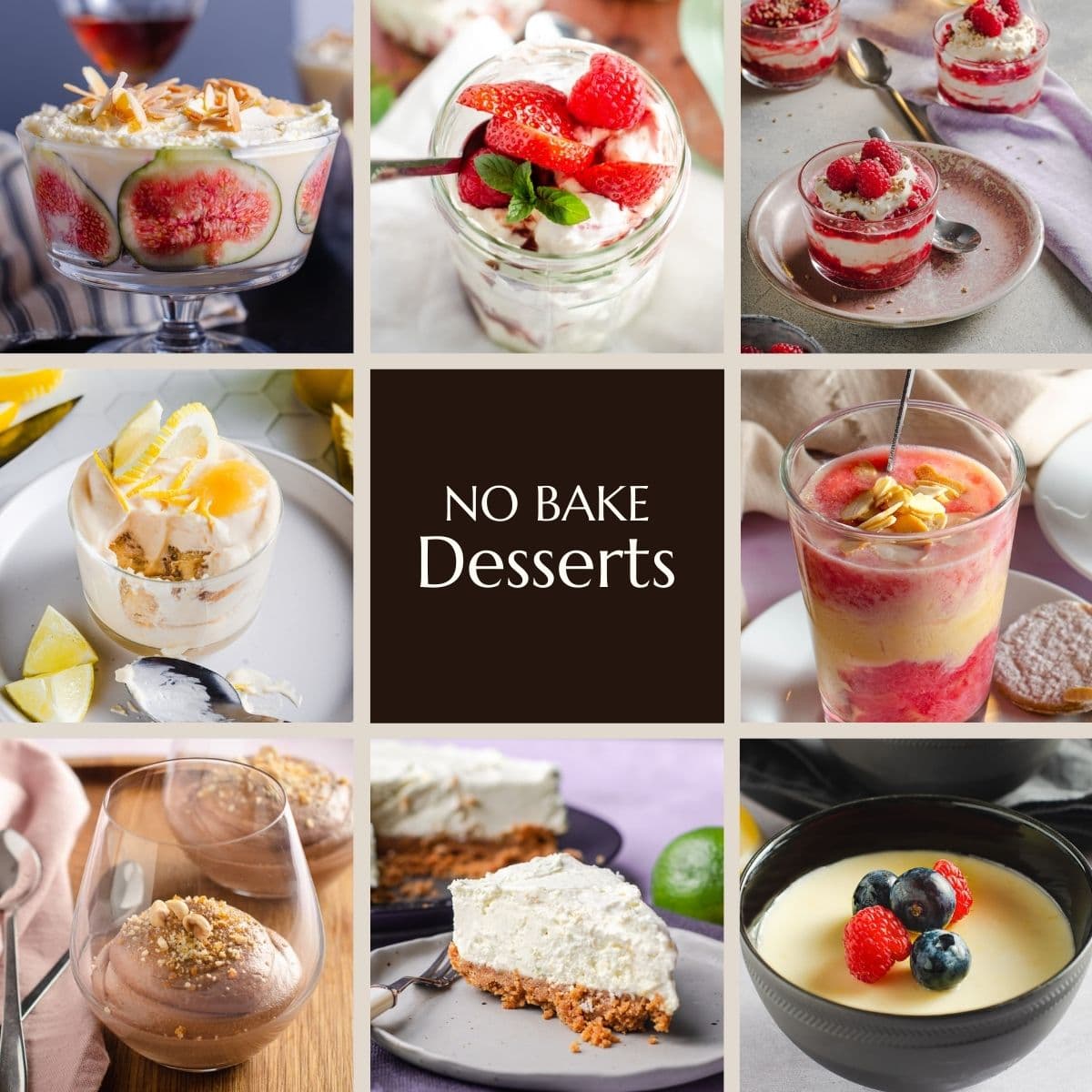 We both love an easy no bake dessert. Those desserts we all come to rely on when we want something that tastes amazing but don't want to spend too long in the kitchen.
This post is all about easy dessert recipes where there is no baking required. At most you may have to warm something up on the stove, or whip up some cream, but that's about it.
However, don't be fooled into thinking no bake desserts are lacking in any way. Each of these desserts pack a real flavour punch and are the recipes that we keep coming back to again and again when we are cooking in our own kitchens at home.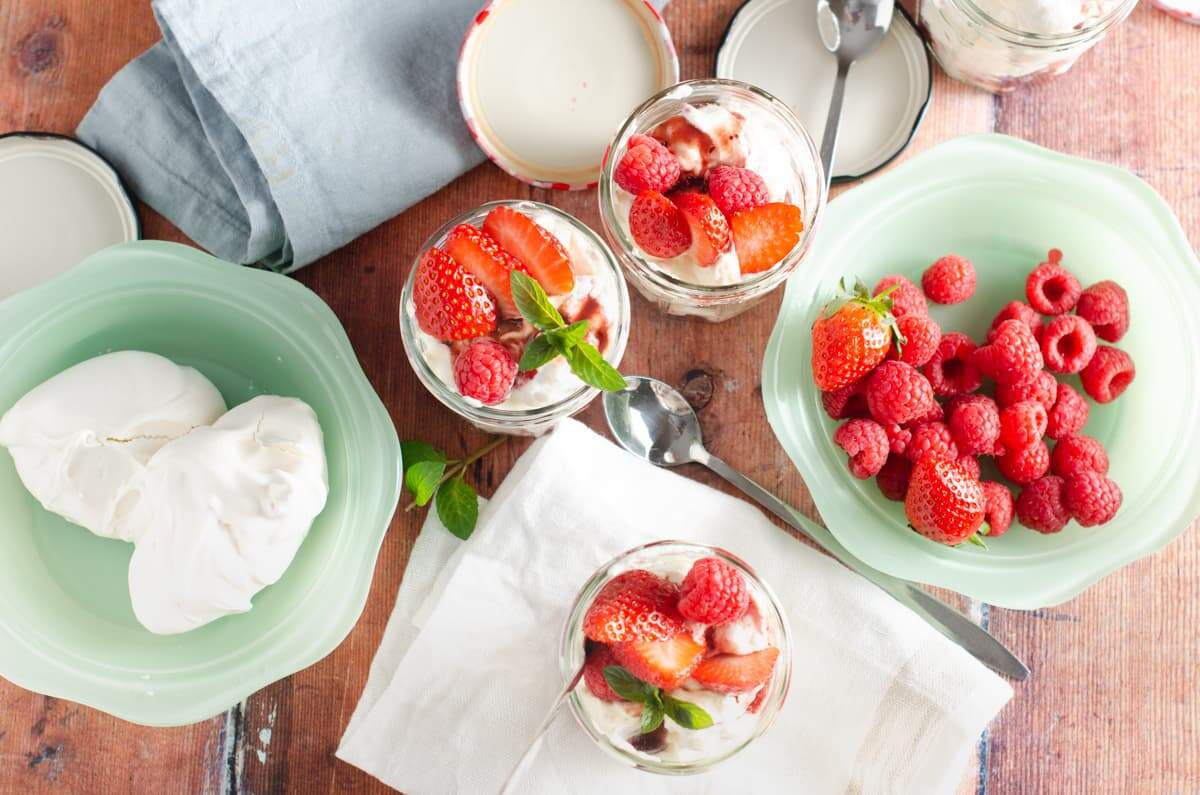 Make ahead no bake desserts
When it comes to dessert, particularly if I'm cooking for family and friends, I want something that tastes great and is quick to prepare. Even better if I can make it ahead of time.
Make ahead desserts are my go to any time I'm entertaining. They allow me to relax and enjoy my own food (and a glass or two of wine), knowing that dessert is already made and can be pulled out the fridge at the last minute. When we catered our Supperclubs, Michelle and I always served made-ahead desserts so it was just a case of serving and plating.
All these desserts are make ahead desserts. They can be made earlier in the day, or in some cases the day before. Simply store in the fridge or refrigerator until you are ready to serve.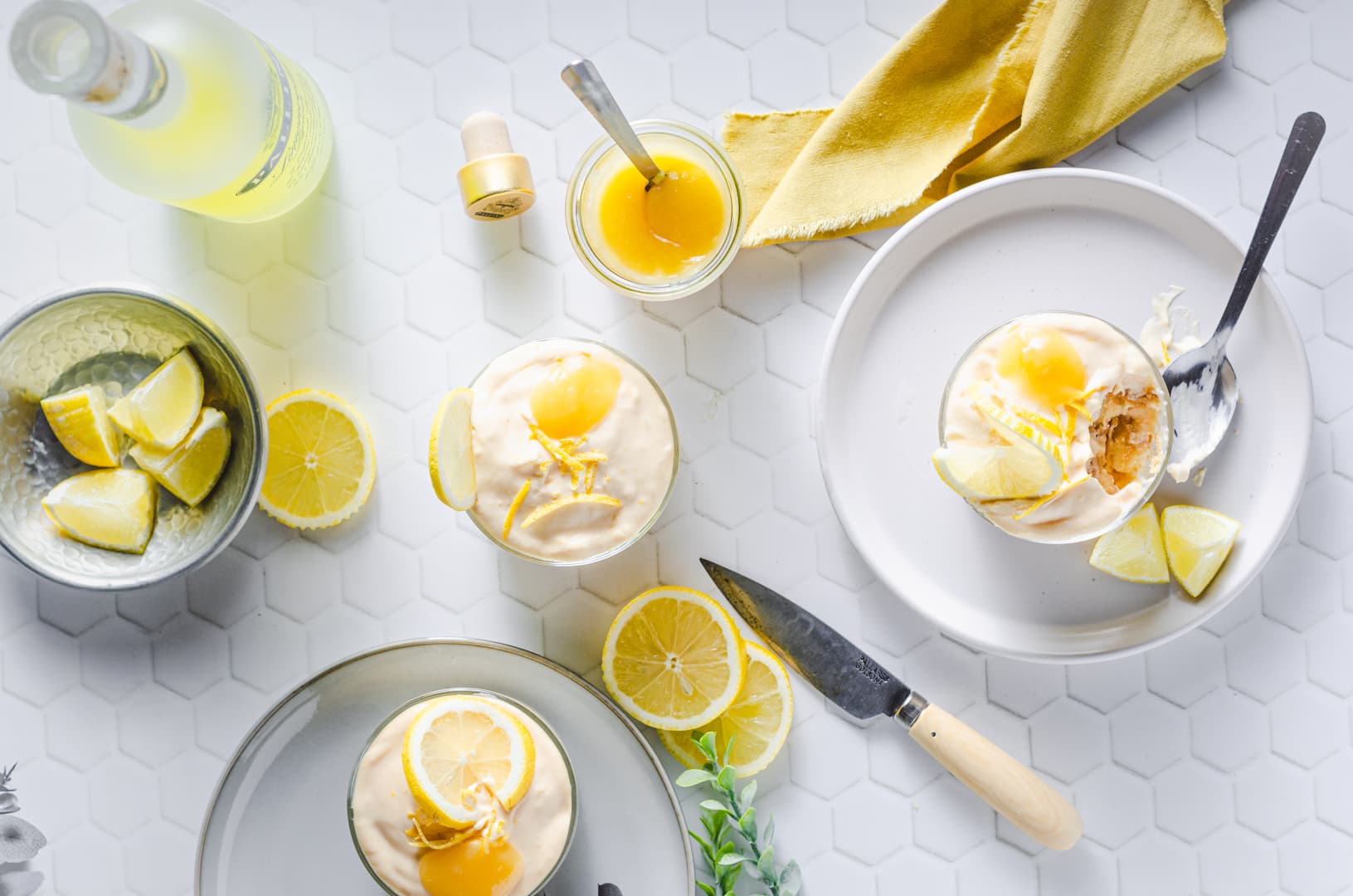 Allergy advice
If you have ever catered for allergies you will know that desserts can be a real sticking point. So to help you out we've identified alongside each dessert what diets they are suitable for. Worth noting that none of our desserts contain peanuts or peanut products.
For comprehensive and detailed allergy advice visit Allergy UK.
Easy no bake dessert recipes with few ingredients
When it comes to easy no bake dessert recipes with few ingredients you can't beat these recipes below. All of these recipes are full of flavour but in all cases contain 6 ingredients or less.
No bake lemon desserts
Lemon is hands down one of my favourite ingredients. So, it will come as no surprise that the flavour of lemon features heavily in the desserts that I love to cook. I think that the flavour of lemon balances out the sweet flavours in any dessert. When I'm eating out, if there is a lemon dessert on the menu, that's what I'll be ordering.
No bake layered desserts
When making no bake layered desserts, I like to serve them in individual glass dishes. This not only looks pretty, but allows the diner to see the various layers within the dessert. After all, we also eat with our eyes!
No bake desserts for kids
We both love cooking with our kids and are always on the look out for recipes that our kids can prepare themselves, with little or no help from us. Here we have a selection of different recipes with minimal or no cooking required, ideal for getting children interested in cooking.
No bake cheesecakes
This round-up of recipes has been shared to CookBlogShare. Click on the link to find other recipes by fellow food bloggers.