My best rhubarb recipes, a great selection including rhubarb crumble, rhubarb tart and rhubarb and custard. Ideal desserts for any occasion that balance the wonderful sharp, sourness of rhubarb with just enough sugar.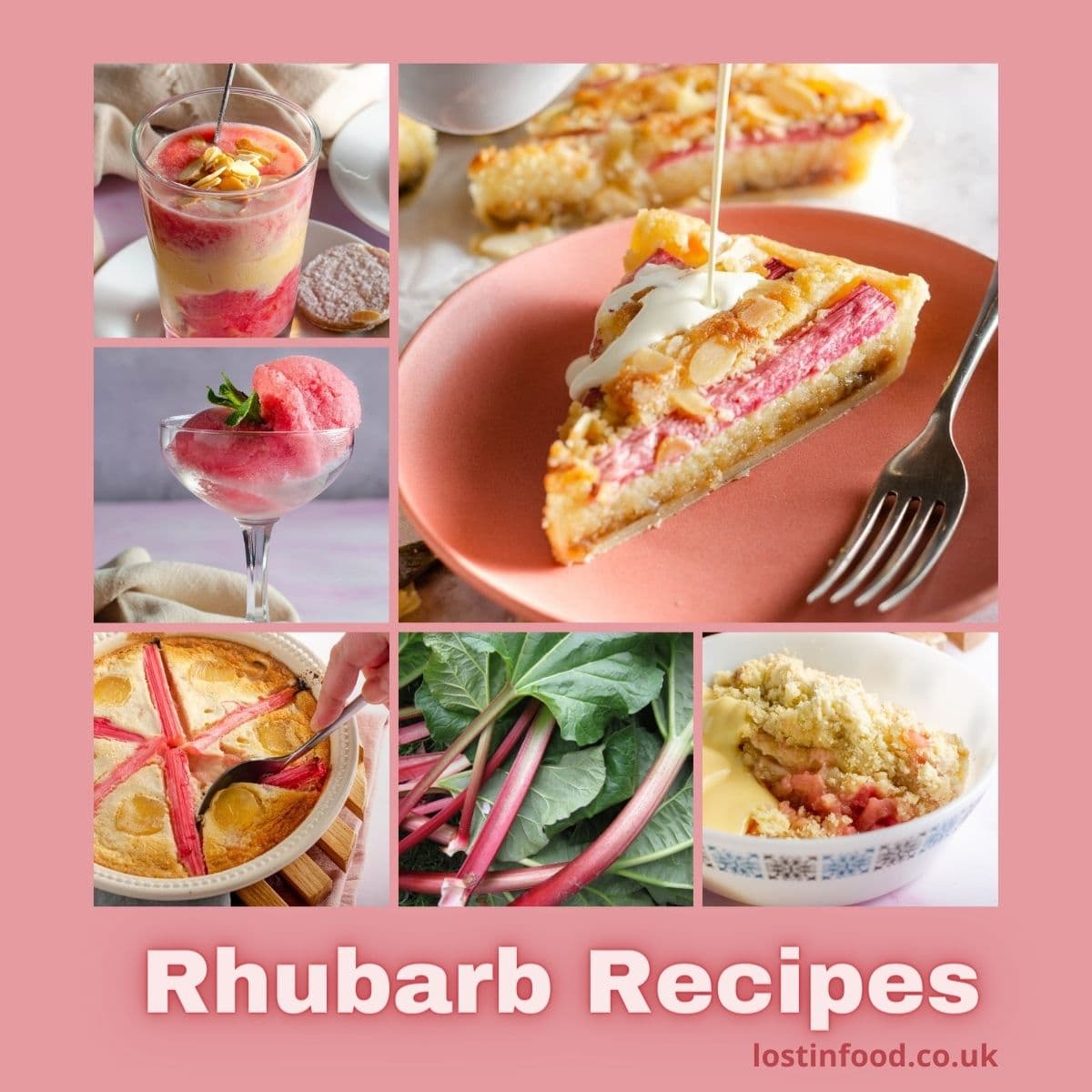 Here is a collection of my best rhubarb recipes. Those recipes that we keep coming back to again and again when we first see those glorious pink stems landing on our supermarket shelves.
I love rhubarb, it is one of my favourite ingredients. If I'm eating out, rhubarb or lemon based desserts are always my go-to on a menu. I don't have the sweetest tooth, so tart sharp rhubarb is right up my street. Pair it with fiery ginger and some custard and you've reached pudding perfection in my eyes!
Given the sour notes in rhubarb, it makes it a great ingredient to pair with sweeter ingredients, which is why it works beautifully in a rhubarb frangipane tart as well as a classic rhubarb crumble.
Is rhubarb a fruit or a vegetable?
Technically speaking rhubarb is a perennial vegetable, although due to its flavour is often treated more like a fruit. Rhubarb is part of the buckwheat family and although it looks similar to celery the two are not related. In fact celery is part of the parsnip family.
Is rhubarb good for you?
Rhubarb is a great vegetable and not too high in natural fruit sugars. It is a great source of fibre and rich in antioxidants which have anti-bacterial and anti-inflammatory properties. Rhubarb is a great vegetable to include in your diet.
Can you eat rhubarb raw?
Absolutely, rhubarb can be eaten raw, but I recommend going for the bright pink stems rather than the greener parts which are really sour. In fact I know many people who enjoyed dipping rhubarb in sugar when they were younger. I never did this, but that was due to the fact that I don't like that much sugar, rather than the sourness of the rhubarb.
However, rhubarb is most often cooked and sweetened with sugar before being eaten.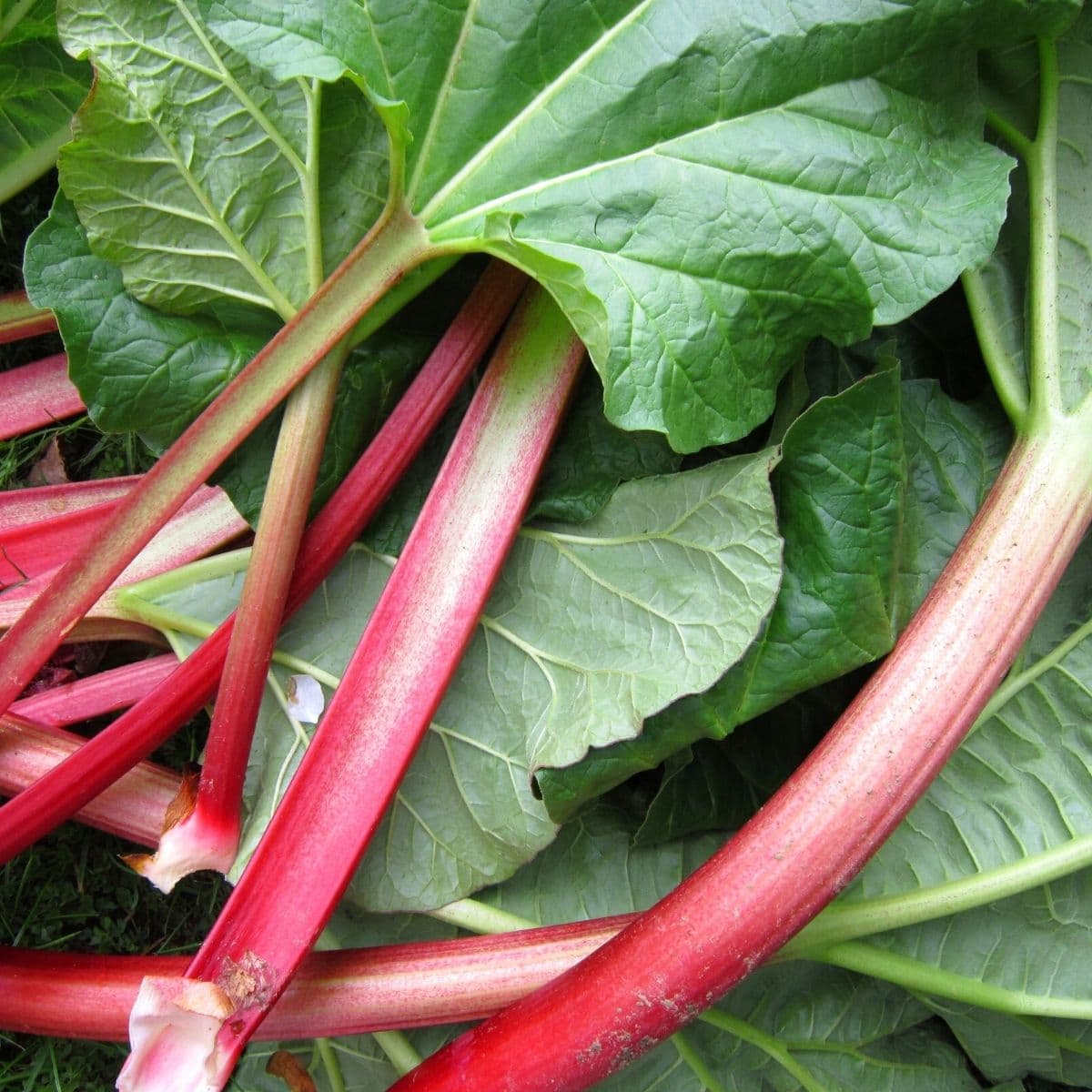 When is it best to eat rhubarb?
Rhubarb is best picked and enjoyed during spring when the stalks are sweet and tender, but you can harvest rhubarb all summer long. It's just that in late summer rhubarb tends to become woody and therefore doesn't taste as good.
How do you store rhubarb?
I remove the leaves from the rhubarb and brush any dirt of the stems then I store the stalks of rhubarb whole in the fridge until I am ready to cook with them. At that point I wash and prepare the rhubarb into the desired sized pieces.
What's the best way to prepare rhubarb before cooking?
Firstly remove and discard the leaves from the rhubarb. Rhubarb leaves contain high levels of oxalic acid which is toxic and should never be ingested.
Take the pink stalks and give them a good wash under cold running water.
Then remove any dried up ends and cut away any blemishes.
Finally cut the rhubarb stalks into the desired lengths that you want to work with. For example when making rhubarb crumble I cut the rhubarb into 3-4 cm lengths, depending on the thickness of the stem. However if I'm making something like our rhubarb tart I use longer length pieces for decorating the top of the tart.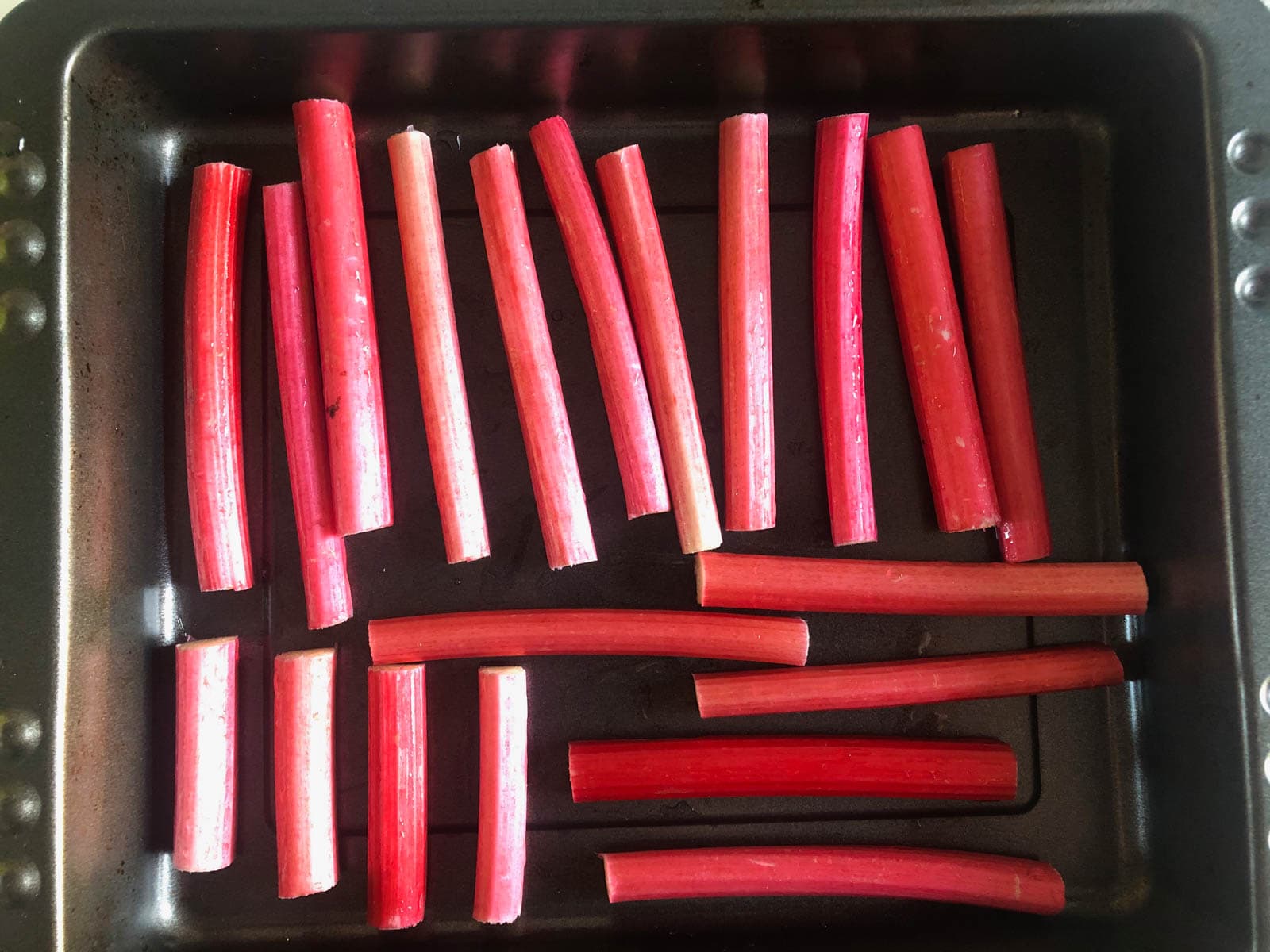 What to do with a glut of rhubarb?
Rhubarb is really versatile and it can work in a whole variety of dishes. Think beyond the traditional puddings that we all associate it with like rhubarb crumble, rhubarb tart and rhubarb and custard, although I'll happily every one of those.
Stewed rhubarb is delicious served on top of a cheesecake, add some to a vanilla bread and butter pudding or how about spooning over the top of a creamy rice pudding. The list of possibilities is endless.
I use rhubarb to make rhubarb jam, often adding in some fiery stem ginger. I've also used rhubarb to flavour my own gin at home, which results in a lovely flavoured gin with a pretty pink hue to it.
Don't limit yourself to only using rhubarb in sweet dishes either. In the past I have made a sharp rhubarb compote using spice and a little sugar which paired beautifully with roasted meat like lamb and pork as the sourness cuts through the oil. Rhubarb also works alongside oily fish like salmon and trout.
If you grow your own rhubarb I recommend freezing it and there are instructions on how to do that below.
Can you freeze fresh rhubarb?
Freezing rhubarb when it is at it's most sweet and tender is ideal. Firstly it saves anything going to waste and secondly it means you can enjoy rhubarb outwith the growing season.
Rhubarb is really easy to freeze and you can do that when the rhubarb is raw or cooked. Freezing rhubarb is a great way of storing a glut of rhubarb growing in your garden and making the best of the tender stems of spring and early summer.
If freezing fresh rhubarb, clean and prepare the rhubarb before cutting into the desired sized pieces. Place the rhubarb pieces on a baking sheet and place into the freezer (see photo above).
Once the rhubarb has frozen remove it from the freezer and place the rhubarb pieces into an airtight container and store for 6-12 months. Worth noting that the rhubarb will break down a little during defrosting so best used in dishes where the look of the stalks don't matter.
7 best rhubarb recipes
Best rhubarb crumble recipe
My best Rhubarb Crumble recipe is a simple recipe, but no worse for it! It is probably the first dish that I cook when these beautiful pink stems arrive on our supermarket shelves. a traditional dessert comprising stewed rhubarb with a sweet crumble topping. Perfection when served with warm custard.
Rhubarb & Strawberry Crumble is a variation of a classic, using sour rhubarb which I've paired with sweet Scottish strawberries to make the perfect summer dessert.
Rhubarb sorbet
Pretty as a picture my Rhubarb & Vanilla Sorbet tastes every bit as good as it looks. Perfect served on its own or serve a scoop alongside our rhubarb tart (see below). Our recipe shows you how to make this rhubarb sorbet by hand.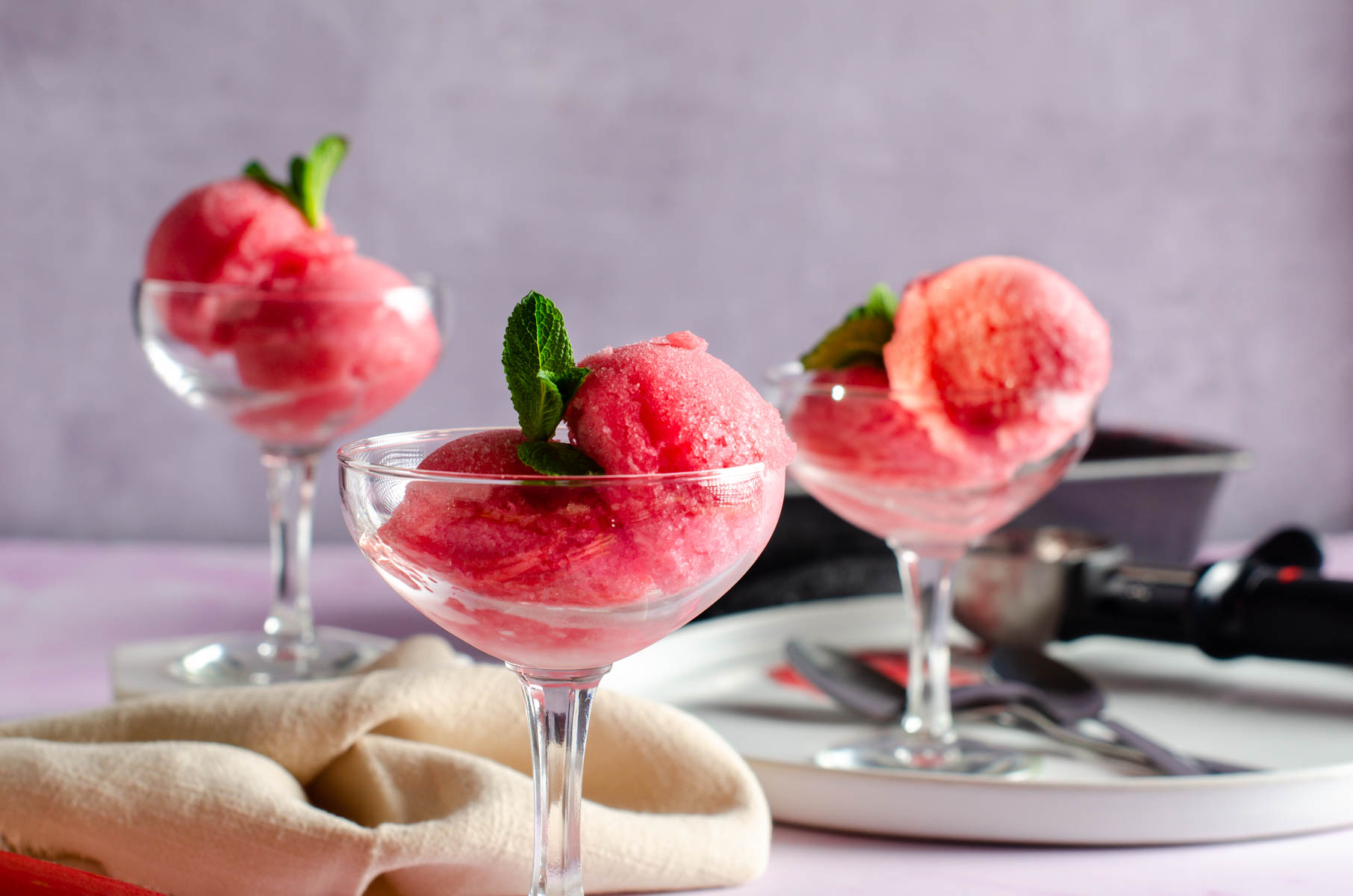 Rhubarb and custard
Rhubarb & Custard Layered Dessert has to be one of the simplest dishes to cook. Rhubarb and custard is a classic flavour combination. Soft poached rhubarb layered up with creamy sweet custard. Easy to make but elegant enough to grace any dinner table.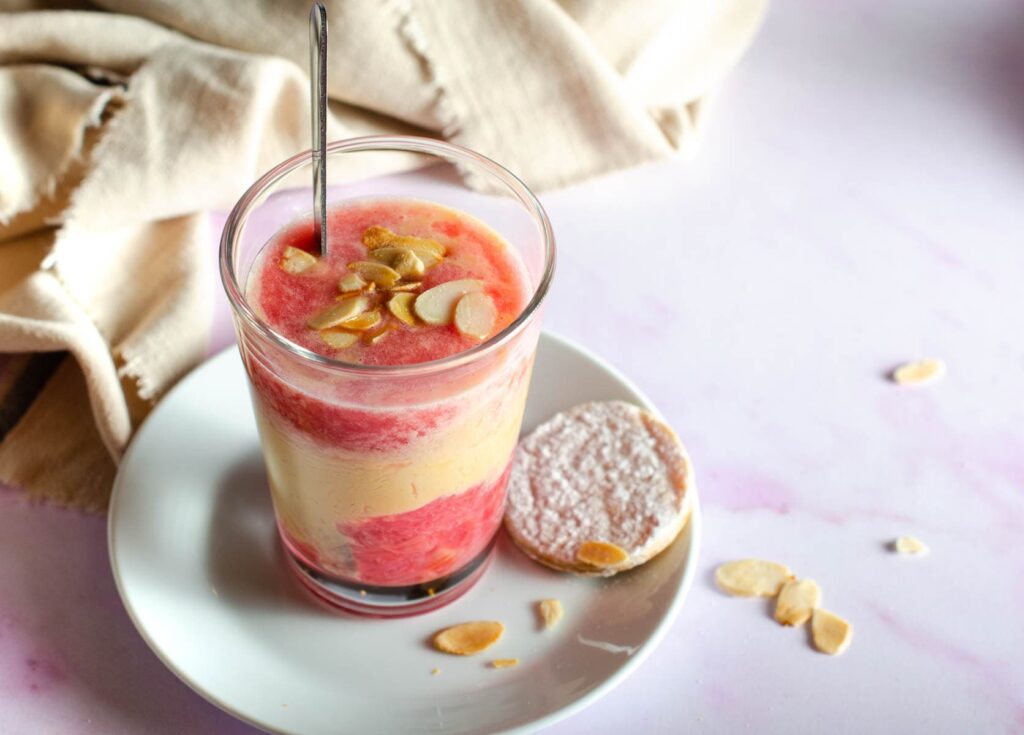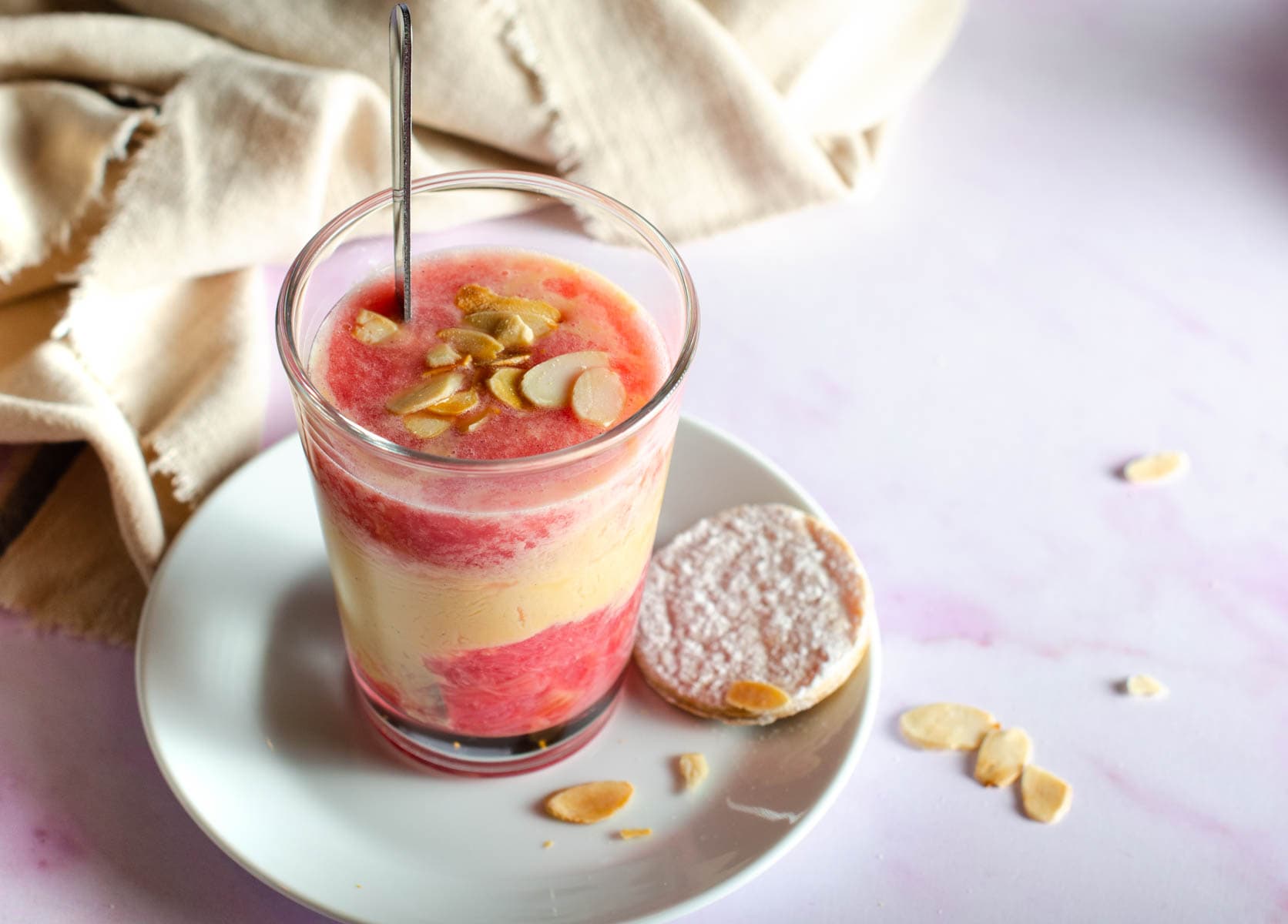 Rhubarb tart
A favourite of mine is this Rhubarb Frangipane Tart or Rhubarb Bakewell Tart is a delicious sweet pastry tart filled with sweet almond and topped with rhubarb stems. One slice is never enough of this sweet treat, perfect for a sunny spring afternoon sat in the garden with a cup of tea.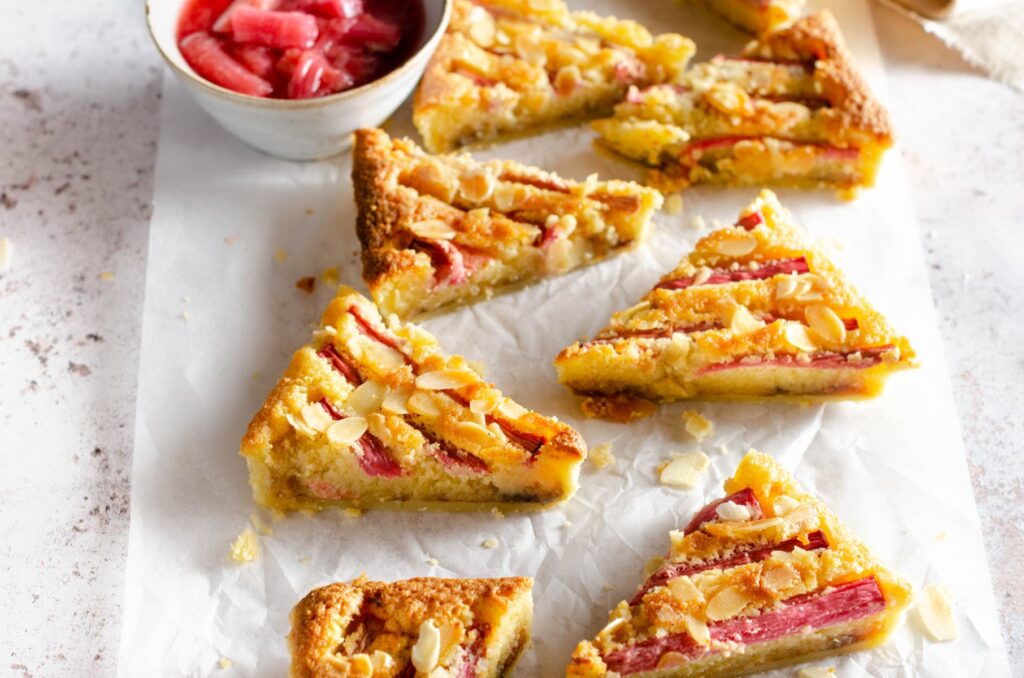 Best rhubarb cake
Looking for a straight-forward bake with loads of flavour, then my Easy Rhubarb & Ginger Cake recipe is the one for you. Rhubarb and ginger is a classic flavour pairing, and I add both ground ginger and stem ginger to this moist rhubarb and ginger cake to make the most of this delicious ingredient.
Rhubarb & ginger clafoutis
Rhubarb Clafoutis with Stem Ginger, a classic flavour combination. The best of new season rhubarb is married with the fiery heat of stem ginger and a sweet pastry batter to make this favourite dessert dish that is best enjoyed straight from the oven.