This Mezze Platter Ideas post is a roundup of our favourite easy mezze platter recipes in one place. We show you how to build a mezze platter with a few tasty hot and cold dishes. Producing a mezze platter might look a bit daunting to start with, but once you break it down you realise it's just a different way of serving food.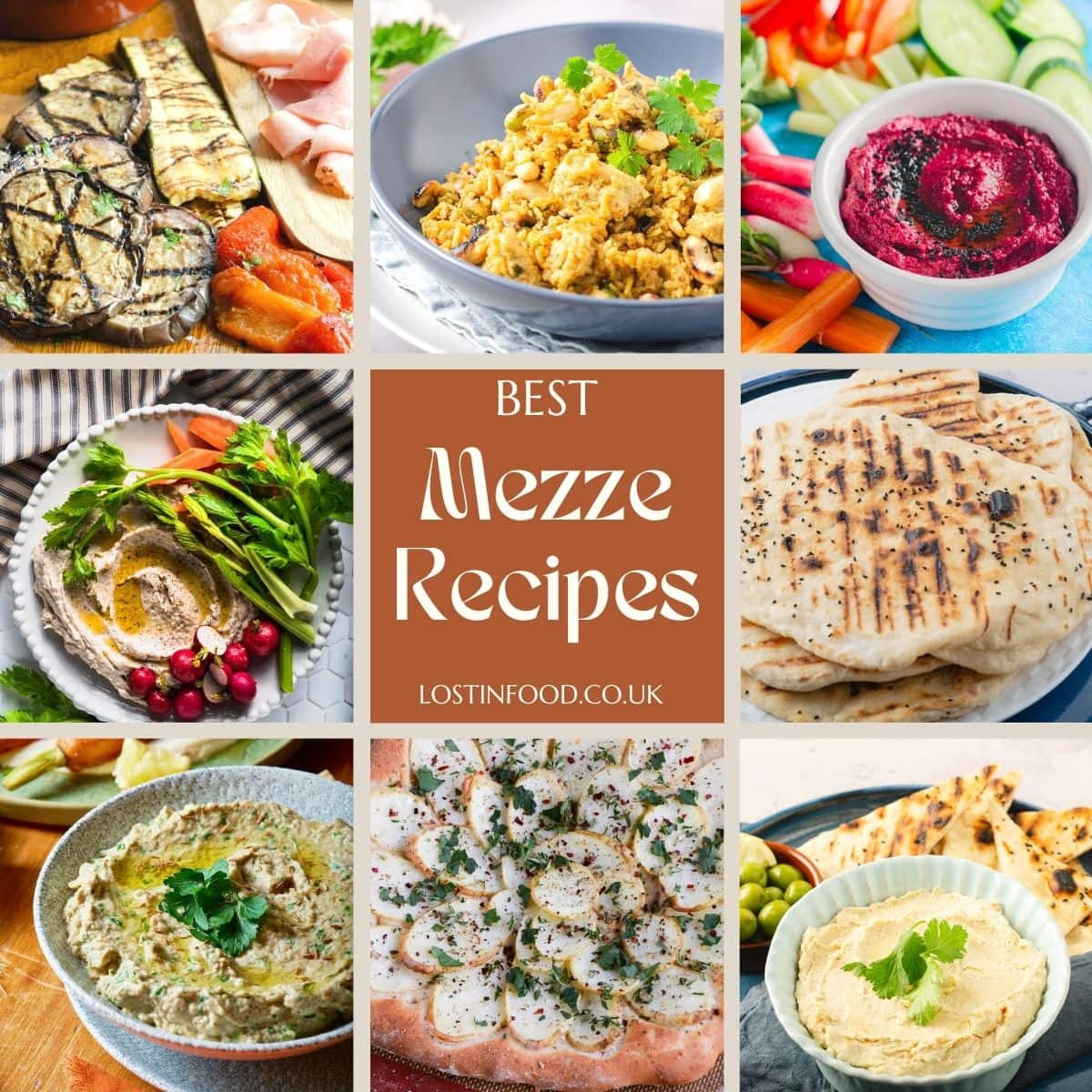 In this post we share with you our mezze platter ideas, showing you just how easy it is to plant your own mezze dinner party at home. Whether catering for a quiet family dinner for 4 or a larger group of diners, the principals are the same. Lots of small plates that everyone can help themselves to a little of.
What is mezze?
Mezze is a style of dining originating in the Mediterranean and in the Middle East. Whilst there is some similarity with Spanish Tapas, a mezze very often means an entire meal, rather than a few appetisers.
Mezze combines hot and cold, vegetable and meat based dishes placed in the centre of the table and shared. Mezze is a very sociable way of dining with everyone helping themselves to a little of everything.
What food is in a meze?
Meze contains a variety of small plates that usually include warm flatbreads or pita bread; dips like hummus and baba ganoush; falafel; olives; cheeses; salads and vegetables.
For a larger dinner gathering this can also include cold cuts, warm meat based dishes and bowls of spiced rice and couscous.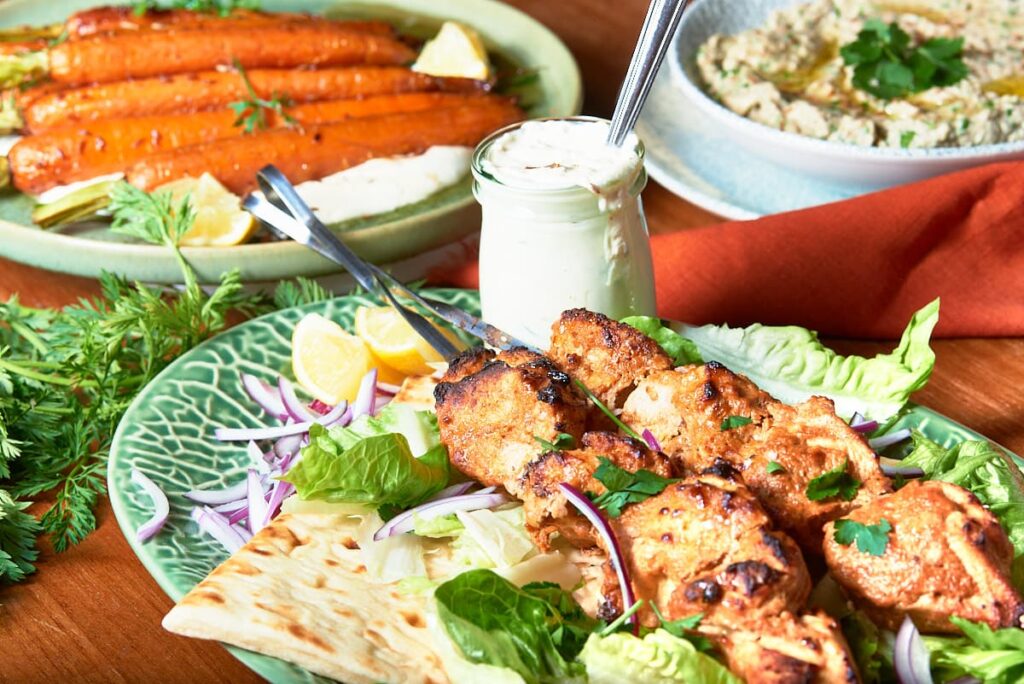 How many courses are in a meze?
Meze does not have a traditional starter, main and dessert set up that we think about when planning dinner. Instead a number of smaller plates are placed on the table.
These usually start with smaller cold dishes like olives and salad dishes. Further dishes are added to at regular intervals. Working up to the hot dishes like kebabs, warm vegetable dishes and couscous.
Top 5 tips for hosting a mezze dinner party:
As with most things, a little planning goes a long way to help. Allowing you to come up with the right amount of food for everyone. Here are some hints and tips:
Once you know how many people are eating you can plan the menu. Think realistically about numbers, for example if serving hot kebabs allow one per person as this will be more than enough with the rest of the food on the table.
Balance the menu, you don't want too many heavier dishes. Instead focus on the lighter dishes like dips and salads and only add a few heavier hot dishes.
Plan your menu to ensure most dishes can be prepared in advance. For example, make the dips the day before, and marinate any meats so they are ready to cook once your guests arrive. Advanced planning means you can enjoy dinner too.
Always check for any allergies and food intolerance before you finalise any menu. It is better to know up front so you can avoid wasting food, or worse have one of your diners going hungry!
After working out what you're cooking, make a shopping list for the week. Shopping lists keeps you focused, you buy what's on it and that usually ends up saving you money.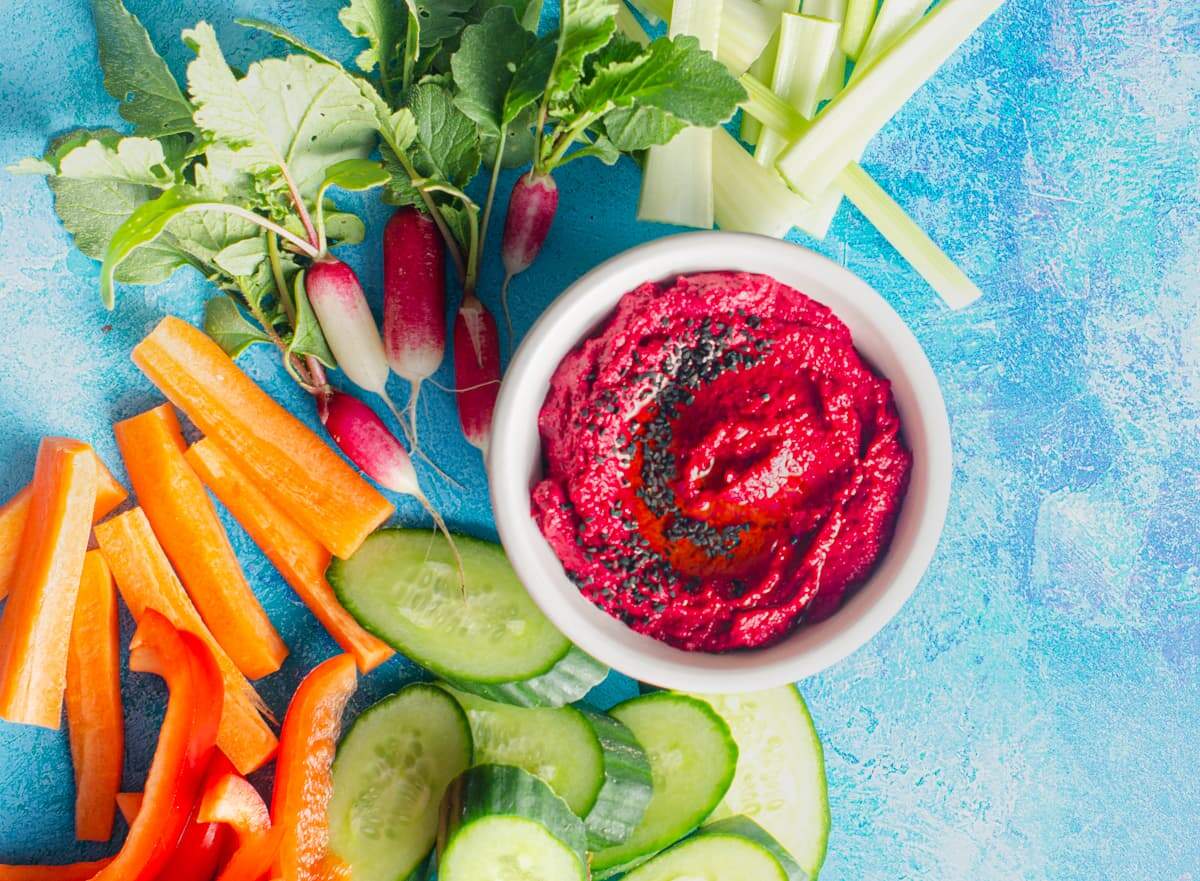 How to build a mezze platter?
Start with some warm pittas or flatbreads, together with a large bowl of mixed olives and 3-4 dips. I'd suggest a hummus and some baba ganoush. I also add a yogurt based dip to drizzle over meats and salads.
Next look at some cold salads and vegetable dishes, including a selection of olives. Again I would look at 3-4 different dishes along with some raw veggies to dip into hummus. You may also wish to add some cold cut meats and salamis.
Finally consider the any hot dishes that you want to serve. These may include grilled meats and some warm rice or couscous based dishes.
Our favorite Mezze platter ideas:
Below are some of my favourite mezze platter ideas, including cold and hot dishes. These dishes can be served on their own or in a group of appetisers. Or grouped together as part of larger mezze style dinner.
Mezze style flatbreads:
First up is the bread! No mezze platter is complete without some warm flatbreads to dip into hummus and any other dips you are serving.
Mezze style dips:
Popular on any mezze menu are a selection of dips which almost always comprise of baba ganoush; hummus and some form of yogurt based dip or sauce.
Vegetable mezze dishes:
When it comes to my favourite mezze platter ideas I will always include olives and some sliced vegetable crudites. I also include marinated or pickled veggies and salads if I'm feeding larger numbers.
Sharing salads & vegetable dishes:
Preserved vegetable dishes:
Hot meat based mezze dishes: