Simple hummus a great recipe, an easy to prepare Vegan dip that works great on it's own or as part of a meze platter.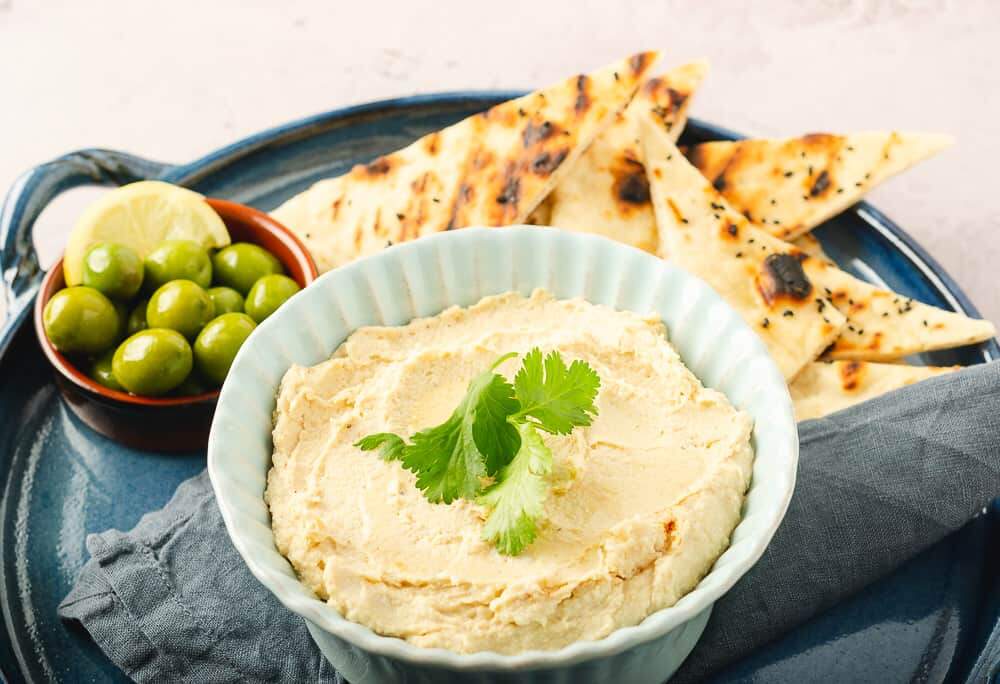 Simple hummus is a great recipe and one we should all have in our repertoire. A homemade hummus is far superior in flavour and texture to anything you can buy in the supermarket.
I love good hummus. One of the first restaurants I visited in Scotland was a small middle eastern restaurant that served the best hummus. It was creamy and smooth, with just the right amount of garlic. Needless to say every time I visited I scoffed the lot!
Now I won't claim that I make my own hummus all the time. Sometimes you just need the ease of shop bought dips and nibbles because you're having a lazy night in.
Each time I read a magazine or recipe book and there is a recipe for hummus I always compare them. Some have added olive oil, some are made with tinned chickpeas and others made with dried chickpeas.
Each time I followed a recipe the hummus was never quite like I had that first time! So my search for the best recipe continued.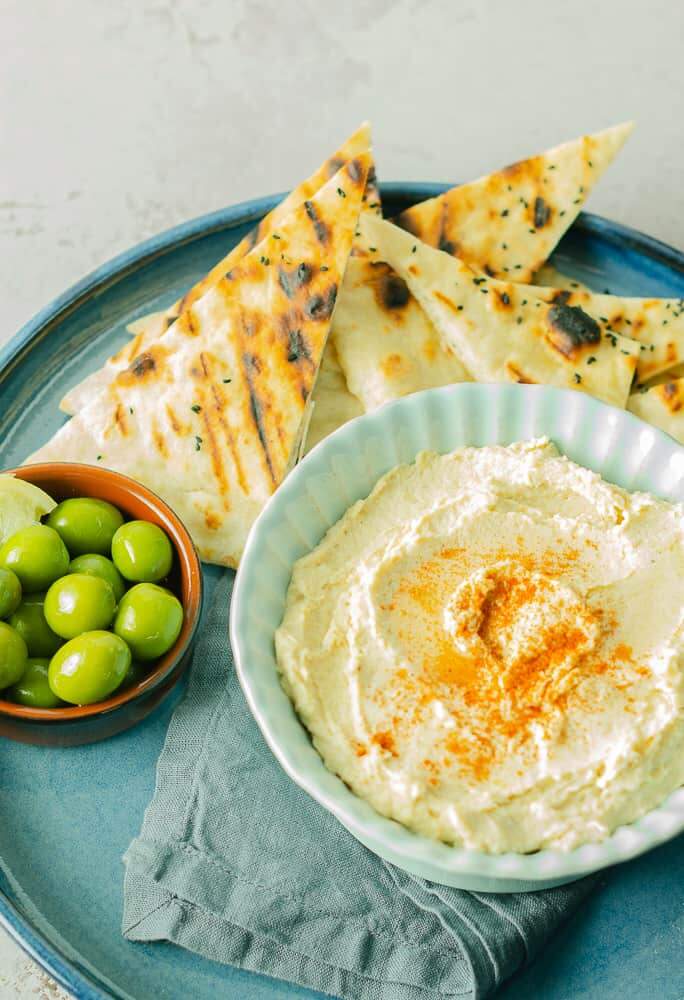 What's the best tahini to buy?
I then came across an article by Yotam Ottolenghi in which he argued his opinion on using dried chickpeas and a turkish tahini, rather than a greek tahini.
Armed with more information, I set off to try his recipe. I was amazed at the difference! I had finally achieved the smooth texture and creaminess I'd been searching for in a homemade hummus.
Why use dried chickpeas?
This method does need a little planning time as the chickpeas are soaked overnight and cooked for 40-50 minutes the following day until soft.
However, in my opinion it is worth this extra effort as cooked this way the chickpeas are so far creamier. This makes a really superior dish.
That said, if time is tight then use canned chickpeas instead. I've never had any problems with taking shortcuts where required.
Use the method that suits you in the time you have available!
How to flavour hummus?
Our recipe is flavoured with tahini, lemon juice and salt which is quite traditional.
I like to taste the hummus as I go along and if I think it needs a little more of something then I add it. Add in small amounts.
Remember: you can always add, but can't take away!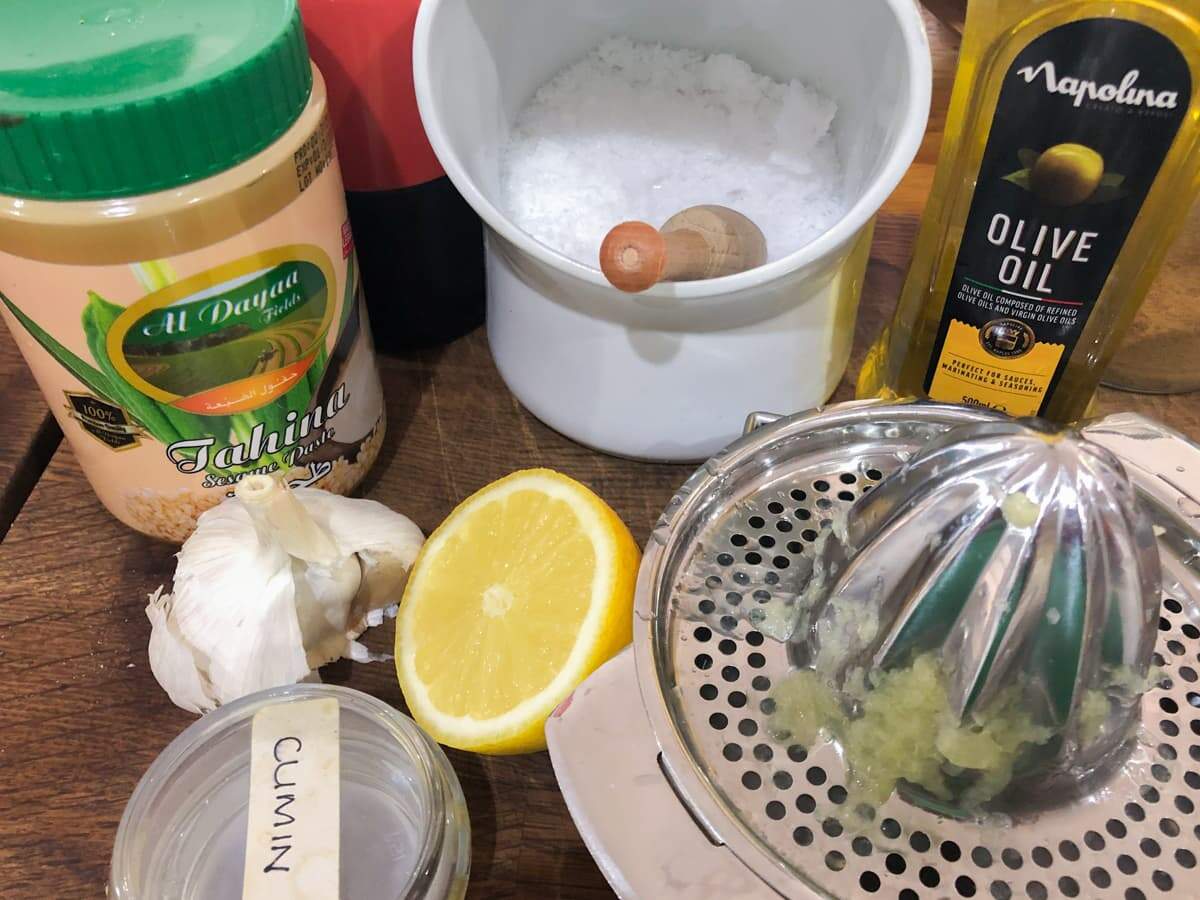 Additional flavour suggestions:
However don't be restricted into only using the flavourings we have used here. You can add other flavours either to the hummus itself, or drizzled over the top!
Flavourings for hummus:
ground spices, eg cumin, saffron or smoked paprika
fresh herbs, eg parsley, mint or coriander
fresh chillies
Toppings for hummus:
olive oil
herb or chilli oils
sundried tomatoes
roasted red bell peppers
caramelised onion or shallot
chopped olives
fresh herbs
nigella seeds
How long does hummus keep in the fridge?
This creamy hummus recipe is a great make ahead dish as once prepared it will keep for up to 5 days in the fridge. Just cool and place in a container with a tight fitting lid.
Can I freeze hummus?
I'd also add that whilst this recipe makes a large quantity, hummus does freeze really well. This makes it ideal for preparing in bulk and freezing for later use.
Once cooled decant the mixture into containers and seal with a tight-fitting lid. Pop in the freezer and when ready to enjoy take it out and defrost before eating.
This creamy hummus recipe will keep for up to 6 months in the freezer.
What to do with leftover tahini?
Once opened store your tahini in the refrigerator. Leftover tahini makes great sauces and salad dressings.
Mix your leftover tahini with thick Greek yogurt, lemon and a little crushed garlic for a great tasting salad dressing.
Don't limit yourself to savoury dishes either, leftover tahini works just as well with sweet foods!
Spread a little tahini over hot toast and drizzle over some runny honey. Serve this toast with some ripe fruits like figs or nectarines – perfection!
Pin the recipe: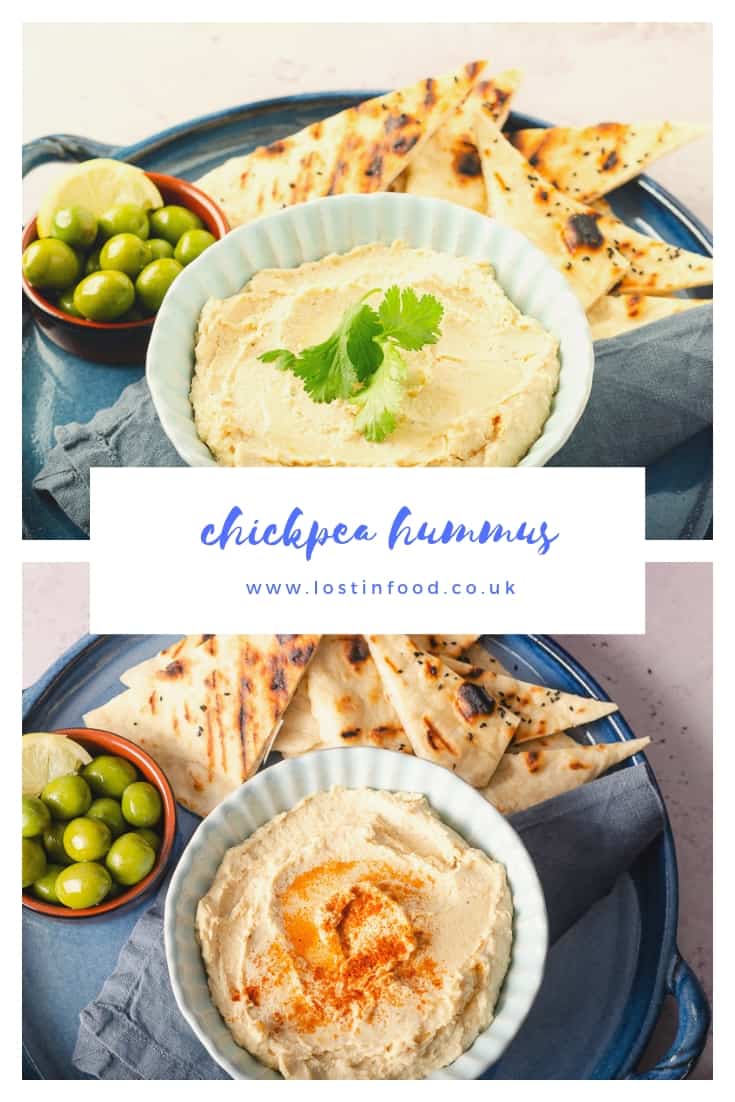 Additional recipe suggestions:
For some other great additions to a meze platter try some of our other recipes:
For more recipes read my Easy Mezze Platter Ideas post.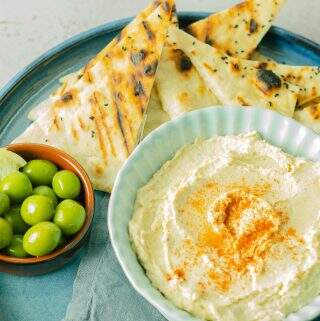 Simple Hummus
Creamy hummus, a simple Vegan dip that's really easy to make. Great on its own or as part of a meze platter.
Print
Pin
Text
Save
Saved!
Ingredients
250

g

dried chickpeas

(soaked overnight in double the amount of water)

1

tsp

bicarbonate of soda

270

g

tahini

4

tbsp

lemon juice

4

cloves

garlic

75-100

ml

ml ice cold water

1.5

tsp

salt
Instructions
Soak the chickpeas overnight in a large bowl of water, twice the amount of water to chickpeas. The next day drain the chickpeas into a pan over a high heat and add the bicarbonate of soda. Cook for a couple of minutes, stirring constantly before adding the water. Add approximately 1½ litres of fresh water and bring to a boil.

Cook, skimming off any foam and skins that float to the surface. They may take anywhere between 20 and 40 minutes, depending on the type and freshness, sometimes even longer. Once done, they should be very tender, breaking up easily when pressed between your thumb and finger, almost but not quite mushy.

Once cooked, drain the chickpeas. You should have roughly 600 grams now. Place the chickpeas in a food processor and process until you get a stiff paste; then, with the machine still running, add the tahini paste, lemon juice, garlic and 1½ teaspoons of salt. Finally, slowly drizzle in the iced water and allow it to mix until you get a very smooth and creamy paste, about five minutes.

Transfer the hummus into a bowl, cover the surface with cling film and let it rest for at least 30 minutes. If not using straight away, refrigerate until needed. Make sure to take it out of the fridge at least 30 minutes before serving.
Notes
This recipe makes a large quantity of hummus. You can half the recipe but we have tried and tested to freeze in smaller amounts and allowed to defrost at room temperature and have no issues with either taste or consistency.
Nutrition Facts
Simple Hummus
Amount Per Serving
Calories 169
Calories from Fat 90
% Daily Value*
Fat 10g15%
Sodium 326mg14%
Potassium 235mg7%
Carbohydrates 14g5%
Protein 6g12%
Vitamin A 25IU1%
Vitamin C 3.2mg4%
Calcium 44mg4%
Iron 1.9mg11%
* Percent Daily Values are based on a 2000 calorie diet.
• Please note that the nutrition information provided above is approximate and meant as a guideline only •
Share on Facebook