My Mediterranean Grilled Aubergine recipe is easy to follow. Grilling aubergine on the barbecue results in soft and smoky slices of aubergine that I then marinated in an Italian marinade, making these griddled aubergines the perfect accompaniment to any anti-pasti or sharing platter.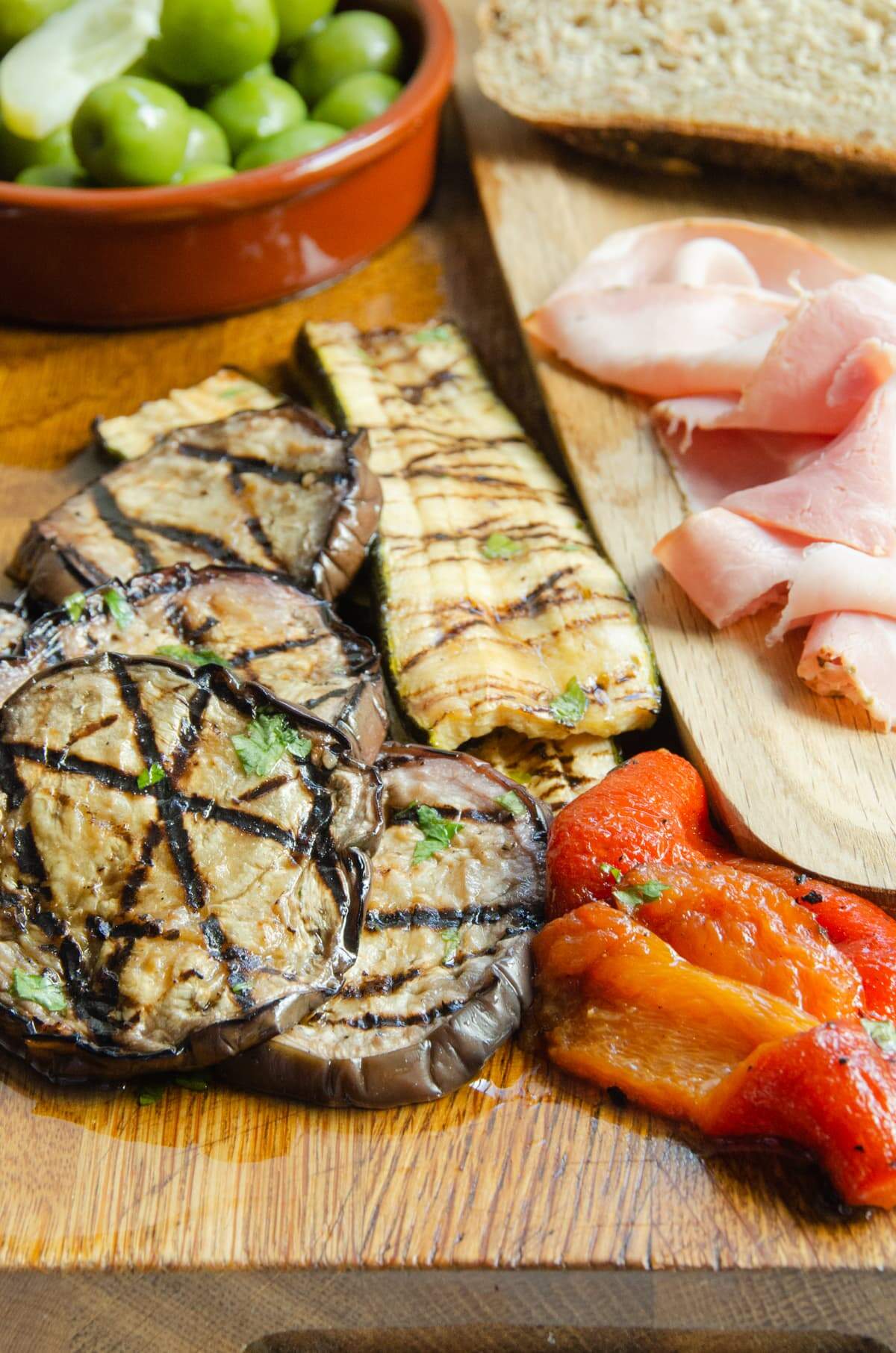 This Mediterranean grilled aubergine recipe is one of my favourite recipes on the blog. I love aubergine, or eggplant as it is also known, and this is a delicious way to enjoy it. I find that even family members who are less keen, enjoy my Mediterranean grilled aubergine with the Italian marinade, as the flavors work so well together.
Grilled aubergine slices are a great way to use up a glut of aubergines that anyone might have growing in their greenhouses over the Summer months.
Mediterranean grilled aubergine is quick to make and once done will keep in the fridge for a couple of weeks, ready to add as a side dish or sharing platter. Make make them the star of the show in a grilled aubergine salad, or serve as a simple lunch, with a side of freshly baked sourdough bread and a bowl of olives.
Grilled aubergine features in Nadiya Hussein's Coronation Aubergine recipe, created for the Coronation of King Charles. While I have used the BBQ to griddle the aubergine, in Nadiya's Coronation Aubergine recipe she uses a griddle pan.
You don't get quite the same smoky flavor with a griddle pan as you do with a BBQ, but it's another easy way to grill aubergine. So, I include instructions on how to do that within this post too.
Why you'll love this recipe:
Easy to prepare and grill using a few simple marinade ingredients.
A tasty addition to any sharing platter, serve with meat, hummus, pickled veggies and some toasted flat-breads.
Leftovers can be stored in the fridge for a couple of weeks, and make a great addition to your lunchtime salad.
How to grill aubergine on the BBQ: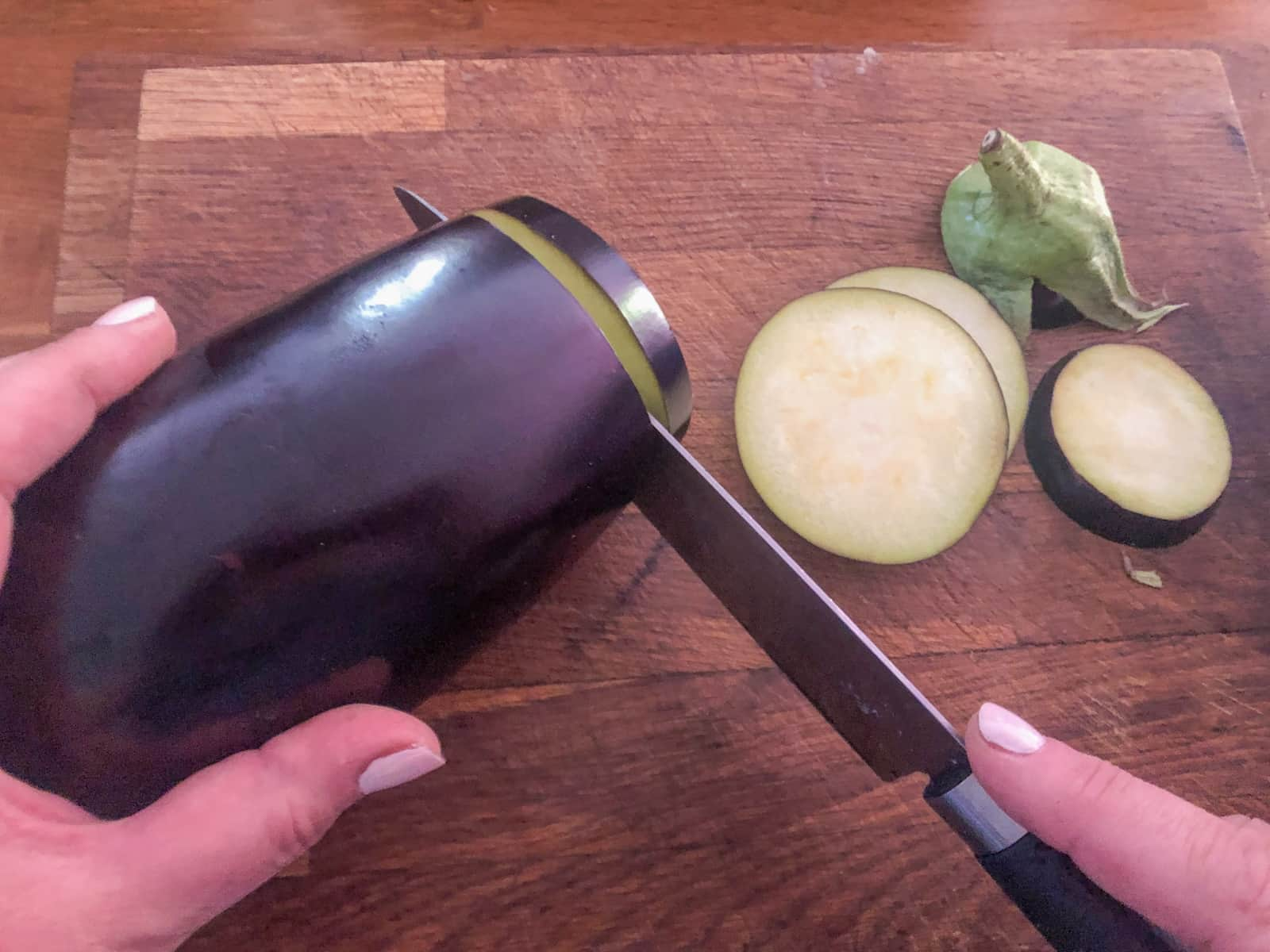 Slice the aubergine into 1cm discs.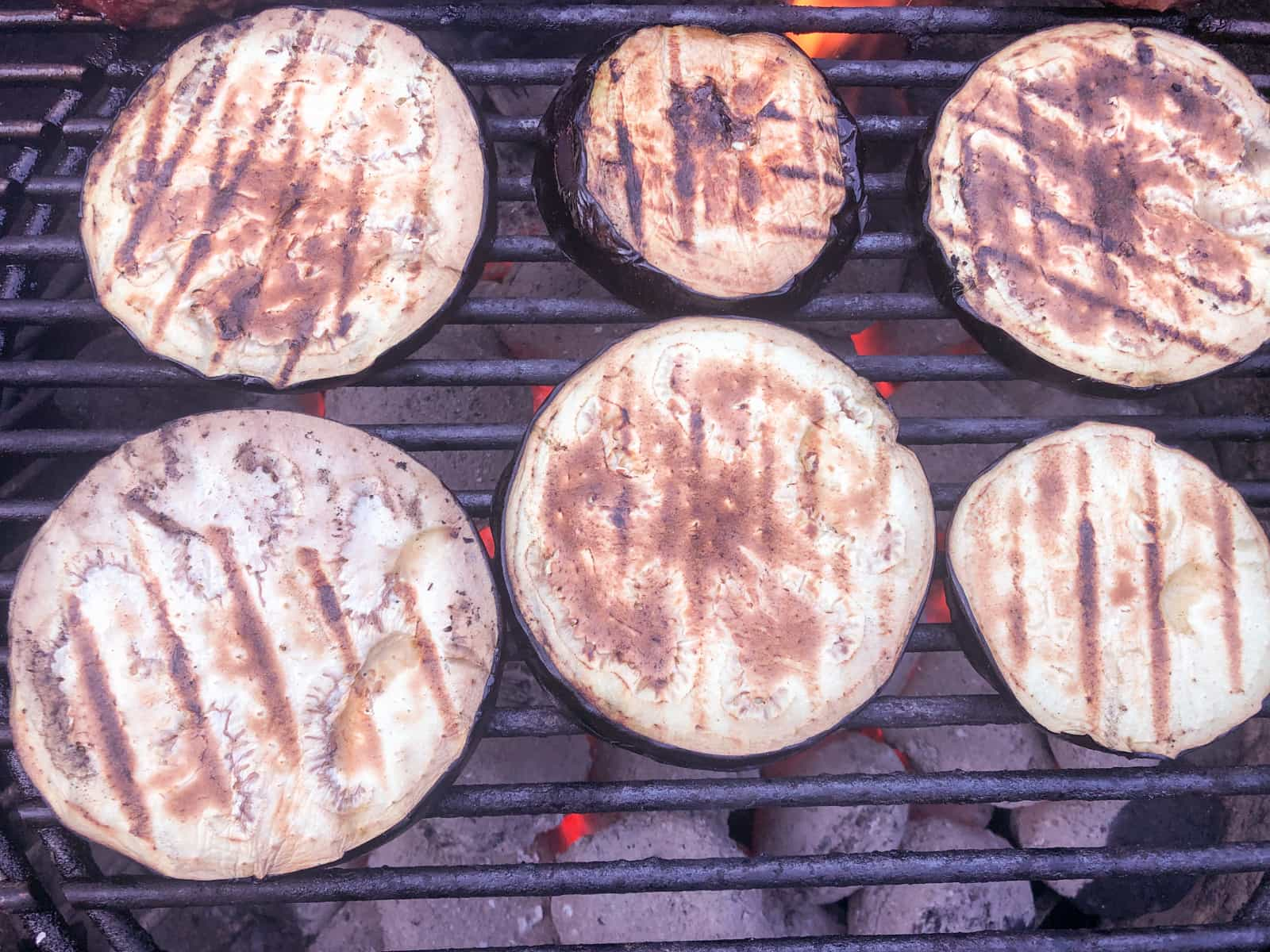 Cook the aubergine till soft, either over charcoal or under the grill.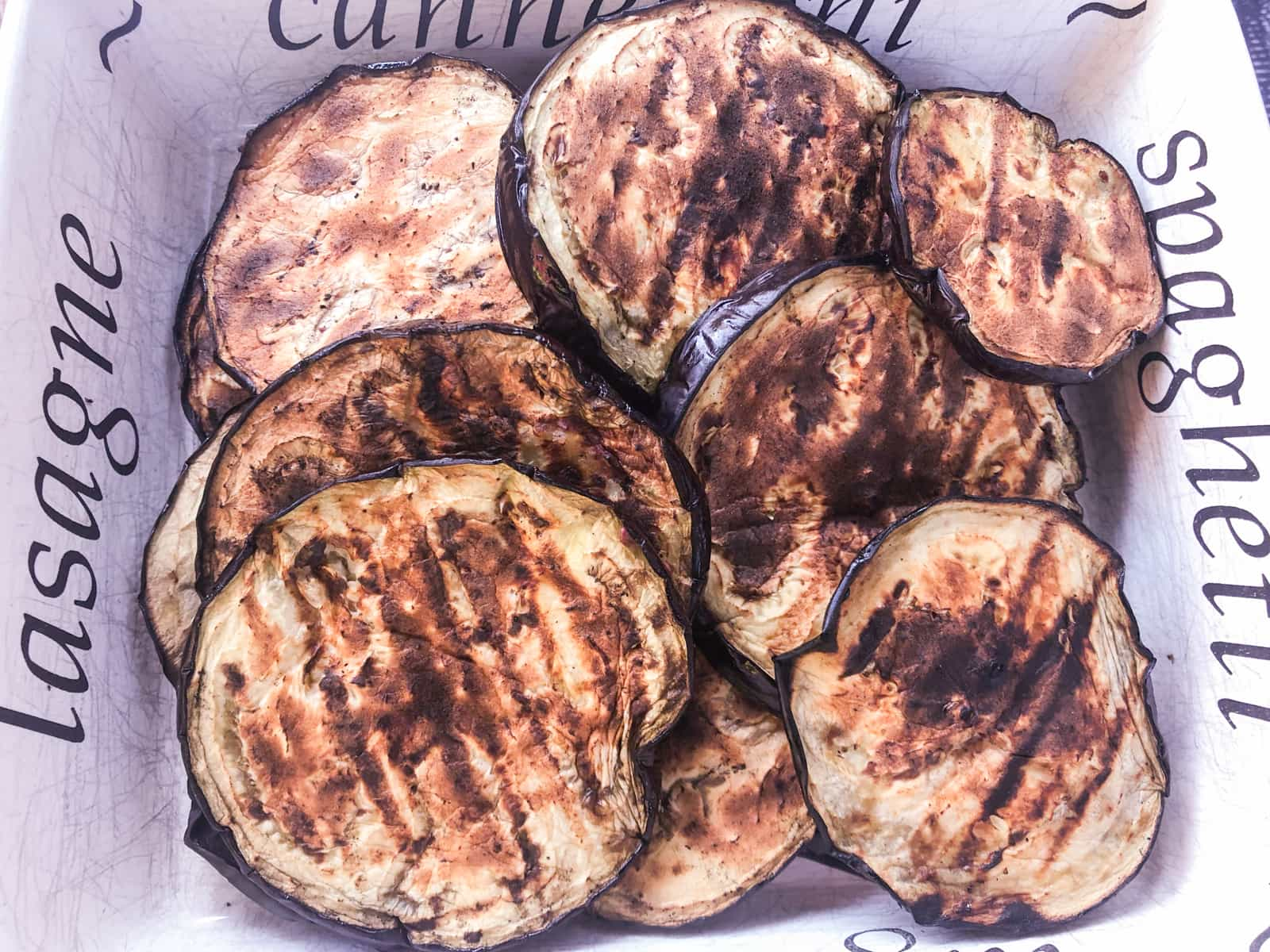 Once cooked set the aubergine aside and allow to cool.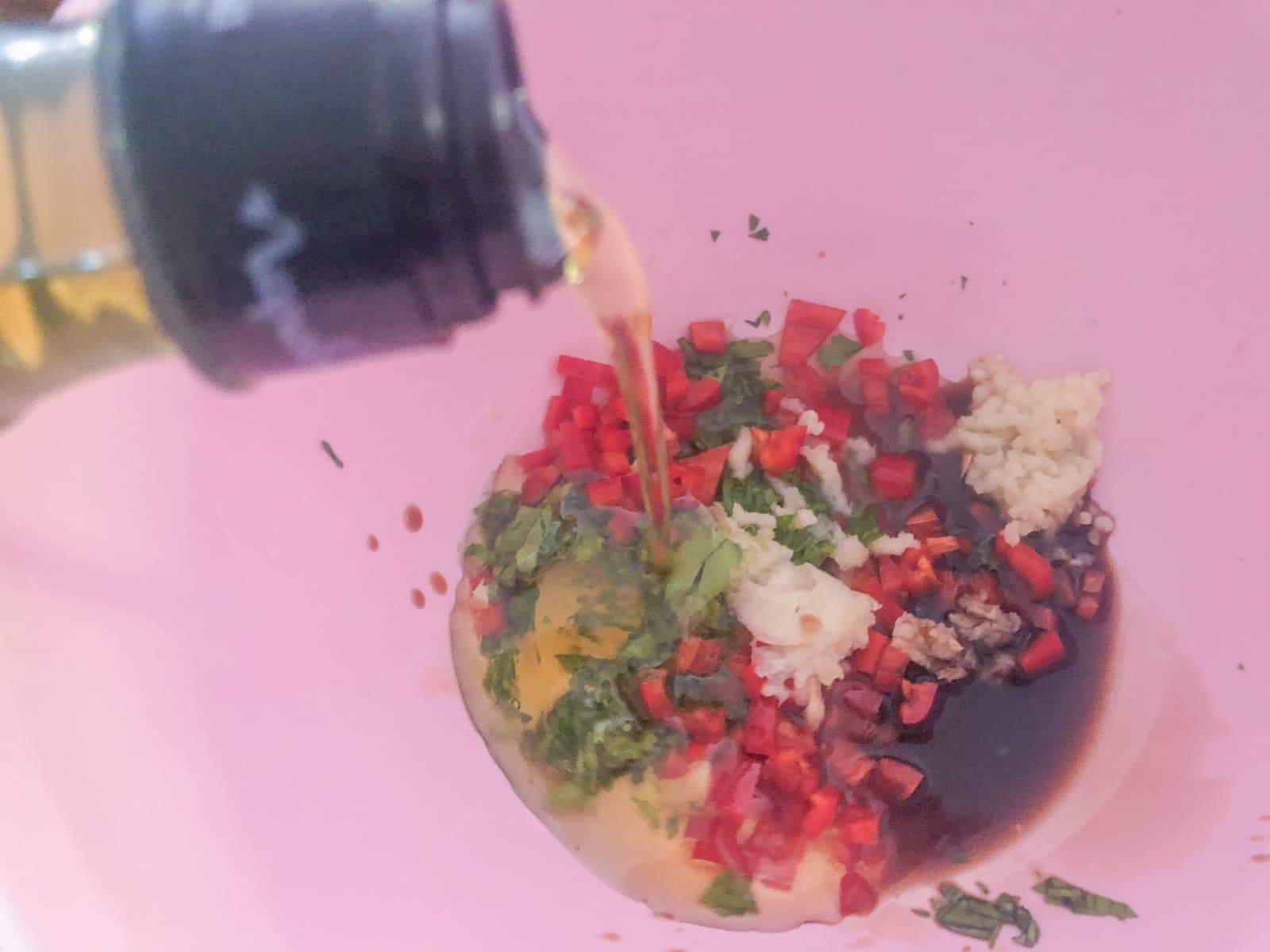 Meanwhile add the marinade ingredients to a bowl and mix well to combine.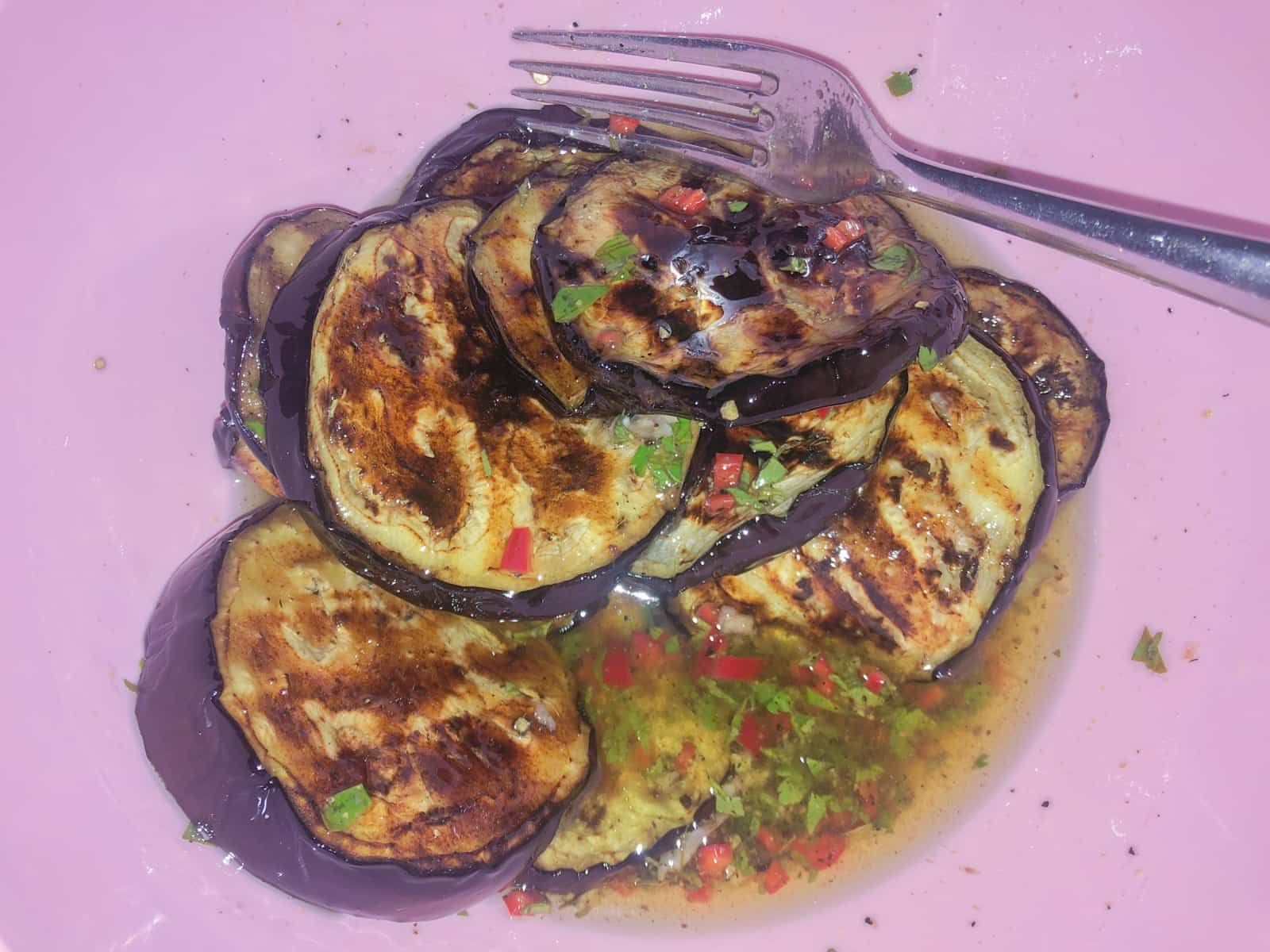 Add the cooled aubergine to the marinade and mix well.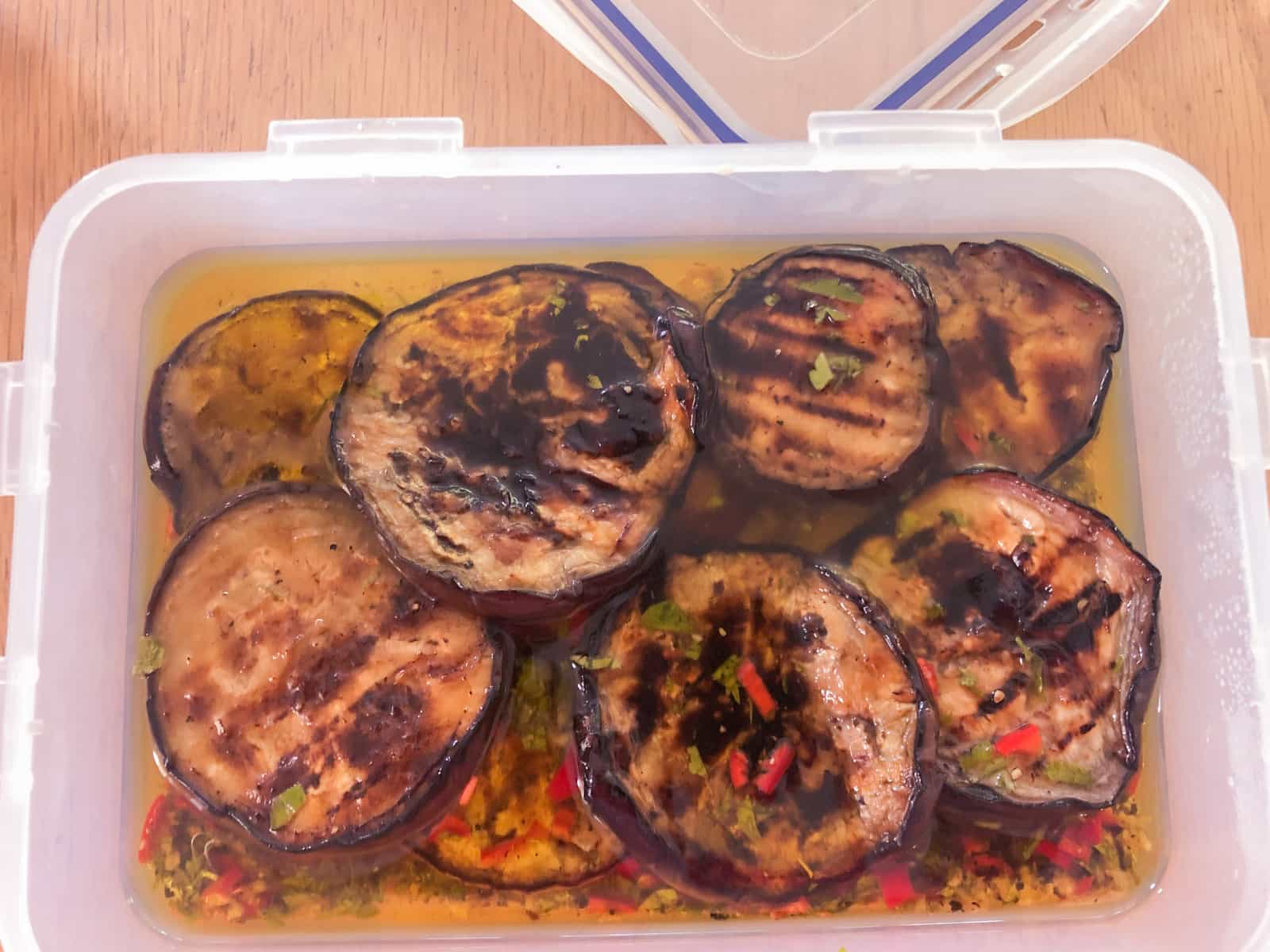 Layer the aubergine into a container, add the marinade and if necessary add more olive oil to cover the aubergine, place on a tight fitting lid and pop in the fridge.
How to grill aubergine in a pan?
Place the griddle pan over the stove on a medium heat. Brush each slice of aubergine on both side with olive oil and place the slices in the griddle pan.
Cook for around 2-3 minutes on each side until starting to brown then remove from the pan and set aside to cool. Work in batches so you don't overcrowd the pan.
Once all the aubergine has been cooked and cooled, add it to the Italian marinade.
Recipe ingredients: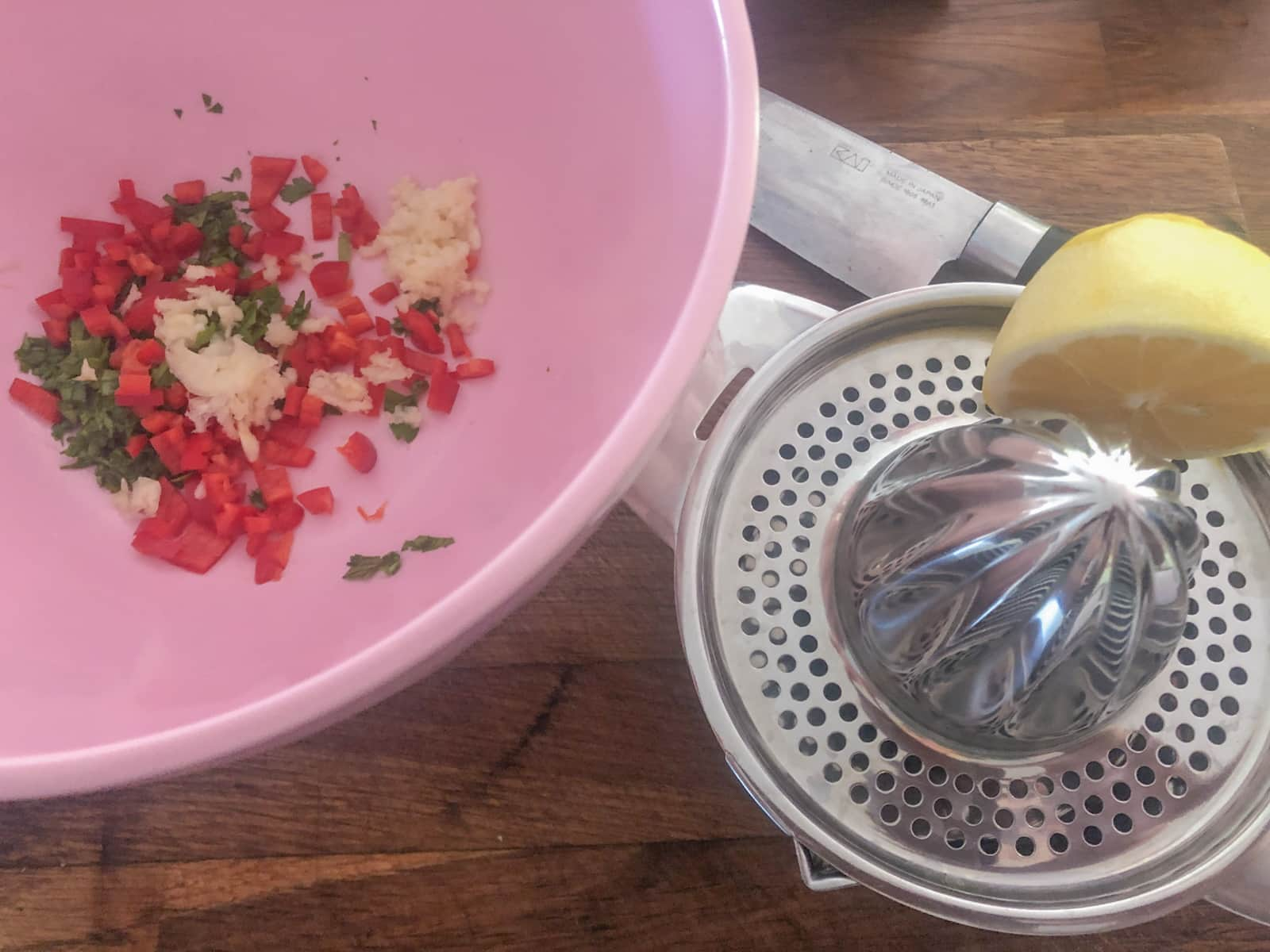 AUBERGINE (EGGPLANT): I use 1 large or 2 small aubergines, sliced into 1cm rounds. You can also use this recipe to grill courgettes or bell peppers and can find instructions for that later in the post.
GARLIC: I always use fresh garlic in the marinade as it has the best flavour. You could use garlic puree in a pinch, but don't add garlic salt as it just doesn't have the same flavour.
CHILI: I use a fresh red chilli which I de-seed and finely chop. If you don't like chilli heat, leave it out.
FRESH HERBS: A small bunch of chopped flat leaf parsley flavours the marinade. You could also use fresh oregano or basil.
ACID: I add both balsamic vinegar and the juice of half a lemon to the marinade.
OIL: I use extra virgin olive oil in the marinade as it has the best flavour.
SEASONING: The marinade is seasoned with a little sea salt and freshly ground black pepper.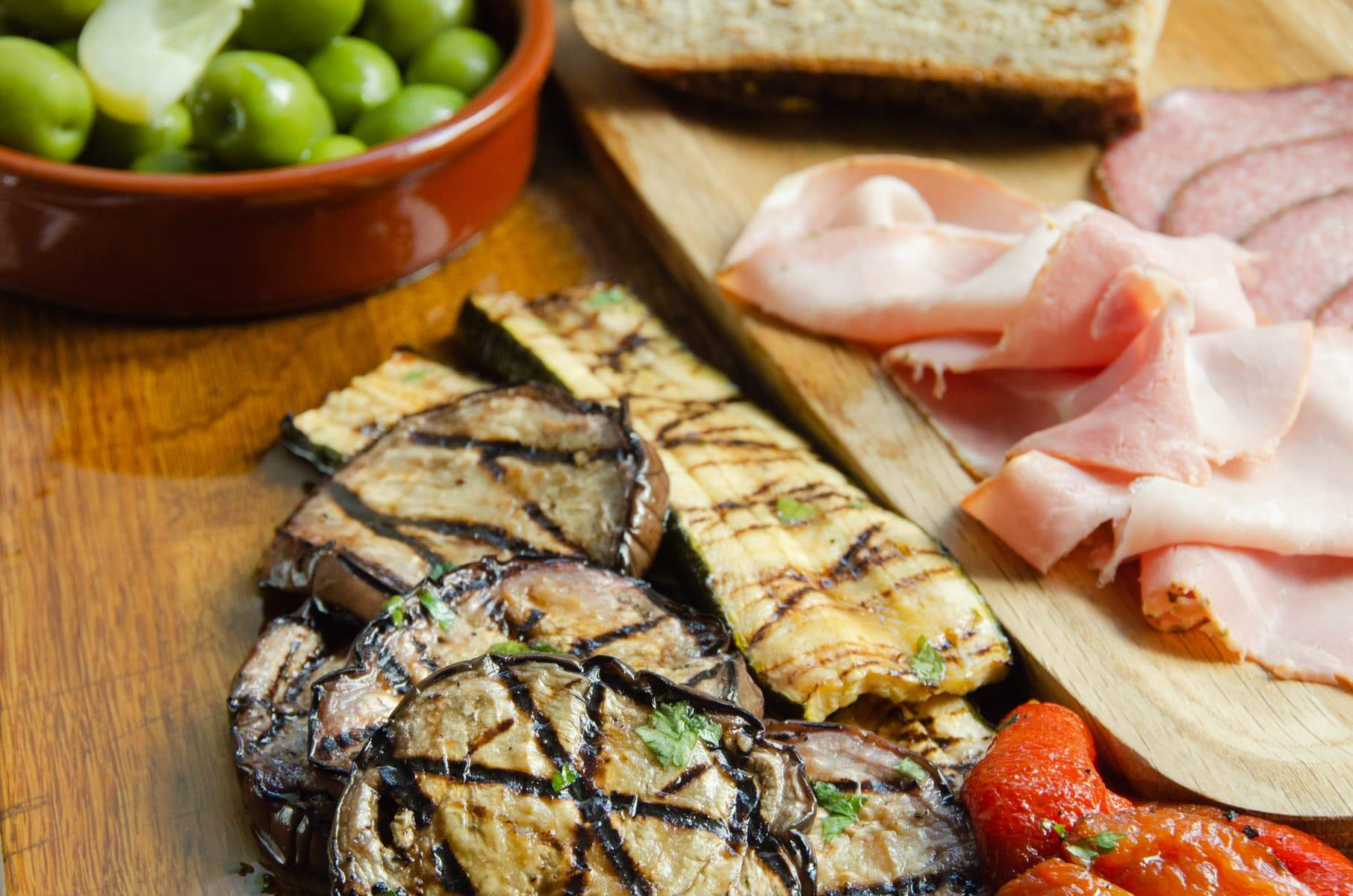 How to serve Mediterranean grilled aubergine?
Quite often they're eaten straight from the tub in the fridge and don't actually make it to the plate! However, I do love serving grilled eggplant on an anti-pasti board with olives; pickled vegetables; meats and other cold cuts; and hummus. Serve alongside these easy recipes:
They also taste delicious as a side dish alongside some spicy couscous, or some grilled meats.
For more recipes read my Easy Mezze Platter Ideas post.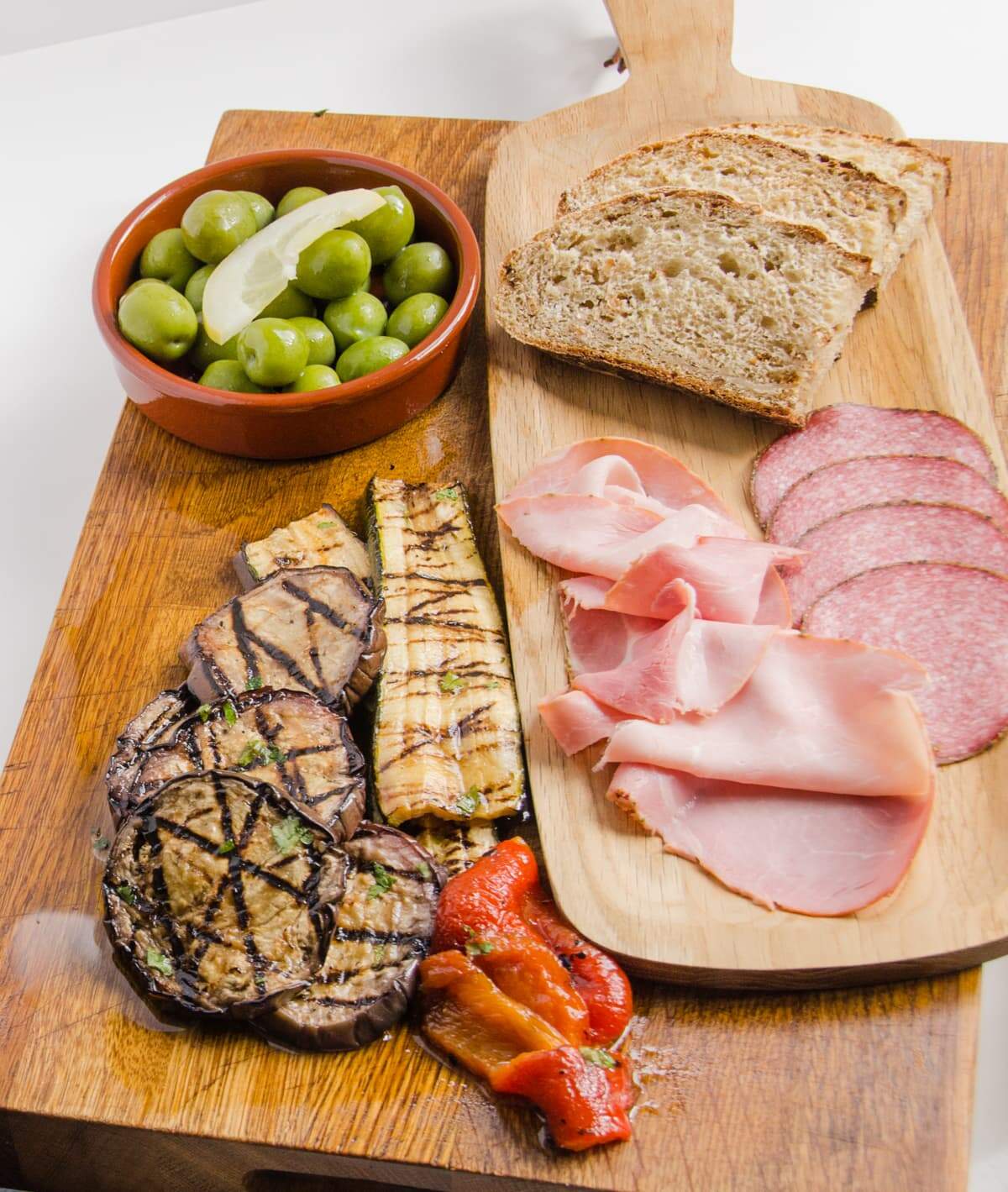 Can I use this method to marinate other vegetables?
The same process and marinade can be used for courgettes (zucchini) and peppers too. When I have the BBQ on I will often grill all 3 fruits and add them to the marinade.
The aubergine and courgette are sliced and charred on both sides. However, the pepper needs to be treated a little differently. The process for grilling peppers is explained below.
How to grill peppers:
Place the peppers on the grill whole and allow the skin to completely blacken on all sides.
Once the pepper skin has blackened, place it straight into a plastic bag and seal. Allow the pepper to steam for around 10 minutes, then remove it from the bag.
By this time the skin should slip right off the pepper.
Discard the skin, gently open the pepper up and remove the stalk, inner core and any seeds.
Now run the pepper under cold water, dry it on some kitchen paper and add to the marinade.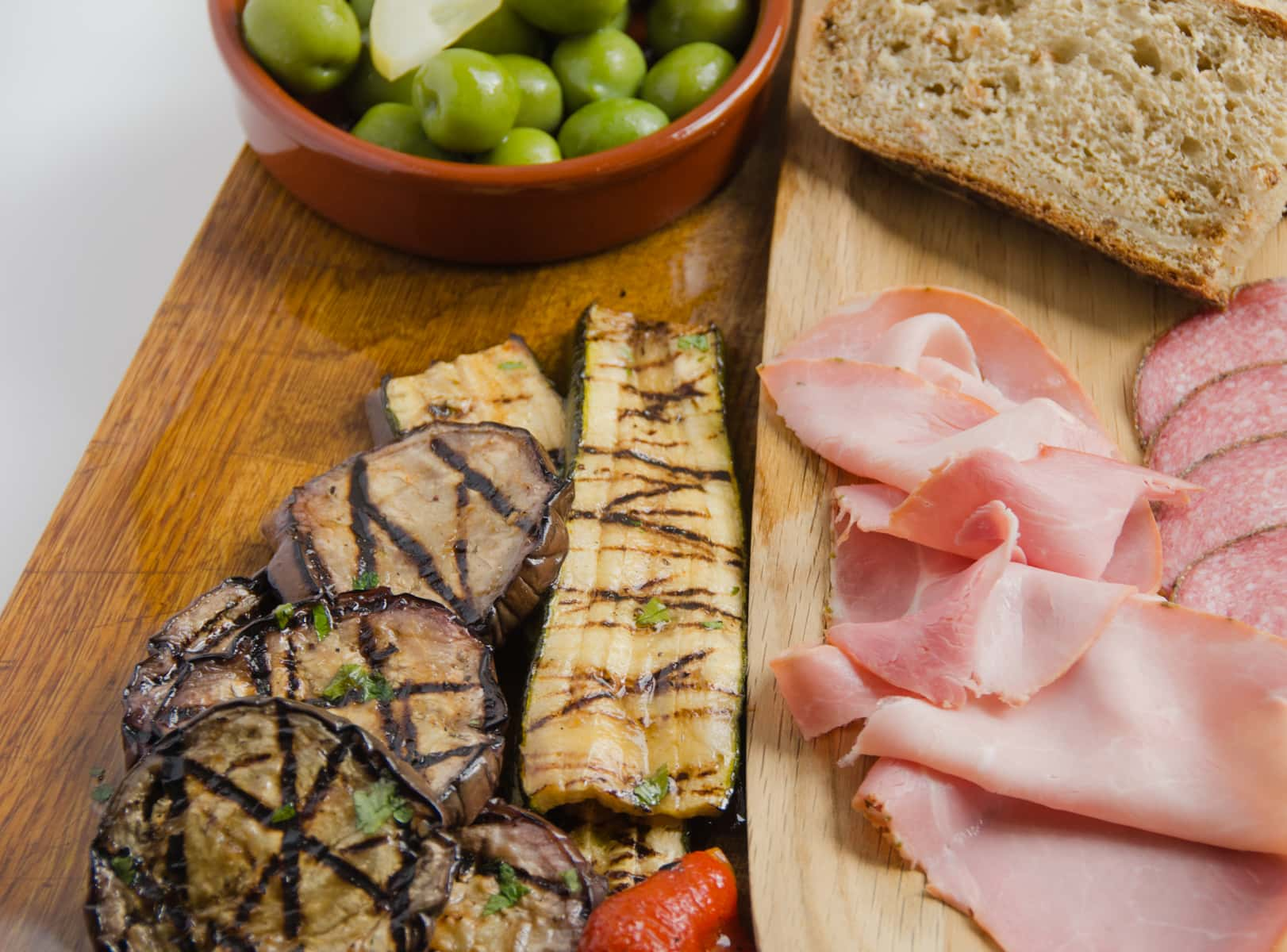 Recipe hints & tips:
Make the best use of your barbecue. When I have the BBQ lit, I always make sure I get the best out of my coals, so I will often grill other bits and pieces to use for another meal another day. Once I've eaten my food, it will often grill some aubergine, courgette and pepper, add it to the marinade which I made earlier in the day. This saves me lighting the BBQ just to cook a few vegetables and means I have the ingredients for an easy salad or sharing platter the following day.
If grilling courgette and peppers too, I suggest that you double the recipe for the marinade. It's really important to keep the veggies covered in a layer of oil at all times to stop them spoiling.
Don't waste the flavored oil! Once you have eaten the marinated aubergine, don't throw away the olive oil. It is beautifully flavoured and can be used to drizzle over food, like salad or meat; in salad dressings; for sauteing vegetables; or as a simple dipping oil with a chunk of crusty bread.
Containing no dairy means this salad is suitable for anyone following a dairy free or vegan diet.
Allergy advice: This recipe is gluten free, dairy free, egg free, soya free and nut free. For comprehensive and detailed allergy advice go to Allergy UK.
FAQs
What is the best way to cook aubergine?
I love cooking aubergine on the barbecue as the char adds a lovely sweet and smoky flavor. You can also grill aubergine indoors using a griddle pan, or roast aubergine in the oven. But neither option will give you the smokiness you get with a BBQ.
How long can you store marinated grilled aubergine?
Once grilled and covered in the Italian marinade, these aubergine slices should last in the fridge for a couple of weeks. Just ensure that when you place them in the storage container that you completely cover the vegetables with the olive oil. If necessary add a little extra olive oil if it gets too low!
Do you need to salt eggplant before grilling?
No, I never do this. Aubergine used to be a rather bitter fruit, but thanks to advances in eggplant farming, they are far less bitter these days which means there is no need to salt eggplant before you cook it.
Pin the recipe: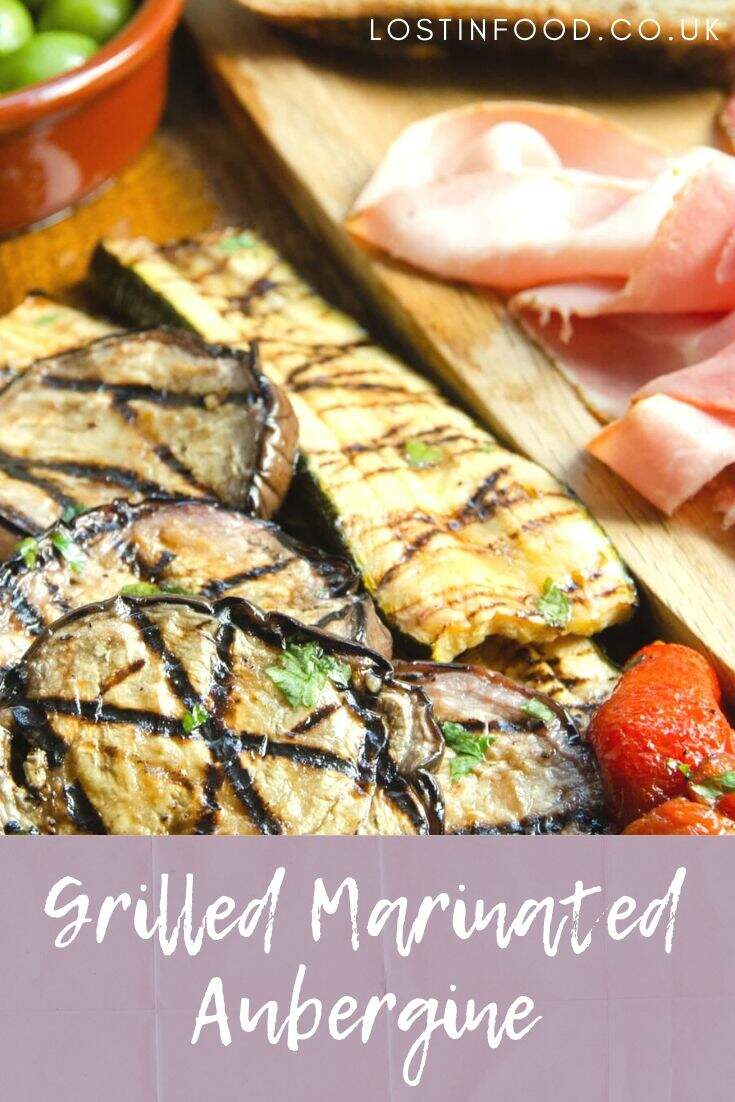 Additional recipe suggestions:
If you like this recipe then why not try some of our other vegetable based side dishes. Popular with everyone who tries them:
Love salad? Then head to our Best Salad Recipes post where you will find links to all our favourite salads in one place.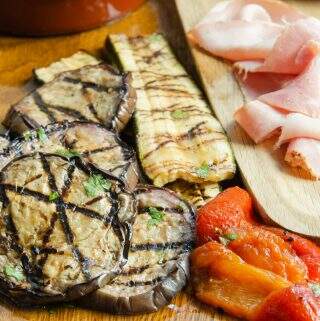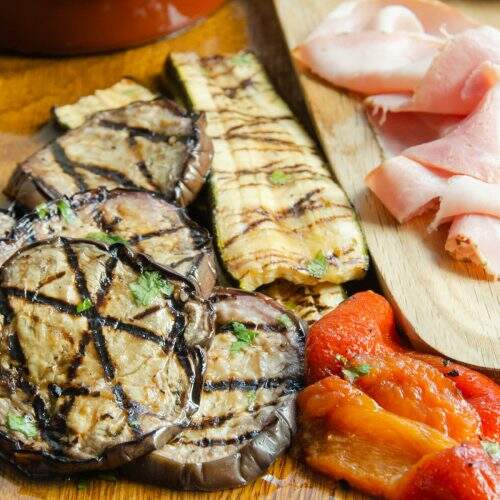 Mediterranean Grilled Aubergine with Italian Marinade
Beautifully soft and smoky Mediterranean grilled aubergine with Italian marinade a perfect accompaniment to any anti-pasti platter.
Print
Pin
Text
Save
Saved!
Ingredients
1

aubergine

(sliced)

1

clove

garlic

(crushed)

1

red chilli

(de-seeded and finely chopped)

1

small bunch flat leaf parsley

(chopped)

1

tsp

balsamic vinegar

juice of half lemon

olive oil

salt & pepper
Instructions
Slice the aubergine into rounds and place on either a hot barbecue or grill pan and char on each side until softened. Turn frequently taking care not to burn the aubergine. Do not add any oil to either the pan or the aubergine as this will make the vegetable soggy. Once done set the aubergine aside to cool.

Place all the remaining ingredients into a bowl, add the cooled aubergine and mix well to combine. Transfer to a good sealing container, ensuring the olive oil completely covers the aubergine, if not then top up with more olive oil. Place in the fridge where the aubergine will keep well for a week if properly sealed.
Notes
Once the aubergine has been eaten the flavoured oil makes a great dipping oil or you can use it to cook with.
Nutrition Facts
Mediterranean Grilled Aubergine with Italian Marinade
Amount Per Serving
Calories 35
Calories from Fat 9
% Daily Value*
Fat 1g2%
Sodium 4mg0%
Potassium 298mg9%
Carbohydrates 8g3%
Protein 1g2%
Vitamin A 154IU3%
Vitamin C 19mg23%
Calcium 10mg1%
Iron 1mg6%
* Percent Daily Values are based on a 2000 calorie diet.
• Please note that the nutrition information provided above is approximate and meant as a guideline only •
Share on Facebook
This recipe has been linked up to CookBlogShare click on this link to read other recipes from fellow food bloggers.