Courgette fritters are super simple to make, a great addition to any brunch dish topped with a poached egg. Also delicious served as a stylish starter with a fresh tomato salad.
Our courgette fritters are a great addition to any lazy weekend brunch. They require very little effort to make, yet taste delicious. Cooked and ready to serve in no time at all! We've served them simply here with a tomato salad and a poached egg. Breakfast or brunch perfection on a plate. However, they work equally well as a light lunch option or indeed as a dinner party starter. We served these delicious fritters with a heritage tomato salad and a simple dressing at one of our late Summer Supperclubs.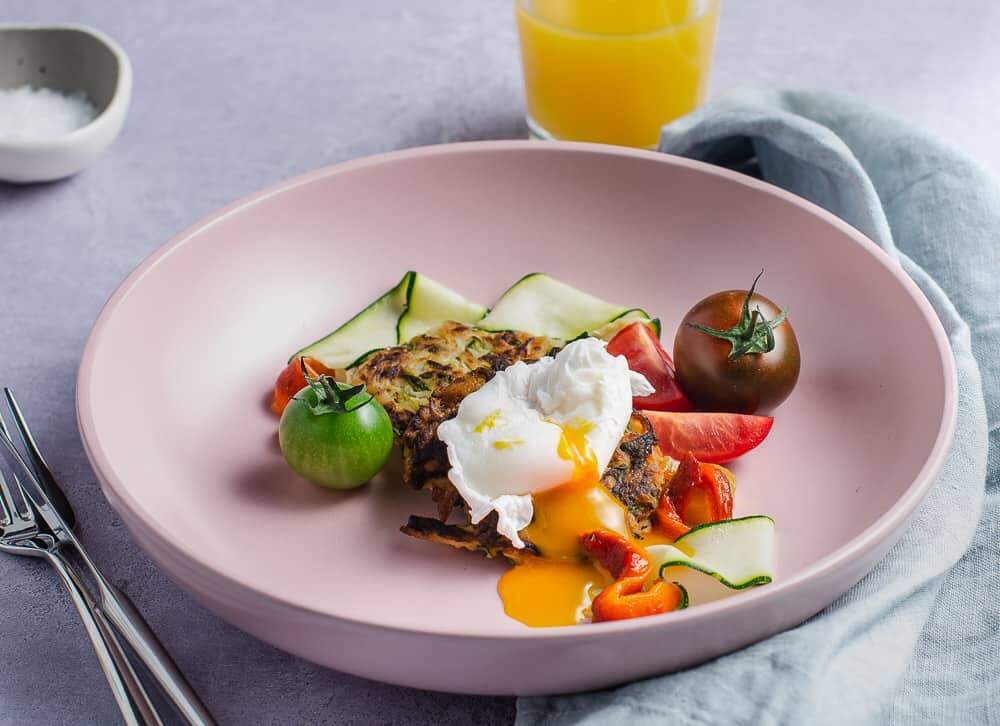 Courgette, or zucchini as it's also known, is a great Summer fruiting vegetable, one that is versatile when it comes to cooking. However I find it gets some bad press "oh I don't like courgette, it's tasteless". I disagree, it makes a delicious soup (try our Courgette & Sweet Pepper Soup and you'll see what I mean), it is lovely roasted and is also tasty when pickled. Our Courgette & Shallot Pickle will attest to that, my fridge is rarely without a jar of this simple bread and butter style pickle.
Dietary information:
These courgette fritters are suitable for anyone following a vegetarian diet. However the addition of chickpea flour, rather than wheat based flours, makes these gluten free courgette fritters a great dish for coeliacs or anyone following a gluten free diet.
Can I make these vegetarian courgette fritters ahead of time?
Fritters are a great make ahead dish. Simply make up the batter and cook them as per the recipe card. Allow them to cool in a wire rack then place them between sheets of grease-proof paper in an airtight container. They will keep up to 2 days in the fridge. When ready to use simply reheat them in a non-stick frying pan. Turn the pan on medium and don't add any oil to the pan, you are only reheating. Pop the fritters into the pan in a single layer and keep turning them to stop them colouring. Once hot serve immediately.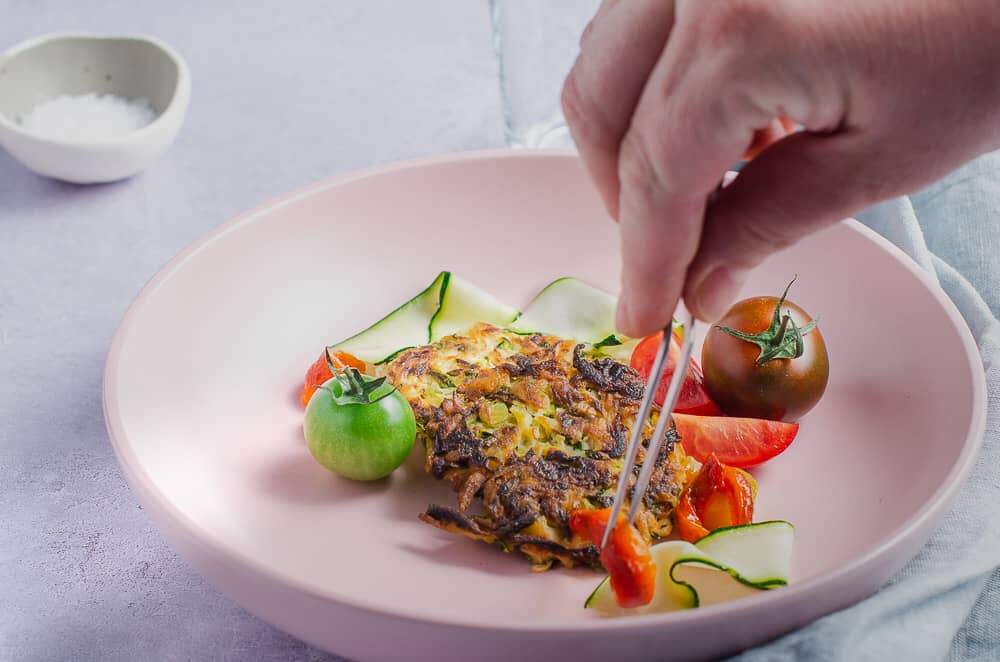 What other vegetables could I use?
This simple courgette fritter is easily adapted. You could add in some sweetcorn or chopped red peppers to the batter. If, like me, you like a little heat to your food, a finely chopped chilli or too would work really well. Alternatively why not substitute the grated potato with grated sweet potato instead. However, avoid using anything containing too much water like a tomato as this will affect the consistency of the batter.
How to grow your own courgettes?
Courgettes are very easy to grow at home and don't need to much space. I've grown courgettes in pots of multipurpose compost at my back door. Leave them in a sunny spot and they will happily keep fruiting all Summer. Courgette fritters are a great way of using up a glut of courgettes when they are aplenty mid Summer.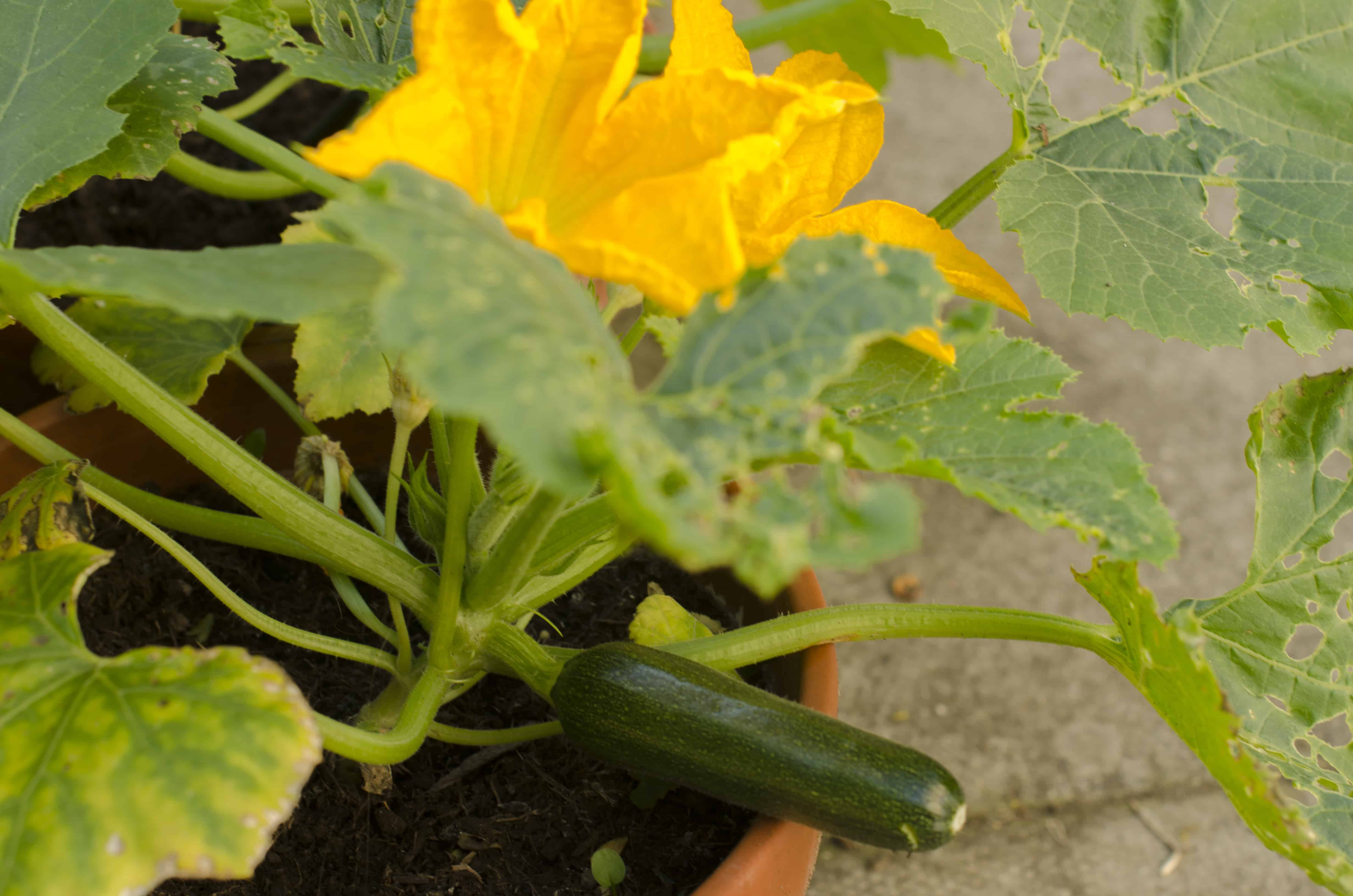 Pin the recipe:
Additional recipe suggestions:
If you liked this simple Vegetarian dish then why not try our Courgette Pasta, our Twice Baked Cheese Souffles, our Cornbread with Corn Salsa, our Healthy Green Omelette, or our Spicy Shakshuka. Or, for something sweeter, try our Dutch Poffertjes.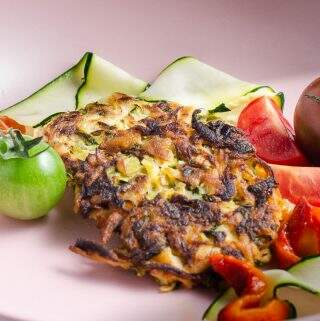 Courgette Fritters
Gluten free courgette fritters are super simple to make, a great addition to any brunch dish topped with a poached egg. Also delicious served as a starter
Print
Pin
Text
Save
Saved!
Ingredients
475

g

courgette

(grated)

300

g

potato

(grated)

2

tsp

salt

1

large clove garlic

2

spring onions

(finely chopped)

3

tbsp

garam flour

((chickpea flour))

1

large free range egg

(beaten)

pepper

(to taste)

1

tbsp

sunflower oil
Instructions
In a large bowl, grate the courgette and potato coarsely. Sprinkle in the salt, mix and set aside for 10 minutes to allow the salt to draw out the water from the vegetables.

In the meantime add the remainder of the ingredients to another bowl. Drain the vegetables into a muslin cloth or clean tea towel and twist to drain off all the liquid, this will also remove most of the salt and water.

Add the drained vegetables to the other ingredients and mix well to combine. Season with pepper to taste.

In a large fry pan, on medium to medium high heat, add the sunflower oil. Form the mixture in balls, then pat into a small round fritter shape, approximately 40-45g per portion. Place in the hot oil and fry each side gently for approximately 3-4 minutes ( or until golden) per side. Don't be tempted to have the pan too high a heat or the outside will cook and burn before the inside is fully cooked.

Fry off in batches so as not to overcrowd the pan. Once cooked, place onto paper towel lined plates. At this stage they can be left to cool and chilled for 2-3 days before warming in the pan before serving. Alternatively, served immediately.
Nutrition Facts
Courgette Fritters
Amount Per Serving (45 g)
Calories 90
Calories from Fat 36
% Daily Value*
Fat 4g6%
Cholesterol 27mg9%
Sodium 800mg35%
Potassium 466mg13%
Carbohydrates 11g4%
Protein 4g8%
Vitamin A 238IU5%
Vitamin C 21mg25%
Calcium 36mg4%
Iron 2mg11%
* Percent Daily Values are based on a 2000 calorie diet.
• Please note that the nutrition information provided above is approximate and meant as a guideline only •
Share on Facebook