Courgette and pepper soup is a great homemade soup to have on the table within 30 minutes and feeds a hungry crowd anytime.
Courgette and pepper soup appears regularly on my lunch and dinner table. I love making soup and this simple soup is one my family all enjoy.
Quick to cook!
This recipe is the one I pull together when I have unexpected or last minute guests to feed. This simple courgette and sweet pepper soup can be prepared and on the table in less than 30 minues!
Funnily enough it's also a soup that's great for feeding to kids as it's a great way to get vegetables into their diets, without them noticing.
This soup always reminds me of my lovely niece Reni, who was a very fussy eater as a child. Like my youngest daughter she treated every meal with suspicion! On one particular visit to my house I had made this soup for lunch.
My sister and I were upstairs sorting through some stuff. When I mentioned what we were having for lunch my sister was quite certain that there was no way Reni was going to eat a bowl of this soup!
When we went downstairs my husband had served lunch and there was Reni sat at the table eating soup! We suspect she didn't want to question her Uncle quite as much as she would have me, had I been serving.
Regardless Reni polished off 2 bowls of this soup and she still makes it herself today.
Great way to use up a glut of courgettes!
Courgettes are a really easy vegetable to grow in pots in our back gardens and this courgette and pepper soup recipe makes great use of them.
However many people disregard courgettes as tasteless, I disagree. It's a much maligned vegetable, however one I love to eat, provided they are cooked properly!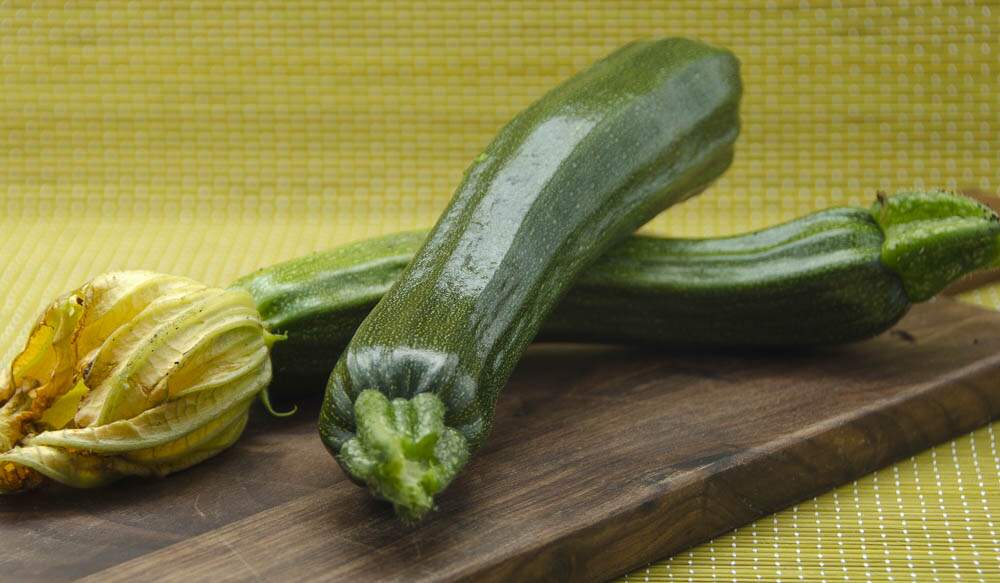 I grow these every year in my small vegetable patch. I love pretty much all vegetables and I like to use courgettes to bulk up meat-free meals.
However, courgettes can be so much more than that, they can be the star of the show. They form the basis of my favourite bowl of pasta, tossed simply with some olive oil, lemon, basil and a grating of Parmesan cheese.
I adore them roasted with other vegetables and if you core, stuff and bake them they are truly delicious. They also make one of my favourites soups. Put simply, if treated well, courgettes are both versatile and very tasty.
Making the soup!
This simple vegetable soup is really quick and easy to make.
Chop the vegetables up roughly as in the photo below.
Saute the vegetables in a little butter, for around 5 minutes until they start to soften.
Add in the vegetable stock and cook for 15-20 minutes until the vegetables are soft.
Blitz the soup to a smooth consistency with a stick blender.
Season to taste with salt and pepper.
Finish the soup with a little cream and serve!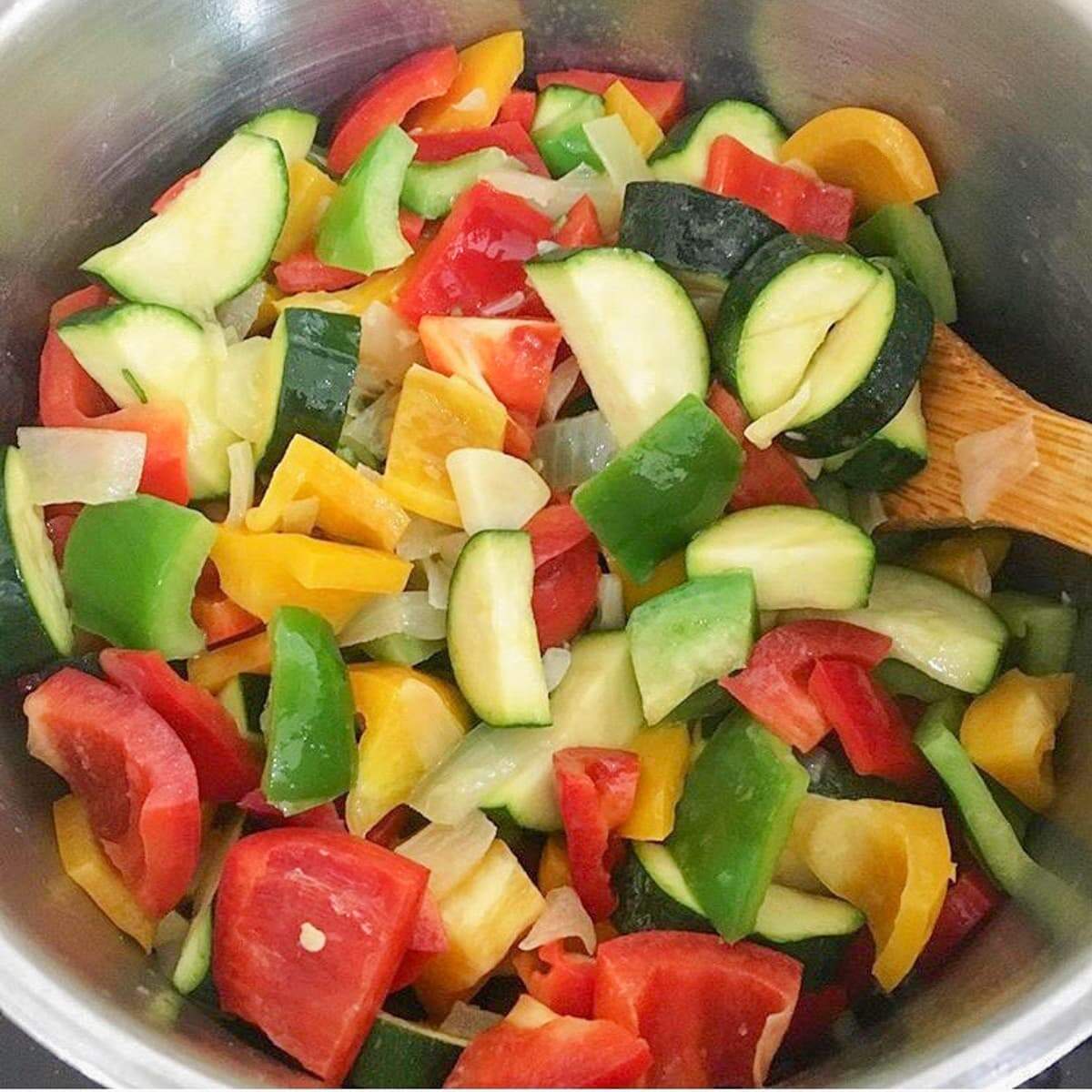 Substitutions:
This soup forms the basis of any cream soup I create. I start with a base of butter onion and garlic, then I add the vegetables of my choice.
Carrots and parsnip over the winter months. Broccoli and cauliflower another great tasting combination and if you melt a little blue cheese into it, you elevate it even further.
However, I've used courgette and pepper in this recipe, the flavours work really well together and one doesn't overpower the other. It is a lovely fresh tasting bowl of soup.
I like to enjoy lighter, fresh tasting soups over the Summer months and this soup hits the spot.
If you don't have fresh peppers, then you could use jarred ones instead, simply make sure you give them a good wash to remove any oil and give them a dry with kitchen towel.
How can I serve courgette & pepper soup to Vegetarian or Vegan diners?
This soup can be simply altered if serving vegetarian or vegan diners. Simply substitute the butter with either sunflower oil or a vegan butter substitute.
The cream can be substituted with coconut milk to add a creamy element.
However, I often leave the cream out altogether when making this soup for my family and nobody complains or notices the difference. It's simply a matter of taste.
Can I prepare this soup in advance?
Courgette and pepper soup is so quick to make that I usually make it just before I'm ready to eat it.
However, it's also a great prep ahead dish. Simply make the soup as per the recipe card, allow it to cool completely before putting it in a container and popping it into the fridge.
It will keep in the fridge for a couple of days, but not much longer as it contains cream. If you want to keep longer I would recommend freezing the soup.
Can I freeze this soup?
I always like to keep batches of homemade soup in the freezer as they make a great quick meal. When I make soup I usually make a double batch. Some to enjoy now and some to freeze and enjoy later.
To freeze this soup simply allow it to completely cool and place in a suitable freezer proof container.
Pin the recipe:
Additional recipe suggestions:
Here are some of our other recipes for using up a glut of courgettes:
If you like this soup then why not try one of our other great soup recipes:
For some great hints and tips on how to make a great bowl of soup, have a read of our 20 Simple Soup Recipes post. This features some delicious soup recipes for you to try!
courgette and pepper soup
A quick and easy to prepare courgette and pepper soup, packed full of vegetable goodness.
Print
Pin
Save
Saved!
Ingredients
50

g

butter

1

large onion

(diced)

2

cloves

of garlic

(crushed)

3

courgettes

(roughly chopped)

5

sweet peppers

(de-seeded and roughly chopped)

vegetable stock

150

ml

single cream

salt & pepper
Instructions
Melt the butter in a large saucepan over a medium heat, add the onion and a large pinch of salt (the salt stops the onions from browning) and saute gently for 5 minutes. Add the garlic, courgette and peppers and continute to saute for a further minute.

Add vegetable stock to the pan so that it comes to a level approximately 1cm below the level of the vegetables. [Courgettes and peppers are full of water and vary greatly in size, by doing it this way rather than stipulating a quantity of stock, you will avoid having a watery soup. You can always add more stock later if you need it, but you can't take it away!]

Simmer the soup for 10 minutes, stir through the cream and season to taste with salt and black pepper. Blitz the soup using a stick blender and serve.
Notes
If following a Vegan or dairy free diet, simply substitute the butter with olive oil and remove the cream entirely as the soup is lovely without it.
Nutrition Facts
courgette and pepper soup
Amount Per Serving
Calories 188
Calories from Fat 135
% Daily Value*
Fat 15g23%
Cholesterol 45mg15%
Sodium 80mg3%
Potassium 516mg15%
Carbohydrates 11g4%
Protein 3g6%
Vitamin A 3760IU75%
Vitamin C 146mg177%
Calcium 48mg5%
Iron 0.8mg4%
* Percent Daily Values are based on a 2000 calorie diet.
• Please note that the nutrition information provided above is approximate and meant as a guideline only •
Share on Facebook