Easy tomato & basil soup is a great fresh tasting soup. Using the sweetest fresh tomatoes and flavoured with just a hint of onion, garlic and basil.
This tomato and basil soup recipe is a favourite in our house. Homemade tomato and basil soup is simple to make, cooks quickly and is full of fresh tasting flavours.
One of my favourite food pairings is tomato and basil. Tomatoes are a food that I love to eat in pretty much any shape and form.
My kitchen counter is never without a large bowl of tomatoes, which the children and I help ourselves from regularly during the day.
I love tomatoes in all their glorious forms, regardless of shape, size or colour. During the summer months I have a regular fortnightly order from The Tomato Stall for a large mixed box of their heritage tomatoes. The taste and variety of these tomatoes are exceptional!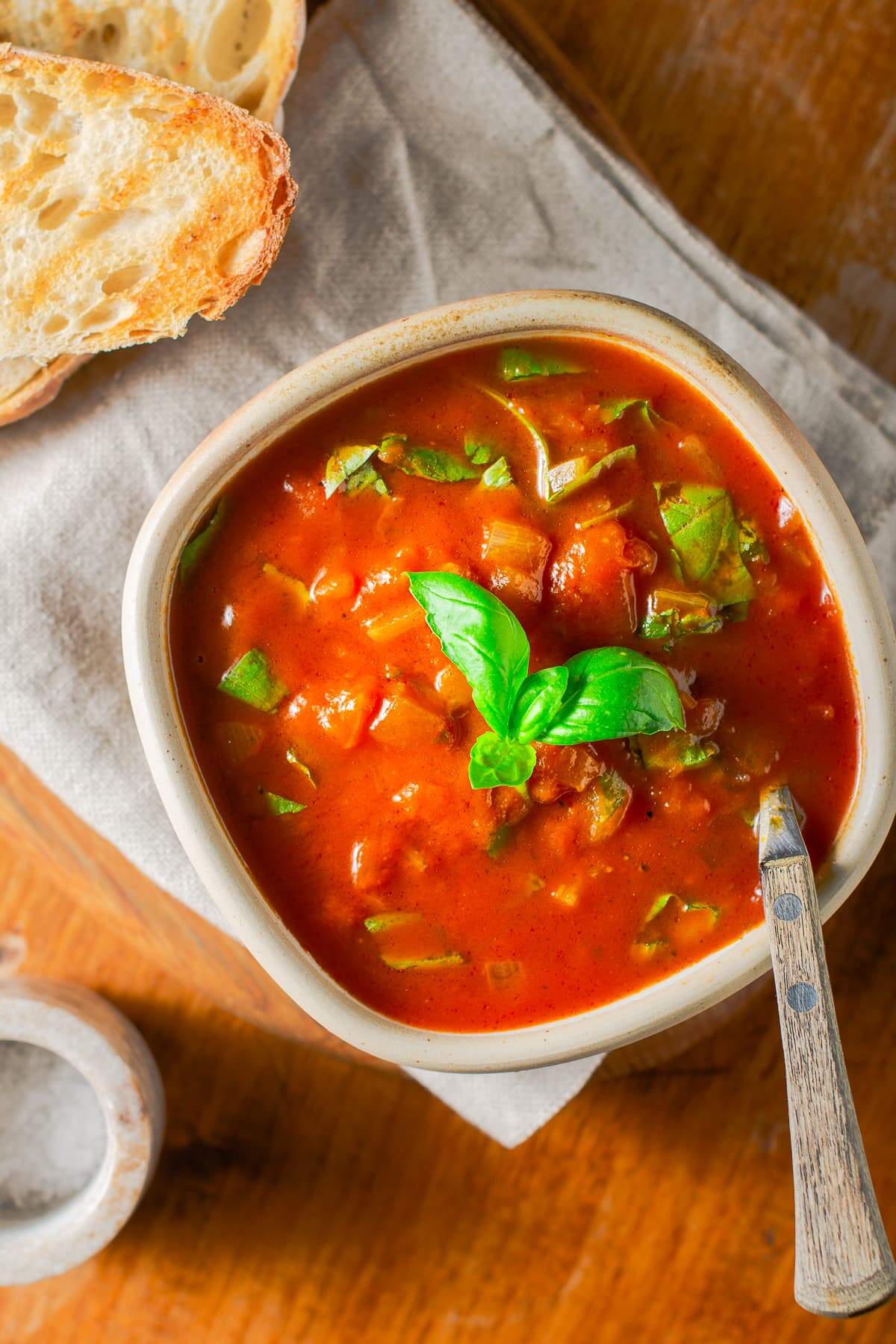 Most of my tomatoes are used fresh, in salads or, as I mention above, eaten straight from the box.
However, I do like to cook with them. When tomatoes start to soften a bit, I like to use them in soups, stews and pasta sauces. This tomato and basil soup is a firm favourite with my family!
Healthy tomato and basil soup!
This healthy tomato and basil soup is also good for you! Packed full of healthy fruits, vegetables and herbs that have so much flavour there's no need for cream!
How to prepare and peel tomatoes?
Peeling tomatoes for this homemade tomato and basil soup is a fairly quick and simple job. However, it is really important to get the most of our the tomatoes.
Once peeled discard the outer skin of the tomato, placing it into a sieve for later. Then simply cut the fruit into quarters.
You then cut away the seeds and core to leave the outer flesh of the tomato.
Do not throw away the seeds and core as they are full of deliciously tomato flavoured juices. Instead pop the seeds and core into the sieve, along with the tomato skins, and place the sieve over a bowl.
Using the back of a metal spoon, press down the seeds and core, this will release lots of juices that can be added to the soup. Or, if not making soup, frozen and used at a later date!
Some photo steps to help with the tomato peeling process!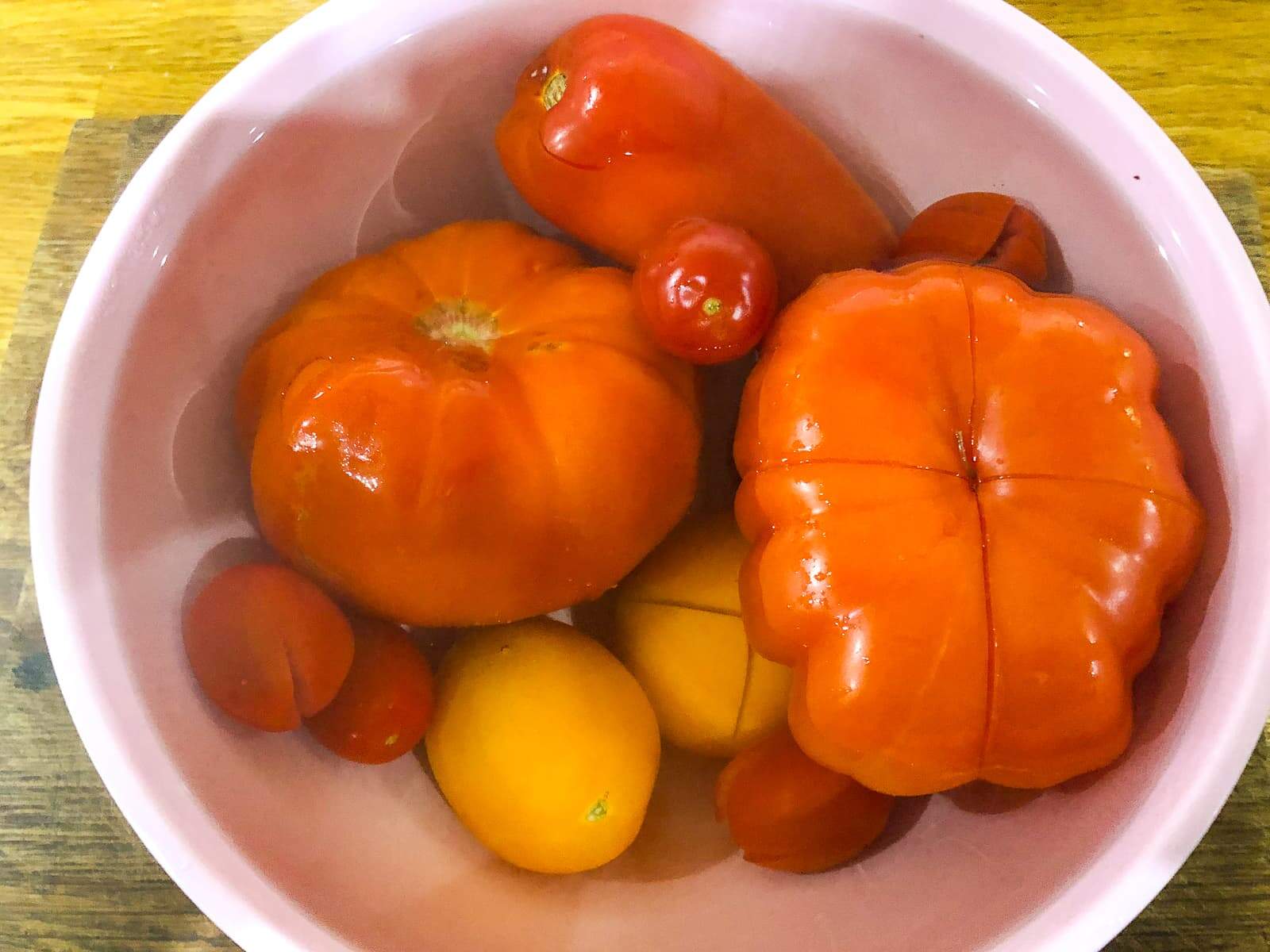 Tomato & basil soup recipe steps: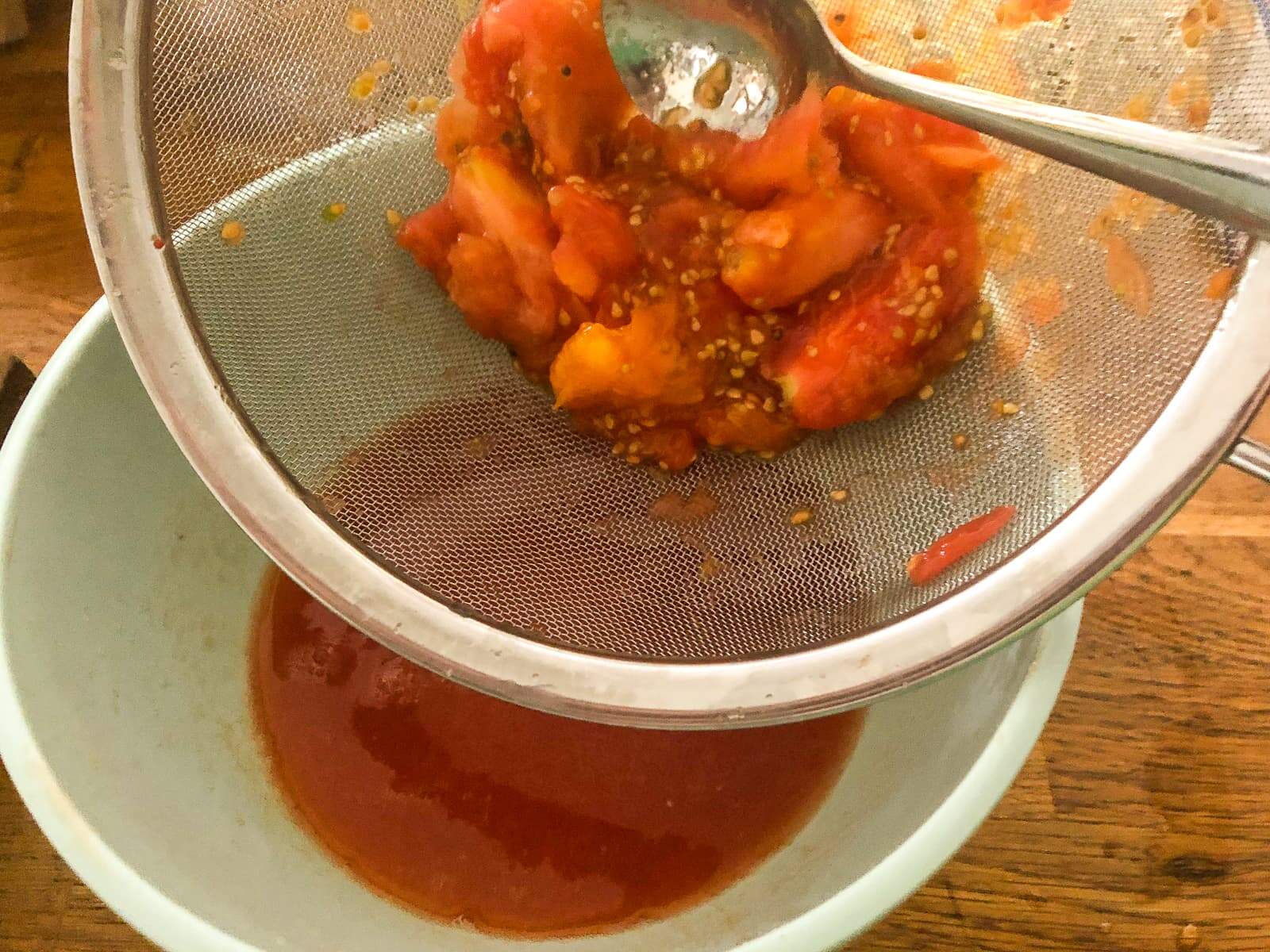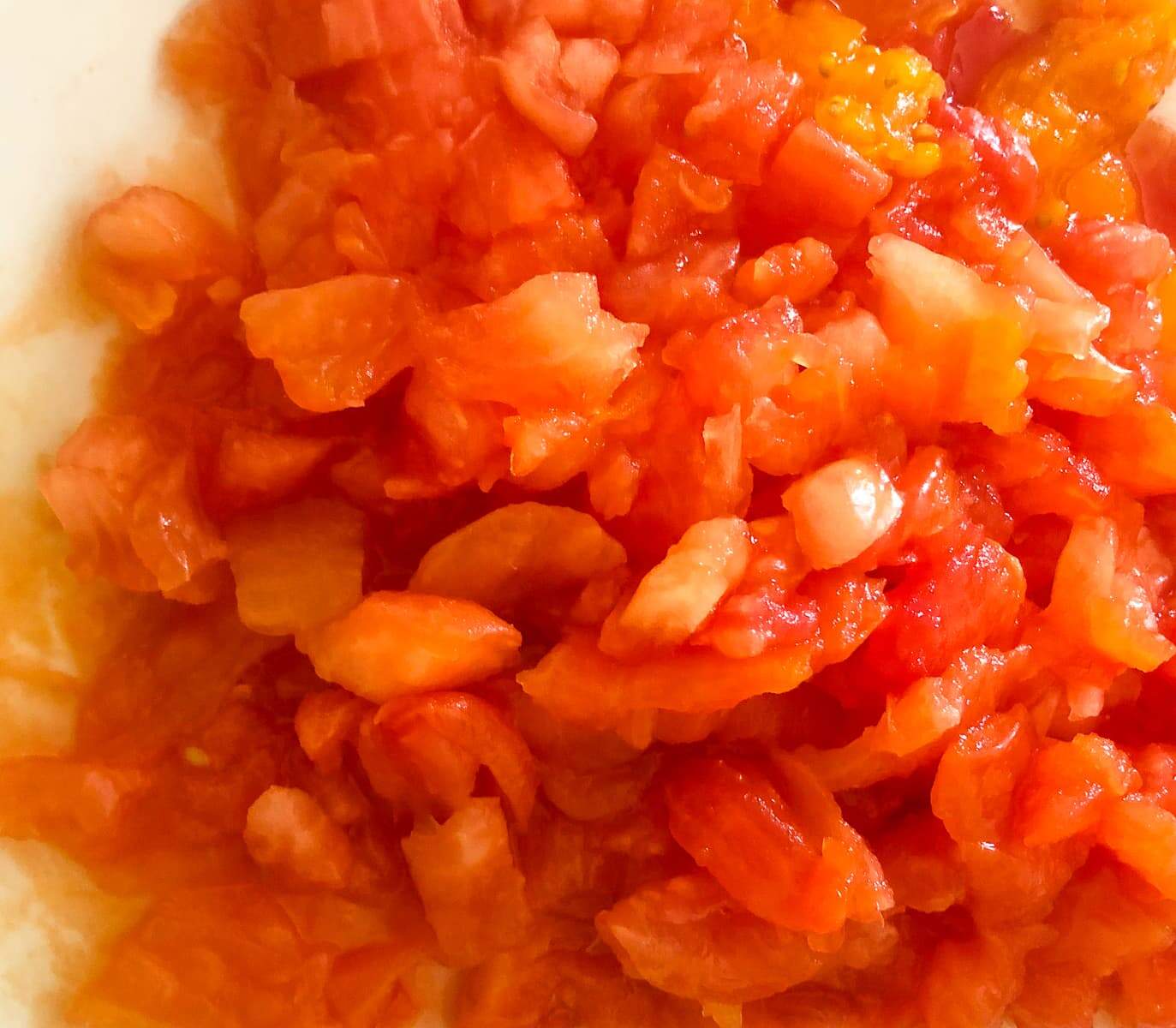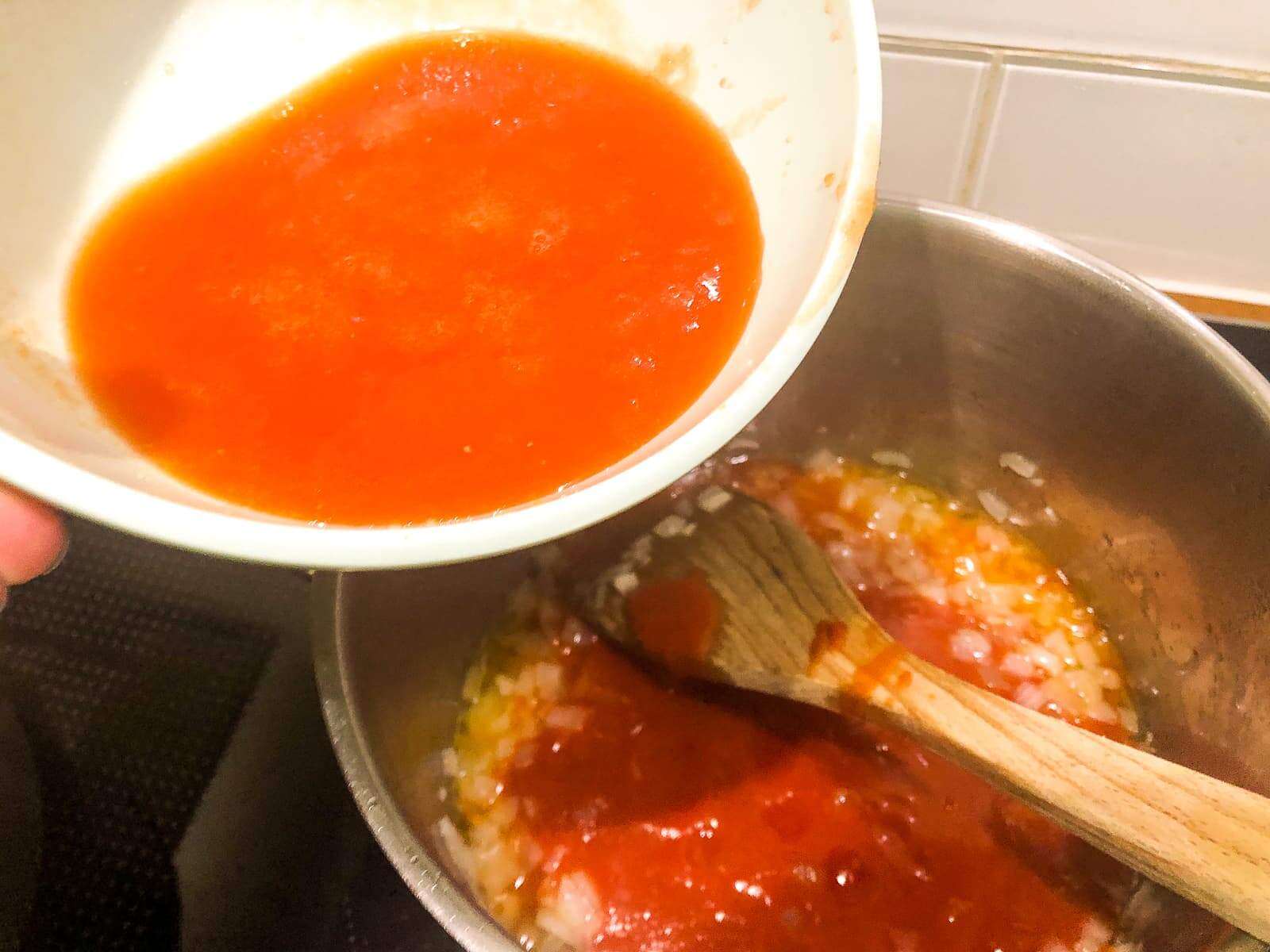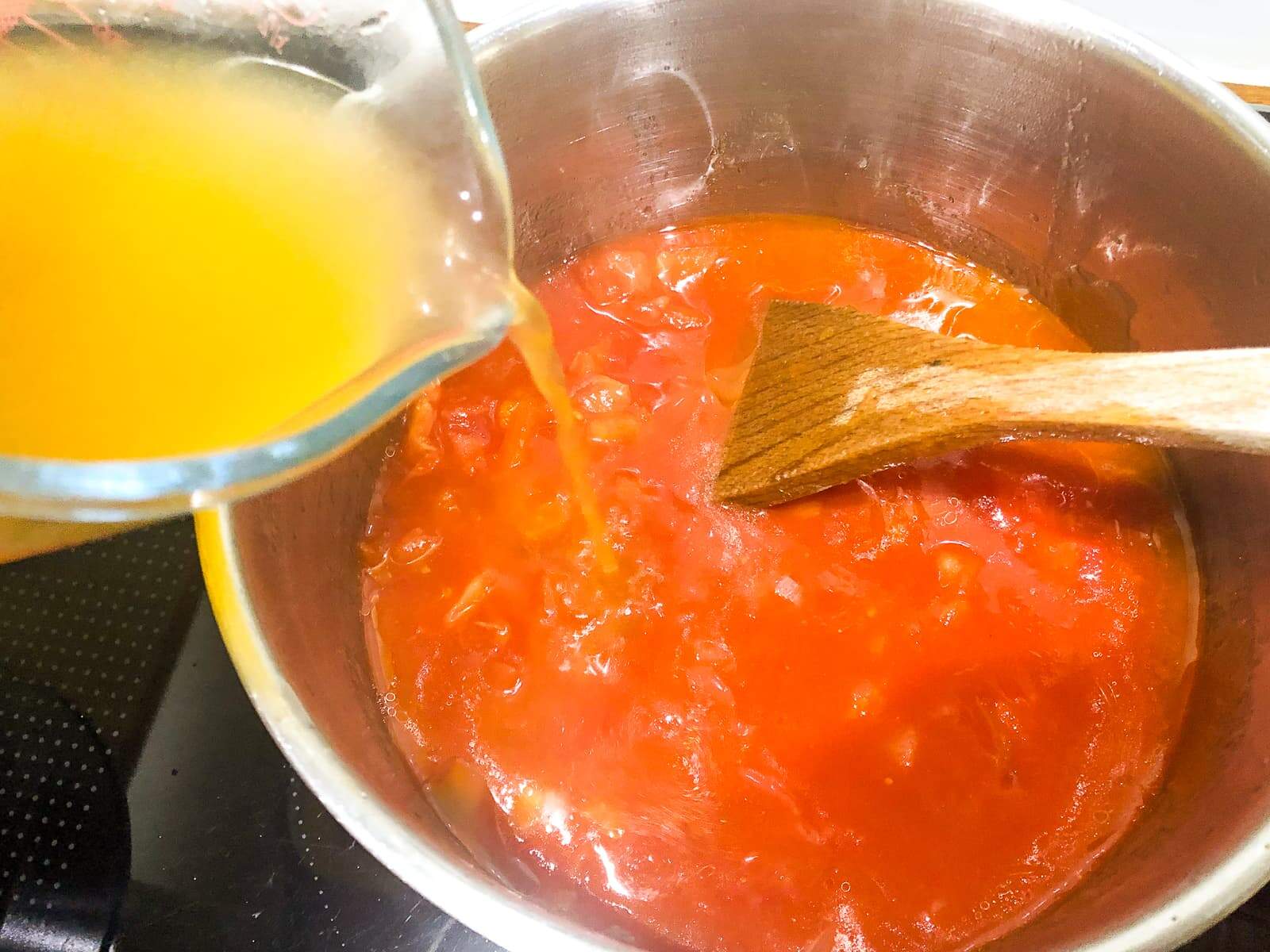 How to use up a glut of tomatoes?
This healthy tomato and basil soup is great for anyone with a greenhouse and grows their own tomatoes. As anyone who grows their own fruit and vegetables will know there are always times when you have a glut of produce.
I hate to see anything go to waste and I think that is when soups and pasta sauces really come into their own! With just a few simple ingredients added to the tomatoes, you can prolong their use.
This homemade tomato and basil soup is not only simple to make but has a lovely light freshness. This soup is not heavy, containing few calories this soup is great for anyone trying to lighten their food intake.
If you would prefer a completely smooth soup, once cooked, blitz with a stick blender to achieve a silky consistency.
I simply love the combination of flavours in this tomato and basil soup. In fact I enjoy tomato with basil in pretty much any shape or form.
Cut up some tomatoes, tear some basil leaves and drizzle with olive oil and a sprinkle of sea salt and that's simple salad perfection for me.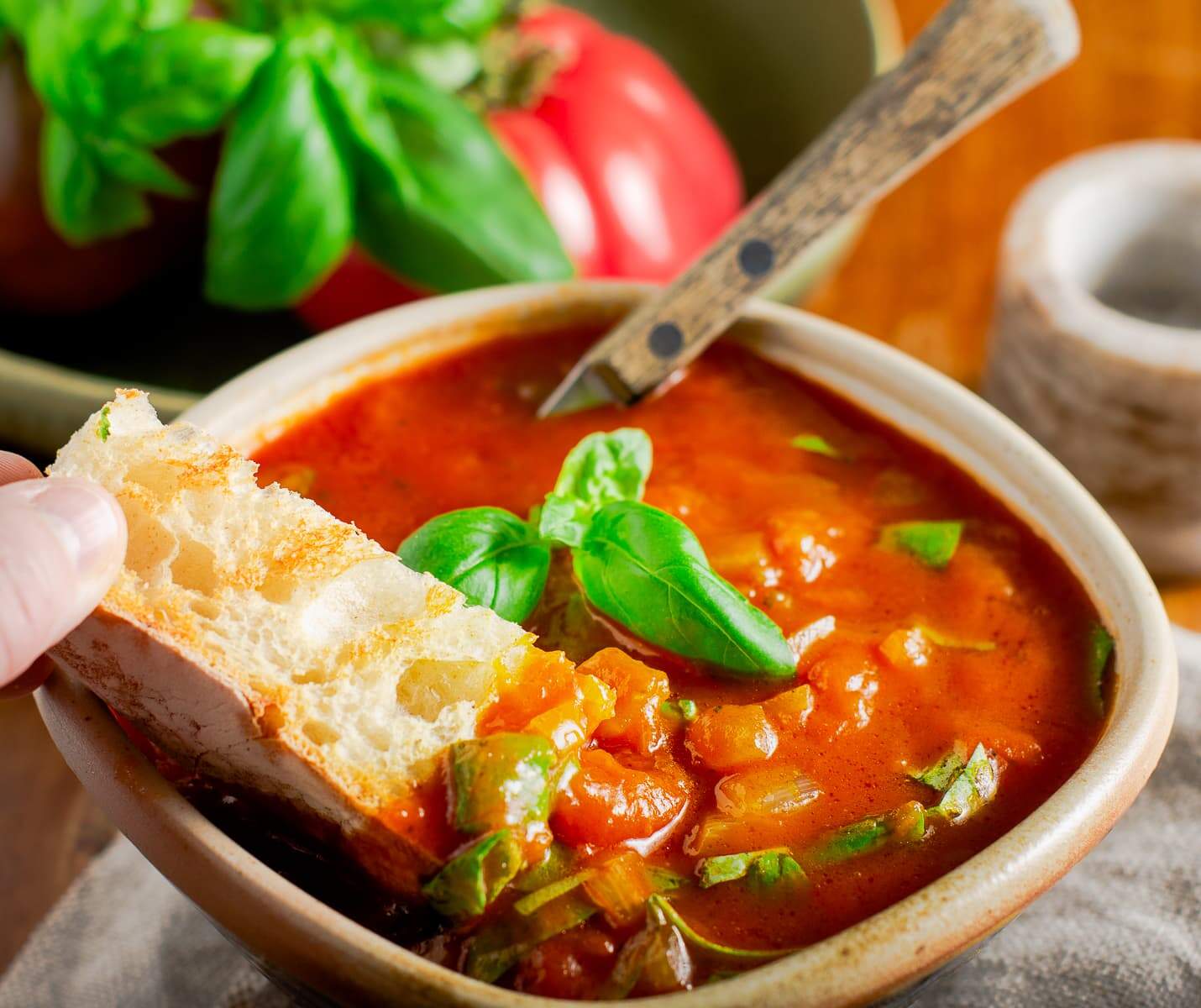 Other flavour combinations:
However, if you wish to add other flavours to this soup then a couple of fresh de-seeded red chillies could be added along with the garlic. This will add a nice chilli heat to the soup, whilst still keeping it's fresh flavours.
Use the basic tomato soup as a base for adding in other vegetables and flavours. You could add other vegetables, like courgettes and peppers to increase your 5-a-day. Simply add them at the same time as the onion (recipe step 4) to soften before adding in the remaining ingredients.
You can also add alternative flavour with herbs, try adding thyme or parsley in place of the fresh basil.
Can you freeze this soup?
This soup is really easy to freeze. Simply cook the soup as per the recipe card. Allow it to cool completely, before placing in containers suitable for the freezer.
When ready to eat remove the tub of tomato and basil soup from the freezer and defrost thoroughly. Heat up and serve when you are ready to enjoy.
I always like to keep a stock of homemade soups and sauces in the freezer. Ready to use when you want something quick and tasty but don't have time to cook!
Pin the recipe:
Additional recipe suggestions:
If you like this recipe then try some of our other vegetable based soups!
For some great hints and tips on how to make a great bowl of soup, have a read of our 20 Simple Soup Recipes post. This features some delicious soup recipes for you to try!
Tomato & Basil Soup
Tomato & basil soup is a great fresh tasting soup. Using the sweetest fresh tomatoes and flavoured with just a hint of onion, garlic and basil.
Print
Pin
Save
Saved!
Ingredients
800

g

tomatoes

(peeled and de-seeded)

2

tbsp

olive oil

1

large onion

(finely diced)

3

cloves of garlic

(crushed)

500

g

tomato passata

400

ml

vegetable stock

large handful of fresh basil

(shredded)

1

tsp

caster sugar

salt & pepper
Instructions
Peel and de-seed the tomatoes, discard the tomato skin.

Chop up the tomatoes placing the flesh onto a chopping board. Cut the flesh into small 1cm chunks.

Place the seeds and core of the tomatoes into a fine sieve and place the sieve over a bowl. Using a spoon, press the tomato seeds and core to extract as much juice from the tomatoes as possible. Set the juice aside for later and discard the seeds.

In a large saucepan, heat the olive oil over a medium heat. Add the onion to the pan and cook gently for 5 minutes, taking care to cook, but not colour the onion. Add the crushed garlic to the pan and cook for a further minute.

Add the chopped tomatoes, tomato juice, tomato passata, vegetable stock and sugar to the pan and cook over a medium heat for 10 minutes.

Season the soup with salt and pepper and check for taste. Now add the shredded basil to the soup, stir through and serve.
Nutrition Facts
Tomato & Basil Soup
Amount Per Serving
Calories 108
Calories from Fat 45
% Daily Value*
Fat 5g8%
Sodium 384mg17%
Potassium 593mg17%
Carbohydrates 15g5%
Protein 3g6%
Vitamin A 1432IU29%
Vitamin C 28mg34%
Calcium 49mg5%
Iron 1mg6%
* Percent Daily Values are based on a 2000 calorie diet.
• Please note that the nutrition information provided above is approximate and meant as a guideline only •
Share on Facebook