Traditional French onion soup, combines a classic beef stock with loads of sweet, soft onions. Then topped off with the addition of a cheesy Gruyere crouton and finished under the grill.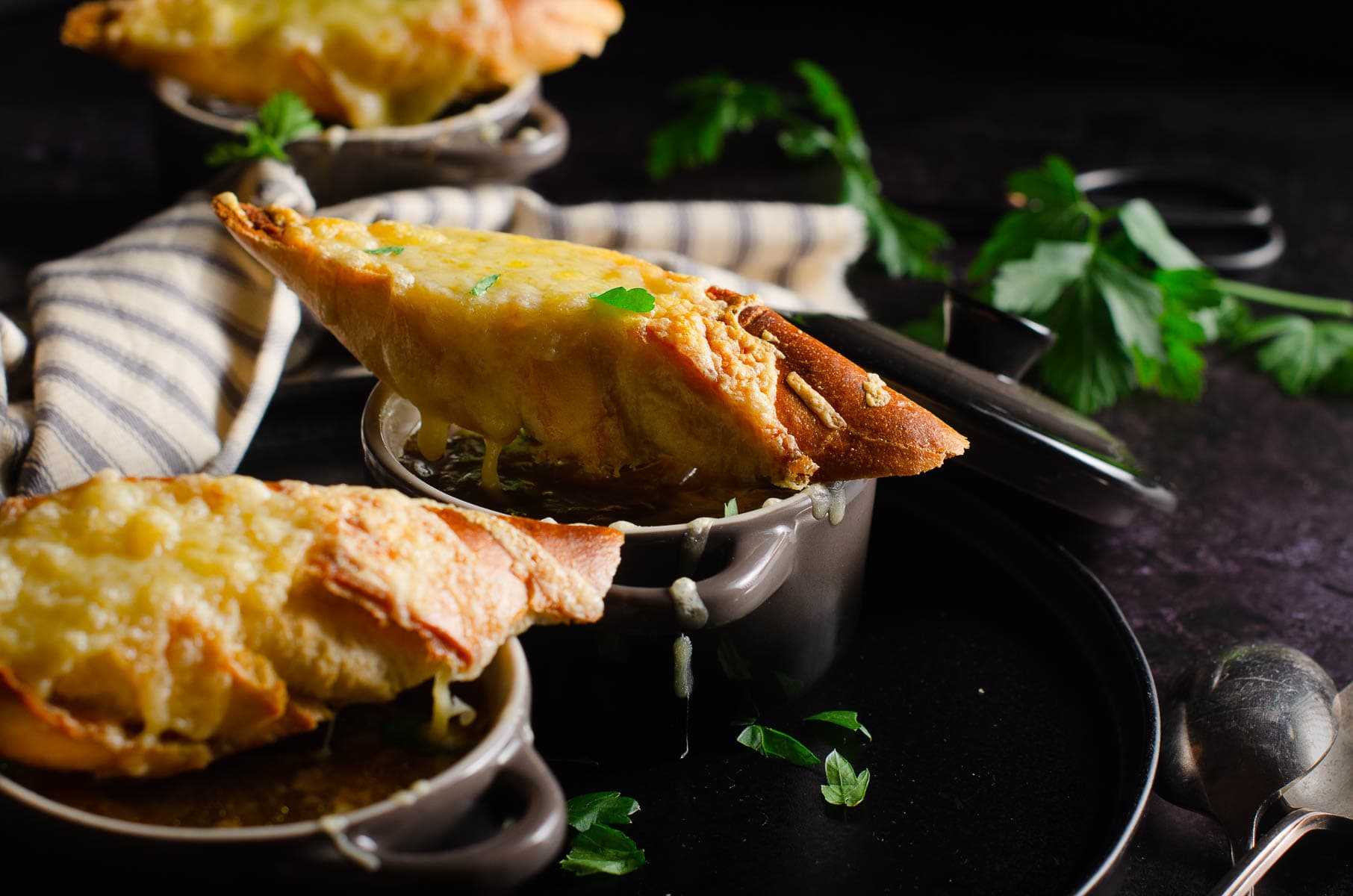 Traditional French onion soup is one of my favourite things to eat, doubtless my favourite soup. Steaming hot onion soup, topped with a bubbling cheese crouton, what's not to love?
I first tasted traditional French onion soup on a school trip to Paris when I was 16, I loved it and I have adored this particular comfort food ever since.
I make French onion soup a lot at home, my eldest daughter loving it almost as much as I do. On a cold day, there is no other soup that I would rather have a bowl of.
If you haven't tried this soup before give it a try as it is simple and quick to cook. Besides who doesn't love the combination of cheese and onion it is food pairing heaven.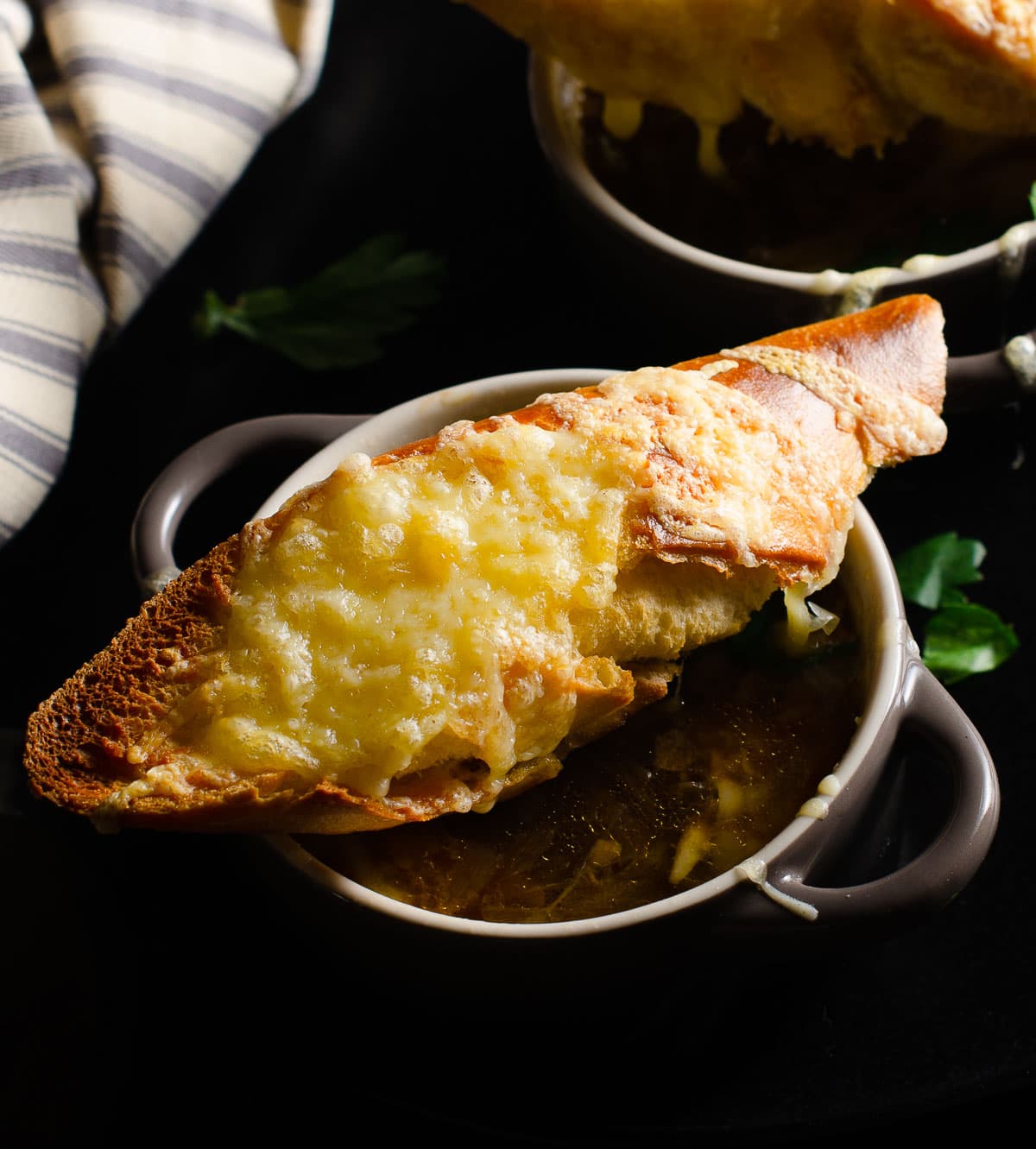 How to make French onion soup?
The following recipes steps show you how to make this French onion soup recipe: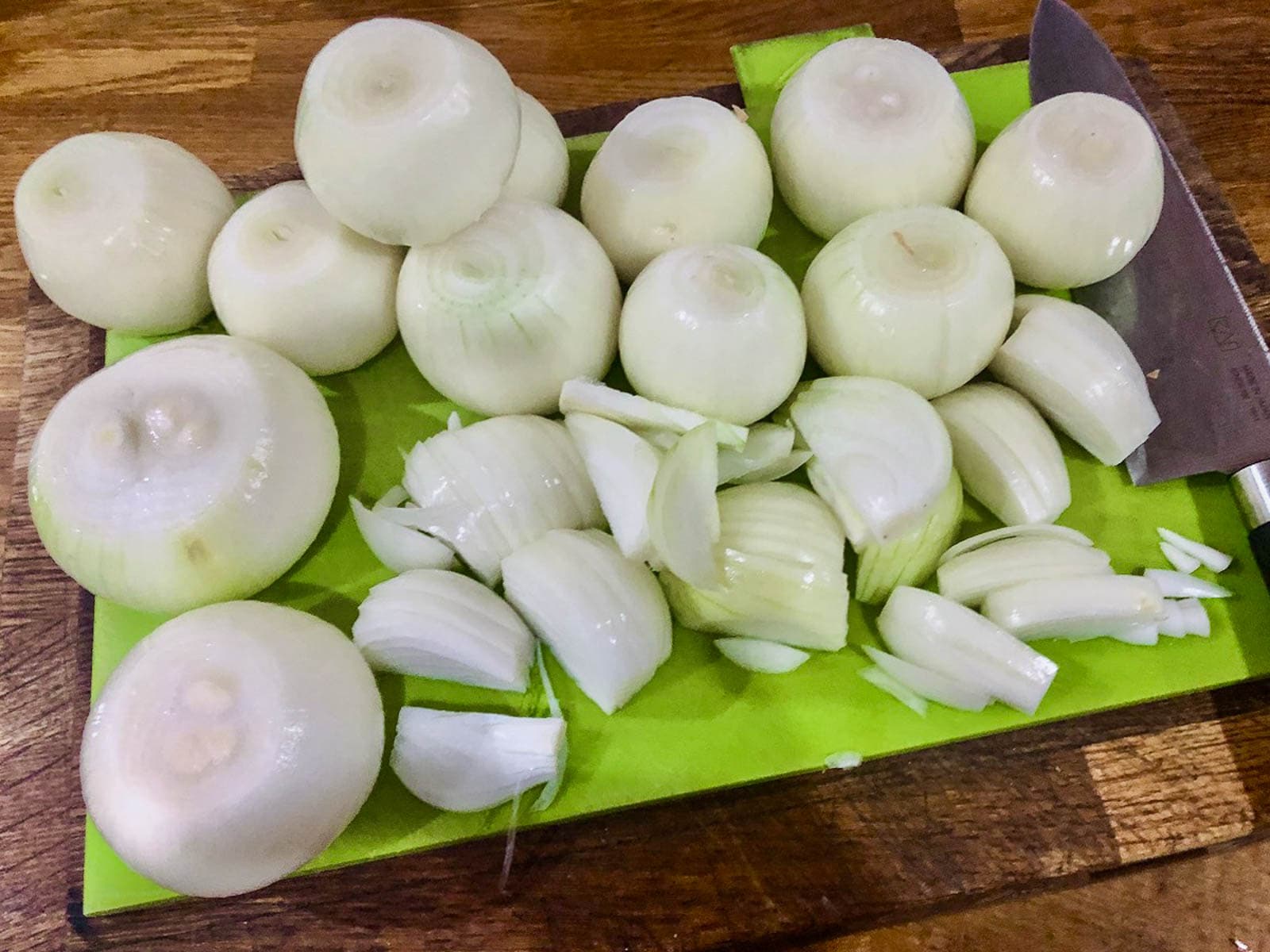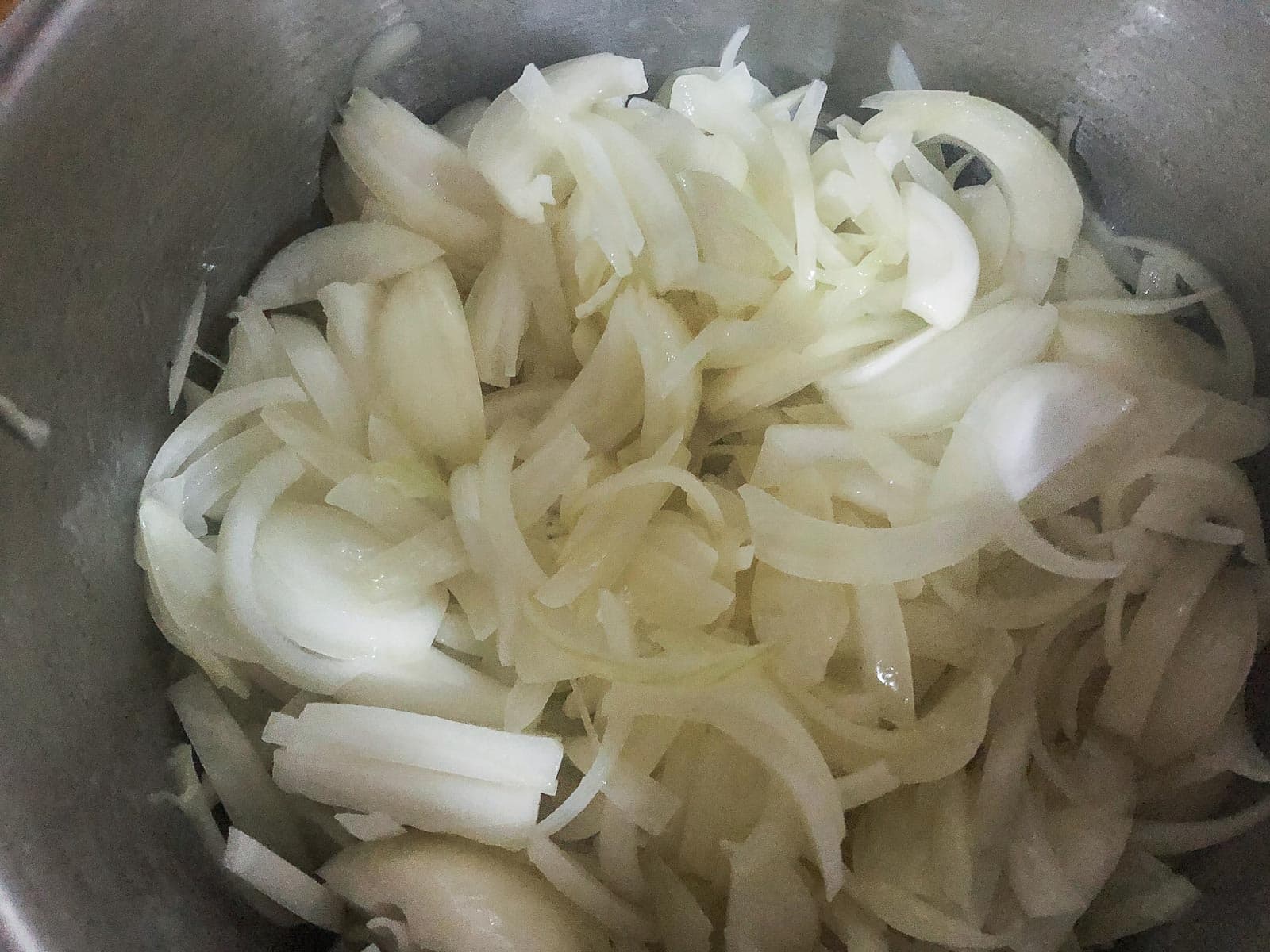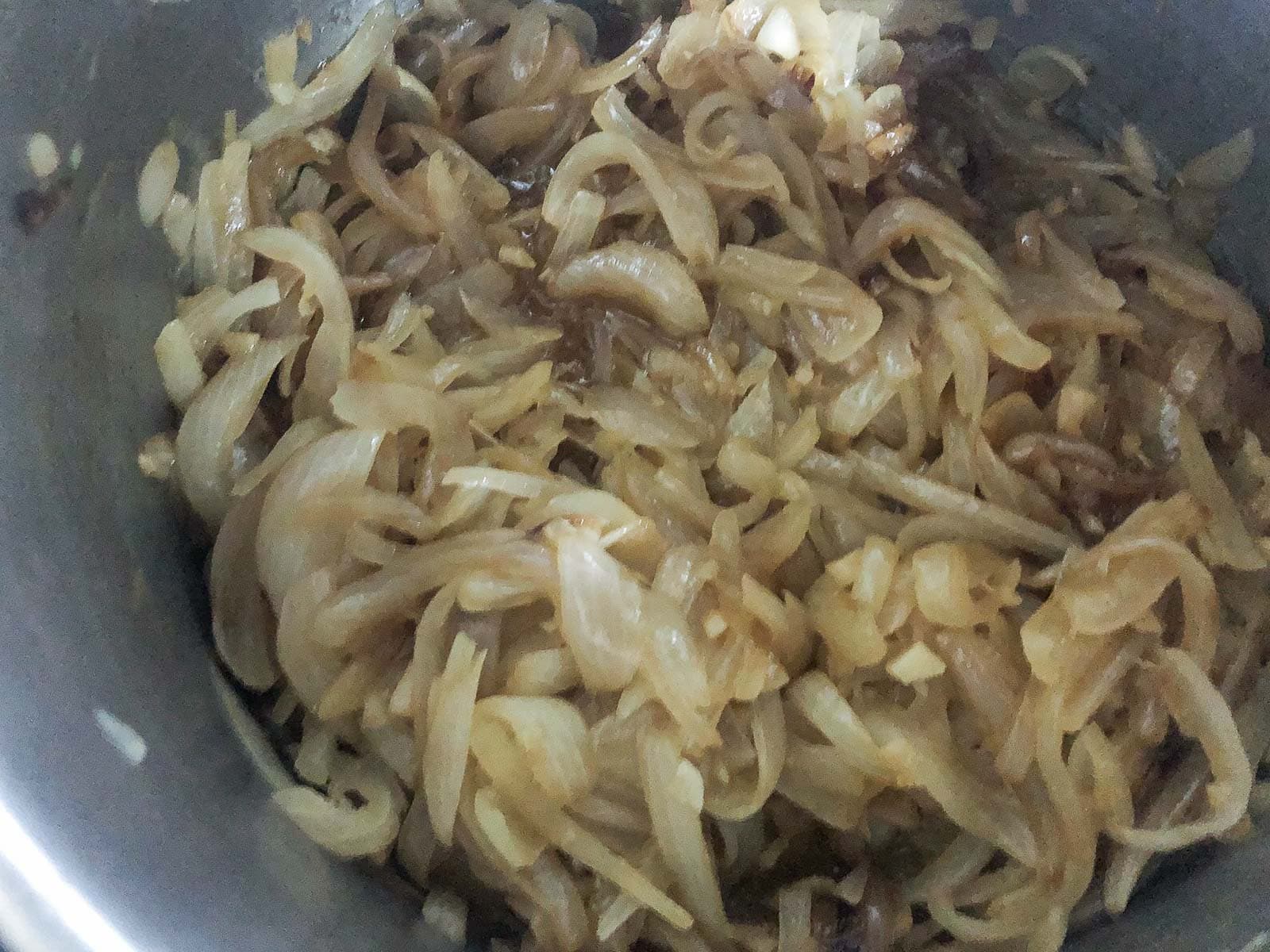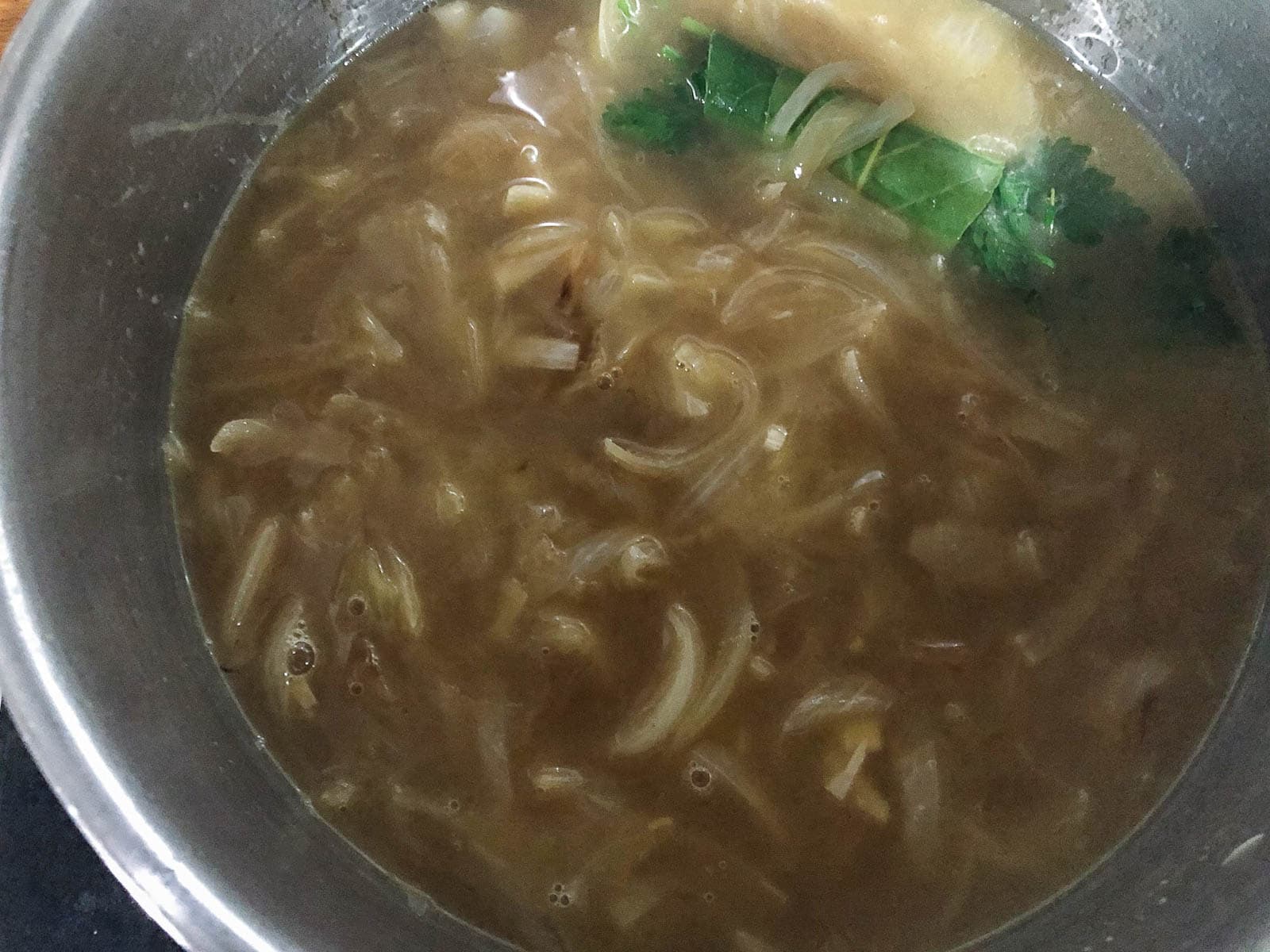 How to make your own bouquet garni?
Bouquet garni, is a French term and is simply a bundle of herbs, tied together. Traditionally the herbs used are bay, thyme and parsley (including both the parley leaf and stalks).
It is used to flavour soups, stews and casseroles. You can buy it in dried sachets in the supermarket, or if you are lucky and have your own herb garden you can make your own.
I pile together the thyme and parsley then wrap it up in a fresh bay leaf before typing together and popping in into the pot.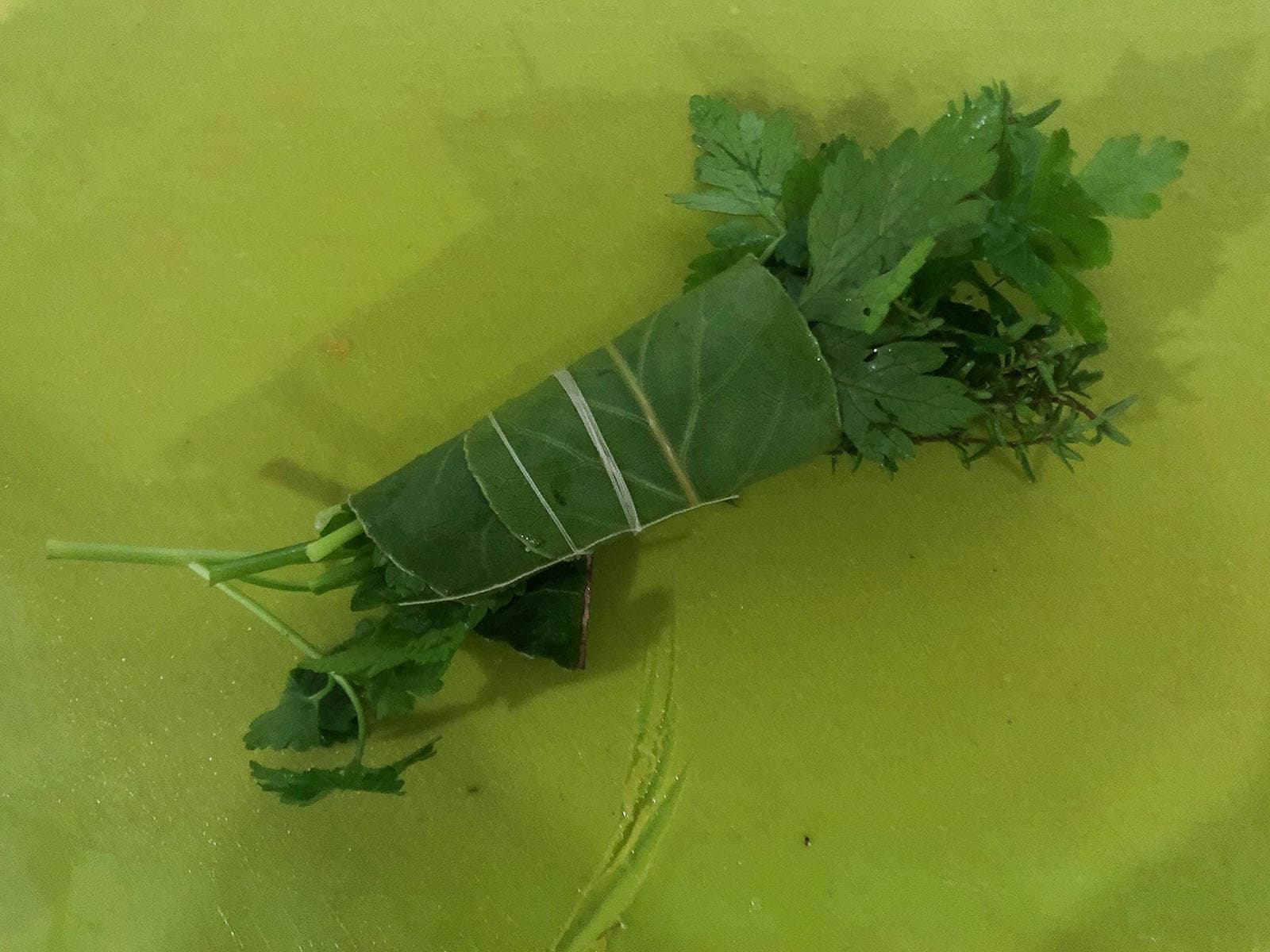 How to make the traditional French onion soup cheese crouton?
A traditional French onion soup cheese crouton is make using Gruyere cheese which has a lovely gooey texture when cooked.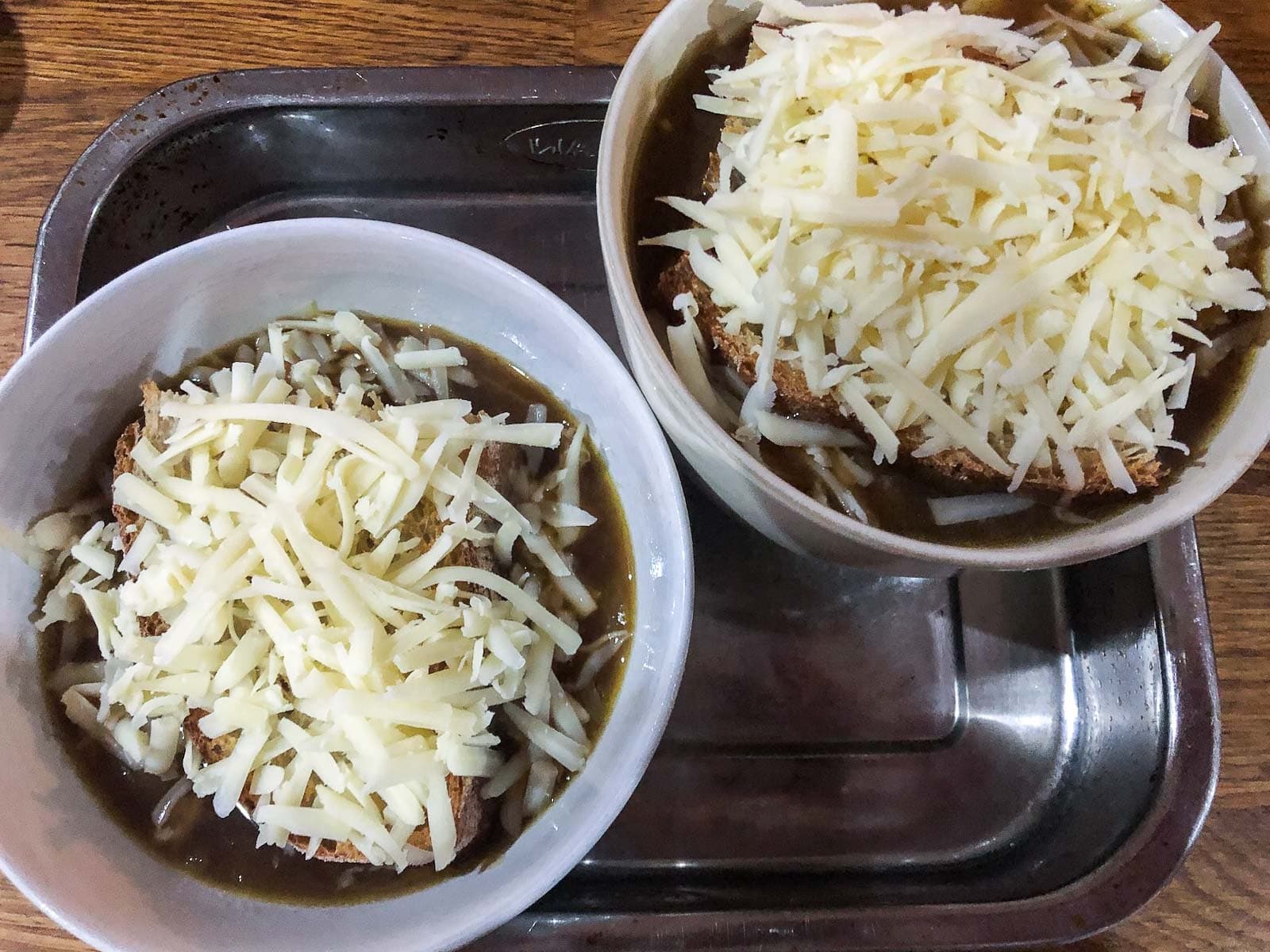 Do not add sugar to the soup!
Over the years I have experimented much with this soup, finally settling on this recipe a few years ago. Many recipes add sugar, however I find this knocks the whole taste of the soup out of balance as it's just too sweet.
I was enjoying a bowl of traditional French onion soup in a French restaurant a few years ago and I got chatting to the French chef about food, and in particular the soup!
This Frenchman assured me that when cooked correctly, and for long enough, onions are sweet enough!
He was of course quite correct and ever since I have omitted adding anything to sweeten this traditional French onion soup. Preferring instead, to leave the onions to do their job!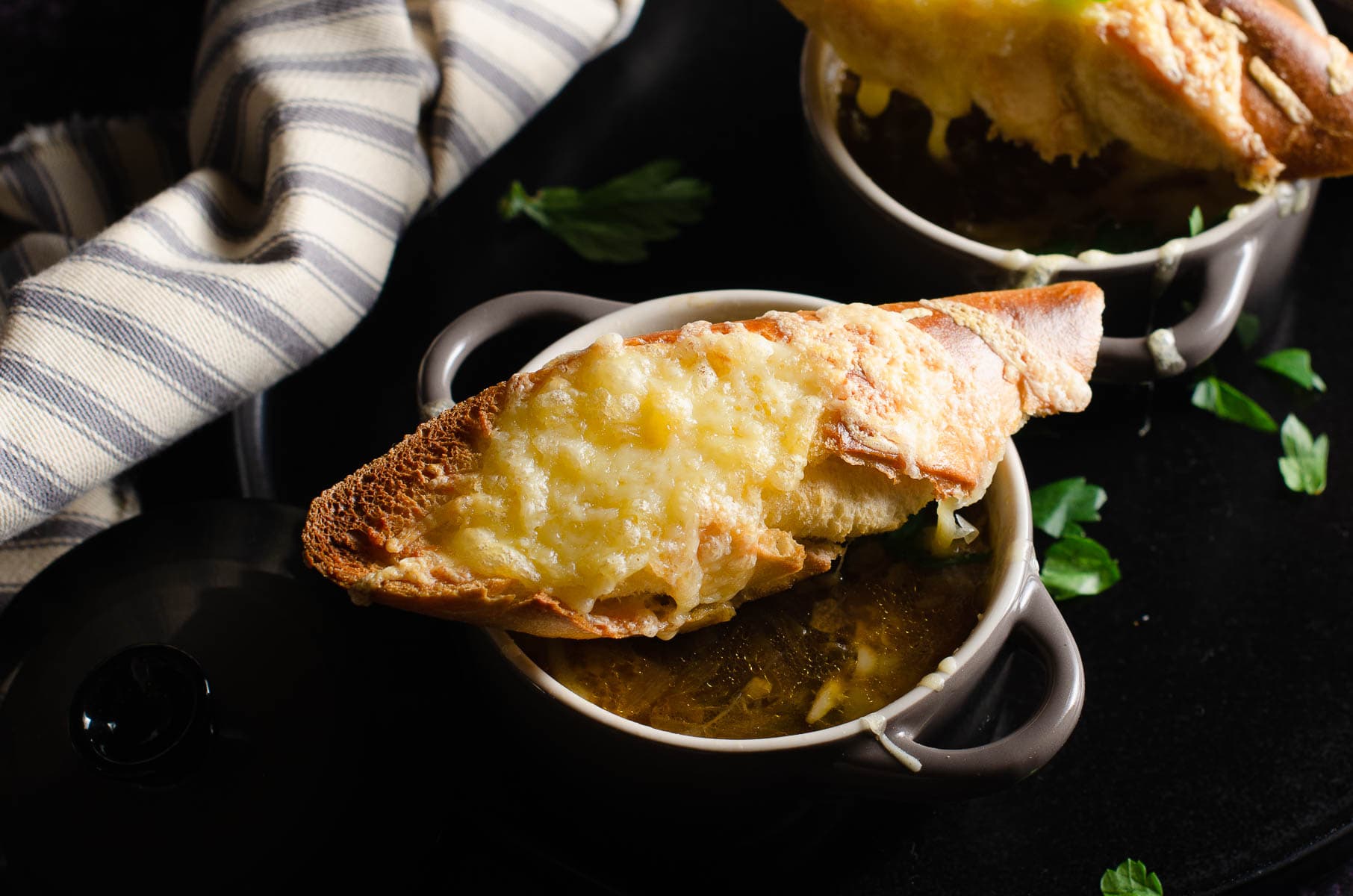 Do I need to add alcohol to the beef broth?
In addition to sugar, there are also many variations when it comes to adding alcohol. For example, some recipes suggest brandy, whereas others use no alcohol at all.
After some experimenting I settled upon dry white vermouth, however a good white wine works just as well.
I like adding the vermouth, or wine, as it adds acidity to balance out the rich beef stock and sweet onions. However, if you would rather you can leave it out.
What beef stock should I use?
One of the most important considerations when making traditional French onion soup is the beef stock. I almost always have homemade beef stock in the freezer (with the sole purpose of making this soup).
However, I am aware that for many of you this will not be the case. Therefore I would recommend that you use the best quality beef stock available to you.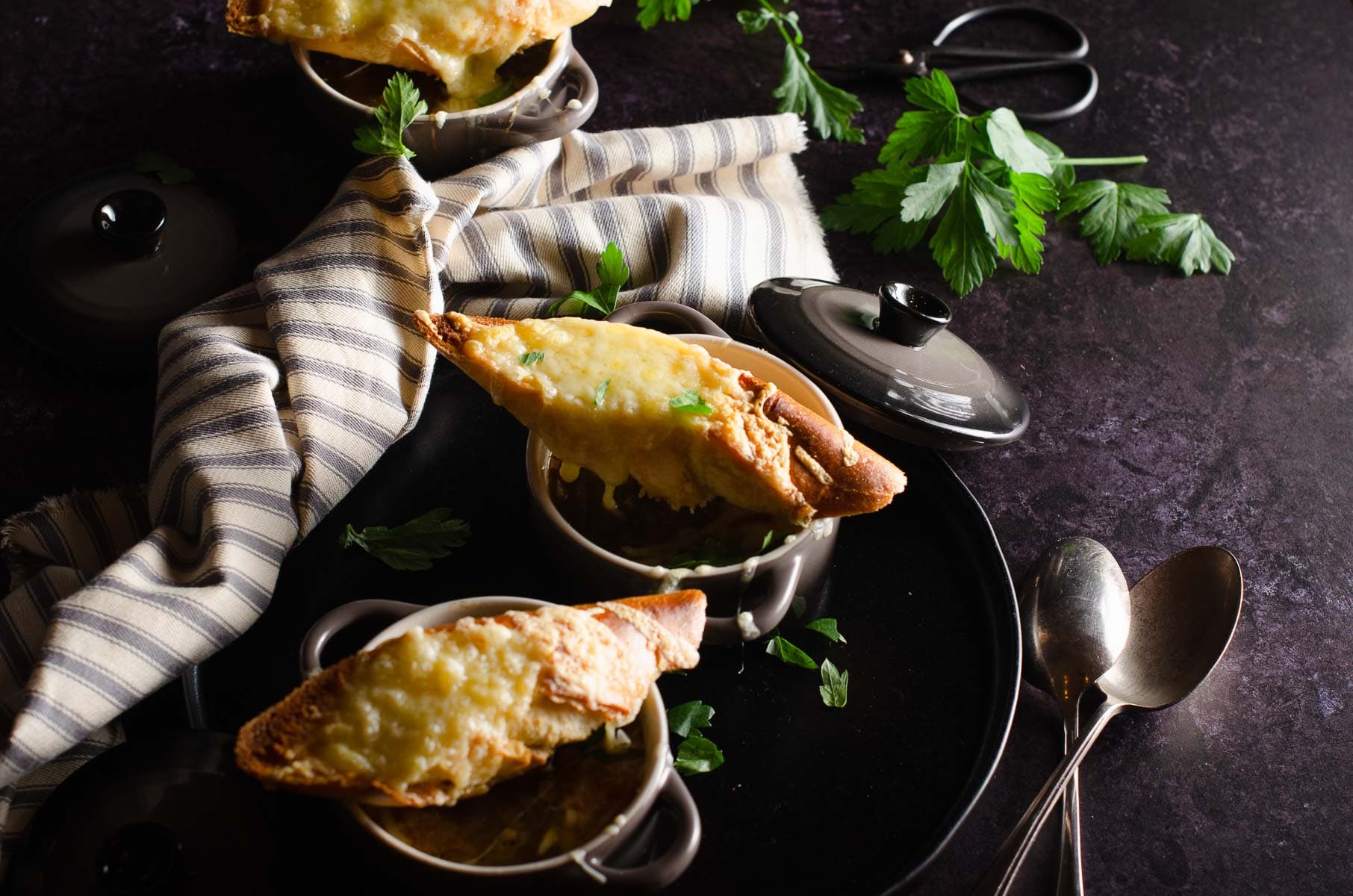 Remove the soup from the oven and allow it to sit!
The result of all this experimentation has resulted in what I consider to be a lovely bowl of soup. As my eldest daughter shares my love of this soup, I've always an excuse to make it.
It is so delicious that we struggle not to eat it straight from the oven when it's too hot. However, I do recommend that you take it out of the oven and allow it to sit for 5 minutes before tucking in.
That way you avoid burning your mouth!
Can you make this soup ahead of time?
This French onion soup can be made ahead of time and simply heated up when you are ready to enjoy it. Once cooked allow to cool, then cover and place in the fridge for up to 2 days.
However, I would recommend making the French onion soup cheese crouton just before you are about to serve it as the melted cheese will not reheat and the toast will go soggy!
Can you freeze this soup?
As is the case with most soups, this traditional French onion soup freezes really well. I like to make a double batch of the soup, so that I can freeze some for enjoying at a later date. Simply make the soup and allow it to cool completely before decanting into containers and popping into the freezer.
Pin the recipe: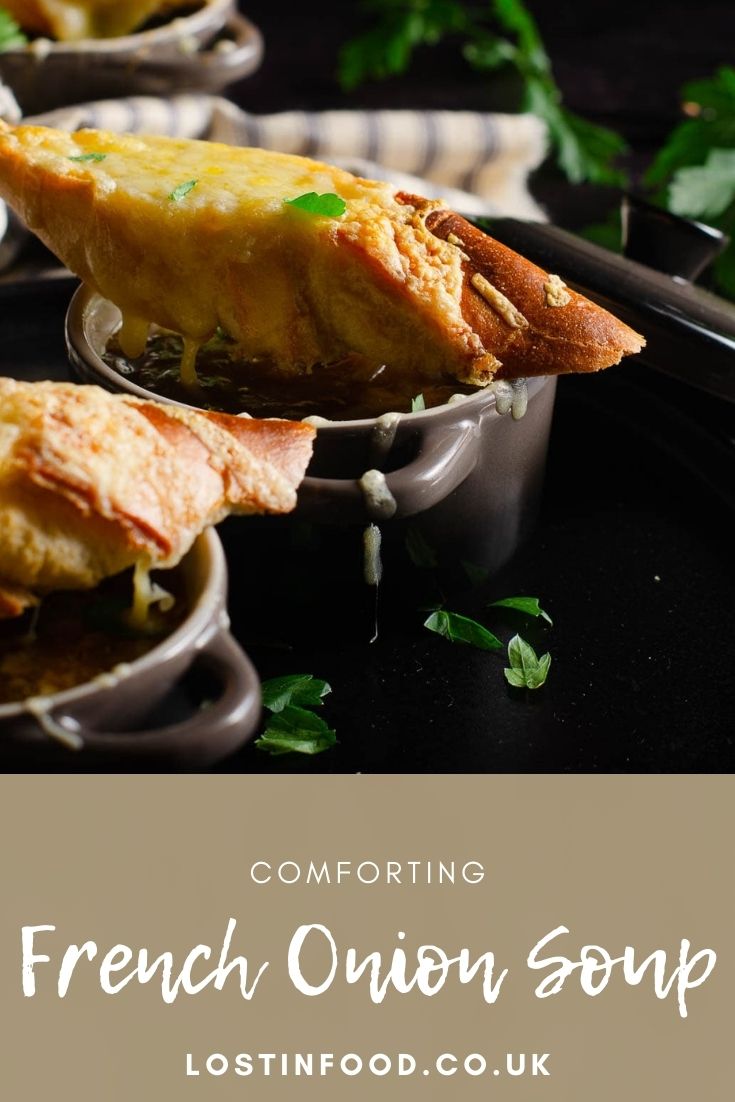 Additional recipe suggestions:
If you like this recipe then try some of our other great soup recipes, packed full of vegetables, grains and pulses:
For some great hints and tips on how to make a great bowl of soup, have a read of our 20 Simple Soup Recipes post. This features some delicious soup recipes for you to try!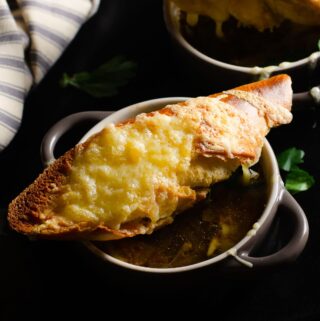 French Onion Soup
A classic beef broth loaded with onions made even better by the tempting addition of a cheesy gruyere topped crouton finished under the grill.
Print
Pin
Save
Saved!
Ingredients
80

g

butter

1

kg

onions

(sliced)

4

cloves

garlic

(crushed)

125

ml

dry white vermouth

(or dry white wine)

1

ltr good quality beef stock

1

bouquet garni

(thyme, parsley & bay)

salt & pepper

4

slices

thick cut french baguette

200

g

grated gruyere

fresh parley

(chopped)
Instructions
Melt the butter in a large saucepan over a medium heat, add the onions and garlic and stir well to combine. Reduce the heat and cook the onion mixture slowly for 20-30 minutes, stirring occasionally, until the onions have softened and are caramelised. Take care not to burn the onions as this will only make the soup bitter.

Increase the heat in the pan and pour in the white vermouth, keep stirring and reduce the wine by half.

Add the beef stock to the pan, along with the bouquet garni, salt & pepper. Bring the soup to the boil, before reducing to a simmer. Place the lid on the pan and cook gently for 30 minutes.

Meanwhile place 4 slices of thick cut French baguette on a tray and place under the grill. Lightly toast both sides of the bread.

When the soup is ready check the seasoning and then ladle into some oven proof bowls. It is easier when the bowls are placed on an oven-proof tray first as it makes them easier to handle.

Place a piece of bread on top of each bowl, sprinkle over some grated gruyere cheese and some chopped parsley. Place the tray back under the grill until the cheese has melted and is bubbling. Serve the soup immediately.
Nutrition Facts
French Onion Soup
Amount Per Serving
Calories 576
Calories from Fat 306
% Daily Value*
Fat 34g52%
Cholesterol 98mg33%
Sodium 521mg23%
Potassium 506mg14%
Carbohydrates 44g15%
Protein 21g42%
Vitamin A 1256IU25%
Vitamin C 21mg25%
Calcium 668mg67%
Iron 4mg22%
* Percent Daily Values are based on a 2000 calorie diet.
• Please note that the nutrition information provided above is approximate and meant as a guideline only •
Share on Facebook