Skirt steak with a warm spiced marinade. Cooked quick to medium rare and delicious served with a baked sweet potato and sour cream.
This recipe using the cheaper cut of skirt steak is simple to prepare, nevertheless it packs a flavour punch. At the weekend I bought some beef skirt, though I couldn't decide what to do with it. Finally, after some consideration, I remembered this recipe.
Skirt steak is cut from the plate, where it's loose grain allows the marinade to be soaked up well. An effortless dish, the marinade takes minutes to prepare, simply seal it in a bag with the steak and set aside for anything from 4 to 48 hours.
However, if short of time a quick hours marinate is better than none at all. After all, I am as guilty as everyone else of leaving things to the last minute.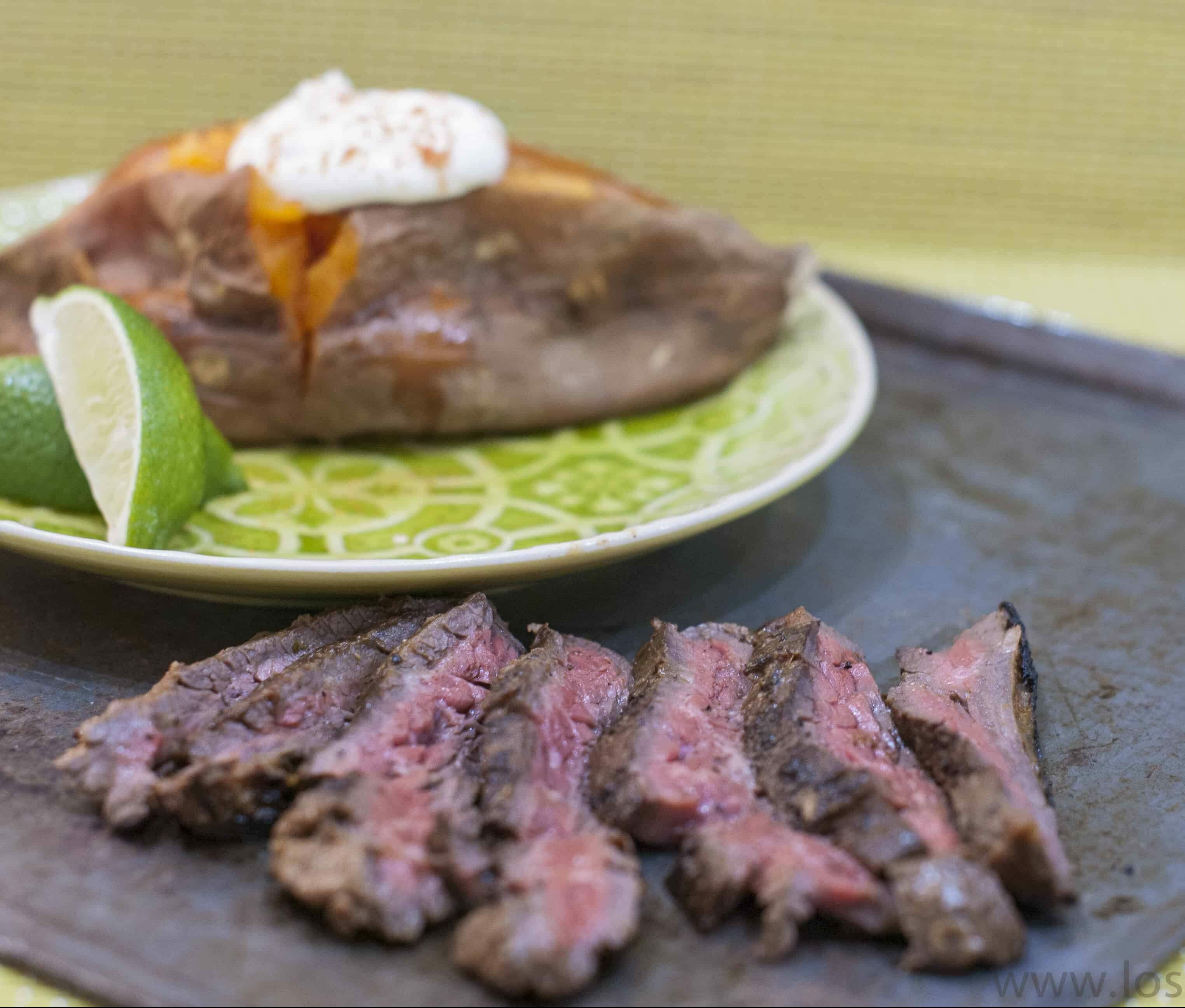 Skirt is from a hard working part of the animal, therefore you need to how to both cook and cut it. Firstly, get the pan smoking hot, thereafter place the steak in the hot pan and cook the meat on both sides.
It is important that you don't cook the steak past medium rare, cooking it any further will result in a tough piece of meat.
Lastly ensure you cut the steak across the grain of the meat, thus breaking down all the hard working muscle. Failing to do this means you may be chewing for some time.
However cut right, you will have the most tender piece of meat to enjoy. This is an inexpensive cut, even so it is full of strong meaty flavour and is easily one of my favourite cuts to cook with.
As a result this is my go to cut for those who enjoy steak, but are budget conscious. For example, I fed my family of 4 this delicious steak dish with trimmings for less than £10.
Some alternative recipe suggestions:
If you like steak then try our Skirt Steak with Chimichurri Dressing, our Bavette Steak with Salsa Verde, our Sirloin Steak with Lemongrass or our Sirloin Steak with Mushroom & Madiera.
Looking for inspiration for feeding the family mid week, then take a look at our Ultimate Guide to Family Dinners. Full of useful hints, tips and recipes.
Pin for later: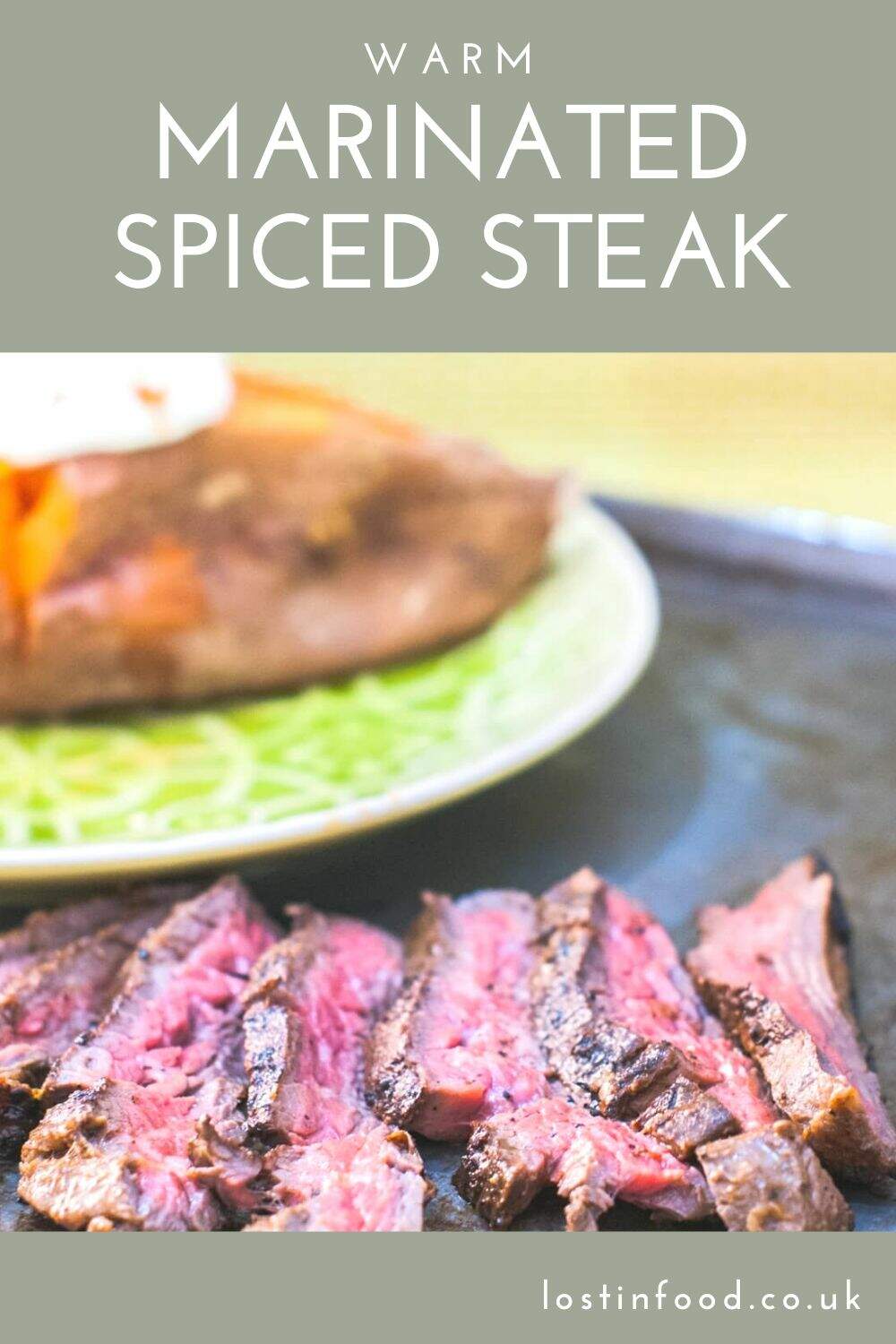 Skirt Steak with warm spice marinade
Skirt steak with a warm spiced marinade. Cooked quick to medium rare and delicious served with a baked sweet potato and sour cream.
Print
Pin
Text
Save
Saved!
Ingredients
MARINADE
½

tsp

cumin seeds

1

tbsp

olive oil

½

tbsp

sherry vinegar

juice of half a lime

½

long red chilli

(de-seeded)

1

clove

garlic

1

tsp

dried oregano

½

tsp

smoked paprika

salt and pepper
Instructions
Heat a non stick pan over a medium heat and toast the cumin seeds. Once they have released their aroma place in a pestle and mortar and grind to a fine powder.

Add the remaining marinade ingredients to the pestle and mortar and pound to a smooth consistency.

Pour the marinade into a zip lock bag and place the steak inside. Close the bag and rub the marinade over the steak, taking care to ensure it is completely covered. Place in the fridge and allow to marinade for anywhere between 4 and 48 hours.

Heat a non stick pan over a high heat and once smoking hot, place the steak in the pan and cook to rare or medium rare (see our meat cooking temperature guide). Take the steak out of the pan and allow to rest for 5 minutes.

Once rested, slice the meat across the grain and serve.
Notes
This cut of beef has a great taste and whilst it is called skirt steak, you might also find it called hanger steak which is a similar type of cut and if you're French Onglet.
It's delicious quickly seared in a very hot pan, but it has to be prepared properly. First remove all excess fat and sinew as this will only toughen the meat once cooked. This steak cut should only be cooked rare or medium rare any longer will make it a chewy piece of meat.
Once the steak has been cooked and rested, it is important to cut across the grain rather than with the grain. Cutting across the grain breaks down the muscle fibres in the meat and makes it easier to eat.
Nutrition Facts
Skirt Steak with warm spice marinade
Amount Per Serving
Calories 380
Calories from Fat 198
% Daily Value*
Fat 22g34%
Cholesterol 126mg42%
Sodium 135mg6%
Potassium 620mg18%
Carbohydrates 2g1%
Protein 44g88%
Vitamin A 353IU7%
Vitamin C 17mg21%
Calcium 20mg2%
Iron 4mg22%
* Percent Daily Values are based on a 2000 calorie diet.
• Please note that the nutrition information provided above is approximate and meant as a guideline only •
Share on Facebook
Shared with CookBlogShare where you will also find recipes by fellow food bloggers.