Simple smoked Haddock Kedgeree is quick to prepare, mixing the smokiness of haddock with a warming blend of spice. A deliciously easy brunch dish.
This simple smoked haddock kedgeree is a favourite dish of mine, due entirely to my love of both smoked haddock and spice. Smoked haddock is one of my favourite fishes to eat, something I rarely get past on any restaurant menu when I'm eating out. One of the top 10 foods I enjoy eating!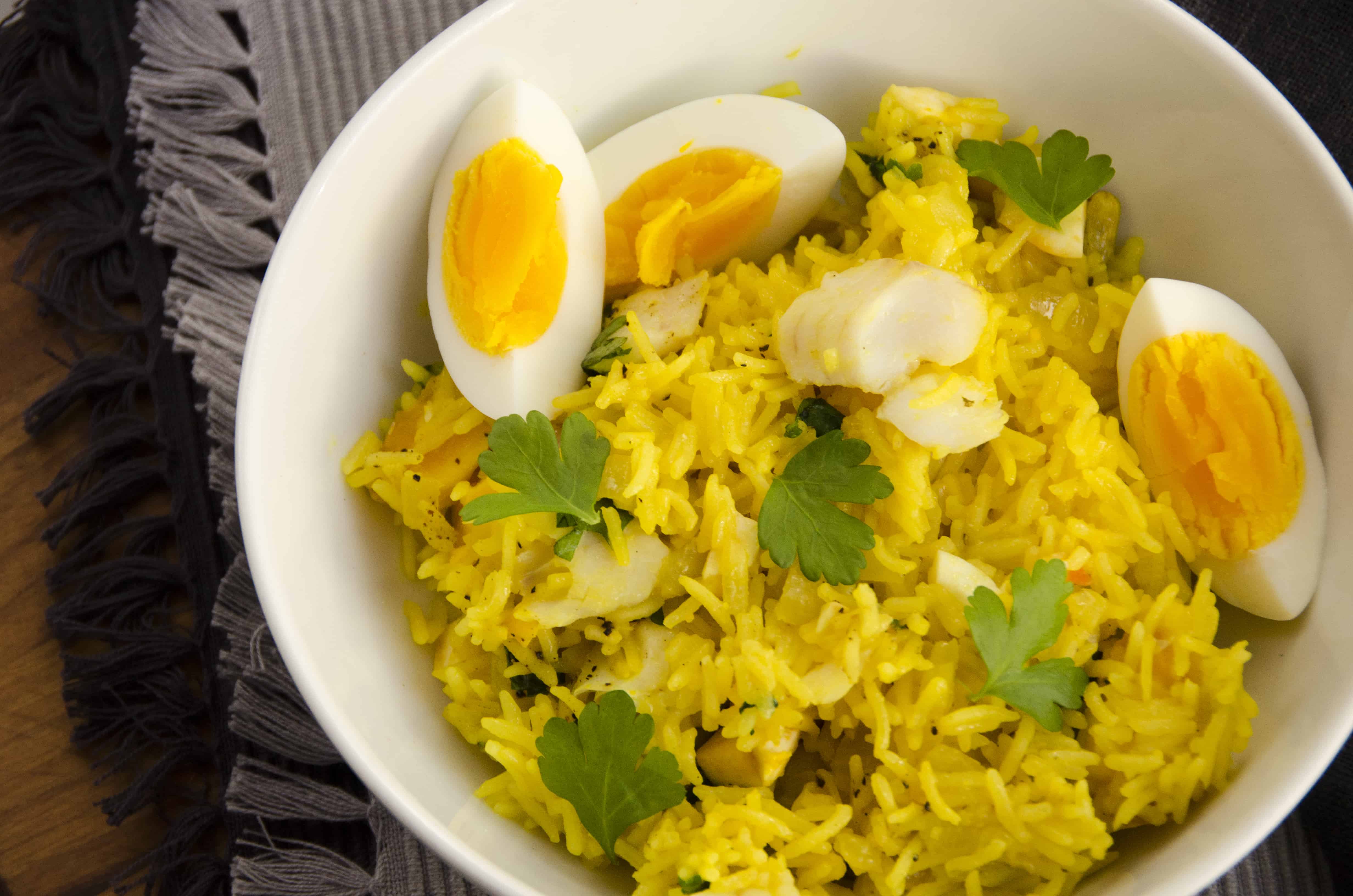 However, the same cannot be said of Michelle, who for years has believed she hated fish and in particular smoked fish. I do love a challenge!
I've played with this recipe a lot over the years and read many versions. Some add cream, which I've tried but don't particularly enjoy. I believe the cream dulls the flavour of the spicing and the fish.
There are many variations to smoked haddock kedgeree in terms of the spicing for the dish. For example, some recipes suggest adding curry powder. I do not like to add curry powder as this overpowers the smoked haddock.
After much playing with the recipe over the years, this is the way I like to eat it. Therefore what we have here is a delicately spiced fish, egg and rice dish. I would happily eat at any time of the day, equally enjoyable for either lunch or dinner as it is for breakfast.
From where does kedgeree originate?
There are many variations as to the origin of this simply spiced rice dish. Its believed to be derived from the Indian dish khichari. Khichari is a comfort dish of lightly spiced rice and lentils, ideal for spice fearing Brits in the early days of the Raj.
However, it was the British who added the fish and egg to the dish. In India it's likely to have been fresh local fish, the smoked haddock a later addition. This dish was very much part of the Victorian breakfast table for the wealthy.
Subtle spicing:
Without a doubt the success of this dish is down to the subtlety of the spicing. It's important that you don't overpower the dish with too much spice, use just enough to flavour, allowing the smokiness of the smoked haddock to shine through.
I always recommend using the freshest of spice available to you. Don't use cardamon pods that have been kicking around in your cupboards for years and this will adversely affect the flavour. In fact I recommend a regular check on use by dates when it comes to spices, they really do loose their flavour is not used.
As with all spices, buy them in small quantities and often, this way you can ensure they are always fresh.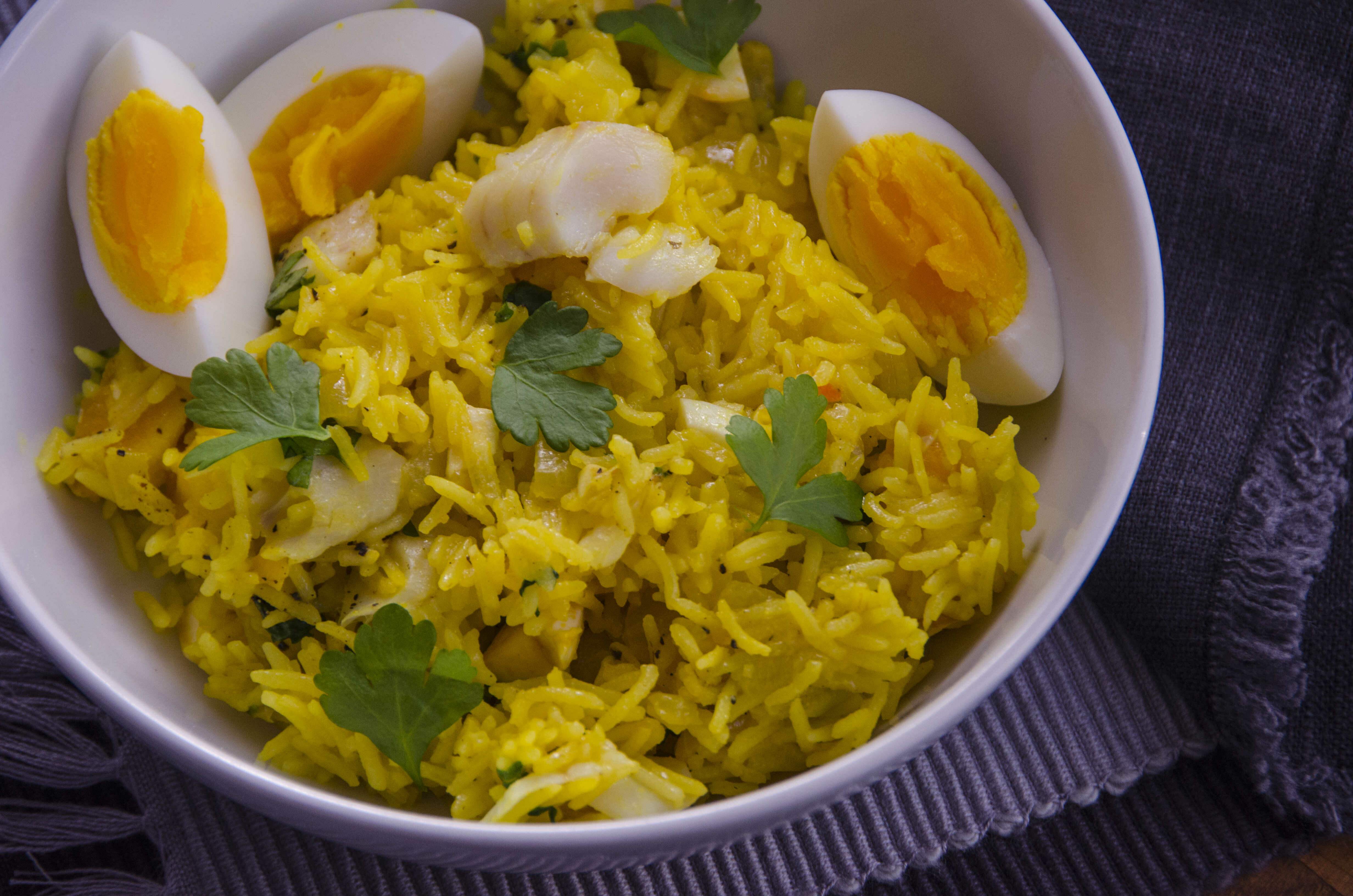 What do you serve with kedgeree?
This is a very filling dish, therefore I like to keep things simple and light. I'd recommend a fresh salad of tomatoes and cucumber, chopped up with some fresh coriander leaf and a light lemon salad dressing. Nothing too heavy!
Can you make smoked haddock kedgeree in advance?
This is really not a make ahead dish. The joy of good kedgeree is the freshness of the flavours. You really don't want the rice sitting and going soggy!
Furthermore, I never cook fish in advance. It is so easy to overcook fish, and there really is nothing worse than dry, overcooked fish. This is exactly what you would end up with if you were to cook the fish before hand!
So, did this dish convince Michelle that her dislike of smoked fish is a thing of the past? Finally after years of cooking for my friend, Michelle has come to the conclusion that she likes fish. Furthermore, this dish is one she'll be making again!
Pin the recipe:
Additional recipe suggestions:
For another quick and simple brunch recipe using smoked haddock, why not try our Omelette Arnold Bennett.
Hosting your own brunch then take the stress out of it and head to our Ultimate Guide to Brunch. As well as having a great selection of our brunch recipes it contains some great hints, tips and advice to help you get started.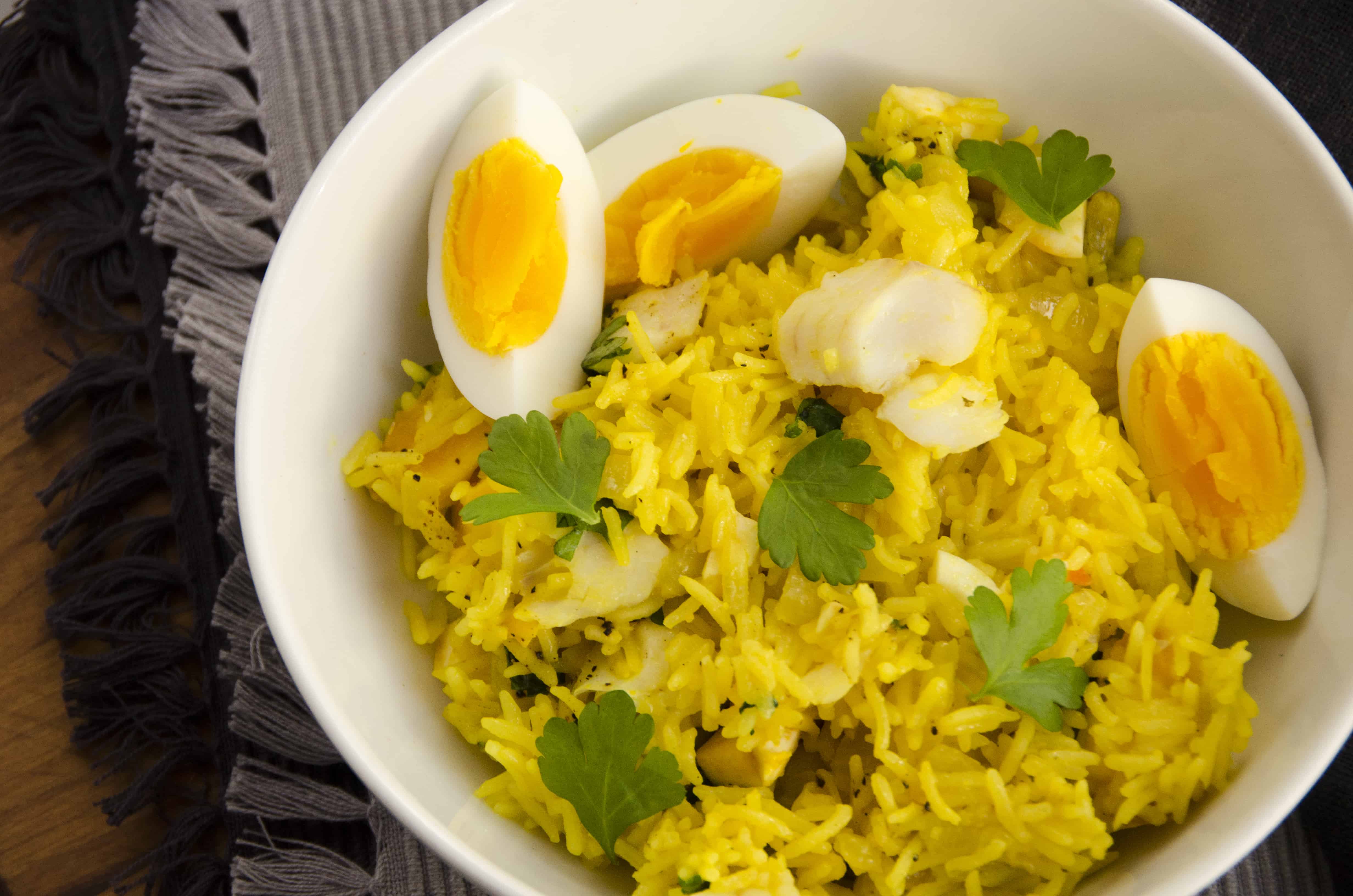 Simple Smoked Haddock Kedgeree
A quick and simple smoked haddock kedgeree, mixing the smokiness of haddock with some warming Indian spices. A really easy cook.
Print
Pin
Save
Saved!
Ingredients
Poaching the fish
2

small undyed smoked haddock fillets

(approx 70-80g each)

2

slices

of onion

2

fresh bay leaves

(use dry if no fresh)

6

black peppercorns

200

ml

milk

water
Spiced rice
50

g

ghee or butter

1

small onion

(finely diced)

2-3

green cardamon pods

1

fresh bayleaf

(use dry if no fresh)

2.5

cm

cinnamon stick

½

tsp

ground turmeric

160

g

basmati rice

400

ml

chicken stock

2

free-range eggs

1

small handful of parsley

(chopped)

salt & pepper
Instructions
Poaching the fish
To poach the smoked haddock. Place the onion, bay leaf, peppercorns and milk into a pan with a little water and bring to the boil. Immediately turn down the heat to a gentle simmer and add the smoked haddock fillets, ensure there is enough liquid to cover the fish, if not add a little more water.

Poach the fish gently for 4-5 minutes then remove onto a plate and set aside to cool. Once the fish has cooled sufficiently break each fillet into large flakes and check there are no bones. Set aside until later.
Spiced rice
In a large frying pan add the ghee or butter and melt over a medium heat. Add the chopped onion and cook gently for 5 minutes until the onion has softened but not coloured. Add the spices and saute gently for a minute until the spices have released their aroma.

Stir the rice into the spicy onion mixture and ensure each grain is coated in the spiced butter.

Add the chicken stock and a teaspoon of salt, bring to the boil before turning down to a gentle simmer. Cover with a lid and cook for 15 minutes checking from time to time to ensure the rice hasn't dried out. Add a little more water during the cooking time if required.

Meanwhile hard boil the eggs for 7 minutes. Once cooked peel the eggs, chop up, then set aside.

Once the rice has cooked stir through the smoked haddock flakes and the chopped up eggs, heat through for 2-3 minutes.

Check the seasoning and adjust with salt and pepper as required. Stir through the chopped parsley and serve immediately onto warmed plates.
Notes
If you don't like smoked haddock, then hot smoked salmon is a good substitute. Likewise, you can substitute the parsley for coriander leaf.
Nutrition Facts
Simple Smoked Haddock Kedgeree
Amount Per Serving
Calories 748
Calories from Fat 315
% Daily Value*
Fat 35g54%
Cholesterol 244mg81%
Sodium 407mg18%
Potassium 617mg18%
Carbohydrates 85g28%
Protein 20g40%
Vitamin A 440IU9%
Vitamin C 6.2mg8%
Calcium 199mg20%
Iron 2.6mg14%
* Percent Daily Values are based on a 2000 calorie diet.
• Please note that the nutrition information provided above is approximate and meant as a guideline only •
Share on Facebook
This recipe has been shared with CookBlogShare, where you will also find recipes by fellow food bloggers.