Our best potato side dishes, all together in one post. We have everything from baked, roasted and mashed potatoes to flavourful potato salads too. This roundup features 12 of our best potato side dishes, all together in one place. A variety of easy potato dishes that elevate the humble potato to something warming, comforting and truly marvelous to eat.
I'm a great fan of potatoes and when asked my favourite way to serve a potato my answer varies greatly depending on my mood. In the summer I don't think you can beat a potato salad, but then again what about a new season Jersey royal dripping with butter and perhaps some freshly chopped chives?
Then as the days turn colder it's comfort we all look for in our food. I might think a bubbling and layered dauphinoise is just what I want, but then again there's creamy mash. The list of possibilities is endless and my choice on the day comes down to my mood!
In this post we not only show you a variety of potato side dishes, but also what are the best potatoes to choose for each dish and how to store them.
What flavours work well with potatoes?
Potatoes make a perfect side dish as they soak up the flavours of anything that you decide to pair them with. Potatoes are versatile, they work in creamy dishes, in fresh tasting side dishes, with herbs and spices, in fact with just about anything!
When it comes to flavouring potatoes the list is endless. Here are some suggestions of ingredients that pair well when combined with potatoes:
FRESH HERBS: garlic; thyme; rosemary; chives; parsley; mint; dill; coriander leaf; wild garlic and horseradish
SPICES: cumin; coriander; chilli; nutmeg and turmeric
VEGETABLES: asparagus; onions; spring onions; lemon; olive; pea and watercress
DAIRY: butter; cream; creme fraiche; hard cheeses (like cheddar, gruyere and Parmesan)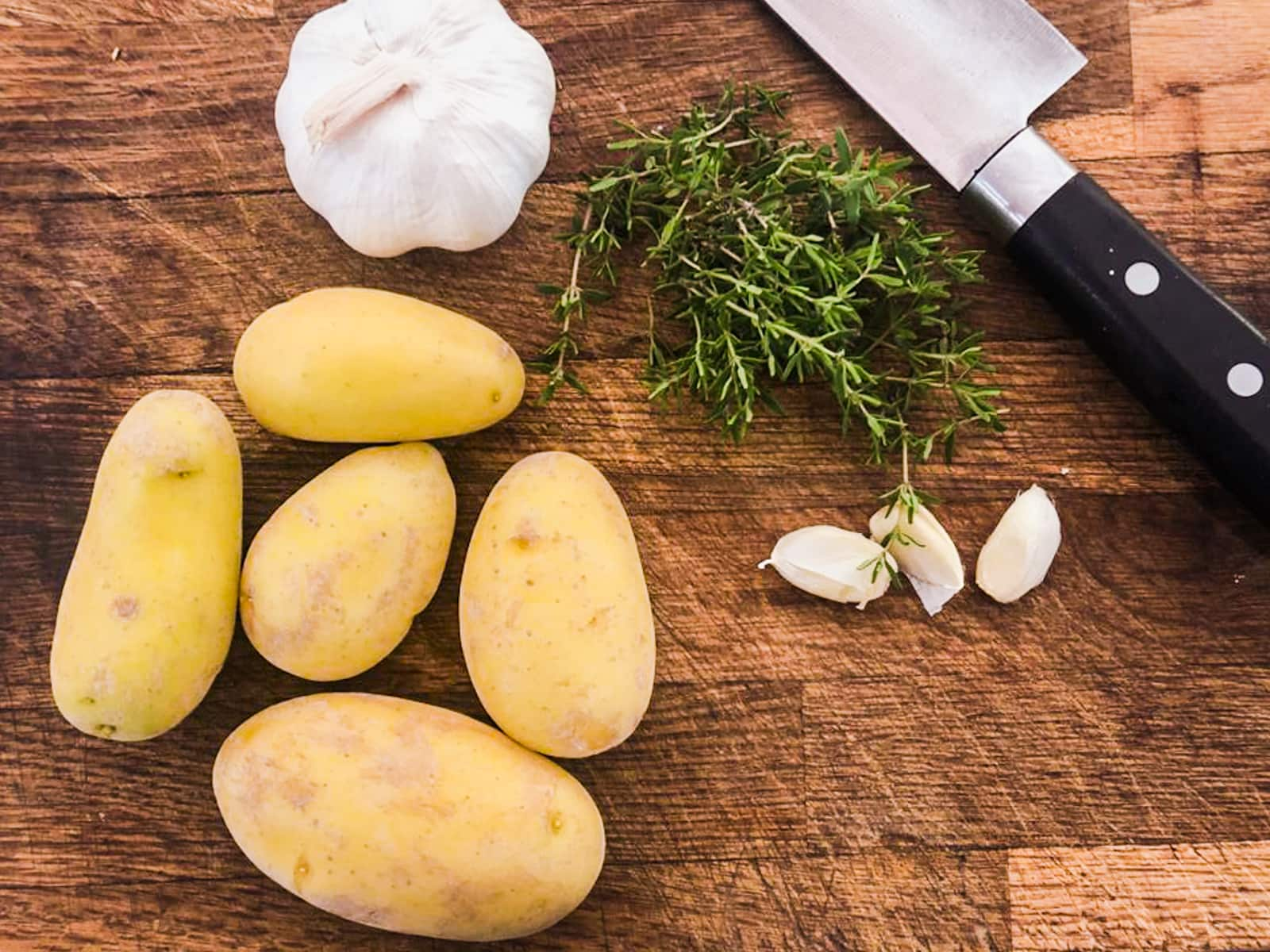 The best potatoes to choose?
When it comes to cooking with potatoes it is important to choose the right potato for the job. But any potato will do – right? In theory yes, but choosing the right variety of potato will make all the difference to the finished dish! Potatoes fall into 2 main categories, waxy potatoes and floury potatoes.
For example, technically you can roast either of these varieties of potato and they will taste great. However, if you are looking for the ultimate roast potato that's crispy on the outside and fluffy on the inside, only a floury potato will do. You can roast waxy potatoes, add to a sheet pan dinner dish, they will just hold their shape and be firm to the bite. However, they will not have the crispy skin of a floury roast potato.
So what's the difference between waxy and floury? It all comes down to the amount of starch in the potatoes. Rule of thumb, waxy potatoes have lower amounts of starch whereas floury potatoes have higher levels of starch.
Waxy Potatoes:
Waxy potatoes are firm in texture when you bite into them, these potatoes hold their shape once cooked. A waxy potato makes a great boiled potato. Finish it off with a sprinkle of salt and a knob of butter and you have potato perfection right there. Waxy potatoes also make the best potato salad, I often leave the skin on for extra flavour.
Anya, Charlotte, Cornish Kings or Jersey Royals are all great example of waxy potatoes. Bags of potatoes marked "new potatoes" fall into this category too.
Floury Potatoes:
Floury potatoes are sometimes called starchy potatoes as they contain higher levels of starch. It is the starch in these potatoes which makes them fluff up during cooking. Floury potatoes are ideal for mashed, roasted or baked potatoes. They also make the best chips!
Maris Piper, King Edwards, Roosters and Russett potatoes are all great examples of a floury potato.
All Purpose Potatoes:
These are the potatoes that fall somewhere in the middle! They are a little waxy and a little floury and good all rounders. Desiree potatoes fall into this category.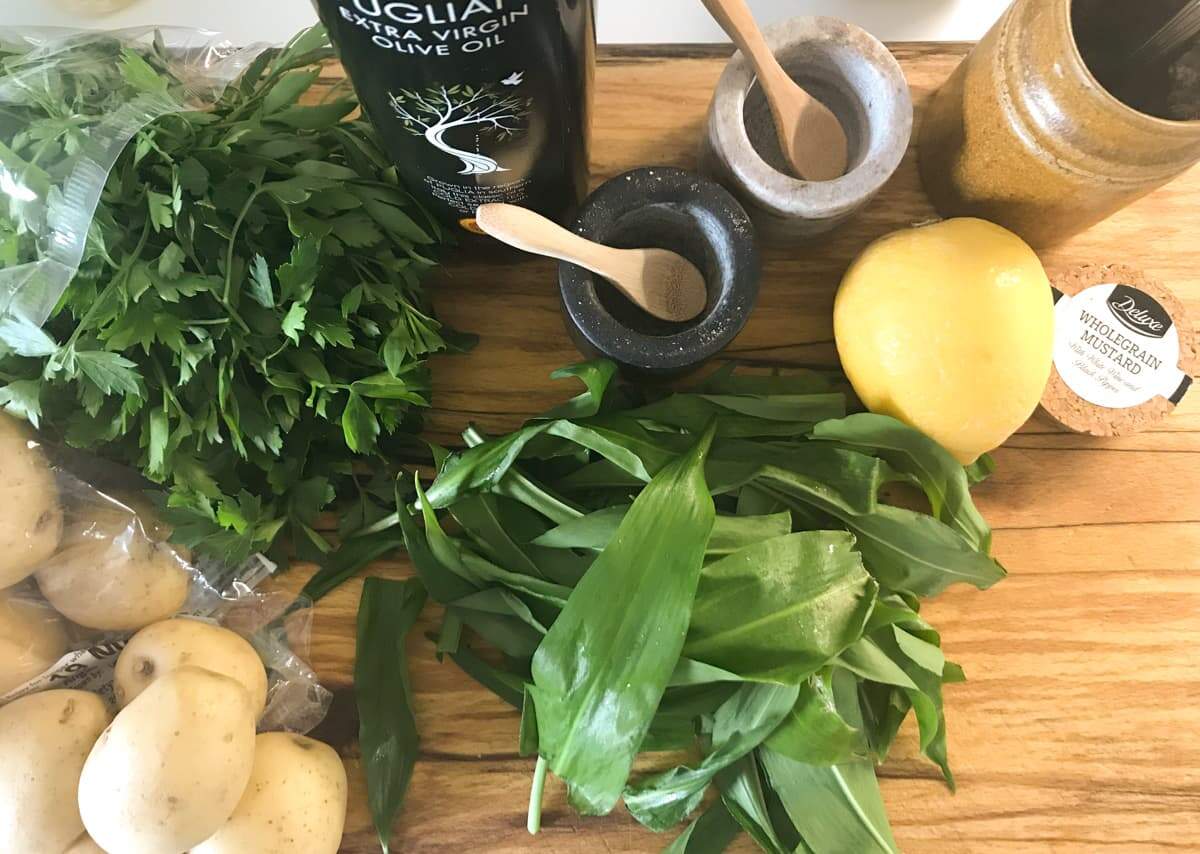 How to store potatoes?
Store potatoes in a cool, dry and dark place as exposure to light causes then to rot. Too much light will turn potatoes green making them bitter and inedible. Throw out fully green potatoes as they contain toxins.
Don't store potatoes in airtight containers or plastic bags as they will start to sweat and therefore rot. Potatoes need to be ventilated, so place then in a paper or fabric bag which will allow the air to circulate whilst keep the light out.
Potato side dish recipes:
What we have collected here are a selection of different types of potato side dishes. Some will be familiar, some a little different, but all packed full of great flavour.
Quick potato side dishes:
Best crispy potato side dishes:
Layered potato side dishes:
Something a bit different!
Best potato salad recipes:
I love potatoes and when it comes to cooking with them, a good quality potato salad is hard to beat. Below we have three of the best potato salad recipes, all flavoured differently and with different textures. I don't think you can have enough recipes for potato salad in your repertoire!
When it comes to the best potato side dishes for the BBQ I don't think you can beat a good potato salad.
Warm potato salads:
This roundup has been shared to CookBlogShare, click on the link to find recipes by fellow food bloggers.