The best crispy roast potatoes are a joy to eat, crunchy on the outside, soft and fluffy on the inside and an absolute must for any roast dinner.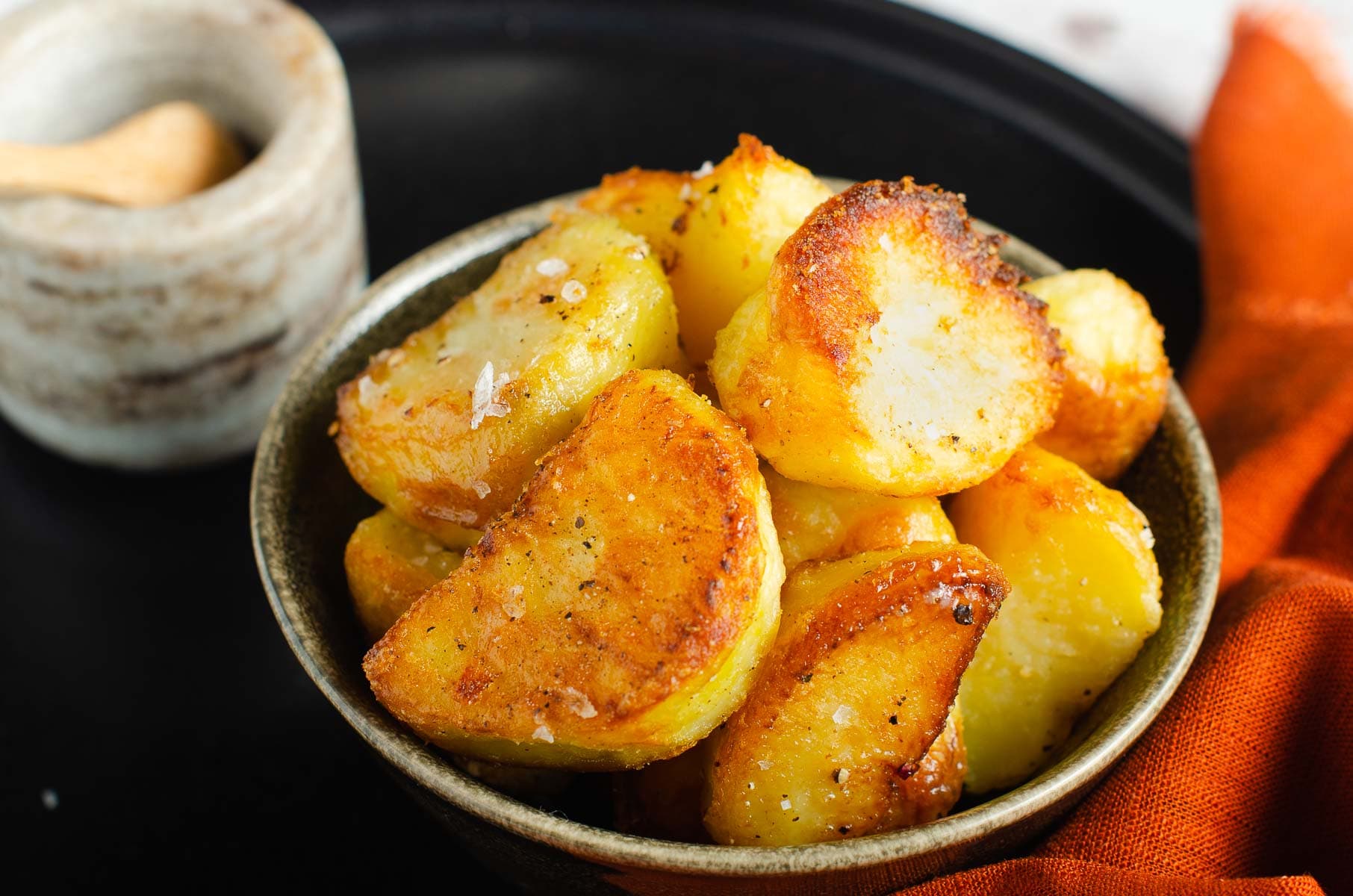 I'm not sure I know anyone who doesn't love a roast potato, they are easily one of the tastiest ways to eat this starchy vegetable. These best crispy roast potatoes are a must for any roast dinner or Sunday lunch.
I don't think any roast dinner is complete without a roast potato, my family certainly wouldn't think so. Whether it's Sunday lunch or the Thanksgiving or Christmas roast, these simple potatoes are a must.
These potatoes are the perfect accompaniment to any roast meat: whether chicken; turkey; beef; pork; lamb; goose; duck or game. Substitute the goose fat with some vegetable oil and they are the ideal side to serve with a vegan nut loaf.
These roast potatoes are simple to cook, no special ingredients or fancy cooking kit required. Just a roasting tray of piping hot oil and some par boiled potatoes. It really could not be any simpler.
Place a bowl of these crispy roast potatoes in the centre of the table and watch everyone tuck in. I rarely have any leftovers, every one is eaten while still warm and crisp.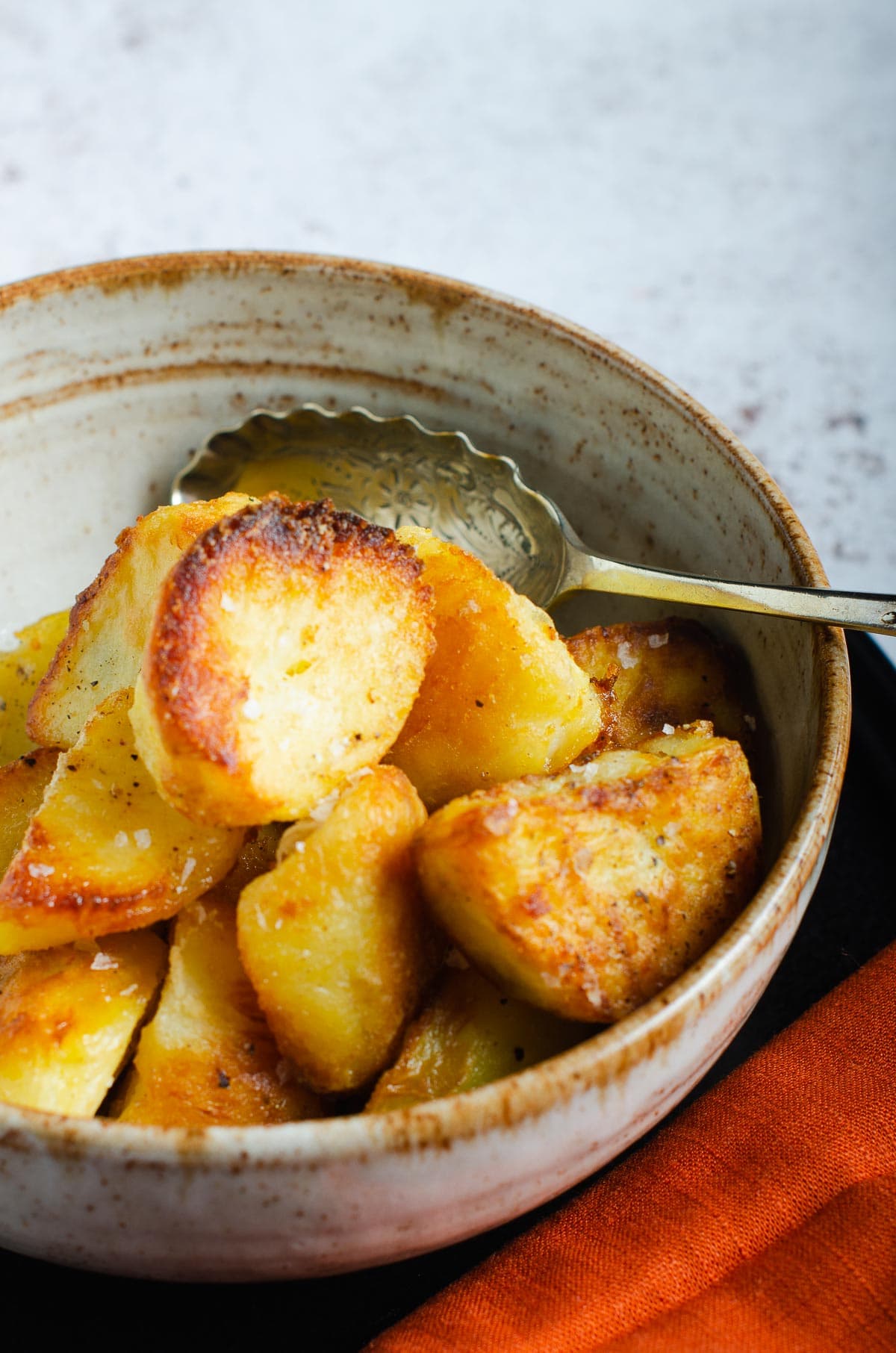 However, if you do find yourself with leftovers, they make delicious saute potatoes with some added garlic and thyme, or can be added into a frittata the next day.
The whole process could not be any simpler and this posts shows you how to roast potatoes, using a few simple steps to ensure that crispy outside, and soft, fluffy inside.
What potatoes are best for roasting?
It really important to choose the right variety of potato. You want a floury potato, Maris Pipers or King Edwards are my favourite, but you can also use a Rooster, they all roast really well. (A Russet, Yukon Gold or Red Potato are great alternatives if you are in the US).
I don't recommend using a waxy potato, while these are fine for baking, they simply don't fluff up in quite the same way as a floury potato like a King Edward or Maris Piper does.
How to Roast Potatoes – recipe steps:
Peel and cut the potatoes into large chunks and parboil for 10 minutes.
Meanwhile preheat the oven to 200CFan/220C.
Drain the potatoes and give them a little toss to break up the outside of the potato.
Place the goose fat into a tray and pop into the hot oven to heat the fat up to piping hot.
Gently place the potatoes into the roasting tin of hot goose fat and season with salt and pepper.
Place the roasting tray back into the hot oven and cook the potatoes for 45 minutes, turning the potatoes half way through to crisp up the entire potato.
Is it necessary to parboil potatoes before roasting?
Technically you don't need to parboil potatoes before roasting them, you can add them raw to hot fat and simply pop them into the oven.
However, parboiling is a step that I never miss out and is a sure way of ensuring a crispy potato. Parboiling potatoes before they are roasted, ensures that the outside of the potatoes are crispy and the inside of the potatoes are soft and fluffy.
How to cook crispy roast potatoes?
There are 3 important steps if you want potatoes with a crispy outside and a soft fluffy inside:
Parboiling the potatoes is essential, it not only ensures a fluffy inside, but a crunchy outside too. When you rough the potatoes up in the pan, it breaks up the outer layer of the potato, when this hits the hot fat it becomes crisp.
You need a hot oven and hot oil! Ensure that you properly heat up the fat in the tray before you place the potatoes in it. You want the fat to be hot enough so that the potatoes start cooking immediately. If the temperature of the fat is too low it will result in greasy potatoes.
Finally once cooked, remove the potatoes from the roasting dish and place them in a bowl lined with kitchen paper. The paper will absorb any excess oil and stop the potatoes becoming soggy.
Recipe substitutions and variations:
We used Maris Piper Potatoes as they make perfect roast potatoes. However, you can also use other floury potatoes like King Edward or Rooster.
Goose fat has a really high burn temperature making it ideal for roasting. You can substitute with duck fat, sunflower oil or vegetable oil.
You can also add herbs to the potatoes while you are roasting them. Cut a bulb of garlic in half and add this to the roasting pan at the same time as the potatoes. A few springs of rosemary or thyme add wonderful flavour too.
Useful hints and tips:
Roast potatoes are a dish best served piping hot straight from the oven as that is when the crispy skin is at its best.
Always take the time to heat up your roasting tray, then add the fat you want to cook the potatoes in and ensure that the fat is really hot before you add the potatoes to the baking pan. If the oil is not hot enough the potatoes will be greasy.
Take care when placing the potatoes into the hot fat it is very easy to burn yourself, so don't toss them in and risk any fat splashing on you.
Leftover roast potatoes make great saute potatoes the next day, or add them to eggs and other vegetables for a great tasting frittata.
If roasting potatoes for vegetarian or vegan diner, substitute the goose fat with some sunflower oil instead.
Allergy advice: gluten free, dairy free, egg free and nut free. For comprehensive and detailed allergy advice go to Allergy UK.
Pin the recipe:
Additional recipe suggestions:
If you like this recipe then try some of our other great tasting side dishes:
Potato sides:
Vegetable/Meat based sides:
If you are looking to change things up a bit, have a look at our 12 Best Potato Side Dishes post. It's full of useful hints and tips, along with all our favourite potato sides.
Crispy Roast Potatoes
Crispy roast potatoes are a joy to eat, crunchy on the outside, soft and fluffy on the inside and an absolute must for any roast dinner.
Print
Pin
Save
Saved!
Ingredients
600

g

floury potatoes

(use Maris Piper, King Edward or Rooster)

3

tbsp

goose fat

salt & pepper

(to season)
Instructions
Preheat the oven to 200CFan/220C.

Peel and chop the potatoes into 4-5cm chunks. Par boil the potatoes for 10 minutes until the edges are just starting to roughen up.

While the potatoes are par boiling, add the goose fat to a medium sized roasting tray, large enough that the potatoes can lay flat without overcrowding the tray. Place the tray into the hot oven and allow the fat to heat up.

Drain and toss the potatoes either in a sieve or shake in the pan with a lid on. You want to roughen up the outside of the potatoes so that there is more area exposed to ensure a crispy outside crust.

When the fat is hot, carefully remove the tray from the oven and place the potatoes in the tray. The potatoes will sizzle in the oil. TAKE CARE NOT TO DUMP THE POTATOES AS YOU CAN BURN YOURSELF WITH HOT FAT.

Season well with salt and black pepper. Place the tray back into the oven and roast for 45 minutes, turning the potatoes half way to crisp up the entire potato.

Once golden and cooked through, carefully remove the potatoes from the hot fat and place them in a bowl lined with kitchen paper which will absorb any excess fat. Serve immediately.
Nutrition Facts
Crispy Roast Potatoes
Amount Per Serving
Calories 191
Calories from Fat 90
% Daily Value*
Fat 10g15%
Cholesterol 10mg3%
Sodium 27mg1%
Potassium 683mg20%
Carbohydrates 24g8%
Protein 3g6%
Vitamin A 11IU0%
Vitamin C 13mg16%
Calcium 15mg2%
Iron 1mg6%
* Percent Daily Values are based on a 2000 calorie diet.
• Please note that the nutrition information provided above is approximate and meant as a guideline only •
Share on Facebook
This recipe has been shared to CookBlogShare, click on the link to find recipes by fellow food bloggers.