Potato pave, or compressed potatoes, are a great make-ahead vegetable side dish. Easy to prepare, this dish can be baked and portioned in advance, before heating up when you are ready to serve. A great dinner party side dish that we serve at our Supperclubs.
Potato pave, or compressed potatoes, are a side dish that frequently feature on our Supperclub table. As the name suggests, the potatoes are sliced then layered into a dish with butter, vegetable stock and seasoning.
The potatoes are covered and baked in the oven before being compressed or weighed down while cooling. This is a great dinner party side dish and one that all our diners enjoy when we serve it.
Helpful tips for cooking potato pave:
Although there are a few steps in the recipe, it is not a difficult dish to prepare. However, there are a few things worth noting. Firstly, make sure you slice the potatoes thinly and evenly to allow them to bake through equally.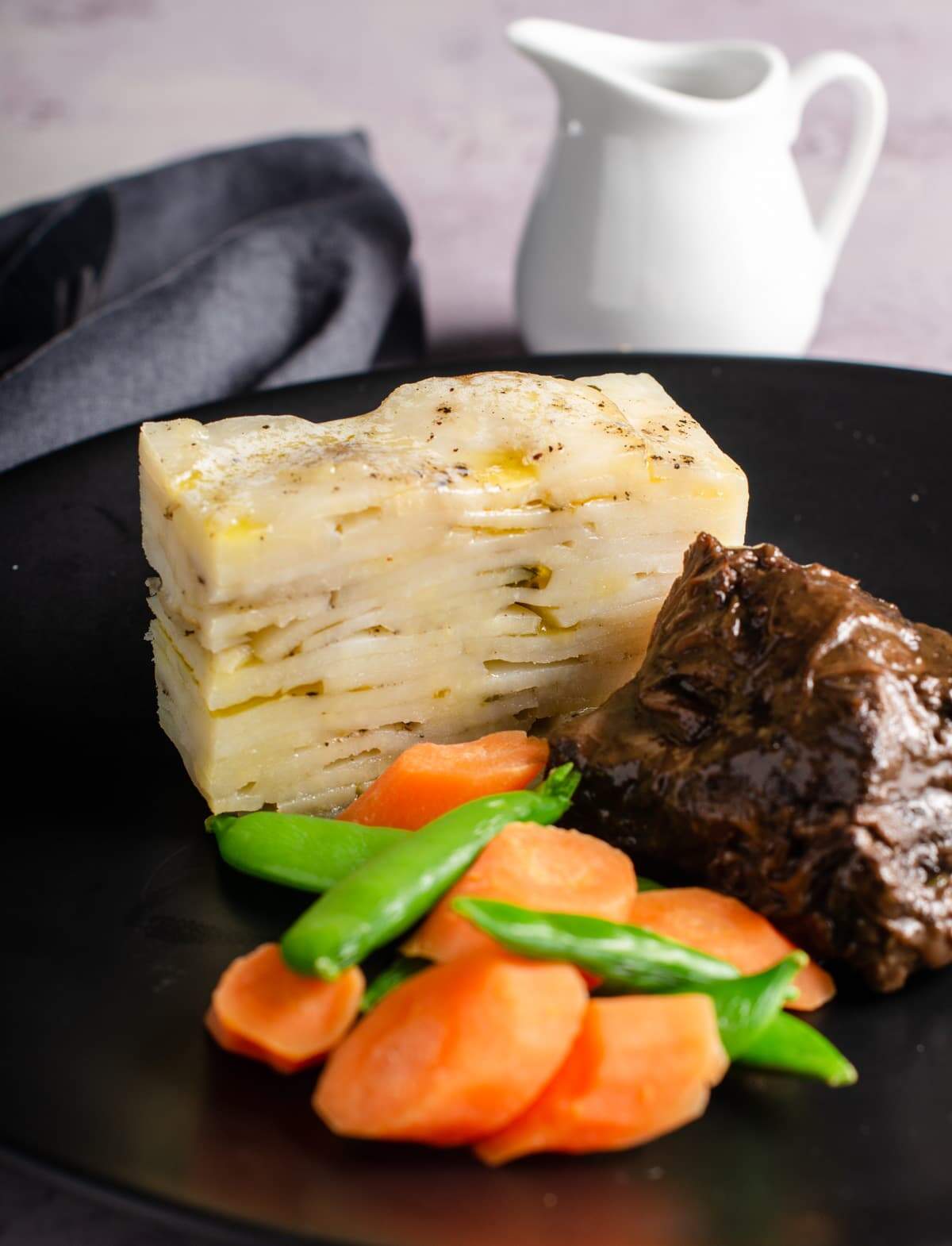 When layering the potatoes try not to overlap too much, you only want a slight overlap to keep the layers even. [For further guidance follow the photographic steps below.]
Finally, if slicing the potatoes by hand, it can take time to get the layers really thin. So to save your potatoes from browning keep them in a bowl of cold water until ready to assemble.
Layered potatoes – recipe steps:
Preparing the tin and first steps for assembly:
Completing the dish: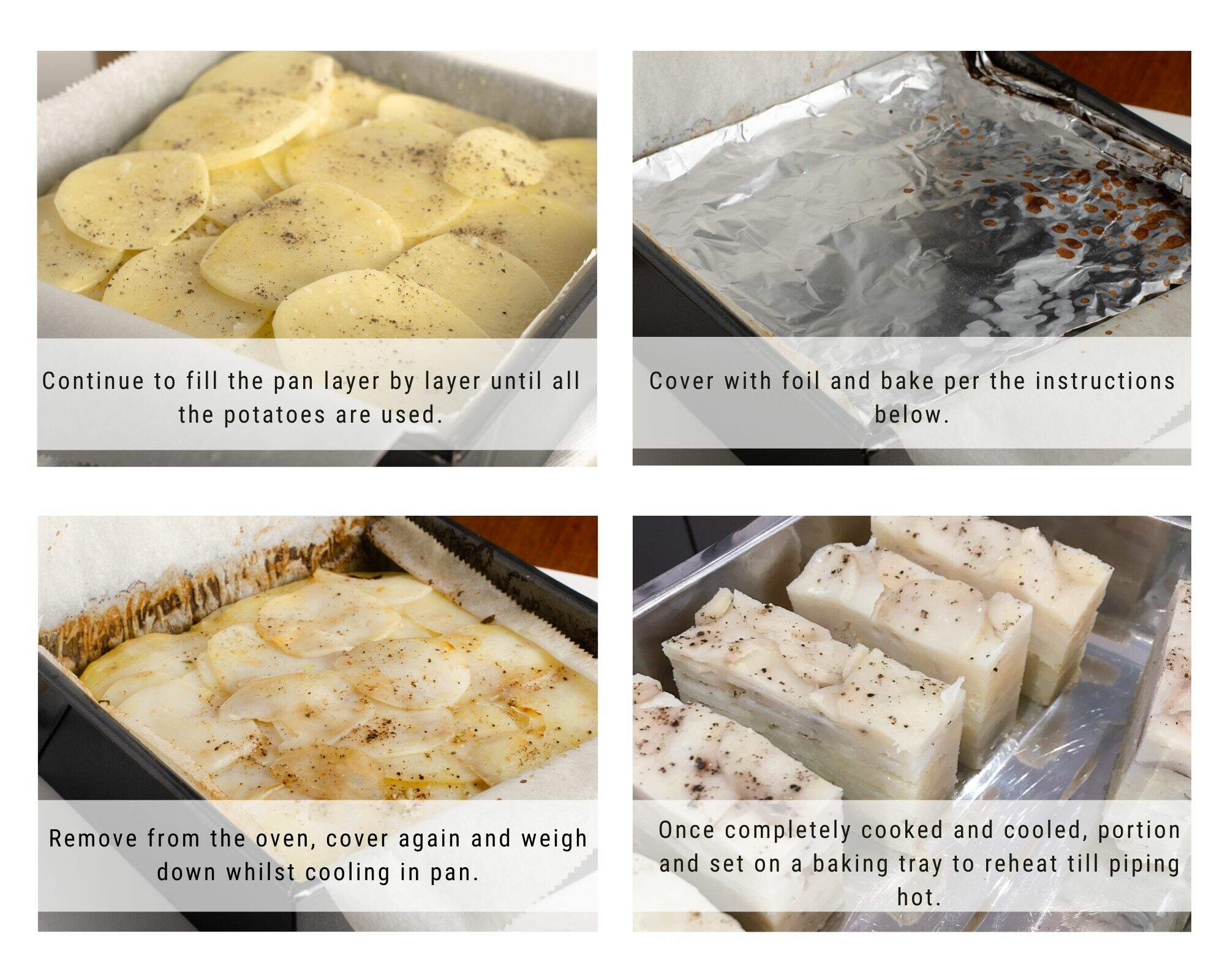 What are the best potatoes to use when making a potato pave?
When making this dish, the best potatoes that we have found are a floury potato like a Maris Piper or a King Edward. You don't want to use a waxy potato as they are slippy and will not set into a proper block for cutting.
Can these pave potatoes be prepared ahead of time?
These potatoes are a great make ahead side dish for anyone planning a dinner. They can be assembled and baked up to 2 days ahead of time. Simply prepare the potatoes in your oven proof dish and bake until cooked and a knife inserts smoothly.
For the recipe below we find that 70-75 minutes works well. At this point you will want to remove the cooked potato pave from the oven. Leave the foil in place and if you have a piece of cardboard the size of the inside of the pan, lay this on top of the foil. You then need to weigh down the potatoes until they are fully cooled.
At this point the potato pave can be refrigerated until you are ready to serve. When ready to serve remove from the fridge an hour before hand and finish the steps to cut and reheat the potato dish.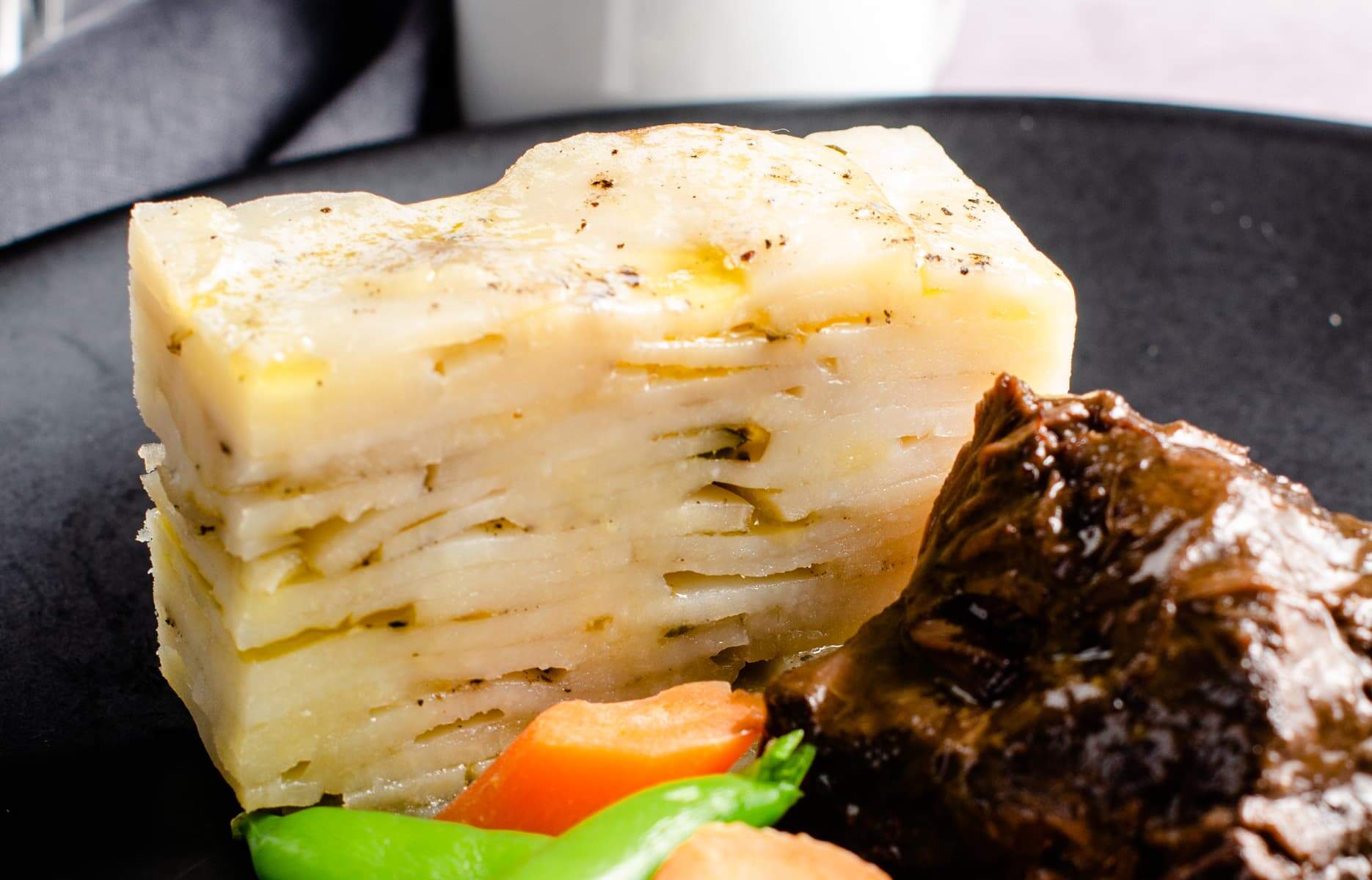 Can I freeze this potato dish?
This dish can be frozen very easily. After cooking allow the dish to cool before portioning and placing the potato stacks in a suitable container. Cover with a tight fitting lid and place in the freezer.
You can cook this potato pave directly from frozen. Simply pop into an oven at 180CFan for 30 minutes covered and then another 10 minutes uncovered.
However, it is worth mentioning at this point that potato can become a little grainy in texture once it is defrosted again. It's not a texture that I particularly enjoy. For that reason I prefer to make it ahead of time and keep it in the fridge until I'm ready to serve it.
Pin the recipe: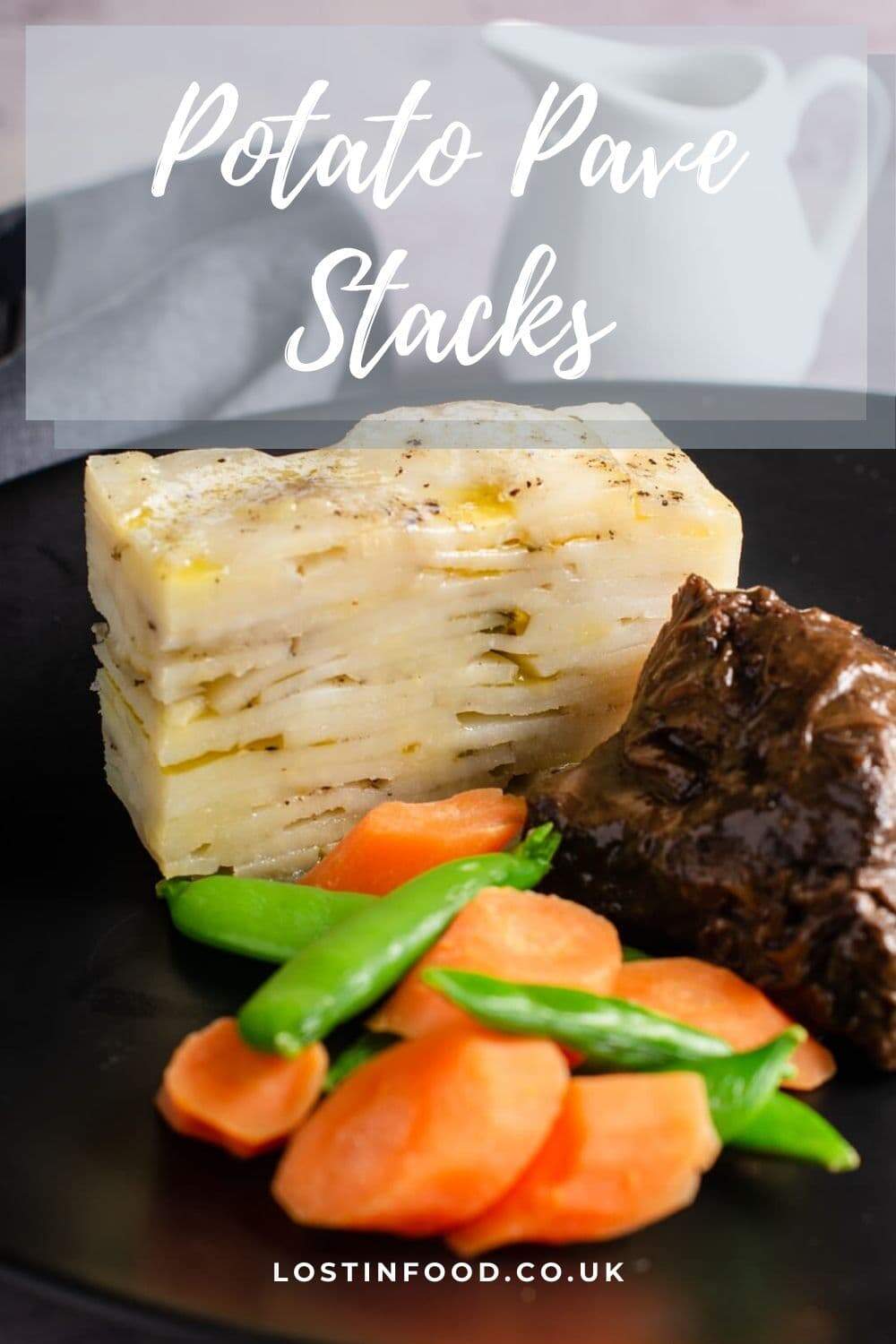 Additional recipe suggestions:
If you like this recipe then try some of our other great side dishes:
If you are looking to change things up a bit, have a look at our 12 Best Potato Side Dishes post. It's full of useful hints and tips, along with all our favourite potato sides.
Potato Pave
Potato pave, or compressed potatoes, are a great make-ahead vegetable side dish. Easy to prepare, can be baked and portioned in advance, before heating up.
Print
Pin
Text
Save
Saved!
Ingredients
2.5

kg

potatoes

(thinly sliced)

150

ml

vegetable stock

60

g

butter

3-4

sprigs fresh thyme

1

clove garlic

(large)

salt & pepper to season
Instructions
Preheat the oven to 180CFan.

In a deep sided 8" x 8" pan, add baking parchment to stop the potatoes from sticking. In order to allow the potatoes to be lifted out, place one sheet of baking parchment in the pan, allow the parchment to come well up over the sides to form "handles" to lift the cooked dish out. Place a second piece of baking parchment in the opposite direction of the first but this only needs to cover the sides and the base. NOTE: Ensure the piece of parchment with "handles" is on the bottom of the pan.

If using a mandolin, set it to approximately 2-3mm thickness. [If you don't have a mandolin, use a very sharp knife instead.] Peel and slice the potatoes thinly and place into a large bowl with cold water to stop them browning while you prepare the dish.

In a small saucepan, add the butter, vegetable stock, thyme leaves and garlic. Allow the butter to melt but not boil. Turn off heat and get ready to layer the dish.

Start layering the potatoes in a single layer, only overlapping slightly on the bottom of the pan. Using a pastry brush, brush on some of the butter and stock mixture. Next, season well with salt and pepper. Repeat this process layer by layer, topping each potato layer with the butter mixture and salt & pepper until you reach the top of the pan or the potatoes are finished.

Once the dish has been fully layered, cover with tin foil and bake in the oven for 1 hour. Check the potatoes after an hour by inserting a skewer in the middle. They are cooked if the skewer passes through with ease. If not, continue to cook another 15-20 minutes.

Once fully cooked, remove from oven. Remove the foil and replace with a piece of baking parchment to fit over the top but inside the pan. At this point you want to weigh down the potatoes while still warm. You can use a small plate or a piece of cardboard to put on top of the baking parchment, inside the pan. Top with tinned goods to form a weight. Allow to fully cool like this before placing in the fridge overnight to set.

When ready to use, remove the pan from the fridge and using the "handles" of baking parchment as mentioned in Step 2, gently remove from the potatoes from the pan. They will be heavy and might need a little rocking motion to release them.

Once out of the pan, slice in half and then each half into 6 portions. This will give you 12 equal portions.

Place each portion on a lined baking tray, you can top with a small knob of butter each and place in a preheated oven at 180 fan uncovered for 20 minutes to warm up and allow to crisp. Ensure piping hot before serving.
Notes
This dish can be prepared up to 2 days before serving. It can also be made into smaller batches, just adjust accordingly.
Nutrition Facts
Potato Pave
Amount Per Serving
Calories 158
Calories from Fat 36
% Daily Value*
Fat 4g6%
Cholesterol 11mg4%
Sodium 107mg5%
Potassium 860mg25%
Carbohydrates 26g9%
Protein 5g10%
Vitamin A 163IU3%
Vitamin C 24mg29%
Calcium 65mg7%
Iron 7mg39%
* Percent Daily Values are based on a 2000 calorie diet.
• Please note that the nutrition information provided above is approximate and meant as a guideline only •
Share on Facebook
Linking up to CookBlogShare, a great place to find lots of new recipes.