Potato and cheese croquettes served with a fresh tomato sauce. A delicious appetiser or multiply for a simple yet impressive vegetarian starter.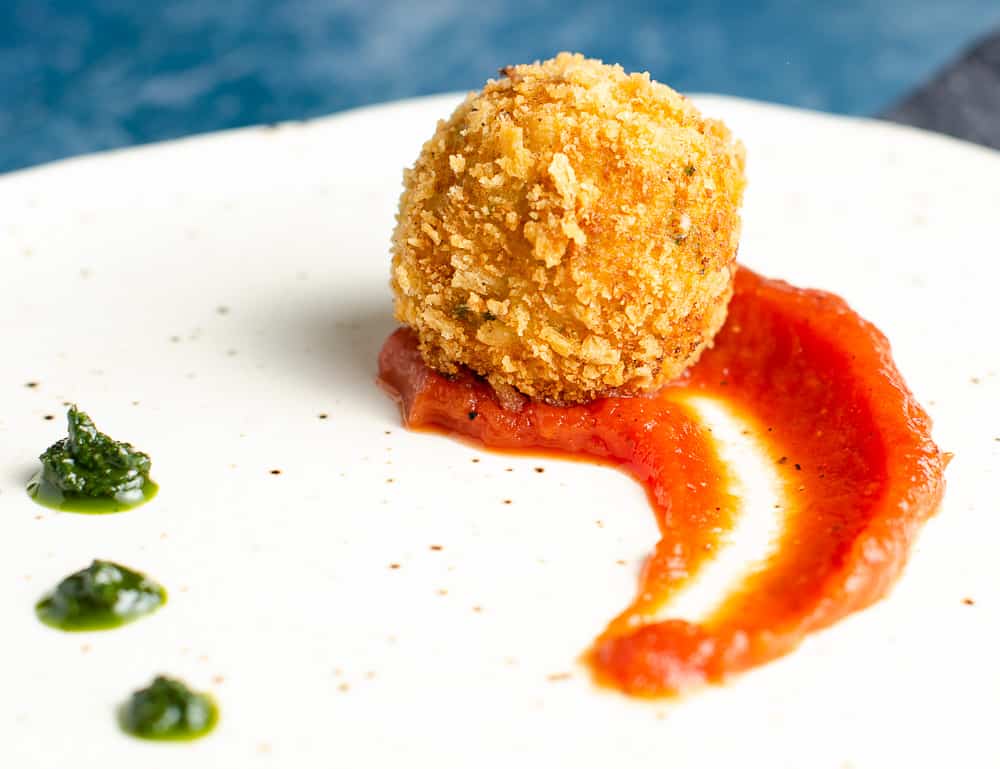 Potato and cheese croquettes are a delicious appetiser that we served at our recent late Summer Supperclubs. Serve these croquettes as an appetiser as we have done here.
This potato croquettes with cheese recipe, is inspired by a trip I had to Positano on the Amalfi Coast. These simple potato and cheese croquettes were served at dinner as an appetiser with a simple tomato sauce.
The tomatoes in Italy are so beautifully sweet they need very little added to them, the beauty of the sauce being the flavour of tomatoes shining through!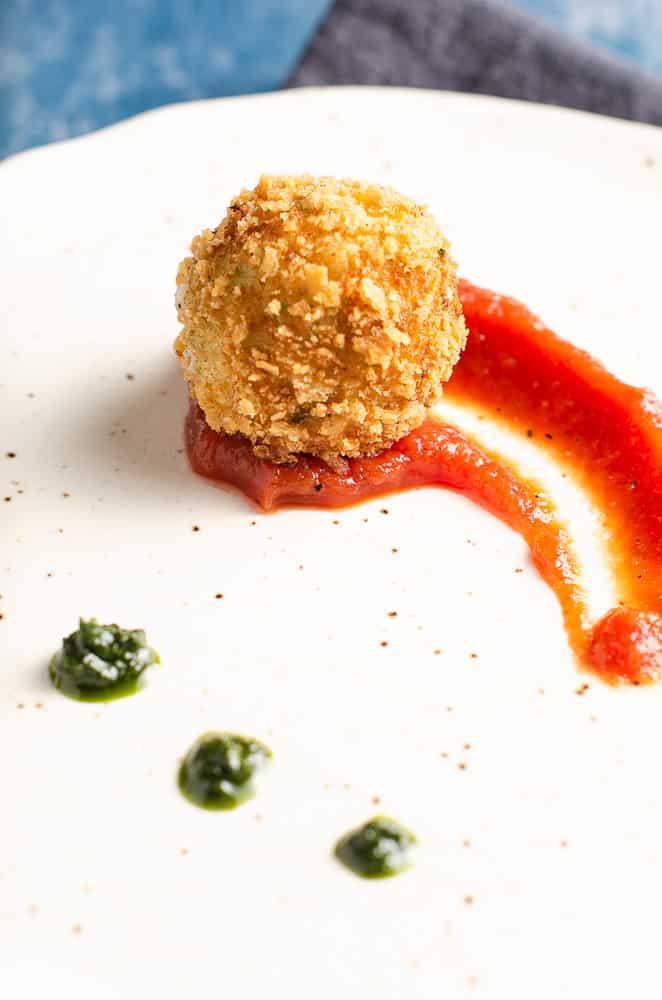 This croquette is a perfect appetiser as it won't fill you up before a large meal. It is merely something tasty to wet your appetite. Alternatively double them up to make a generous vegetarian starter.
The sweet tomato sauce adds a lovely freshness to the croquettes. A drizzle of freshly made basil oil finishing the dish. Who doesn't love the combination of cheese, tomato and basil!?
Potato croquettes are something we tend to eat alongside a meat main as a potato side. However with a little imagination, and a few additional ingredients, they work really well on their own.
Recipe ingredients & substitutions:
Cheese:
We have used a combination of ricotta, mozzarella and Gruyere cheeses in these potato croquettes. However you could also add a strong vintage cheddar or comte, or some grated parmesan.
This is a simple dish therefore use what cheese you have available to you. Although we do recommend a good strong flavoured cheese.
It also happens to be a great dish for using up leftover pieces of cheese that we all have in the fridge.
Herbs:
The parsley in the croquette can be substituted for other herbs, with basil being an obvious substitution.
However a little fresh thyme leaves would also work well, just ensure your remove any woody stem.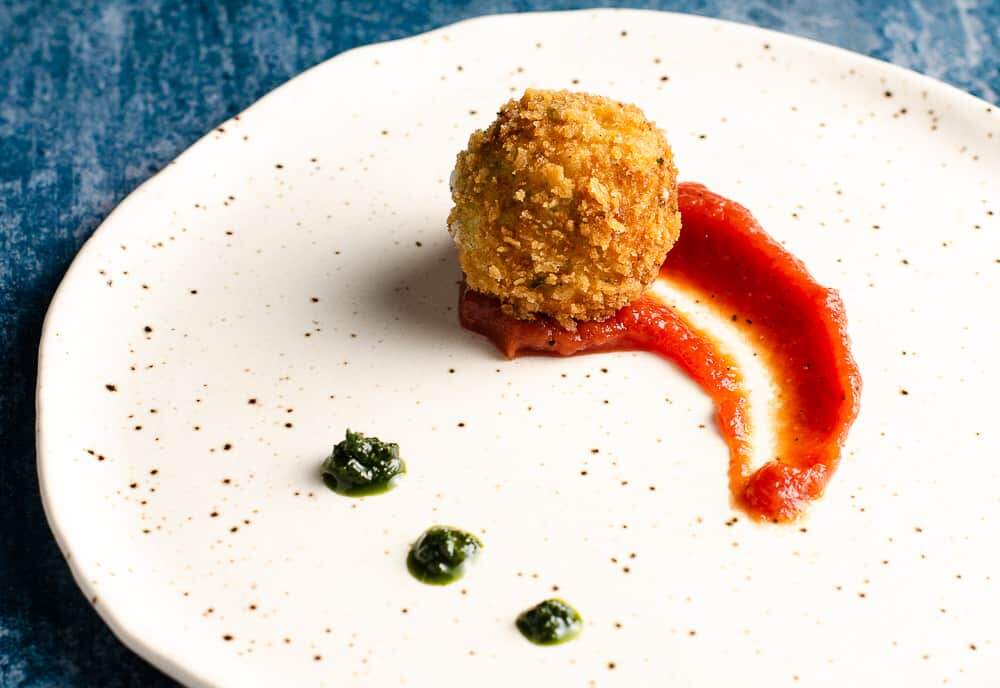 Can I make potato croquettes ahead of time?
This potato croquettes with cheese recipe can be made ahead of time. Make the croquettes up to stage 3 in the recipe card and keep in the fridge for a couple of days until you are ready to crumb and cook.
Alternatively, once you've rolled the croquettes into balls place them on a tray, leaving space between each and place them in the freezer.
When you are ready to cook the potato and cheese croquettes remove them from the freezer and allow them to defrost in the fridge. Then return to the recipe and follow the steps to coat and cook them.
It's also worth noting that the tomato sauce can also be made a couple of days in advance and kept in the fridge.
Can I freeze potato croquettes?
Potato croquettes with cheese:
This is a really simple dish to double up, enjoying some fresh and saving some for later by freezing!
Cook the potato croquettes with cheese up to the end of stage 3 in the recipe card. However, instead of placing the rolled potato balls into the fridge to chill, place them in a suitable container and pop them into the freezer.
Take care and ensure they are put in the freezer in a single layer, do not pile them up otherwise they will stick together. They will keep up to 3 months in the freezer.
When ready to enjoy simply defrost the croquettes and continue with the crumbing before cooking.
Tomato sauce:
The tomato sauce also freezes really well. You can use it later as a base to make a fresh tomato pasta sauce.
Alternative serving suggestions:
As mentioned above, these potato and cheese croquettes can be the hero of the dish, working as an appetiser or starter.
However, they also work as a delicious side dish on any main course. I like to make a double batch and freeze some for a quick side dish on a midweek dinner.
The addition of cheese and fresh herbs to these croquette make them tastier than any croquettes you will buy in the shops.
Pin the recipe: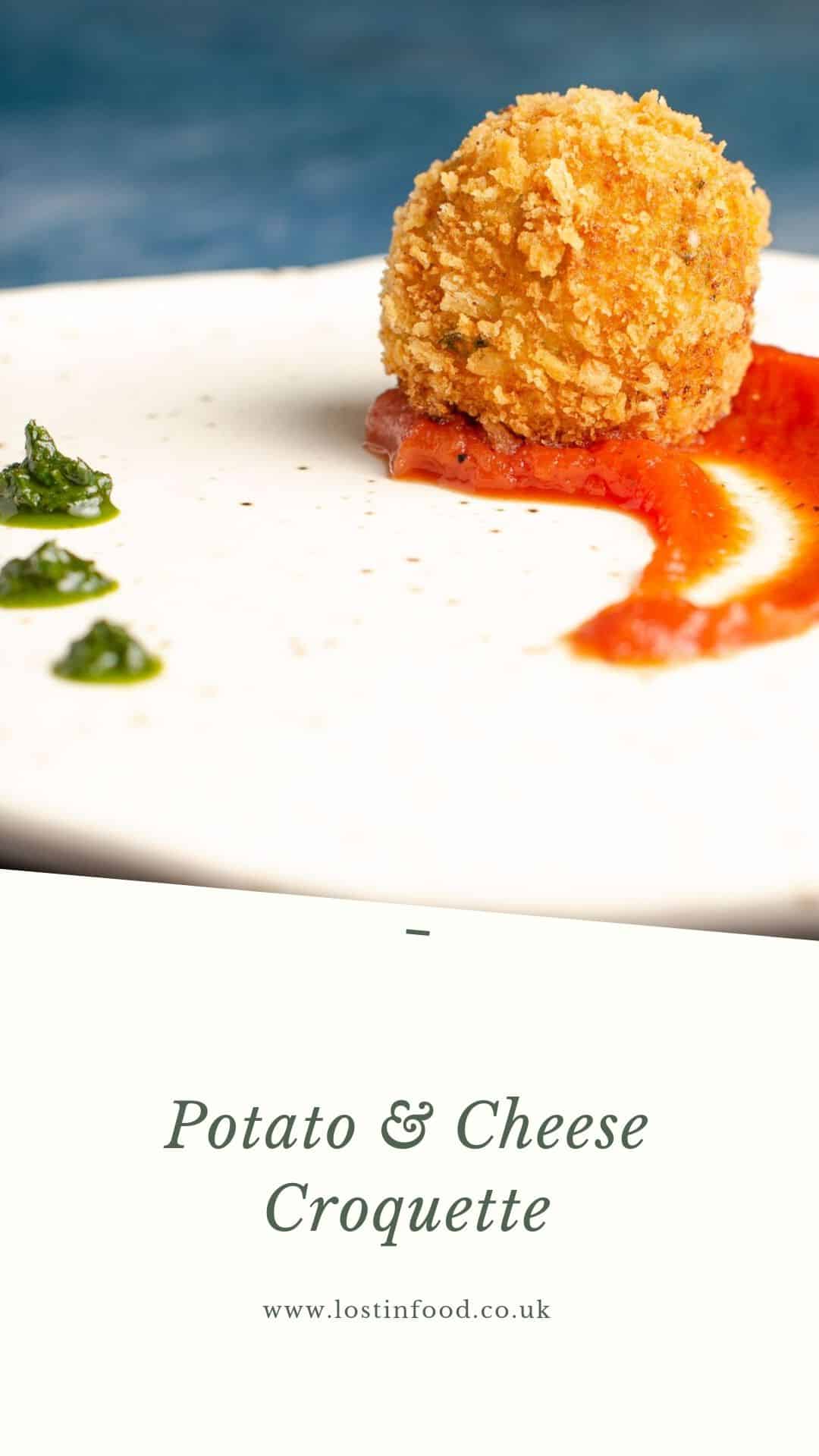 Additional recipe suggestions:
If you like this recipe for our potato and cheese croquettes then try some of our other great canape recipes:
If you love potatoes but are looking to change things up a bit, have a look at our 12 Best Potato Side Dishes post. It's full of useful hints and tips, along with all our favourite potato recipes.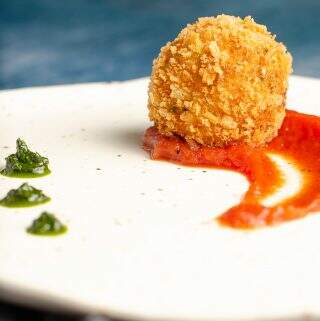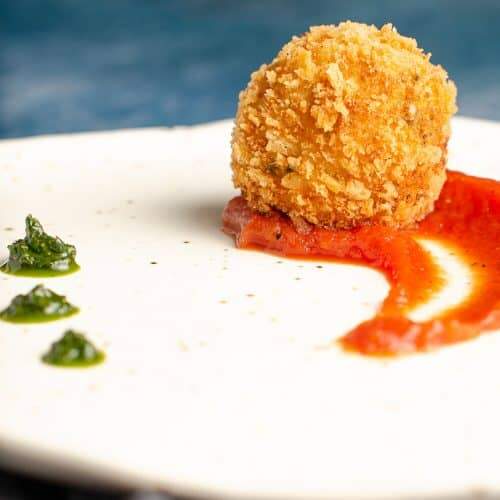 Potato & Cheese Croquettes
Potato & cheese croquettes with fresh tomato sauce and basil oil. A delicious appetizer or multiply for a simple yet impressive vegetarian starter.
Print
Pin
Text
Save
Saved!
Ingredients
Potato & Cheese Croquettes
2

large potatoes

125

g

ricotta cheese

(grated)

100

g

mozzarella cheese

(grated)

50

g

gruyere cheese

(grated)

1

tbsp

parsley

(chopped)

salt & pepper

1

large egg

100

g

plain flour

100

g

panko breadcrumbs

1

ltr

sunflower oil
Fresh Tomato Sauce
8

large vine tomatoes

1

tsp

caster sugar

salt & black pepper
Instructions
Potato & Cheese Croquettes
Peel the potatoes and place them in a pan of salted water. Bring to the boil then lower the temperature and simmer for 10-15 minutes until the potatoes are soft. Drain and place into a large bowl.

Add the ricotta to the potatoes and mash to a smooth consistency. Stir through the grated mozzarella, gruyere and parsley. Season to taste with salt and pepper and mix well to combine. The mixture should now be a little sticky.

Roll the potato mixture into golf ball sized balls, approximately 40g each in weight. Place the balls onto tray lined with greaseproof paper, cover and place in the fridge for 30 minutes.

Meanwhile look out 3 bowls. Place the flour into one bowl and season with salt and pepper. In another bowl crack and whisk the egg. Finally add the panko breadcrumbs to the third bowl.

Take the potato balls out of the fridge and dip each first in the seasoned flour, then into the egg and finally roll them gently in the breadcrumbs. Place each croquette back on the tray and once all have been coated they can be covered and returned to the fridge until you are ready to cook.
Tomato Sauce
Take each tomato and cut a cross through the skin at the bottom of each. Place the tomatoes in a large bowl and cover with boiling water. After 2 minutes drain off the water and peel and discard the skin from each tomato.

Place the tomato on a chopping board and cut into wedges, removing and discarding the seeds and the core as you go.

Place the remaining flesh into a medium saucepan over a low heat. Add the sugar to the pan and cook gently until the tomato has cooked down and you have a nice thick sauce. Blitz to a smooth puree with a stick blender. Season with salt and pepper to taste.
To Finish
30 minutes before you are ready to serve remove the croquettes from the fridge and allow to come to room temperature.

Meanwhile pour the sunflower oil into a large saucepan and bring up to a heat of 180C.

While the oil is heating, gently warm the tomato sauce.

Once the oil is up to temperature gently place the croquettes into the hot oil one at a time! Do not overfill the pan, 4 croquettes at a time is sufficient.

Cook the croquettes until golden, approximately 3-4 minutes. Then remove and place on some kitchen paper to drain. Pop the croquettes into a warm oven until you have cooked the remaining balls.

Once ready to serve, spoon the tomato sauce onto the plate and place the croquettes on top. We also like to add a few drops of the basil oil to the plate. Serve immediately.
Notes
You can use a good vintage cheddar or parmesan in place of the gruyere cheese.
Parsley is delicious in this dish as it adds a freshness to the croquettes however you can easily substitute with basil if you prefer.
This is a great make ahead dish. Both the croquettes and tomato sauce can be made ahead of time and kept in the fridge, or indeed frozen until needed.
If you want to freeze the croquettes do so after rolling them into potato balls, and before you breadcrumb them. When ready to cook remove from the freezer and allow to defrost thoroughly before coating in breadcrumbs and deep-frying.
Nutrition Facts
Potato & Cheese Croquettes
Amount Per Serving
Calories 159
Calories from Fat 54
% Daily Value*
Fat 6g9%
Cholesterol 30mg10%
Sodium 147mg6%
Potassium 296mg8%
Carbohydrates 19g6%
Protein 8g16%
Vitamin A 533IU11%
Vitamin C 10mg12%
Calcium 139mg14%
Iron 2mg11%
* Percent Daily Values are based on a 2000 calorie diet.
• Please note that the nutrition information provided above is approximate and meant as a guideline only •
Share on Facebook