Tomato bruschetta with tarragon makes a deliciously fresh and light lunch, but works just as well as a starter at any dinner party!
Tomato bruschetta with tarragon is a light and flavoursome dish that makes a tasty lunch. You can also serve as a starter for a dinner party, or added to a sharing style platter. This dish is a twist on the more traditional bruschetta using fresh tomatoes, garlic and chopped basil.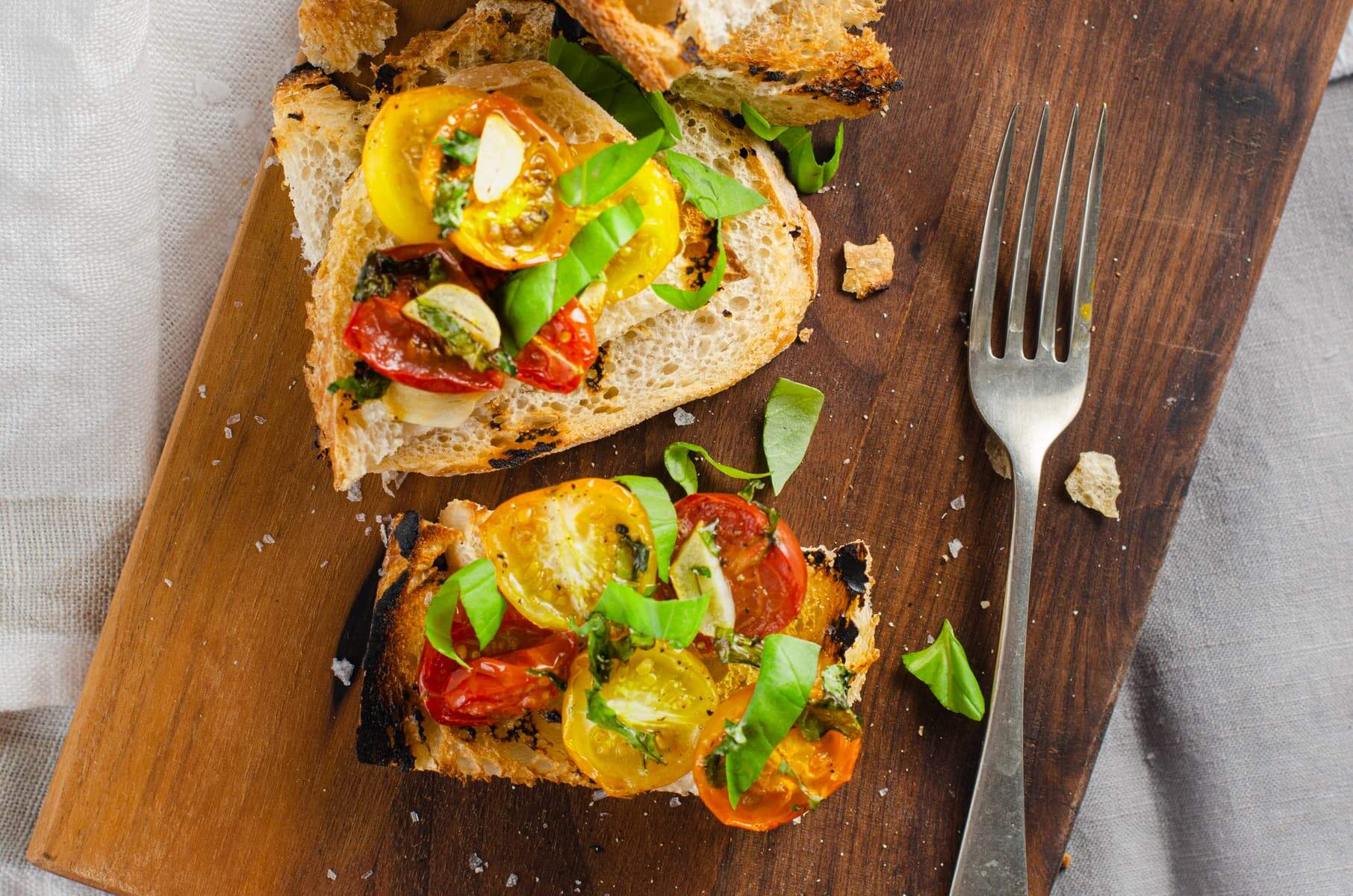 In this recipe for tomato bruschetta we have cooked the tomatoes as roasting tomatoes really brings out their sweetness. We have also used tarragon in place of basil which adds a delicious twist to the dish.
If asked about my favourite ingredients, the humble tomato is right up there, my favourite fruit and probably the one thing I eat more of than anything else.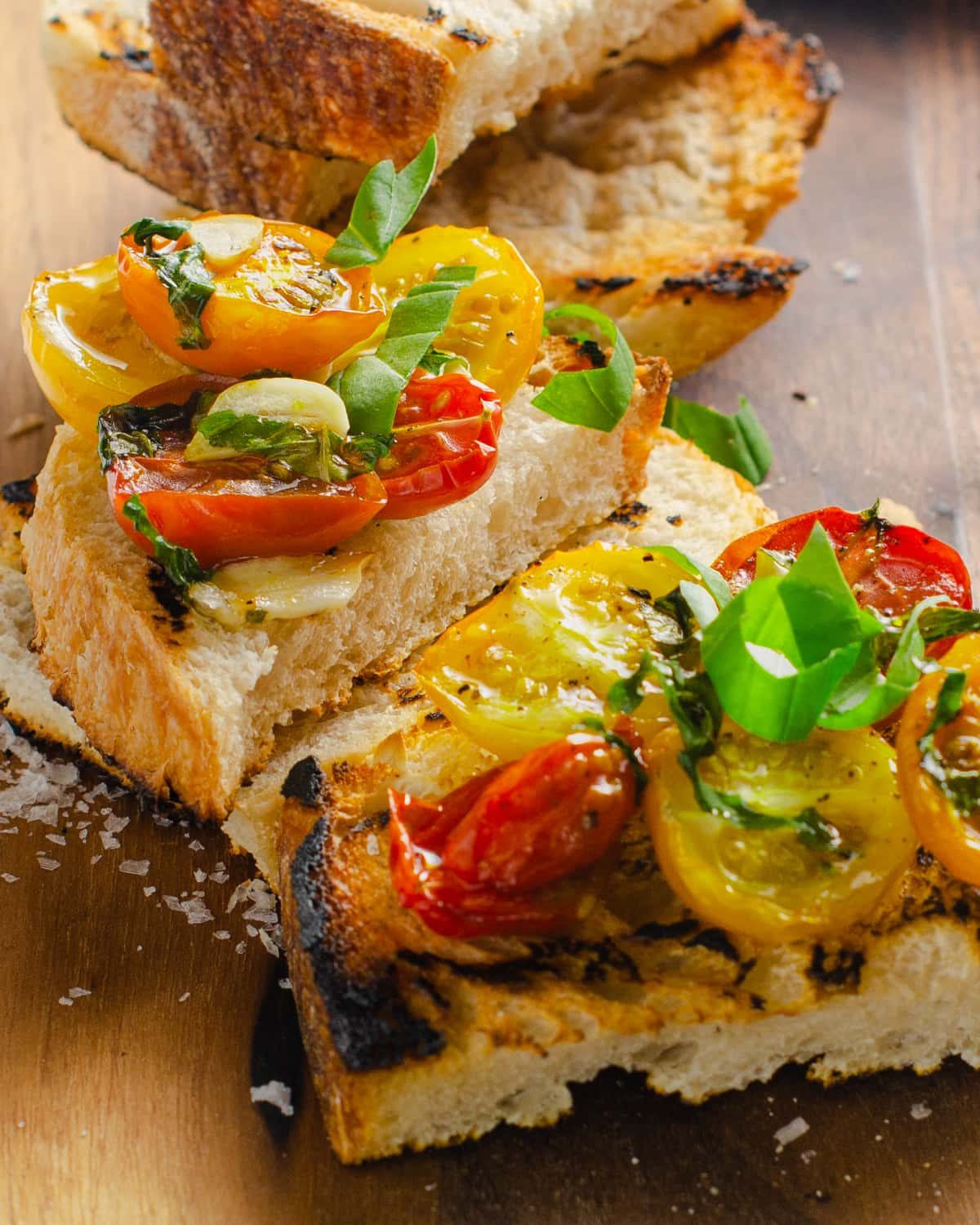 Fresh, roasted, sun-blushed, tinned and added to food, I eat tomatoes in all their glorious forms! Walk into my kitchen and alongside the fruit bowl is a bowl set aside just for tomatoes which my children and I eat like sweets.
My inspiration for today's recipe is simple. It's warm outside, I love tomatoes and this is a favourite summer lunch. Tomatoes with bread, a touch of garlic, olive oil and fresh herbs, simplicity at its best!
Recipe steps: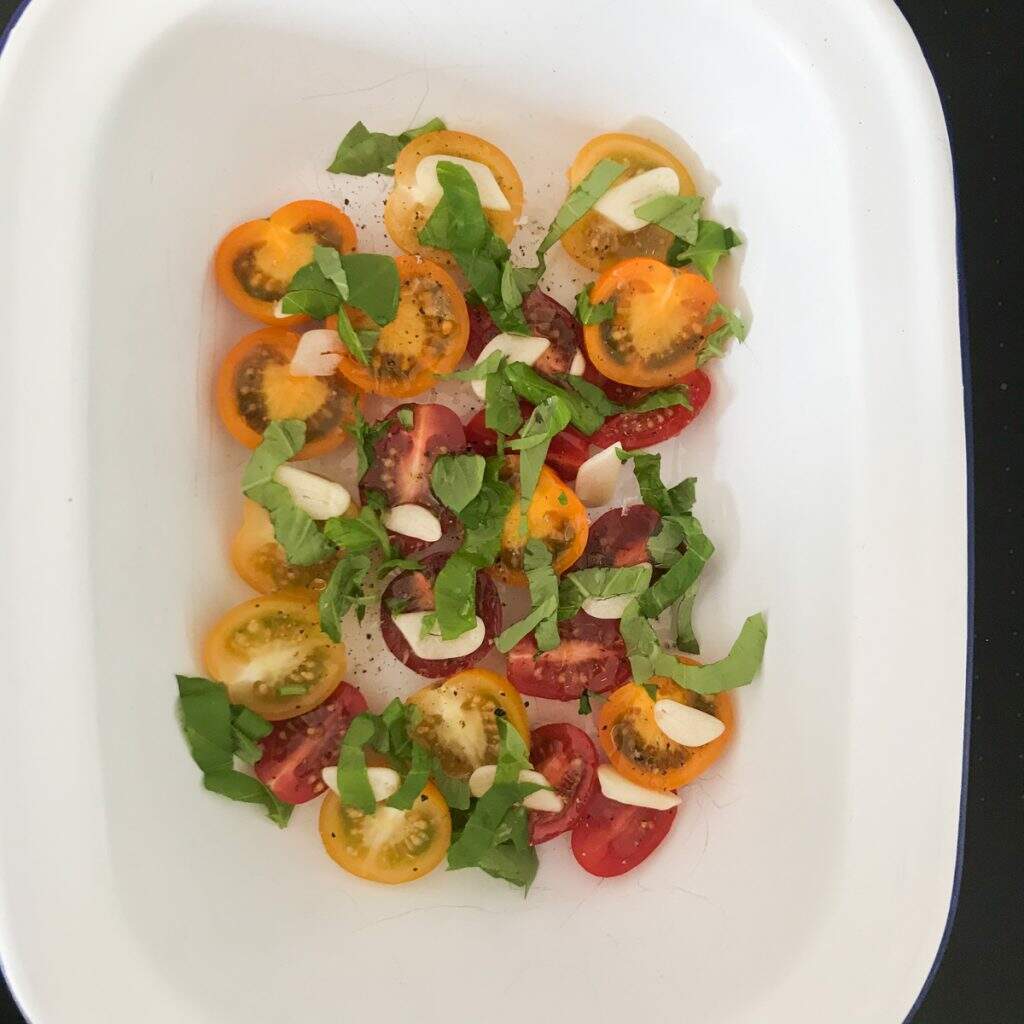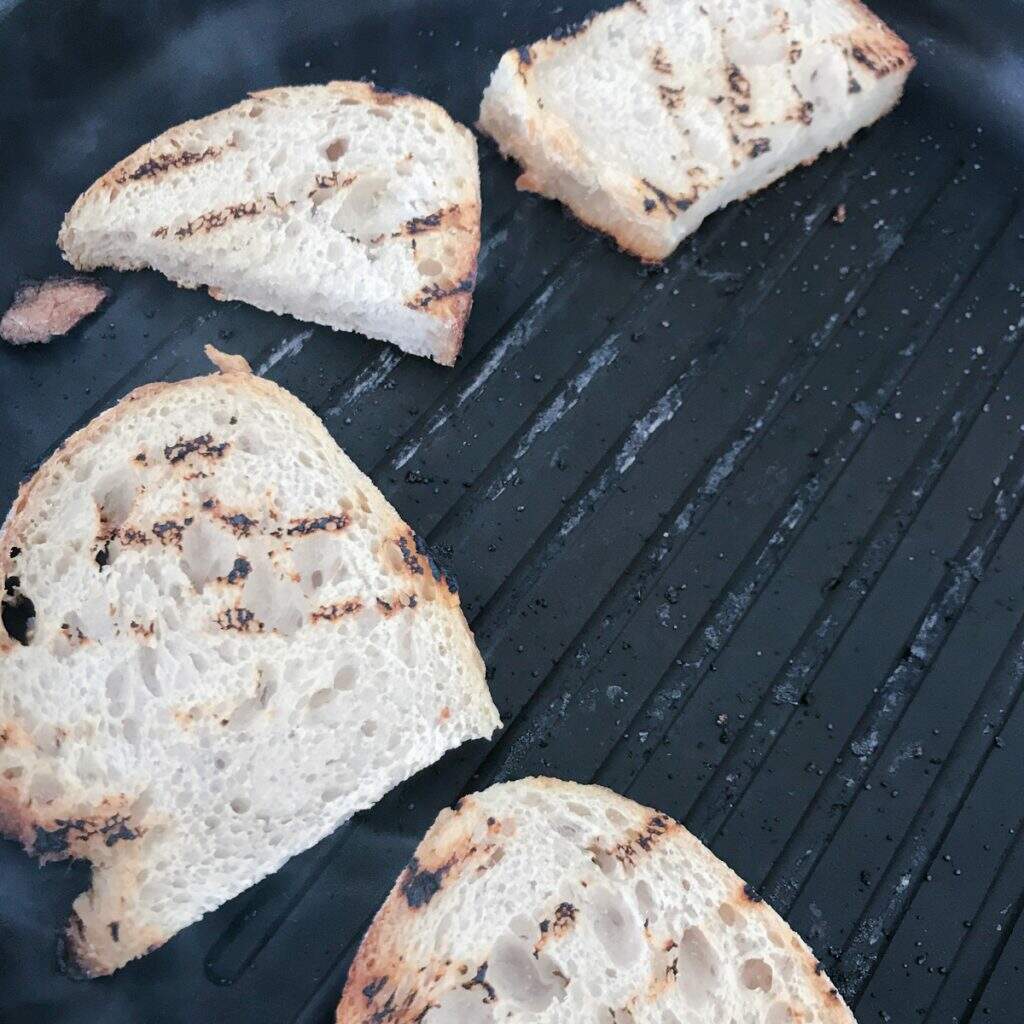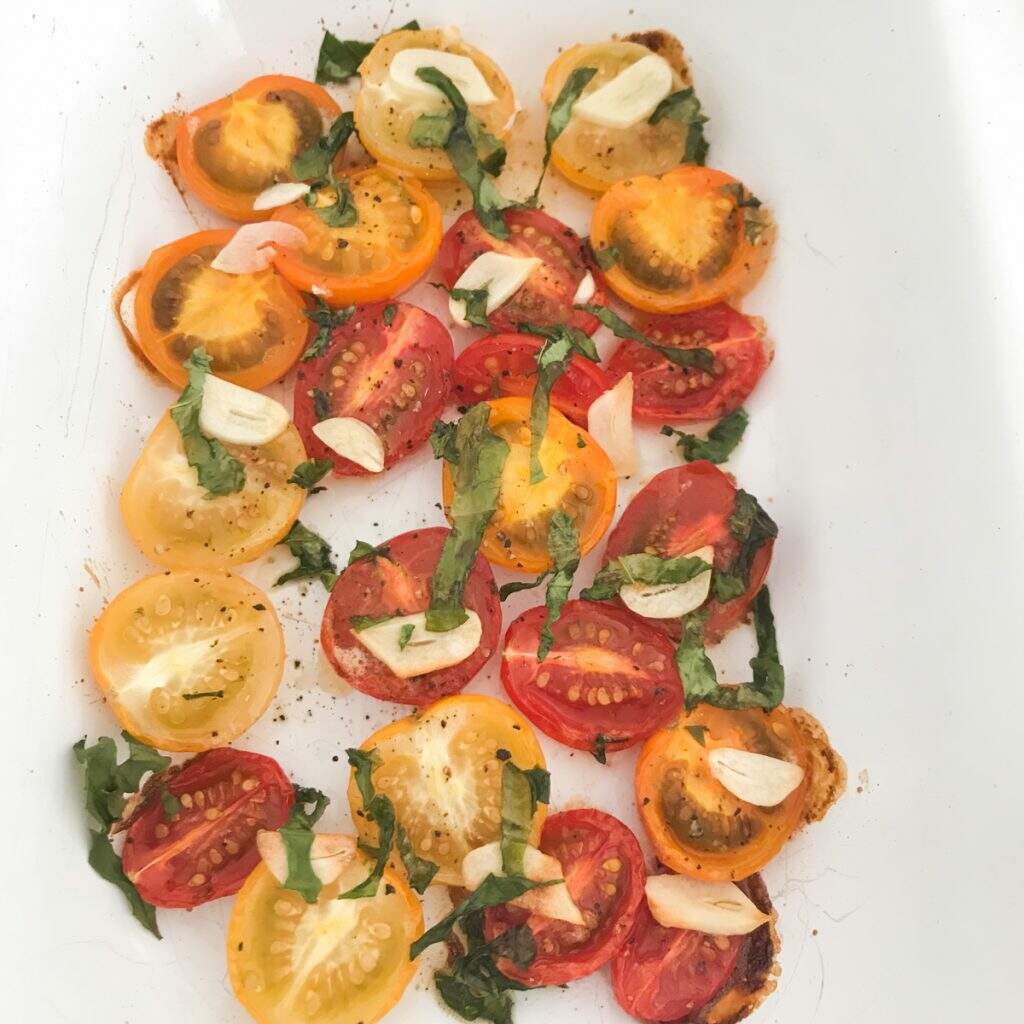 Using up a glut of tomatoes in the greenhouse:
My love of tomatoes stems from childhood. Growing up my Dad had a greenhouse full of tomato plants. He would walk towards me across the garden, telling me to put out my hand so that he could drop a tomato in it. He knew that it would be gone in seconds, joy all over my face.
Straight from the greenhouse, warm with the sun, there is no better way to eat a tomato in my opinion. Consequently, this has of course led to me being exceptionally fussy about the tomatoes I eat!
As with anything that you grow yourself in the garden or greenhouse, there are times when you will have a glut of produce. When the tomatoes are ripening in the greenhouse, this is a great lunch recipe.
Recipe substitutions:
This recipe uses tarragon as the aniseed flavour compliments the tomatoes. However, more traditionally this dish is served with basil, so if you would prefer that, use it instead.
Tomato Bruschetta also works with thyme or lemon thyme, both of which are delicious with tomatoes. I use the herbs that I have growing fresh in my garden and recommend you try that too.
I have also suggested ciabatta bread in the recipe, however, feel free to substitute with whatever bread you have. A nice baguette, some sliced sourdough or crust white bread are great substitutions. You just want a bread that once toasted soaks up all the juices from the tomatoes.
Finally, if you want to add a little acidity to balance out the sweetness of the tomatoes, you could add just a drizzle of balsamic vinegar before serving.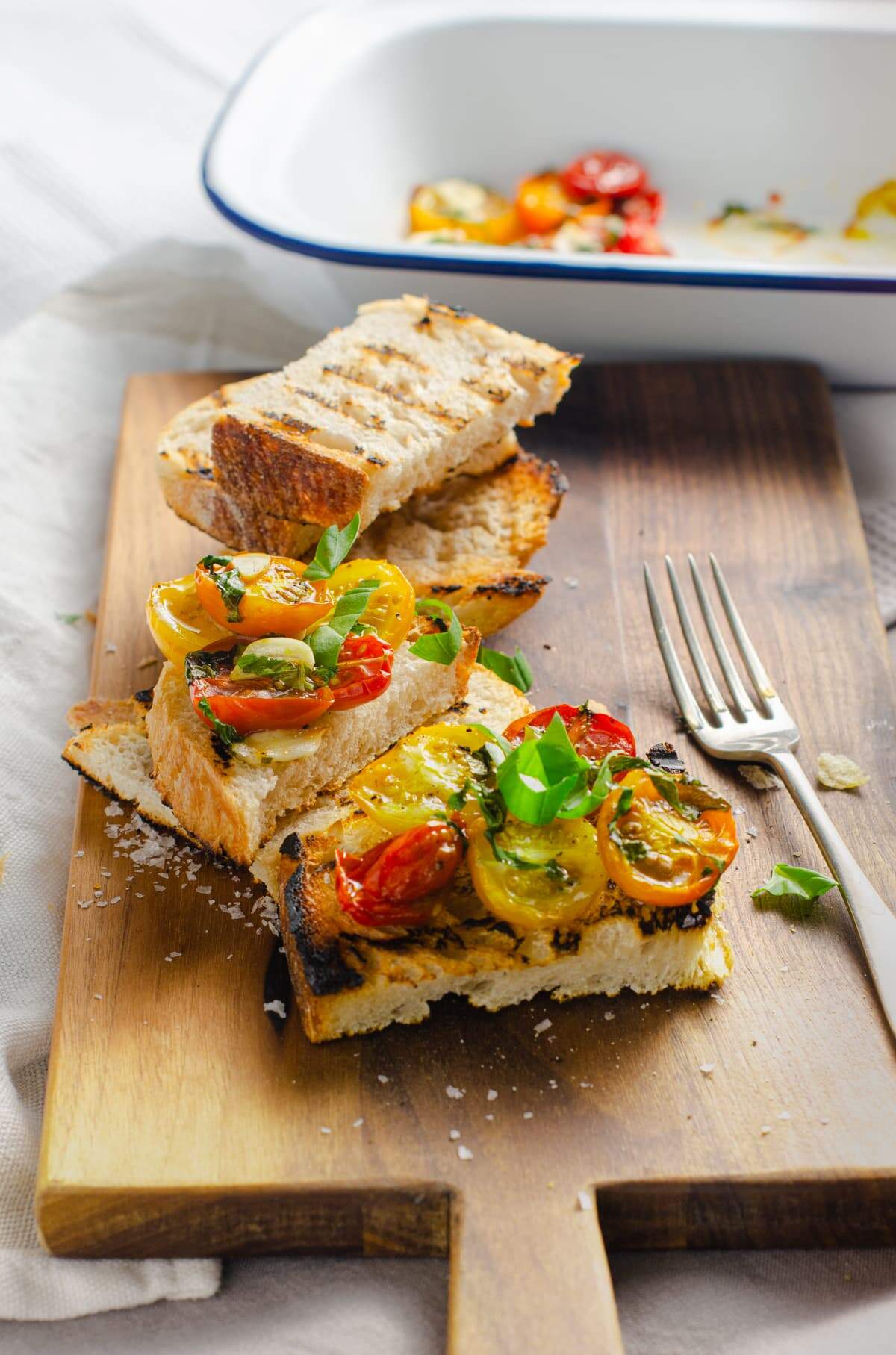 Do I have to use baby plum tomatoes?
We have used baby plum tomatoes in this tomato bruschetta as they are deliciously sweet. However, any fresh tomato would work, cherry, larger vine tomatoes, plum tomatoes.
You can also use a variety of tomatoes, don't limit yourself. Just ensure that you cut them up before roasting and perhaps quarter, rather than half some of the larger tomatoes.
Why do you roast the tomatoes and garlic?
In a traditional tomato bruschetta you would toast the bread, rub it with a clove of garlic and add fresh chopped tomatoes with some fresh herbs, a drizzle of olive oil and season with salt and a crack of black pepper.
However, with our recipe for tomato bruschetta we wanted to do something a little different. We wanted to roast the tomatoes and garlic a little first.
Roasting tomatoes softens them up and really brings out their sweetness and there is a depth and intensity of flavour. Whereas, roasting the garlic softens the rawness in the garlic which can be a little harsh.
Can I use tinned tomatoes in this recipe?
Tinned tomatoes are great to cook with, just not in this particular recipe. Whilst this recipe does roast the tomatoes, causing them to soften and break down a little, this adds to the flavour of the dish.
However, tinned tomatoes would not work as you cannot roast them in the oven, then would simply fall apart.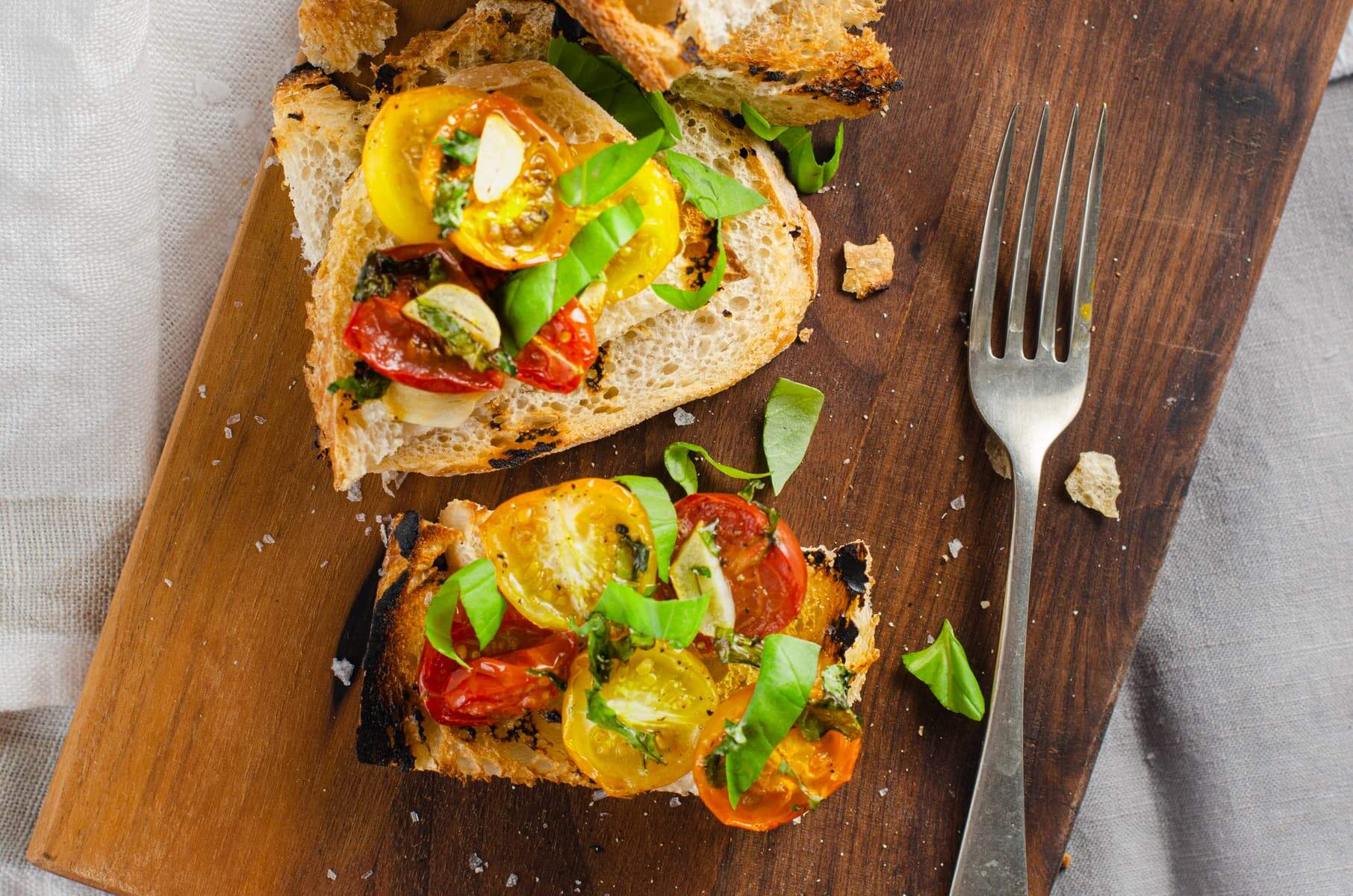 Making the toast!
You can make the toast using a normal toaster or by popping it under the grill.However, if like us, you just want to add a little char to the bread, we recommend toasting it in a char grill pan.
You don't need to add any oil to the pan, simply heat it up over the stove and place the sliced bread into the dry pan. Turn it over once during the cook and take care to char, not burn the bread!
Can I make this dish in advance?
This dish is quick to prepare and benefits from being cooked and served once it is ready, otherwise the toasted bread will lose it's crunch and become soggy. Furthermore the tomatoes, garlic and fresh herbs will wilt if cut in advance and allowed to sit.
The joy in eating this dish is in the freshness of flavours so is best cooked when you are ready to eat.
How to adapt this recipe for vegan diners?
This dish is prepared with butter towards the end of the cook. If you need to adapt this tomato bruschetta for vegan diners then simply remove the butter and replace it with olive oil instead.
Pin the recipe: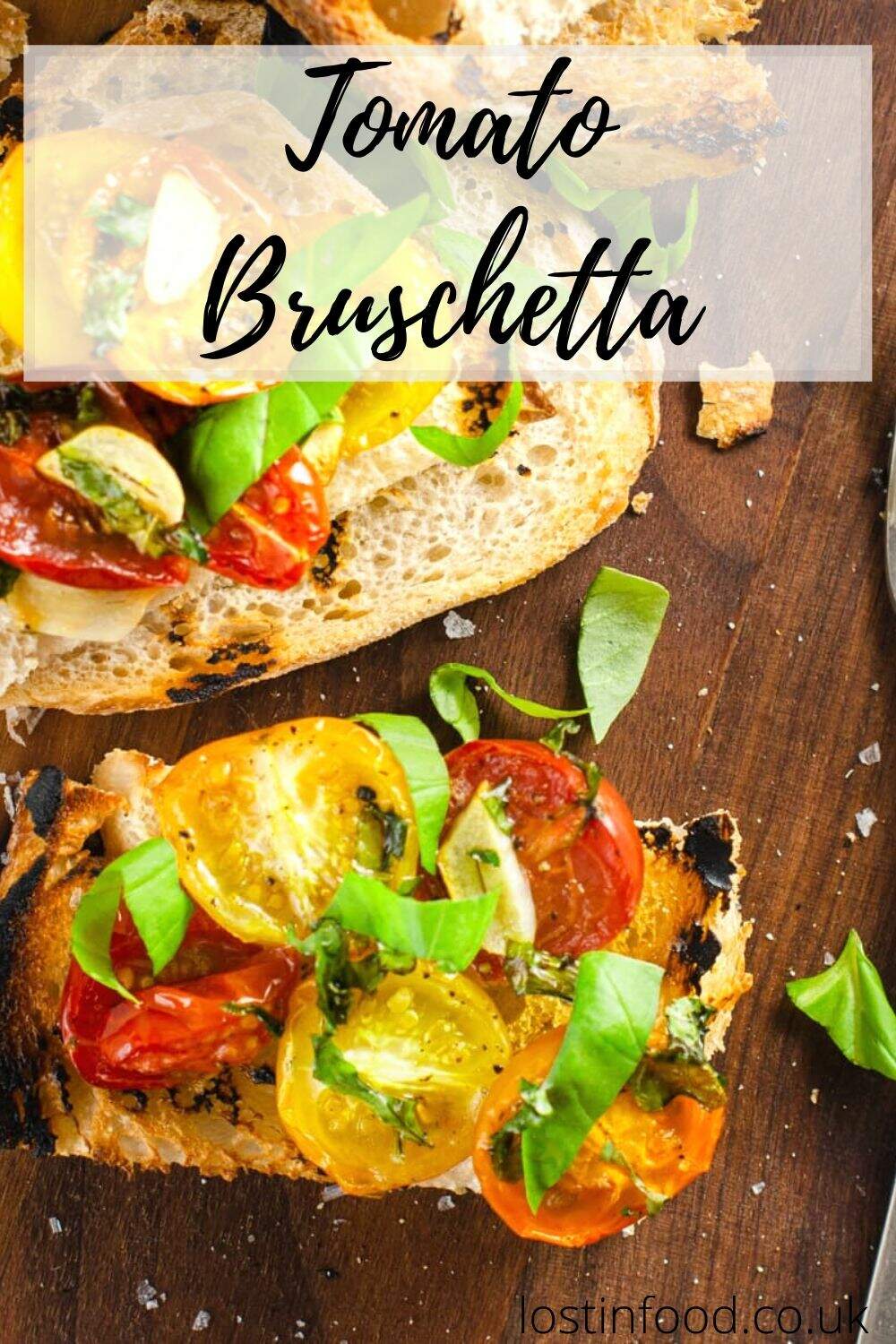 Additional recipe suggestions:
If like me you like tomatoes then try our Tomato Risotto, our Ravioli Caprese our our Individual Cheese & Tomato Tarts. Another great recipe for preserving fresh tomatoes and making a glut last just a little bit longer, our Oven Roasted Tomatoes.
For some other great lunch ideas try our Scandinavian Egg Salad or our Smoked Mackerel Pate.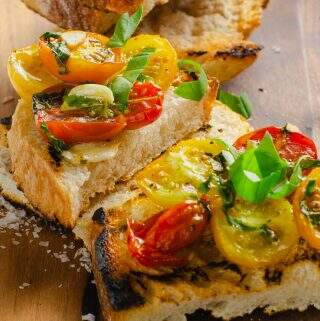 Tomato Bruschetta with Tarragon
Tomato & tarragon bruschetta makes a deliciously fresh and light lunch, but works just as well as a starter at any dinner party!
Print
Pin
Text
Save
Saved!
Ingredients
12

baby plum tomatoes

1

clove garlic

(finely sliced)

1

tbsp

olive oil

salt & pepper

1

tbsp

fresh tarragon

(chopped)

50

g

unsalted butter

1

ciabatta bread

(cut into 6 slices and toasted)
Instructions
Cut the tomatoes in half and place in an oven-proof dish. Push the slivers of garlic into the tomatoes, drizzle with olive oil, season with salt and pepper and scatter over half the chopped tarragon.

Place the dish in a pre-heated oven at 160CFan for 30 minutes.

Remove the tomatoes from the roasting dish and place on top of the bread.

Meanwhile melt the butter in a saucepan, stir in the remaining tarragon and any pan juices left in the roasting dish. Pour the butter mixture over the tomatoes and bread, and serve immediately.
Notes
Tarragon has been used in this recipe, however substitute with the more traditional basil if preferred.
Thyme or lemon thyme would also work well with the tomatoes.
If serving this to vegan diners substitute the butter for more olive oil.
Nutrition Facts
Tomato Bruschetta with Tarragon
Amount Per Serving
Calories 276
Calories from Fat 90
% Daily Value*
Fat 10g15%
Cholesterol 18mg6%
Sodium 375mg16%
Potassium 303mg9%
Carbohydrates 40g13%
Protein 8g16%
Vitamin A 1254IU25%
Vitamin C 17mg21%
Calcium 18mg2%
Iron 1mg6%
* Percent Daily Values are based on a 2000 calorie diet.
• Please note that the nutrition information provided above is approximate and meant as a guideline only •
Share on Facebook
This recipe has been shared to CookBlogShare, click on the link to find recipes by other food bloggers.