Oven roasted tomatoes are simple to make. A great addition to dishes, stir through a pasta sauce or risotto, add to a sharing platter, the list is endless! Oven roasted tomatoes are something I always have in my cupboards at home. They are versatile and I use them in many different dishes. I've used them to stuff pasta and stirred through a pasta sauce.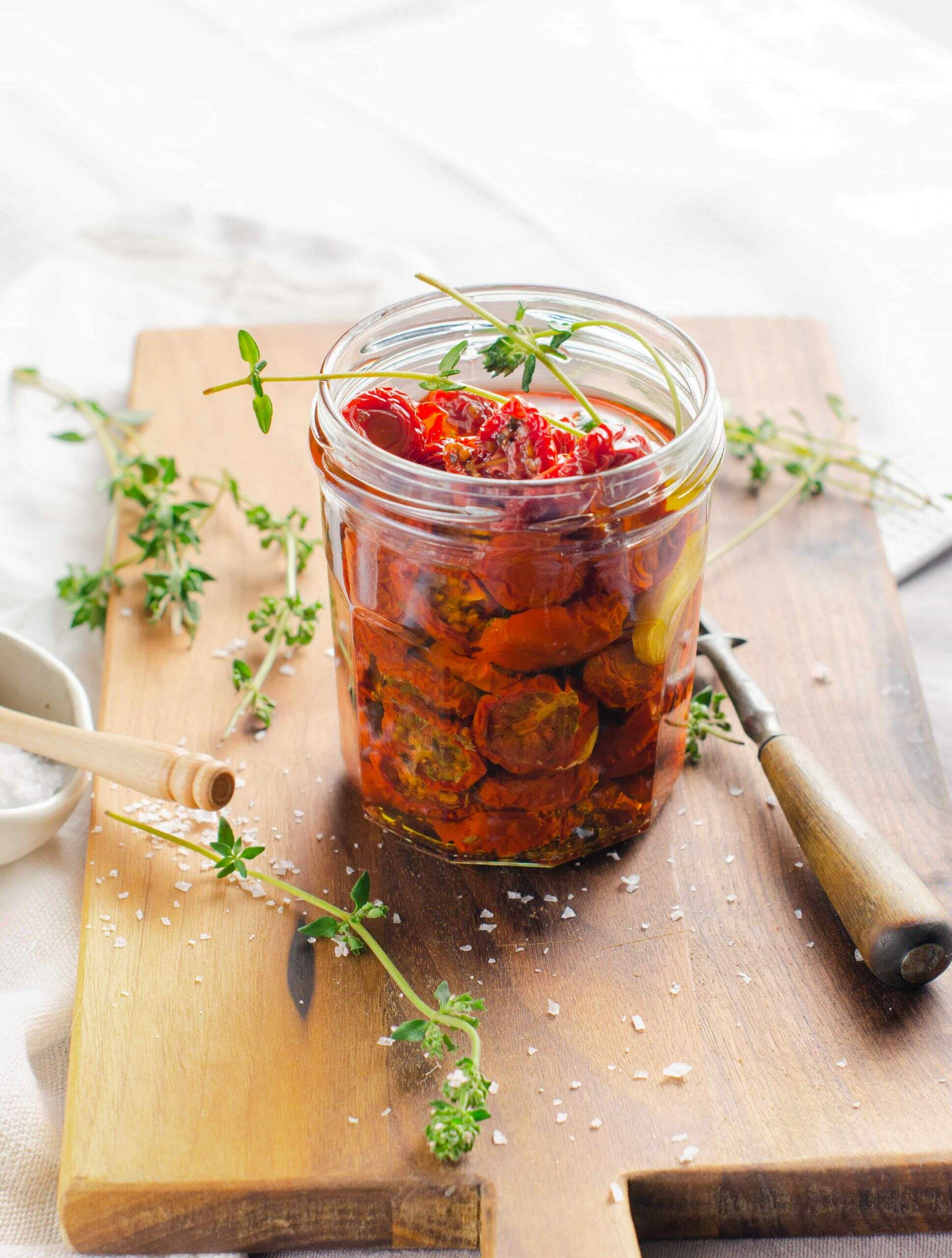 The process is simple, cut the tomatoes, flavour with garlic and oregano and place in a low oven to dry out. Take care not to allow the tomatoes to a crisp however, as they'll just taste too salty! Instead leave the tomatoes just a little soft in the middle, that way they'll plump up lovely in the olive oil.
After roasting the tomatoes you can also remove the outer skins of the garlic cloves and add these to the jars along with the tomatoes. This will add lovely flavour to the oil.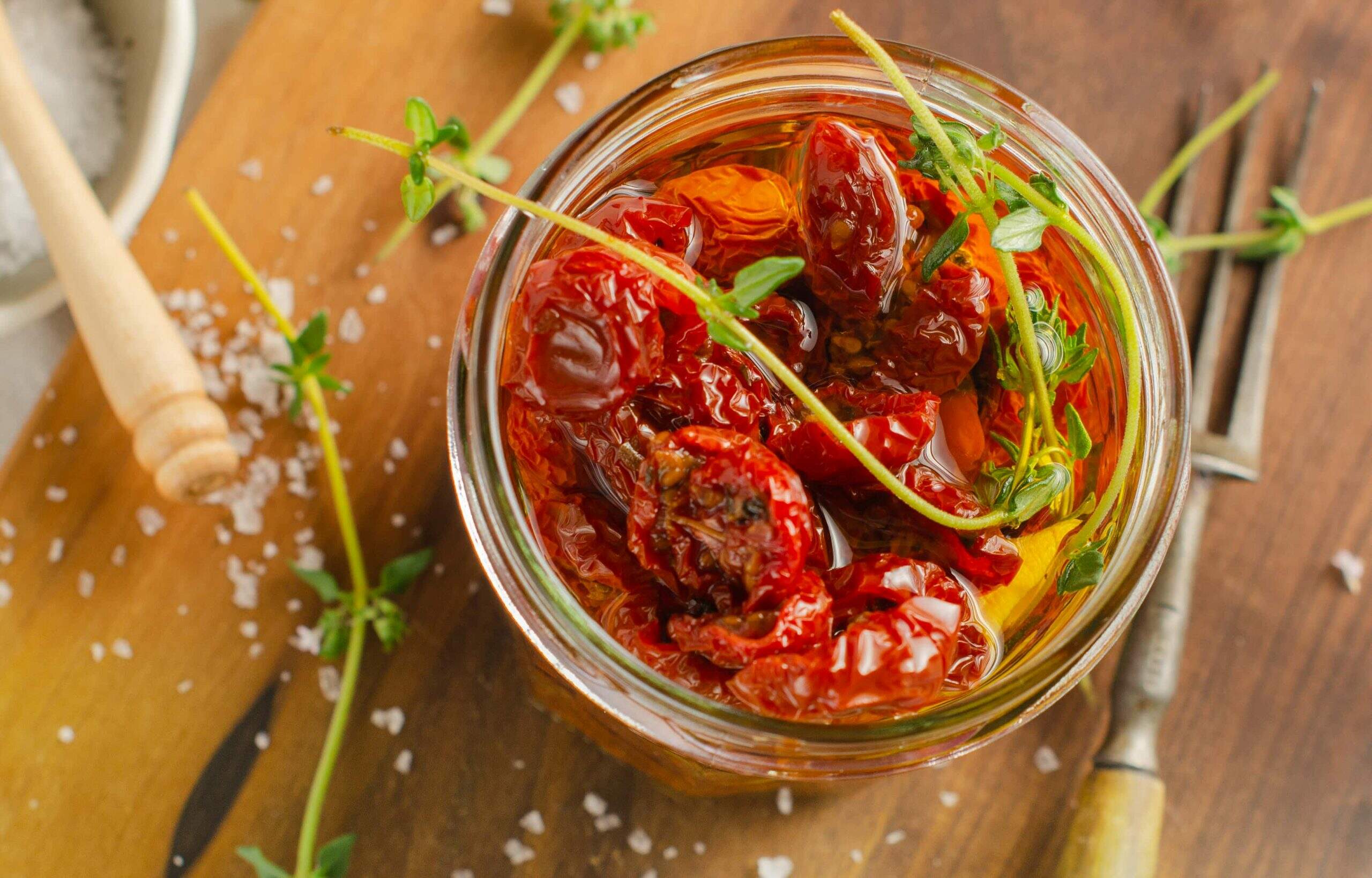 How to oven roast tomatoes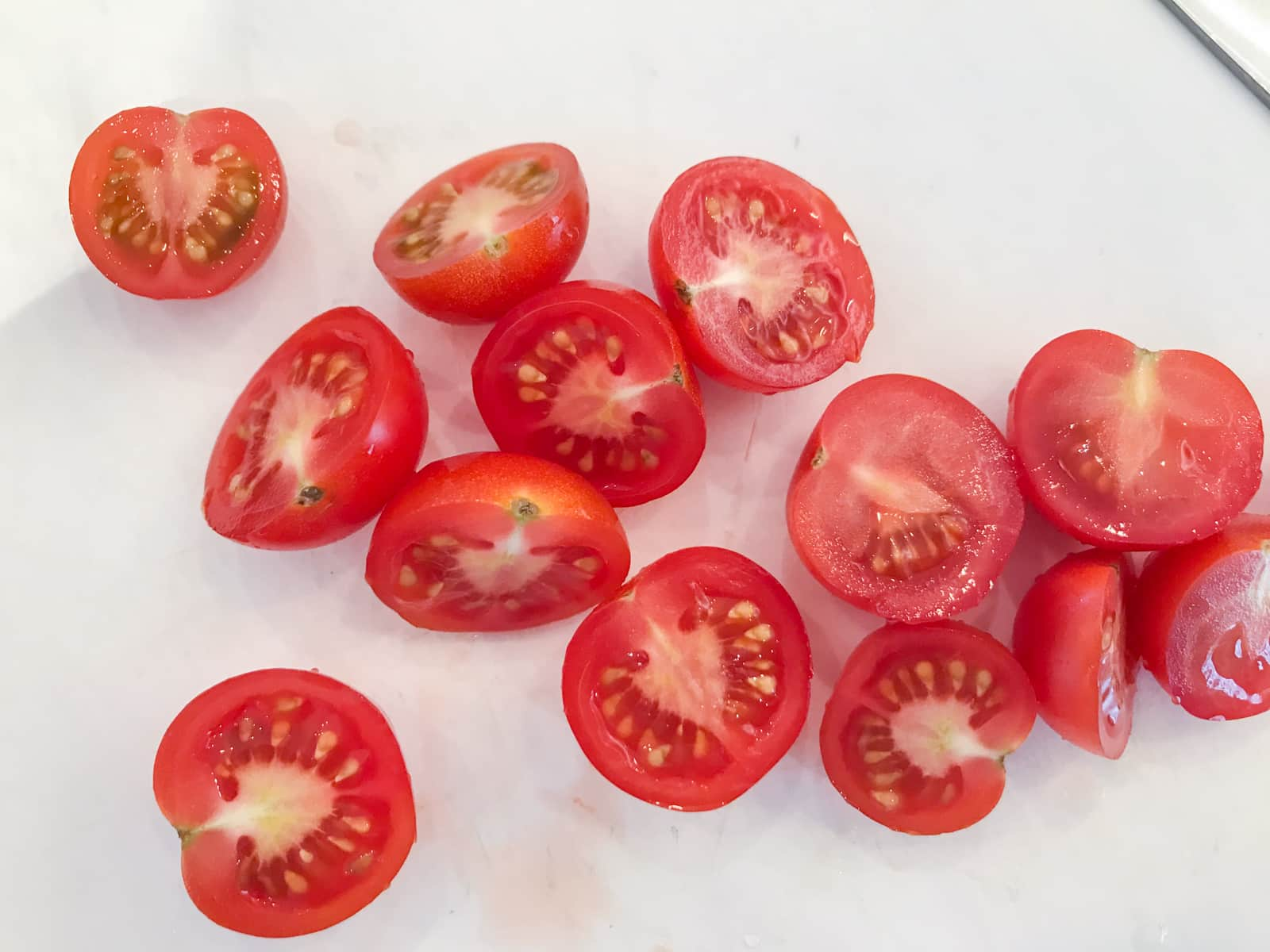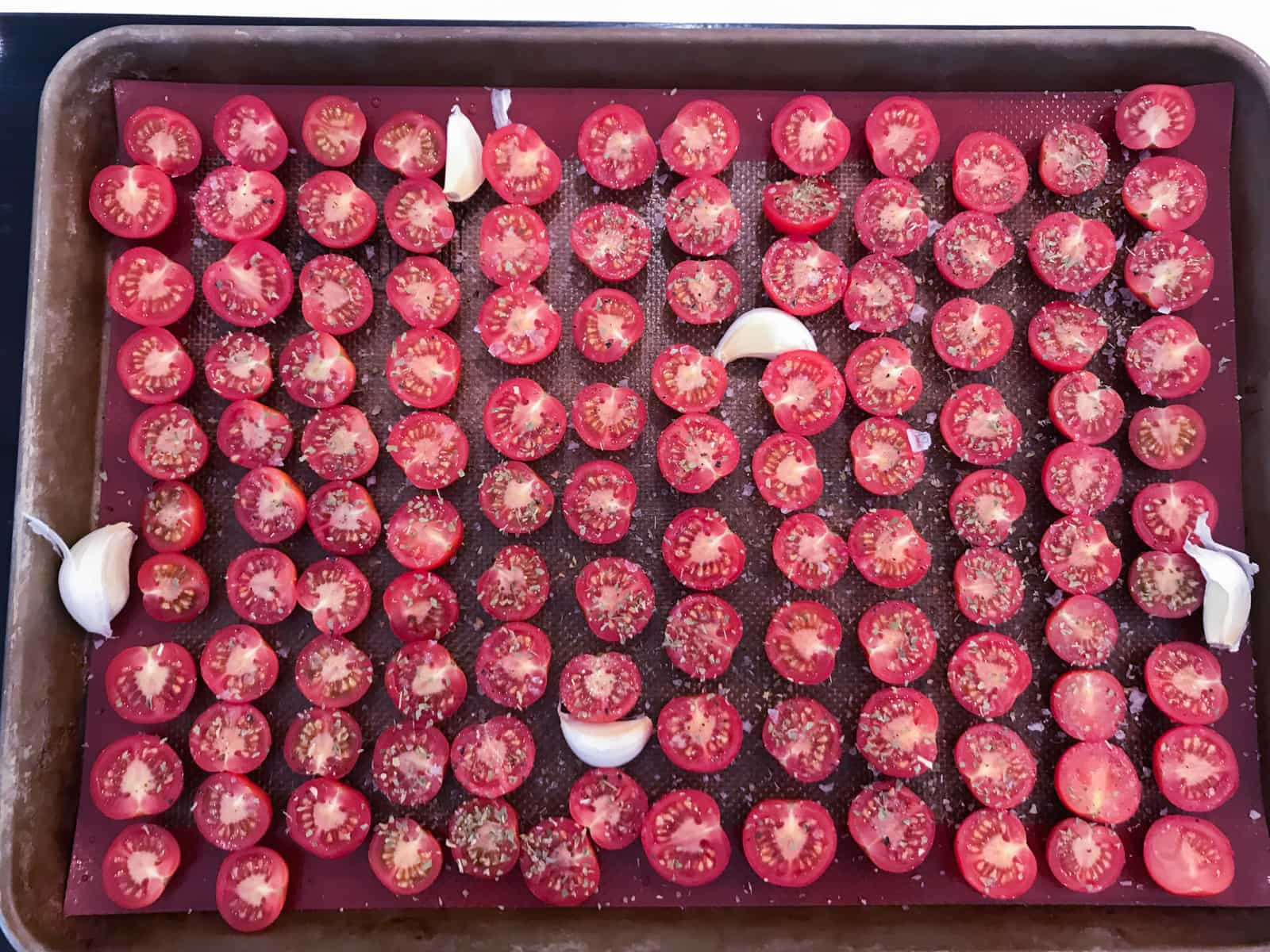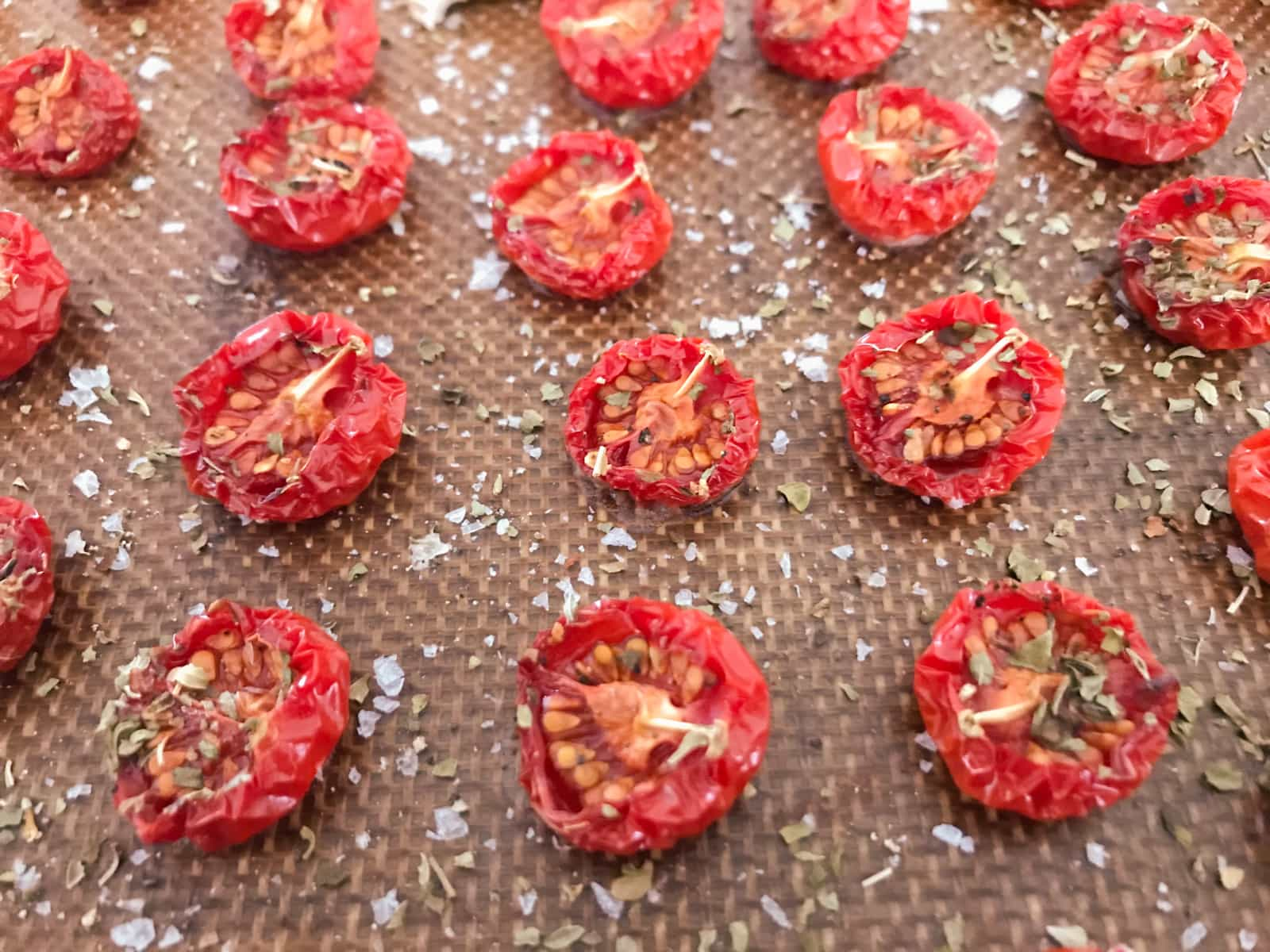 Batch cooking tomatoes
These slow oven roasted tomatoes, or confit tomatoes as they are also known, are deceptively easy to make. It is one of those dishes that is really easy to double up and batch cook.
When one of us is making a batch, Michelle and I like to double up the recipe and make a few jars for the other while we are at it. It makes sense as you have the oven on anyway!
When making oven roasted tomatoes ensure that you lay them out in a single layer on the tray. Place them down separately on the baking sheet, do not allow them to touch as this will result in the tomatoes not drying evenly.
How long will the tomatoes keep in olive oil?
After roasting place the tomatoes in jars they need to be completely covered in oil olive. Then secure the jar with a tight fitting lid. They will keep for a month if stored in a cool, dry place.
Once you open a jar store it in the fridge. Always ensure that the tomatoes are completely covered in olive oil and if necessary top up before popping back into the fridge.
Flavour substitutions:
We have flavoured these confit tomatoes with garlic and oregano. The garlic is left in it's skin while roasting so it doesn't burn. When ready to put in jars pop the garlic out of its skin and add with the tomatoes. If you would rather leave the garlic out then feel free to do so.
We have used dried oregano with these tomatoes. Dried works best as it does not burn in the oven in the way that fresh picked oregano would.
If you want to add a little freshness to the tomatoes you can add fresh thyme at the end. Place a sprig of fresh thyme in the jar when bottling.
Serving suggestion
Add a few roasted cherry tomatoes to a fresh pasta sauce and you will add a lovely depth and richness of flavour to the dish.
They make a great addition to a simple tomato risotto, one of my favourite ways to cook and serve risotto.
Mix with creamy ricotta cheese to make a delicious stuffed pasta dish.
Place some on top of some toasted sourdough drizzle with the flavoured olive oil and they made a delicious bruschetta, try my Tomato Bruschetta with Tarragon recipe.
These tomatoes make a great addition to any sharing board.
One of my favourite ways to serve these tomatoes is in a vegetable side dish. Add the tomatoes and a little of the flavoured oil to green beans, broccoli, or other green vegetables just before serving and you'll transform a side dish!
Reducing waste
This is a great recipe for using up tomatoes which are starting to wrinkle and are just going past their best. Rather than throwing them in the food recycle, make these simple confit tomatoes instead.
I don't like to see anything going to waste. Once I have used all the tomatoes, I like to keep the olive oil. The oil that the tomatoes have been preserved in is full of flavour so use it in salad dressings, to drizzle over vegetables or to lightly saute vegetables.
How to sterilise jars?
It is essential that before jarring or bottling any food for storage, that you sterilise the glass jar or bottle first. There are many methods for doing this, all of them relatively straight-forward:
Firstly, you can wash the glass and lids in hot soapy water, rinse them (do not towel dry) and place on a tray in the oven at 160C for 15 minutes, removing when you are ready to fill. This is my preferred method.
You can put them through a dishwasher cycle, removing them from the dishwasher as soon as the cycle has finished and filling them with jam immediately afterwards. I use this method if my dishwasher happens to be going on.
You can boil the jars and lids in a large pan for 10-15 minutes. [I'm never keen on this method as it involves boiling water and leads to a risk of scalding.]
Finally, you can wash and rinse the glass jars, placing them into the microwave wet and then cooking them on high for 60 seconds. However, the lids would have to be boiled in a pan of water separately for 10-15 minutes as metal cannot go in the microwave. [I have never used this method as it involves 2 separate processes which I think is a bit of a faff!]
FAQs
What type of tomatoes should I use for roasting
I like to make these oven roasted tomatoes with either cherry tomatoes or baby plum tomatoes as they are beautifully sweet. However, I have used larger vine tomatoes and they work well too.
Do I need to peel tomatoes before roasting?
One of the reasons I like this recipe is that it requires very little in the way of preparation. These slow oven roasted tomatoes do not need to be peeled before cooking, in fact you need the skins on to hold the shape!
How long can I store tomatoes in olive oil?
After roasting, place the tomatoes in jars and ensure they are completely covered in olive oil. Then secure the jar with a tight fitting lid. They will keep for a month if stored in a cool, dry place.

Once opened, store the jar in the fridge. Always ensure that the tomatoes are completely covered in olive oil and, if necessary, top up before popping back into the fridge.
Pin the recipe: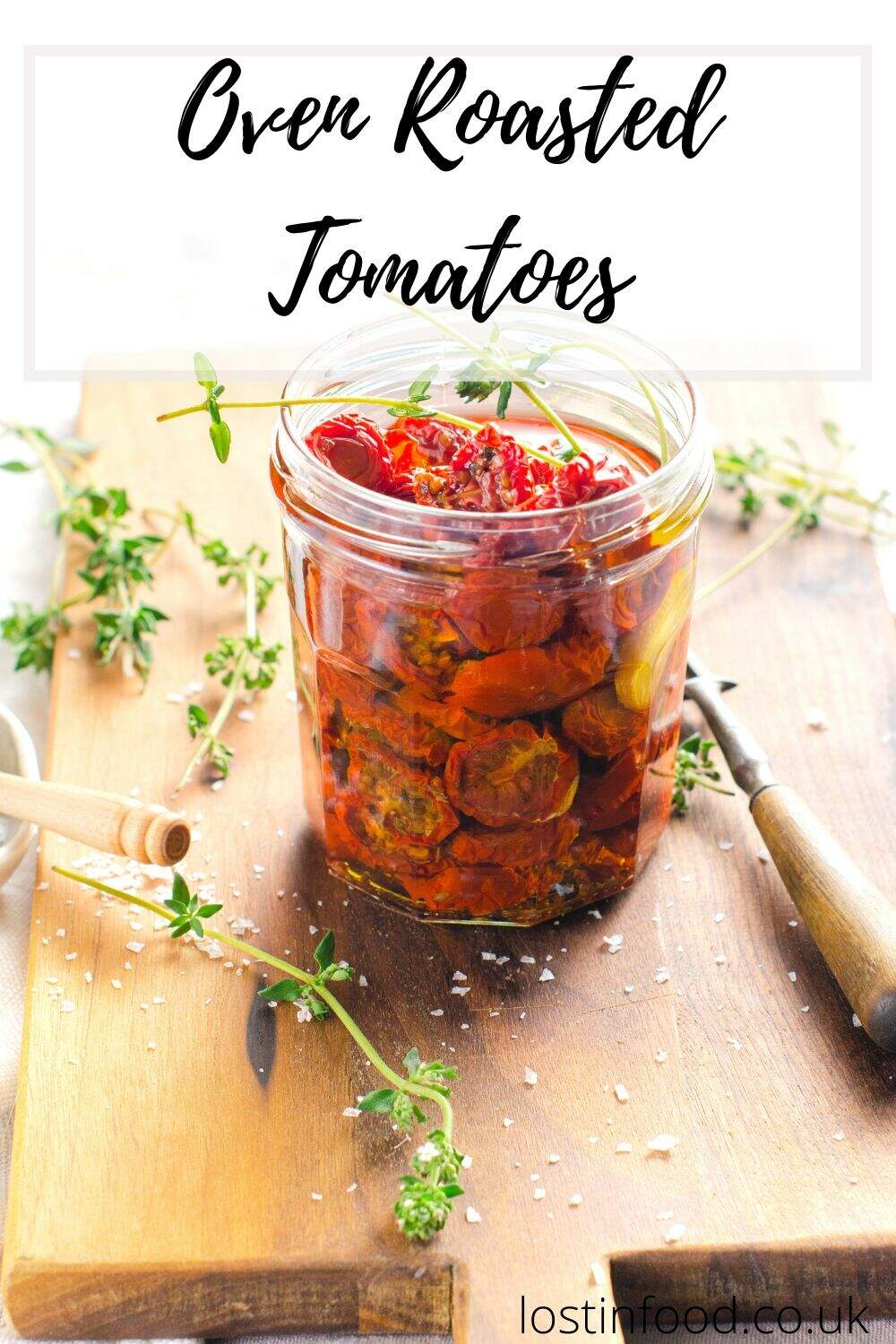 Additional recipe suggestions:
If you like this recipe then try some of my other savoury preserve recipes:
Oven Roasted Tomatoes (Confit Tomatoes)
These tomatoes are delicious with green vegetables. Steam some green beans, then add the tomatoes and some of the oil to a frying pan, heat up and toss in the green beans to coat.
Print
Pin
Text
Save
Saved!
Equipment
2 x 385ml glass jars with tight fitting lids, sterilised

large baking sheet

baking parchment or silicone mat
Ingredients
700

g

baby plum or cherry tomatoes

(cut in half)

2

tsp

dried oregano

4

cloves garlic

salt & pepper

400ml

neutral or light olive oil

thyme

(optional)
Instructions
Preheat oven to 100 C Fan. Line a baking tray with some parchment paper or silicone mat.

Slice the tomatoes in half and place on the paper, skin side down. Scatter over the garlic cloves and dried oregano. Season with salt and ground black pepper.

Place in an oven and cook for 3-4 hours. Open the oven door each hour to check and release humidity and steam. The tomatoes will dry up but should still be a little soft to the touch.

Pop the garlic out of its skin and place in the sterilised jars along with the tomatoes. Completely cover the tomatoes with oil and seal the jars. Add the springs of fresh thyme if using.

Keep for 2 weeks topping up the oil to ensure the tomatoes completely covered at all times in oil.
Notes
This recipe is not too prescriptive with quantities, make up what you have room to store.
Nutrition Facts
Oven Roasted Tomatoes (Confit Tomatoes)
Amount Per Serving (25 g)
Calories 1845
Calories from Fat 1809
% Daily Value*
Fat 201g309%
Sodium 44mg2%
Potassium 812mg23%
Carbohydrates 17g6%
Protein 4g8%
Vitamin A 1746IU35%
Vitamin C 82mg99%
Calcium 81mg8%
Iron 4mg22%
* Percent Daily Values are based on a 2000 calorie diet.
• Please note that the nutrition information provided above is approximate and meant as a guideline only •
Share on Facebook