Pam's piccalilli, a wonderful mustard pickle is a mix of vegetables, pickled with spices. Delicious served with crusty bread, cold cuts and a cheeseboard.
In time for Christmas every year Michelle makes piccalilli. Her family love it, my family love it and our friend Laura's Dad stops Michelle in the street to ask when his jar will be ready!
What is piccalilli?
Piccalilli is probably one of Britain's favourite pickles, also know as mustard pickle. Crunchy vegetables in a sauce thickened with cornflour and laced with turmeric, mustard powder and other spices.
It is uncertain where piccalilli originated. It has been suggested that piccalilli is the English interpretation of Indian pickles. This sounds plausible given the ingredients, in particular English mustard powder, and the spicing.
One thing for sure is it's not Canadian! I asked Michelle what started her making in the first place? Quite simply it was her husband Steve, a Yorkshireman who loves piccalilli but can't stand shop bought. However, growing up Michelle does recall her Mum eating a similar type of pickle which she called chow chow pickle or chow chow relish!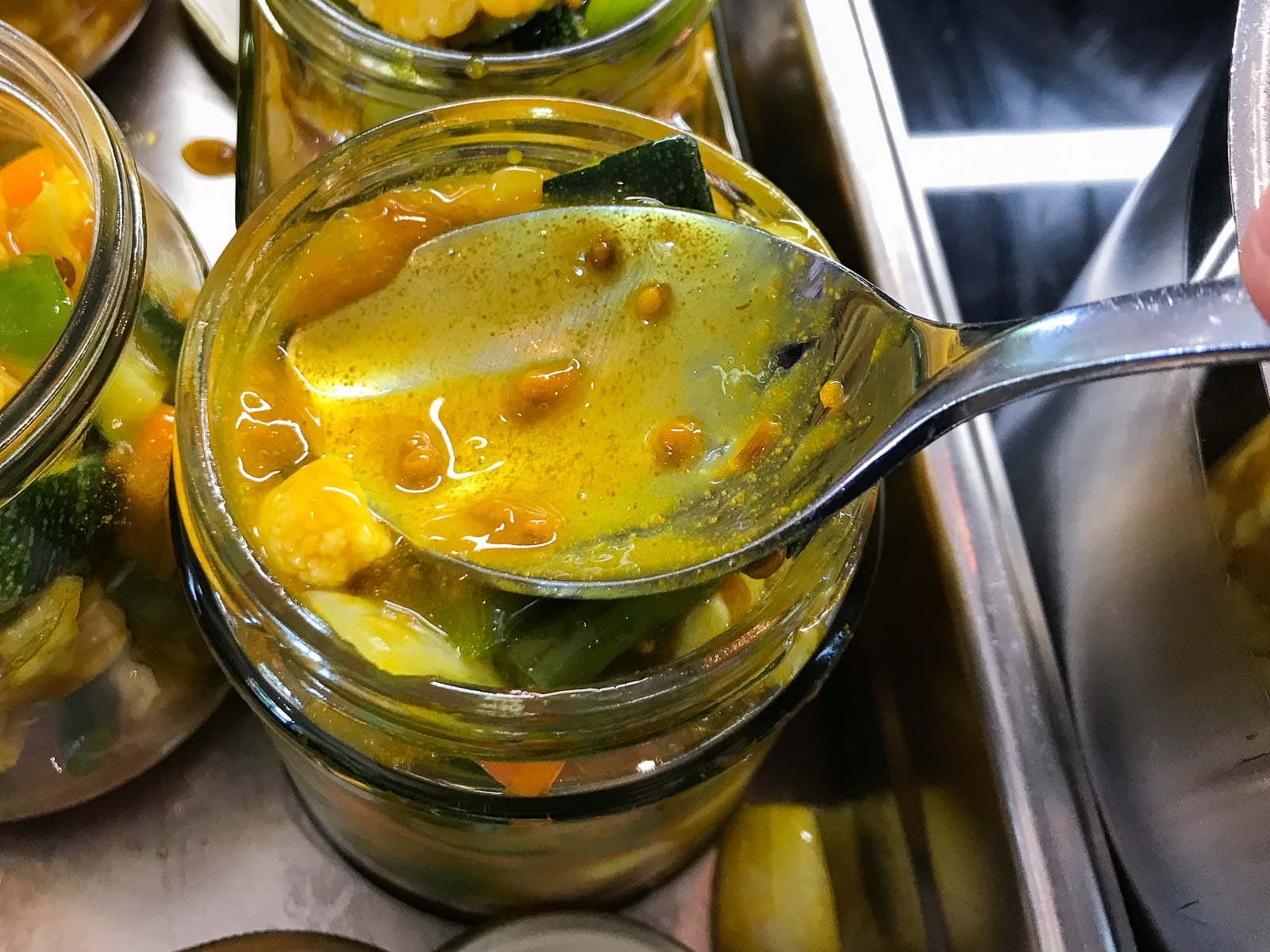 Piccalilli is ideal over Christmas time as there is an abundance of cheese, ham and other cold cuts and it pairs perfectly. Michelle also loves it with her traditional Christmas meat pie.
Laura's Dad happily eats it off a spoon and Michelle's daughter Becca only eats the cauliflower. This recipe is not Michelle's own but it is the one she goes to every year, it's Pam's piccalilli from the River Cottage website.
What vegetables should I use?
Traditional piccalilli uses cauliflower florets, cucumber, onions, and green beans. While I sometimes stick to those vegetables, each year my batch depends on what I have grown in the garden, but always includes cauliflower and onion.
You can choose to adapt the vegetables to what you prefer. I use courgettes instead of cucumber as I grow my own. I have used Romanesco broccoli in the past, along with ordinary broccoli instead of green beans.
Homemade piccalilli is a great way to use small amounts of vegetables that would otherwise be wasted.
How long does it take to make the pickle?
It is important to allow yourself 2 days to prepare the piccalilli properly. The first day is spent chopping and prepping the vegetables into bite sized pieces. Sounds tedious but when serving you want to have small bites rather than large chunks of vegetables.
How to make Piccalilli – recipe steps:
Once all your vegetables are prepared they must be salted and left to sit for 24 hours. This process draws the water from the vegetables and leaves them with that all important crunch as they are added to a hot paste before being jarred.
Missing this important step will leave you with excess moisture in the jars and soggy vegetables, not appetising at all.
I prefer to use my large salad spinner as it allows me have a basket in which the moisture can drip from. If you don't have a spinner then a sieve used over a large bowl and covered with a tea towel works just as well.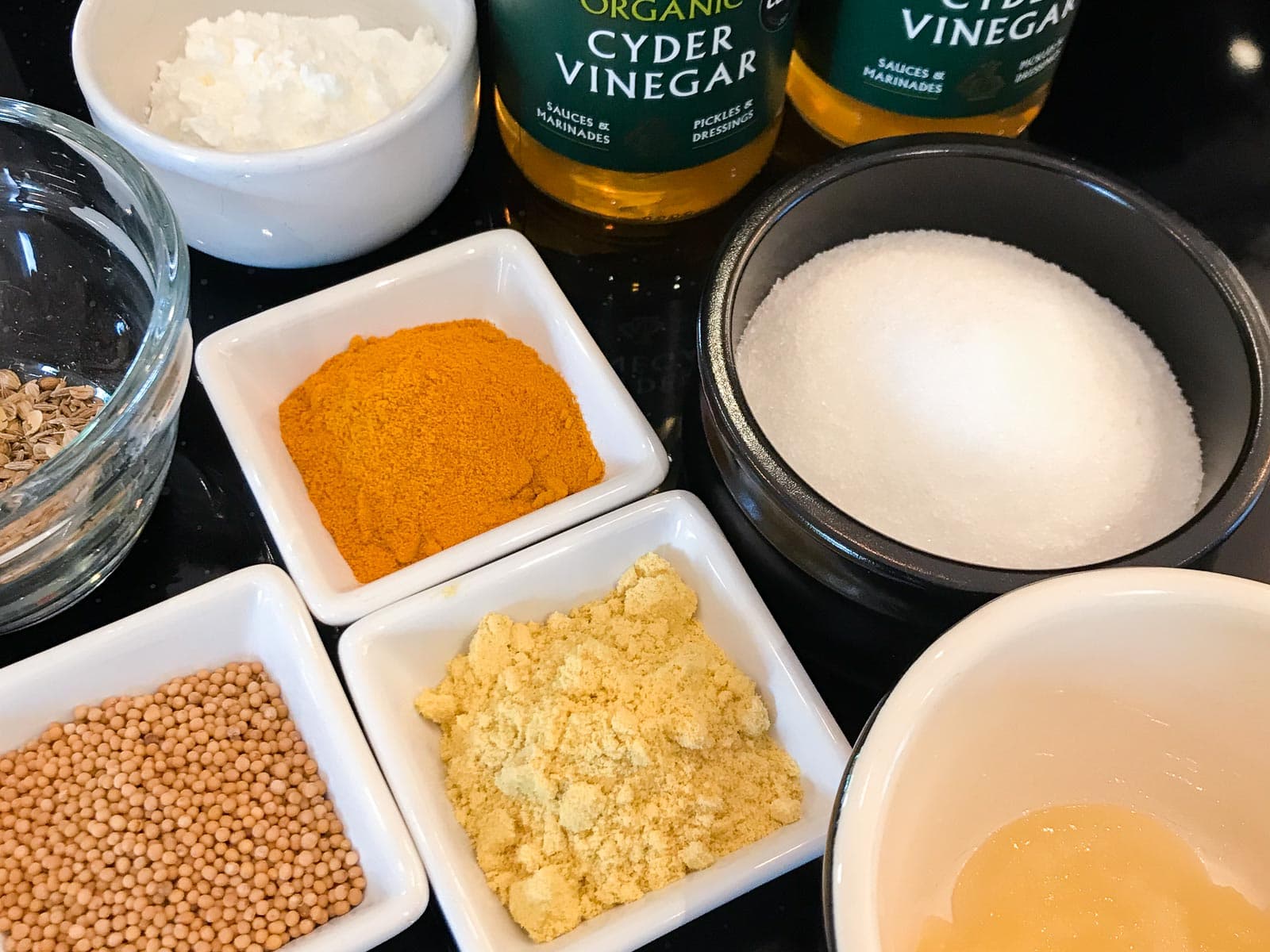 The wonderful signature yellow colour for piccalilli comes from turmeric and mustard powder. Once your vegetables have sat for the full 24 hours you will see there is a large amount of water from them. Follow the steps to drain this and rinse the vegetables under cold water to remove the salt.
Next up gather the spices and prepare your jars as its a quick process from here. For more information on sterilising the jars you can check our apple jelly for more details on how to do this.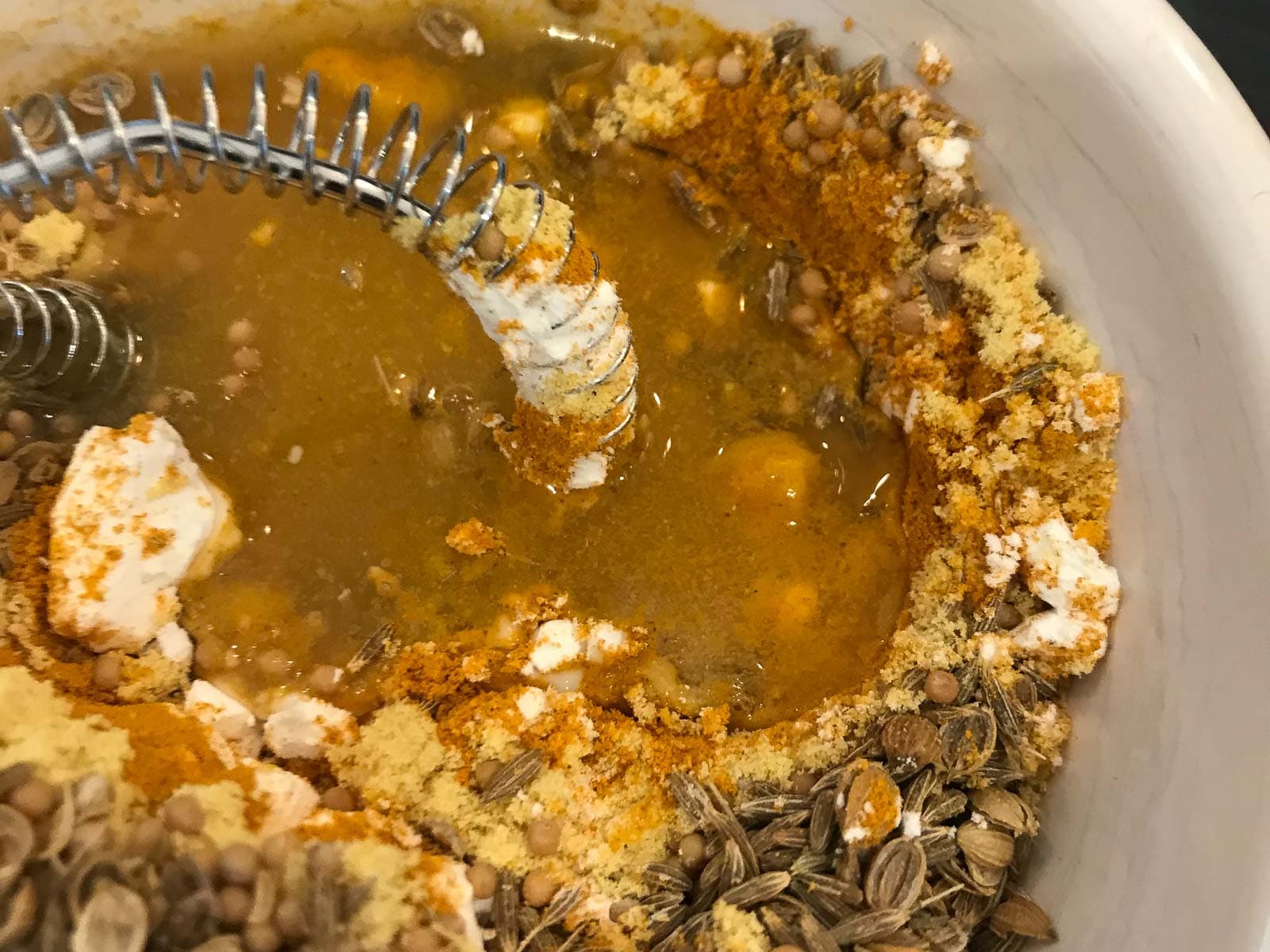 While the jars are sterilising mix the spices according the recipe below to begin the cooking process.
Ensure all your spices and cornflour are mixed well with a little bit of the vinegar, just enough to form a paste to look like the image above.
Next up I suggest you open a window! Your kitchen will have a strong smell of vinegar for the next step. While I love this process, some may not. Add the vinegar and sugar to a pan and bring to the boil before adding in the spice paste.
Once the vinegar has boiled a few minutes I like to add a bit of the boiled liquid to the paste to loosen it before adding the paste to the hot vinegar. I find this allows it to distribute more evenly as the cornflour will thicken the mix quickly.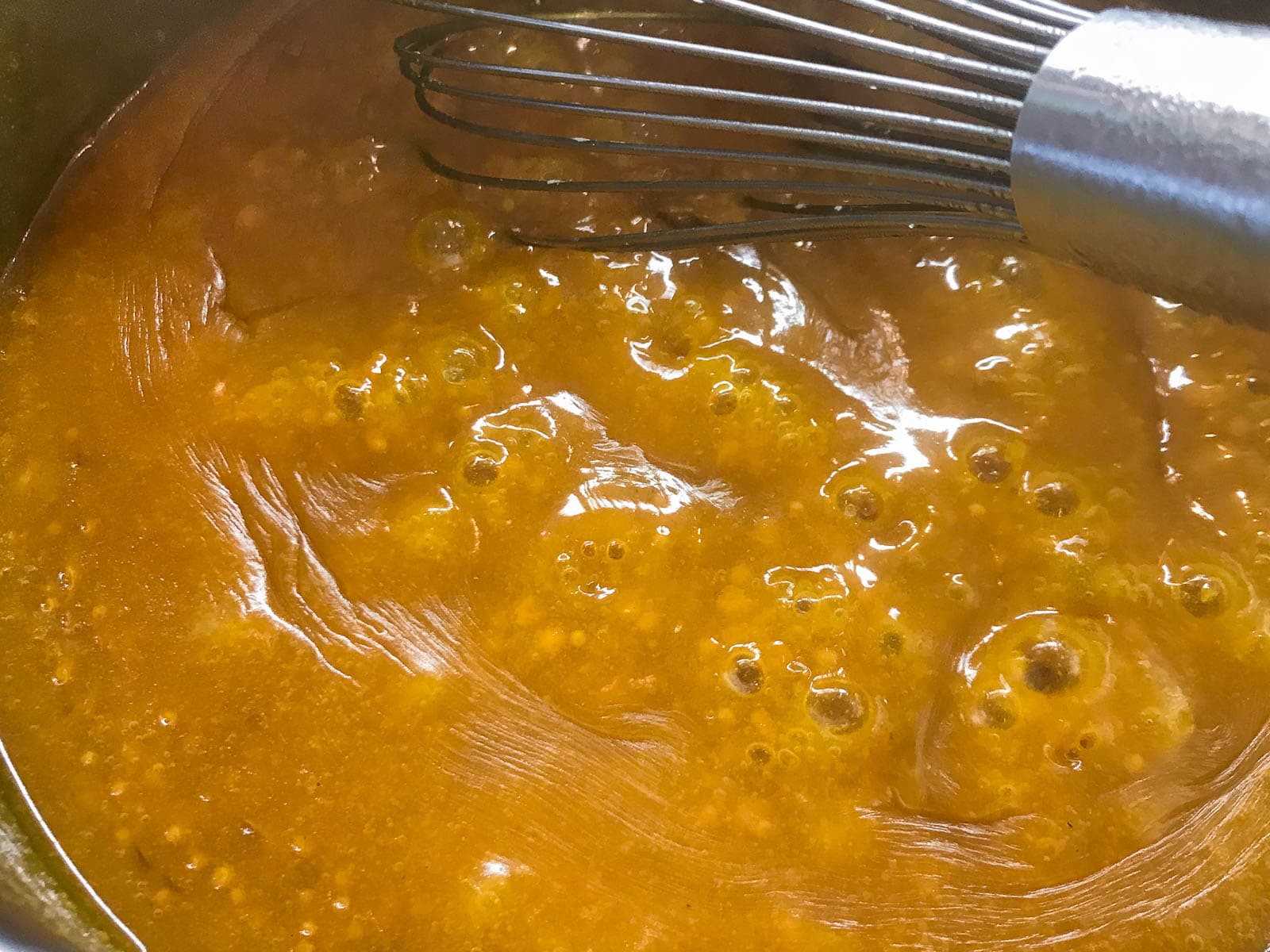 Once the paste has been loosened add the rest to the pan of boiling vinegar and whisk quickly to form a sauce like above.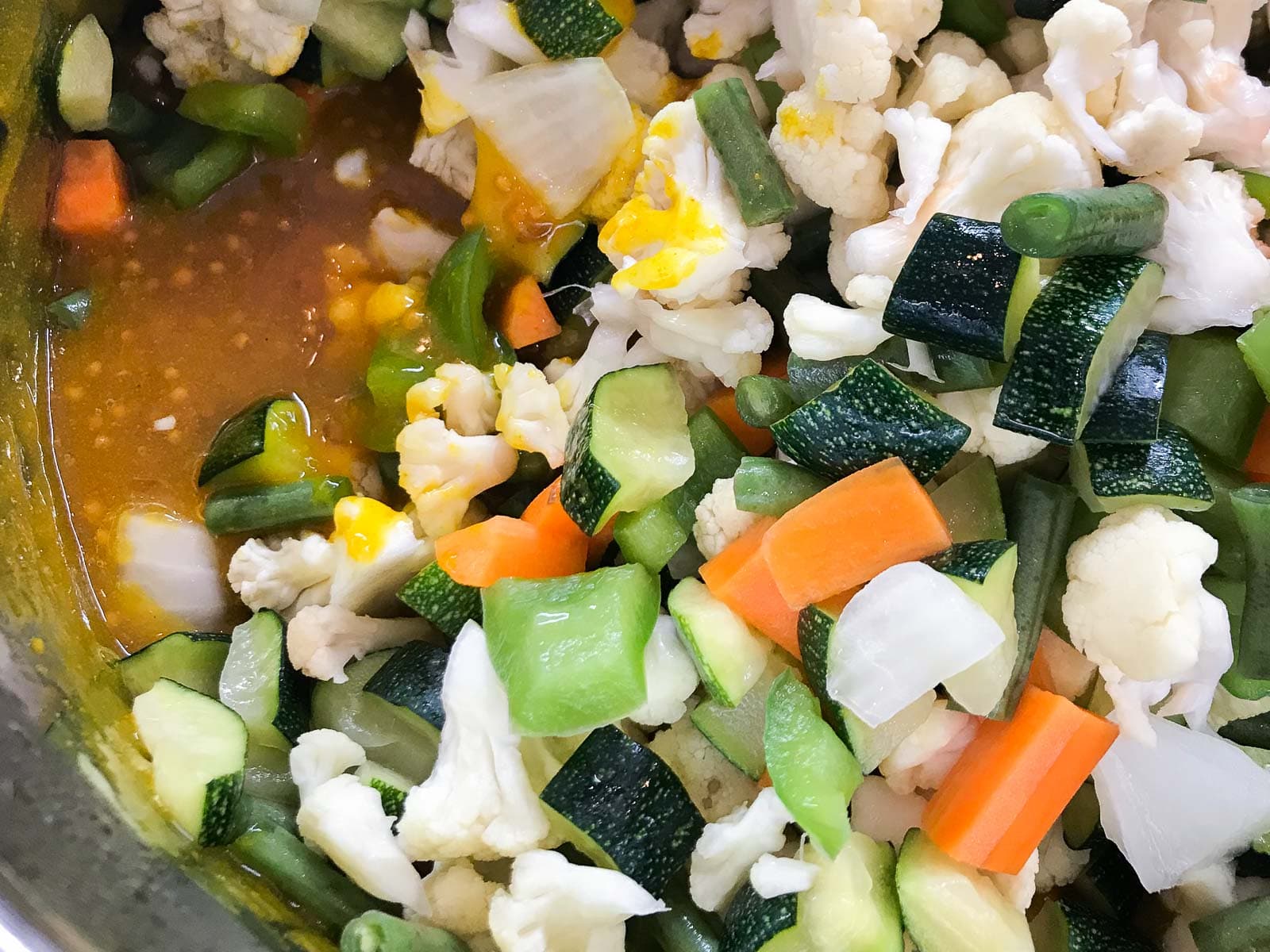 Now it's time to take the pan off the heat and add in the vegetables. I like to have my sterilised jars and a jam collar to hand so this process is done quickly. Ensure the vegetables are fully covered in the sauce before adding to the jars and sealed.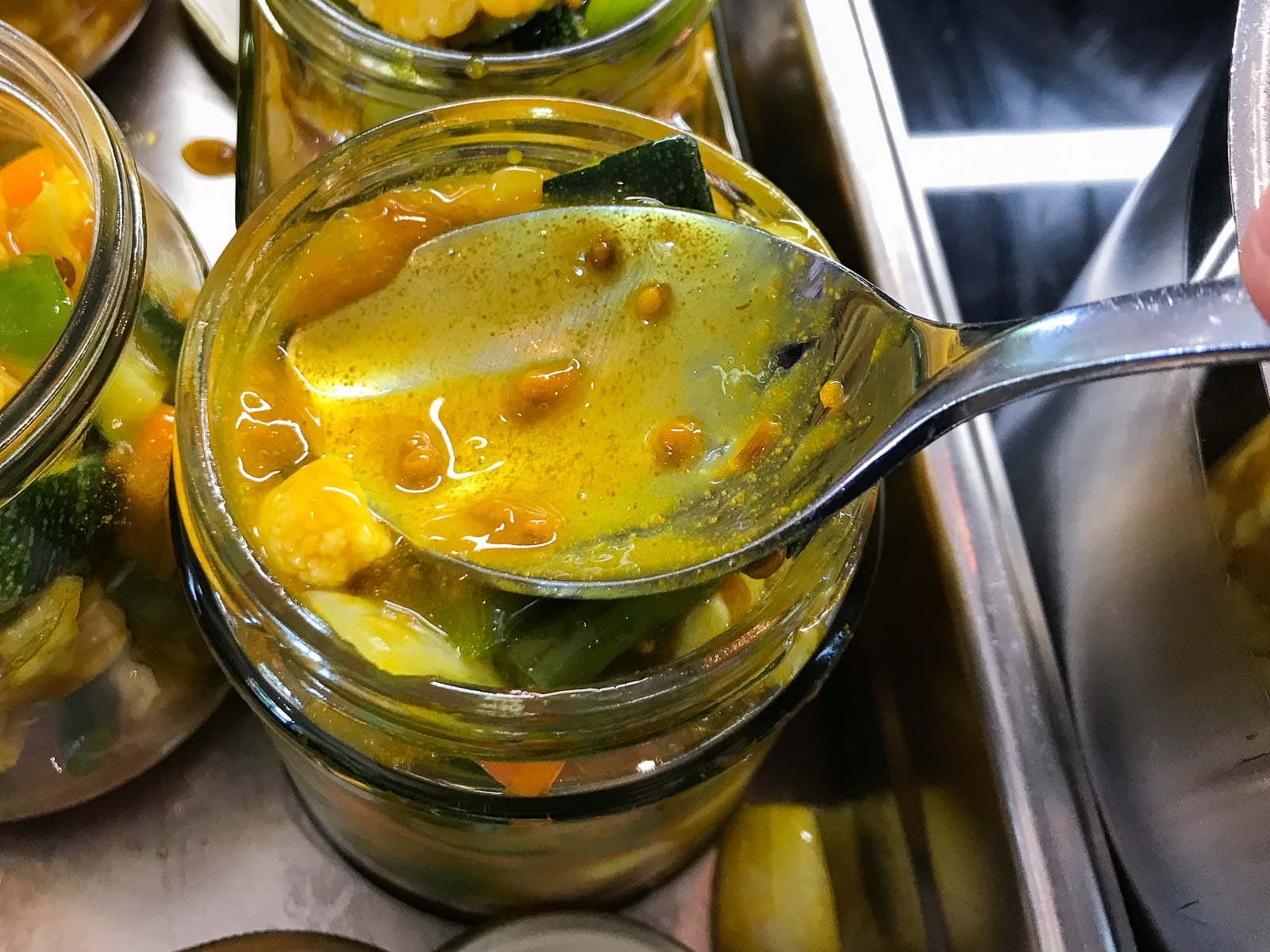 Fill the jars and push the vegetables in with the back of a spoon. The less air in the jars the better and longer they will keep unopened.
While its tempting to use these straight away a pickle like this takes time for the flavours to infuse into the vegetables. At this stage it will taste "vinegary" and not balanced.
Allow the jars to sit in a cool, dark space for at least 6 weeks before opening. I always label with the date made and the date ready to enjoy.
When to make piccalilli?
Piccalilli is always on my mind in October when I am at the end of my vegetable growing season, making it an ideal time to be ready for the Christmas cheeseboard and leftovers!
We are always changing recipes to suit our tastes however, we are sharing this link with you as it needs no adjustments and works perfectly every time. It's well worth it and just in time for Christmas – it also makes the perfect foodie gifts for family and friends.
Pin the recipe: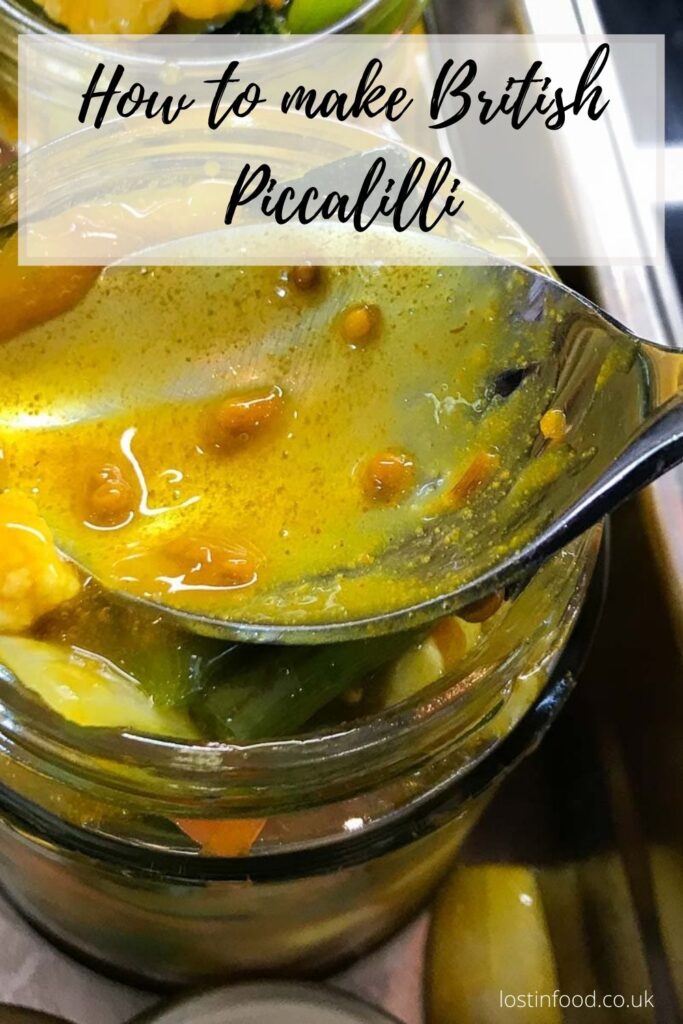 Additional recipe suggestions:
If you like this recipe then try some of our other preserves:
More delicious chutneys perfect for a cheeseboard:
Pam's Piccalilli (from River Cottage)
Pam's piccalilli, a wonderful mixture of vegetables, pickled with spices. Delicious served with crusty bread, cold cuts and a cheeseboard.
Print
Pin
Text
Save
Saved!
Ingredients
1

kg

mixed vegetables

(wash & peel vegetables – select 5 or 6 from the following: cauliflower or romanesco cauliflower; green beans; cucumbers; courgettes; green or yellow tomatoes; tomatilloes; carrots; small silver-skinned onions or shallots; peppers)

50

g

fine salt

30

g

cornflour

10

g

ground tumeric

10

g

English mustard powder

15

g

yellow mustard seeds

1

tsp

crushed cumin seeds

1

tsp

crushed coriander seeds

600

ml

cider vinegar

150

g

granulated sugar

50

g

honey
Instructions
Cut the vegetables into small, even bite-sized pieces.

Place the vegetables into a large colander (or sieve) set over a large mixing bowl. Add the vegetables to the colander, sprinkle with salt and stir to combine.

Cover with a tea towel and set aside in a cool place for 24 hours. This process draws they excess water from the vegetables, leaving you with crunchy vegetables.

Now thoroughly rinse the vegetables under cold running water to remove any excess salt. Take time to do this and ensure the salt has been completely rinsed off.

Blend the cornflour, turmeric, mustard powder, mustard seeds, cumin and coriander to a smooth paste with a little of the vinegar.

Place the remaining vinegar into a saucepan with the sugar and honey and bring to the boil.

Pour a little of the hot vinegar over the blended spice paste, stir well and return this paste to the pan. Bring gently to the boil and boil for 3–4 minutes to allow the spices to release their flavours into the thickening sauce.

Remove the pan from the heat and carefully fold the well-drained vegetables into the hot, spicy sauce.

Pack the pickle into warm, sterilised jars and seal immediately with vinegar-proof lids.

Set aside in a cool, dark place and leave for 4–6 weeks before opening. Use within a year.
Notes
You must salt the vegetables. Missing this important step will leave you with excess moisture in the jars and soggy vegetables, not appetising at all.
Use a large sieve or colander set over a large bowl when salting the vegetables. This allows the liquid to drain off the vegetables, and avoids them sitting in salty water. If you have a large salad spinner that would work well here too.
Recipe taken from River Cottage, Pam's Piccalilli. This recipe has worked every time and tastes delicious so I have never felt the need to change it!
Nutrition Facts
Pam's Piccalilli (from River Cottage)
Amount Per Serving
Calories 447
Calories from Fat 36
% Daily Value*
Fat 4g6%
Sodium 129mg6%
Potassium 772mg22%
Carbohydrates 94g31%
Protein 10g20%
Vitamin A 12703IU254%
Vitamin C 27mg33%
Calcium 104mg10%
Iron 5mg28%
* Percent Daily Values are based on a 2000 calorie diet.
• Please note that the nutrition information provided above is approximate and meant as a guideline only •
Share on Facebook
This recipe has been shared to CookBlogShare, click on the link to find recipes by fellow food bloggers.