Mulled pears poached in red wine and flavoured using the warmest of spices. Perfect on the Christmas cheeseboard and also make a lovely gift.
Mulled pears are something I enjoy making around October every year. There is something therapeutic to me about any sort of preserves, whether it be jams and jellies, preserves or pickles. It goes with the season, and means you have something you've made yourself to look forward to over Winter.
During the October break, Michelle and I took our girls to Charleton Farm, just outside Montrose to pick some late fruits and collect some pumpkins. We have never visited before but it is a fantastic space for kids. I should add that our girls range in age from 7 to 13, and they all enjoyed visiting. Our plan was to pick some late raspberries and brambles (a thorn-less variety and great for kids). Our girls had great fun racing to see who could pick a punnet quickest.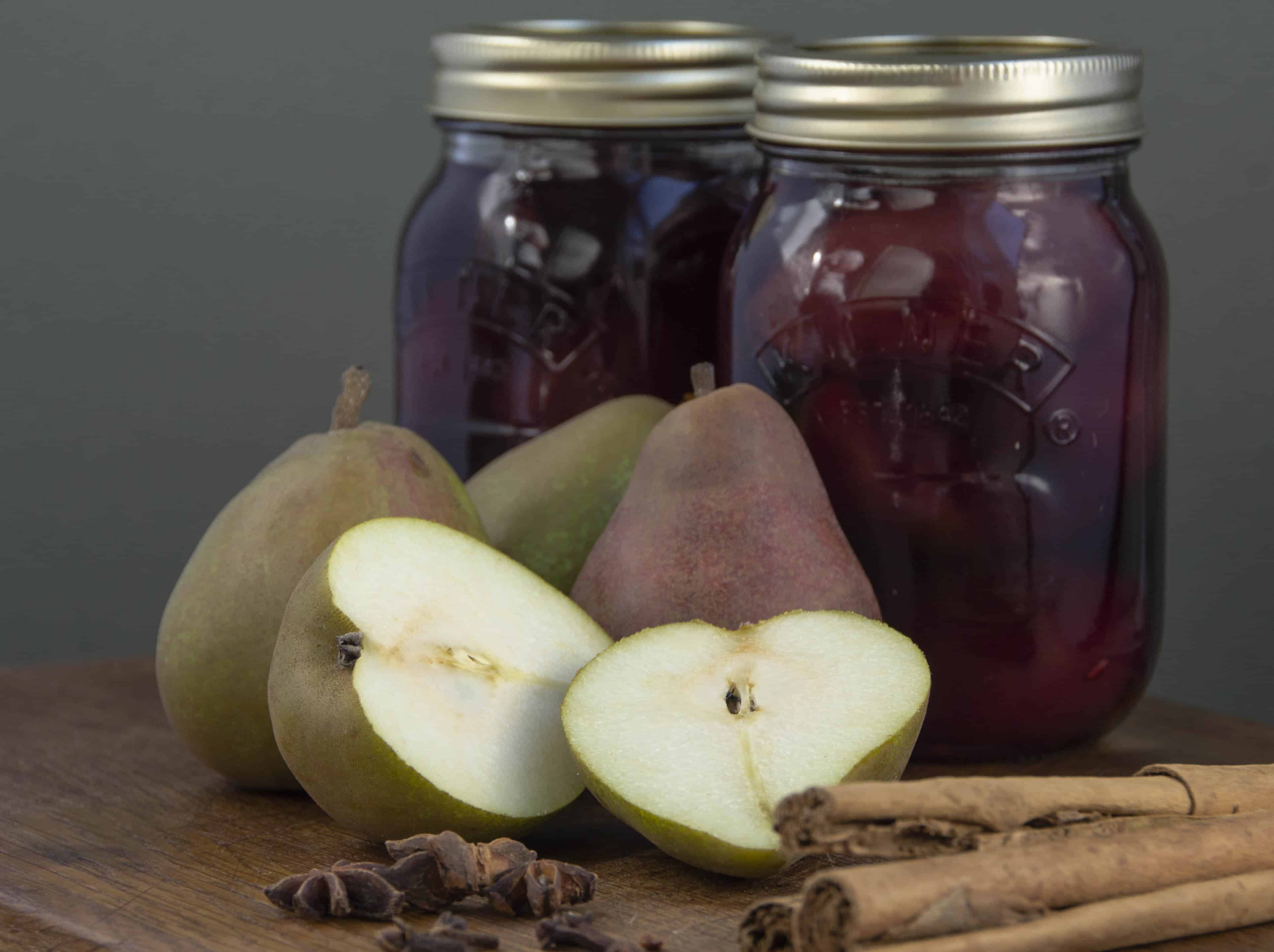 We also picked some pears, one of the staff kindly showed our girls how to pick ripe pears. Off they went, while we talked about the importance of getting children involved in growing and picking their own food. Unfortunately neither of us were paying enough attention to our girls and how much they were picking. When we did notice, they had picked both of us a large shopping full to the top with pears. Now I like pears, but there is a limit as to how much you can actually get through! On the drive home I realised I'd have to get my thinking head on and come up with ways to preserve the pears. We would never manage to eat them all, and I hate waste.
Now I have made pickled pears in the past, my Dad loves them and they are great with cold cuts and a cheeseboard over the festive period. However this year I fancied making poached mulled pears, great for dessert but also good with cheese. I buy mulled pears but have never made my own so with a quick check as to method I set about coming up with my own version using red wine and whole spices.
Once poached these pears will keep for six months in a cold dark space. When I'm ready to use the pears for dessert I like to heat them gently through in the wine, I then remove them to a plate and turn the heat up and reduce the remaining wine to a more syrupy consistency. Plate the pears, pour over the syrup and serve with ice cream on the side. A quick and simple dessert for the busy festive period ahead.
If like me you enjoy preserving try our recipe for Quick Courgette & Shallot Pickle, our Apple Jelly or our recipe for Pam's Piccalilli.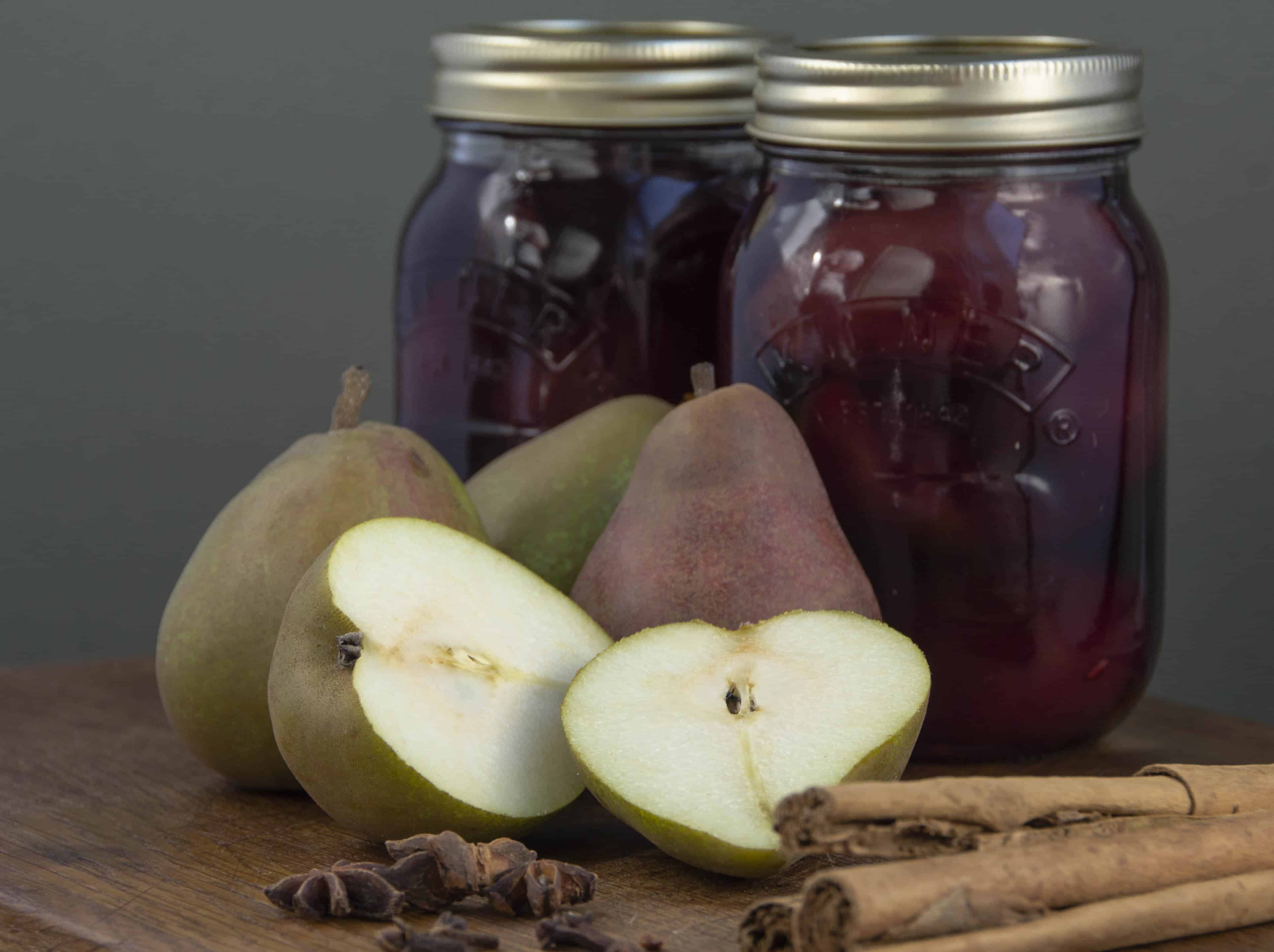 Mulled Pears
Mulled pears are both mulled in red wine and flavoured using the warmest of spices. Perfect on the Christmas cheeseboard and also make a lovely gift.
Print
Pin
Save
Saved!
Ingredients
1200

g

small pears

(pared and cut in half)

200

g

sugar

300

ml

water

1

bottle of red wine

6

star anise

3

cinnamon sticks

1

tsp

whole cloves
Instructions
Place the sugar and the water together in a large saucepan and slowly bring to the boil until the sugar has dissolved. Add the red wine and spices to the pan and set aside.

Prepare the pears and place them in pre-sterilised jars. Pour over the wine mixture and ensure there are spices in each of the jars. Place a lid on each jar, covering the top but do not fasten or screw on.

Place the jars on a baking tray at least 5cm apart and place in a pre-heated oven at 140CFan for 1 hour.

Remove the jars from the oven and immediately screw on the lids securely. Place on a heat proof surface and allow to cool completely. Once cooled further check the seals on the jars are tight.

Set aside in a cool, dark place. These pears will be ready to eat after around 2 months. However they will keep for 6 months.
Nutrition Facts
Mulled Pears
Amount Per Serving
Calories 369
Calories from Fat 9
% Daily Value*
Fat 1g2%
Sodium 11mg0%
Potassium 383mg11%
Carbohydrates 69g23%
Protein 1g2%
Vitamin A 56IU1%
Vitamin C 9mg11%
Calcium 52mg5%
Iron 1mg6%
* Percent Daily Values are based on a 2000 calorie diet.
• Please note that the nutrition information provided above is approximate and meant as a guideline only •
Share on Facebook