Apple jelly is a delicious preserve, a beautiful and sweet clear jelly that is simple to make.
Apple jelly is a delight to eat and something I look forward to making every year during Autumn. I grew up with parents who were very self sufficient when it came to putting fresh garden produce on the table. We ate very well over the summer months and what could not be eaten was either stored over winter in our garage or frozen straight from picking. The garden was large and had a multitude of fruit trees and shrubs, from which my Mum would produce the most wonderful array of jams and jelly's.

This has spoilt me as you cannot beat homemade preserves. In fact I don't buy shop-bought jams and jelly, I make my own. My Mum always made us jelly as my sisters were fussy about bits in the jam! This is why I love this time of year as the apples are ready. I have become a keen jam and jelly maker, my kids are happy to try any concoction of flavours! Apples work really well when combined with raspberries or brambles for example. But I'm just as happy with pure apple.
I like a bit of free food and am often donated bags of apples by friends and neighbours with trees! They always receive a gift of jelly in return. On a recent bramble picking walk with my Mum, on the dunes beside the beach at Lossiemouth, we came across an apple tree. Apples and brambles in one walk, what a result! Apples and brambles are a great combination, the brambles are tart and the jelly is lovely with a some venison, but equally good with a scone and a big blob of clotted cream! I like apple jelly on its own and that is the recipe I've given here. This year as well as the apple jelly, I've also made french crab apple jelly and also an apple and raspberry mix. I'm lucky enough to be able to buy jam raspberries and strawberries from a local producer.
Until last year Michelle only ever bought strawberry jam. I gave her a pot of mixed soft fruits and apple earning myself the title of Jelly Lady, as her girls come to me direct for supplies when the pot is empty.
Jelly is easy to make, however there are a few key points. First simply cut up the fruit, place it in a large stock pot or jam pan. Pour in water to just below the top line of the fruit and simmer until the apples are soft. Strain through a jelly bag into a clean bowl. At no point push down on the fruit to push the liquid through as this will result is a cloudy jelly and you don't want that.
Secondly, use a jam thermometer. It really is the only way to check your jelly or jam has reached the required temperature. I still test for setting, but a thermometer is a must.
Finally take real care when decanting the molten jelly liquid into jars. You do not want to burn yourself, nor spill this stick liquor!
If you like this then try the jelly with one of our scone recipes. Our Buttermilk Scone, our Apple & Cinnamon Scone or our Pumpkin Spiced Scone. Whilst at Pitmedden we also picked up some sweet apples for our Apple & Cinnamon Cake. We also bought some pears which we used to make our Mulled Pears.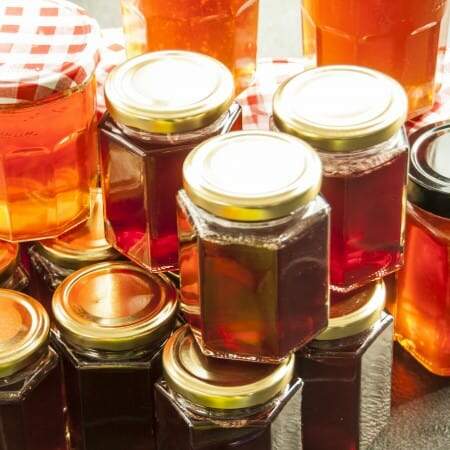 apple jelly
There is nothing like the satisfaction of producing your own preserves! Apples make a beautiful and sweet clear jelly that can be served on toast, used in gravies or added to any bake!
Print
Pin
Rate
Ingredients
1

pint

strained apple juice

1

lb

unrefined granulated sugar
Instructions
Before you start get your equipment ready and set up. You will need a jelly bag, a stand to drain the fruit, a large pan or stockpot, a large pot to catch the strained juice, a jam thermometer, some sterilised jars and lids and wax discs for potting. Set up your jelly bag and stand (my Dad made mine but they are readily available in hardware stores and online) over the bowl that you are using to collect the strained liquid. Place a saucer in the freezer for testing the jelly later.

Sterilise your jars. My preferred method is to put them through a cycle in my dishwasher, unloading them while still hot onto a tray. I then place them in an oven at 170C until needed.

Wash the apples and cut into chunks, no need to core or peel them (remove any rotten pieces). Place your fruit in a large saucepan and add water to a level just below the top of the fruit.

Bring to the boil and then reduce to a simmer and cook the fruit until it is soft and you can insert a knife easily into the apple. Take the pan off the heat and gently spoon the mixture into the jelly bag. Do not be tempted to press the fruit down into the bag, nor squeeze the bag, as this will give you a cloudy jelly. Leave the liquid to drain from the bag until it has finished dripping into the bowl below, then discard the fruit. (If doing a mixed jelly repeat this process with the second fruit.)

Once drained pour the juice into a large, heavy based saucepan or stockpot. For every 1 pint of fruit liquid you will need to add 1lb of granulated sugar to the pan. I use ordinary unrefined granulated sugar as jam sugar tends to be more expensive. [Jam sugar contains added pectin which I have never needed to use as the apples contain enough themselves.]

Put the pan on the heat and bring to the boil before reducing the heat a little to get a good rolling boil. Try not to stir the liquid as stirring will only reduce the temperature. As you are heating the liquid skim off an scum that may appear, whilst doing you no harm it doesn't look good once set and you do not want cloudy jelly.

Here comes the difficult bit, knowing when to take the jelly off the heat. There are a number of tests, if using a jam thermometer the setting point for jelly is around 104.5C/220F. I use my thermometer to let me know when the jelly is almost ready but I prefer to use the wrinkle test as this what I watched my Mum doing when I was a child. You can tell when a jelly is approaching being ready as when it runs down the spoon it will begin to look thicker and start to wrinkle if you push it with a finger nail. I place a plate in the freezer before I start making jelly. When I think the jelly is almost ready I spoon some onto the cold plate, pop it back in the freezer for a minute or two, then take it back out and push the jelly with my finger to see if it wrinkles. If it does then the jelly is ready. If you want a really firm set the wrinkle will stay in place after you have removed your finger. [This is the most difficult part of the process and it is something that becomes easier over time as your begin to know what to look for. That said, I have potted jelly into jars only to return it to the pan the following day for a further boil as it was just too soft a set!]

Pot the jelly while it is still hot into the sterilised jars. Take care as the liquid is very hot. I place a wax disc on top as it prevents the jelly drying out and also stops any mould from forming. Seal with a screw on lid and set aside to cool. Once cool label the jelly and store in a cool, dry place. The jelly should keep for at least year stored like this.
Notes
This recipe makes a small amount of jelly and to be honest I rarely make jelly in quantities this small, simply multiply the recipe as you need.
If doing a mix of fruits, for example apple and raspberry, cook and strain the two fruits separately.
Soft fruit does not need cutting up before adding to the pan, boil it whole before straining through the jelly bag.
Once a jar of jelly has been opened it should be stored in the refrigerator and used within a month, although it rarely lasts that long in my house!
Nutrition Facts
apple jelly
Amount Per Serving
Calories 1755
% Daily Value*
Sodium 4mg0%
Carbohydrates 453g151%
Iron 0.2mg1%
* Percent Daily Values are based on a 2000 calorie diet.
• Please note that the nutrition information provided below is approximate and meant as a guideline only •