Scotch pancakes, simple to cook and on the table in a matter of minutes. Enjoy them as part of a lazy weekend brunch, as an afternoon treat with a cup of tea.
Scotch pancakes are a weekend staple in our house. If there is one brunch dish that I cook more than any other, its traditional Scotch pancakes. I've made them for years and don't really need a recipe as it's simply one of those recipes that are etched into my brain. However they are sweet and therefore not something we eat daily, rather they are a weekend treat. Enjoyed on a lazy weekend when we have more time to languish over breakfast.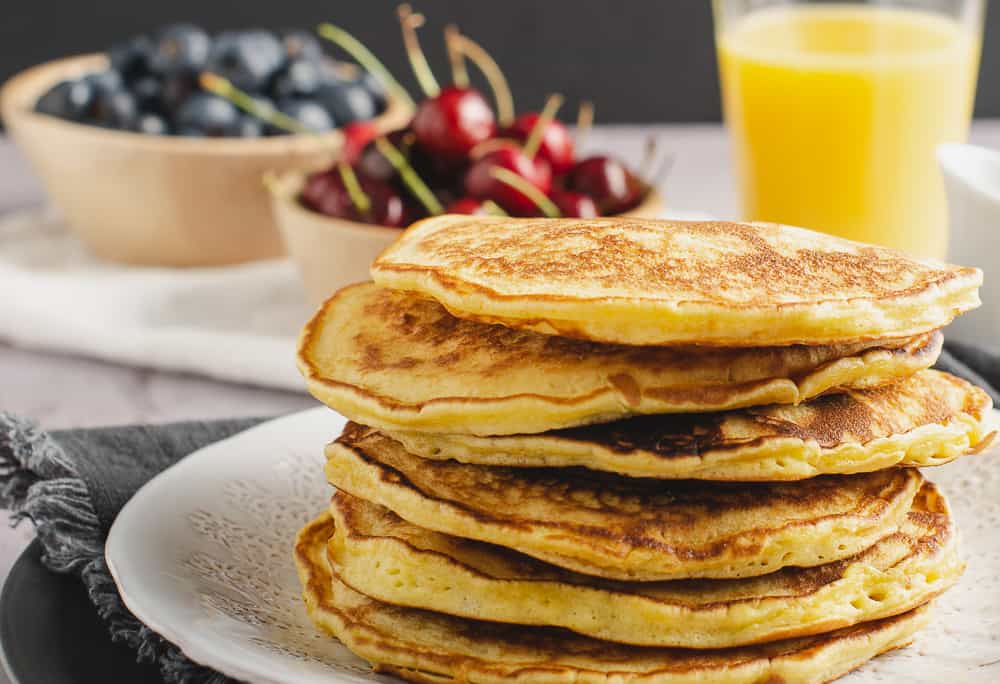 As a child my Mum made these on a girdle. That's a girdle and not a griddle pan. A girdle is a round flat cast iron cooking plate that sits on the stove top. Our one had a cast handle too and my Mum used hers on the top of our wood burning stove. My Mum would cook Scotch pancakes, girdle scones and oatcakes on her girdle, they were a real treat.
There is nothing better than any one of these items freshly cooked and slathered in butter and homemade jam. I'm fairly sure the girdle got lost somewhere in my Mum's last house move. Which is a pity as I'd love to cook on it.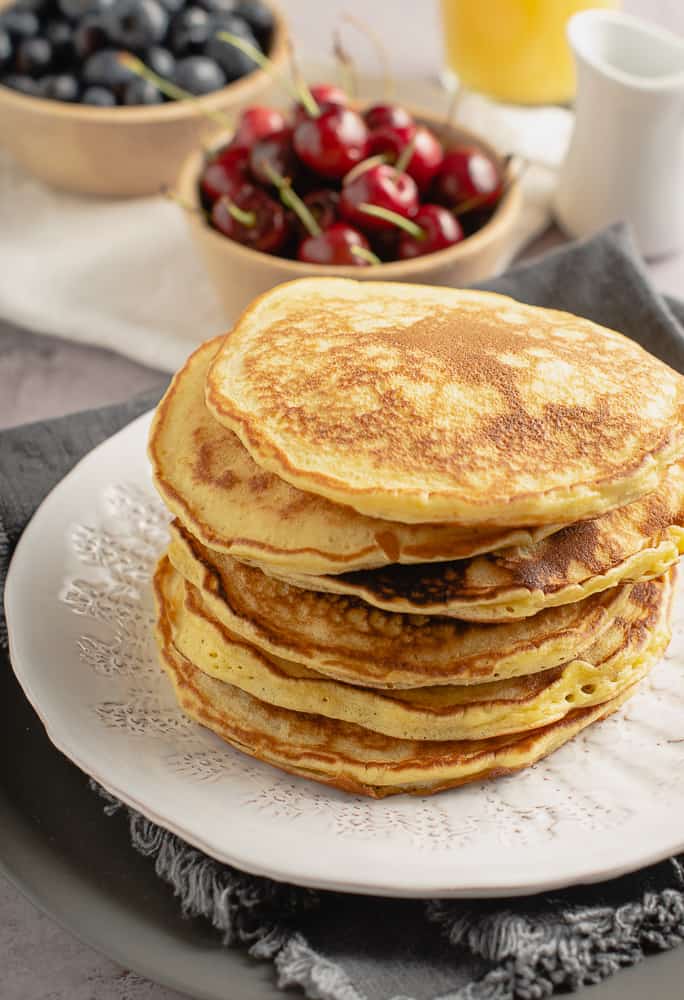 My kids request this quick cook more than any other at a weekend, most often dousing them in maple syrup with a side of bacon, the influence of my blogging buddy Michelle at work here. Where I, on the other hand, still like them with butter, jam and a cup of tea. This is possibly because growing up we ate these as an afternoon treat, rather than as a breakfast or brunch option. Regardless they have now become a weekend brunch staple, all the better now that my children can make them themselves.
Cooking with children:
I started making Scotch pancakes with my children when they were young. When cooking anything with young children you are best to choose something that is quick to prepare and cook. You need to start with recipes that keep their attention, so nothing too long or with too many steps.
A pancake batter doesn't take long to prepare and they cook quickly on top of the stove. I would supervise closely, but allow them to drop the batter in the pan and flip them over. They will make a mess to start with, but that's part of the fun.
Recipe steps: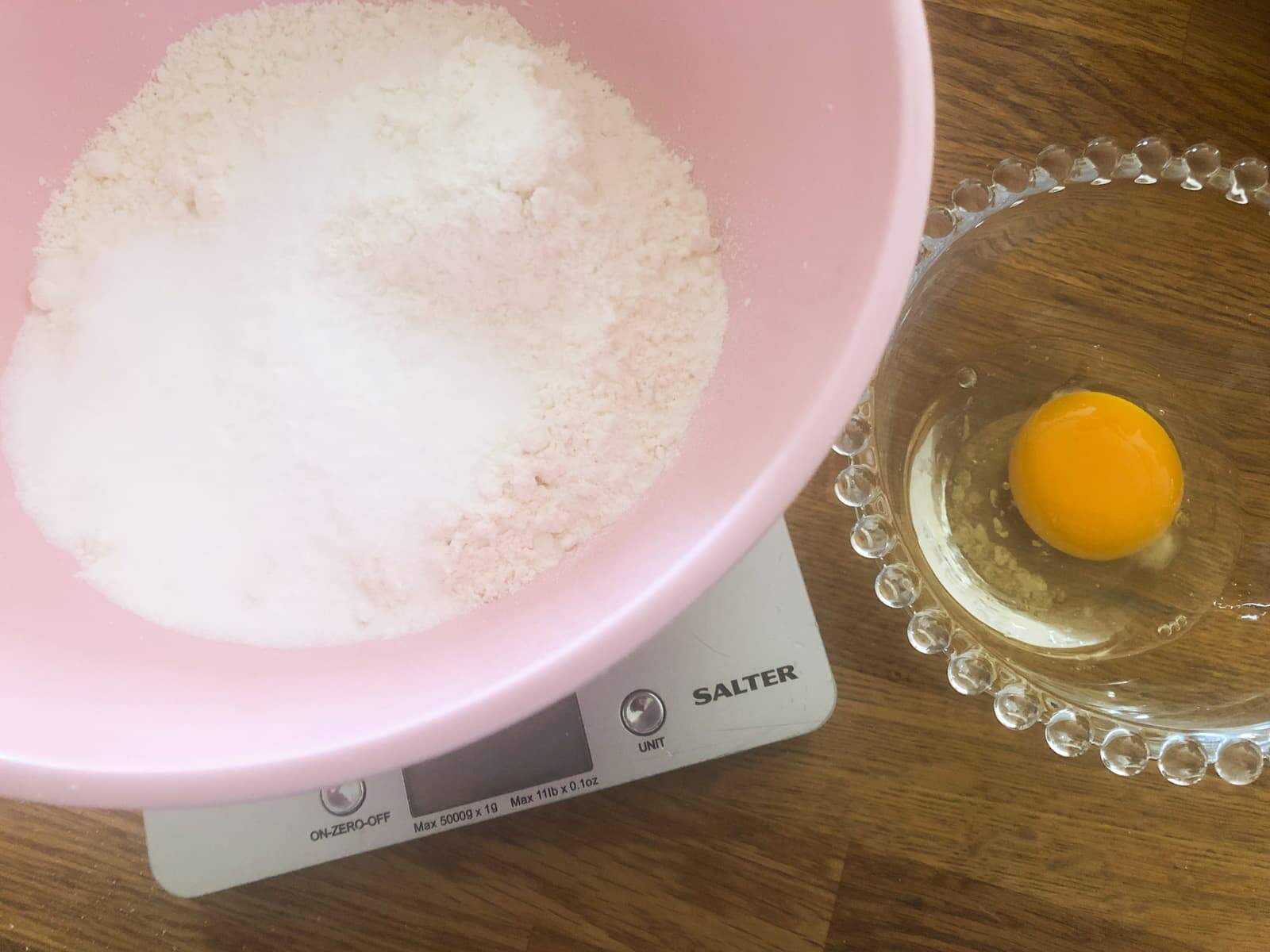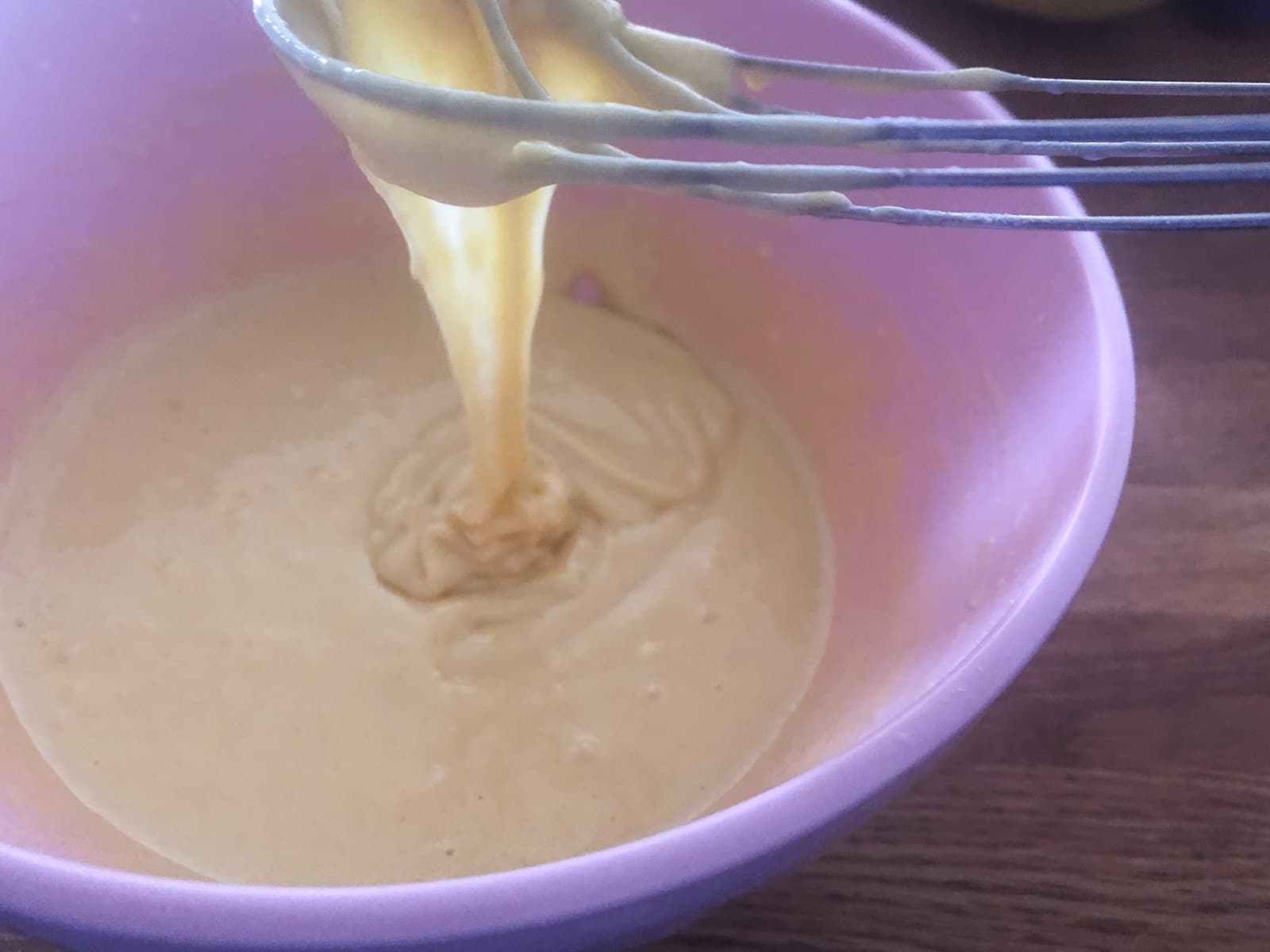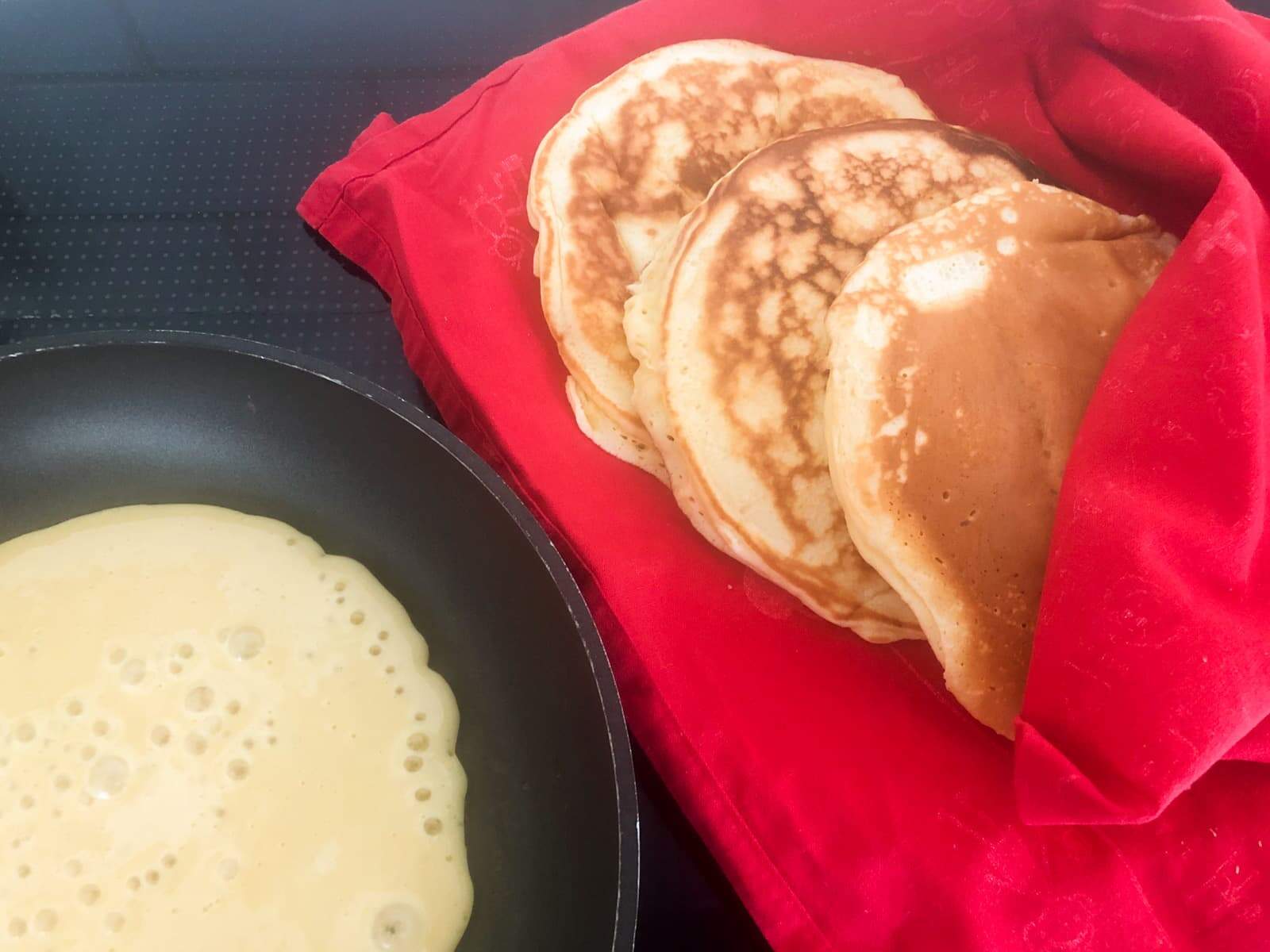 Helpful tips:
I don't have a girdle, instead I use a non-stick frying pan. The tricky bit is getting the pan to the right temperature. Put it on high to get some heat into the pan, then reduce heat to medium high for cooking. Brush the pan with some butter and pour in a ladle of the pancake batter. Once you see bubbles forming on top, carefully flip it over to cook on the other side.
Don't be tempted to overload the pan with pancakes, cook one or two at a time. This gives them space to expand and makes it a lot easier when it comes to flipping them over.
Once cooked place the pancakes on a plate and wrap in a clean dishtowel to keep warm, while you cook the remaining pancakes.
Can I make Scotch Pancakes in advance?
If you fancy a pancake for an afternoon treat, but don't want to make them fresh, they can be made in the morning. Place them on an wire rack to cool and then pop them in an airtight container until you are ready to eat them.
Pancakes never last long in my house, however, they will keep fresh for a couple of days in an airtight container. That said, nothing beats them eaten warm, straight from the pan!
Can you freeze Scotch Pancakes?
You can freeze Scotch pancakes, simply allow them to cool completely, before placing them in a freezer proof container. I would recommend a layer of baking parchment between each pancake to stop them sticking together.
Pin the recipe: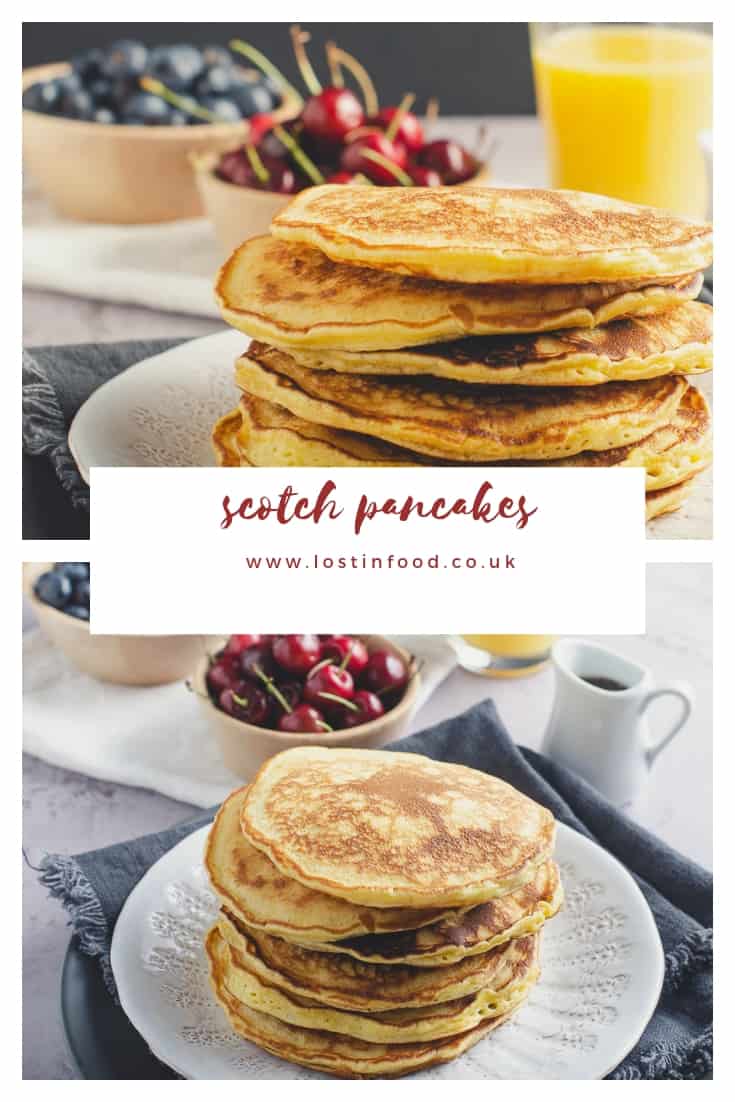 Additional recipe suggestions:
If you like pancakes for an alternative why not try out our recipe for Poffertjes – Dutch Pancakes. Another great breakfast sweet treat try our Cinnamon Rolls.
Hosting your own brunch then take the stress out of it and head to our Ultimate Guide to Brunch. Here you'll find all our brunch recipes together with some great advice, hints and tips on how to get started.
Scotch pancakes
A traditional Scotch pancake, simple to cook and on the table in a matter of minutes. Enjoyed as part of a lazy weekend brunch.
Print
Pin
Rate
Ingredients
100

g

self raising flour

50

g

caster sugar

pinch salt

1

egg

15

ml

milk

20

g

butter for greasing pan
Instructions
Place the flour, sugar and salt in a large bowl. Add in the egg and milk and beat well to combine into a thick batter. If the batter looks too thick loosen it with a little more milk.

Heat a non stick frying pan on your hob to a medium-high heat. Brush a little butter in the pan and spoon in a ladle of the pancake batter.

Once you see bubbles starting to form on top of the pancake gently flip it over to cook the other side.

Once the pancake has cooked on both sides, remove from the pan.

Keep the pancakes warm wrapped up in a clean tea towel until ready to serve.
Nutrition Facts
Scotch pancakes
Amount Per Serving
Calories 128
Calories from Fat 27
% Daily Value*
Fat 3g5%
Cholesterol 34mg11%
Sodium 35mg2%
Potassium 26mg1%
Carbohydrates 20g7%
Protein 3g6%
Vitamin A 125IU3%
Calcium 9mg1%
Iron 0.3mg2%
* Percent Daily Values are based on a 2000 calorie diet.
• Please note that the nutrition information provided above is approximate and meant as a guideline only •
Share on Facebook