Our easy egg fried rice recipe is quick to make but packed full of flavour. A great side dish to accompany any Chinese meal, or on it's own for a light, simple meal.
Our easy egg fried rice recipe is a quick and simple dish to prepare. It makes a tasty change to a bowl plain steamed or boiled rice. Packed full of flavour this is a dish that everyone in the family with enjoy.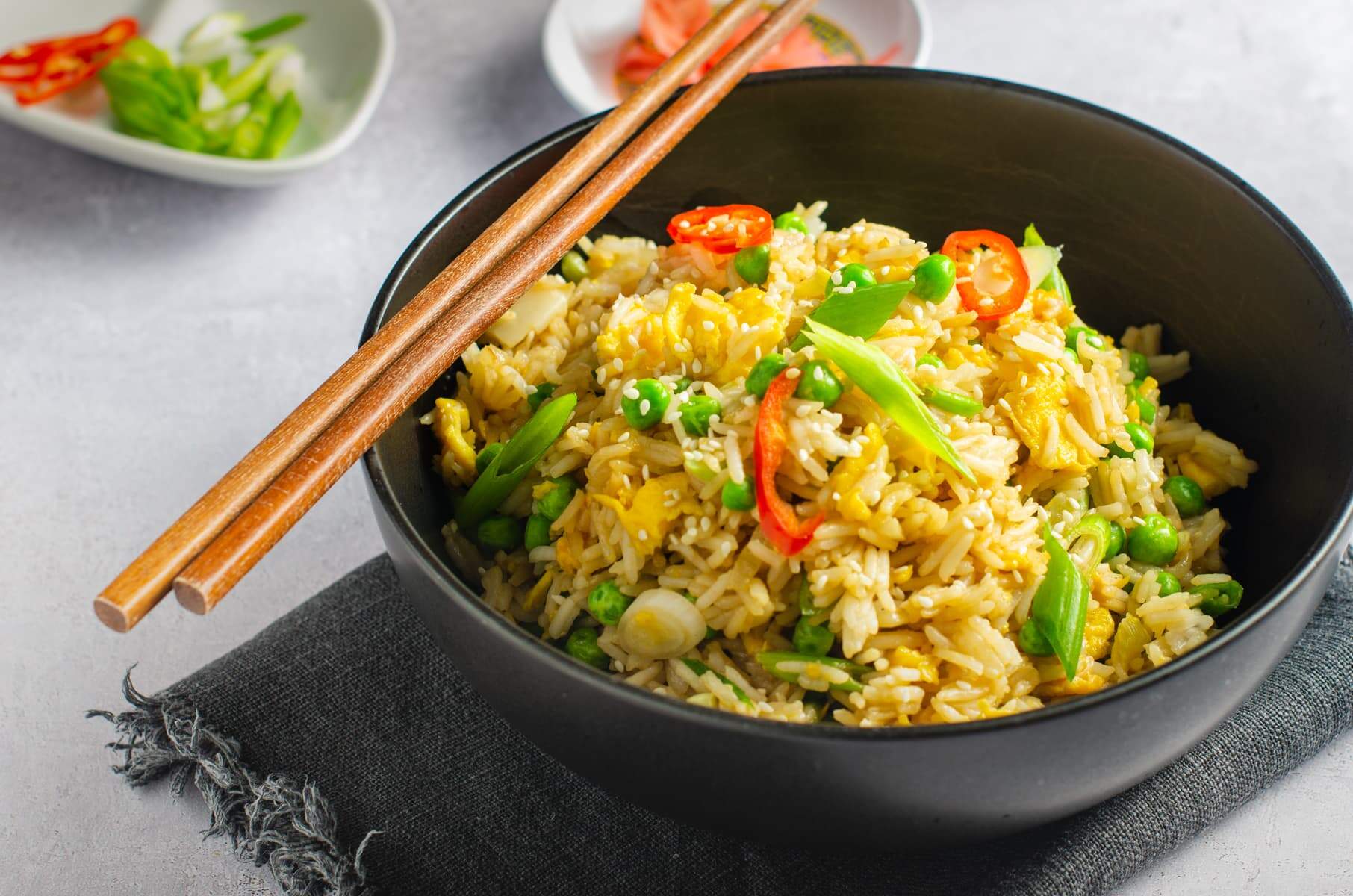 A good egg fried rice dish should have a nice mix of egg through the rice, together with the right amount of vegetables for much needed crunch and to pack flavour into the dish.
There is nothing worse than a soggy bowl of fried rice, the emphasis is on soft, not soggy!
It's also important to balance the flavours. I like to add freshly grated ginger towards the end of the cook.
Some recipes add garlic at this point, however, I think the rawness of garlic can overpower all the other flavours in the dish, which is why I don't add it. Instead, I add some chopped spring onions right at the end of the cook, for a burst of freshness.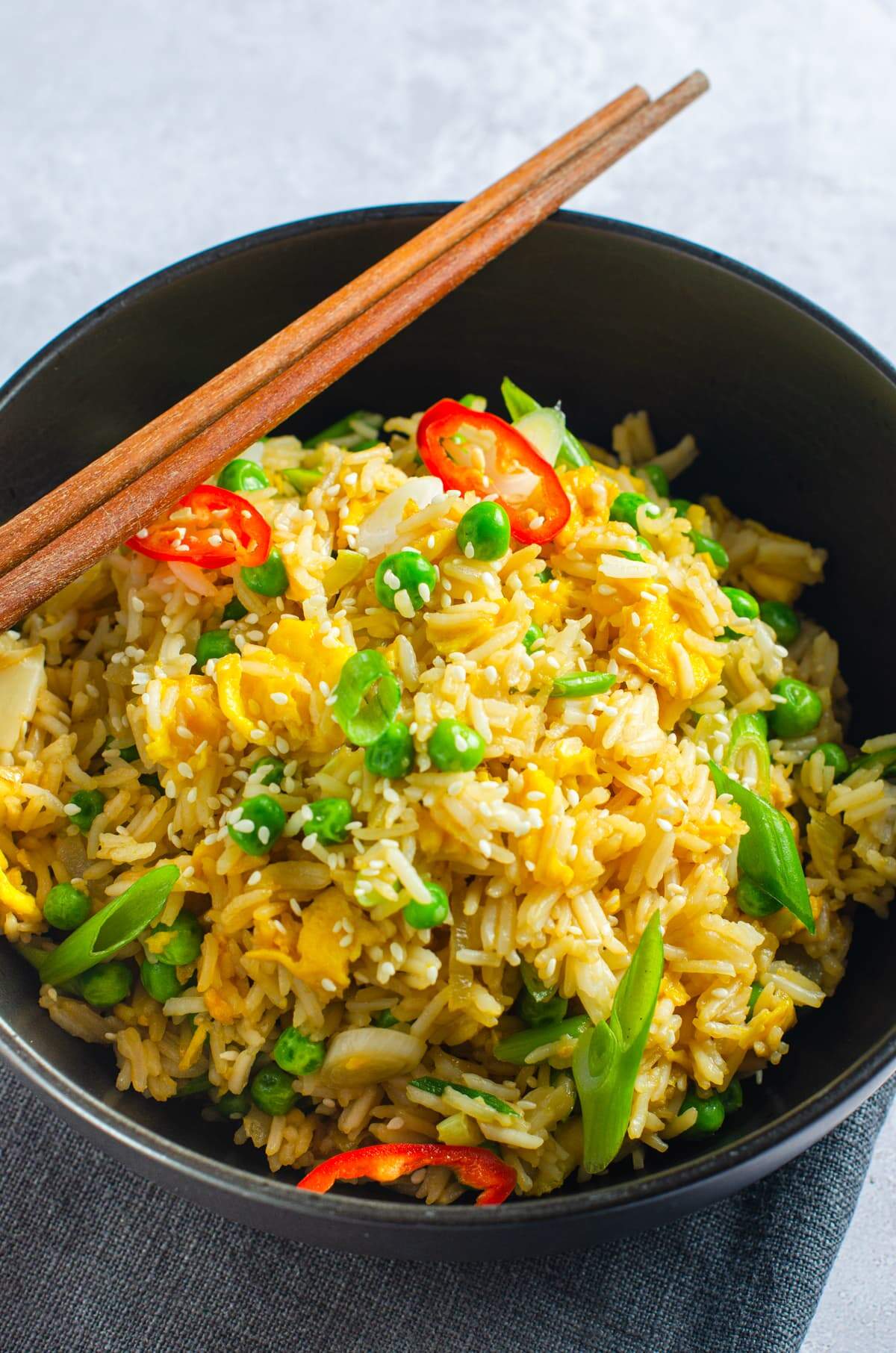 Easy egg fried rice recipe – cooking the egg!
I've tried various ways of cooking the egg in egg fried rice. Some recipes require you to cook the egg with some of the other ingredients, however this results in everything being too soggy and the egg too broken up.
You want to have bites of cooked egg throughout the rice.
First soften any vegetables that need more cooking, like the leek and celery in this recipe. Then remove those vegetables into a separate bowl.
Now add the beaten egg to the wok on its own. Scramble the egg, stirring constantly to break the egg up and cooking it until it is a nice golden brown colour.
At this point you can then add back in the rest of the ingredients.
How to make Easy Egg Fried Rice: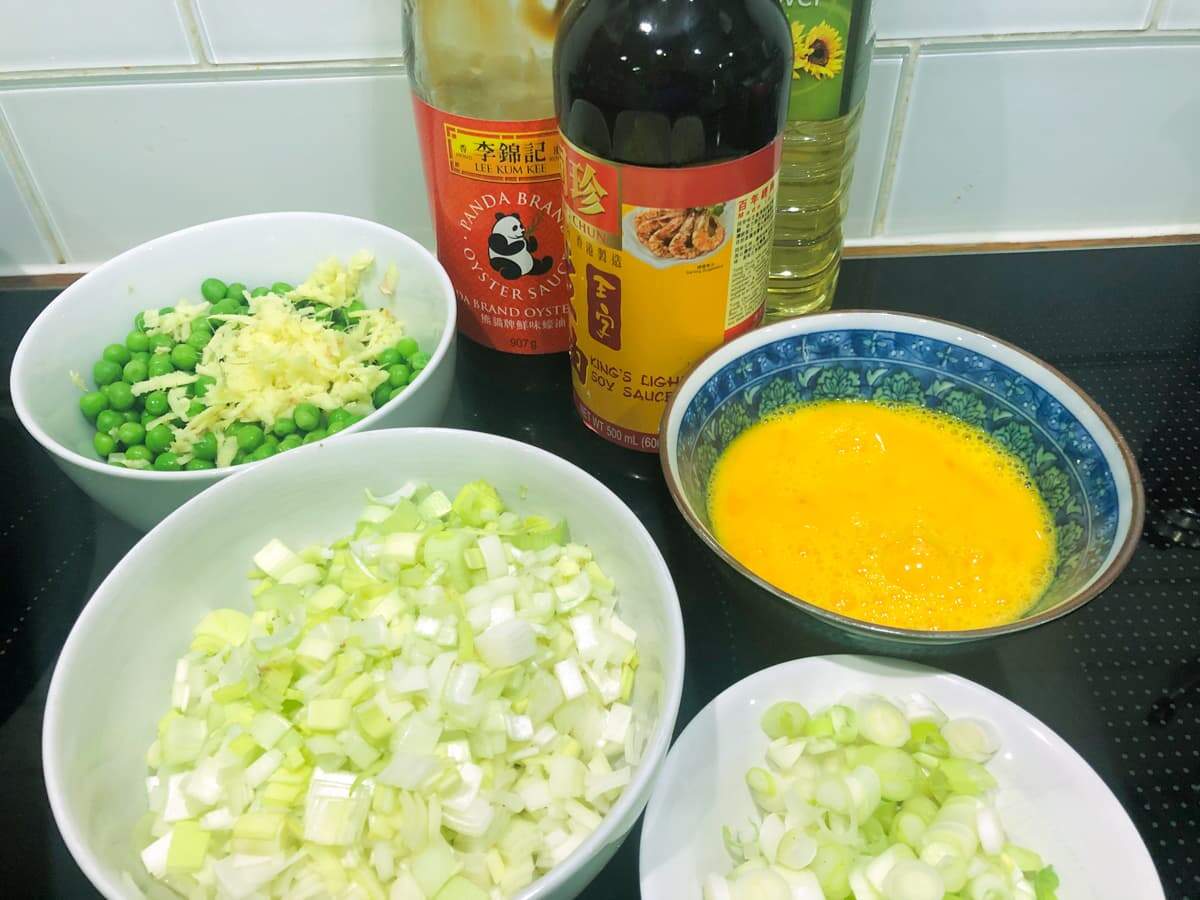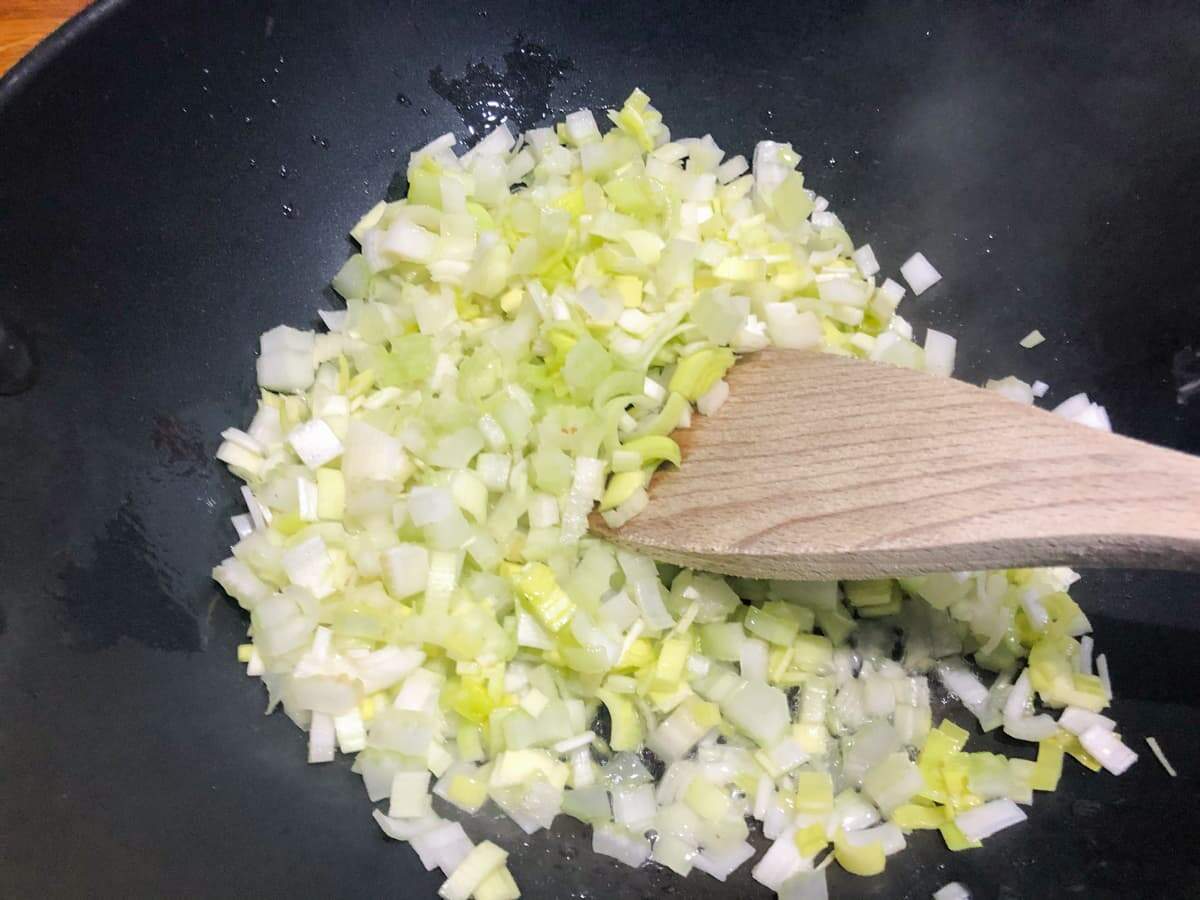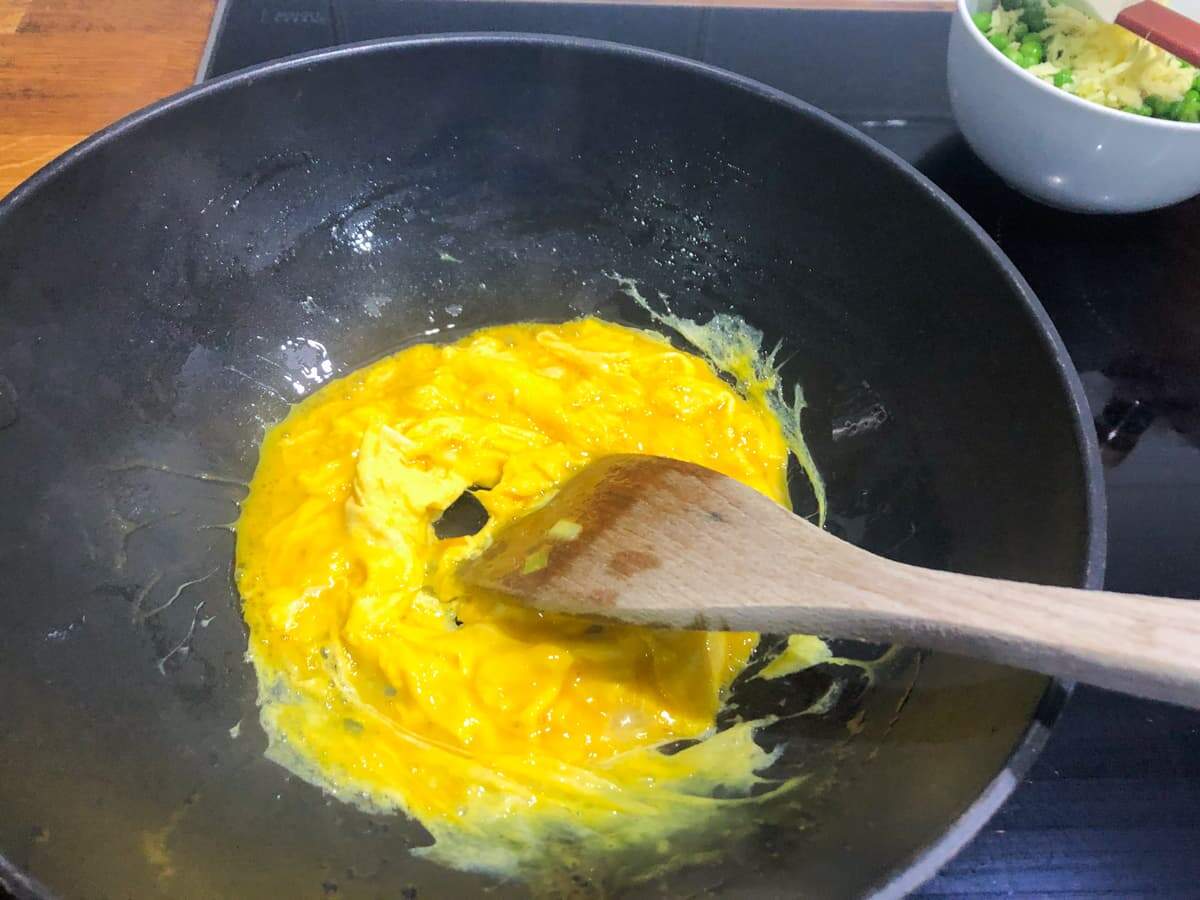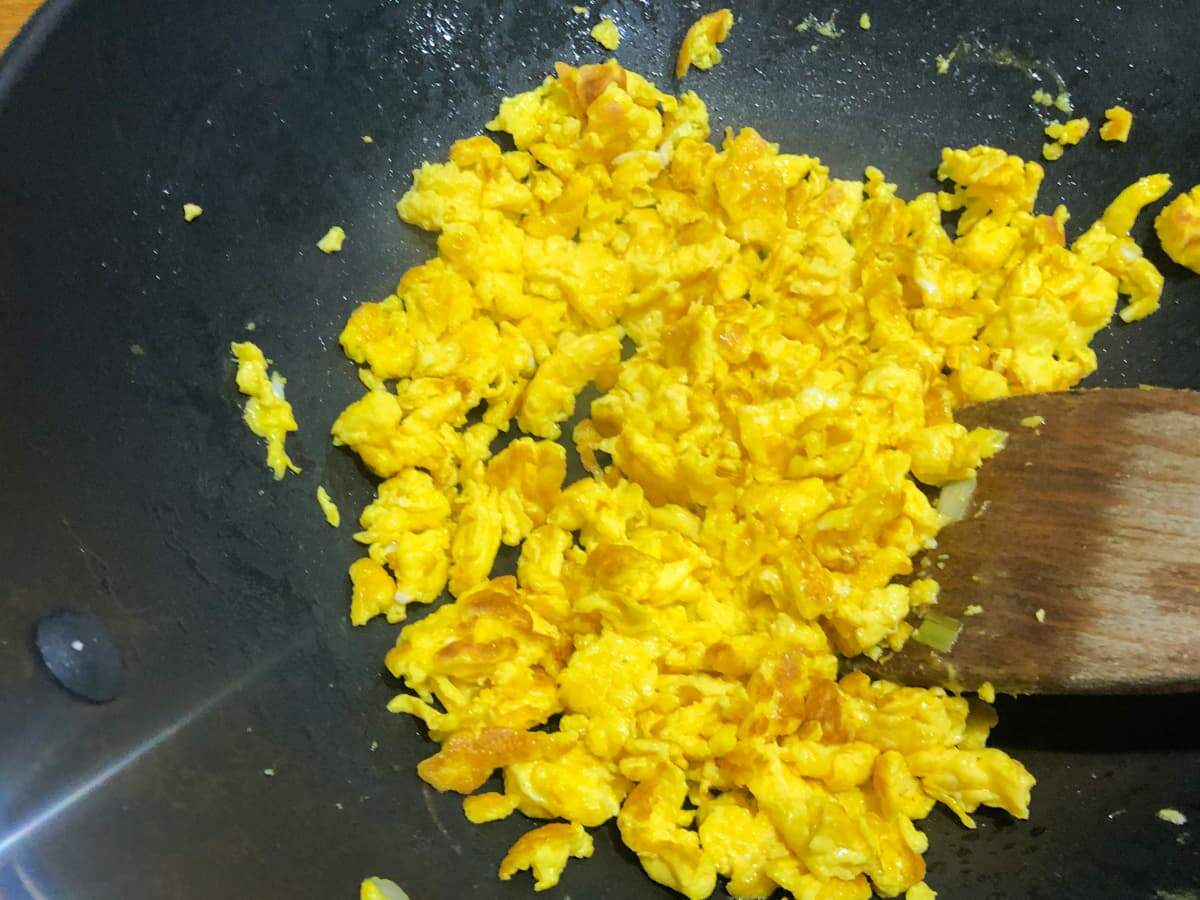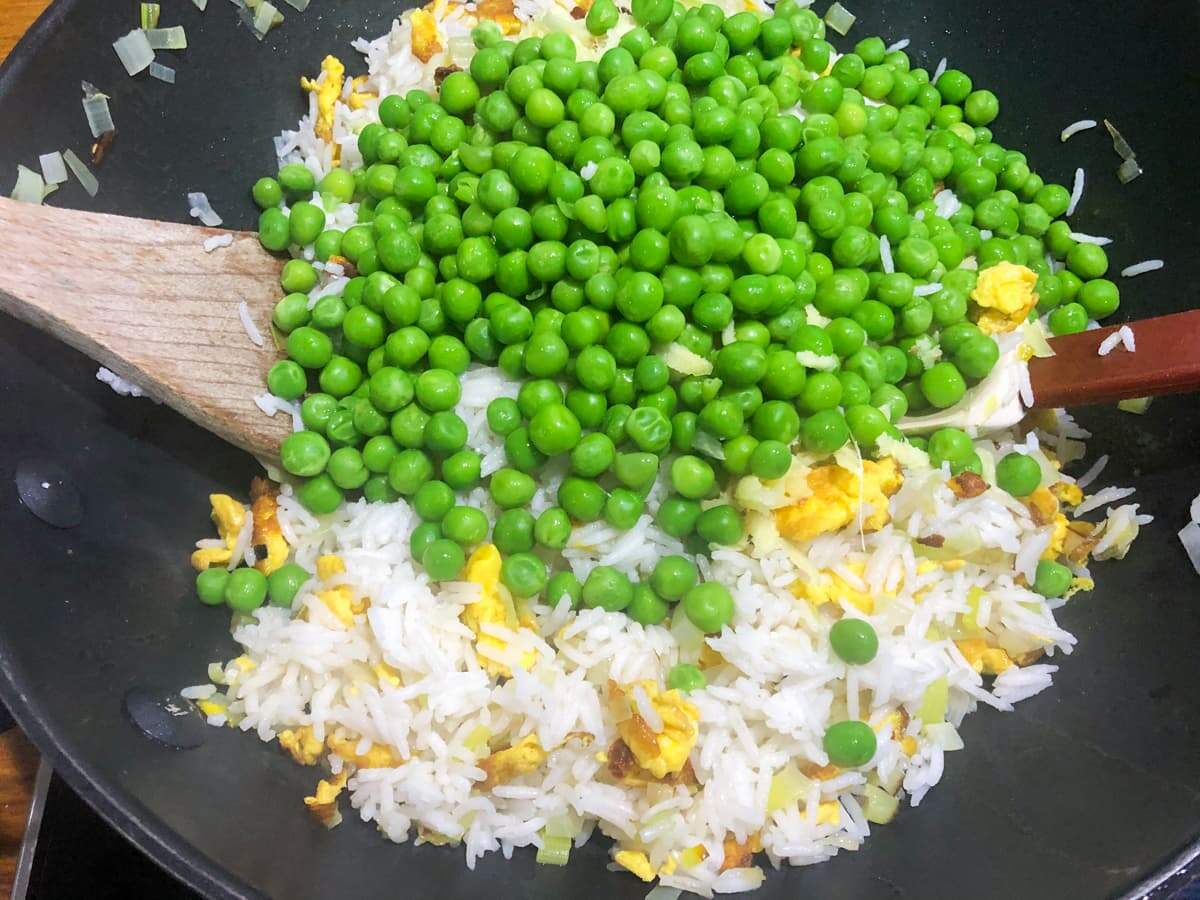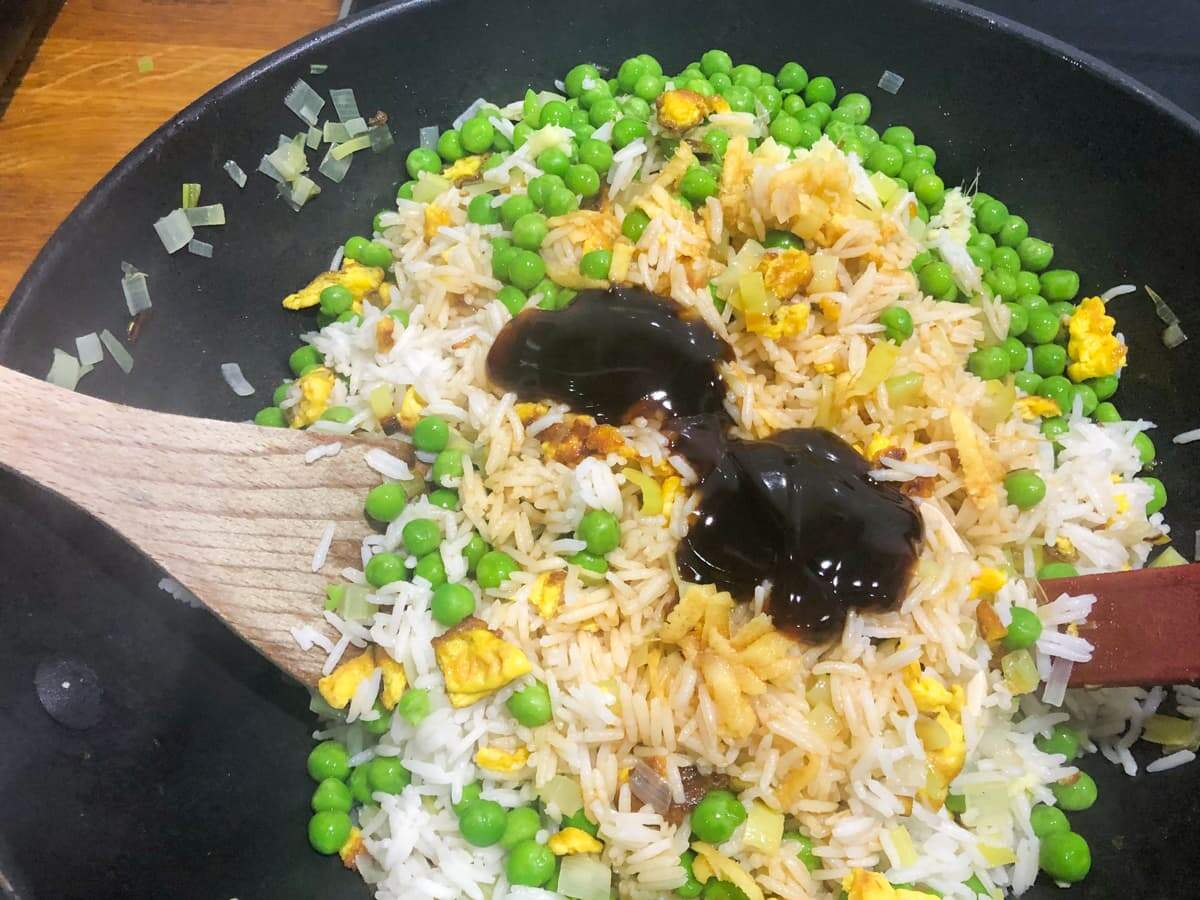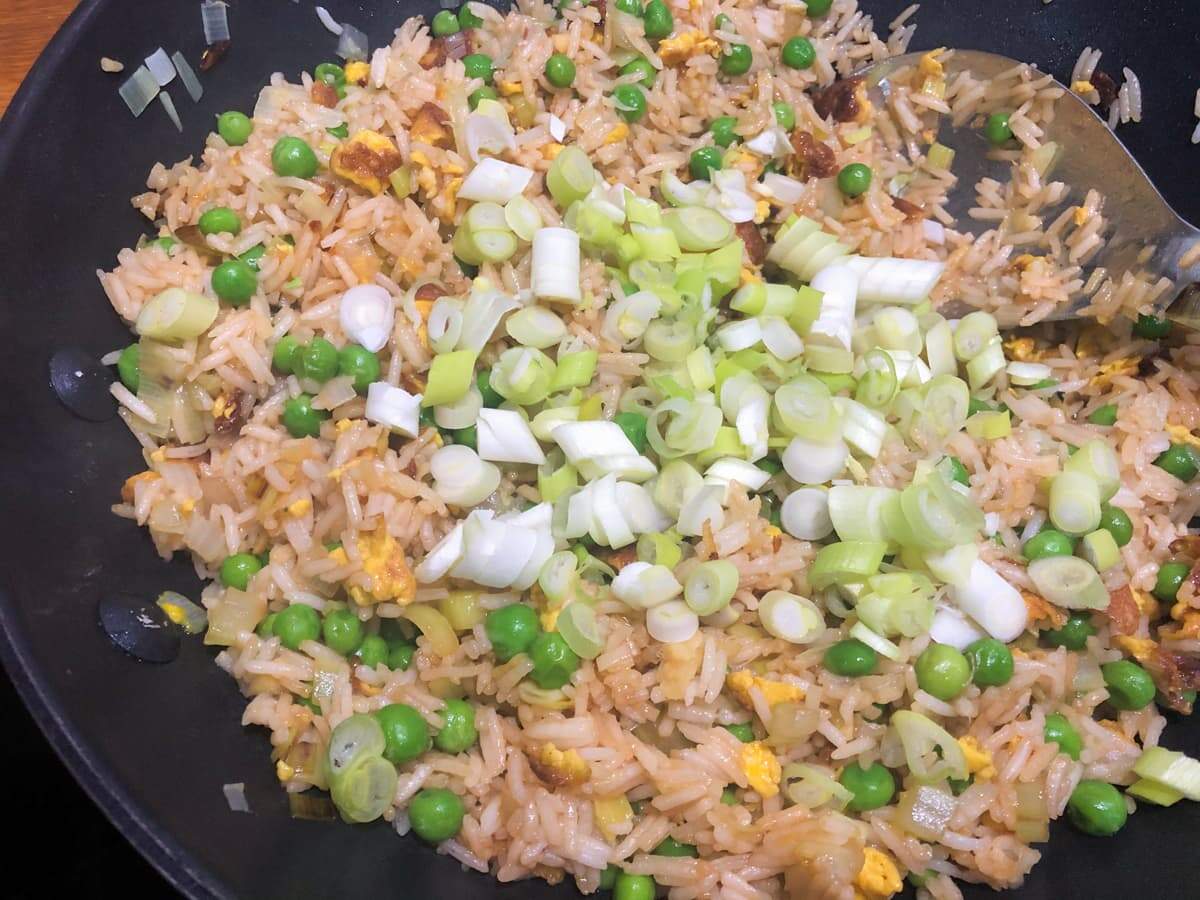 Serving as a side dish:
Chinese egg fried rice is a delicious addition to any Chinese meal. It is great served alongside meat, fish, seafood, tofu, or vegetable based dishes.
Try this egg fried rice with other Chinese dishes as part of a Chinese banquet style meal. I love the informality of a Chinese banquet, it's sociable eating.
All the individual dishes get placed in the middle of the table then everyone helps themselves to a little of everything.
Easy egg fried rice recipe variations:
Egg fried rice is delicious served alongside other dishes. However, with a little extra thought it can make a delicious meal on it's own.
Prawns are a great addition to egg fried rice. Add 150g of uncooked, de-veined prawns to the wok and cook along with the celery and leek for 2-3 minutes. Remove from the pan and add back in with the vegetables just before serving.
Leftover roast meat from the weekend's roast dinner work great in this dish. I frequently stir leftover shredded roast ham, pork or chicken into this dish.As the leftover meat has already been cooked just stir it through with the rice as all you want to do is heat the meat up a bit. You don't need a huge amount of meat either 150-200g of leftover meat will quite easily feed a family of 4 for a main meal.
Tofu is a great option and I often like to add in extra vegetables when making this recipe with tofu. Tender stem broccoli, asparagus, baby sweetcorn, mange tout or french beans would all work in this dish. Note: Just ensure that if serving to vegetarian diners, that you omit the oyster sauce!
Chilli can be added to spice up the dish. However, don't be too heavy handed as you don't want to overpower the rest of the ingredients in the wok. You can either add the chilli with the leek and celery at the beginning of the cook. Or towards the end with the spring onion. It depends on how raw you want the chilli.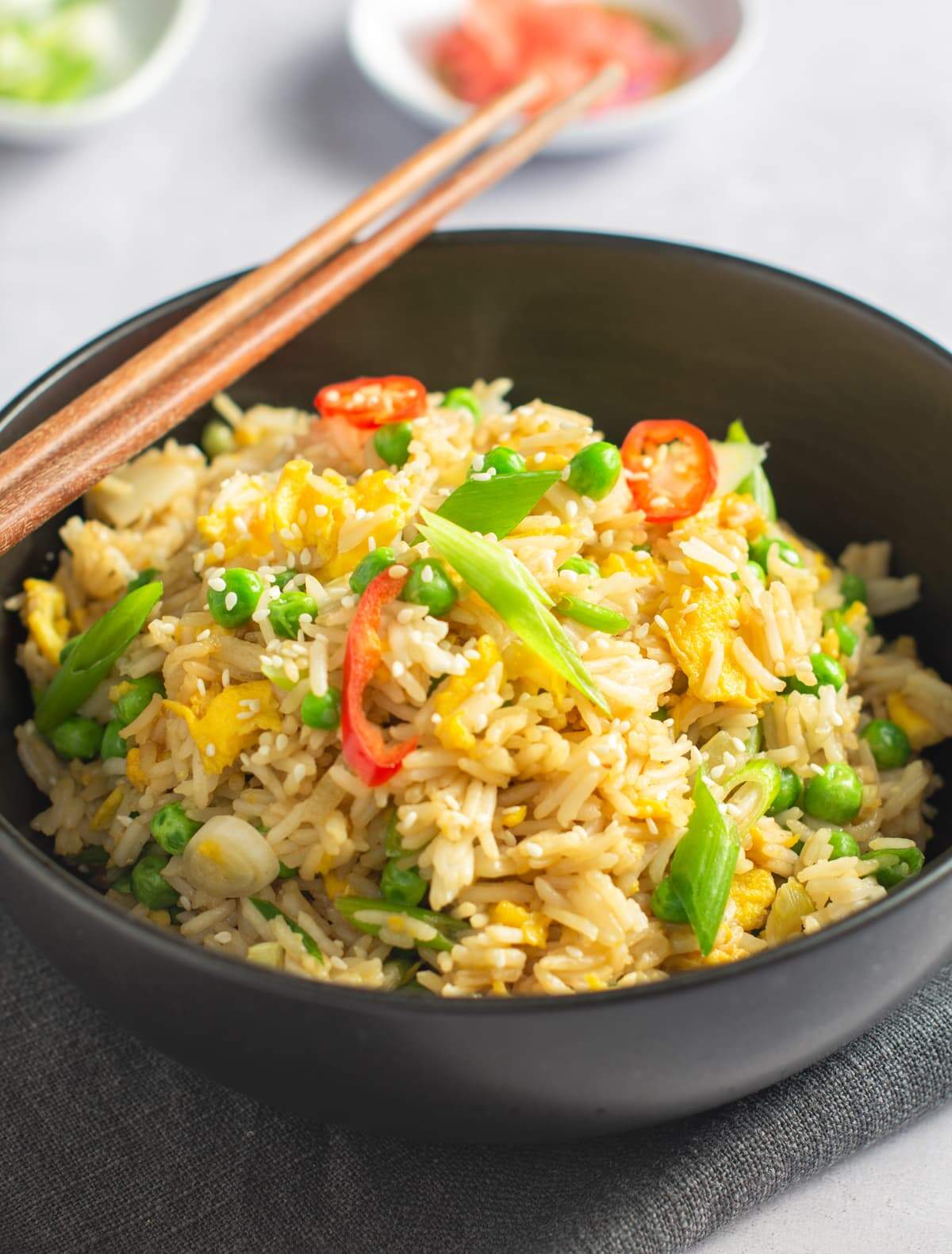 Gluten free egg fried rice:
With very little adaptation our easy egg fried rice recipe can be adapted to suit anyone following a gluten free diet. Simply ensure that the soy sauce and oyster sauce that you use is a gluten free variety.
Can you make this rice dish in advance?
The rice can be steamed and allowed to cool and the vegetables can all be prepared in advance and set in the fridge until you are ready to cook.
However, as with most stir fried dishes, this egg fried rice is best enjoyed when it has been freshly made. The joy in eating stir fried food is that it is fresh tasting and should be eaten once ready.
By re-heating any stir fried food you loose the vibrancy and freshness of flavour, and the egg in this dish can taste a bit rubbery and overcooked.
However, if you do have leftovers, allow them to cool and cover before placing in the fridge overnight. When you want to reheat get the pan nice and hot and ensure that you reheat the rice thoroughly. Do not keep the rice more than a day.
Pin the recipe:
Additional recipe suggestions:
Our easy egg fried rice works great as part of a larger Chinese style banquet meal served alongside some of our other dishes: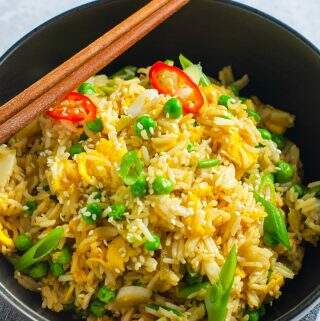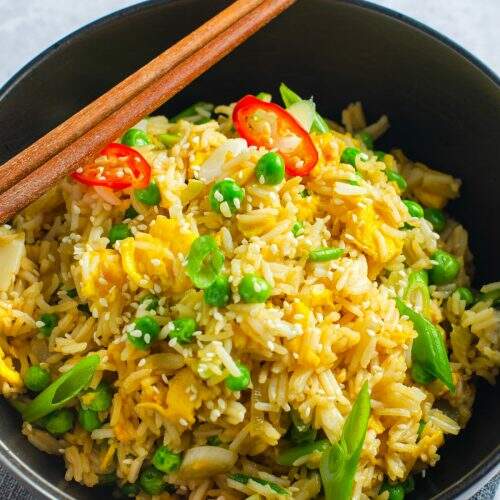 Easy Egg Fried Rice
Easy egg fried rice is quick to make but packed full of flavour. A great side dish to accompany any Chinese meal, or on it's own for a light, simple meal.
Print
Pin
Save
Saved!
Equipment
Non-stick wok or frying pan
Ingredients
300

g

white long grain or white basmati rice

salt

2

tbsp

sunflower oil

1

medium leek

(trimmed, and finely chopped)

2

sticks celery

(finely chopped)

3

medium eggs

(beaten)

1

tbsp

grated ginger

150

g

frozen peas

2

tbsp

oyster sauce

1

tbsp

light soy sauce

4

spring onions

(finely sliced)
Instructions
Cook the rice in a large saucepan of salted water for approximately 12-15 minute. Once cooked, drain and set aside.

Heat the sunflower oil in a large wok and add the celery and leek. Stir fry for 3 minutes then remove from the wok into a bowl and set aside.

Add the beaten egg to the wok and scramble them until they are golden brown in colour. Use a wooden spoon or spatula to ensure the egg is broken up.

Add the cooked rice to the wok and stir fry for 1 minute. Now add back in the leeks and celery, give it a good stir and add the peas and grated ginger. Stir fry for a further minute.

Now add the oyster sauce to the wok along with the soy sauce. Stir thoroughly through the rice to ensure it is all coated.

Finally stir through the spring onions and serve immediately.
Notes
This recipe is really adaptable. To make it a meal on its own add in some prawns, or leftover roast chicken or roast ham.
You can also add in more vegetables. Add the vegetables you enjoy eating, broccoli or green beans can be added along with the peas.
For a vegetarian option try adding in some tofu, but if serving to vegetarians leave out the oyster sauce.
Nutrition Facts
Easy Egg Fried Rice
Amount Per Serving
Calories 378
Calories from Fat 36
% Daily Value*
Fat 4g6%
Cholesterol 123mg41%
Sodium 558mg24%
Potassium 306mg9%
Carbohydrates 71g24%
Protein 13g26%
Vitamin A 956IU19%
Vitamin C 20mg24%
Calcium 74mg7%
Iron 2mg11%
* Percent Daily Values are based on a 2000 calorie diet.
• Please note that the nutrition information provided above is approximate and meant as a guideline only •
Share on Facebook
This recipe has been shared to CookBlogShare, click on the link to find recipes by fellow food bloggers.