Easy stir fry broccoli with garlic, a really simple side dish to accompany a Chinese banquet. Packed full of flavour, it's a dish that's quick to prepare, ready and on the table in no time.
This recipe for our easy stir fry broccoli Chinese style is an ideal side dish, and delicious served alongside other Chinese style dishes to serve as part of a banquet. Or indeed, mid week with a stir fry for a quick family dinner.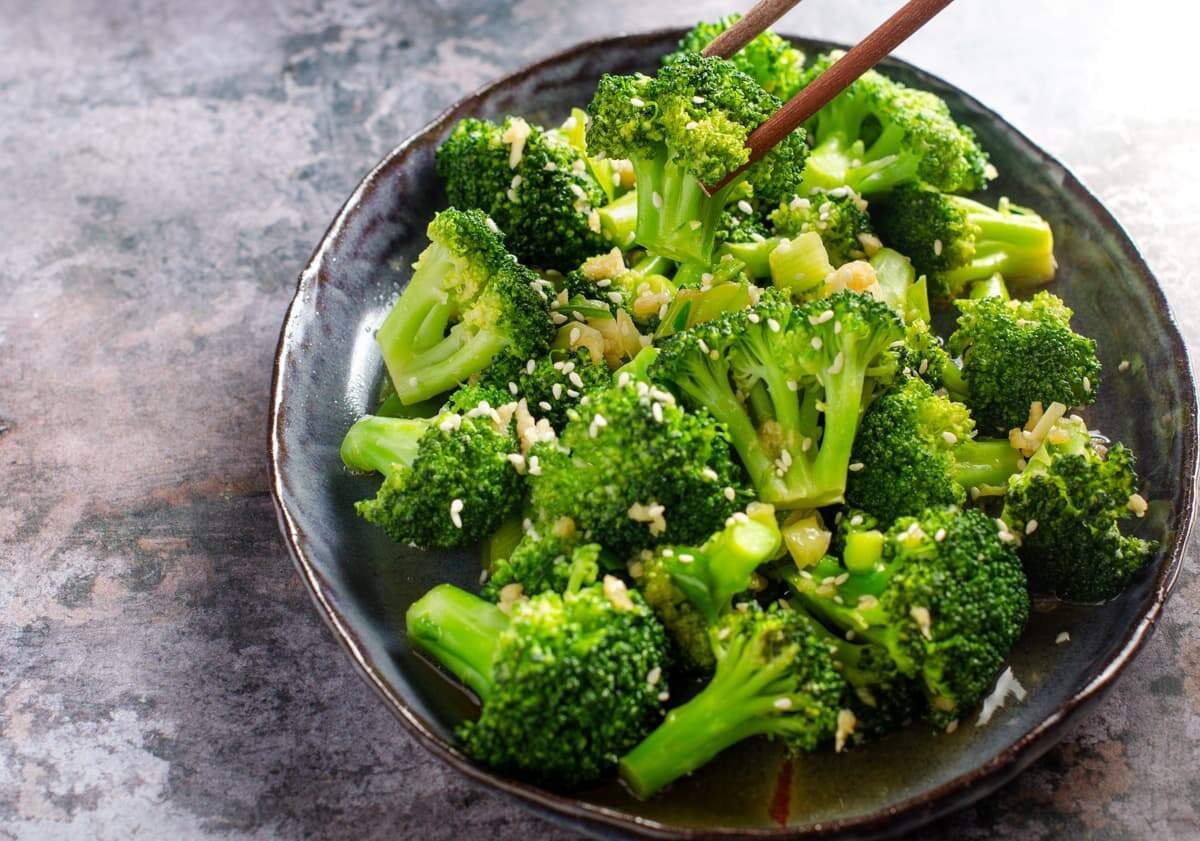 This delicious side dish combines stir fry broccoli with garlic, flavoured with sesame oil and soy sauce. A quick garnish of spring onions and sesame seeds, and the dish is ready to enjoy.
My youngest won't look at broccoli normally, however, stir fried broccoli with garlic and soy sauce, cooked like this and she clears her plate without question or argument.
Chinese banquet style eating:
Before having my children, I spent some time working in China. While living there, I came to love the simplicity of the food that we ate. Stir frying is a delicious way to eat food, but particularly vegetables.
None of the vegetables we ate there were swimming in oil, they were treated with care. Just a hint of sesame oil and a splash of soy, the flavour of the vegetable really shining through.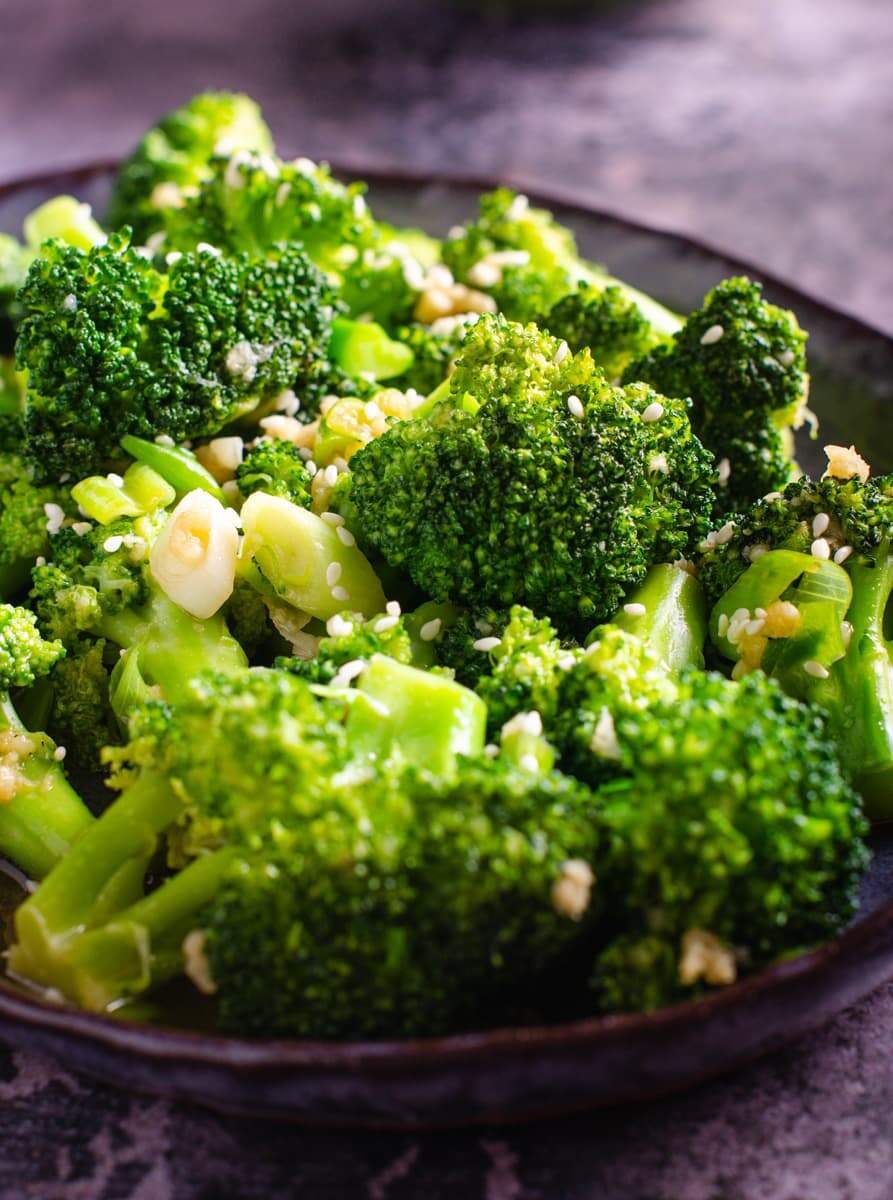 My colleagues and I ate the local food most nights, preferring the perfectly cooked local cuisine, than the options for Western food done badly. We liked to eat banquet style as is common in Chinese cooking. It was a lovely sociable way to dine.
This broccoli stir fry was a dish often ordered, one we all enjoyed, even those who thought they didn't like broccoli.
Funnily enough by ordering a selection of these delicious sides of vegetables, we found ourselves eating far less rice.
How to stir fry broccoli: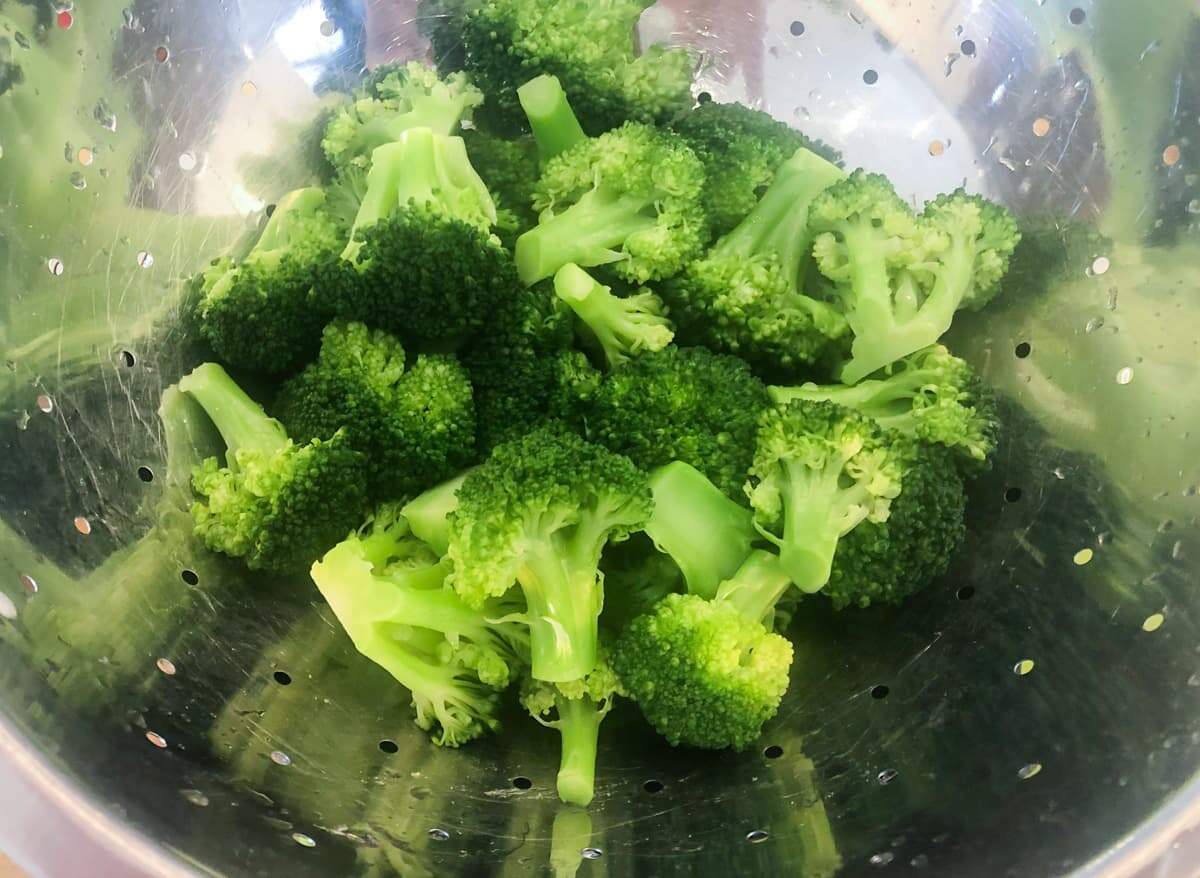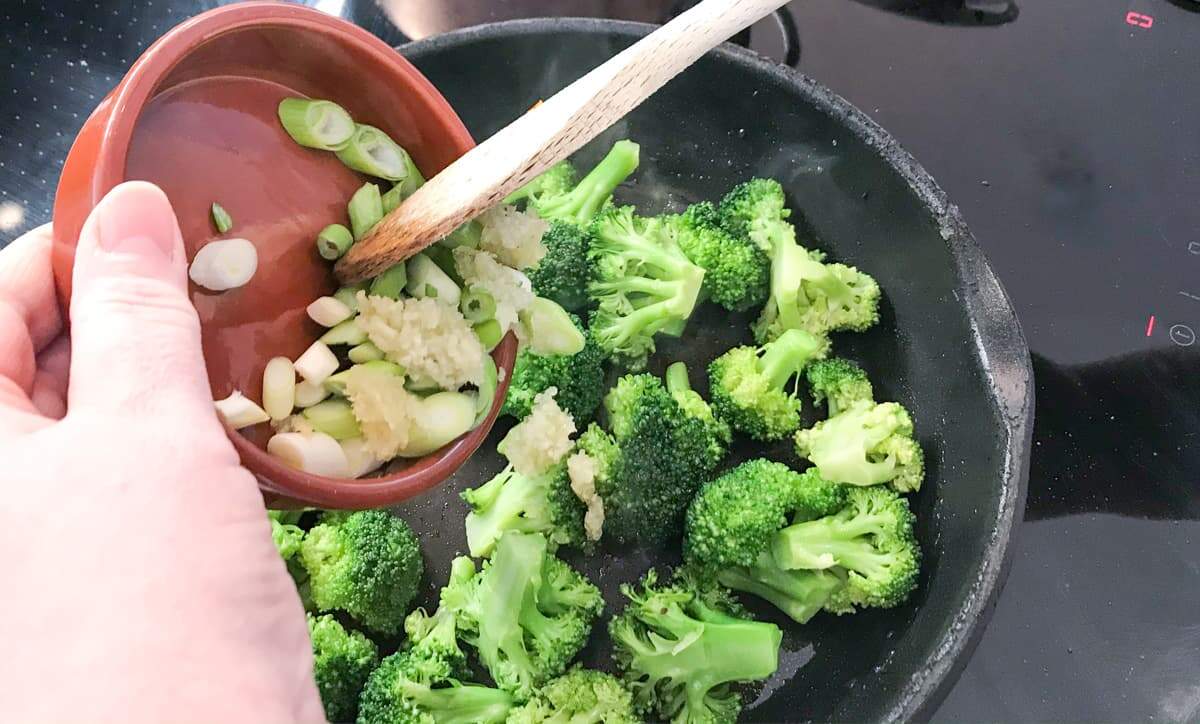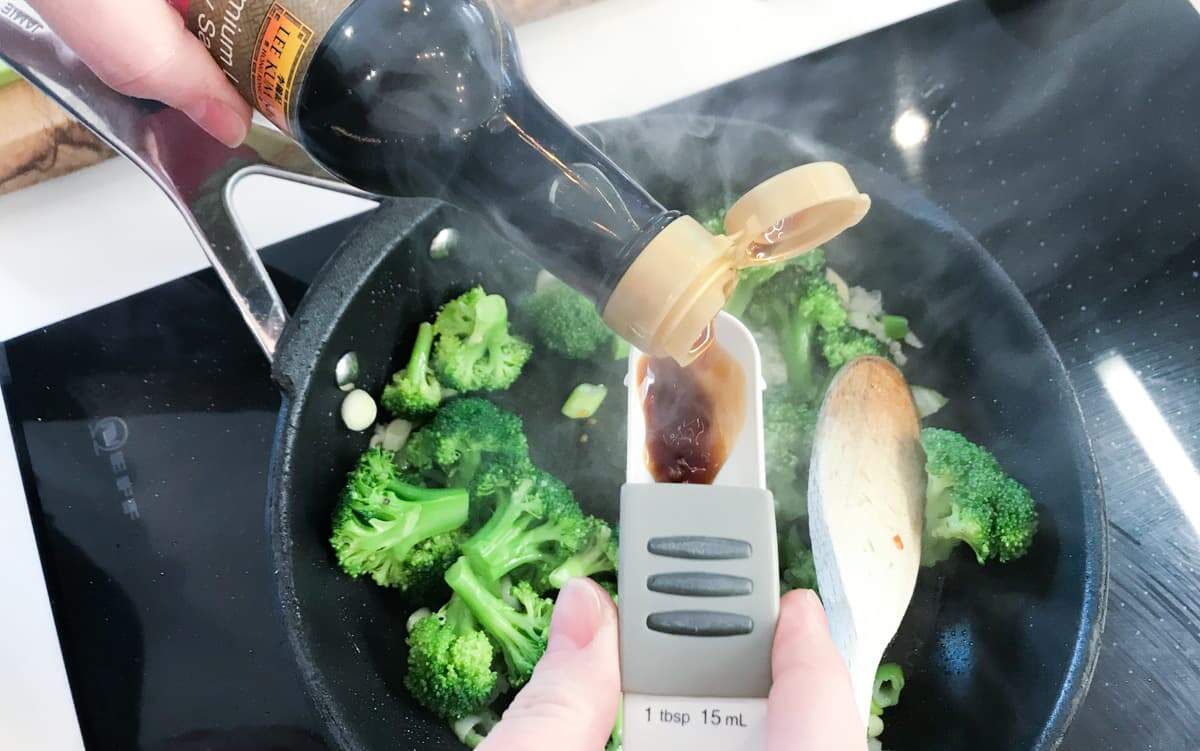 Planning a Chinese banquet:
If planning a Chinese banquet then this simple stir fried broccoli is the perfect vegetable dish. But what else to serve alongside?
Whilst living overseas, two hours drive from Beijing, I enjoyed a lot of Chinese food, and ate very little European food whilst there as it simply wasn't so good.
The food was always served banquet style, with many smaller plates of food set in the middle of the table so that everyone could share it amongst themselves.
It's a lovely way to eat, and the variety of dishes was always balanced, a great selection of meat, fish, sea food and vegetable based dishes.
It's a lot simpler to cater than you might think. This recipe could work really well alongside some of our other Chinese stir fry dishes. What's worth noting is that they are all relatively quick cooks!
Why not try our: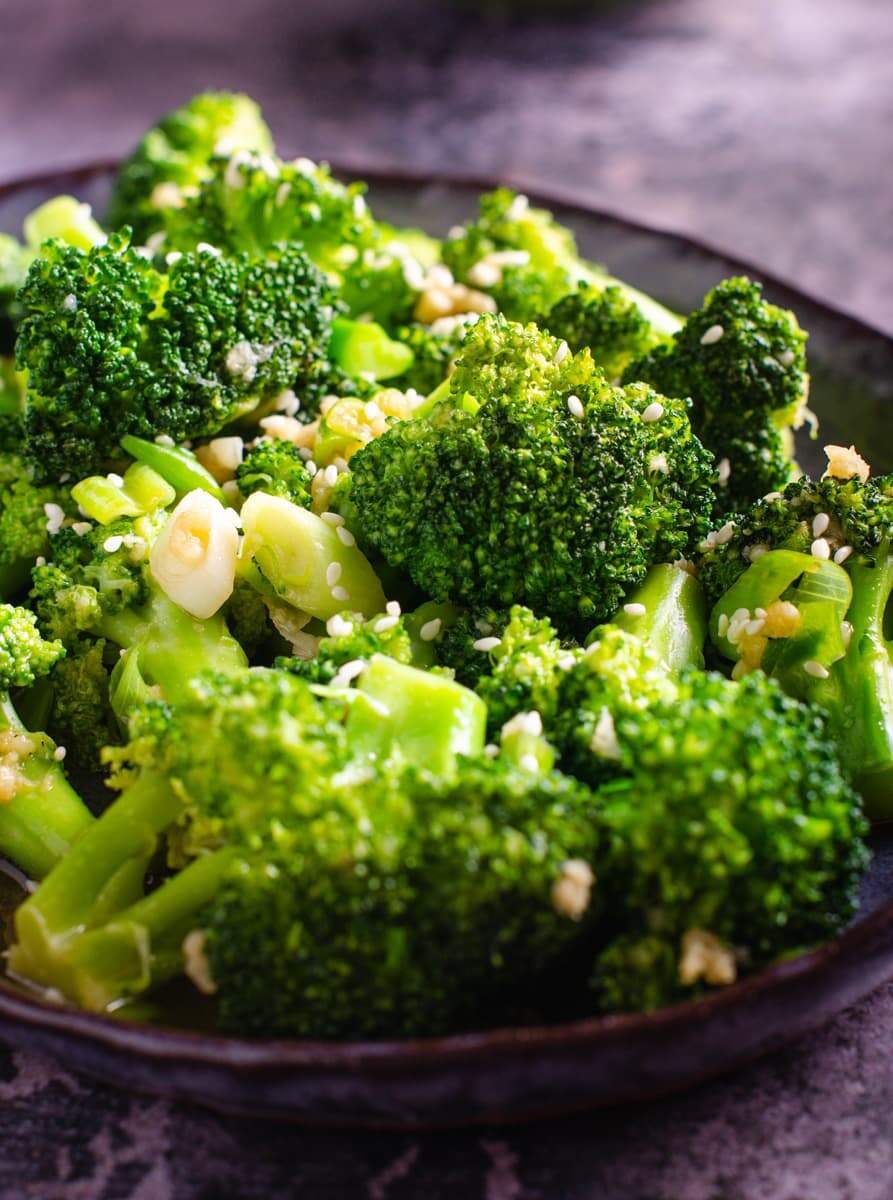 Can I substitute other vegetables?
If you don't like broccoli, then you could try cooking other vegetables this way. I've tried this with green beans, mange tout and cauliflower in the past. All these vegetables work a treat and taste delicious cooked this way.
Other leafy greens would work well in this stir fry, try hispy cabbage, kale, spinach or Chinese cabbage. However, these greens would not require the 2 minute cook in boiling water first! Simply start from step 2 in the recipe card and add them straight into the wok along with the garlic. They will all wilt quickly.
But don't be limited by leafy greens from the brassica family!
A mix of colourful peppers could also be cooked this way. Likewise, courgettes are delicious stir fried as the speed of cooking stops them becoming too soft which is often what puts people off this otherwise delicious vegetable. Again, neither peppers, nor courgettes would require par-cooking, instead go straight to stir frying.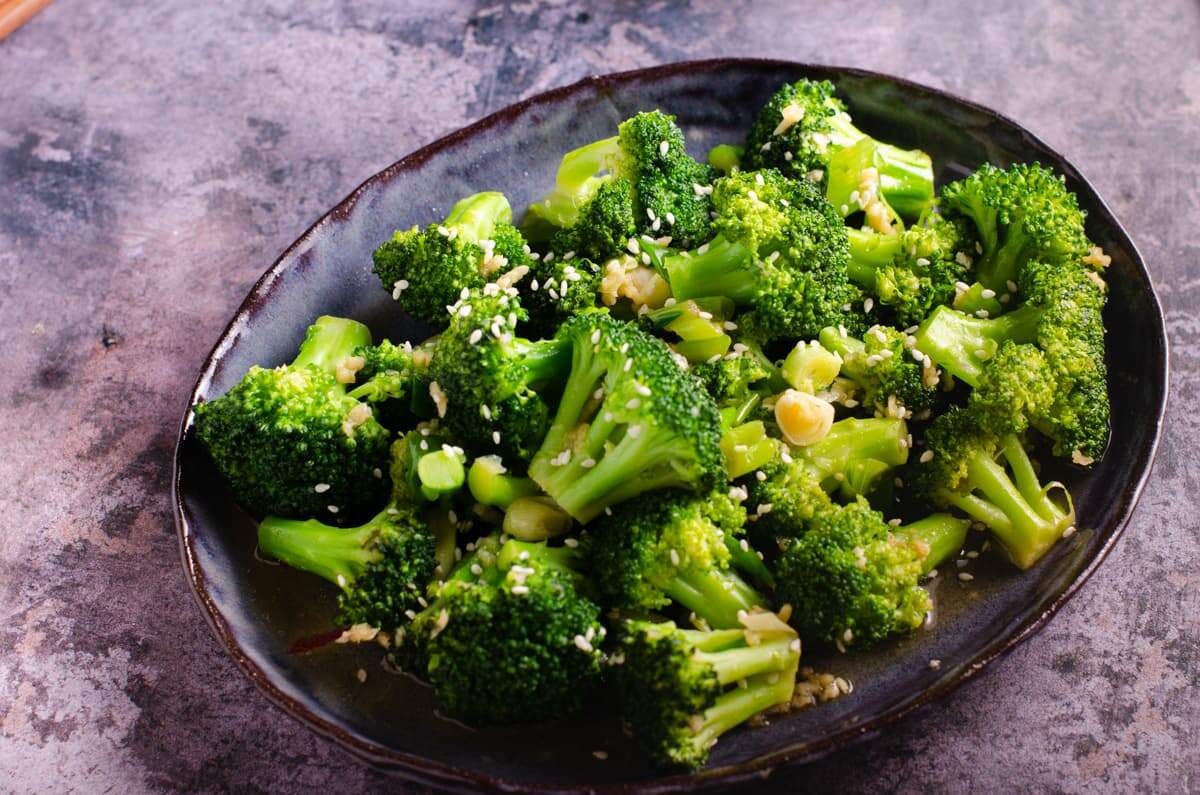 Aubergine is another lovely vegetable when stir fried. However, perhaps cook for just a little longer than you would, say a courgette. You want the aubergine to soften a little and thus loose it's bitterness.
However, I would avoid vegetables that take too long to cook, like squash or sweet potato. The entire point of stir fry is the speed at which you can get it on the table.
FAQs
Can I make stir fry broccoli ahead of time?
The joy of eating any stir fry food is eating it served hot, straight from the wok. If you cook ahead of time and reheat you will lose the freshness of the vegetables in the dish.

However, that's not to say that leftovers can't be kept and heated at a later date. It just won't have the same bite and vibrancy of flavour.
Can stir fry broccoli be prep's ahead?
Yes, I do this all the time, getting everything ready to stir fry just before eating. For example, par cook the broccoli for 2 minutes, drain it and plunge it into a bowl of iced water. You can leave it like this until you are ready to finish the cook.
Do you have to boil broccoli before stir-frying?
Whilst you don't have to, I prefer to. A quick boil in hot water, or a steam, will softened up the stem a little, making it tender before adding to the hot wok. This way the stem will be a little more tender, but the broccoli will retain some crunch.
Pin the recipe: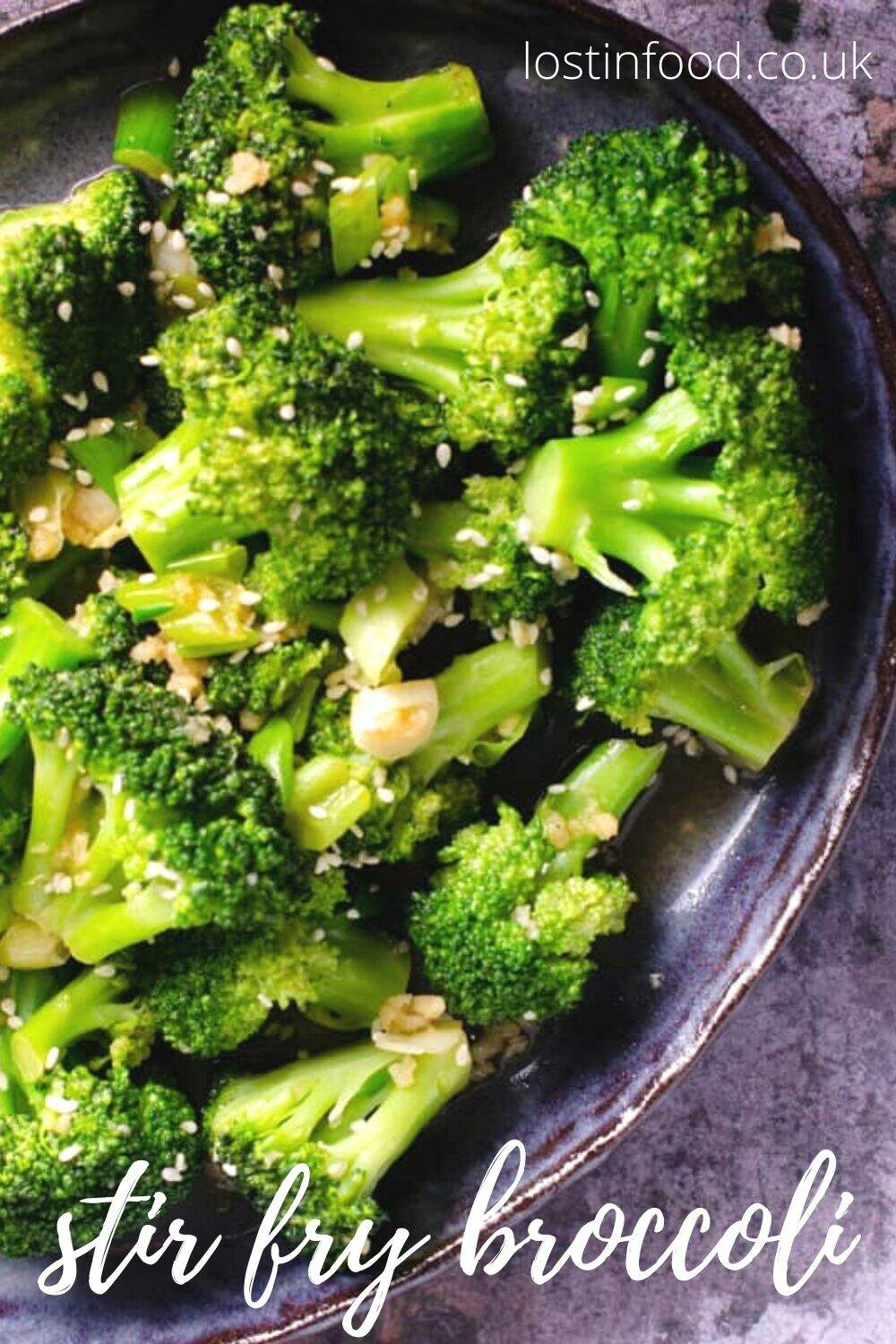 Additional recipe suggestions:
If you like this recipe then try our other simple side dishes:
If you love an easy veggie side dish have a read of my 12 Best Vegetable Side Dishes post.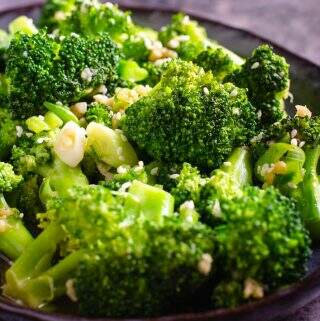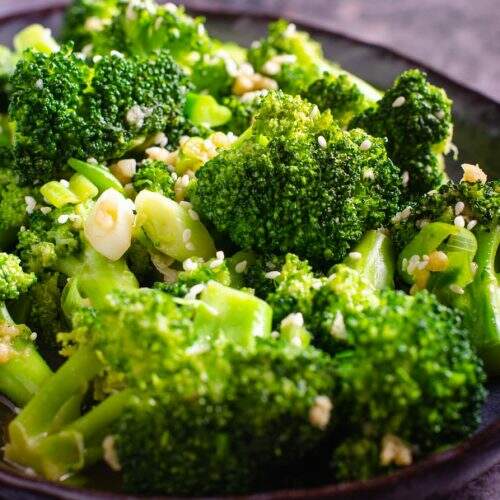 Stir Fry Broccoli with Garlic
Stir fry broccoli with garlic, a really simple side dish to accompany any Chinese banquet. Packed full of flavour, it's a dish that's ready in no time.
Print
Pin
Text
Save
Saved!
Ingredients
400

g

broccoli

(cut into florets)

2

cloves garlic

(crushed)

1

tbsp

sunflower oil

1

tbsp

sesame oil

1

tbsp

light soy sauce

4

spring onions

(sliced)

1

tsp

sesame seeds
Instructions
Bring a large saucepan to the boil and cook the broccoli for 2 minutes. Then take off the heat and drain in a sieve.

Meanwhile, heat up a wok to hot and add the sunflower oil. When the oil is hot add the broccoli and garlic, along with the sesame oil and light soy sauce. Cook for 1 minute on high, moving the ingredients around the wok to combine.

Serve immediately into a warm serving dish. Garnish with spring onions and sesame seeds before enjoying.
Notes
This simple method of cooking can also be used to cook a variety of other vegetables, including leafy greens like pak choy, kale and spinach; or mixed peppers.
Nutrition Facts
Stir Fry Broccoli with Garlic
Amount Per Serving
Calories 108
Calories from Fat 72
% Daily Value*
Fat 8g12%
Sodium 287mg12%
Potassium 359mg10%
Carbohydrates 8g3%
Protein 4g8%
Vitamin A 743IU15%
Vitamin C 92mg112%
Calcium 63mg6%
Iron 1mg6%
* Percent Daily Values are based on a 2000 calorie diet.
• Please note that the nutrition information provided above is approximate and meant as a guideline only •
Share on Facebook
This recipe has been shared to CookBlogShare. Click on the link to find recipes by other food bloggers.