Easy beef stir fry with black bean sauce is a Chinese dish that is quick to prepare and simple to cook. Ready in no time, making it ideal for mid week dining.
Our easy beef stir fry with green pepper, onions and a black bean sauce makes a great mid week dinner. Due to the simplicity of the recipe, and the speed of the cook itself, it's ideal dining for those nights when we are short of time.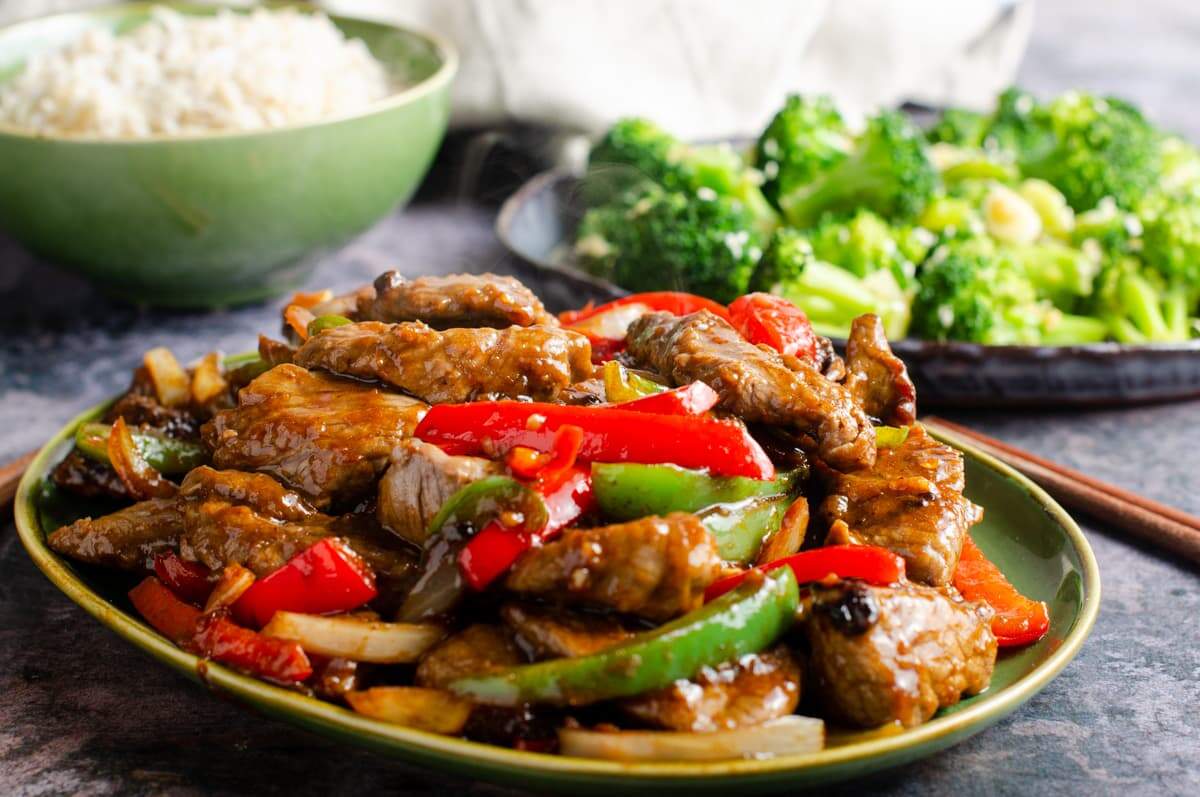 There is little required in the way of advanced preparation for this dish, just a case of cutting up some beef and vegetables and adding some delicious Chinese flavourings.
Working and eating out in China:
In my previous career I spent a year working in China. I ate out a lot as I simply did not have the facilities to cook for myself, which was a real pity as I would have loved to cook whilst living there. However, I never went anywhere without my notebook.
I would dissect as much of the food as possible, writing down everything I could see, smell and taste in a dish. With the hope that once back in the UK I could recreated the dishes in my own kitchen.
For the most part I was successful, I think eating the local cuisine daily gave me a real understanding of the flavours and how to cook with them.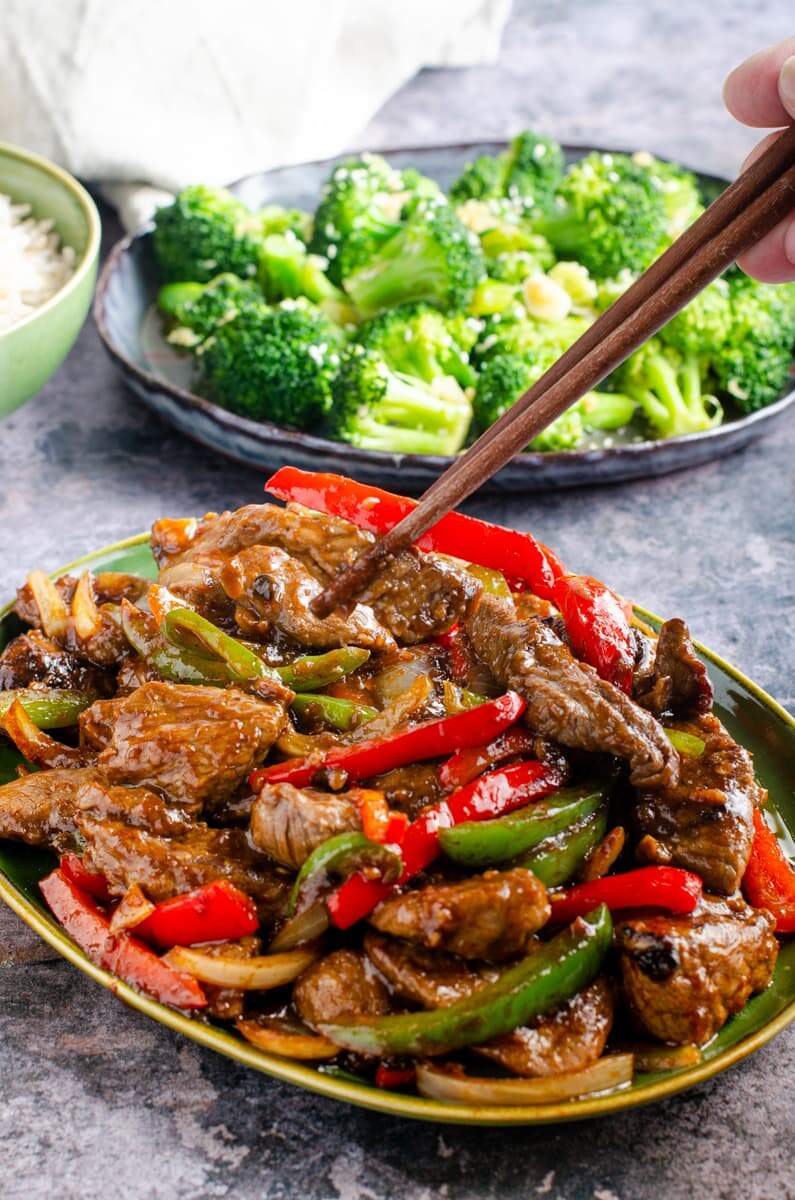 There was a lightness to the food I ate and enjoyed while living in China. None of the thick, gloopy sauces that you often associate with Chinese food here in the UK.
I was lucky enough to live in coastal cities, we had the freshest of seafood available to us. The joy of eating a simply steamed fish, with a side of stir fried vegetable. The stir fries in particular were perfection, and something I enjoyed eating daily!
Whether it was meat, seafood or vegetable I loved it all. However, you won't get me to sing the praises of tofu – I was fed it many times and I can say quite honestly I don't like it!
Lightly seared meat or vegetables with a little sauce. One of my favourite dishes was beef in black bean sauce.
I love this dish and order it here in the UK. However, it often comes with too much sauce, at times closer to a gravy. What I have tried to create with this beef stir fry recipe is the dish I loved.
Recipe steps: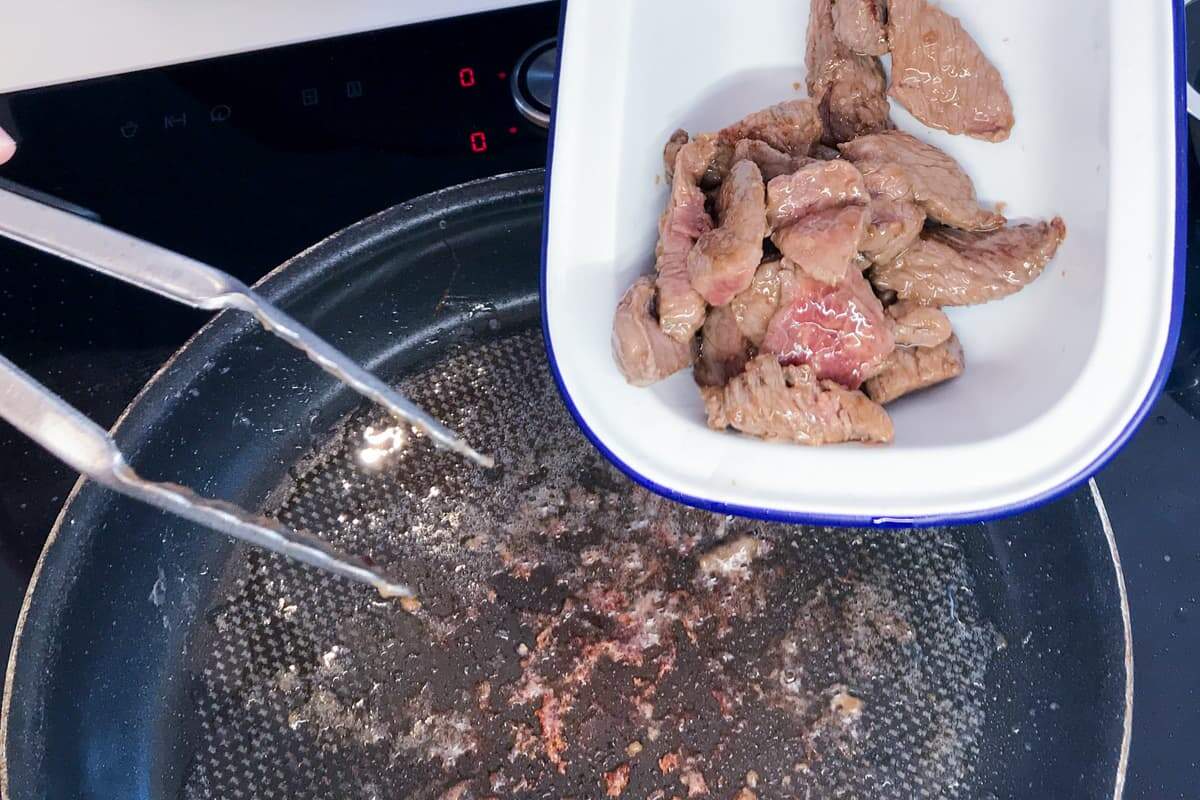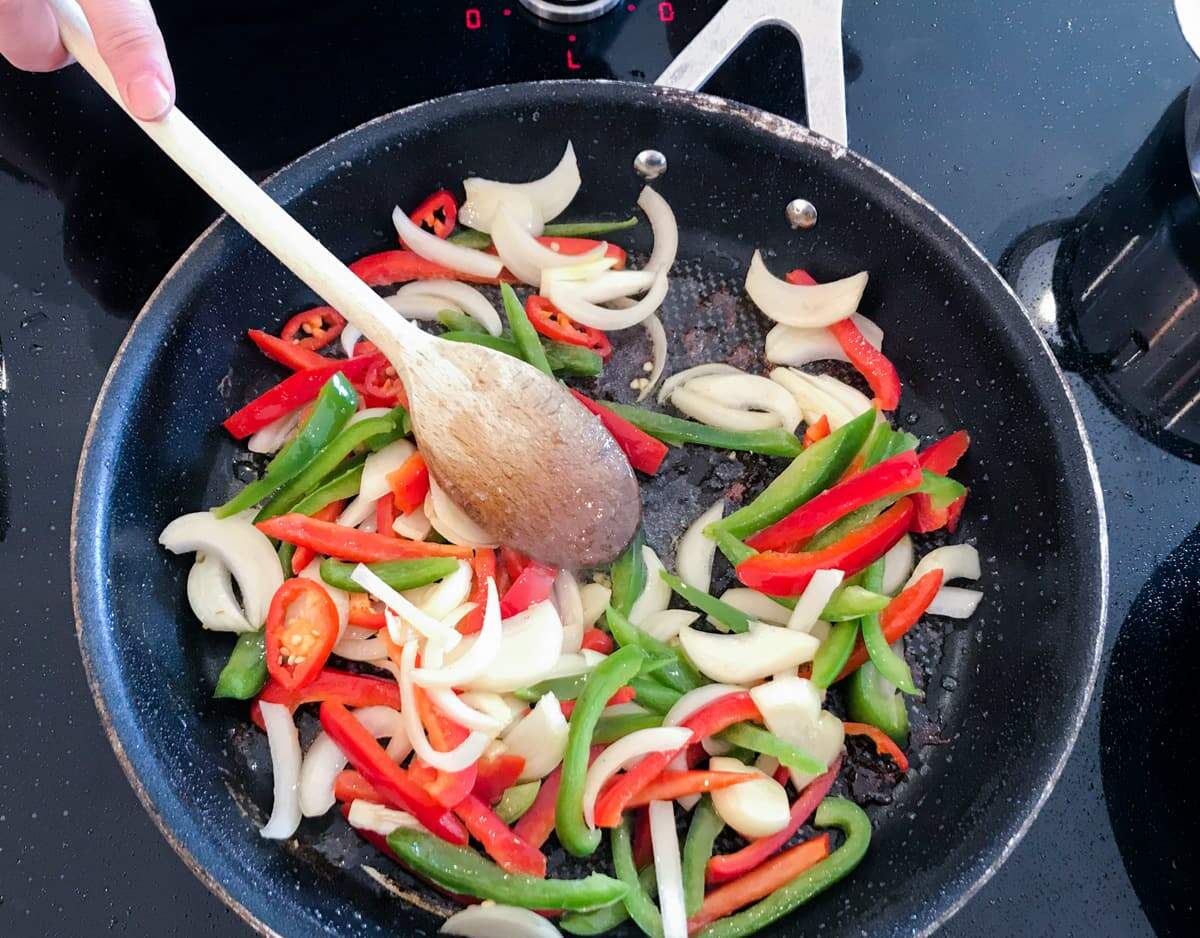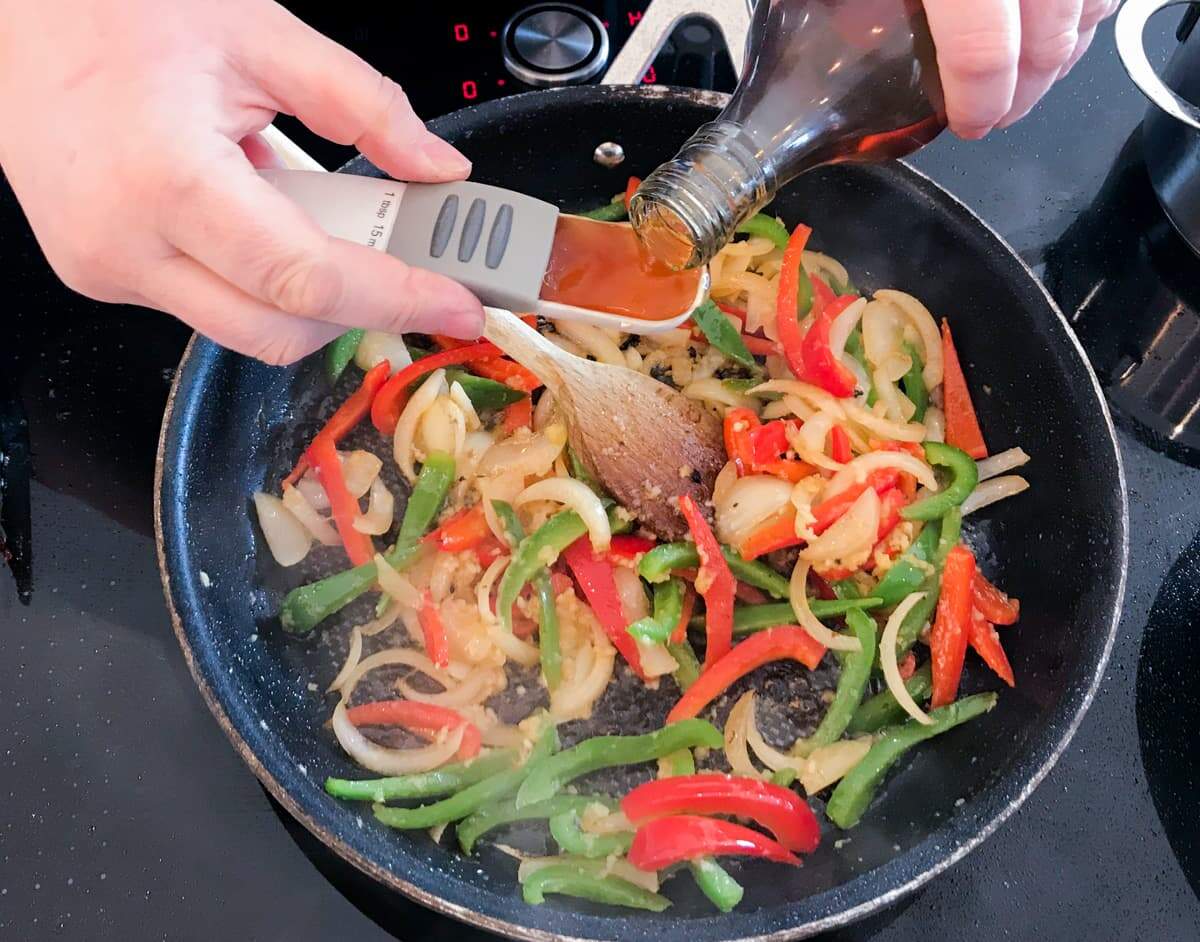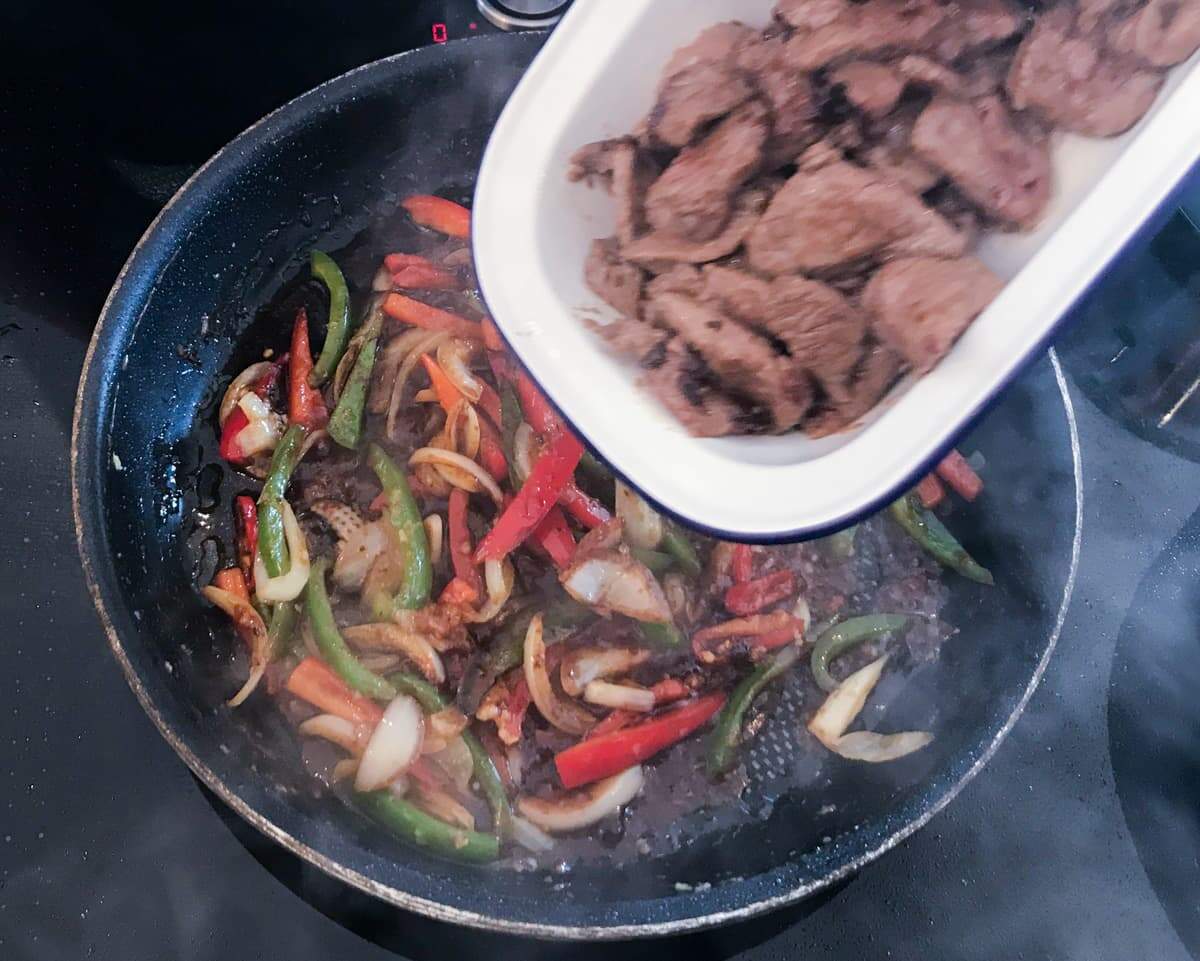 What is black bean sauce made from?
Black bean sauce is a Chinese sauce that is made from fermented, salt-preserved soya beans. It is a sauce that is used for cooking and adding into cooked dishes, rather than a table sauce of condiment.
What cut of beef can you use in stir fry?
The best cuts of beef to use are tender cuts like, sirloin, fillet, ribeye or rump steak as we have used in this recipe. These cuts work best as they are most suited for a fast cook.
This means that provided you do not cooked past medium, the steak will remain tender and juicy.
Do not use stewing, or braising cuts of steak as these cuts require to be cooked low and slow. They are not suitable for stir frying!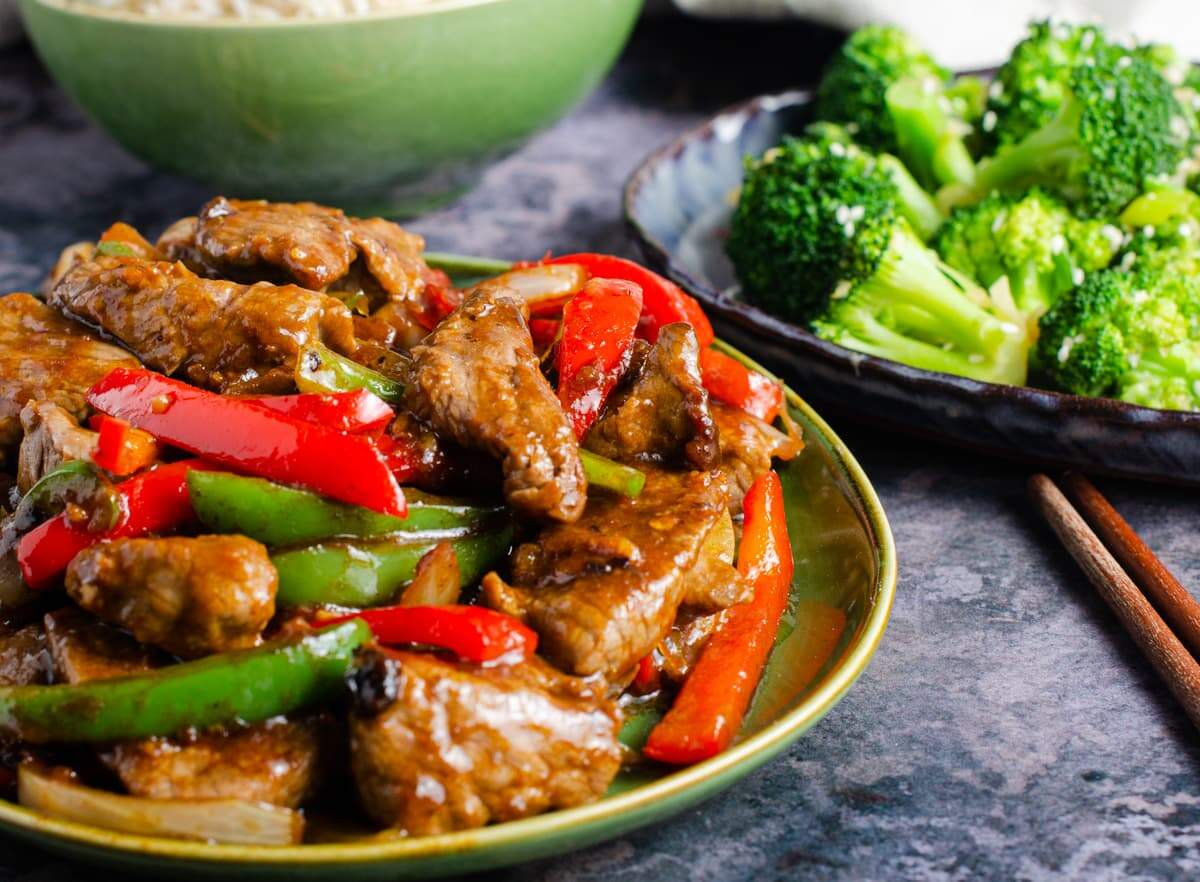 Can I swap out the beef?
This recipe uses beef as this is one of my favourite dishes and how I most enjoy eating it. However, this recipe works just as well with chicken; pork; prawns or a mixture of vegetables.
If you want to get creative you could also use a mixture of ingredients, for example a combination of chicken and prawn.
Ingredients & Substitutions:
Shaoxing rice wine can be found in most Asian supermarkets. However, if you cannot find this, substitute with some dry sherry instead or at a push some dry white wine.
A combination of red and green peppers are traditionally used in this dish but you can substitute with any colour peppers.
Black bean sauce is an ingredient you should be able to find in Asian supermarkets or your local supermarket.
I use a wok when cooking stir fries at home. However, if you don't have a wok a large, non-stick frying pan will work just as well.
Can this recipe be made ahead of time?
As with most stir fried foods, this easy beef stir fry is best made fresh and served immediately. Making it in advance does little to improve the dish, you want the vegetables to retain their crisp crunch.
In my opinion there is nothing worse than soggy vegetables in a stir fry.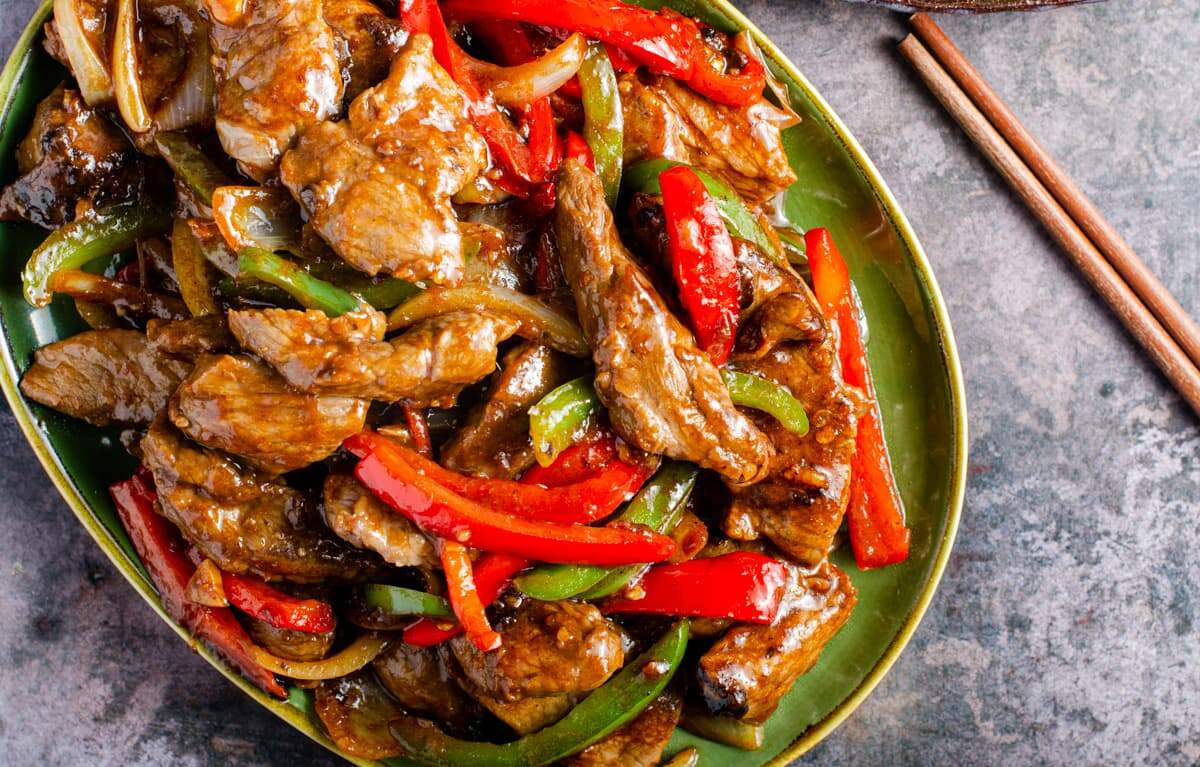 What can you serve with stir fry?
Keep things simple when serving stir fried beef. A little steamed rice or our Easy Egg Fried Rice are delicious accompaniments to this dish of stir fried beef.
Noodles also work a treat with this dish. Cook the noodles in boiling water as per the packet instructions. Drain, then you can either stir fry the noodles in a little sesame oil with a handful of beansprouts and serve on the side.
Or alternatively add the boiled, drained noodles straight into the beef stir fry right at the end of the cook. Give it a good stir to ensure the noodles are covered in the sauce and serve immediately.
Add some vegetable side dishes to the table, stir-frying vegetables brings the flavour out, without they becoming too soft and overcooked.
Easy beef stir fry works really well with:

green vegetable like: green beans; mange tout; hispy cabbage; broccoli
Pin this recipe: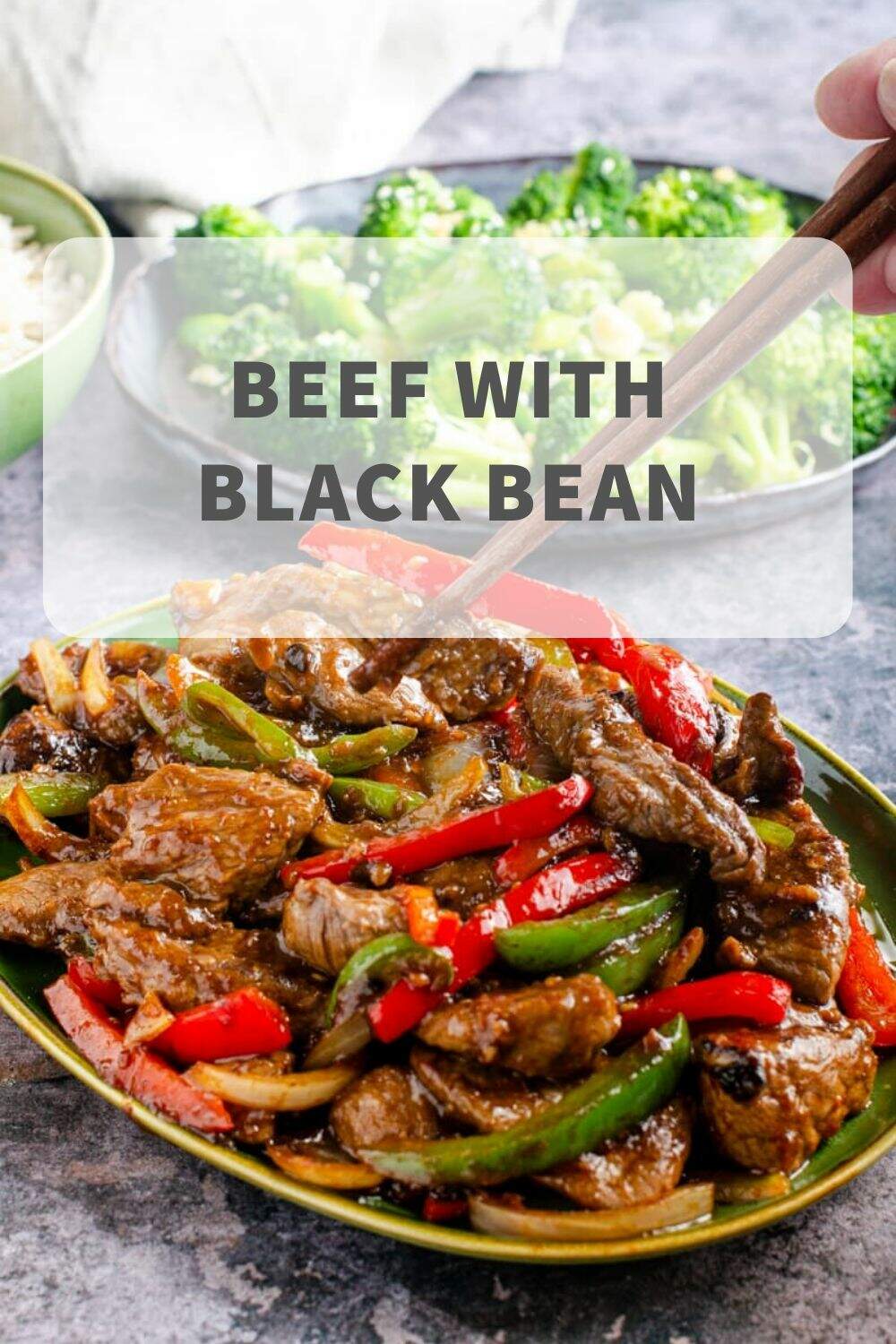 Additional recipe suggestions:
If you like this recipe then try some of these dishes:
For further great family dining ideas take a look at our Ultimate Guide to Family Dining.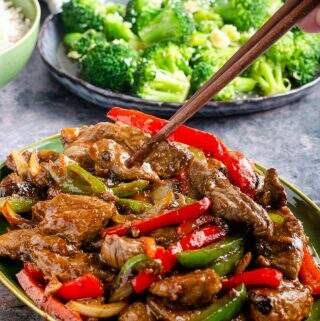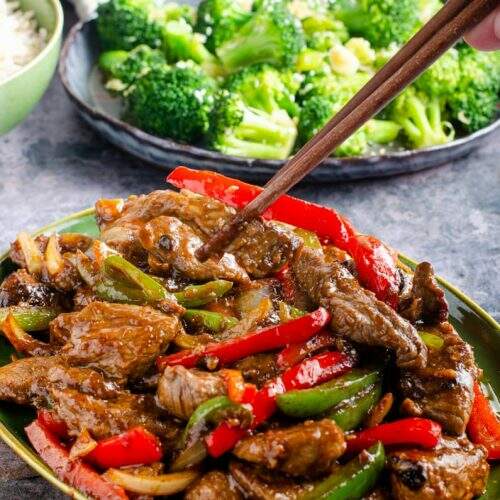 Easy beef stir fry with black bean sauce
Easy beef stir fry with black bean sauce, a Chinese dish that is quick to prepare and simple to cook. Ready in no time, making it ideal for mid week dining.
Print
Pin
Save
Saved!
Ingredients
Marinated Beef
1

tbsp

cornflour

2

tbsp

oyster sauce

320

g

rump steak

(fat trimmed off and cut into strips)
Stir Fry
2

tbsp

sunflower oil

1

onion

(chopped)

1

red pepper

(sliced)

1

green pepper

(sliced)

4

cloves garlic

(crushed)

1

red chilli

(finely chopped)

2.5

cm

root ginger

(grated)

2

tbsp

Shaoxing rice wine

1

tsp

dark soy sauce

2

tbsp

light soy sauce

50

ml

water

4

tbsp

black bean sauce

4

spring onions

(sliced)
Instructions
Marinated Beef
Place the oyster sauce and cornflour into a bowl and stir well to combine. Add the beef strips to the marinade and mix well to coat the beef in the marinade. Set aside and carry on preparing the rest of the vegetables for the dish.
Stir Fry
Heat a wok over a high heat and pour the sunflower oil into the pan. Cook the steak strips in 2 batches so you don't overcrowd the pan. Cook for a minute on each side and remove from the wok onto a plate and set aside.

Add more sunflower oil into the pan if necessary and add the onion, green and red peppers to the pan or wok and stir-fry for 2 minutes. Next add the garlic, chilli and ginger to the mix and stir fry for a further minute.

Next pour in the Shaoxing rice wine, dark and light soy sauces and water and continue to stir fry for a further 2 minutes.

Spoon in the black bean sauce and return the steak strips to the wok. Stir fry for a minute to heat everything. Serve and garnish with sliced spring onions.
Notes
This recipe uses lean rump steak, however you can substitute with any quick fry steak cut. Sirloin, ribeye and fillet would work equally well in this dish. However, do not replace with a stewing cut as those cuts require a longer cooking time.
If you cannot find Shaoxing rice wine then use dry sherry or even a little white wine in the dish.
If you do not have a wok, use a large non-stick frying pan instead.
Nutrition Facts
Easy beef stir fry with black bean sauce
Amount Per Serving
Calories 315
Calories from Fat 171
% Daily Value*
Fat 19g29%
Cholesterol 49mg16%
Sodium 1427mg62%
Potassium 470mg13%
Carbohydrates 15g5%
Protein 20g40%
Vitamin A 1268IU25%
Vitamin C 83mg101%
Calcium 32mg3%
Iron 3mg17%
* Percent Daily Values are based on a 2000 calorie diet.
• Please note that the nutrition information provided above is approximate and meant as a guideline only •
Share on Facebook