My children are very different, as most are, but when it comes to their approach to food they are polar opposites. On one hand I have Anna, the junior gourmet who will try anything once and has an amazing palette for her age (and has had since she was weaned). On the other I have Catherine, who questions everything I put in front of her. I've worked out that there is nothing wrong with her actual taste buds as she likes strong flavour, its all in her head. She simply doesn't like trying new things and her modus operandi is "suspicion"!
Now the one thing she will eat is Asian food, just as well given how I cook. Asian food lends itself really well to mid week cooking when time is limited but we still want to serve up something fresh and tasty. Last week I decided to introduce some cashew nuts into a stir-fry, Chinese stir-fried chicken and cashew nuts, to which she announced it was "the best dinner I've eaten in ages"! So a result and after picking myself up off the floor I popped the photo on Instagram. I then got lots of queries asking where the recipe was, so here is it, stir-fried chicken and cashew nuts on the table in 15 minutes for all those busy parents out there.
stir-fried chicken & cashew nuts
Print recipe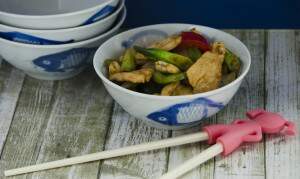 Ingredients
2 large chicken breasts (sliced)
2 tbsp sunflower oil
1 medium onion (chopped)
1/2 red pepper (chopped)
1/2 green pepper (chopped)
2 cloves garlic (crushed)
2.5 cm fresh ginger (grated)
2 tsp oyster sauce
1 tbsp light soy
1 tsp dark soy
1/2 tsp caster sugar
50 ml chicken stock
75g cashew nuts
3 spring onion (cut into 2.5cm pieces)
Directions
Heat a wok over a high heat, add the oil and once smoking hot add the chicken and stir-fry for a minute. Then add the oyster sauce, sugar and light and dark soy sauce, stirring well to coat the chicken and cook for a further minute or two.
Add the onion, red and green peppers, garlic and ginger and continue to saute for a further 2 minutes. Then add the chicken stock and stir-fry until the chicken is cooked through.
Stir in the spring onion and cashew nuts, ensuring everything is coated with the sauce. Serve immediately with steamed rice or noodles.
This recipe has been shared via CookBlogShare please click on the link for other recipe ideas from fellow food bloggers.
0