Courgette pasta, flavoured with lemon and pasta. A simple pasta dish, full of the tastes of Summer and a great use for the courgettes growing in your garden.
Courgette pasta (or zucchini pasta as it is also known) is a simple dish to cook and enjoy. This is my favourite bowl of pasta, full of flavour yet simple. One of those courgette pasta recipes we should all try.
I cook courgette pasta at least once a week and it makes the best use of vibrant Summer flavours. This recipe doesn't take long to prepare or cook, but the result is a beautifully fresh and light bowl of pasta.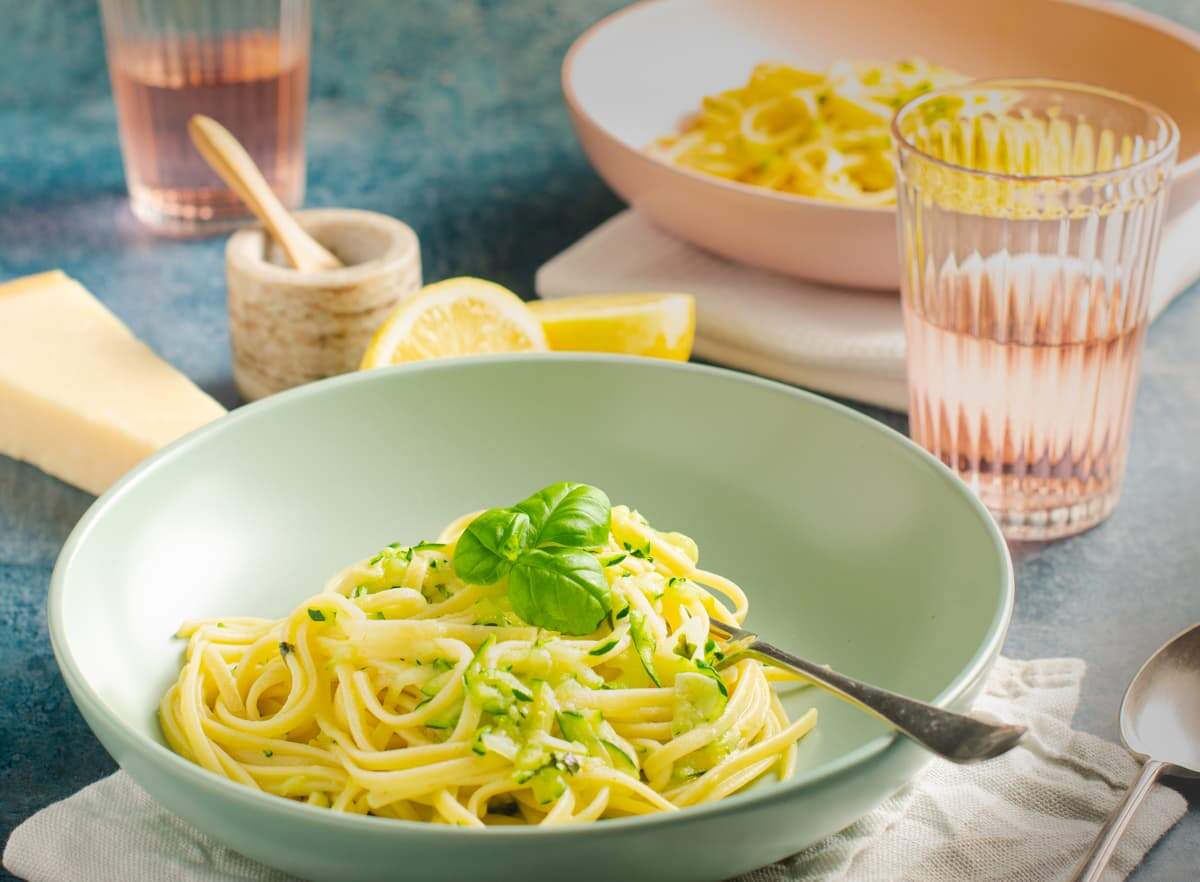 I really enjoy eating courgettes and this courgette pasta recipe makes the best of this often ignored vegetable. Turning courgettes from a vegetable you add to things, instead here they are the star of the show.
Courgettes are something I enjoy eating, for my children less so.
However, we all agree that this zucchini pasta sauce is one of our favourite bowls of pasta! Proving it's not the vegetable that's the problem, rather how you cook it.
Nobody will thank you for soggy, overcooked courgette. Which sadly is how it is often served.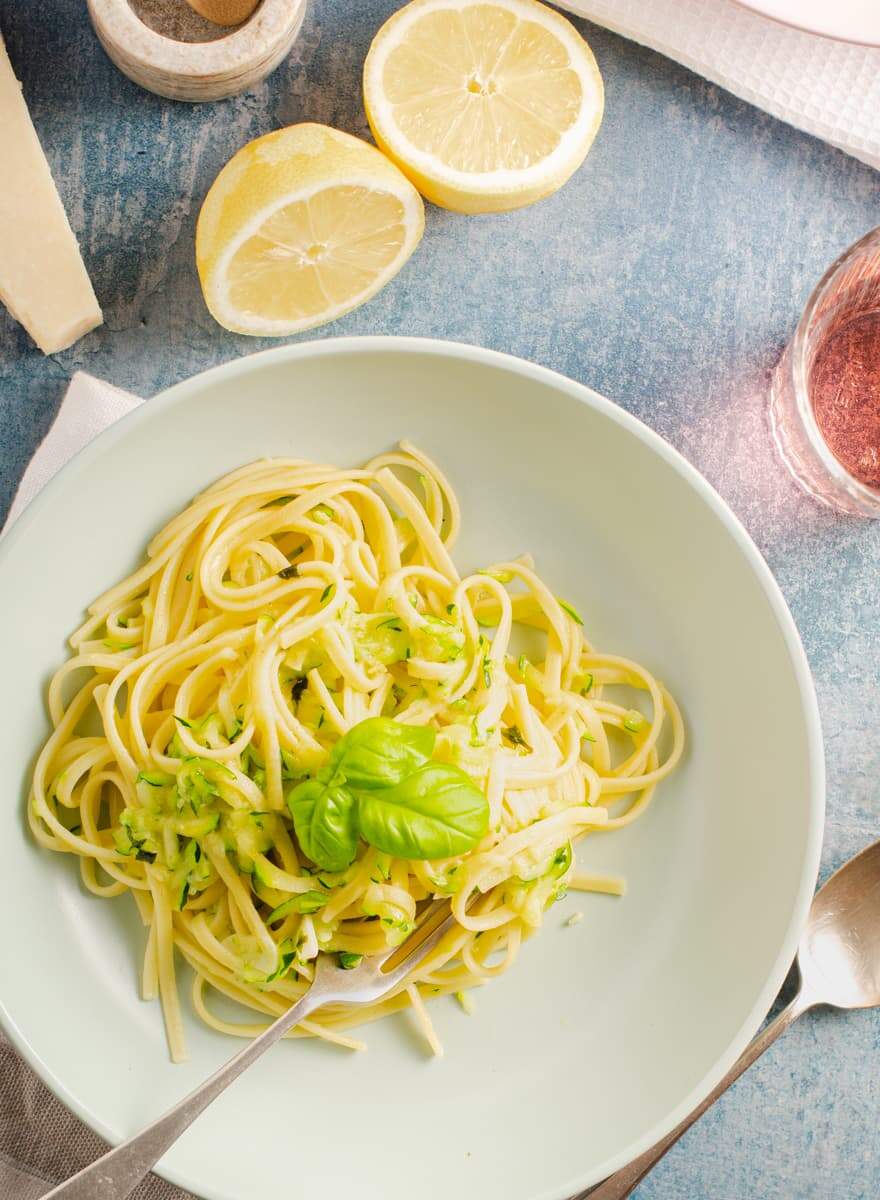 Courgette has a delicate flavour, so you don't want anything to overpower it. I've added lemon, basil and a little garlic to this pasta sauce as it's a favourite flavour combination.
However, only adding a little of the other flavours so as not to overpower the courgette. Courgette pasta recipes should taste light, Summer in a bowl, with not one flavour dominating the others in the dish.
For example, too much lemon juice will take over. Therefore only add the juice of half a lemon to start with.
Then if you feel like you want to add more then do so. When it comes to cooking there is a rule that I always bear in mind – you can always add, never take away!
Courgette also gets bad press for being sloppy, not so in this dish. If you grate the courgette and cook it quickly it softens, but retains lots of its lovely flavour.
Adding Parmesan cheese:
You will notice that Parmesan cheese is optional in this recipe. If I add it at all it is only a small amount of finely grated Parmesan.
This cheese is really strong and can simply overpower the rest of the simply flavours. I like the freshness of the courgette, lemon, garlic and basil to shine in this dish.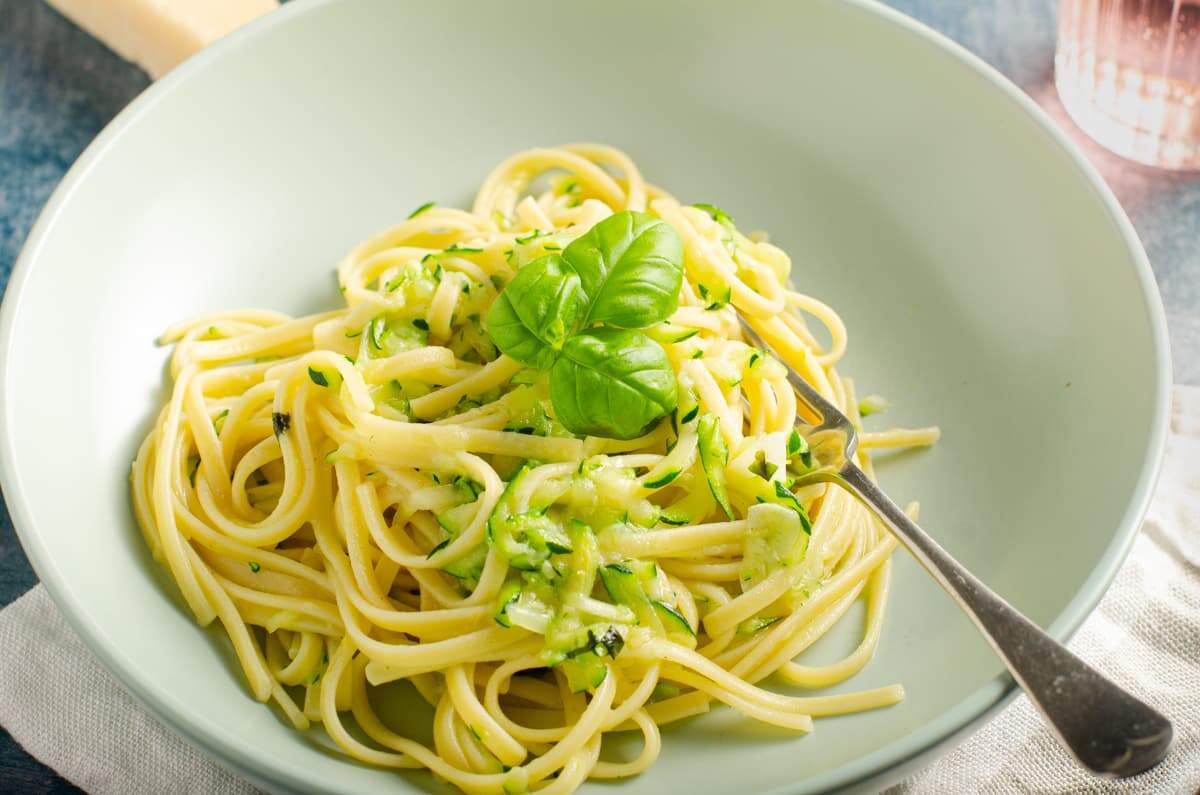 I first tasted courgette pasta sauce sat in the sunshine on the Island of Capri off the Amalfi Coast in Italy. It remains the best bowls of pasta that I have ever eaten. Light, fresh and using few ingredients. So typically Italian to produce something so wonderful with so little!
I was on holiday with my friend and we climbed uphill for quite a distance on this small island. Capri is a truly beautiful place to visit.
We headed to a restaurant that had been recommended . It was worth the climb, both for the delicious food and the breathtakingly beautiful views over the island.
Every time I cook this dish, I'm whisked right back to that hillside in the sunshine, I immediately want a glass of cold, crisp white wine to accompany the dish!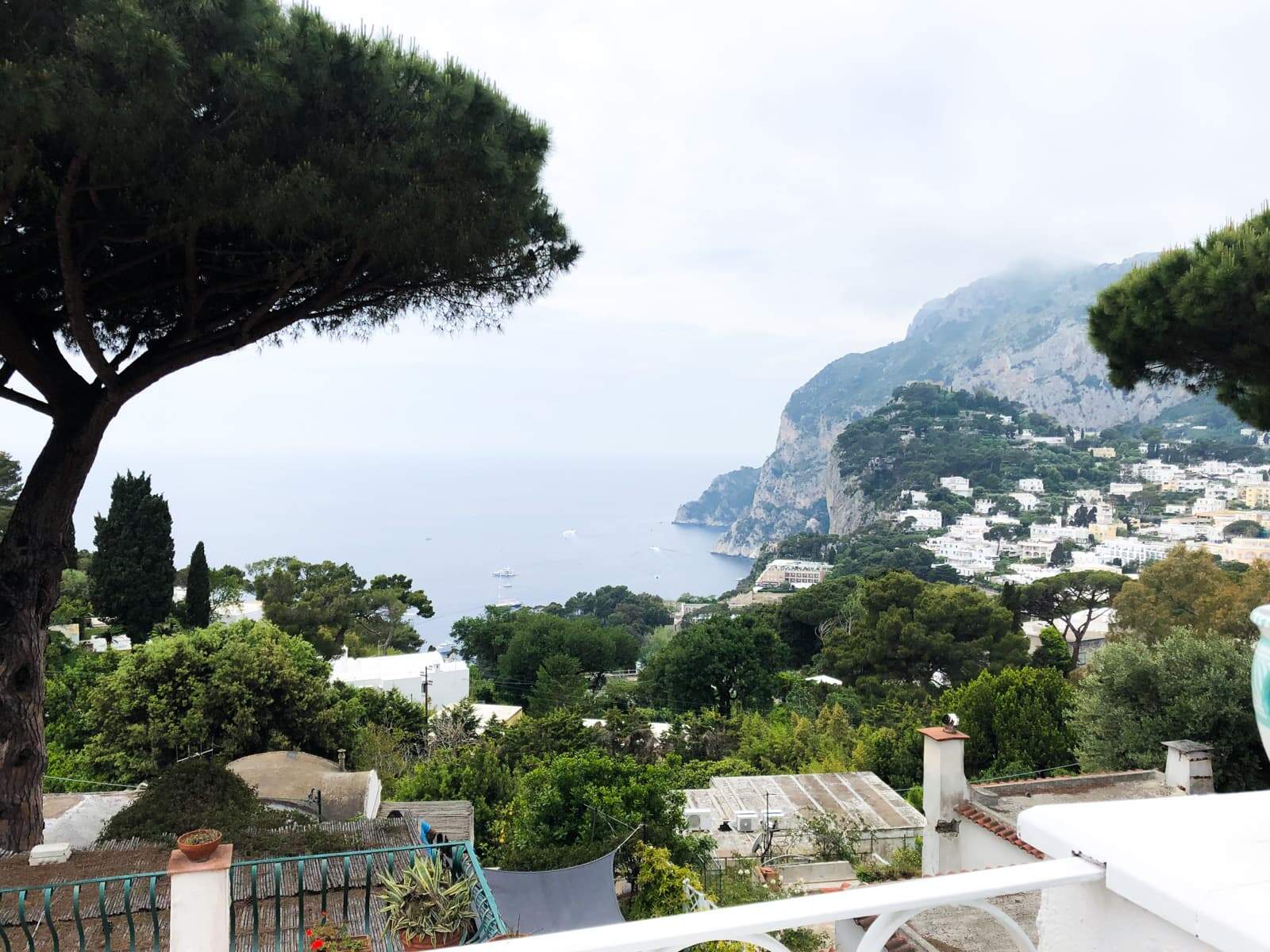 Using up a glut of courgettes:
This simple courgette pasta sauce, also know as zucchini pasta, depending upon where in the World you live, is a great way of using up a glut of courgettes in the garden.
I love courgette and grow various sizes, shapes and colours in my garden every year. This year I'm growing a selection of green, yellow and ball shaped fruits.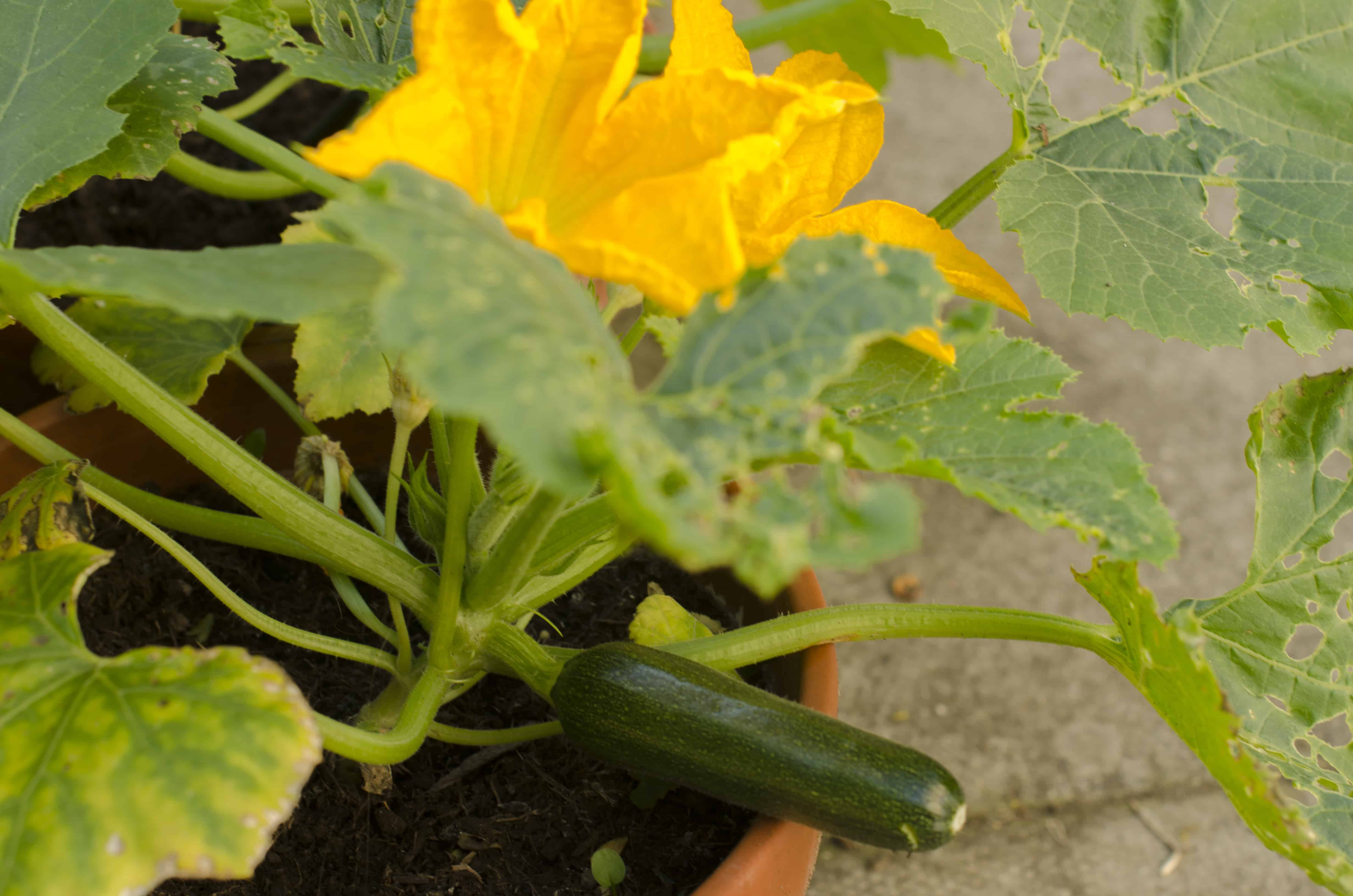 They are so simple to grow from seed. They are the vegetable I recommend everyone try if they are new to vegetable growing. I grow courgettes in both my raised vegetable bed and in pots scattered around my garden.
The flowers are also edible, delicious stuffed with creamy ricotta cheese!
However, as with most things I grow there is a time when there are too many ripe fruits ready at the same time. This courgette pasta recipe is ideal for those times.
Recipe steps: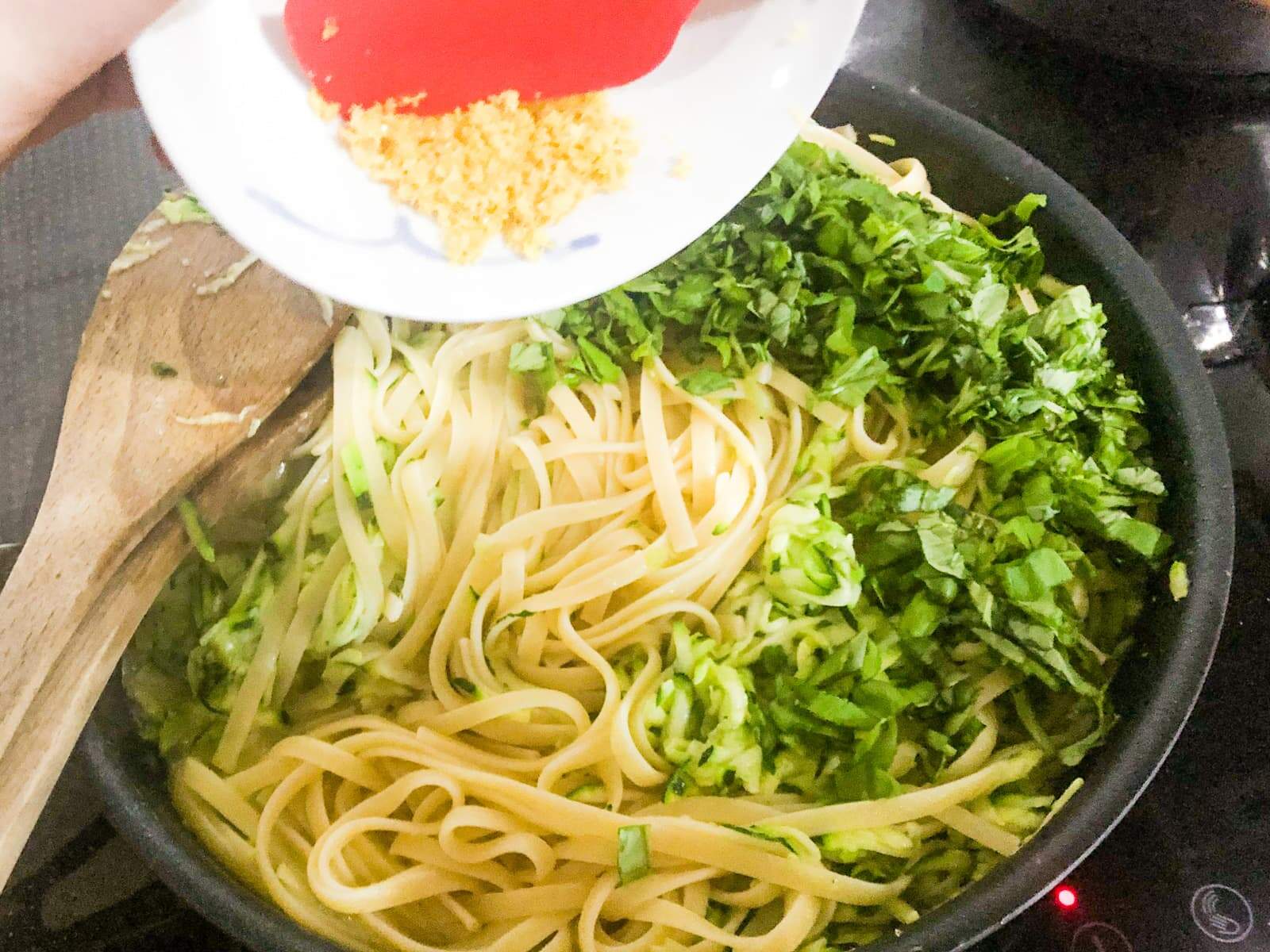 Is courgette pasta suitable for Vegetarian or Vegan diners?
This recipe for courgette pasta is suitable for both vegetarian and vegan diners. However, if you like to grate Parmesan cheese over your pasta, please be aware that it is not a vegetarian cheese. I enjoy this pasta without cheese as I enjoy the freshness of the vegetables on their own.
Substitutions:
I have used the zest one whole lemon in this pasta sauce, but the juice of half that lemon. I really enjoy the flavour of lemon and like to cook with it.
However, adding in too much juice will overpower the courgette. Instead I tend to add a little, then you can always add more if you think you need to before serving. Like all cooking, taste as you go!
Basil leaves have been shredded and added to the pasta sauce, as lemon, courgette, basil and garlic are such a classic combination. If you don't have basil, fresh parsley would also work really well in this sauce.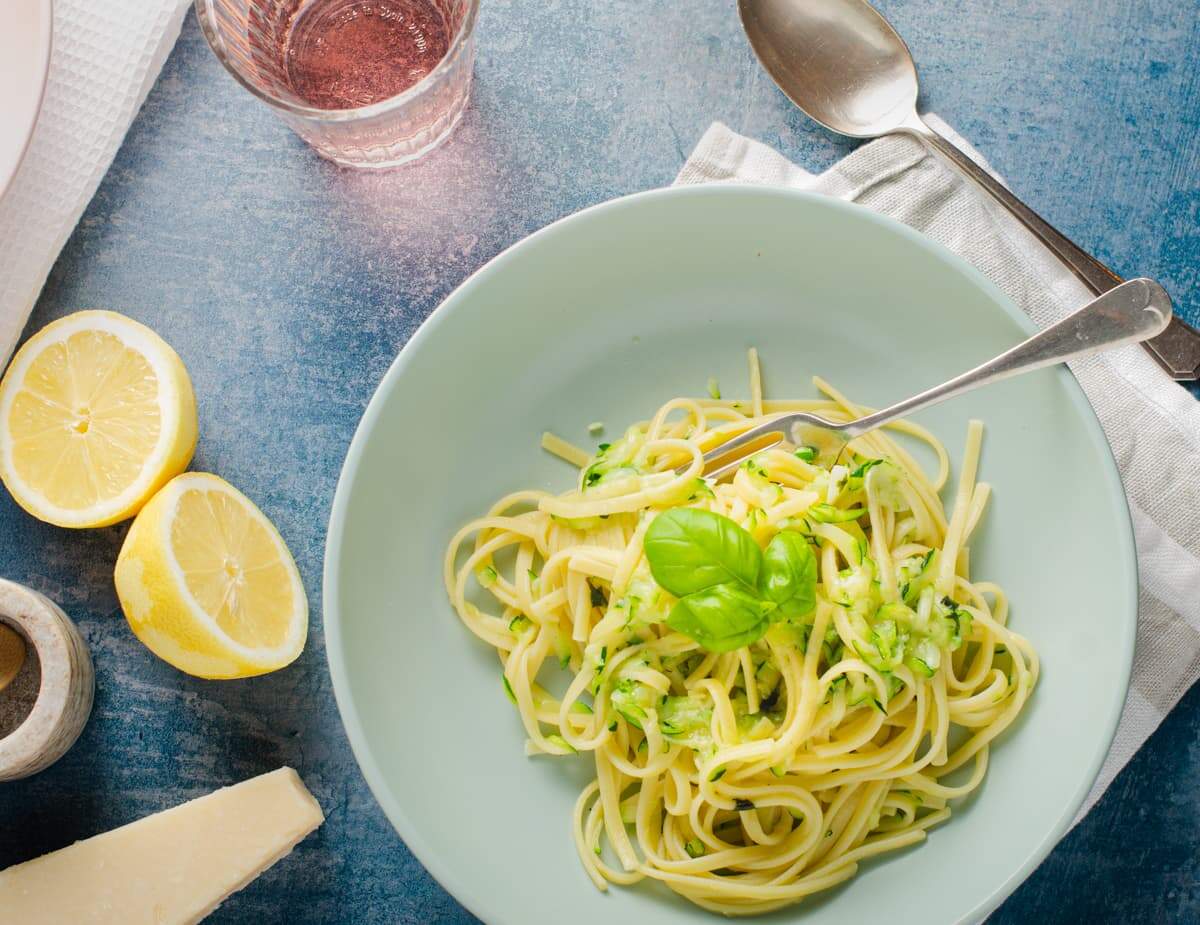 Can you prepare ahead of time?
I would not prepare this pasta dish ahead of time. The beauty of this dish is how fresh it tastes, and it can be prepared in the time it takes to cook a pan of pasta.
Can I use fresh pasta in this dish?
I have used dried pasta in this recipe and that is what I, and indeed tends to be what most people have to hand in their store cupboards. However, if you have lovely fresh pasta then use that instead.
Linguine is the dried pasta used in this recipe as it works well with this particular sauce. If you don't have linguine use spaghetti or any other dried pasta that you fancy.
Pin the recipe: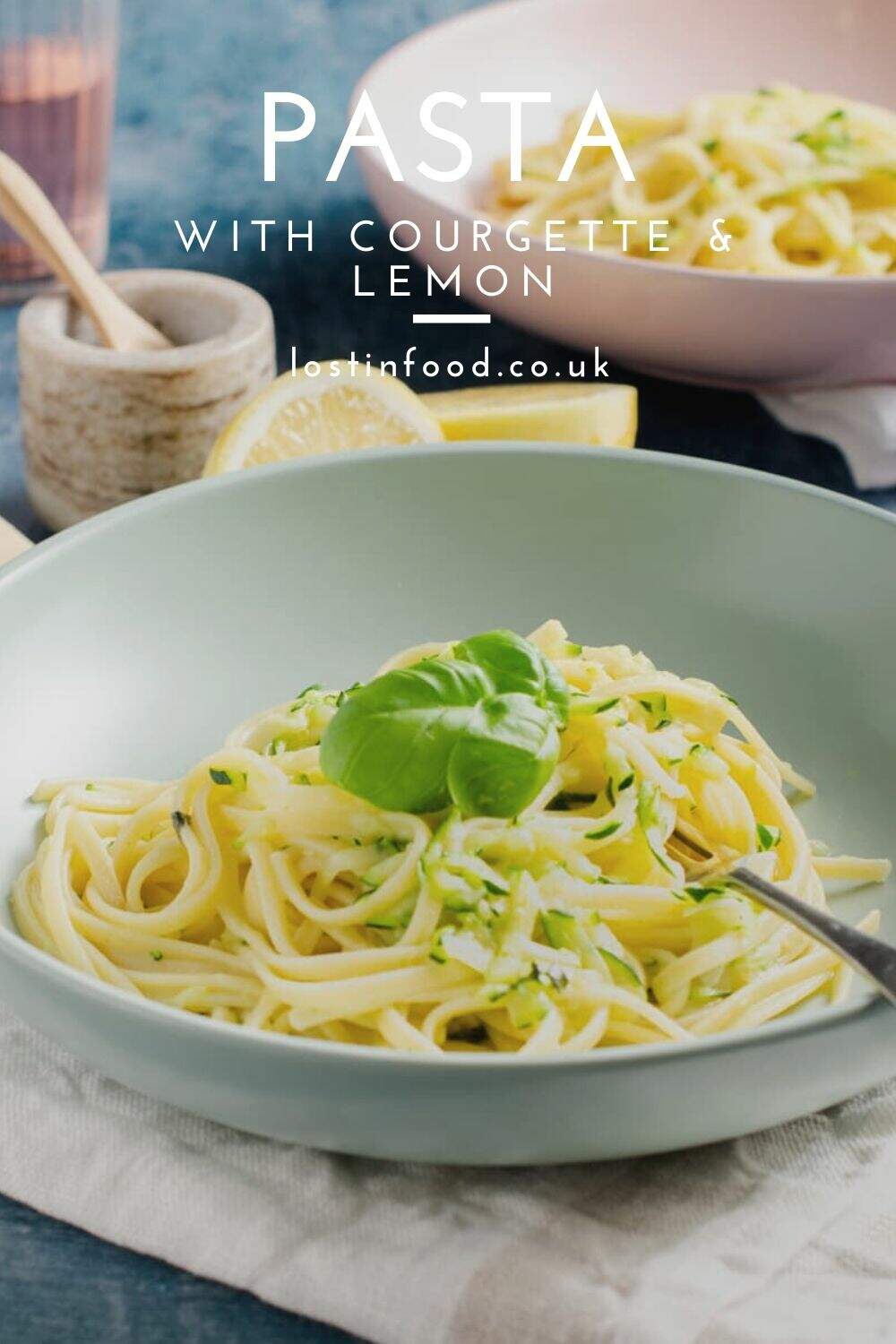 Additional recipe suggestions:
If you like this recipe try our other vegetarian recipes:
Courgette pasta makes a great family meal, try some of our other quick mid week meals:
For more more inspiration on feeding the family take a look at our Ultimate Guide to Family Dining. This guide is full if hints, tips and recipe ideas.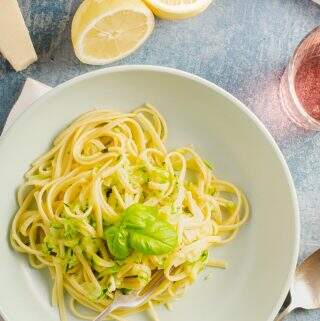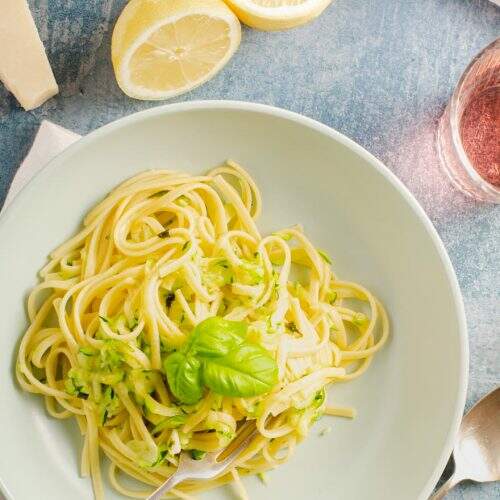 Courgette Pasta
Courgette pasta, flavoured with lemon and pasta. A simple pasta dish full of the tastes of Summer and a great use for the courgettes growing in your garden.
Print
Pin
Save
Saved!
Ingredients
400

g

linguine

(or other dried pasta)

3

tbsp

olive oil

2

large courgettes

(grated)

2

cloves garlic

(crushed)

1

large handful of basil leaves

(shredded)

zest of one lemon

(finely grated)

juice of 1/2 lemon

finely grated Parmesan cheese

(*optional")

salt & pepper
Instructions
In a large pan of boiling, salted water, cook the linguine to al-dente, roughly 10-12 minutes. Drain and keep aside one or two ladles of the salted cooking liquid. This liquid will be added to the sauce later.

Meanwhile heat the olive oil in a large, non stick frying pan. Add the courgette and garlic and saute over a medium heat for 5 minutes.

Once the pasta is cooked add the pasta into the pan, along with the grated lemon zest, lemon juice and shredded basil.

Toss together with 1 or 2 ladles of the reserved cooking liquid. The sauce should coat the pasta, but not run off it, so only add what you need.

Finally check the seasoning, adding a good crack of black pepper and salt to taste.

Serve immediately into warm bowls. Drizzle with some extra virgin olive oil, and some finely grated Parmesan cheese if you would like.
Notes
Please note that Parmesan cheese is not suitable for a vegetarian or vegan diet. Instead leave off entirely and enjoy the freshness of the vegetables. Or, substitute with a vegetarian/vegan alternative.
Nutrition Facts
Courgette Pasta
Amount Per Serving
Calories 483
Calories from Fat 108
% Daily Value*
Fat 12g18%
Sodium 14mg1%
Potassium 479mg14%
Carbohydrates 78g26%
Protein 14g28%
Vitamin A 196IU4%
Vitamin C 18mg22%
Calcium 39mg4%
Iron 2mg11%
* Percent Daily Values are based on a 2000 calorie diet.
• Please note that the nutrition information provided above is approximate and meant as a guideline only •
Share on Facebook