Guacamole is simple and quick to prepare. Rich avocado mixed with the freshness of herbs, lime and chilli, delicious as a side or on its own as a dip.
Guacamole is one our favourite things to eat and something we both make a lot of. It's really easy to make, so easy in fact that we've retired from making it ourselves and now leave the job to our daughters.
Rich, creamy avocado blended with a sharp hit of lime, the fire of some chilli and the freshness of herbs. It's easily one of our favourite things to eat. Not only does it taste great, its's packed full of ingredients that are good for you. Avocado is full of the good fats that our body needs.
How to safely cut an avocado?
Care is required when cutting an avocado. I like to place it on a board and working from the top (the pointed end) gently cut down through the flesh until you hit the stone in the middle.
With care, work around the stone with your knife until you have cut right around it. Gently twist the avocado and it will come apart in two halves. Remove the stone.
Next, for this guacamole recipe, simply scoop out the avocado flesh with a spoon. However, if you are slicing the fruit, say for a salad, gently remove the outer skin, discard it and slice or dice the avocado as required.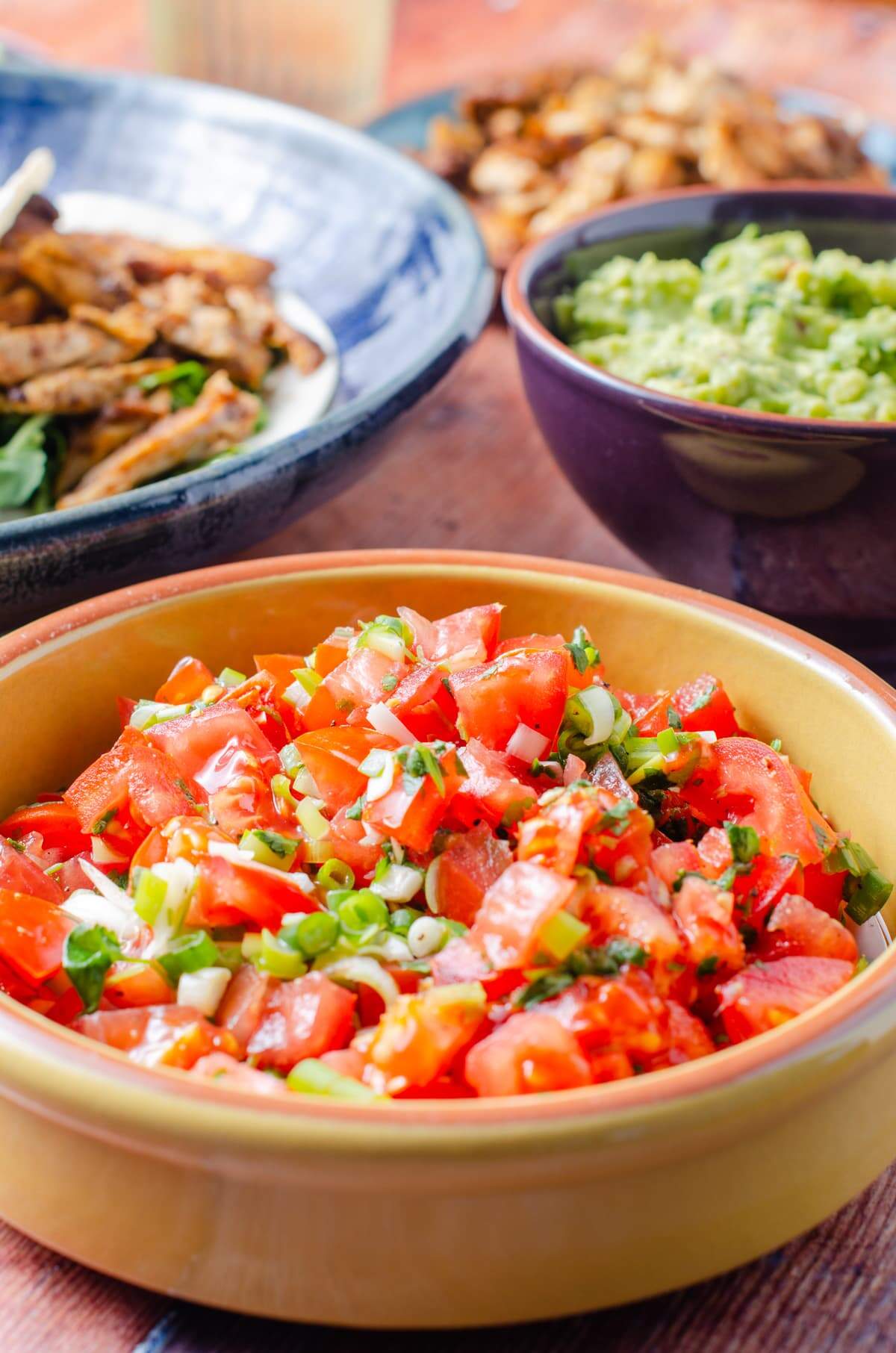 Why does avocado go brown once cut?
Like many fruits, avocado's oxidise when coming into contact with air. By adding lime juice to your guacamole, this not only adds flavour to your finished dish, but the lime stops the avocado from oxidising and turning brown.
Can you make easy guacamole ahead of time?
You can make this dish a couple of hours ahead of serving. Once you have it made, and all ingredients combined, cover the top of the guacamole with some clingfilm.
Take care to ensure that you place the clingfilm directly on top of the avocado mixture. This forms a barrier from the air and will stop the guacamole from oxidising and going brown.
How to make easy guacamole – recipe steps:
Do I need to add chilli to homemade guacamole?
My love of chilli is well documented! We've added chilli to this recipe, however, if making for children you might want to leave it out.
In this instance place a bottle of hot chilli sauce on the table. That way anyone looking for a good hit of chilli can add heat to suit their own palette.
Can you add chopped tomato?
Like most recipes, you can adapt this to suit your own tastes. However, for me the perfection of a simple guacamole is the creaminess of the avocado. I would not add tomato myself, as I think this makes the guacamole too loose and often sloppy.
Instead I prefer to serve a tomato salsa alongside the guacamole. That way you get the best of both, the creamy avocado and the freshness of tomato.
What sort of consistency should you go for?
The consistency of this dish is entire up to you, its down to personal choice. Everyone has their own way of making it, some preferring to cut the avocado into chunks, other prefer a really smooth blended consistency.
I like a guacamole that's somewhere in between, mashed up a little but still with some texture.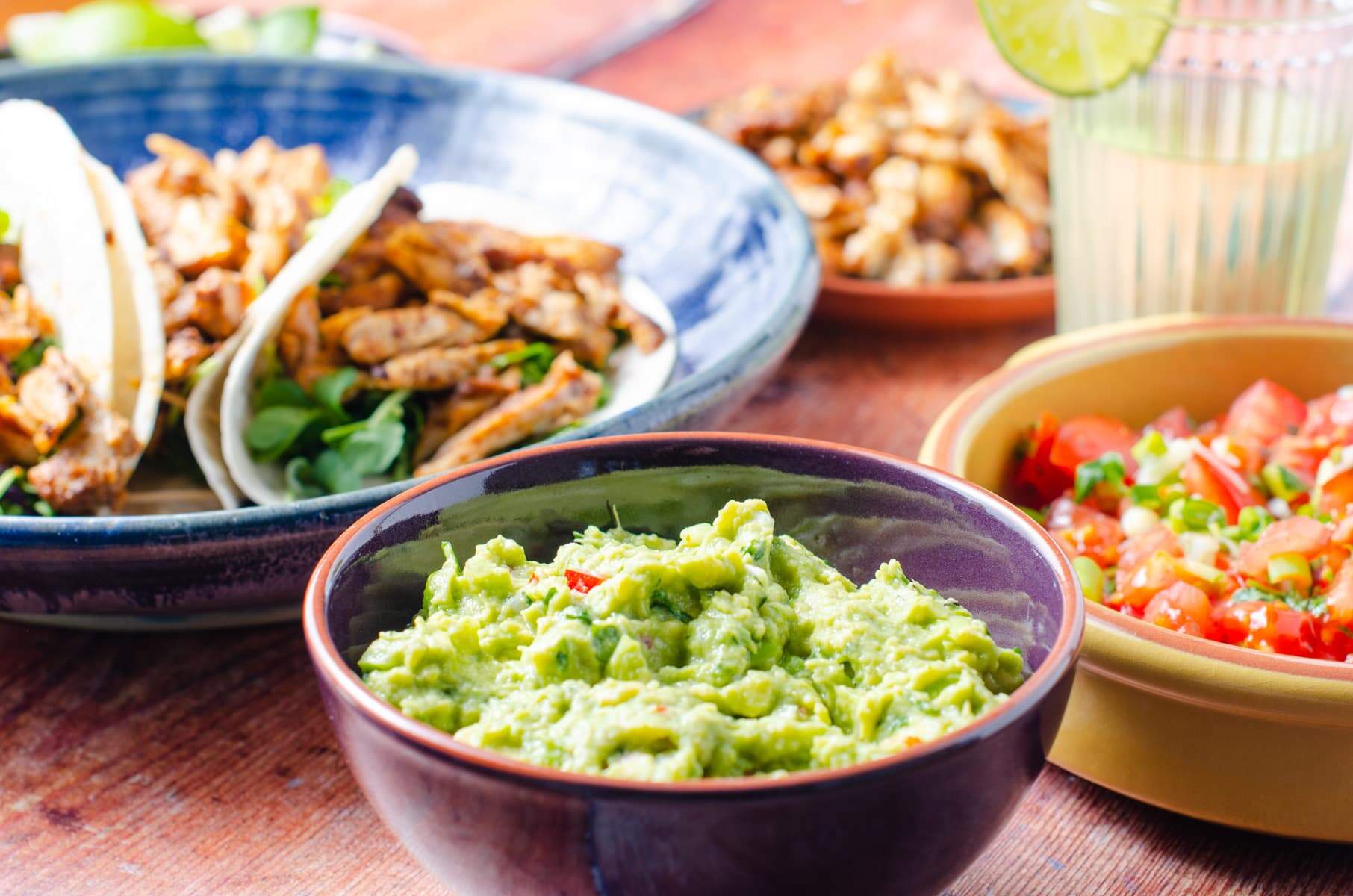 How do you serve easy homemade guacamole?
This guacamole is lovely as a sharing dip on it's own, with a bowl of tortilla chips. However, works as part of a larger Mexican style dinner, alongside our Tomato Salsa, our Tomatillo Sauce and sour cream. It works particularly well with Vegetarian and Vegan foods and we love it with re-fried beans.
However, don't limit yourself to purely Mexican style food! I'm equally happy with it spread on a sliced of sourdough toast, topped with a soft poached egg and finished with some chilli sauce. For me that's pretty close to breakfast perfection!
Likewise, both my daughter love to pile this on bread, with leftover roast chicken, to make their all-time favourite sandwich.
Pin the recipe: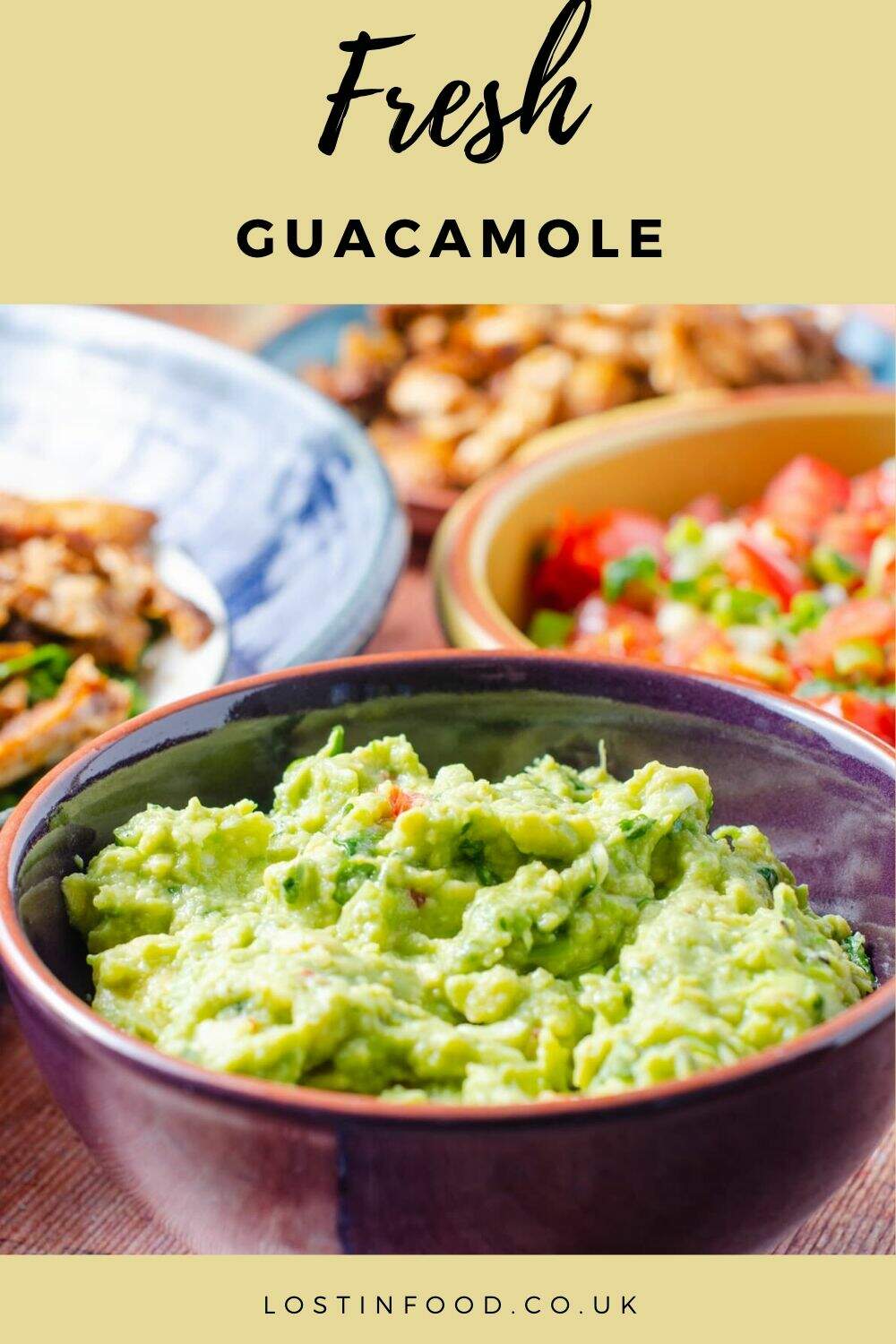 Additional recipe suggestions:
If you like this recipe try it with our:
Love salad? Then head to our Best Salad Recipes post where you will find links to all our favourite salads in one place.
Easy Homemade Guacamole
Simple guacamole is really quick to prepare. Rich avocado mixed with the freshness of herbs, lime and chilli, delicious as a side or on its own as a dip.
Print
Pin
Text
Save
Saved!
Ingredients
2

ripe avocado pears

2

spring onions

(white part only and finely chopped)

1

red chilli

(deseeded and finely chopped)

juice of 1 lime

small bunch coriander leaves

salt and pepper
Instructions
Cut the avocado in half, taking care with your knife to work around the stone. DO NOT attempt to cut through the stone! Remove and discard the stone and remove the acovado flesh from the outer skin. Place the avocado flesh in a bowl and mash down with a fork to the preferred consistency.

Add the remaining ingredients, mix well to combine and place into your serving bowl. Cover with clingfilm and refridgerate until you are ready to serve. Guacamole is best served freshly made as the guacamole will discolour.
Notes
If you are making this guacamole to serve to children, you may prefer to omit the red chilli. In this instance, place a bottle of Tabasco next to the guacamole and those requiring some heat can spice up their own dish.
Nutrition Facts
Easy Homemade Guacamole
Amount Per Serving
Calories 172
Calories from Fat 135
% Daily Value*
Fat 15g23%
Sodium 9mg0%
Potassium 557mg16%
Carbohydrates 12g4%
Protein 2g4%
Vitamin A 314IU6%
Vitamin C 32mg39%
Calcium 22mg2%
Iron 1mg6%
* Percent Daily Values are based on a 2000 calorie diet.
• Please note that the nutrition information provided above is approximate and meant as a guideline only •
Share on Facebook
This recipe has been shared with CookBlogShare, click on the link for recipes by fellow food bloggers.