Easy beef salad, lean slices of marinated steak served with a crunchy slaw, comprising a rainbow of crisp vegetables and Asian salad dressing.
Our easy beef salad with Asian slaw salad is not only easy to cook, but its packed full of flavour and ready for the table in 30 minutes. Making it a winning family dinner option any night of the week.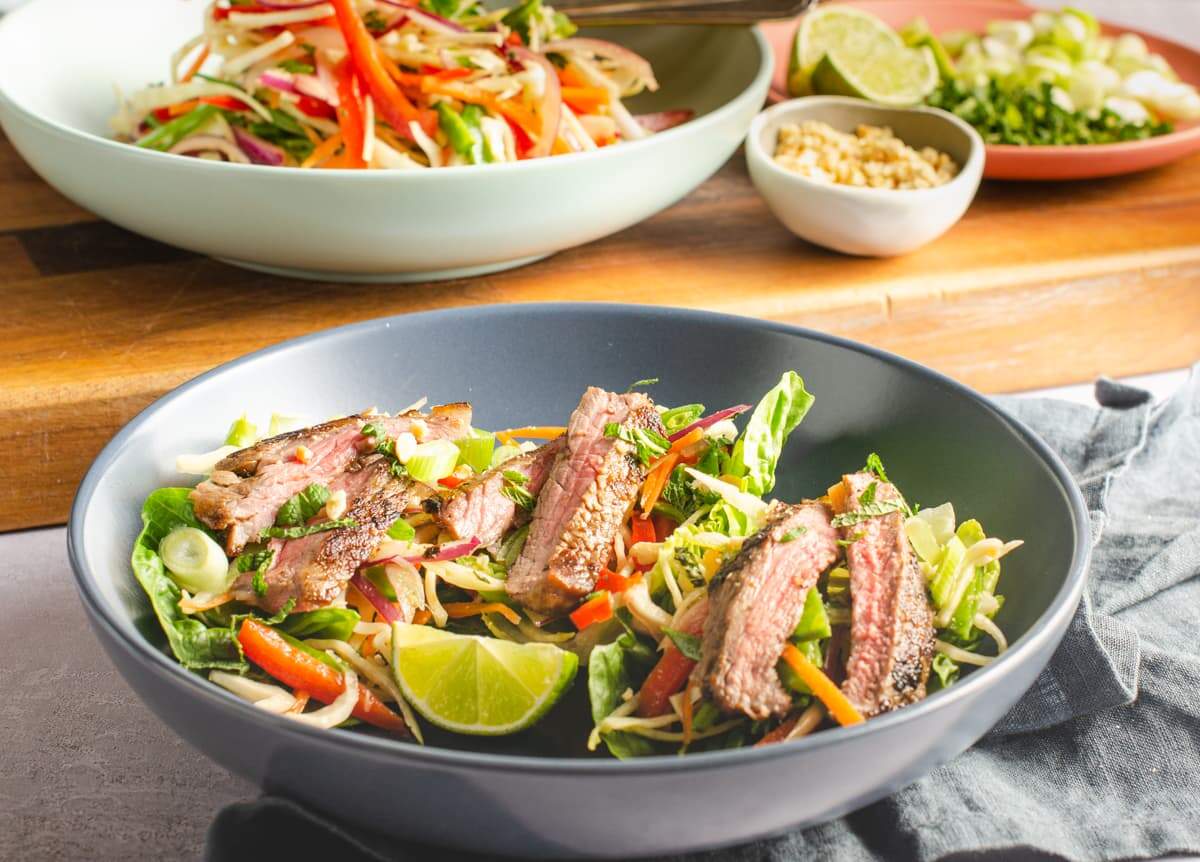 For us, cooking good quality, tasty meals is at the heart of family life. We like to promote a healthy balanced diet that the whole family will enjoy, however not one that will break the bank.
Our easy beef salad comprises a variety of ingredients that are readily available in most supermarkets, but not cost the earth.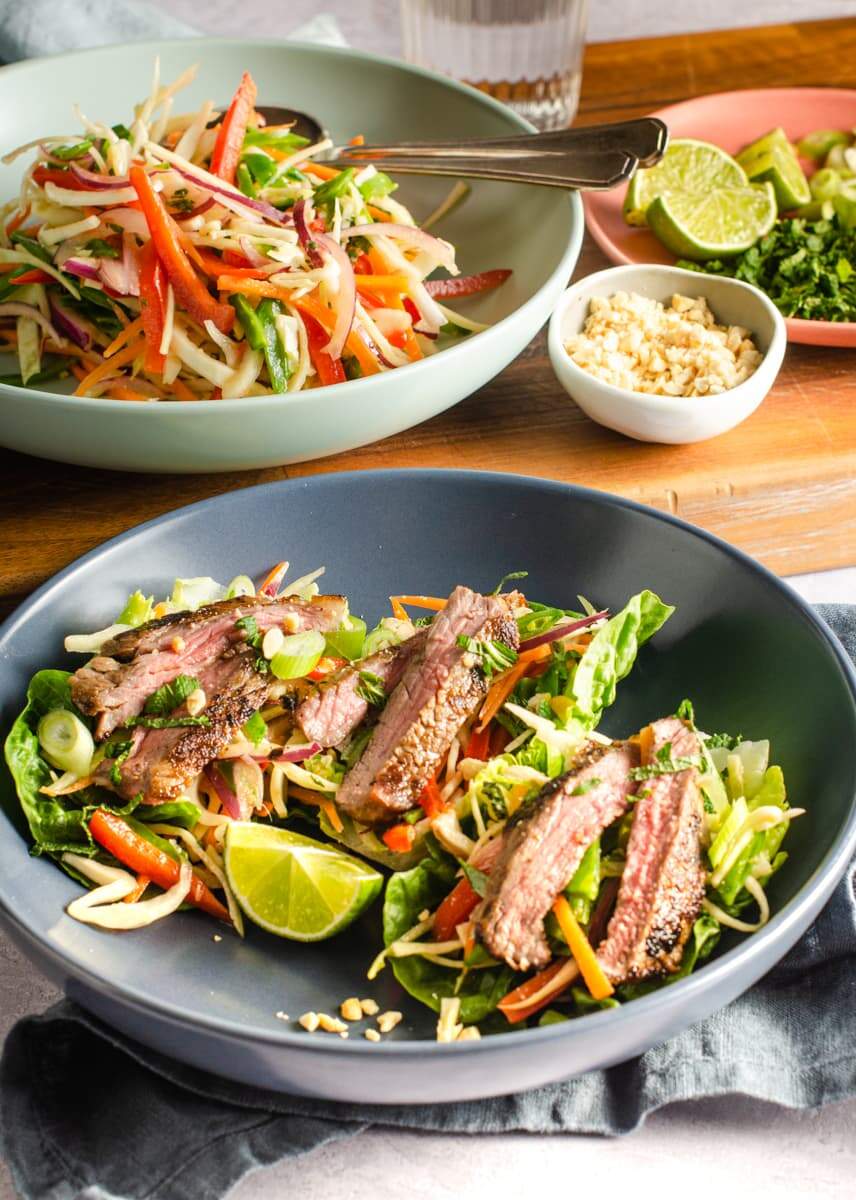 Sirloin steak may appear to be an expensive choice, however 2 sirloin steaks will easily feed a family of 4, and it is one of the leanest cuts of beef, making it ideal for this beef salad.
You do not require one steak per person as this dish is also loaded with our Asian slaw, a colourful selection of fresh vegetables dressed with a simple Asian slaw dressing.
Is lean beef healthy?
We enjoy eating beef and it is a protein we include in our weekly diet. Like all things we believe in the old adage "everything in moderation".
Here in the UK, we enjoy high standards in the quality of lean meat available to us, not to mention the variety of different cuts and joints that we can find at our local butchers.
Meat is one of the main sources of vitamin B12, which is typically only found naturally in foods from animal products, such as meat and dairy products.
Beef is naturally high is protein, low in salt and contains zinc, iron, riboflavin, potassium, phosphorus, vitamins B3 and B12, also vitamin B6 which can help the immune system work properly.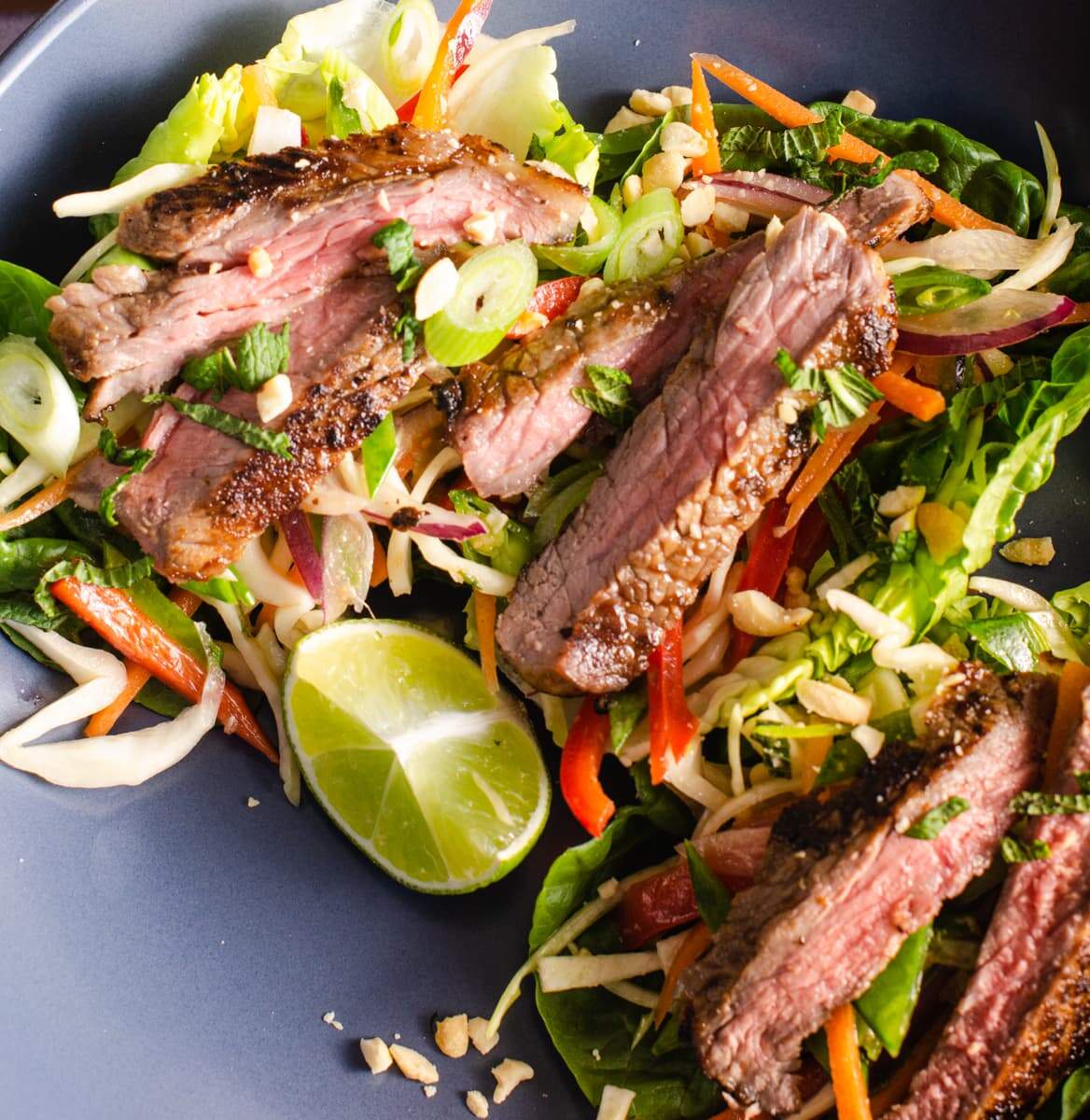 What cut of beef should I use for Easy Beef Salad?
For our beef salad we have chosen a lean sirloin steak as it is one of the leanest cuts of beef, making it a healthier option to other cuts. You could also use rump, ribeye or fillet steak if you prefer.
Bavette, skirt or flank steak can also be used. These cuts not only taste great, but are a cheaper cuts of meat too. Just take care to only cook these cuts to medium rare and ensure that you cut them across the grain of the meat otherwise they become tough.
However, do not use stewing steak as this is a fast cook recipe and stewing steak requires hours to cook to tender.
How long can I marinade beef?
Beef works really well when cooked with herbs and spices, so we have marinated our steaks which really enhances the meaty flavour.
You can marinade beef for anything from 15 minutes to 24 hours. The longer you leave the meat in the marinade, the stronger the flavour will be. Once the beef is covered in the marinade, place it in a dish or container with a lid and store it into the fridge until you are ready to cook.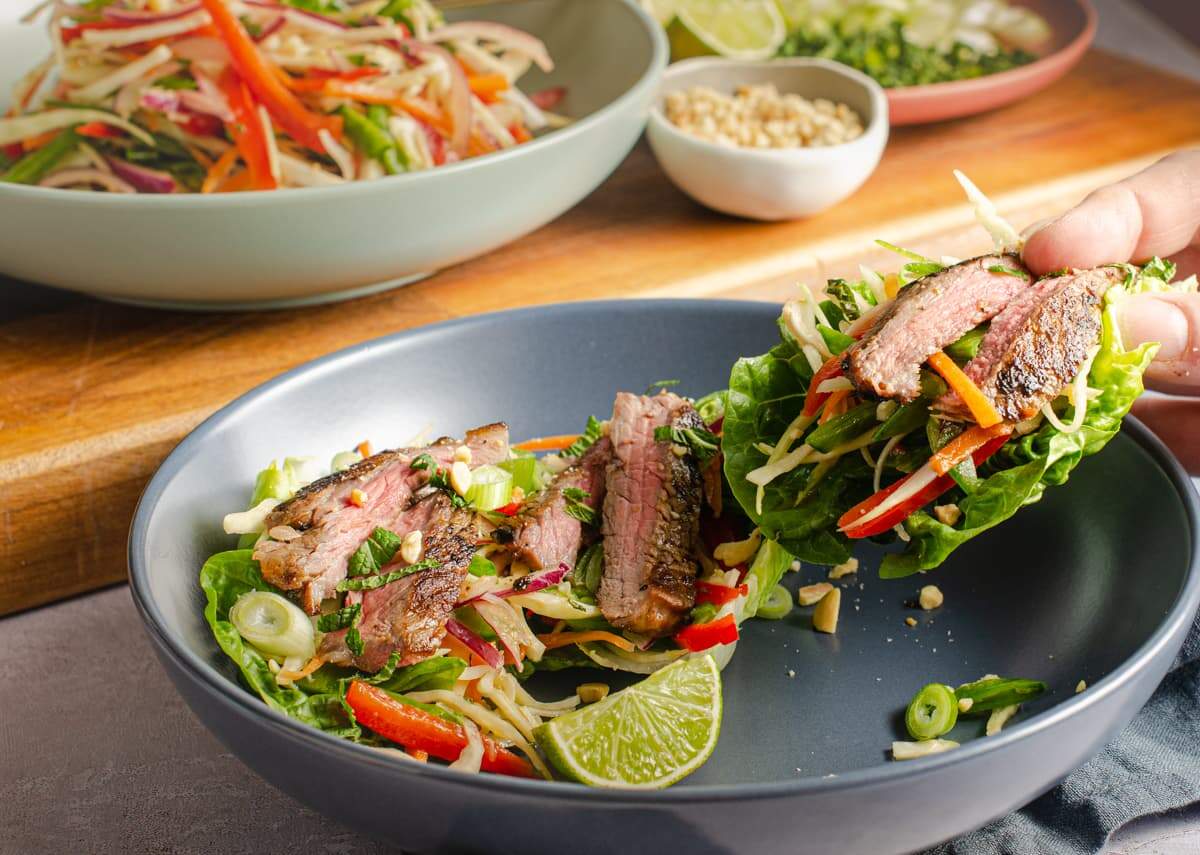 How do you cut vegetables for slaw?
There is no need for any fancy equipment when making any slaw. A chopping board and a sharp kitchen knife will suffice and is what we have used here. This gives you crunchy pieces of vegetable which work great alongside the soft beef.
For speed you can also grate the veggies, using either a hand grater or the grating plate on a food processor. This will chop the vegetables a lot smaller and you will loose some of the crunch.
Beef salad recipe substitutions & variations:
Sirloin steak is a great tasting lean cut of beef that can be substituted with rump, ribeye or fillet steak. You can also use bavette, skirt or flank steak which are great tasting cheaper cuts of meat. Note – only cook these cheaper cuts to medium rare. Also ensure that you cut them across the grain of the meat otherwise they become tough.
Oyster sauce is not at all fishy and adds a real depth and richness to the marinade. Its great used in marinades and stir fried dishes.
White cabbage can be substituted with red cabbage for an Asian red cabbage slaw.
Red onion has a milder flavour and can be substituted with spring onions or shallots if you prefer.
Mange tout, carrot and red pepper are added to the rainbow of veggies is this simple Asian slaw salad. You can substitute with any vegetables that your family enjoy eating, for example: sugar snap peas; radish; cucumber; tomatoes; fennel.
Lime flavours the slaw dressing. You can also serve wedges of fresh lime with the dish for a squeeze of sharp, zesty flavour over the salad.
Mint flavours the slaw dressing, adding a fresh herb flavour. Serve with some extra chopped mint as a vibrant garnish. You could also use coriander.
Peanuts are added as a garnish to sprinkle over the top of the salad, adding both flavour and crunch. Leave out entire if serving to anyone with a nut or peanut allergy.
Little gem lettuce leaves are served whole so that you can pile the slaw and beef into them. Simply wrap the leaf up and enjoying. Lettuce leaves are a great low carb and gluten free option.
Can I make beef salad ahead of time?
The beef can be marinated up to 24 hours ahead of time and stored in the fridge. Remove the steak from the fridge and allow to come to room temperature an hour before cooking. The steak cannot be reheated once cooked or it will become tough!
The Asian cabbage slaw can be prepared earlier in the day, as can the salad dressing. Prepare both elements separately and only dress the salad just before serving.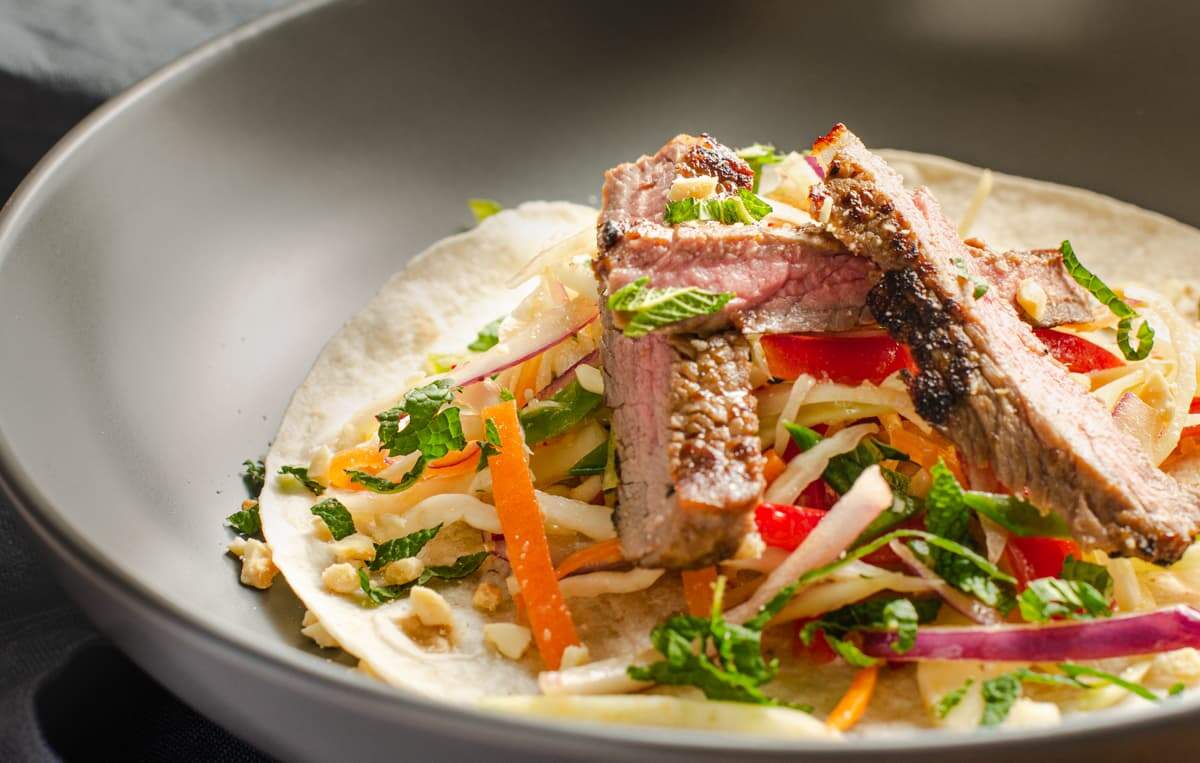 What to serve with steak salad?
Our children enjoy eating lean red meat and we have created this recipe with them in mind. I like to serve the beef salad with lettuce leaves for a crunchy low carb option.
However, I find if I want the kids to eat lots of salad, a wrap is the way to go. Feel free to substitute the lettuce leaf with a small flour tortilla instead. I have found that if I pop anything into a wrap, my children will eat without question. Following a gluten free diet, substitute with gluten free wraps.
This easy steak salad is also great to enjoy outdoors when you have the barbecue going. Slaw always makes a great tasting side too. You could add some charred corn on the cob straight from the barbecue too.
Useful hints & tips:
Cook the steaks whole and only slice once the steaks have been cooked and rested. This will stop the steaks from overcooking and becoming chewy.
Always rest steak for at least 5 minutes (longer if you can). Resting allows the juices to be absorbed back into the steak, leaving you with juicy, succulent and flavourful meat.
This recipe is gluten free and therefore suitable for Coeliacs or anyone following a gluten-free diet. Just ensure that the oyster and soy sauces you are using are gluten-free varieties.
Allergy advice: gluten free, dairy free, egg free and soy free. For comprehensive and detailed allergy advice go to Allergy UK.
Pin the recipe: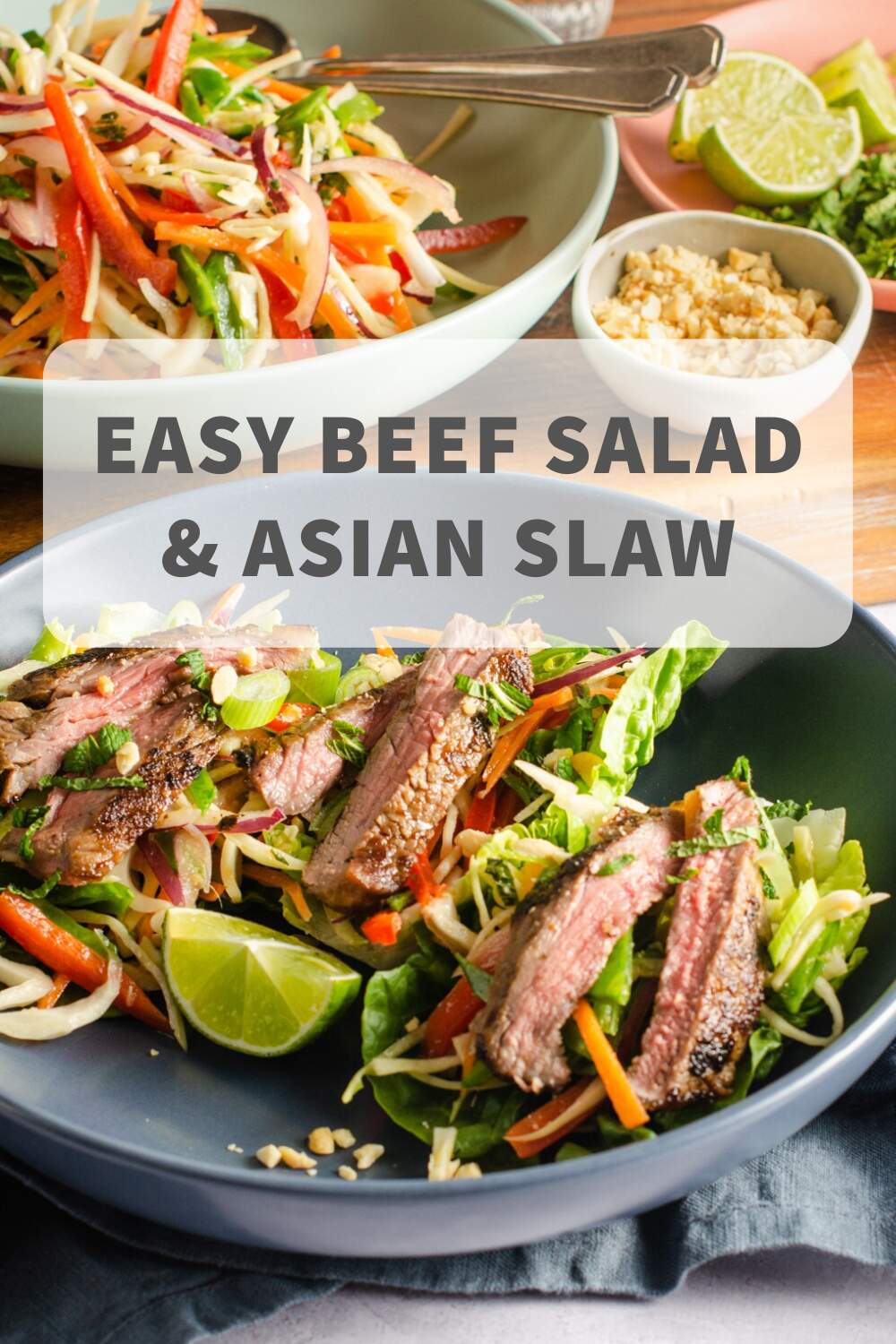 Additional recipe suggestions:
If you enjoy our easy beef salad with Asian slaw, then try some of these other great tasting recipes with steak:
Love salad? Then head to our Best Salad Recipes post where you will find links to all our favourite salads in one place.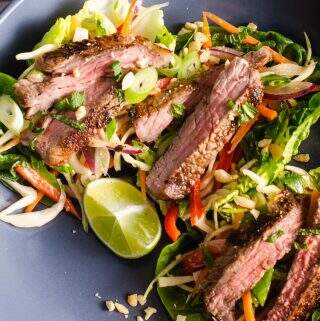 Easy Beef Salad with Asian Slaw
Easy beef salad, lean slices of marinated steak served with a crunchy slaw, comprising a rainbow of crisp vegetables and an Asian inspired dressing.
Print
Pin
Text
Save
Saved!
Ingredients
Marinated Beef
320

g

sirloin steak

(approx 2 steaks – fat removed)

2

tbsp

oyster sauce

1

tsp

dark soy sauce

1

tbsp

cornflour

1

tbsp

sunflower oil
Crunchy Slaw
400

g

white cabbage

(thinly shredded)

160

g

mange tout

(finely sliced)

1

medium carrot

(cut into fine batons)

1

red onion

(finely sliced)

1

red pepper

(finely sliced)
Slaw Dressing
2

tbsp

sunflower oil

1

tbsp

light soy sauce

4

tbsp

rice wine vinegar

(can substitute with red wine vinegar)

2

tbsp

lime juice

2

tsp

sesame oil

1

clove garlic crushed

1

red chilli

(de-seeded and finely sliced)

1

tbsp

root ginger

(finely grated)

1

tbsp

mint leaves

(finely shredded)
To Serve
2

little gem lettuce

(leaves separated out)

4

spring onions

(finely sliced)

4

tbsp

peanuts

(crushed)

1

lime

(cut into wedges)

1

small bunch fresh mint leaves
Instructions
Marinated Beef
Place the oyster sauce, dark soy sauce and cornflour into a bowl and mix well to combine to a smooth paste. Add the whole sirloin steaks to the marinade and mix to ensure the steaks are completely coated. Set aside for 15 minutes while you prepare the rest of the dish.
Asian Slaw
Prepare all the vegetables for the Asian slaw and place them in a large bowl. Set aside.

In a bowl mix together all the ingredients for the slaw dressing and stir well to combine. Pour over the vegetables and mix thoroughly through the vegetables. Set aside until ready to serve.
To serve
When ready to serve, place a large non-stick frying pan over a high heat. Add 1tbsp sunflower oil to the frying pan and place the steaks into the pan to cook for 2-3 minutes on each side. The length of time will vary depending on the thickness of the steaks. But for a medium cooked steak you are looking for an internal temperature of 60-65C.

When the steak is cooked, remove from the pan and set aside on a warm plate to rest for 5 minutes.

Meanwhile prepare the lettuce leaves and place a spoon of the slaw into each of the leaves.

Once rested cut each sirloin steak into thin slices and place a couple of slices onto each lettuce leaf. Garnish with spring onion, crushed peanuts, fresh torn mint leaves and a wedge of fresh lime. Serve immediately.
Notes
If you don't like chilli leave it out of the dressing entirely.
The garnish items are a serving suggestion only. If you have a nut allergy leave the nuts off the dish.
Nutrition Facts
Easy Beef Salad with Asian Slaw
Amount Per Serving
Calories 384
Calories from Fat 198
% Daily Value*
Fat 22g34%
Cholesterol 49mg16%
Sodium 667mg29%
Potassium 880mg25%
Carbohydrates 25g8%
Protein 25g50%
Vitamin A 5511IU110%
Vitamin C 128mg155%
Calcium 126mg13%
Iron 4mg22%
* Percent Daily Values are based on a 2000 calorie diet.
• Please note that the nutrition information provided above is approximate and meant as a guideline only •
Share on Facebook