Easy beef salad, lean slices of marinated steak served with a crunchy slaw, comprising a rainbow of crisp vegetables and an Asian-inspired dressing.
#AD As part of the #SimpleBalancedMeals campaign, we are working with @TheScotchKitchen and @BritMums. This is a paid partnership to promote the benefits of cooking with quality, lean beef. The #SimpleBalancedMeals #CookingatHome campaign is sponsored by the Agriculture and Horticulture Development Board (AHDB), Quality Meat Scotland (QMS) and Hybu Cig Cymru – Meat Promotion Wales (HCC) – the English, Welsh and Scottish levy bodies that between them cover all food groups in a healthy balanced diet.
For us, cooking good quality, tasty meals is at the heart of family life. We like to promote a healthy balanced diet that the whole family will love, however not one that will break the bank. Therefore family-friendly dining should comprise a variety of ingredients that are readily available to everyone, but not cost the earth. Here in the UK, we enjoy high standards in the quality of lean meat available to us, not to mention the variety of different cuts and joints that we can find.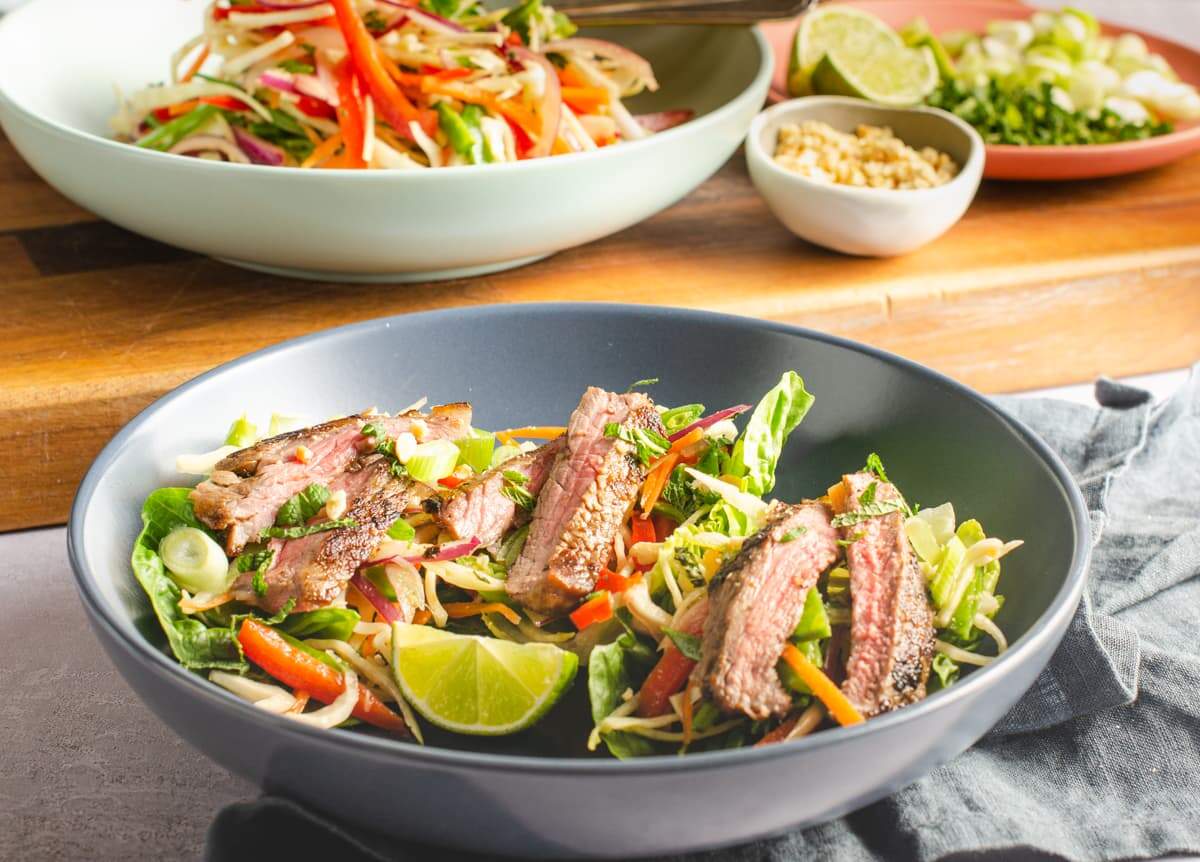 Meat is something we can all enjoy as part of a balanced diet. Therefore, our easy beef salad recipe uses lean sirloin steak with the top layer of fat removed. We have enhanced the flavour of this delicious cut by adding a quick and simple marinade. Cook the steak to medium, rest for 5 minutes and slice. Finally, serve the beef with a crisp slaw and pile up in a lettuce leaf for added crunch. Sirloin steak may appear to be an expensive choice, however 2 sirloin steaks will easily feed a family of 4, and it is one of the leanest cuts of beef. You do not require one steak per person as this dish is also loaded with a colourful selection of fresh vegetables.
Why choose lean beef?
Meat, such as beef, lamb and pork, is one of the main sources of vitamin B12, which is typically only found naturally in foods from animal products, such as meat and dairy products.
We enjoy eating beef and it is a protein we include in our weekly diet. Like all things we believe in the old adage "everything in moderation". There are so many great tasting cuts of beef. It is a hugely versatile meat. From a slow-cooked stew to a quick stir-fry or a seared steak, the options are endless. Beef works really well when cooked with herbs and spices which only enhance the meaty flavour. Choose lean cuts of beef, and if opting for mince, select minced beef with no more than 5% fat.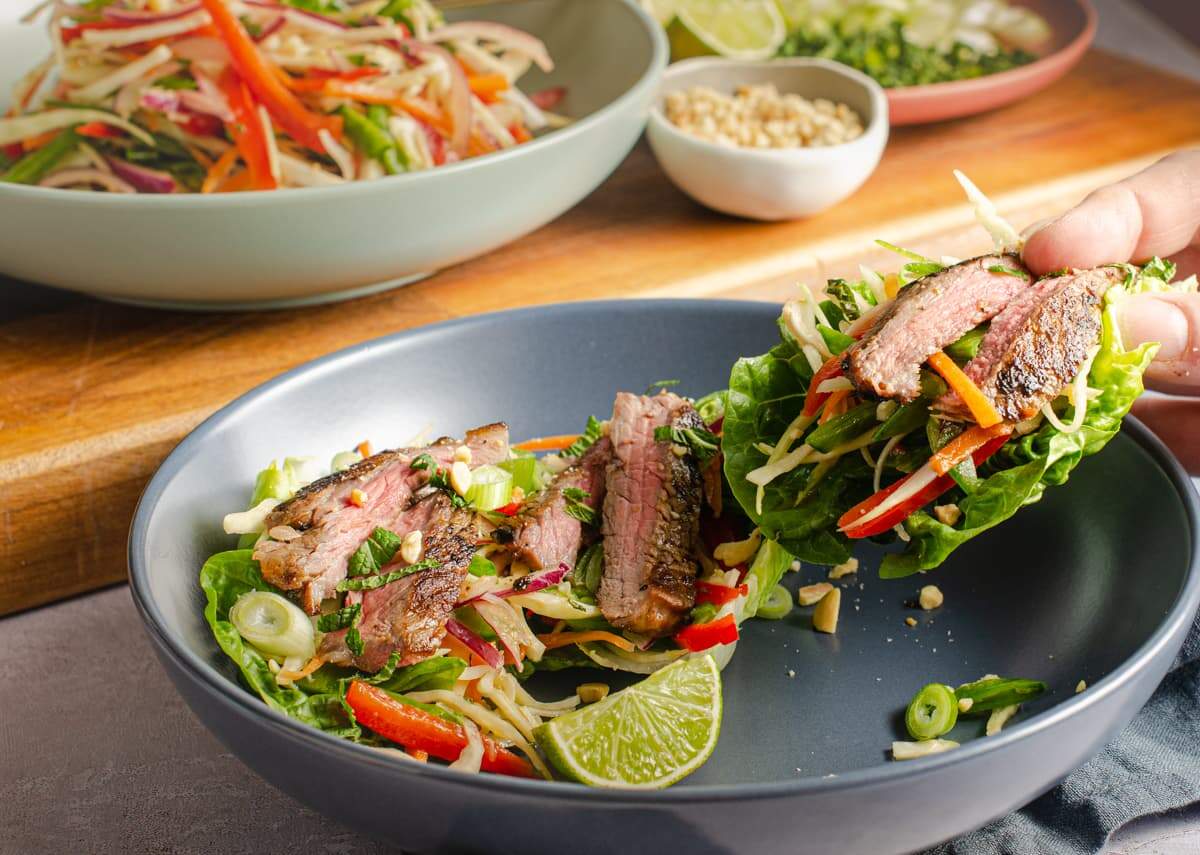 Why is it important to eat lean red meat?
Beef contains zinc, iron, vitamin B12 and vitamin B6 which can help the immune system work properly. Beef is naturally rich in protein, low in salt and provides eight vitamins and minerals that contribute towards good health and wellbeing. These are: iron, niacin (vitamin B3), vitamins B6 and B12, zinc, riboflavin, potassium and phosphorus.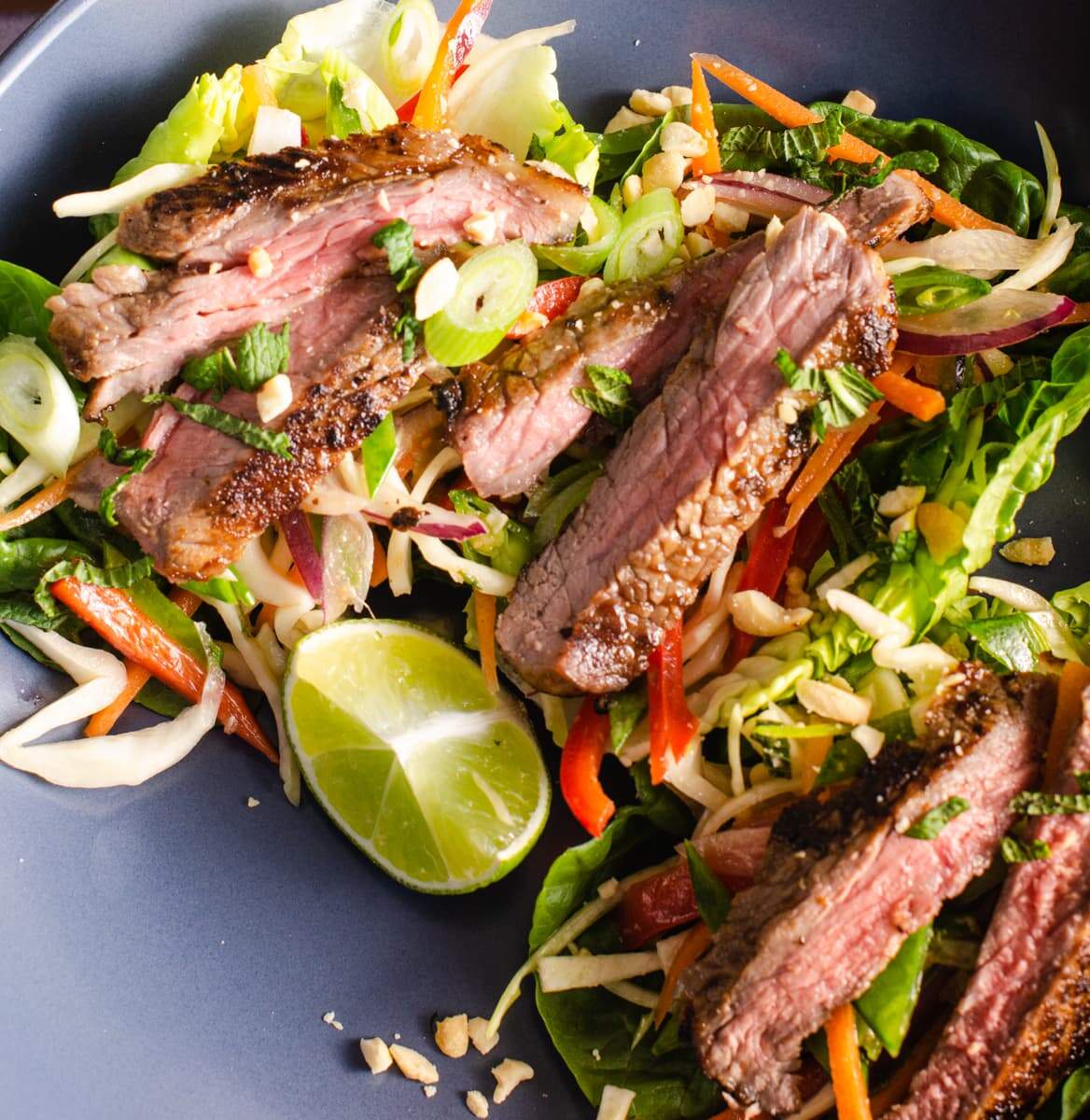 The recipe we've created for this campaign contains lean beef. Listed below are the health benefits to eating lean beef, and why it's important to include this nutrient-rich food in your diets.
Lean beef is a naturally rich source of vitamin B12
Vitamin B12 helps normal energy production in the body
Vitamin B12 helps the nervous system work normally
Vitamin B12 helps normal red blood cell formation
Vitamin B12 helps the immune system work normally
Vitamin B12 helps reduce tiredness and fatigue
Beef is naturally rich in protein, low in salt and provides eight vitamins and minerals that contribute towards good health and wellbeing. These are: iron, niacin (vitamin B3), vitamins B6 and B12, zinc, riboflavin, potassium and phosphorus.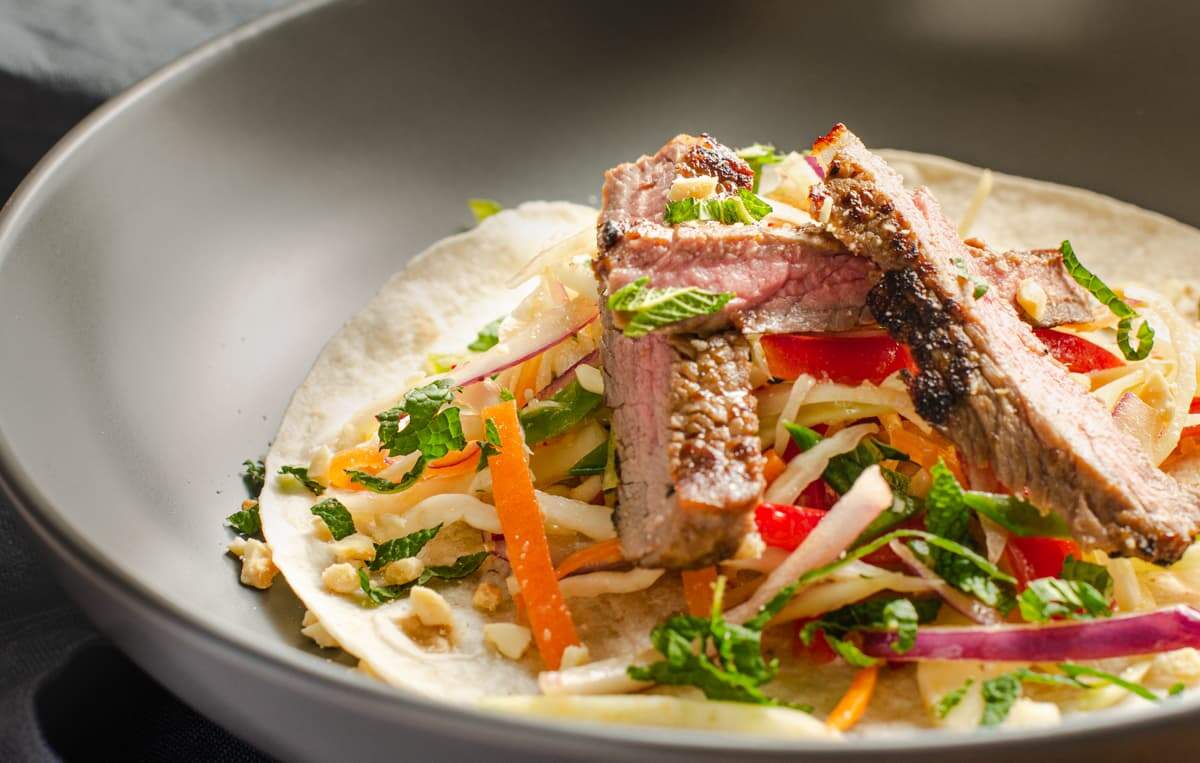 Substitutions to the recipe:
All items in this recipe are easily swapped or substituted, depending on what you have in at the moment. Our children enjoy eating lean red meat and we have created this recipe with them in mind. Allowing children to pile the steak and vegetables into the lettuce leaf before wrapping it up and eating it adds a little fun to dinnertime. Whilst our children will happily eat food served up to them in a lettuce leaf, we appreciate that some children may not. With this in mind, feel free to substitute the lettuce leaf with a small flour tortilla instead. I have found that if I pop anything into a wrap, my children will eat it without question.
We have used lean sirloin steak in this recipe, however feel free to substitute with other lean steak cuts. Fillet and rump would also work well in this recipe, therefore cook the cut of beef your family enjoys eating. However, do not use stewing steak as this is a fast cook recipe and stewing steak requires hours to cook to tender.
Gluten free:
As this recipe contains no bread-based products, it is straightforward to make it suitable for Coeliacs or anyone following a gluten-free diet. If you choose to substitute a tortilla flour wrap for the large lettuce leaf, ensure it is gluten free. Similarly ensure that the oyster and soy sauces you are using are gluten-free varieties.
Visit https://eatwelshlambandwelshbeef.com/en, https://www.simplybeefandlamb.co.uk/ and https://www.scotchkitchen.com/ for more delicious and simple balanced meals with beef!
Pin the recipe: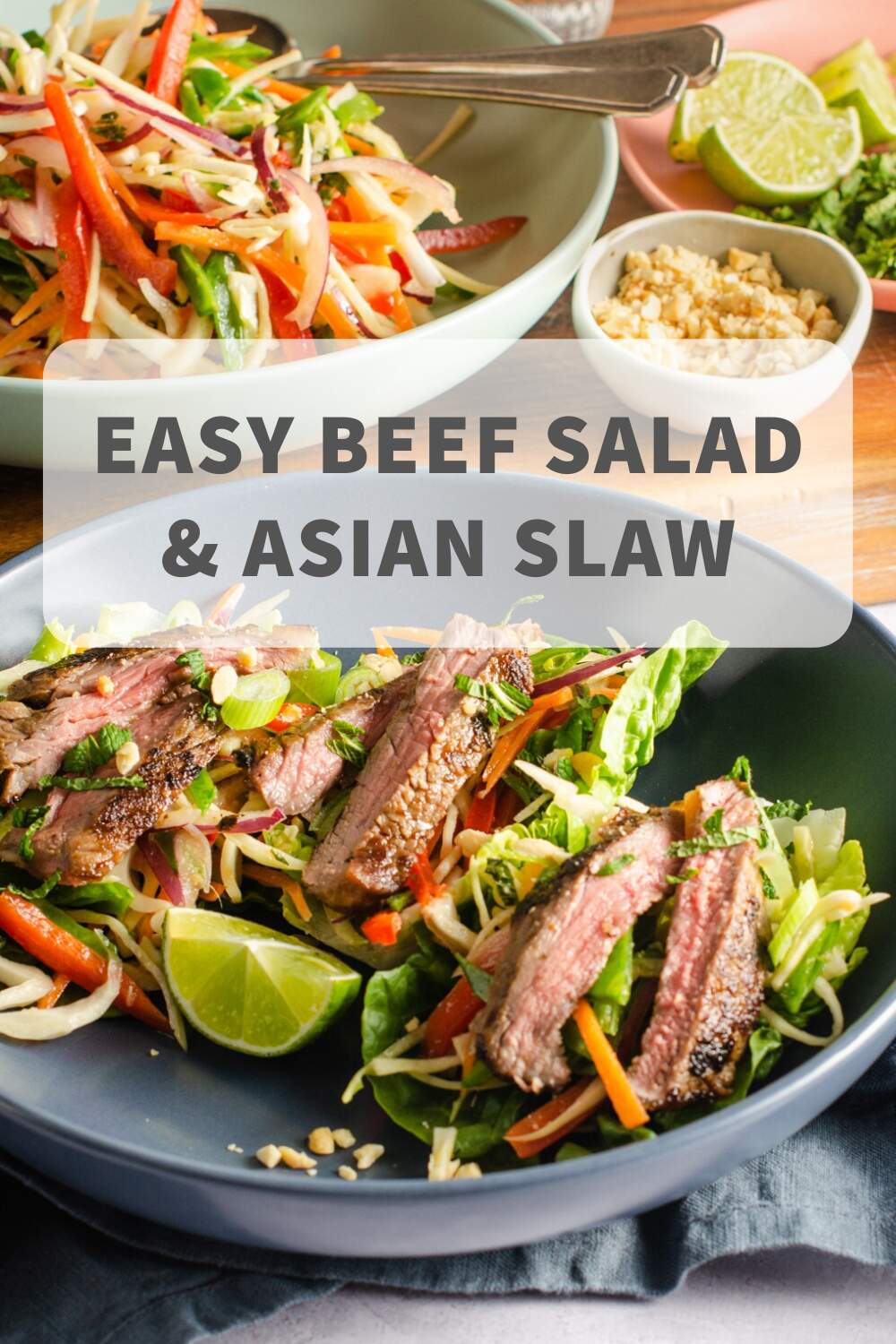 Easy Beef Salad with Asian Slaw
Easy beef salad, lean slices of marinated steak served with a crunchy slaw, comprising a rainbow of crisp vegetables and an Asian inspired dressing.
Print
Pin
Save
Saved!
Ingredients
Marinated Beef
320

g

sirloin steak

(approx 2 steaks – fat removed)

2

tbsp

oyster sauce

1

tsp

dark soy sauce

1

tbsp

cornflour

1

tbsp

sunflower oil
Crunchy Slaw
400

g

white cabbage

(thinly shredded)

160

g

mange tout

(finely sliced)

1

medium carrot

(cut into fine batons)

1

red onion

(finely sliced)

1

red pepper

(finely sliced)
Slaw Dressing
2

tbsp

sunflower oil

1

tbsp

light soy sauce

4

tbsp

rice wine vinegar

(can substitute with red wine vinegar)

2

tbsp

lime juice

2

tsp

sesame oil

1

clove garlic crushed

1

red chilli

(de-seeded and finely sliced)

1

tbsp

root ginger

(finely grated)

1

tbsp

mint leaves

(finely shredded)
To Serve
2

little gem lettuce

(leaves separated out)

4

spring onions

(finely sliced)

4

tbsp

peanuts

(crushed)

1

lime

(cut into wedges)

1

small bunch fresh mint leaves
Instructions
Marinated Beef
Place the oyster sauce, dark soy sauce and cornflour into a bowl and mix well to combine to a smooth paste. Add the whole sirloin steaks to the marinade and mix to ensure the steaks are completely coated. Set aside for 15 minutes while you prepare the rest of the dish.
Asian Slaw
Prepare all the vegetables for the Asian slaw and place them in a large bowl. Set aside.

In a bowl mix together all the ingredients for the slaw dressing and stir well to combine. Pour over the vegetables and mix thoroughly through the vegetables. Set aside until ready to serve.
To serve
When ready to serve, place a large non-stick frying pan over a high heat. Add 1tbsp sunflower oil to the frying pan and place the steaks into the pan to cook for 2-3 minutes on each side. The length of time will vary depending on the thickness of the steaks. But for a medium cooked steak you are looking for an internal temperature of 60-65C.

When the steak is cooked, remove from the pan and set aside on a warm plate to rest for 5 minutes.

Meanwhile prepare the lettuce leaves and place a spoon of the slaw into each of the leaves.

Once rested cut each sirloin steak into thin slices and place a couple of slices onto each lettuce leaf. Garnish with spring onion, crushed peanuts, fresh torn mint leaves and a wedge of fresh lime. Serve immediately.
Notes
If you don't like chilli leave it out of the dressing entirely.
The garnish items are a serving suggestion only. If you have a nut allergy leave the nuts off the dish.
Nutrition Facts
Easy Beef Salad with Asian Slaw
Amount Per Serving
Calories 384
Calories from Fat 198
% Daily Value*
Fat 22g34%
Cholesterol 49mg16%
Sodium 667mg29%
Potassium 880mg25%
Carbohydrates 25g8%
Protein 25g50%
Vitamin A 5511IU110%
Vitamin C 128mg155%
Calcium 126mg13%
Iron 4mg22%
* Percent Daily Values are based on a 2000 calorie diet.
• Please note that the nutrition information provided above is approximate and meant as a guideline only •
Share on Facebook