Easy Eton mess, a delicious Summer dessert, with berries and meringue. One of the easiest desserts to make, serve it in a jar and head out on a picnic. It's far less cooking, more of an assembly job, using simple and tasty ingredients. Furthermore, most of the elements can be store bought.
My Best Eton mess recipe is one of the easiest desserts you will ever make. Using the best of the sweet Summer strawberries, and in this particular recipe, raspberries, this light dessert can be made in no time at all.
I show you how to make Eton mess with ready-made meringue, which is far easier and saves you lots of time.
Why you will love this recipe
Can be made in minutes using a few store bought ingredients.
No need to worry about presentation as this name suggests, it's meant to look a mess!
Any easy recipe to follow and get right so perfect for everyone, including novice cooks.
Where does the recipe for Eton Mess originate?
Eton Mess is believed to originate from Eton College, England, where it has been served at the annual cricket match between the pupils of Eton College and Harrow School. It's an English dessert, traditionally made using fresh cut strawberries, strawberry puree, crushed meringues and thick, whipped cream.
It is made using the same ingredients as a strawberry pavlova, only this version is all messed up! I have often wondered if that's how it came about, somebody dropped the pavlova then scooped it up into a bowl and served it anyway?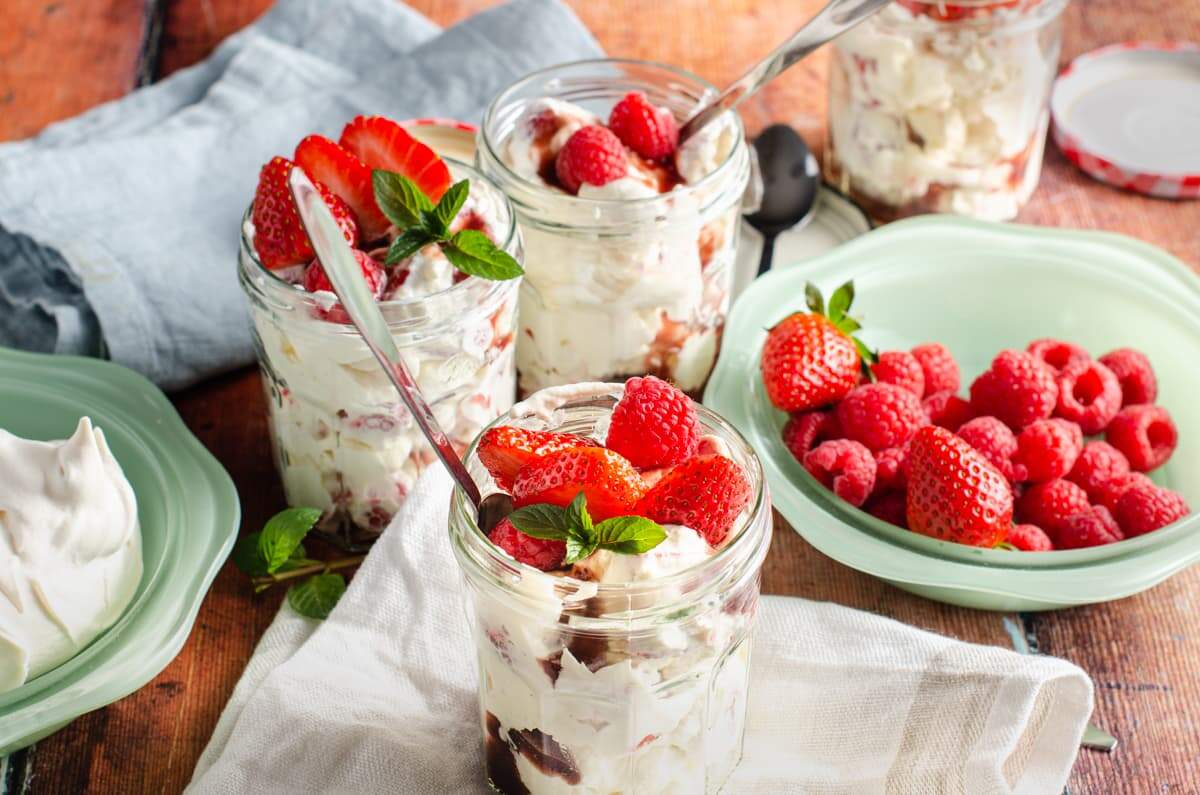 Scottish soft fruits
Scottish soft fruits are well known for their taste and sweetness. We are very lucky to live in an area where the best of these fruits are available to us right on our doorstep. If you can get your hands on Scottish strawberries we do recommend using them, they are truly delicious.
I have made a small addition to this Eton Mess and added raspberries to the mix. We are very lucky as we have such great raspberries growing locally here in the North East of Scotland.
Indeed in the past I have used blueberries and blackberries too. In fact I use whatever berries I have to hand as I like to add a mix of berries.
How to make Eton Mess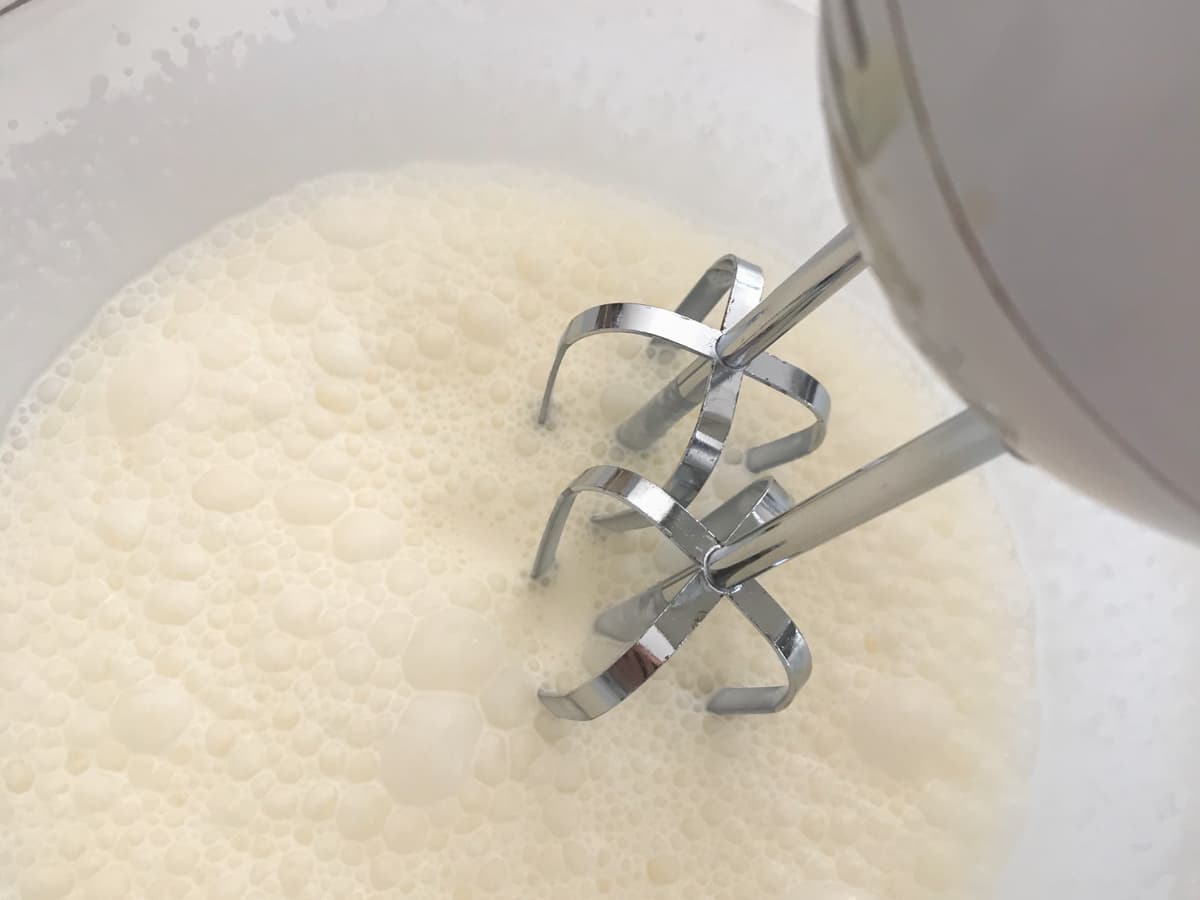 Whip the cream to stiff peaks
Add the cut up strawberries, raspberries and crushed meringue to the whipped cream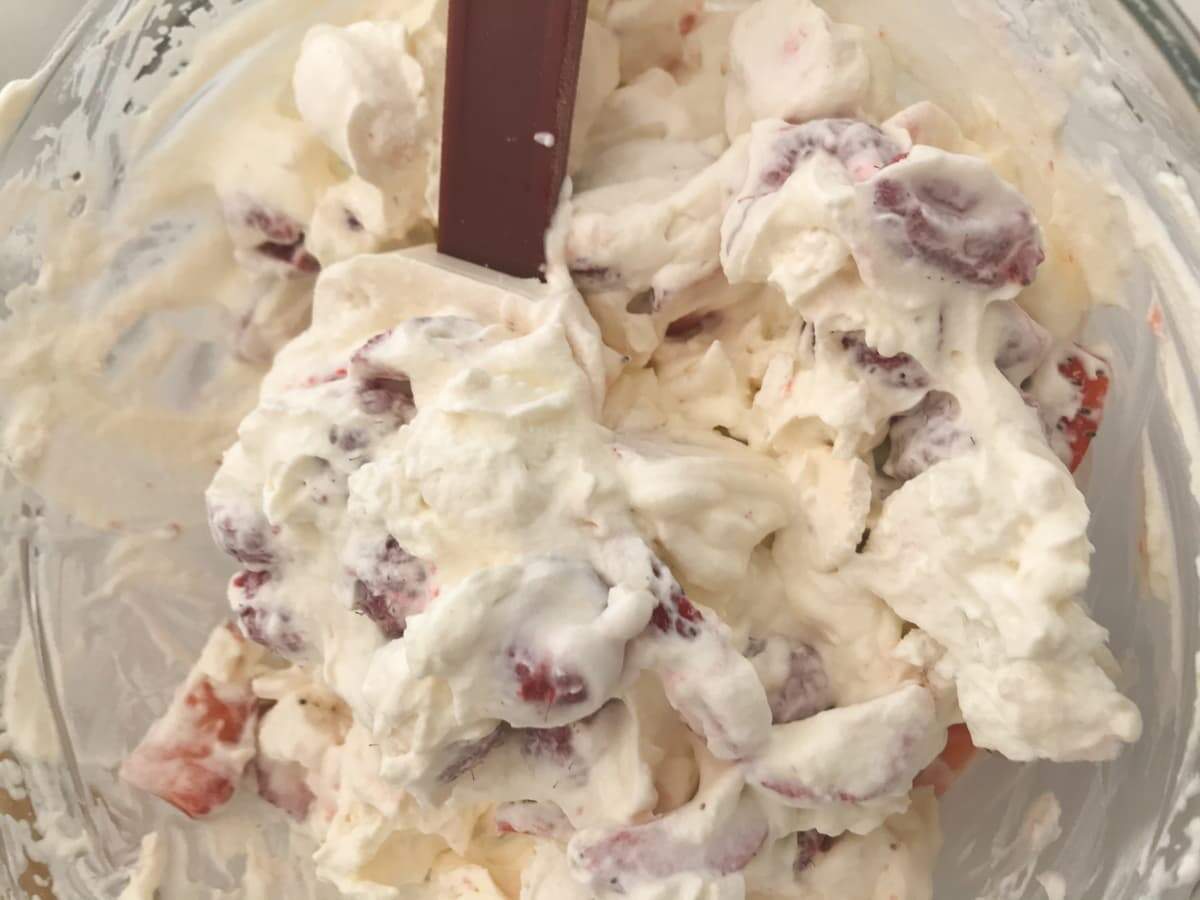 Mix well to combine and layer into the jars with fruit puree or sauce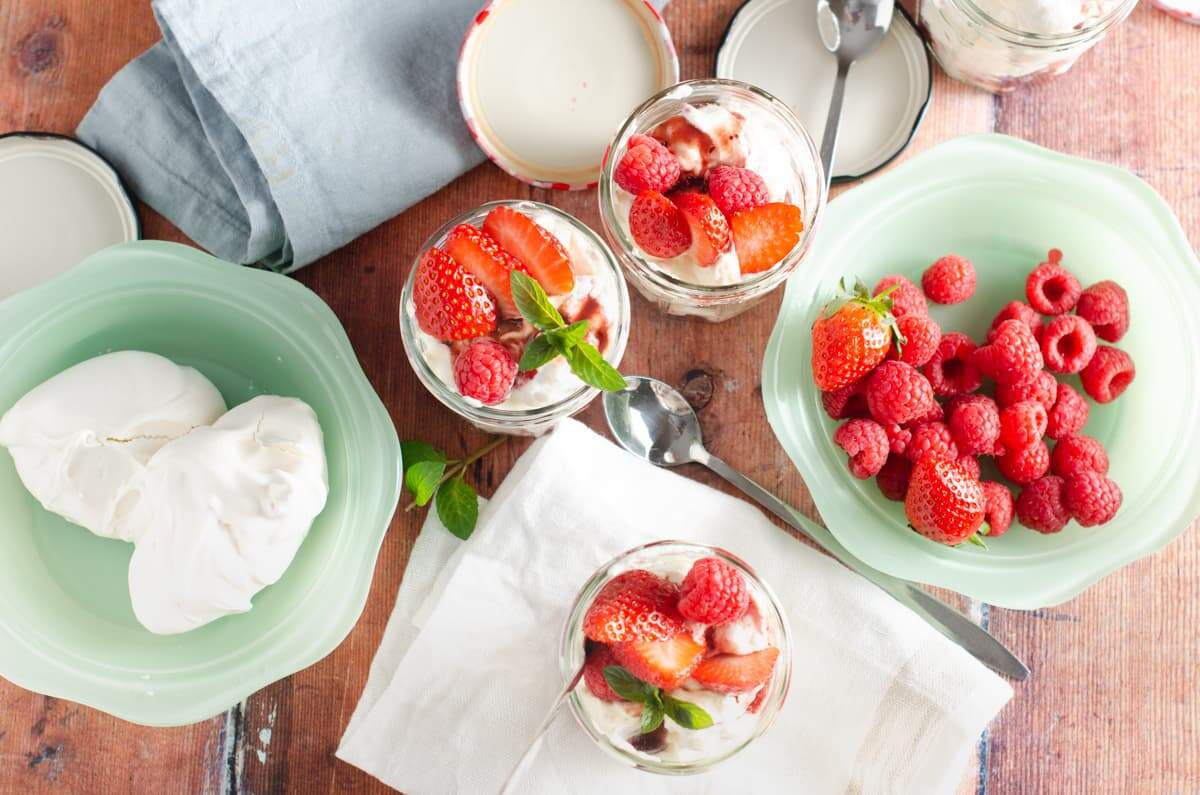 Recipe ingredients
The whole point in a quick dessert is that you keep things simple, so I use store-bought ingredients:
Cream: This recipe asks for double cream, however, whipping cream will do the same job.
Meringue: I prefer to use store-bought meringue nests in this dessert as they are harder in texture than homemade, which adds much needed crunch and texture. I find homemade meringues lighter and therefore they have a tendency to dissolve into the cream.
Berries: I use a combination of fresh strawberries and raspberries in this recipe.
Berry puree:This recipe uses a berry puree or sauce to layer up the dessert. I find that a shop bought puree or coulis works just fine for this. However, it's also very simple to make a berry puree (see instructions below).
How to make a simple berry puree?
Using a stick blender blitz up some extra berries then pass the liquid through a fine sieve. Check for sweetness, I find that berries don't need any sugar added. However, if the puree is on the sour side, add a little icing sugar and mix through.
Bear in mind however, that the whole point of any picnic is not to spend hours preparing food, but to get out into the great outdoors enjoying the sunshine.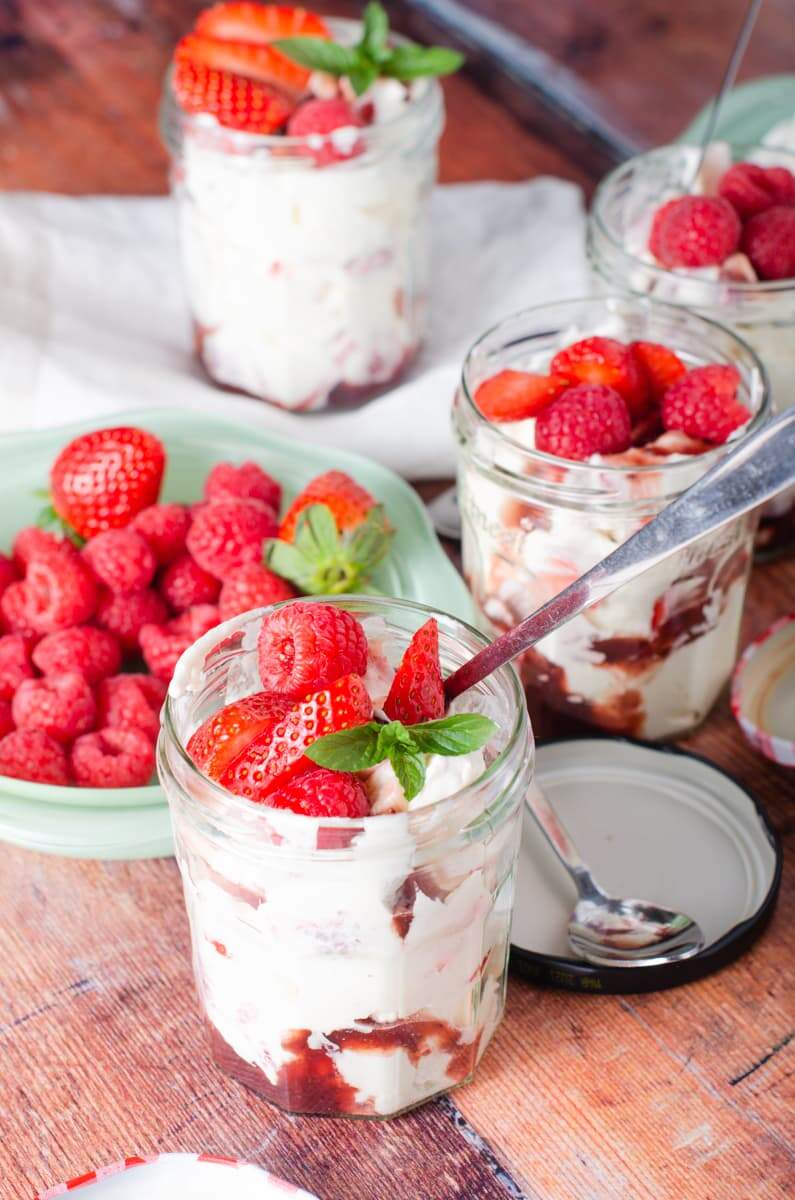 Perfect for picnics
I like to picnic all year round and packing a sweet treat is high on my list. In the Winter months it's often a Chocolate & Pecan Brownie. However, in the Summer I like to pack a proper pudding, like a chocolate or lemon mousse; a pannacotta; or this Eton Mess.
I like to layer these simple desserts into jam jars, popping the lid on and packing them into my cool bag. If you've not got too far to travel they are an ideal treat and never fail to put a smile on everyone's face.
However, should they tip over, don't fret. After all, as the name suggests, these desserts look messy to start with! This recipe fits into 4 jam medium sized jam jars, or 6 smaller jars if feeding more people. Perfect sized sweet treats.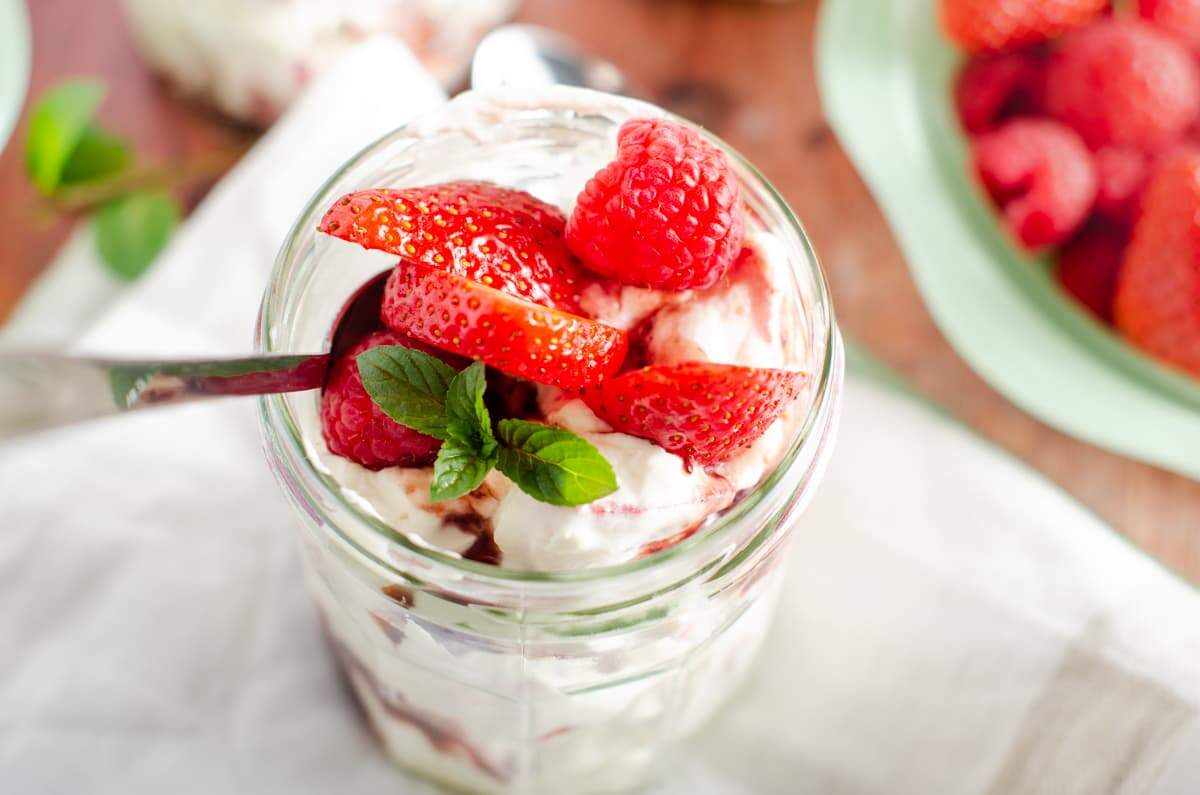 Useful hints and tips
Take care when whipping the double cream, you want thick whipped cream and not butter.
Use a gentle touch when folding the ingredients through the double cream, you want to keep as much air as possible in the cream.
Garnish the dessert with a few extra berries.
Allergy advice: gluten free, soya free and nut free. For comprehensive and detailed allergy advice go to Allergy UK.
FAQs
Can I make Eton mess in advance?
Whilst you can make this dessert earlier in the day and set it in the fridge to chill, Eton mess is a dessert that best made and eaten the same day. If left overnight the cream has a tendency to split and the meringues will turn to pure sugar and melt through the cream.
Can this recipe be doubled up?
Yes, this is a really easy recipe to double up if you are feeding crowd? I sometimes like to make a large Eton mess recipe and serve it up in a large trifle bowl, rather than individual serving dishes.
Is Eton mess gluten free?
Eton mess is a great gluten free dessert, this recipe is one of my go-to recipes when feeding family and friends who are Coeliac. Meringues are great for anyone following a gluten free diet.
Pin the recipe: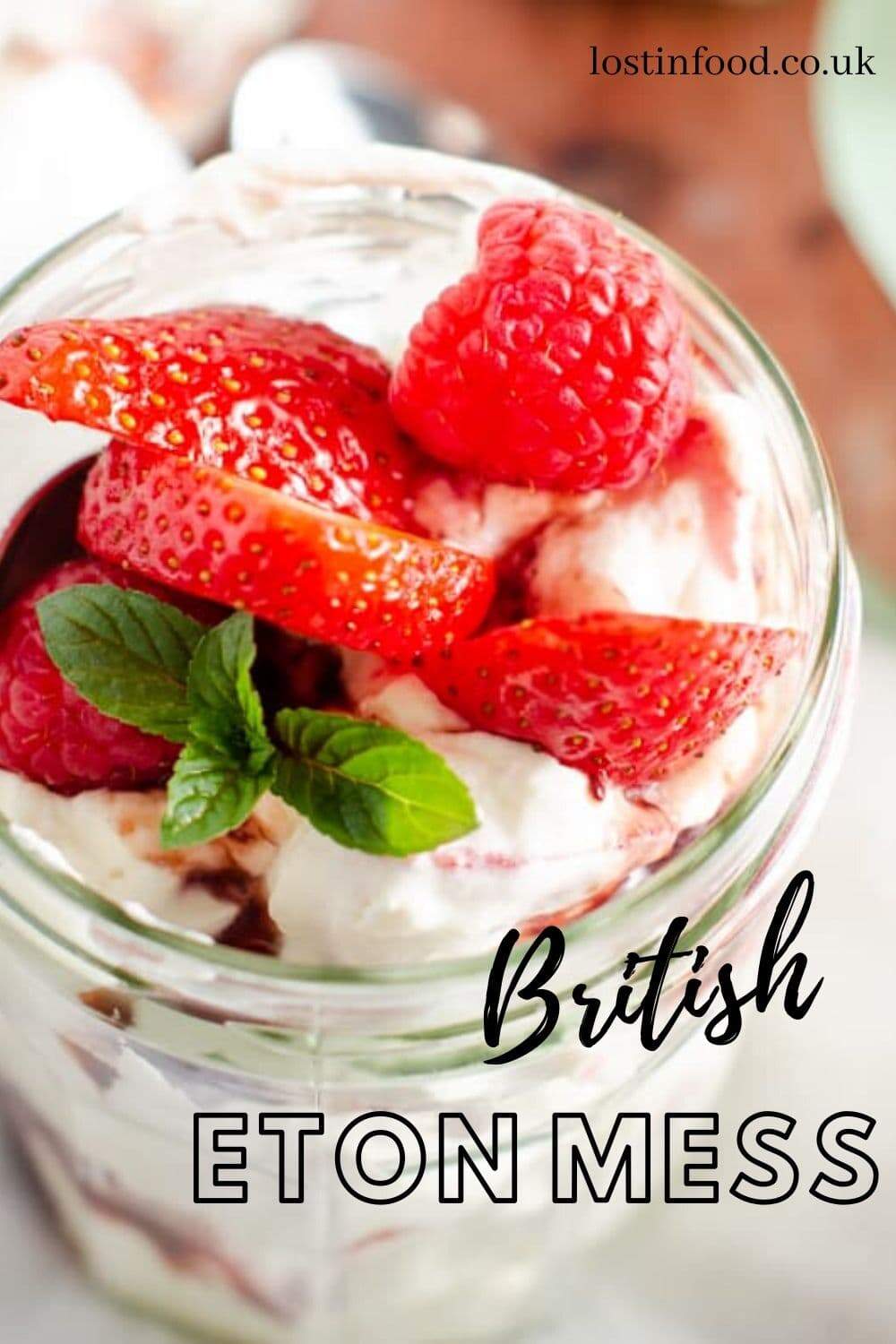 Additional recipe suggestions:
Looking for some other quick dessert ideas, then try our other no bake desserts:
For more inspiration have a read of our No Bake Desserts post which contains helpful hints and tips as well as a great selection of our favourite no bake dessert recipe.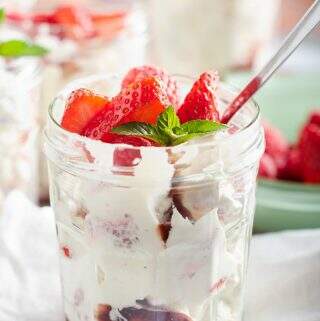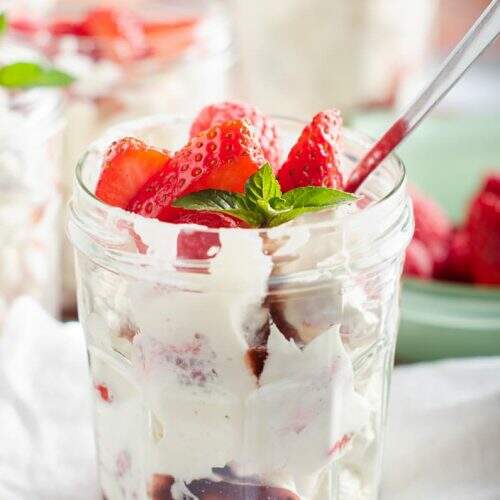 Easy Eton Mess
Eton mess, a delicious Summer dessert, with berries and meringue. One of the easiest desserts to make, pop it into a jam jar, secure the lid and head out on a picnic.
Print
Pin
Text
Save
Saved!
Ingredients
300

g

double cream

4

meringue nests

(crushed)

200

g

strawberries

(hulled and sliced)

200

g

raspberries

180

ml

berry puree or sauce
Instructions
In a large bowl, whisk the double cream to form stiff peaks.

Add the crushed meringues, sliced strawberries and raspberries to the cream and gently fold through.

Next layer the ingredients into either serving dishes, or jam jars if you are planning a picnic. First spoon in some cream, then pour over a drizzle of berry puree. Repeat this process another couple of times so that you have nice layers of both the cream mixture and the berry sauce.

Once finished either cover and place the dishes in the fridge. Alternatively if filling jam jars, pop on the lid, place in your cool bag and head out for your picnic.
Notes
Shop bought meringue nests work great in this dessert. Don't go giving yourself extra work making your own meringues. The whole point of this dessert is that it is quick to prepare.
If you don't have any berry puree (shop bought works just fine here too), take a few extra berries and blitz them up using a hand blender.
Nutrition Facts
Easy Eton Mess
Amount Per Serving
Calories 365
Calories from Fat 252
% Daily Value*
Fat 28g43%
Cholesterol 103mg34%
Sodium 30mg1%
Potassium 277mg8%
Carbohydrates 27g9%
Protein 3g6%
Vitamin A 1119IU22%
Vitamin C 69mg84%
Calcium 76mg8%
Iron 1mg6%
* Percent Daily Values are based on a 2000 calorie diet.
• Please note that the nutrition information provided above is approximate and meant as a guideline only •
Share on Facebook
This recipe has been shared to CookBlogShare, click on the link to find recipes by fellow food bloggers.