Vegetable and coconut curry, with a fragrant blend of herbs and spices. Delicious chunky vegetables bound in a creamy coconut curry that is quick to cook.
This vegetable and coconut curry is simple to prepare and doesn't take too long to cook. For this reason it makes a great mid week family meal. Particularly on days where I'm short of time yet still want to put a tasty plate of food on the table. Laden with vegetables this curry ups the vegetable count, however, is in no way a heavy curry. Quite the opposite in fact, a great way at getting my children to eat vegetables.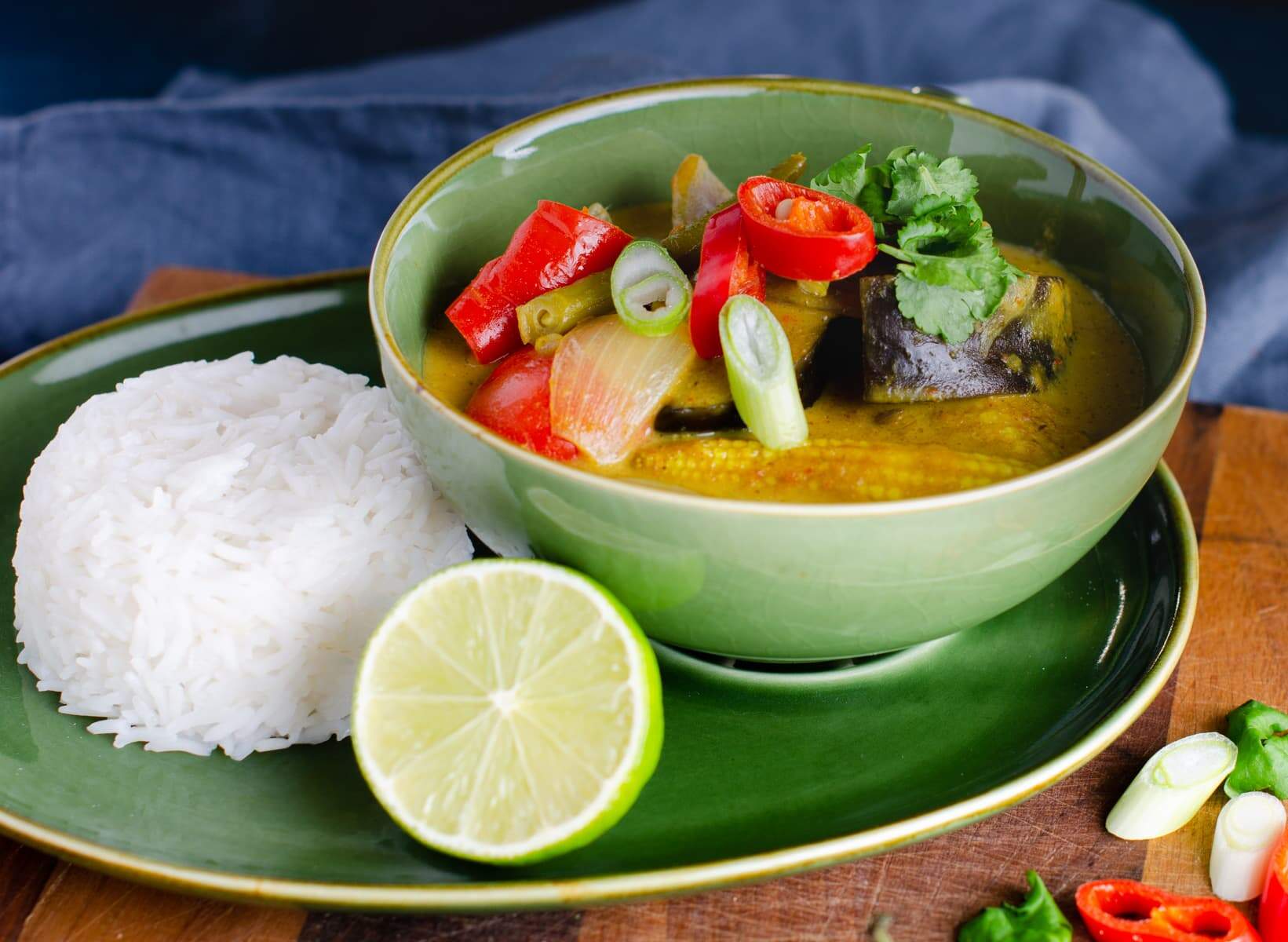 The inspiration for this particular curry comes from a trip I had to the Indonesian island of Batam many years ago. It's one of those memorable meals that have stayed with me.
I was sat on the balcony of the restaurant on a balmy evening, overlooking the sea. The curry was excellent, I know this because I ordered the same dish more than once during my short trip.
I love a vegetable curry above all other curries, they are so often my go to. This particular curry adds a creaminess with coconut milk and always brings a smile to my face, reminding me of carefree holidays in the sunshine. I love it when food does this, transports you somewhere and before you know it you're sat happily reminiscing. I've tried to recreate that curry in this recipe here.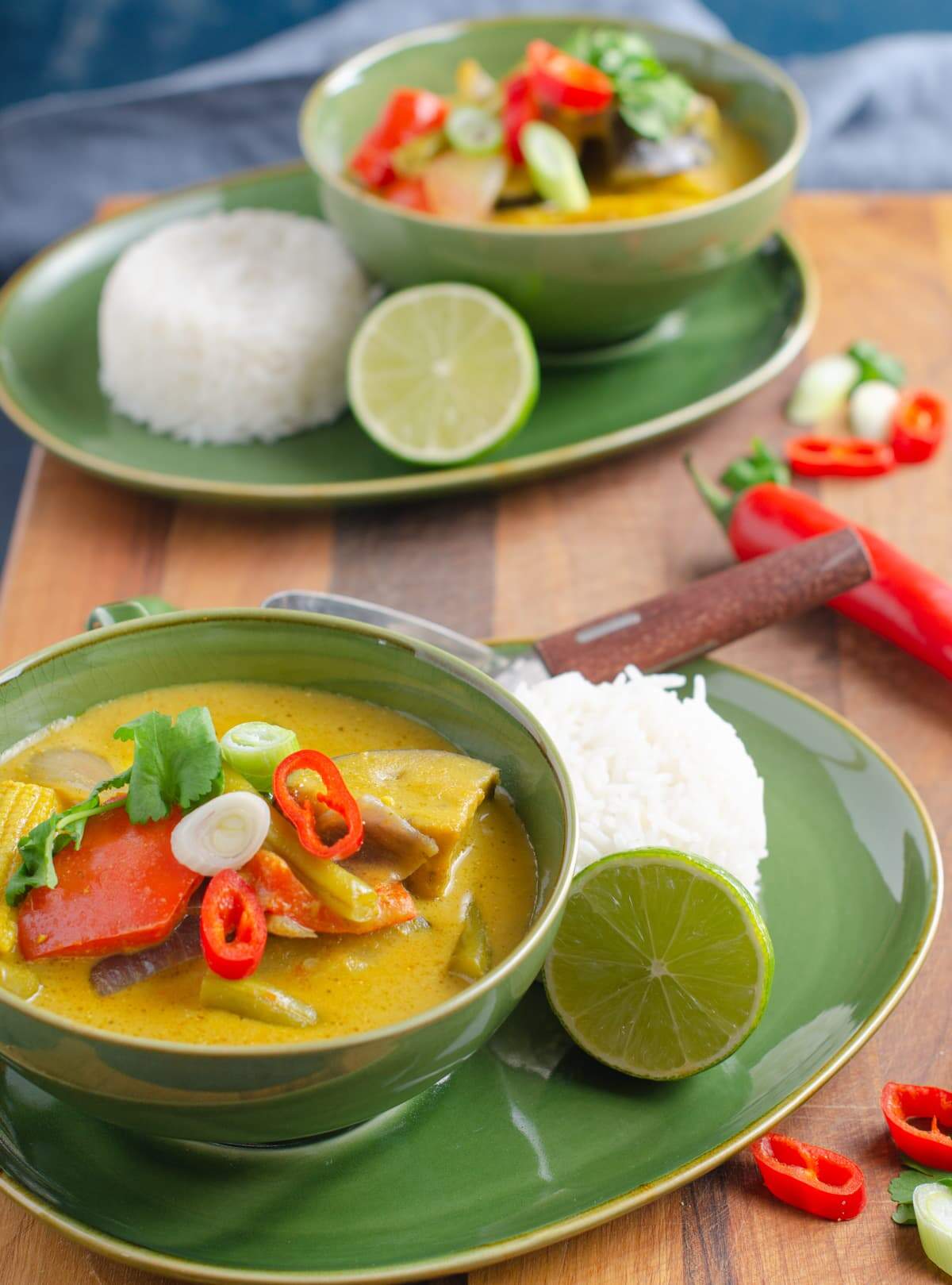 Vegetables that work in this curry?
As with any vegetable curry, I suggest using the vegetables that you enjoy eating yourself. For example: carrot; butternut squash; pumpkin; sweet potato; cauliflower; and broccoli would all work well in this dish.
That's what I like about this particular vegetable coconut curry recipe, it's versatile and easily adapted to suit individual tastes and also what vegetables you happen to have lying around in the fridge or freezer.
Add some fresh tomatoes; frozen peas; or spinach 5 minutes before the end of the cook if you would like.
In the past I've roasted cauliflower in the oven first to give is a nice char, adding it to the curry towards the end of the cook. In other words, use the recipe as a guide but make the curry your own.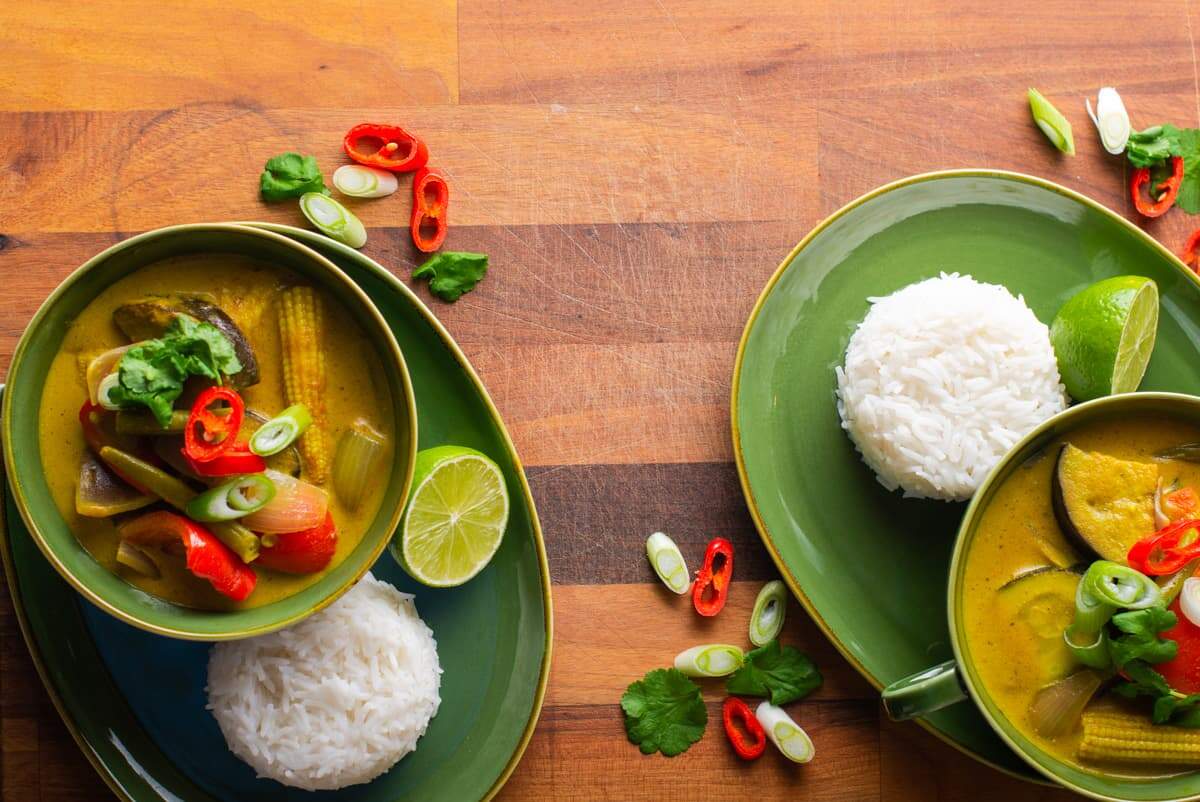 Can I use frozen vegetables?
I have used fresh vegetables in this particular vegetable curry as that is what I had in my store cupboards. However, I think frozen vegetables work equally well in a curry. There is such a great selection of frozen vegetables available to us now, including carrots; onions; leeks; cauliflower; and broccoli. If that's what you have available then use it.
I always have frozen peas: spinach and broad beans in my freezer. In fact on these particular items I rarely use anything else. Not only are they convenient but they also keep a real freshness of taste. It's far simpler to throw in a handful of frozen peas, than to stand and shell peas from the supermarket that are likely days old. They will also taste sweeter as they are frozen within hours of picking.
Can I adapt the chilli heat in this curry?
This recipe uses 2 whole chillies, and my children both enjoy this curry. When I make this curry for myself and my husband I add more chillies to increase the heat. However, if you would prefer to cut down on chillies, either de-seed them, or reduce the amount of chillies you add. This is entirely down to personal preference.
Like most recipes, chilli is easy to adapt to taste. If you want a milder curry reduce the amount of chilli, for a hotter add and extra 1 or 2 to the cook. I'm a chilli head, so the hotter the better for me!
Recipe steps: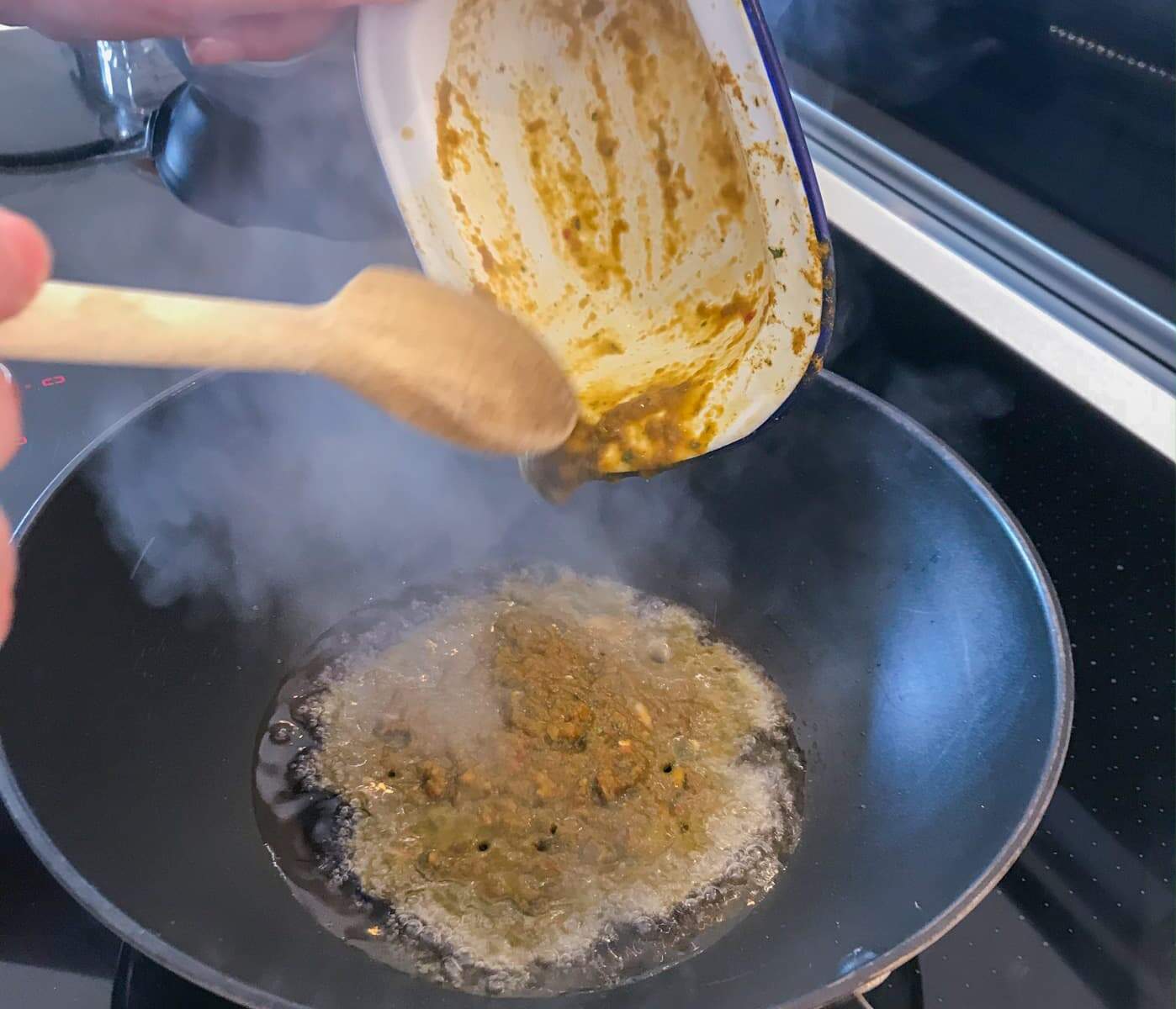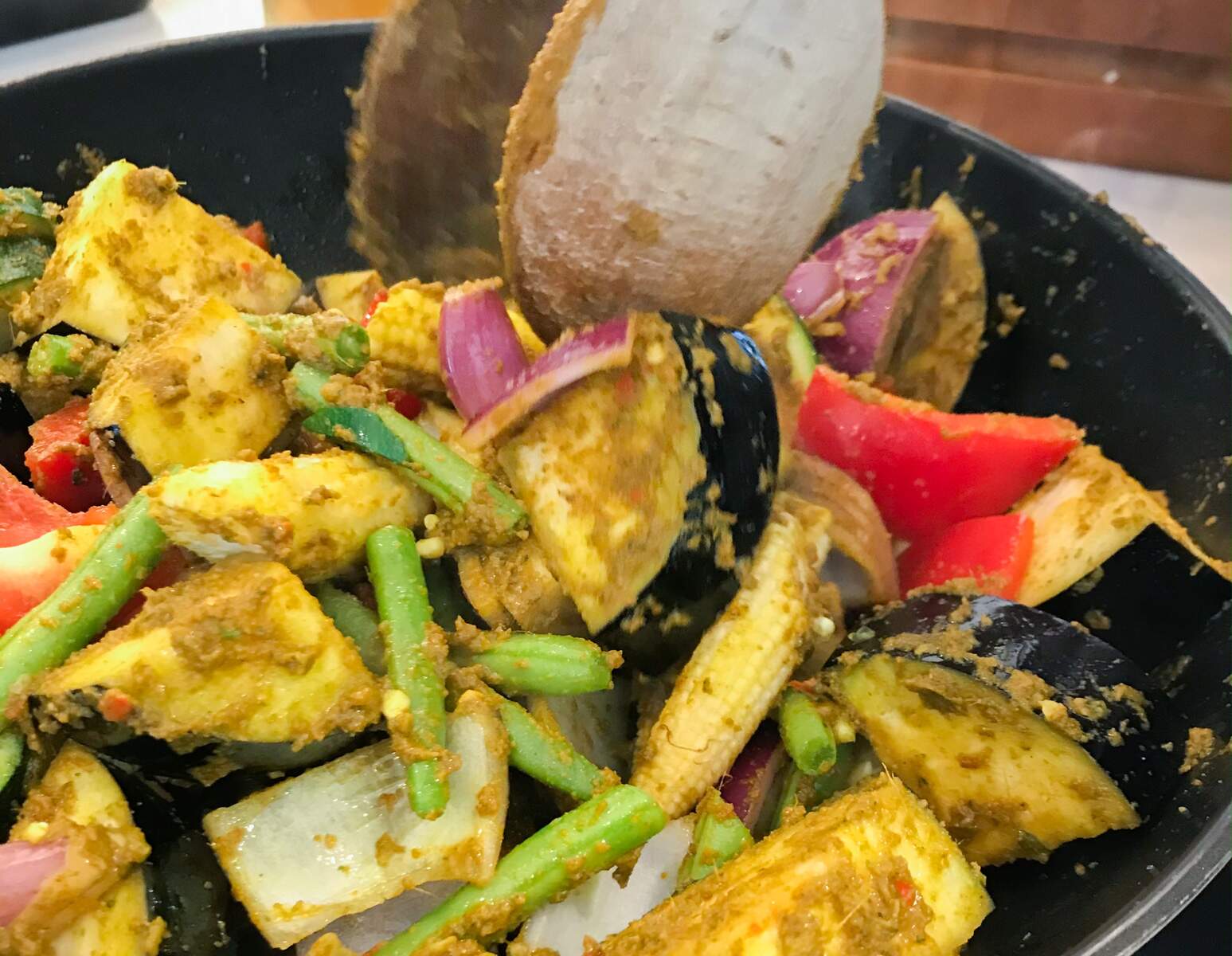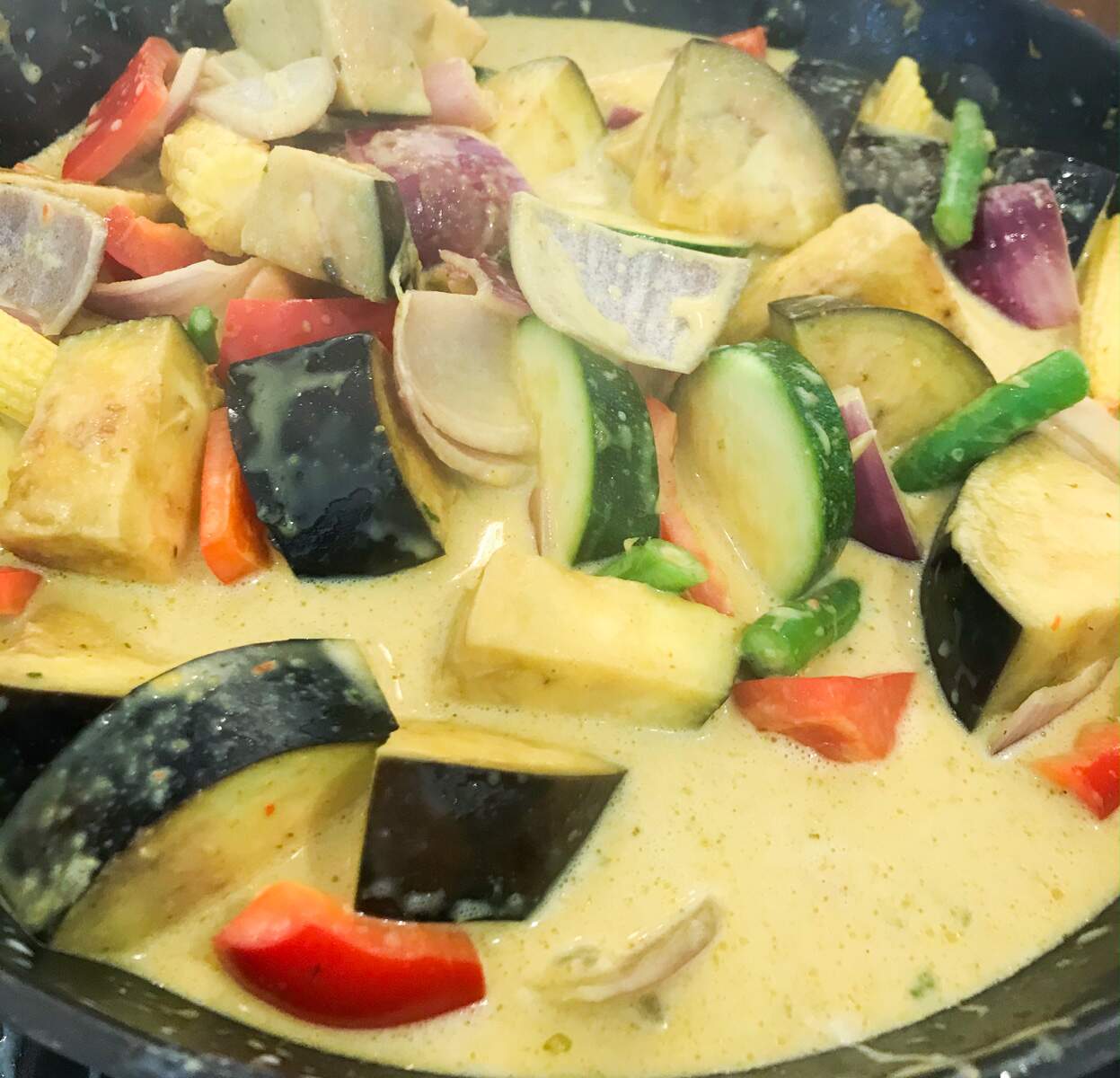 Substitutions that can be made to this curry:
This curry benefits from having a good balance of salt, sweet and sour in the dish. The balance of tastes makes a huge difference to the finished dish. Therefore, if you don't have palm sugar then simply substitute with some light muscavado sugar or light soft brown sugar instead.
The tamarind paste adds a sourness to the curry. However, if you can't find any tamarind paste, substitute with another sour flavour. I like to add the juice of a lemon or lime instead, as this will balance the sour acidity in the dish.
We have used rich and creamy coconut milk to this curry as it adds a lovely richness to the dish. However, if all you have to hand is light coconut milk then you can add that instead. Just be aware that this will result in a far looser curry sauce. Although I do find there is a lot of variation in thickness and richness across the various brands of coconut milk available to us in our supermarkets.
Is this curry suitable for a Vegetarian or Vegan Diet?
This curry is suitable for both vegetarian and vegan diets as it contains no animal based produce. The creaminess of the curry comes from the coconut milk that has been added to the curry along with the other vegetables.
Packed full of tasty vegetables this curry also goes a long way to providing 2-3 portions of your 5-a-day!
I love vegetables in pretty much all their glorious forms and I like to eat meat free 2-3 times a week. This vegetable & coconut curry is great dish for anyone who wishes to add some meat free days to their weekly diet.
Pin the recipe: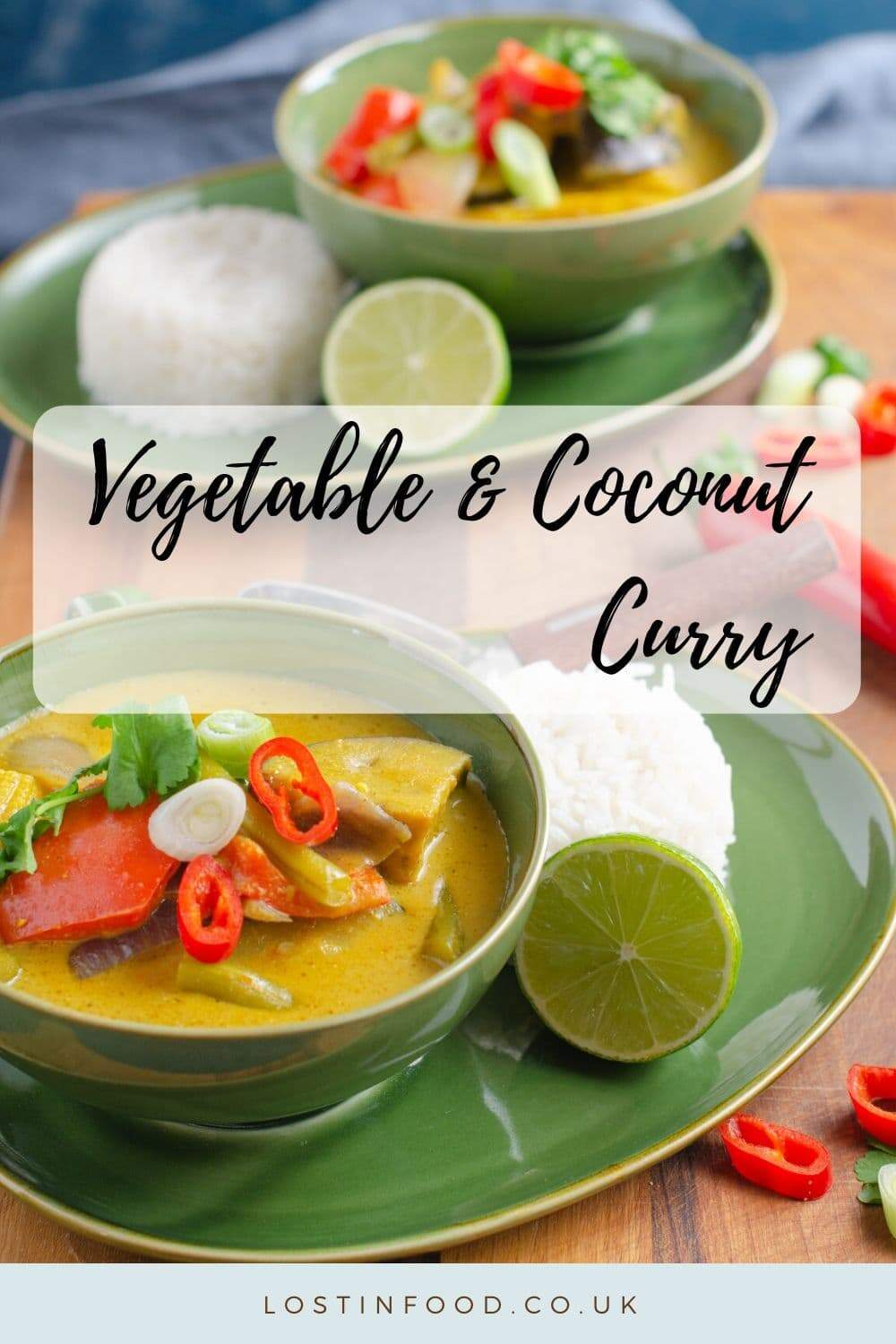 Additional recipe suggestions:
If you like this recipe then try our other curry recipes
If you are looking for other ideas for family dining, then check out our Ultimate Guide to Family Dinners where you will find lots of useful hints, tips and recipe ideas for feeding your family.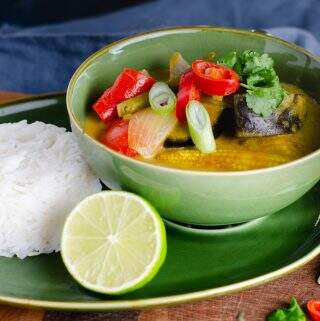 Vegetable & Coconut Curry
Vegetable and coconut curry, with a fragrant blend of herbs and spices. Delicious chunky vegetables bound in a creamy coconut curry that is quick to cook.
Print
Pin
Save
Saved!
Ingredients
Curry Paste
2

red chillies

4

cloves garlic

5

cm

root ginger

1

large bunch coriander leaf and stem

20

ml

water
Curry Sauce
2

tbsp

sunflower oil

1

tbsp

ground cumin

1

tbsp

ground coriander

1

tsp

ground turmeric

2

red onions

(cut into large chunks)

1

aubergine

(cut into large chunks)

1

courgette

(cut into large chunks)

1

red pepper

(de-seeded and cut into large chunks)

120

g

baby sweetcorn

(cut in half)

100

g

green beans

(trimmed and cut in half)

400

ml

rich & creamy coconut milk

150

ml

water

1

Knorr vegetable stock pots

1

tsp

palm sugar

1

tsp

tamarind paste

salt & pepper
Garnish – optional
2

red chillies

(sliced)

2

spring onions

(sliced)

coriander leaf

2

limes

(cut into wedges)
Instructions
Curry Paste
Place all the ingredients for the curry paste into a food processor and blitz to a smooth consistency.
Curry Sauce
Pour the sunflower oil into a large wok or non-stick frying pan and heat to medium high. Add the curry paste and cook for 3 minutes, stirring constantly.

Add the ground cumin, coriander and turmeric to the curry paste and cook for 1 minute, stirring constantly, until the dried spices omit their fragrance.

Place all the vegetables to the wok and stir to ensure all the vegetables are covered with the paste. Stir gently for 5 minutes.

Add the coconut milk, water, vegetable stockpots, palm sugar and tamarind paste, stir to mix thoroughly and turn the heat down to medium. Cook for 12-15 minutes until the vegetables have softened. Check for seasoning and add salt and black pepper to taste.

Serve immediately and garnish the top with chilli, spring onion and coriander leaf. If desired place a wedge of lime on the side.
Notes
If you don't have palm sugar, soft brown sugar can be substituted. Likewise, if you don't have tamarind paste, substitute this with the juice of a lemon or lime.
If you want to add less chilli heat, de-seed the chillies or reduce the number of chillies that you add to the curry paste.
We recommend using a thick and creamy coconut milk. However, if you want to use a lighter, thinner coconut milk, cut the water down a little.
Nutrition Facts
Vegetable & Coconut Curry
Amount Per Serving
Calories 281
Calories from Fat 180
% Daily Value*
Fat 20g31%
Sodium 257mg11%
Potassium 774mg22%
Carbohydrates 26g9%
Protein 5g10%
Vitamin A 1228IU25%
Vitamin C 91mg110%
Calcium 74mg7%
Iron 4mg22%
* Percent Daily Values are based on a 2000 calorie diet.
• Please note that the nutrition information provided above is approximate and meant as a guideline only •
Share on Facebook
This recipe has been shared to CookBlogShare, click on the link to find recipes by other food bloggers.