No bake lime and ginger cheesecake, quick and simple to prepare but full of zesty flavour. Ideal for serving as dessert when friends are round for dinner as it can be made ahead of time!
No bake lime cheesecake, is one of the dessert recipes that I cook all the time. It's the dessert I prepare when I've little time but still want something tasty. Or when I arrange an impromptu dinner and don't have too much time to get everything ready before people arrive.
I'm a very sociable person and love having family and friends round for dinner. However, in the past I've fallen into the same trap many will have fallen into when it comes to entertaining. I've tried too hard creating something complex and then found myself stressed out before my guests arrive.
This, of course, misses the entire point of the get together. Friends are coming to socialise with you, not watch you cook! Instead I want to be stood relaxed with a glass of wine in my hand, with little more to do than serve up!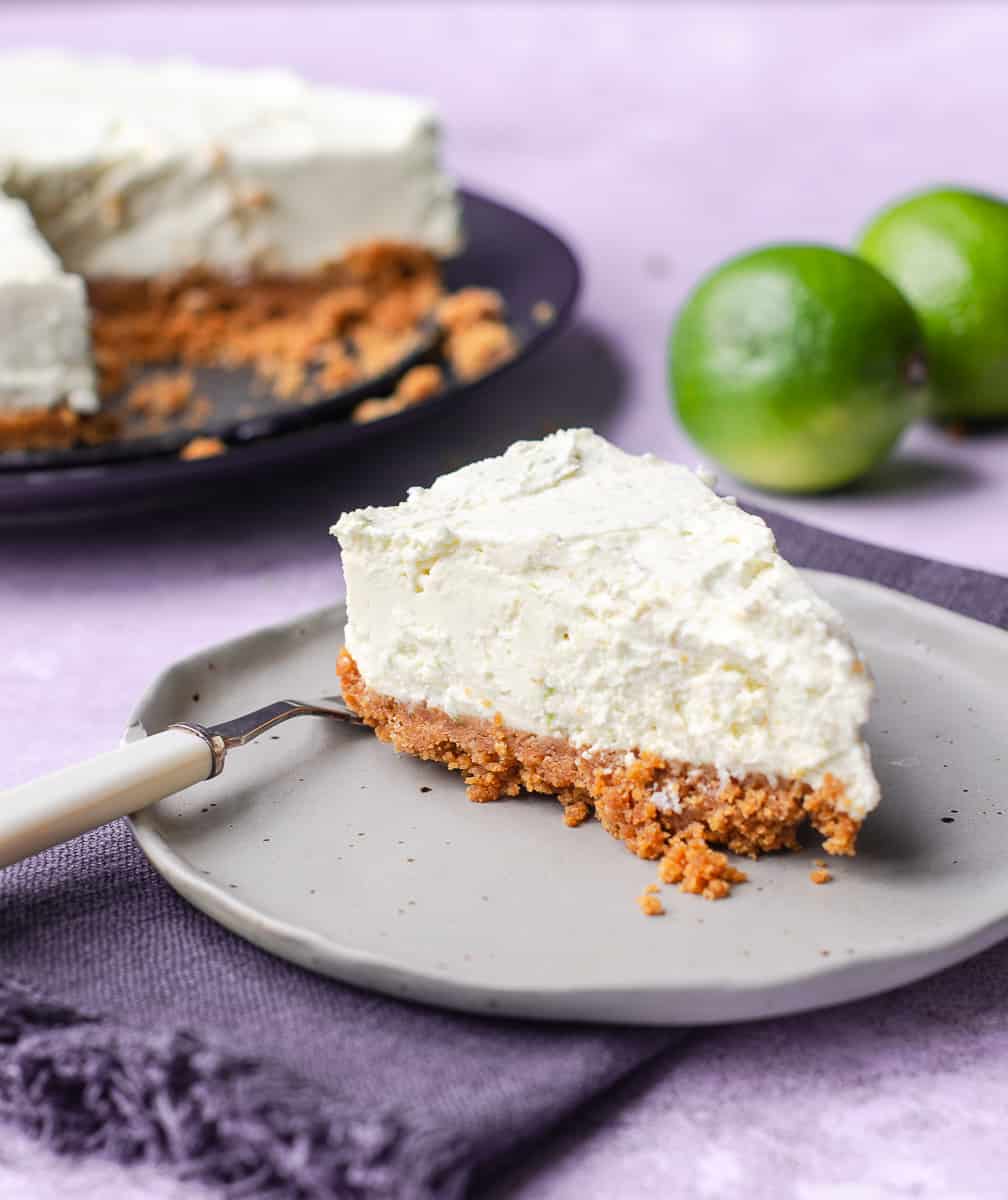 These days I've learned that keeping things simple is the way to go. I always prepare at least one course in advance. A course that I have ready to serve, requiring the smallest amount of time and effort to get it on the table. I like to prepare ahead starters or desserts, but ideally both.
After all, nobody enjoys watching their host in a blind panic, trying to get food on the table
Can this no bake cheesecake be made ahead of time?
Yes this recipe for no bake cheesecake can be prepared ahead of time. This is my fail safe dessert, which can be prepared the day before and left in the fridge until you are ready to serve.
It's a very simple dessert to prepare and doesn't require a lot of time or effort. More a case of combining the flavours to get them right for your taste and assembling the cheesecake. This is a reliably good dessert that I always receive high praise for, any time I serve it.
Recipe ingredients and substitutions:
Limoncello: The limoncello adds alcohol to this dessert. Therefore if making for children or if you'd simply rather exclude alcohol from the dessert, leave it out. In place of the limoncello, add a little sour cream to loosen the mascarpone cheese mixture instead.
Ginger Biscuits: If you don't have ginger nut biscuits don't worry these can be substituted with another biscuit. Something like a digestive biscuit or oat based biscuit would also work for the base. Just make sure the biscuit you choose is crumbly, so that it will break down into a nice breadcrumb for combining with the butter.
Lime Curd: I love the addition of lime curd swirled through this mixture, it adds great flavour. However, if you can't find lime curd then leave it out. Perhaps one of your guests has an egg allergy and can't eat curd because of the egg content. If leaving out the lime curd simply replace it with a little added lime zest and juice to the mixture.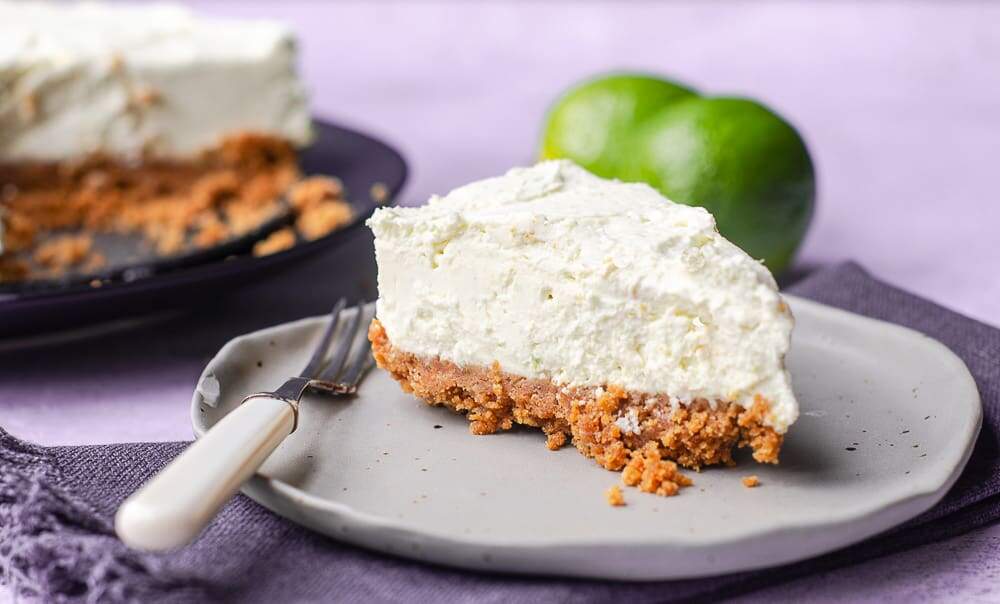 No bake cheesecake alternative flavour combinations:
This no bake cheesecake is very easily adapted to suit other citrus flavours. For example you could substitute the lime juice, zest and curd for either lemon or orange. Or how about a combination of lemon & lime?
If you wanted to add a little decoration grate some good quality chocolate over the top, just before serving. However, when pushed for time I have been know to crumble on a chocolate flake!
This is when entertaining is fun. You make something that is deceptively simple, yet everyone enjoys it and many ask for the recipe.
Desserts like these mean that you can relax and have that extra glass of wine with your main course. Knowing all you have to do is remove it from the fridge, slice and serve this no bake cheesecake. Preferably with a nice dessert wine to wash it down!
Useful hints and tips:
Taste the filling as you go. Just keep tasting the mascarpone mixture to get the balance of flavour right. It should be neither overly sweet with icing sugar, nor overly sour with lime juice.
For an alcohol free dessert remove the limoncello liqueur and replace with a little extra lime juice instead.
For a gluten free cheesecake just ensure that the biscuits you use to make the biscuit base are a gluten free variety.
Allergy advice: peanut free, soya free and nut free. For comprehensive and detailed allergy advice go to Allergy UK.
Pin the recipe:
Additional recipe suggestions:
If you enjoyed this recipe then try osome of our other great desserts:
For more inspiration have a read of our No Bake Desserts post which contains helpful hints and tips as well as a great selection of our favourite no bake dessert recipe.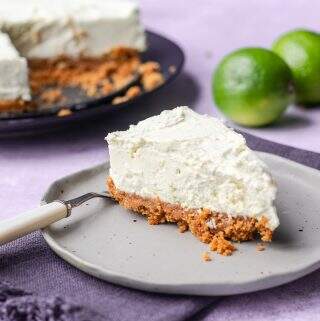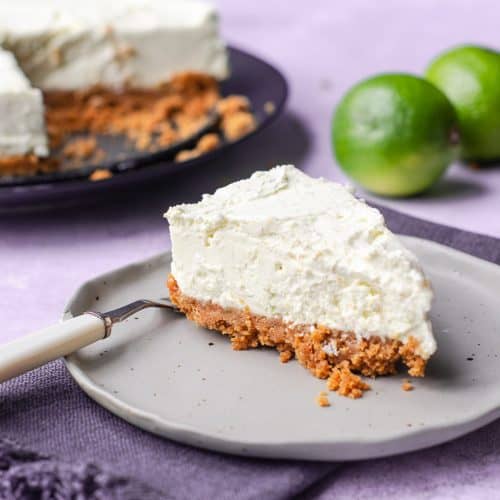 No-bake Lime & Ginger Cheesecake
Lime and ginger cheesecake, quick and simple to prepare but full of flavour. Ideal for serving as dessert when having friends for dinner as it can be make ahead of time.
Print
Pin
Text
Save
Saved!
Ingredients
250

g

ginger biscuits

(crushed into crumbs)

120

g

butter

(melted)

750

g

mascarpone cheese

60

g

icing sugar

4-5

limes

(zest and juice)

6

tsp

lime curd

50

ml

limoncello liqueur
Instructions
Crush the ginger biscuits, place in a bowl and add the melted butter. Mix to combine and then place in a 20cm loose bottomed flan case. Press the mixture firmly onto the base using the back of a spoon and smooth to form the cheesecase base. Place the flan case in the refrigerator until you are ready to fill.

Empty the tubs of mascarpone into a large bowl and break up. Add the remaining ingredients to the bowl and whisk together to form a smooth, lump free mixture. Taste the mixture for balance and to ensure it's how you want it to taste. If you want it a little sweeter add more curd or icing sugar. To increase sourness add more lime juice.

Remove the flan case from the fridge and pour over the cheesecake mixture. Smooth the top and place back in the refrigerator for at least 2 hours until ready to serve.

Remove the cheesecake from the fridge half an hour before serving.
Notes
If you would rather leave out the limoncello liqueur then feel free to do so, replace instead with enough sour cream to loosen the mixture.
This cheesecake can be made a day ahead of when you need it, making it an ideal dinner party dish.
Nutrition Facts
No-bake Lime & Ginger Cheesecake
Amount Per Serving
Calories 487
Calories from Fat 351
% Daily Value*
Fat 39g60%
Cholesterol 89mg30%
Sodium 213mg9%
Potassium 89mg3%
Carbohydrates 27g9%
Protein 6g12%
Vitamin A 1133IU23%
Vitamin C 5mg6%
Calcium 111mg11%
Iron 1mg6%
* Percent Daily Values are based on a 2000 calorie diet.
• Please note that the nutrition information provided above is approximate and meant as a guideline only •
Share on Facebook