A delicious baked vanilla cheesecake served with mulled plums, plum puree and a mulled plum syrup. A decadent dessert that can easily feed a crowd.
Our baked vanilla cheesecake, is a popular recipe in both our homes. This baked cheesecake is similar in style to a New York Cheesecake and is made using Phillidelphia cream cheese.
We have paired this beautifully light cheesecake with the flavour of mulled plum. However, if you would prefer you can just enjoy the cheesecake on it's own.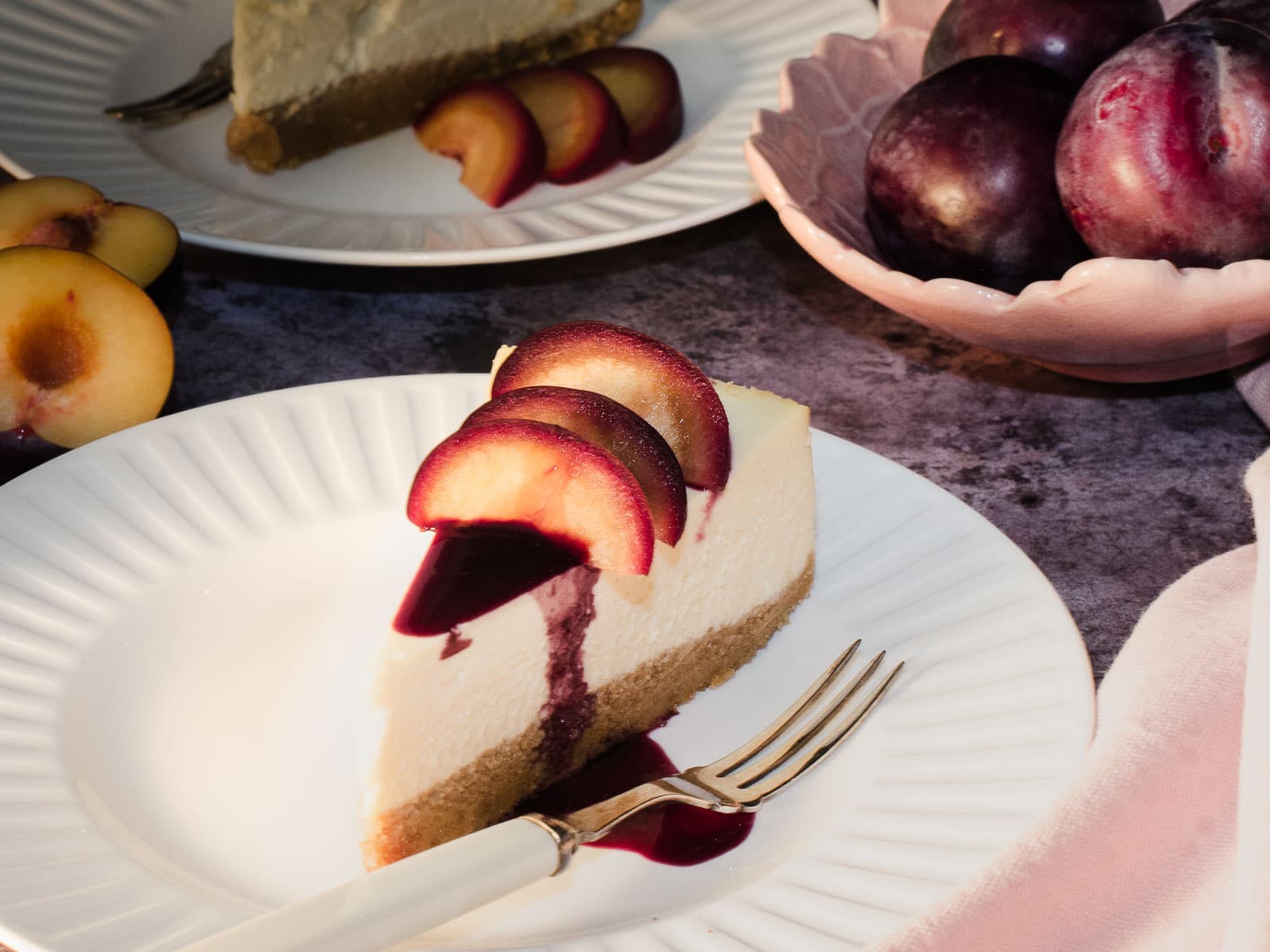 Although there are a few components to this dish, they can all be prepared ahead of time and kept in the fridge until you are ready to assemble. Just remember to take everything from the fridge an hour before serving to come to room temperature. This makes this baked cheesecake a great dessert when you have family and friends for lunch or dinner. It also makes a great festive prep-ahead dessert on Christmas day!
This was the dessert we served at our recent Supperclub. It went down very well with all our guests. Although the cheesecake is a baked cheesecake it is a very light one and the addition of vanilla adds a lovely sweetness.
The mulled plum syrup is not overly sweet, it adds a sharpness to the dish to balance sweetness.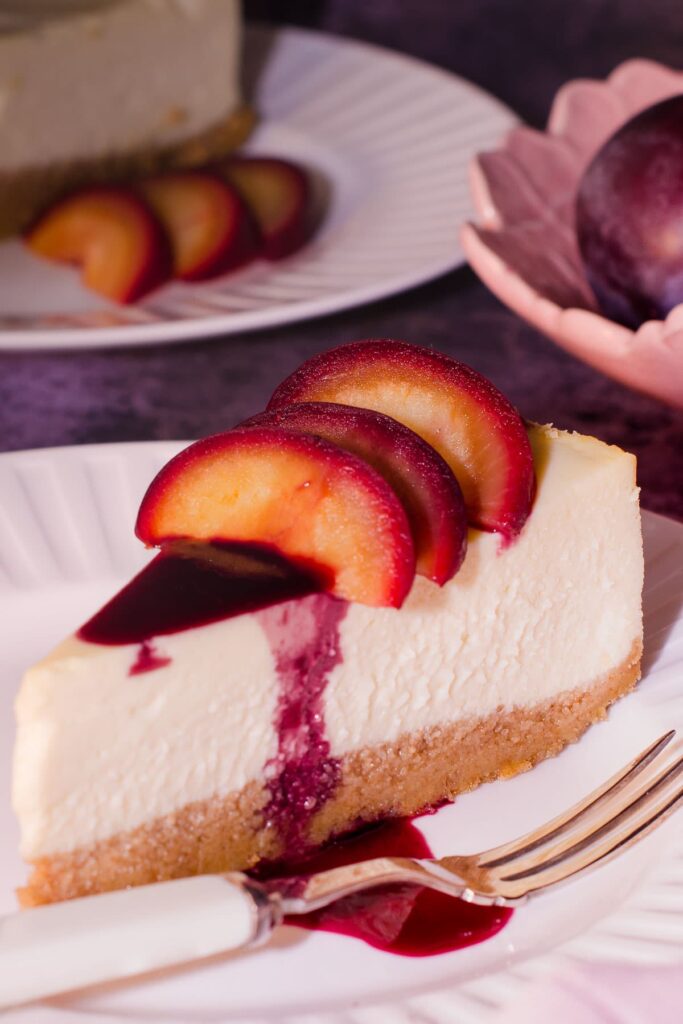 With this cheesecake we exorcised the ghosts of Christmas cheesecakes past! Michelle baked a cheesecake a few years ago. Following the recipe to the letter, it was a disaster and we don't mention split cheesecake anymore! There has been much laughter over the years about this meltdown.
Since then Michelle hasn't baked a cheesecake and we thought it was about time to get over this. No way we were going to risk having the recipe fail on us on the day of our Supperclub, we set to testing the recipe a couple of times before hand.
Of course I'm more than happy to sample Michelle's baking, purely for research of course. This recipe was spot on as the cheesecake is beautifully light.
Alternative flavour combinations:
It is worth mentioning that on one occasion Michelle substituted the vanilla extract with lemon zest and this worked equally well. Citrus flavours work great in a baked cheesecake, orange would also be delicious.
How to make a baked vanilla cheesecake step by step:
Most people make a no bake cheesecake for ease when in fact a baked cheesecake is just as easy. Baked cheesecake is Michelle's all time favourite dessert.
The first key step is preparing your pan. My top tip to do so is to use a springform pan. Insert the baking parchment over the removable bottom the place the outer edges of the pan over the parchment as above.
I find this negates the need of baking in a water bath.
Next have some fun bashing up the biscuits to fine crumbs for the base. We used digestive biscuits but you can easily use a ginger biscuit if you prefer.
Add your melted butter to the crumbs and combine until well coated.
Add the crumb mixture to the prepared pan and bake per the instructions below in the recipe.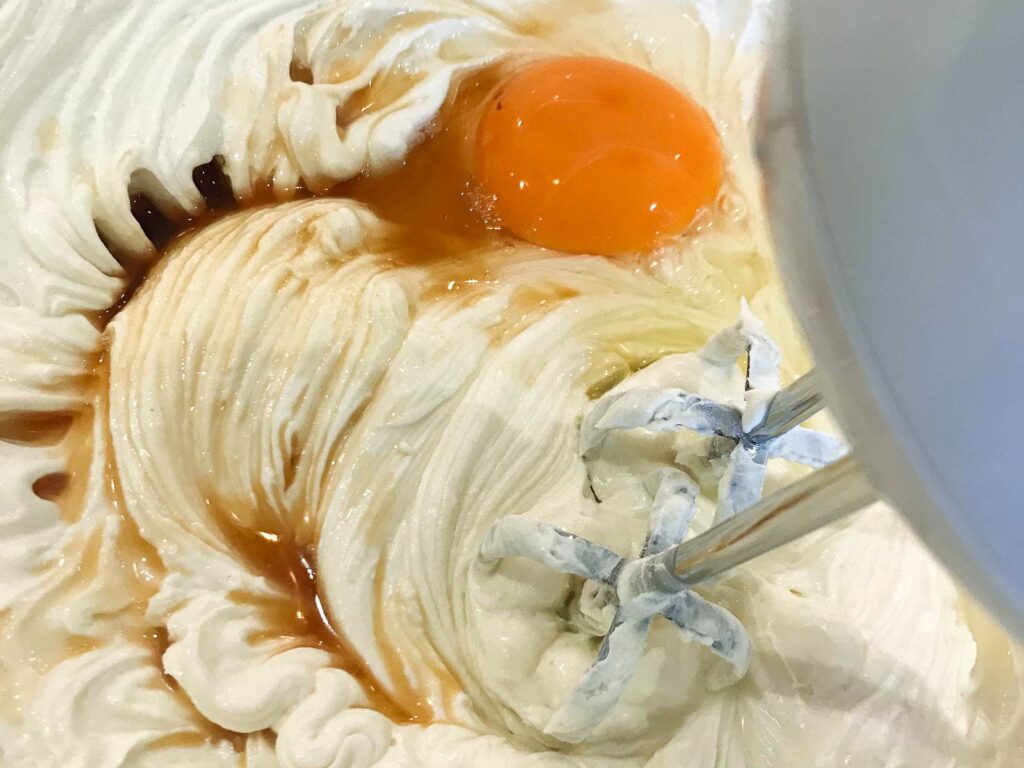 While the base is pre-baking begin to prepare the filling. You can use a stand mixer but I find my hand mixer works just as well. Add ingredients per the recipe.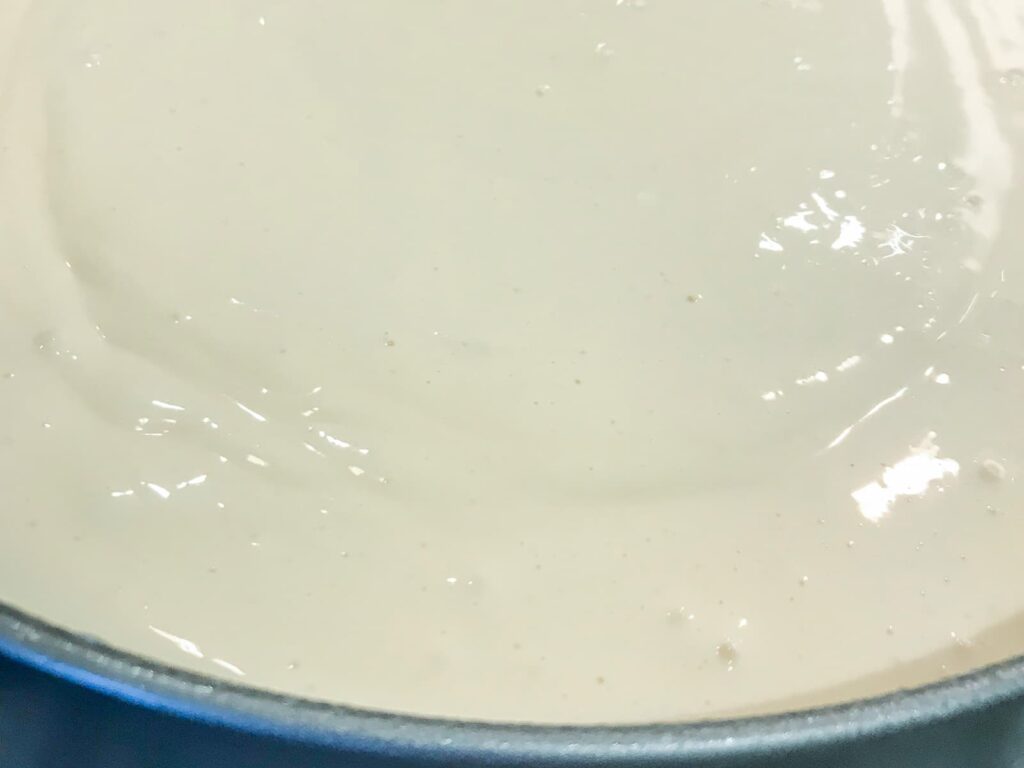 Once the base has cooled you can add the prepared filling. Take care to do so gently to minimise the amount of air bubbles.
Another great tip before placing in the oven is to use a small toothpick and pop the largest of the air bubbles on the top of the cheesecake. This also helps minimise the cracks.
Top tips to stop the top from cracking and bake the perfect cheesecake:
Give yourself time! Make sure you won't need to use your oven immediately after baking the cheesecake.
Start with room temperature ingredients. Ensure the cream cheese, eggs and sour cream have been taken out of the fridge at least an hour before starting.
DO NOT over-mix the batter. Whisk until incorporated and stop there.
Make sure your oven is not too hot. If the outside bakes too fast it will shrink resulting in cracks in the top when it cools.
DO NOT remove the cheesecake from the oven immediately when finished baking. Allow the bake to slowly come down to room temperature by keeping the oven door open slightly until internal and external temperatures match – a few hours.
FINALLY – do not be tempted to cut the cheesecake too soon. This is one bake that benefits being made ahead of time and needs a minimum of 4 hours to firm up in the fridge, before attempting to cut.
These are all things to help you achieve a perfect flat top. But remember, if the top cracks you can add your fruit or toppings and no one will be the wiser. The cheesecake will still taste amazing!
Is this dessert suitable for freezing?
Given this size of this cheesecake it's great for feeding a crowd as you can get 12 generous portions from one cheesecake. Making it an ideal dessert at this time of year.
This cheesecake, without toppings is ideal for freezing. We suggest cutting into serving sizes and placing a small piece of baking parchment between each of the slices.
This means you can take out as many portions as you like in the afternoon, allow to defrost in the fridge and you have a delicious dessert anytime.
Other ways to serve the cheesecake:
The great part of a baked vanilla cheesecake is the variety of toppings that you can serve it with .
We topped with mulled plums and a plum syrup for the festive season. But any fresh fruit or frozen fruit turned into a compote will be delicious here.
Alternatively, serve on its own and it will still be smooth, creamy and utterly delicious.
Pin the recipe:
Additional recipe suggestions: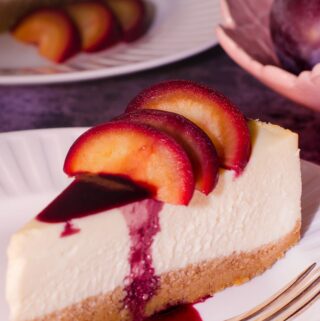 Vanilla Baked Cheesecake with Mulled Plums
A light vanilla baked cheesecake with mulled plums, plum puree and a mulled plum syrup.
Print
Pin
Text
Save
Saved!
Equipment
Hand mixer

23 cm removable bottom springform pan

backing parchment

large mixing bowl

weighing scales
Ingredients
vanilla cheesecake
100

g

butter

(melted)

200

g

digestive biscuits

(crushed to a fine powder)

½

tsp

cinnamon

1

tbsp

golden caster sugar

900

g

Philadelphia full fat soft cheese

(we have best results with Philadelphia brand)

250

g

golden caster sugar

3

tbsp

plain flour

2

tsp

vanilla extract

(or 1 1/2 of vanilla bean paste)

3

large

free range eggs + 1 yolk

200

ml

soured cream
mulled plums
1.5

kg

plums

1

bottle good quality red wine

1

orange

(sliced)

5

cm

cinnamon stick

¼

nutmeg

(grated)
mulled plum puree
6

mulled plums

2

tbsp

mulling liquor

4

tbsp

golden caster sugar
mulled plum syrup
remaining mulling liquor

5

tbsp

golden caster sugar
Instructions
vanilla cheesecake
Heat the oven to 180C/ 160C fan, ensure oven rack in middle of shelf.

Line the base of a 23cm springform cake tin by putting a

piece of parchment paper on top of the tin base and then clipping the side on so the paper is trapped and any excess sticks out of the bottom.

For the base, melt the butter in a medium pan or microwave. Add to the digestive biscuit crumbs and 1 tbsp golden caster so the mixture is evenly moist. Press the mixture into the bottom of the springform pan and bake for 10 minutes. Cool on a wire rack while you prepare the filling.

For the filling, increase the oven temperature to fan 220C/ 200C fan/ gas 7. In a table top mixer or powerful hand mixer beat 900g full-fat soft cheese at medium-low speed until creamy, about 2 minutes.

With the mixer on low, gradually add 250g golden caster sugar, then 3 tbsp plain flour and a pinch of salt, scraping down the sides of the bowl when needed.

Add the vanilla extract and whisk in 3 large eggs and 1 yolk, one at a time, scraping the bowl as needed.

Stir the soured cream until smooth and add to the mixture Continue on low speed as you add the soured cream. Whisk to blend, but don't over-mix. The batter should be smooth, light and airy.


Brush the sides of the springform tin with melted butter and put on a baking sheet. Pour in the filling the top should be as smooth as possible, if too many bubbles pierce with a toothpick. Bake for 10 minutes.

Reduce oven temperature to 110C/ 90C fan and bake for 45 minutes more. If you gently shake the tin, the filling should have a slight wobble. DO NOT OPEN THE OVEN DURING THIS TIME.

Turn off the oven and open the oven door for a cheesecake that's creamy in the centre, or leave it closed if you prefer a drier texture. Let cool in the oven for 2-3 hours. The cheesecake may get a slight crack on top as it cools.
mulled plums
Place all the ingredients for the mulled plums into a large saucepan and bring to the boil. Then turn down the heat and gently poach the plums for 15 minutes. The plums should be soft but not too soft as you need to be able to slice them.

Take the plums off the heat. Strain off the poaching liquor and set aside for making the syrup and puree. Discard the orange slices and cinnamon stick. Take each plum, place on a rack and allow to cool.

Once cool take half the plums, de-stone them and gently peel off the thin layer of skin. Slice each half into thin wedges and set aside for decorating the cheesecake.
plum puree
To make the plum puree take the remaining plums, remove the skin, de-stone them and place in a small saucepan. Add the sugar and 4tbsp of the mulled wine cooking liquor.

Bring gently to medium heat, stir to dissolve the sugar. Once the sugar has dissolved take off the heat. Blitz to a smooth puree and set aside until you are ready to serve.
mulled plum syrup
Place the remaining mulled poaching wine into a saucepan and add golden caster sugar. Turn the head to high and reduce the liquid by half until you have a pouring syrup. Take care not to reduce too far or you will end up with a jam. Set aside and allow to cool.

To assemble take a slice of cheesecake and place it on your serving plate. Place some slices of poached plum on the top and drizzle with a little of the syrup. Place a spoon of the plum puree on the side of the dish and serve.
Notes
This is a great recipe to prepare ahead of time. The cheesecake can be prepared up to 2-3 days before serving. Best at least1 day ahead of needing. Also, once cooked and cooled this cheesecake can be frozen for up to 3 months in portions.
The plum puree and syrup can also be prepared ahead of time, cooled and kept in the fridge until you are ready to serve. If the syrup has solidified, simply heat it gently in a pan and add a little water to loosen if you need to. Take care not to boil as this will only cause the syrup to further reduce.
Nutrition Facts
Vanilla Baked Cheesecake with Mulled Plums
Amount Per Serving
Calories 699
Calories from Fat 351
% Daily Value*
Fat 39g60%
Cholesterol 161mg54%
Sodium 416mg18%
Potassium 516mg15%
Carbohydrates 70g23%
Protein 9g18%
Vitamin A 1965IU39%
Vitamin C 21mg25%
Calcium 130mg13%
Iron 1.9mg11%
* Percent Daily Values are based on a 2000 calorie diet.
• Please note that the nutrition information provided above is approximate and meant as a guideline only •
Share on Facebook