Autumnal bakes and desserts that make the most of the seasonal fruits on offer.
Autumnal baking and desserts which bring together the best of the season, from apples to pears, plums to blackberries plus #CookBlogShare 2020 for Week 36.
#CookBlogShare is a weekly link party where recipes are shared, we comment on each other's cooking creations and generally indulge in all things food related! If you've got a recipe to share then this is the place to show it off!

We host this link party, which runs every Tuesday with Jacqui at Recipes Made Easy and fellow guest bloggers.
Your host for next week will be over to Jenny at Apply to Face so head over there next week to see more recipes.
If you are new to this link party then take a few minutes to read the guidelines below before joining us. You are welcome to share your old and new recipes as there is no specific theme and all recipes are welcome.
Thank you to everyone who contributed last week and shared their recipes with us. We were spoilt for choice with so many lovely dishes to add to our list of makes & bakes.
The Latest Happenings at Lost in Food
I've no idea where the time has gone since our last #CookBlogShare roundup post! Our children are truly settled back into school life now and already looking forward to the October holidays here.
Lesley and I have been busy in our kitchens with new seasons content that we are looking forward to sharing with all of you soon!
We finally have our regular newsletter being sent out monthly which captures the best seasonal produce and some delicious recipes. If you aren't signed up yet then head to the bottom of the page and subscribe!
Hello Autumn!
Maybe its the fact that I've spent much more time thinking and contemplating this year but I have come to the conclusion (its taken many years!) that Autumn – or Fall as I still call it, is my favourite time of year.
Although my children head back to school in August, being Canadian, I still can't shake the habits of September Labour Day Weekend, the last hurrah before the summer ends and the new school season begins.
September growing up in Canada always meant new cosy jumpers (sweaters!) and watching my mum make apple pies in abundance. My mum is known to have baked anywhere from 10-50 pies at a time! Hence my love of baking is thanks to her.
Autumnal Harvesting, Foraging and Baking Recipes!
Preserving
Growing up, apples for pie making were always bought direct from the farm shops by the bushel! However with my life in Scotland, and I am lucky enough to have apple trees in my garden. There are also many more available to pick from on local walks near me.
The first thing made every year with windfall apples is our Apple Jelly. Apple jelly has a smooth and silky texture. The process takes longer than jam making, but trust me it is well worth it. It is also delicious when added onto our Apple & Cinnamon Scones.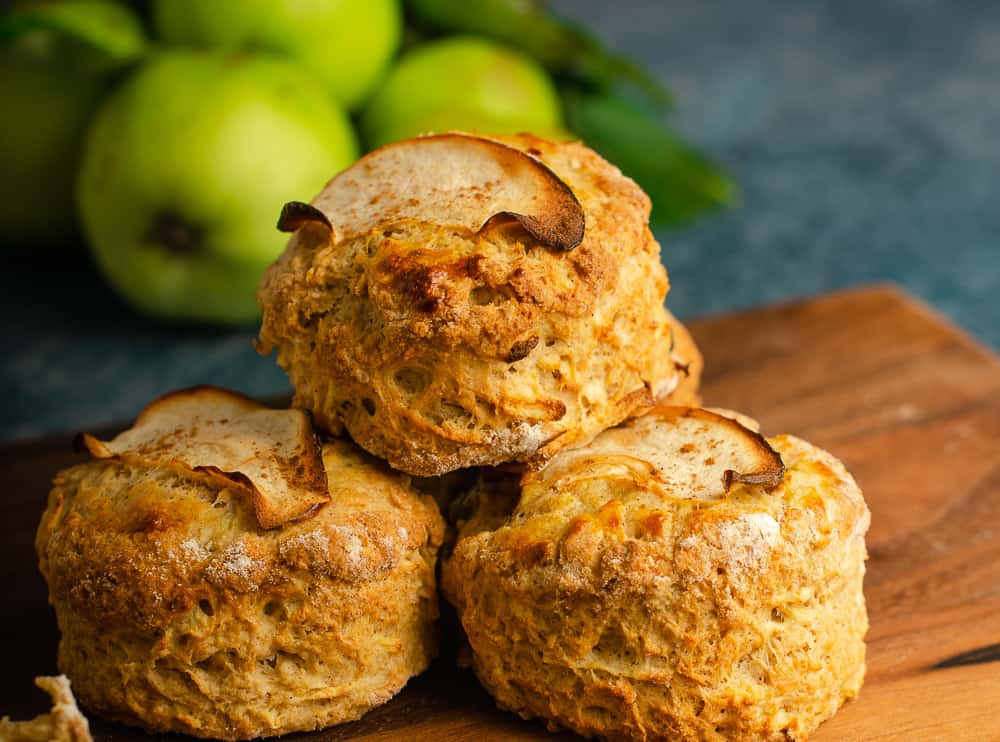 The process of making both jams and jellies hugely rewarding to me. I probably lean towards the jelly more as I love the smooth texture, remnants of being a child and refusing to eat to "bits" in the jam jar! Bags of frozen fruit from the local soft fruit farm are always bought and kept in the freezer for making jams at a later date. With some of those strawberries this year I'll be making this smooth Seedless Strawberry Jam from Feast Glorious Feast.
Autumn Desserts
This season we've added a new recipe for this indulgent spiced apple cake. This was made using windfall apples that I hated to see go to waste. Sliced and coated in cinnamon sugar and baked in a layer into a pudding like cake. Make this cake even more indulgent by serving warm and adding a rich toffee sauce to serve after Sunday dinner.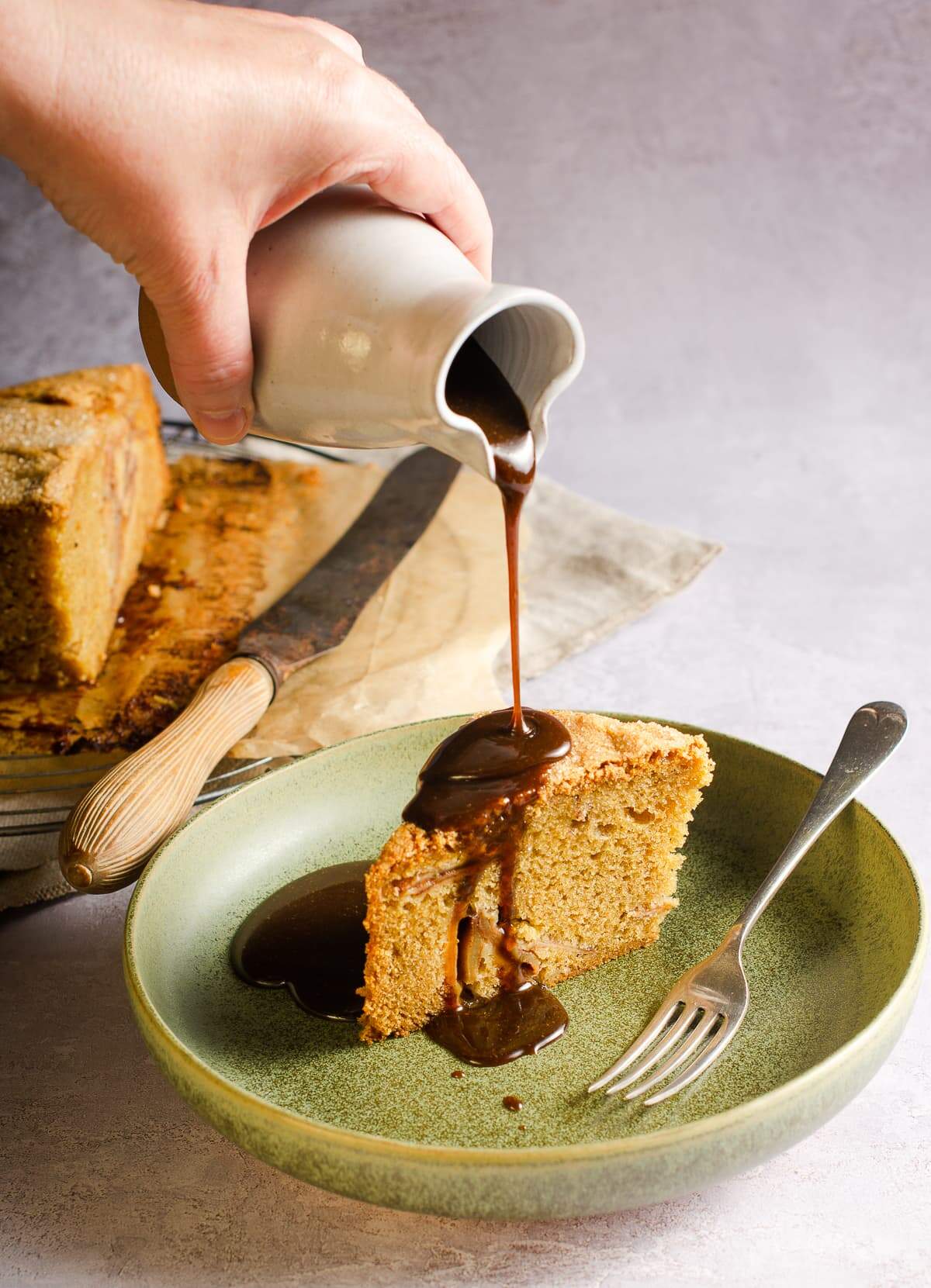 Now one thing I have never considered making with apples is Apple Ice Cream. Thanks to Taste Botanical for linking up this recipe I will have to rectify that. Apples pureed with dark brown sugar and mixed with a rich custard and salted caramel and turned into ice cream – what is not to love. I am willing to guess this would also be the ideal accompaniment to our spiced apple cake above.
Although I love a pie, I often don't want all the pastry. In that case I absolutely adore a fruit based galette. Easier and much more forgiving to make, the pastry is best suited to a rustic style. I decided to use some delicious plums I found and couldn't resist adding a layer of frangipane to turn a simple fruit galette into this plum and almond galette. Served with some vanilla ice cream it was a huge hit.
Autumn Baking
Looking at the contributions to #CookBlogShare this week I know I am not alone with my love of the plum and almond combination. FarmersGirl Kitchen has this delicious looking Plum and Almond Traybake. Perfect with an afternoon cup of tea or sharing with a friend.
This time of year also brings us amazing, juicy blackberries. I'm lucky to have a soft fruit farm within 5 miles but I do always watch the hedgerows in the hopes I can find some growing wild. And Curly's Cooking showcases this beautiful berry in her Blackberry Crumble Loaf. The crumble topping on this gives a lovely crunch and there is no need for an extra icing.
Who doesn't love a gooey brownie? Well these amazing looking Autumn Pear & Walnut Brownies from Gluten Free Alchemist sound perfect. Gluten free and a sweetness coming from fresh pear and earthy walnuts these are going on my list of 'to make'.
I know Biscoff is not just for Autumn but I couldn't resist including these Biscoff Blondies from The Baking Explorer. There had definitely been a Biscoff trend lately baking with Biscoff seems to be all over my social feeds so I think its high time I get onboard! These seem the perfect idea.
And although it's not fully into Autumn yet, I have already plunged ahead with the cinnamon. I usually try and hold off but these cinnamon rolls are an absolute favourite in our house and I admit that we happily devour them in the Autumn or Summer!
I hope you found some great ideas and some new baking ideas for the season ahead. Drop us and message and let us know what you've been baking or what you would love to see recipes for on the site.More sweet ideas for Autumn.
Even more sweet treats for Autumn
#COOKBLOGSHARE 2020 WEEK #36
Are you a blogger and interesting in joining in with CookBlogShare? Then read on for how to get involved.
Link up your recipe, sweet or savoury, or any foodie post to the #CookBlogShare link party. Just click the blue 'Add your link' button below and follow the instructions.
Include this party's link in your post (so everyone else can find it).
Add the #CookBlogShare badge to your post (see the NEW code below).
Help us comment on some of the other recipes linked up here, share the love and have fun!Its that easy!
You can also post your recipes on the Cook Blog Share Facebook Page.
We'll visit all the blogs participating in the link party and share your recipes across all the major social media channels as well as pin them on to the Cook Blog Share Pinterest Board. If you tweet a link to your recipe to us, @LostinF00d, using #CookBlogShare we'll do my best to retweet it!
Please use #Cookblogshare hashtag when sharing you're recipes on Instagram – we can 'swap' more 'likes' and comments.
Just a quick reminder. If joining us you are giving the #CookBlogShare hosts permission to use your pictures in a round up and on social media.
Finally thank you for sharing your recipes with #CookBlogShare! We will do our best to get over to read them all and comment over the coming week.
Your host next week will be Jenny at Apply to Face Blog.
Pin our Autumnal Desserts & Bakes #CookBlogShare for Later