Chocolate profiteroles filled with chestnut cream and drizzled with melted chocolate, dessert perfection on a plate. Pile them high and let your guests tuck in!
Chocolate profiteroles are a dessert that never fail to put a smile on peoples faces. Round choux buns filled with cream and topped with chocolate.
For a seasonal twist we've filled our chocolate profiteroles with creme patisserie that's been flavoured with chestnut puree. Creme patisserie is a french term, but is is basically an egg and vanilla custard!
We served these delicious chestnut flavoured choux buns to guests at one of our festive afternoon teas and they went down a treat. Our chocolate profiteroles can be served as individual portions, or add 5 to a bowl for a weekend dessert for family.
However, they do make a great addition to a buffet table at a New Year's drinks party. Pile them high and let guests help themselves, just be sure you have plenty to go around as they are incredibly moreish.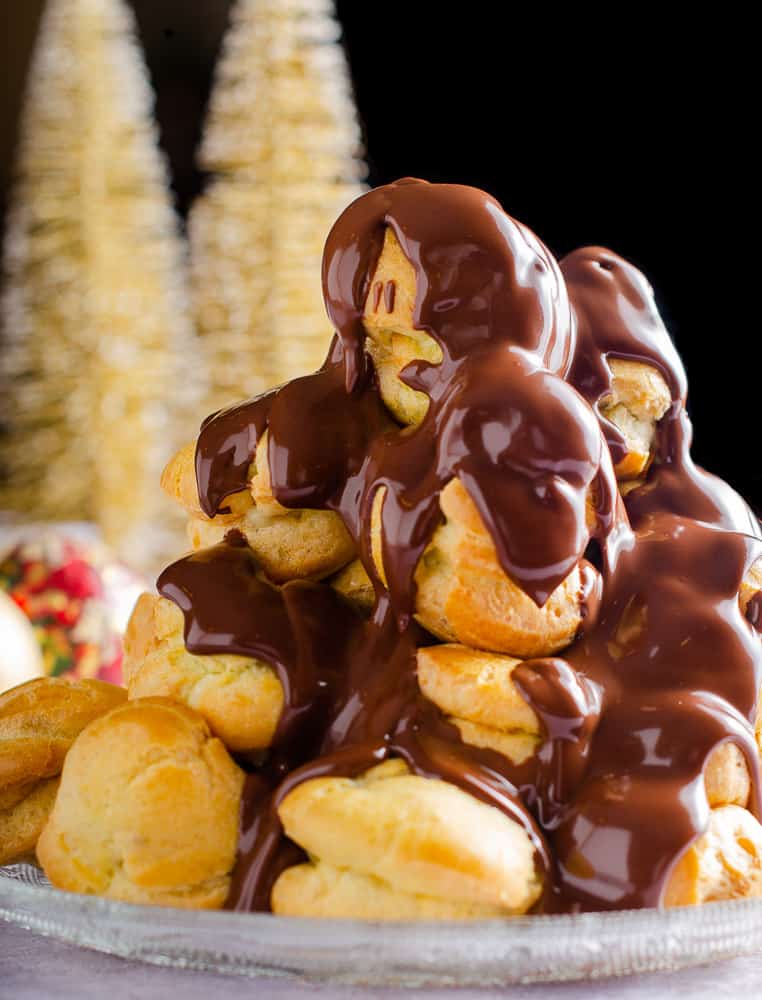 How to make chocolate sauce for profiteroles?
Making the chocolate sauce for profiteroles is really very easy. Simply add dark chocolate and golden syrup to a pan and heat up gently. Once melted and well combined, pour the chocolate sauce over the pile of profiteroles.
How does choux pastry differ from shortcrust?
Choux pastry is a cooked pastry rather than one that is rubbed together and chilled like shortcrust.
Once you've mastered the art of making the choux dough, it's a remarkably versatile pastry.
Instead of piping into balls as we've done here, you can pipe long tubes of pastry and make chocolate eclairs instead.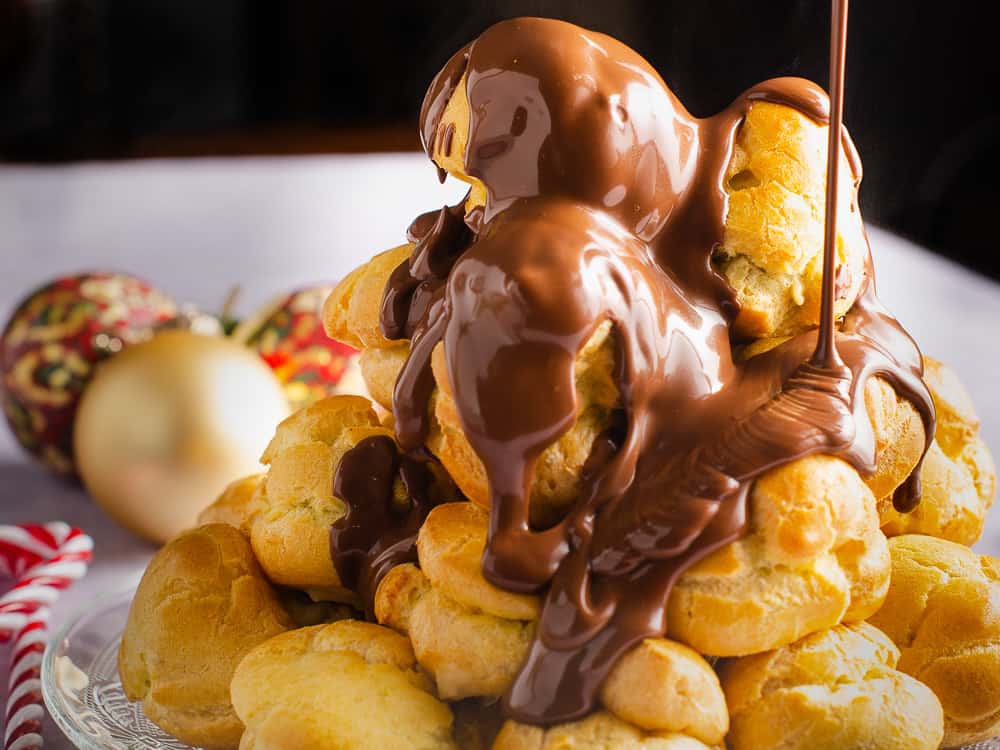 Why do profiteroles sometimes collapse once baked?
Top tip! When you take the baked profiteroles out of the oven, pierce a small hole in the bottom of the choux ball with a sharp knife or skewer. This allows the steam inside the choux bun to release, stopping it from becoming soggy and collapsing.
Michelle likes to pop the choux buns back in the oven for 2-3 minutes as this helps to dry the inside which helps
keep the structure.
Can chocolate profiteroles be made in advance?
Choux buns:
The choux buns can be made ahead of time and stored in an airtight container for 2 days prior to serving them.
Creme patisserie (chestnut cream):
The creme patisserie can also be made ahead of time, allowed to cool and stored in the fridge. Just ensure that you cover the top of the custard with some cling film to stop a skin forming on top.
However, creme patisserie does not freeze well!
Can I freeze profiteroles?
You can also freeze the profiteroles, once baked, by allowing to them to cool and then freeze them individually.
When ready to eat, remove from the freezer and allow them to defrost on a wire rack.
Top tip! We recommend popping them into a warm oven for 10 minutes to crisp them up again before filling!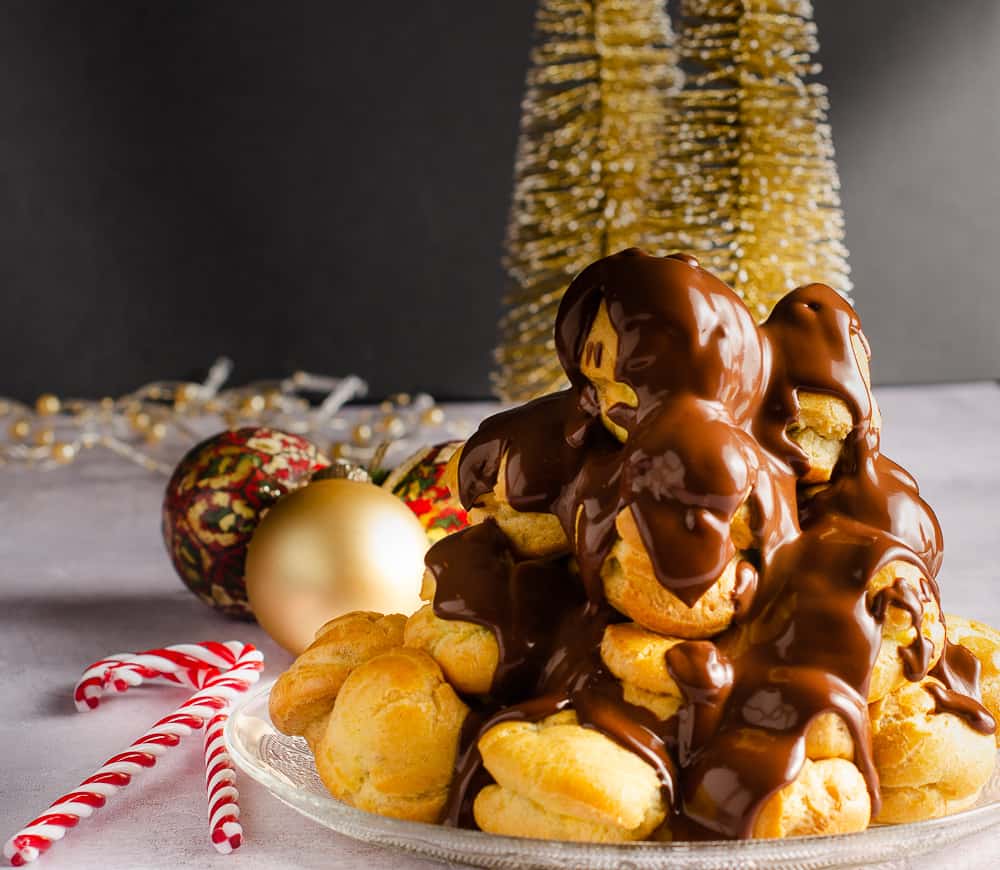 What alternative profiterole fillings can be used?
We have filled the choux buns with a chestnut creme patisserie and drizzled them with chocolate.
Sweet profiterole filling:
Other flavours can easily be added to the custard filling. For example, add some cold strong coffee to the mixture, this flavour works really well with the chocolate drizzle.
However, you could easily fill with the buns with a simple whipped double cream, either on it's own or flavoured with macerated berries like strawberries or raspberries.
Savoury profiterole filling:
Remember that the choux buns are only a pastry so can work with both sweet and savoury fillings!
If you don't fancy sweet then why not try a savoury twist to these choux buns:
herby chicken in a thickened white sauce;
smoked salmon and cream cheese mousse;
creamed garlic mushrooms.
The list is endless, it is after all a simple pastry to carry the flavour of the filling. So why not get experimental?
Pin the recipe: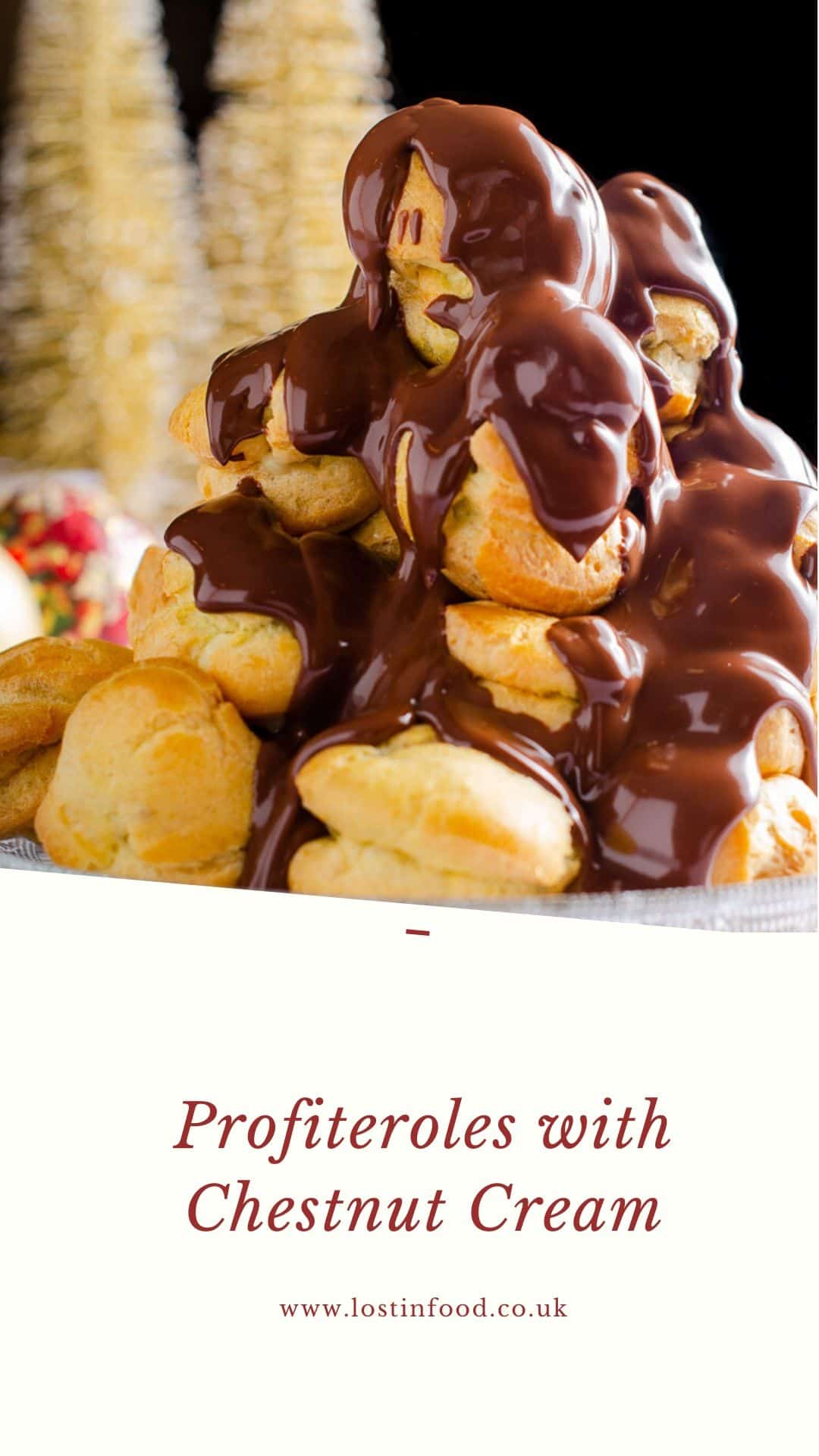 Additional recipe suggestions:
If you like this recipe try some of our other great desserts: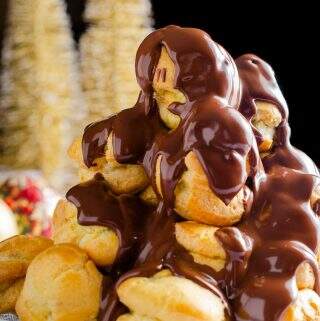 Profiteroles with Chestnut Creme Patissiere
Profiteroles filled with chestnut cream and drizzled with melted chocolate, dessert perfection on a plate. Pile them high and let your guests tuck in.
Print
Pin
Text
Save
Saved!
Ingredients
Choux Pastry
50

g

butter

125

ml

water

75

g

plain flour

1

tsp

caster sugar

1

tsp

icing sugar

2

free range eggs

(medium)
Chestnut Creme Pastisserie
250

ml

whole milk

1

tsp

vanilla

75

g

unsweetened chestnut puree

75

g

caster sugar

10

g

cornflour

10

g

plain flour

3

egg yolks

(medium)
Chocolate Topping
150

g

dark chocolate

(broken into pieces)

1

tbsp

golden syrup
Instructions
Choux Pastry
Preheat the oven to 180 fan or 200 non fan. Prepare a large baking tray with either a silicone liner or a piece of baking parchment.

Sift the flour and sugars together and set aside.

In small saucepan add the water and butter. Bring to a quick boil and turn the heat down immediately.

Once the butter is fully melted, take off the heat and add the flour and sugars. Using a wooden spoon beat together until fully incorporated and coming away from the sides of the pan. The batter at this stage should be a thick paste.

Set the mixture aside to cool slightly. You don't want to add the eggs while the batter is too hot as it will cook and curdle the eggs.

In a small jug whisk the eggs lightly with a fork. Once the batter has cooled, but still warm, gradually add some of the egg mixture and beat thoroughly to incorporate. You can alternatively do this in a stand mixer or with an electric mixer. You may not need quite all the egg, but you want the batter to drop from the spoon in dollops, but not too runny that it doesn't hold its consistency when piped.

Once you have the batter to the correct consistency, transfer the mixture to a piping bag either with a round nozzle or just with a cut at the tip of the piping bag. Pipe onto the baking parchment in balls, taking care not to make them too big as they will puff up in the oven. If you don't want to use a piping bag then just use a teaspoon to place heaped teaspoons onto the baking tray.

Wet your finger with cold water and tap down any of the choux paste so each ball is rounded on top, this ensures the tops don't burn.

Bake for 20-25 minutes until golden and puffed up. Remove from the oven and very carefully pierce the bottoms with a skewer or sharp knife to allow the steam to escape. Pop them back in the oven for 2-3 minutes to crisp up the insides and allow any remaining steam out. Then remove from the oven and allow to cool on a wire rack. [Note: At this point the choux buns can be frozen to be used and filled at a later date. Just pop in the oven from frozen at 180 fan for 10 minutes, allow to cool and fill.]
Chestnut Creme Pastisserie
Place the milk, chestnut puree and vanilla in a small pan and slowly heat to just under boiling. Do not allow to boil.

In a separate bowl whisk the egg yolks, flours and sugar until light, pale and fluffy.

Spoon a little of the warm milk into the eggs and fully incorporate, repeat this step again to allow the temperature of the egg mixture to come closer to that of the milk mixture, this will stop the eggs cooking too quickly.

Now add the egg mixture back into the pan with the remainder of the milk and gently heat, whisking constantly until the mixture thickens, usually about 5 minutes. The mixture may go lumpy, do not worry, just remove from the heat and whisk vigorously to remove the lumps.

Once thickened, remove from heat and place into a bowl. Cover the mixture with clingfilm, directly onto the creme patisserie to stop a skin forming. Allow to cool before using. This mixture will keep for 2 days in the refrigerator until needed.
Chocolate Sauce
Place the chocolate and golden syrup in a small heatproof bowl over a pan of simmering water until melted. Keep warm until ready to pour over the profiterole tower.
Assembly
When ready to assemble, place the chestnut creme patisserie into a piping bag fitted with a small circle nozzle. Pipe into the bottom of the choux buns where you pierced until they are full. You will feel the choux increased in size and become heavy. Stack together in a pyramid shape for serving. Drizzle over the melted chocolate sauce and enjoy!
Notes
If you don't want to make a creme patisserie, you can whip double cream with a bit of icing sugar and add the chestnut puree to this and use to fill the choux buns.
Nutrition Facts
Profiteroles with Chestnut Creme Patissiere
Amount Per Serving
Calories 433
Calories from Fat 207
% Daily Value*
Fat 23g35%
Cholesterol 175mg58%
Sodium 109mg5%
Potassium 338mg10%
Carbohydrates 48g16%
Protein 8g16%
Vitamin A 494IU10%
Vitamin C 5mg6%
Calcium 91mg9%
Iron 4mg22%
* Percent Daily Values are based on a 2000 calorie diet.
• Please note that the nutrition information provided above is approximate and meant as a guideline only •
Share on Facebook
This recipe has been shared to CookBlogShare, click on the link for other recipe ideas.