Christmas pavlova is a great show-stopping dessert, yet is surprisingly simple to make. Flavoured with orange, figs & ginger this makes a beautiful centrepiece for any table.
Our Christmas pavlova is so pretty and it tastes amazing. With flavours we associate with this time of year, this double layered pavlova, flavoured with oranges, figs and a ginger cream makes a beautiful centrepiece to adorn any Christmas table.
However, despite appearances this Christmas pavlova recipe is deceptively easy to make!
Use fresh eggs or alternatively you can use egg whites that have been separated and frozen, these will also work. If you'd rather little waste you can also buy egg whites in cartons in the refrigerated section of the supermarket.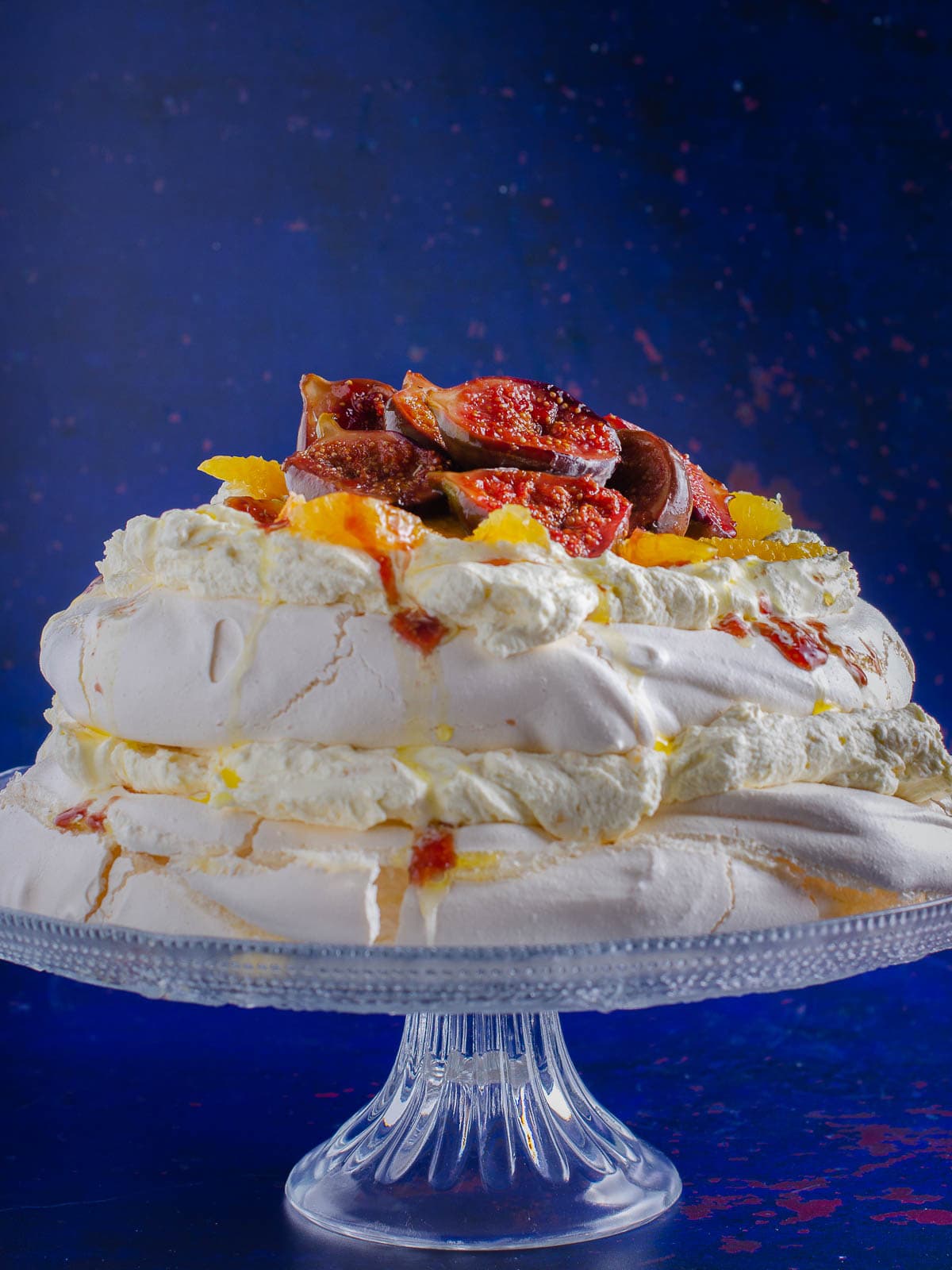 How do you decorate a Christmas Pavlova?
Shaping the meringue:
There is no wrong way to shape the meringue when making your pavlova. This Christmas pavlova recipe allows enough to make two large meringue nests as we have done here.
However, perhaps you want to make smaller individual desserts, forming smaller meringue nests. Simply divide the meringue into the number of smaller nests that you require.
You could also form it into a large Christmas wreath pavlova. To make a Christmas wreath pavlova simply form a ring with the meringue and leaving the centre hollow.
Filling the meringue:
Then it's simply a case of deciding what to fill it with. You can add whipped cream or some sweetened cream, along with fresh fruit, dried fruits or candied nuts? Add what you enjoy eating!
The list is endless, however you decide to make it, it's a dessert that delights most diners. Doubled up as we have done makes it ideal for a show stopping Christmas dessert, with plenty to feed a crowd and leave leftovers for Boxing day!
Steps to make the meringue:
Firstly you will need to separate your egg whites from the yolks. Take care at this stage as you don't want any yolk in the whites. Weigh the whites to the recipe below.
The yolk is full of protein and will result in the whites not holding their structure.
I prefer to use a stand mixer for the time it takes but you can certainly use a handheld.
You want to ensure your egg whites are fluffy and stiff before beginning to add the sugar a spoon at a time.
Vinegar, lemon juice or cream of tartar is used in a meringue to stabilise the mixture.
The vinegar helps the egg whites to maintain the air, thus stops the meringue from deflating.
Rest assured you will not taste the vinegar in the finished meringue case!
Continue to whip the whites once all the sugar, vinegar and cream of tartar have been added. You want it to become shiny and have a beautiful strong peak when the whisk held up.
Once ready, using a silicone baking mat or baking parchment spoon the mixture into the shape you want. I chose 2 round circles. You can also make smaller versions, just ensure you ADJUST your cooking time.
Place a small indent in them if you want to fill with cream to allow for enough filling.
Why does my pavlova always sink or flatten?
Cracks appear very easily in meringues when they are allowed to cool too quickly. To try and avoid this, once the pavlova has finished baking, turn off the oven and allow the meringue to cool in the oven.
Don't remove from the oven until completely cold. For this reason give yourself ample time to allow it to cook and cool before you will need to use your oven again.
Another great tip is to always use fresh eggs. The egg white from older eggs will whisk up faster but won't hold the air bubbles in quite the same way as fresh eggs, resulting in the meringue collapsing.
Can I make the pavlova ahead of time?
Part of this Christmas pavlova recipe can be made ahead of time. The meringue cases for the pavlova can be made up to a week beforehand.
Once you have cooked the meringue, allow it to cool completely and place into an air-tight container and set aside in a cool place. DO NOT place the meringue case in the fridge or it will take on moisture and flatten.
ou can whip the ginger cream earlier in the day and place covered in the refrigerator until needed. Then it is simply and assembly of pavlova just before you are ready to serve.
However, please note that once filled with fresh cream, if you have leftovers the pavlova must be stored in the fridge to stop the cream going off. Leftovers can easily be spooned into glasses as served as an Eton Mess type pudding.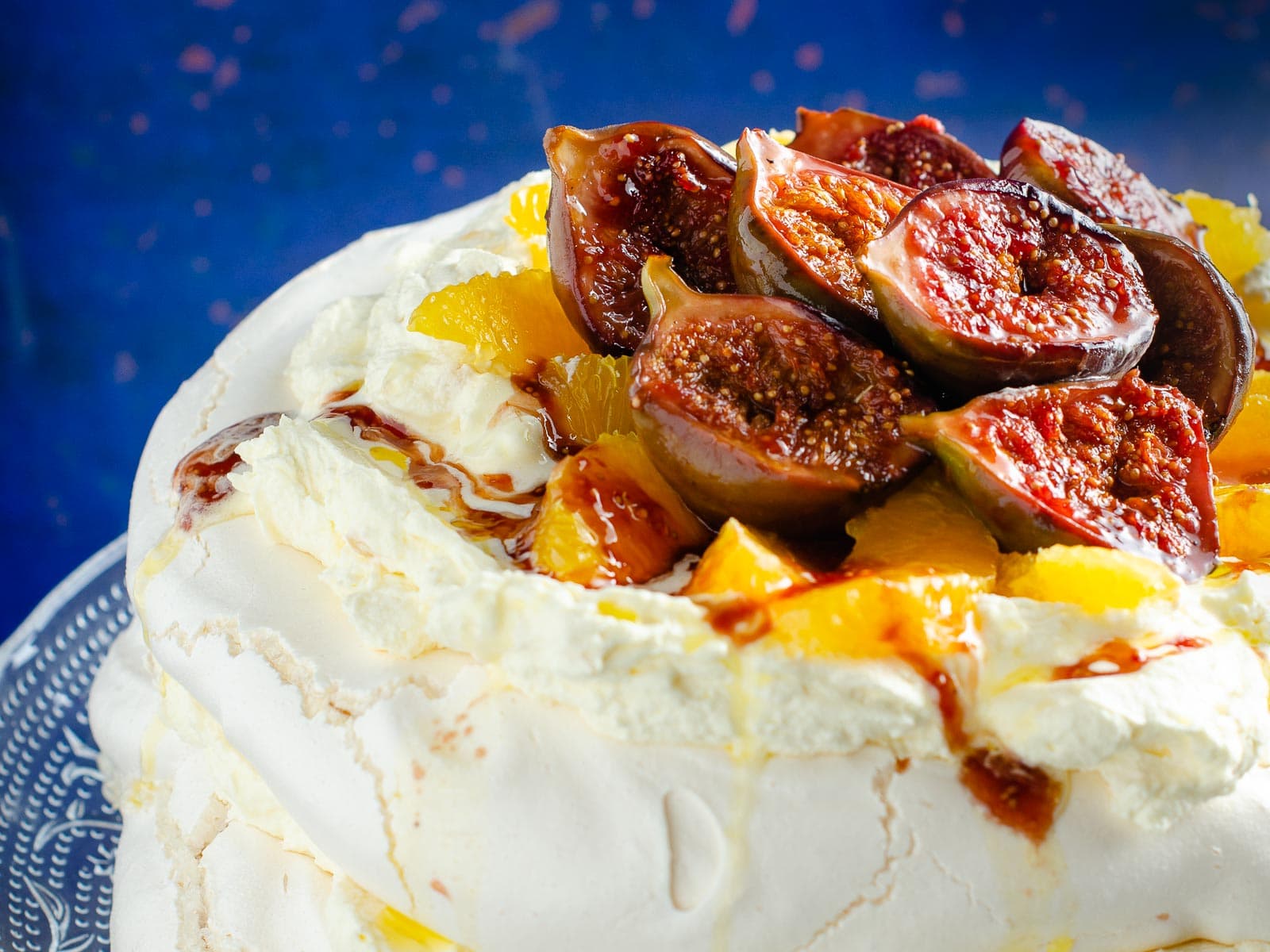 Is pavlova suitable for a Gluten-free diet?
This Christmas pavlova recipe is gluten free, in fact meringue makes a great dessert for coeliacs. Just ensure that when filling the meringue case that you check the ingredients you are adding are gluten free.
We have used fresh fruit and sugar syrups, which are fine. However, if you decided to drizzle over some chocolate, check first that it is suitable for a gluten free diet.
What other flavour combinations would work for a Christmas Pavlova?
We have used seasonal fruit in this Christmas Pavlova, oranges and figs are beautiful at this time of year. However, use the fruit you and your family enjoy eating:
Fresh or frozen berries (raspberries; strawberries; blackberries; red and black currants)
Tropical fruits (mango; pineapple; passion fruit)
Poached spice apples or pears
Drizzle with chocolate or a salted caramel sauce
Honey or maple syrup
Dried fruits and nuts
Pin the recipe:
Alternative recipe suggestions for the holiday season:
Christmas Pavlova
Christmas pavlova is a great show-stopping dessert, yet is surprisingly simple to make. Flavoured with orange & figs this makes a great table centrepiece.
Print
Pin
Save
Saved!
Ingredients
Meringue
325

g

egg whites

(approx 6-7 large eggs)

650

g

caster sugar

½

tsp

cornflour

1

tsp

white wine vinegar
Sweetened Ginger Cream
900

ml

double cream

1

tbsp

icing sugar

6

stem ginger pieces

(chopped finely)

2

tbsp

stem ginger syrup
Topping
3

large oranges

(peeled & segmented)

6

figs

(cut in half or quartered)

20

g

butter

1

tbsp

muscavado sugar

1

tbsp

cointreau
Instructions
Meringue
Prepare 2 large baking trays by lining with either baking parchment or a silicone baking mat and preheat the oven to 120F.

If you are using whole eggs then separate the eggs whites and yolks, set aside the yolks for another use (mayonnaise, custard, etc) and place the eggs whites in a large mixing bowl.

Whisk the egg whites until they start to become frothy. Gradually add the sugar spoon by spoon and allow time in between for the sugar to be thoroughly whisked in.

Continue to incorporate all the sugar then add the cornflour & white wine vinegar and whisk until you have stiff peaks and the mixture is shiny.

Spoon the mixture onto the two lined baking trays and spread out into circles, making one slightly smaller than the other for the top of the pavlova. Using a spoon make sure the edges are slightly higher than the middle as this will allow for the cream to be filled in.

Place in the preheated oven for 1 hour, without opening the door. After the hour, check the meringues. You will want them to be completely set and feel like they are starting to pull away from the bade if lifted slightly. You may need to switch the trays from top to bottom and vice versa at this time if you are baking them in one oven. Alternatively if you have 2 ovens then we suggest you bake them separately. If they are not fully baked then continue to bake for another 10-15 minutes. After that time, turn off the oven but allow them to cool completely in the oven. Open the door now and again to let any steam or moisture out. Do not remove until fully cooled or the meringue will split if cooled too fast.
Sweetened Ginger Cream
Start by finely chopping the stem ginger and setting aside.

In a clean bowl, whisk the double cream until stiff then add the sugar, syrup and stem ginger pieces. Completely mix together.

Cover and place in the fridge until you are ready to assemble the pavlova.
Topping & Assembly
Once the meringues are fully cooled you can start to assemble. On a large plate or cake stand, place the larger of the 2 meringues. Top with half of the whipped ginger cream. Next add the smaller meringue and and top with the remaining whipped ginger cream.

Prepare the orange segments by peeling the oranges and then cutting in segments between the white pith to form wedges. Set aside until the figs are prepared.

In a small pan, melt the butter gently, add the sugar and allow to melt into the butter. Place the halved figs into the pan skin side up and allow to gently cook until just turning soft and sticky. Finish the figs with a splash of cointreau and remove from the heat.

To finish assembling the pavlova, top the ginger cream with the orange segments then the warmed figs. Drizzle the sauce from the figs all over the top and down the sides. Serve immediately.
Notes
The meringues in this recipe can be made up to 1 week ahead of time and kept in a cool place in an airtight container until ready to assemble.
If you prefer other fruits, then feel free to substitute or add any others of your choice.
Nutrition Facts
Christmas Pavlova
Amount Per Serving
Calories 415
Calories from Fat 198
% Daily Value*
Fat 22g34%
Cholesterol 80mg27%
Sodium 65mg3%
Potassium 163mg5%
Carbohydrates 53g18%
Protein 4g8%
Vitamin A 940IU19%
Vitamin C 14mg17%
Calcium 54mg5%
Iron 1mg6%
* Percent Daily Values are based on a 2000 calorie diet.
• Please note that the nutrition information provided above is approximate and meant as a guideline only •
Share on Facebook