Blackberry parfait is a beautiful late Summer dessert, making the best of the season's soft fruits. Paired with some blackberry curd, pistachio crumb and sticky gingerbread it is a stunning dinner party dessert!
Blackberry parfait is a delicious dessert, perfect for serving at a Summer dinner party when these soft berries are at their best. We served this blackberry parfait at our recent Supperclubs and our guests enjoyed the dish very much.
The parfait was served with some oat, pistachio and honey crumb, blackberry curd, fresh blackberries, honey sweetened yoghurt, pistachio meringue and sticky gingerbread.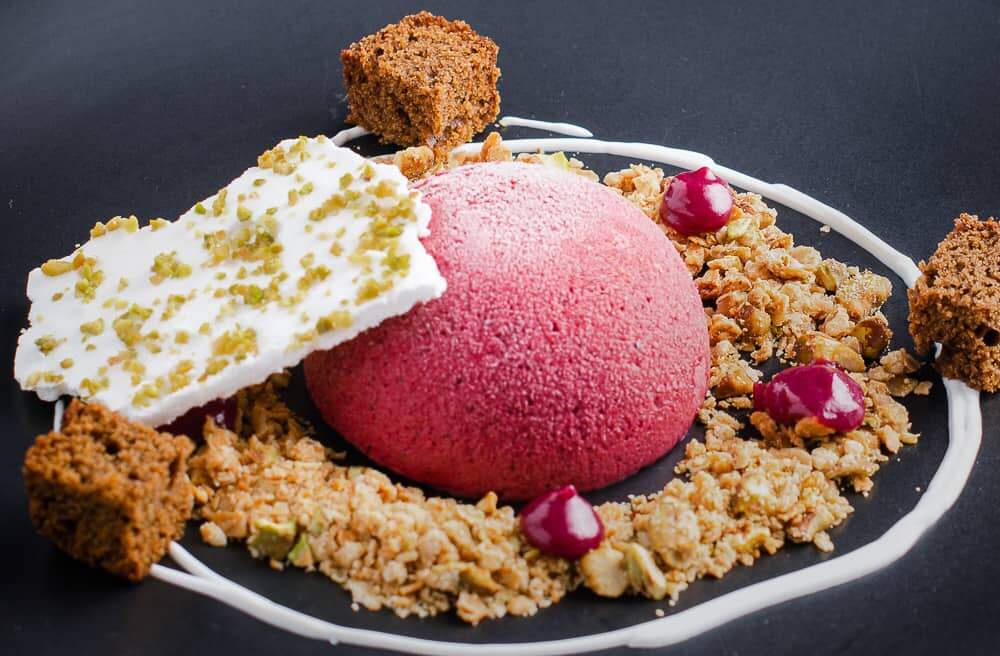 Now whilst that looks like a lot on the plate, we only added a little of these extras to each of the finished dishes. However, if keeping things simple at home this blackberry parfait works just as well on it's own with some greek yoghurt and a drizzle of honey.
We made our own blackberry curd as we had extra blackberry puree that we did not want to go to waste. However if adding curd to the finished parfait, a shop bought curd works well here too.
What is a parfait?
A parfait can be sweet or savoury. Typically its a French frozen dessert made with egg, sugar syrup and cream then flavoured. Unlike ice cream that starts with a custard, a parfait uses a hot sugar syrup to cook the eggs before adding a whipped cream to give the dessert lightness.
What equipment do I need?
We have used a silicone mould to freeze the parfait as we have those to hand. These little moulds are not expensive and allow you to portion the dessert ahead of time if serving as a dinner party dessert.
However there is no need to go out and buy anything new to make this blackberry parfait. The mixture freezes well in a plastic tub for the freezer. Just line the tub with cling film before pouring and then once frozen, lift out and slice to serve.
Some alternative serving suggestions:
However any type of berry fruit can be used to make a puree. Strawberries, raspberries, mango, would all work well in this dish. Prepare the parfait using the fruit flavours that you like to eat.
We used blackberries as we are lucky enough to be able to get these beautiful fruits locally from Barra Berries.
This parfait can also be made with a combination of fruits, blackberry pairs really nicely with raspberry.
Alternatively you can make this is a baking loaf tin, again line with cling film and lift out 10 minutes before slicing and serving.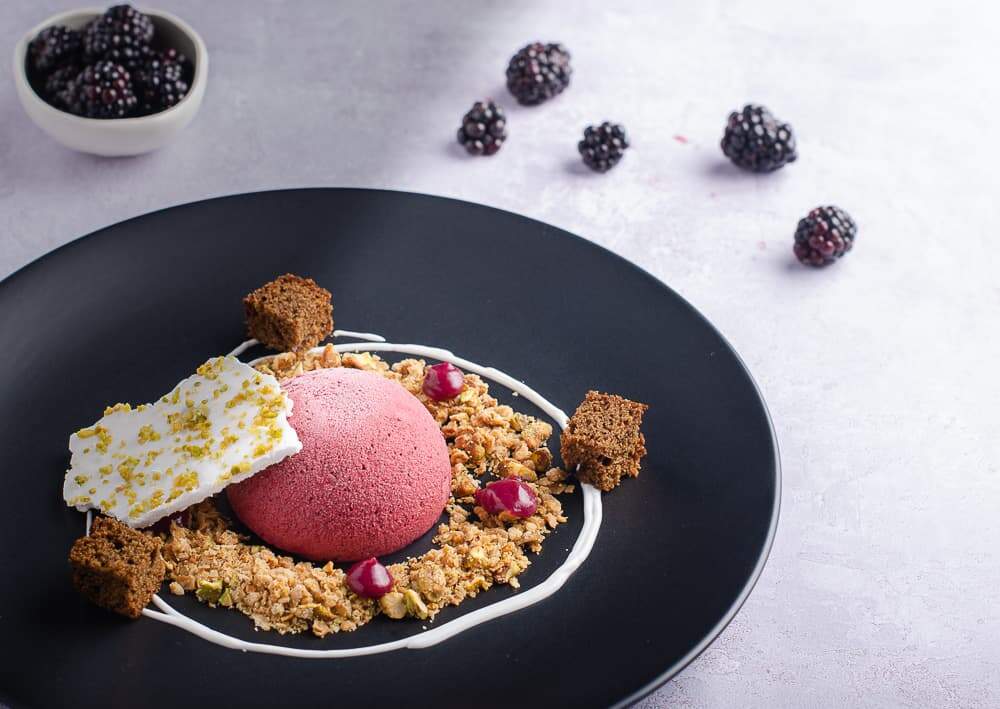 How to make a fruit puree?
The fruit puree is the key to a smooth parfait. To make the puree, wash the fruit and drain any residue water through a sieve.
Next put the fruit into a blender – do not add any water. Water will dilute your flavour here and allow more ice crystals to form.
Once you have a rough pulp, pass the mixture through a fine sieve until you have all the puree you can. Use the back of a wooden spoon to push through the very last of the puree, making sure to skim the puree from the bottom of the sieve. As our berries were very ripe we managed a lot of pulp from our process.
We used 1.8kg of fresh berries and produced approximately 1.2L of puree. The amount of puree you get from any fruit will largely depend on the ripeness of the fruit.
You can also use frozen berries if fresh are not available. Simply defrost the berries and proceed as above.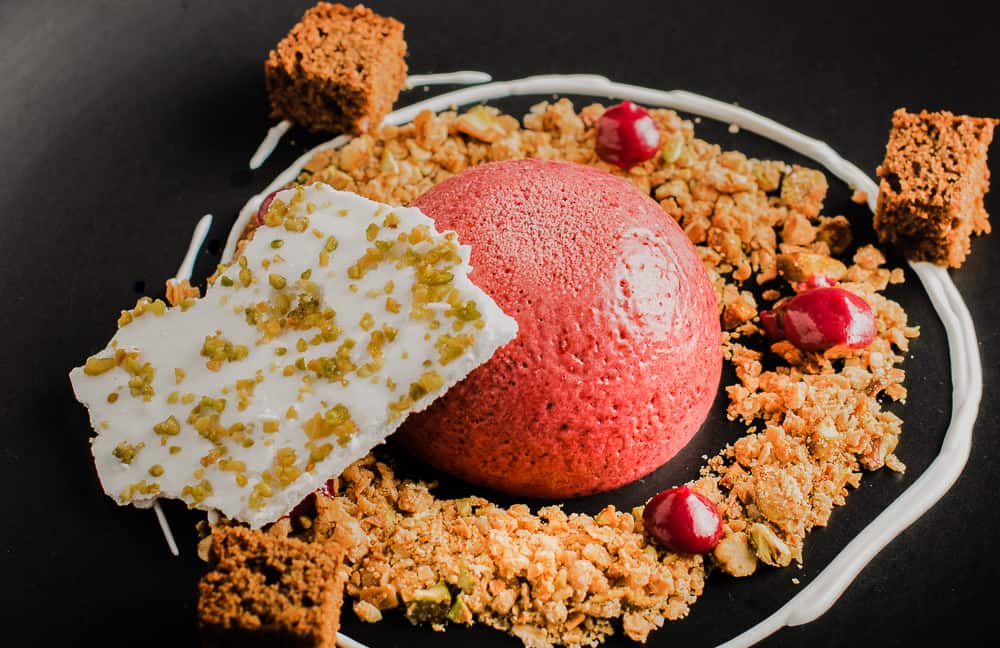 What can I do with the extra puree?
When making any puree we always make extra as fruit puree freezes really well. The leftover puree can then be used to make a curd, cordials, for adding to ice cream or other desserts.
Pin the recipe for later: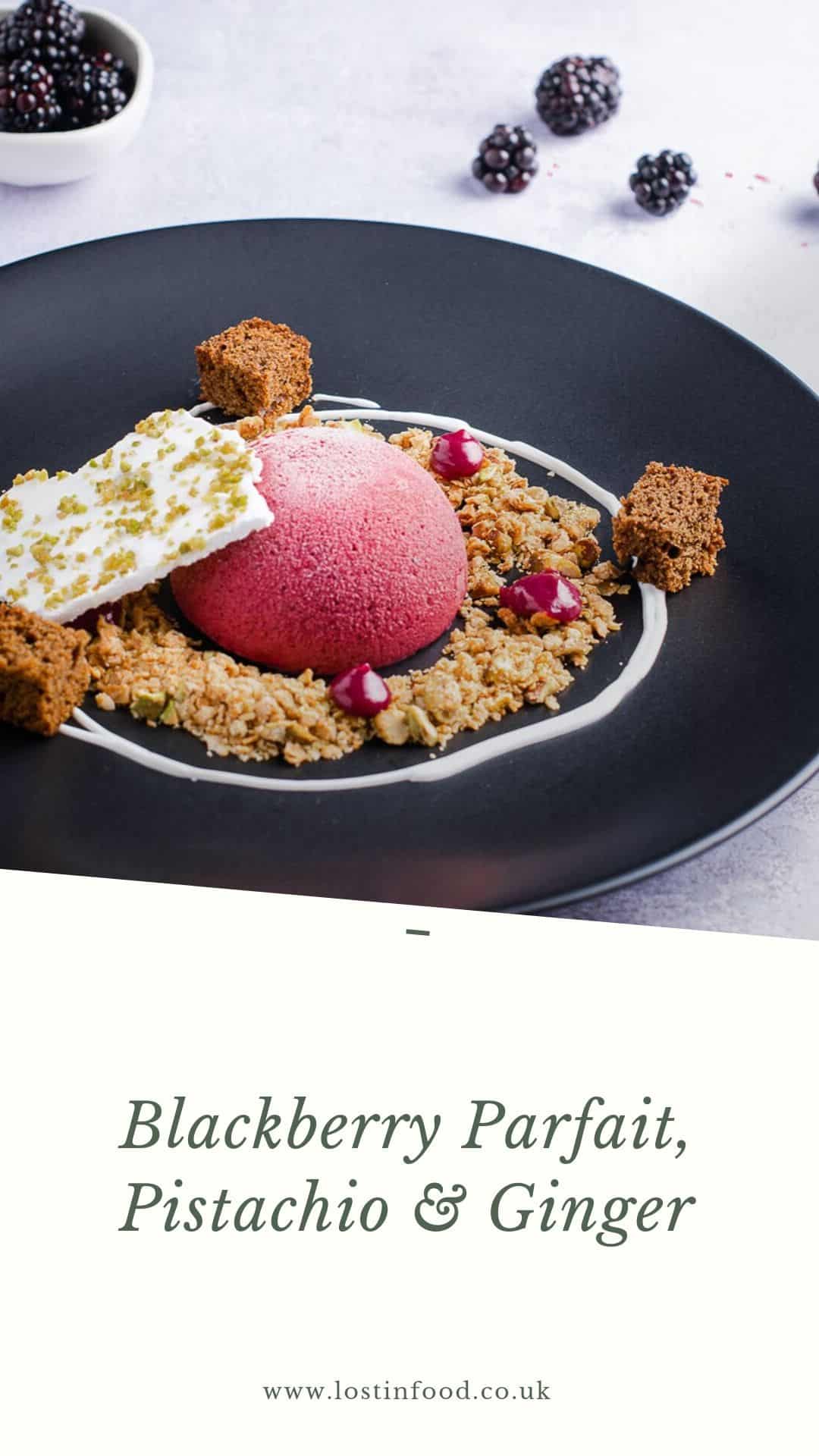 Additional recipe suggestions:
If you like this dinner party dessert then try some of these great recipe ideas:
For more inspiration have a read of our No Bake Desserts post which contains helpful hints and tips as well as a great selection of our favourite no bake dessert recipe.
Blackberry Parfait
Blackberry parfait is a beautiful late Summer dessert, making the best of the season's soft fruits. Paired with some blackberry curd, pistachio crumb and sticky gingerbread it is a stunning dinner party dessert!


Print
Pin
Text
Save
Saved!
Ingredients
500

g

blackberry puree

250

g

caster sugar

10

egg yolks

125

ml

water

250

ml

whipping cream
Instructions
In a mixing bowl, whisk the whipping cream till firm. Cover and place in the refrigerator until needed.

In a medium pan, add the caster sugar and water. Bring slowly to a gentle boil, the temperature should be around 110-115C. Alternatively, if you don't have a thermometer, drop a bit into a glass of cold water and it should start to form a thread like consistency.

While the sugar is coming to the boil and getting to the right temperature whisk the egg yolks until light and fluffy and doubled in size. With a hand mixer this could take 5-8 minutes but this is important for a light parfait.

Once the sugar is to temperature, remove from the heat and slowly add to the whisked egg yolks in a slow stream all the time continuing to whisk the eggs and incorporate the sugar syrup.

Continue to whisk the mixture until it cools down. You can place the mixing bowl inside another larger bowl with some ice to speed this process along.

Once the eggs have cooled, fold in the puree and the whipped cream until it is all incorporated. Use a metal spoon at this point as you want to leave some air in the mixture.

Once the mixture is ready, pour into silicone moulds if using, alternatively you can use any shaped plastic container or a mixture of both, depending on how you want to serve it later.

Freeze for a minimum of 4 hours or preferably overnight. When ready to eat, remove from the moulds and allow to stand for 5-10 minutes before serving.
Notes
We used dome shaped silicone moulds which allow the parfaits to come out easily when frozen.
You can also use small straight sided containers that will allow you turn out the parfaits and slice before serving. A quick trick is to remove from the freezer, quickly dip the container in warm water and then the parfait should slide out.
Feel free to replace the blackberry parfait with another soft fruit such as strawberry, raspberry or mangos.
We served this is a dessert with a granola crumb, some fresh blackberries, a blackberry curd and meringue shard for decoration.
Nutrition Facts
Blackberry Parfait
Amount Per Serving
Calories 219
Calories from Fat 108
% Daily Value*
Fat 12g18%
Cholesterol 191mg64%
Sodium 16mg1%
Potassium 99mg3%
Carbohydrates 26g9%
Protein 3g6%
Vitamin A 612IU12%
Vitamin C 9mg11%
Calcium 45mg5%
Iron 1mg6%
* Percent Daily Values are based on a 2000 calorie diet.
• Please note that the nutrition information provided above is approximate and meant as a guideline only •
Share on Facebook