This week is all about Christmas baking and desserts on #CookBlogShare and we are in the spirit as Christmas is almost upon us. We have a great collection of baking and desserts for you below to enjoy!

Welcome to #CookBlogShare 2019 for week 51.
#CookBlogShare is a weekly link party where we share recipes, comment on each other's cooking creations and generally immerse ourselves in the world of gastronomy! If you've got a recipe this is the place to show it off!
We have the pleasure of guest hosting this link party this week. #CookBlogShare is run by some fantastic bloggers every Tuesday. Those co-hosts are: [email protected] Peasy Foodie , [email protected] and [email protected] Made Easy.
The next 2 weeks will be hosted by Jacqui at Recipes Made Easy.
If you are new to this link party then we ask if you will please take a few moments to read the guidelines below. Joining in with us is very simple. You are welcome to share your old and new recipes as there is no specific theme and all recipes are welcome.
Thank you to everyone who contributed last week and shared their recipes with us. With so many Christmas baking and desserts it was only right to feature them all.
DECEMEBER IN BRIEF
I really can't believe its only a week until from Christmas Day already. The month of December has gone in an instant. I am feeling a bit smug knowing that I am prepared for the holidays this year. Juggling 2 part time jobs and a blog audit in December forced me to plan ahead!
December saw us take a break from our Supperclubs for a few reasons, firstly we hosted quite a few since the summer holidays and we needed a break in order to be creative again. Secondly, we knew we had to make time for some dreaded administration of the blog behind the scenes. And thirdly, we made a promise to ourselves last year to enjoy the lead up to Christmas this year!
Even though own menu for Christmas Day is planned there is always room for more baking! So many Christmas baking and desserts submitted to #CookBlogShare that tempted me this week. Without further ado, let's see what everyone has been making.
INDULGENT CHRISTMAS BAKING AND DESSERTS FOR #COOKBLOGSHARE 2019 WEEK 51
Small Bites
Is it even Christmas without mince pies? Cooking with My Kids gives us little puff pastry mince pies which mean the children can help out in the kitchen and get involved, great if you have little ones. Yet another Christmas tradition is stollen and Glutarama brings us delicious looking gluten free mini stollen bites, the perfect accompaniment to your mulled wine. If you happen to be after something chocolate then we can offer your our own cocoa dusted chocolate truffles, simple to make but hard to resist. Next it's onto Christmas pudding, but not as you know it. The Baking Explorer tempts us with mouth watering Christmas pudding chocolate profiteroles decorated to look like mini Christmas puddings. Finally, something I have never heard of but sounds tasty is blackstrap molasses kutsinta from The Not So Creative Cook.
Christmas Desserts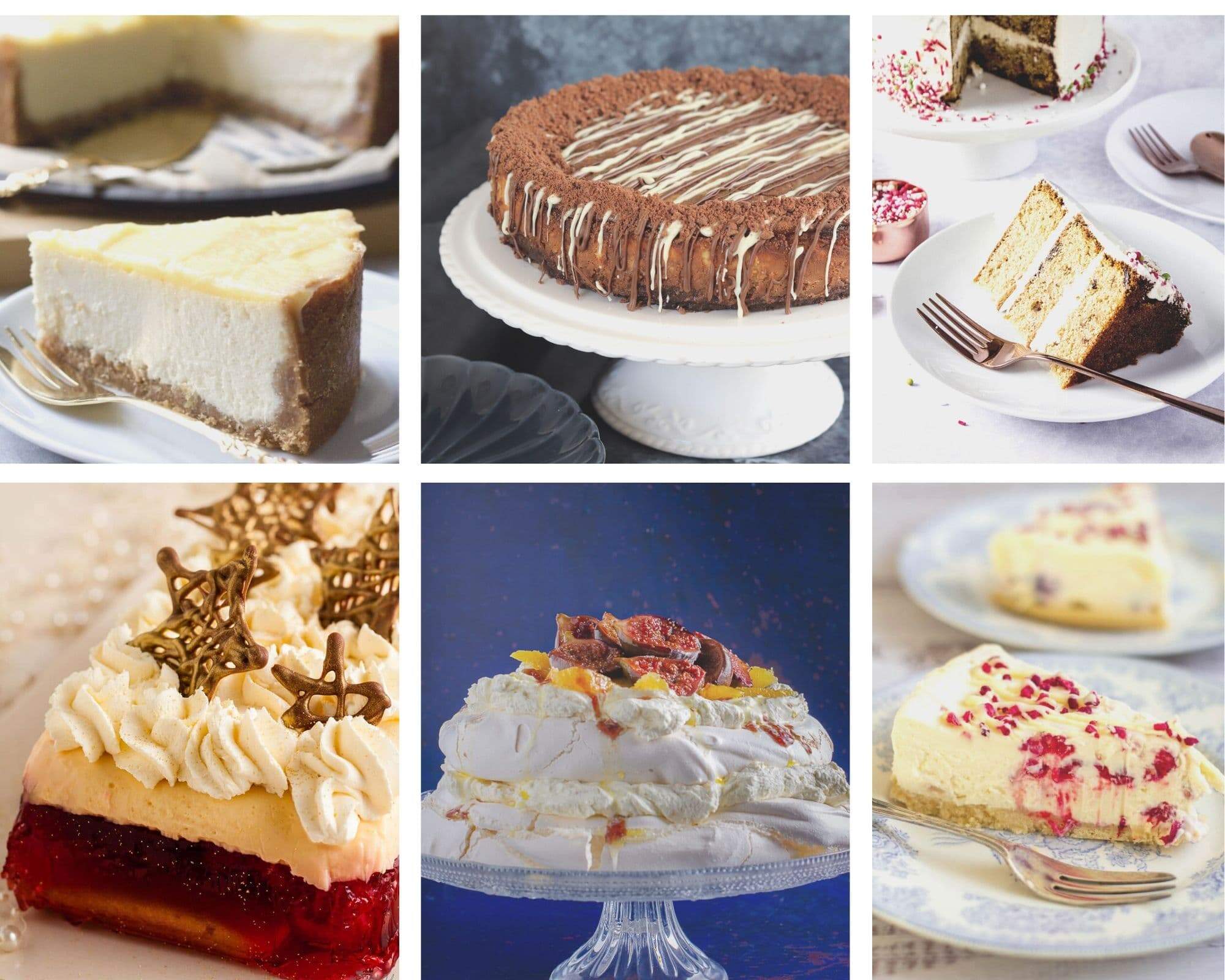 Do you opt for a traditional Christmas pudding on Christmas Day? I like to have something different from year to year. As I'm personally not a Christmas pudding lover (but I do love the brandy cream!) I've brought together some amazing looking desserts from fellow bloggers that would be perfect for any table. First up and a slightly different take on traditional trifle is from Only Crumbs Remain, a free standing trifle! Next up is our own decadent Christmas Pavlova topped with an orange segments and sticky sweet figs, perfect for your Christmas table. If you want to combine a dessert with a small bite then this mince pie cake from Crumbs and Corkscrews has you covered.
Cheesecakes
Then we move onto the cheesecakes! I am a cheesecake addict! My first choice is a baked cheesecake but when time is short a no bake cheesecake is perfect. First on the cheesecake front is our own vanilla baked cheesecake topped with mulled plums, perfectly festive for the Christmas table. Moving onto chocolate we have this amazing looking marble baked cheesecake from Curly's Cooking, this is on my to bake list very soon. If you want a lighter flavour then I always turn to lemon and this baked lemon cheesecake from Jo's Kitchen Larder will work a treat. And finally who can resist this tempting white chocolate and raspberry baked cheesecake from Apply to Face Blog, a classic combination of flavours.
Now that I've tempted you with every sweet Christmas bake and dessert , I'm off to the kitchen to make something!
Thanks again for sharing your recipes with #CookBlogShare. I look forward to seeing your recipes, both old or new, so join the party and link up your creations!
#COOKBLOGSHARE WEEK #51
This is how you can join in:
Link up your recipe, sweet or savoury, or any foodie post to the #CookBlogShare link party. Just click the blue 'Add your link' button below and follow the instructions.
Include this party's link in your post (so everyone else can find it).
Add the #CookBlogShare badge to your post (see the NEW code below).
Help us comment on some of the other recipes linked up here, share the love and have fun!
You can also post your recipes on the Cook Blog Share Facebook Page.
We'll visit all the blogs participating in the link party and share your recipes across all the major social media channels as well as pin them on to the Cook Blog Share Pinterest Board. If you tweet a link to your recipe to us, @LostinF00d, using #CookBlogShare we'll do my best to retweet it!
Please use #Cookblogshare hashtag when sharing you're recipes on Instagram – we can 'swap' more 'likes' and comments.
A quick reminder that by joining in you are giving the #CookBlogShare hosts permission to use your pictures in a round up and on social media.
Thank you for sharing your recipes with #CookBlogShare!
Your host next week will be Recipes Made Easy.
You are invited to the Inlinkz link party!