Plum and almond galette is a rustic French pastry tart, filled with soft plums and almond frangipane. Delicious served warm with ice cream.
Plum and almond galette is a rustic French tart. This fruit tart is simple to prepare and can be popped into the oven while you get on with making dinner. We serve this warm with some ice cream or double pouring cream alongside.
This simple plum and almond tart is a perfect warming dessert for a crisp Autumn day. Prepare the plum galette earlier in the day, head out for a walk and pop in the oven when you get home!
Galette differs from a fruit tart where you would line a tin with the pastry and blind bake it first. With a galette the pastry is rolled out, leaving a 2 1/2cm wide rim around the edge. The pastry is filled with a layer of the almond frangipane and topped with the plums. Next fold the pastry back over the fruit to form a crust rim.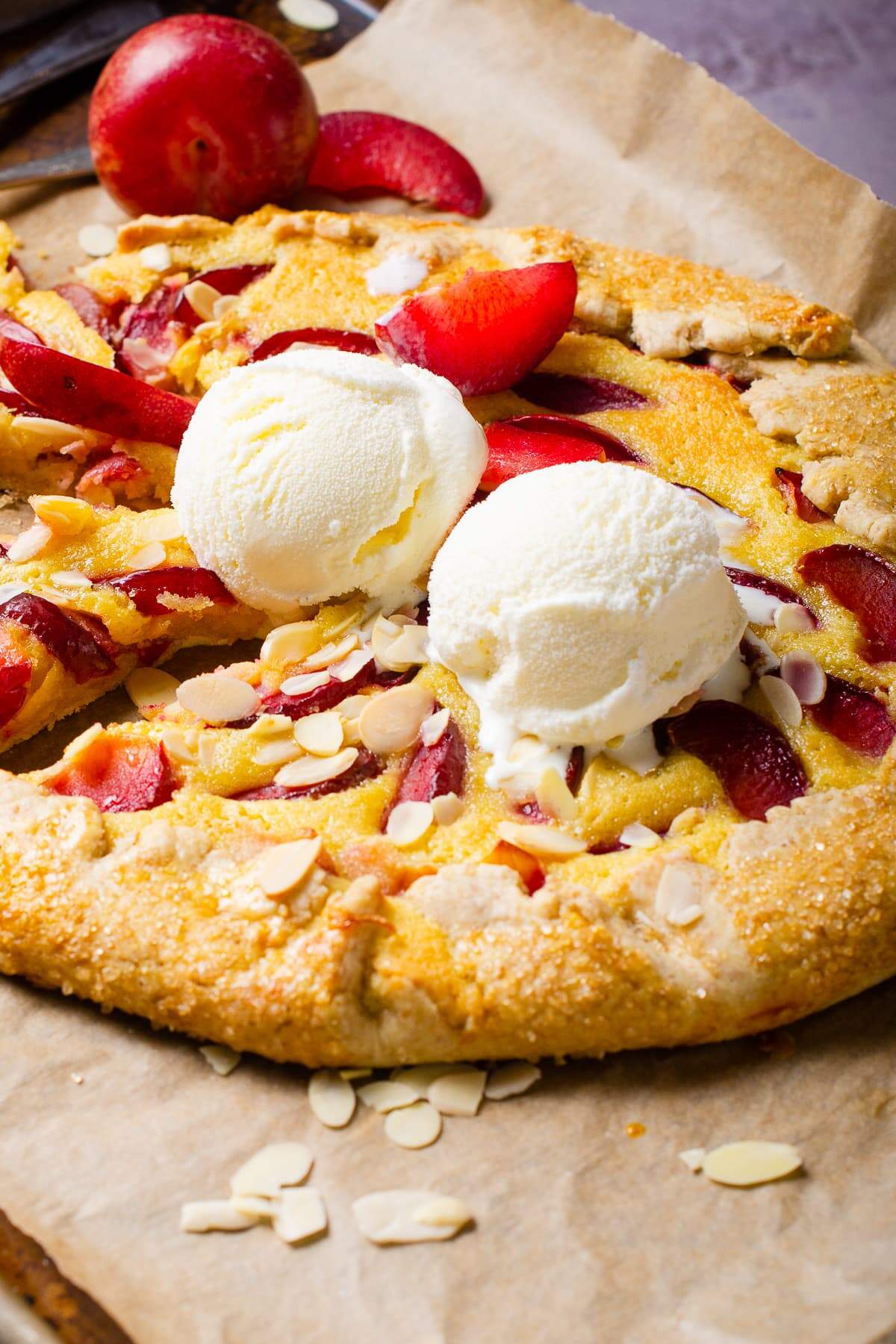 Why you'll love this recipe
Plums are a delicious fruit and when baked in a tart like this they are really flavourful
A galette is a forgiving dessert as there is no need to finesse the tart.
In fact do not worry about trimming the pastry, in fact it looks better when the edges have a roughness to them.
This dessert is quick to prepare, however does benefit from from being placed in the fridge for 20 minutes to allow the filling to set before baking.
How to make plum and almond galette
Detailed instructions can be found in the recipe card below.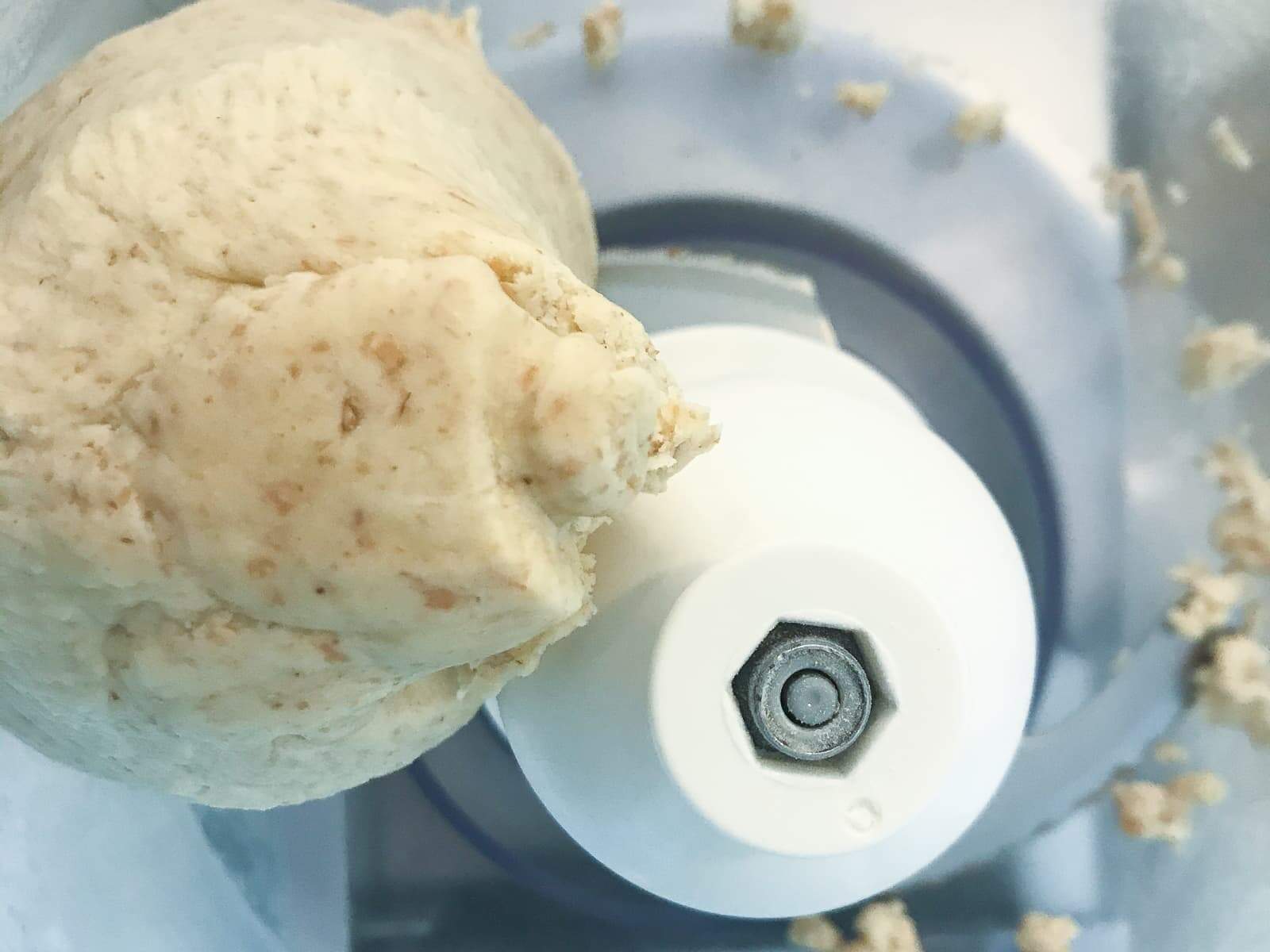 Place the ingredients for the pastry into a food processor or stand mixer and mix to form a ball of dough.
Roll the dough into a ball and flatten. Cover in clingfilm and place in the fridge to chill.
Meanwhile place the ingredients for the almond frangipane into a mixer and beat together to form a smooth paste like filling.
No need to wash the bowl, just carry on from the dough.
When ready to bake, roll out the pastry to 1/2cm thickness.
Next spread on the almond frangipane, taking care to leave a good 2 1/2cm pastry rim around the edge to allow you to fold over the pastry.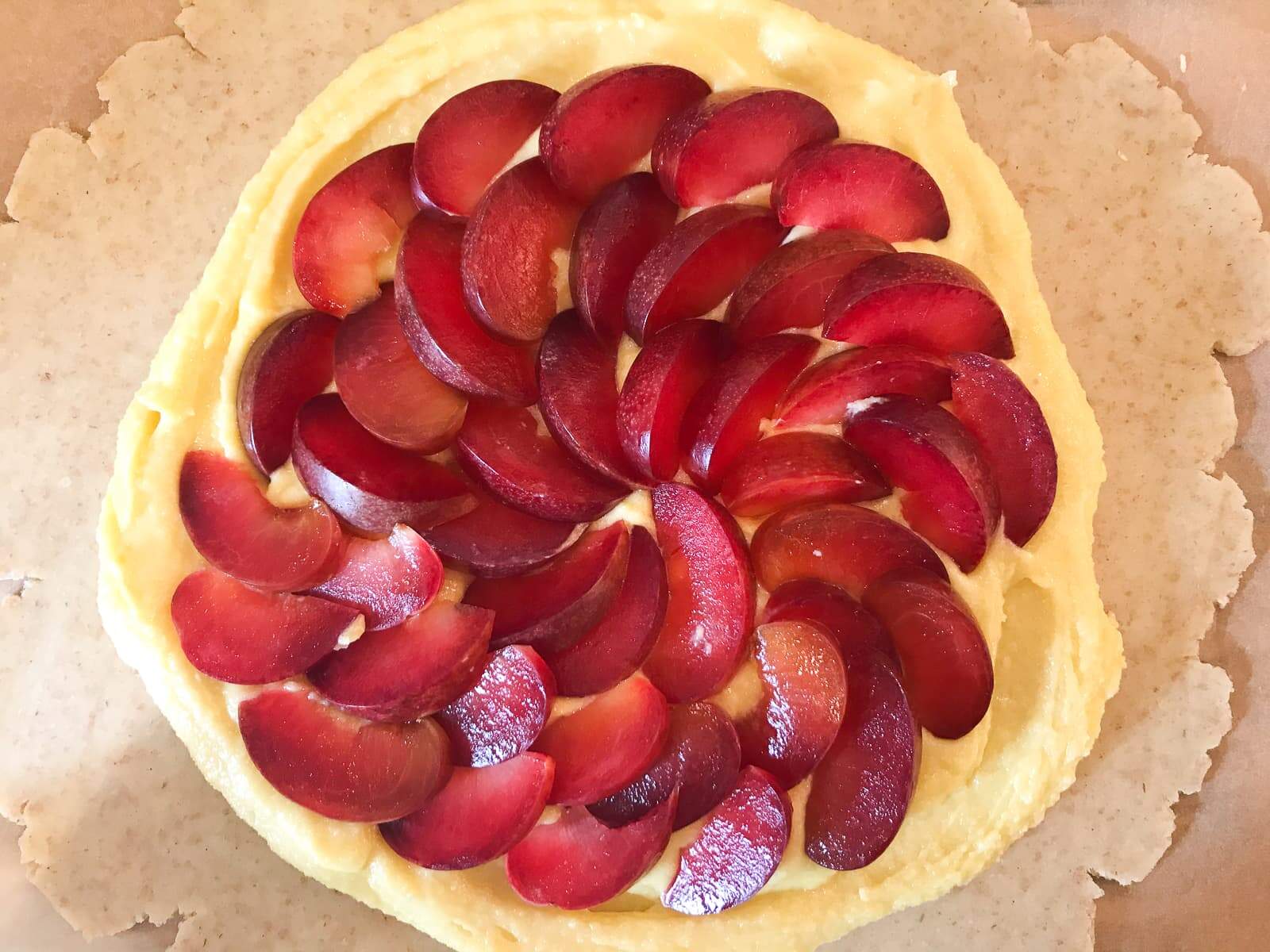 Arrange the plums on top of the frangipane in a fan shape.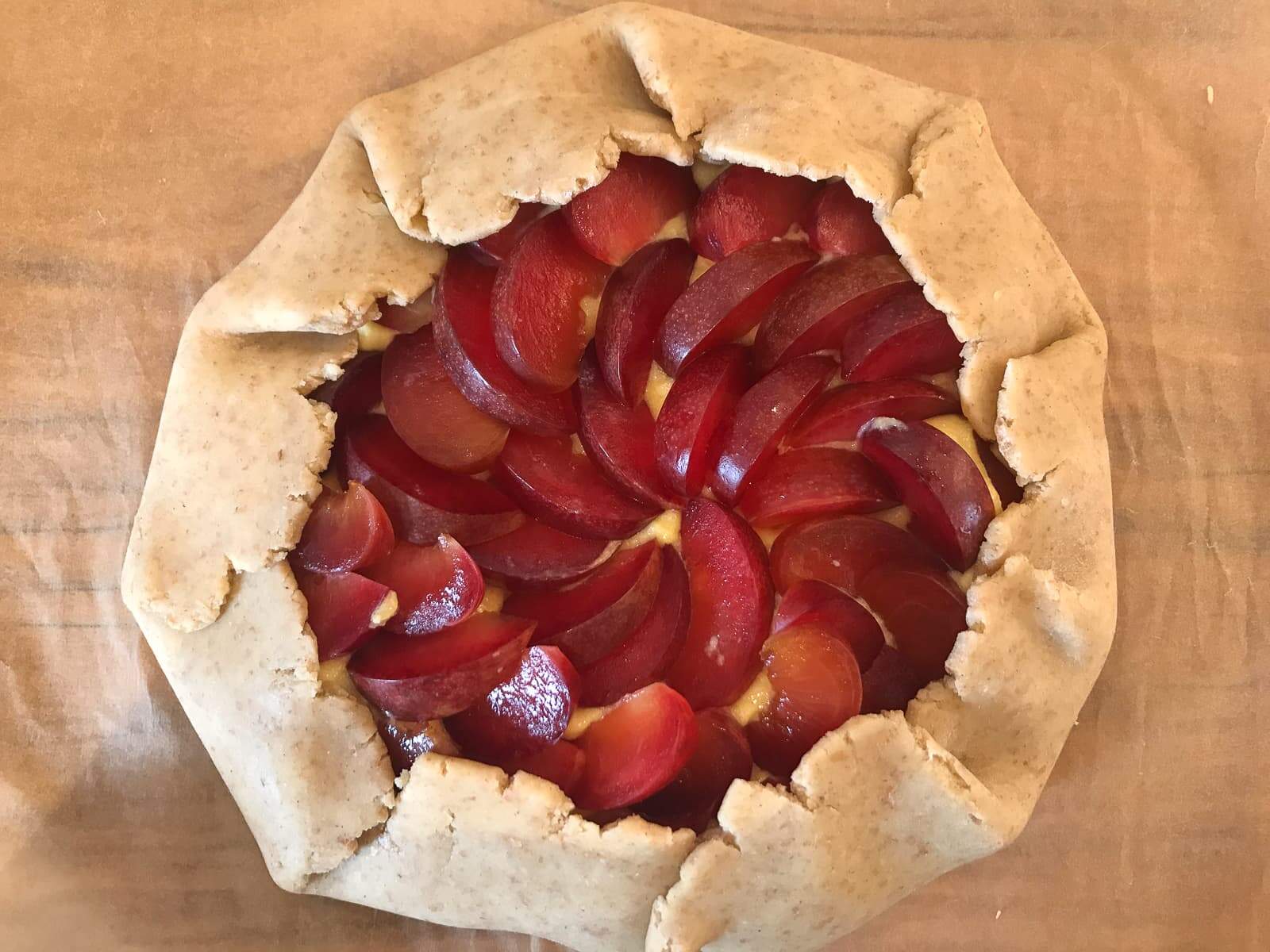 Fold the pastry edge back over the top of the fruit.
Fold a little at a time taking care not to leave any gaps for the fruit juice and frangipane to escape.
Brush the edges of the pastry with a beaten egg.
Sprinkle over the demerara sugar and flaked almond.
At this stage it is a good idea to place the galette back in the fridge to allow the filling to set for 20 minutes. When ready place in the oven to bake.
Recipe ingredients
Pastry
Flour – I use both plain and wholemeal flour in the pastry case.
Salt
Spice – I add ground cinnamon to the pastry for extra flavour.
Butter – use cold and cubed unsalted butter. If using salted butter omit the salt.
Cold water
Frangipane Filling
Butter – use unsalted butter, this time it should be at room temperature.
Sugar – use use caster sugar to make the filling.
Nuts: frangipane is make with ground almonds.
Eggs – use 2 medium sized eggs.
Almond – I add almond extract for extra flavour, but this is entirely optional.
Topping
Plums – I use plums, which I de-stone and slice into wedges, before placing onto the frangipane filling.
Sugar – I sprinkle some demerara sugar over the tart before baking.
Almonds – scatter over some flaked almonds to add great texture and crunch.
Egg – I use a beaten egg to glaze the pastry.
Recipe variations
Fruit: I have used plums in this plum and almond galette. However, you can substitute the plums with other fruits. Apples, pears, peaches, nectarines, apricots and cherries would all work beautifully in place of plums.
Spice: If you wanted to add a little warming spice to the plums, mix 1 teaspoon of ground cinnamon in with the demerara sugar and sprinkle over the top of the galette.
Glaze: If you want you can brush the top of the plum and almond galette with a little watered down jam or jelly to add a nice glaze. However, this step is not essential.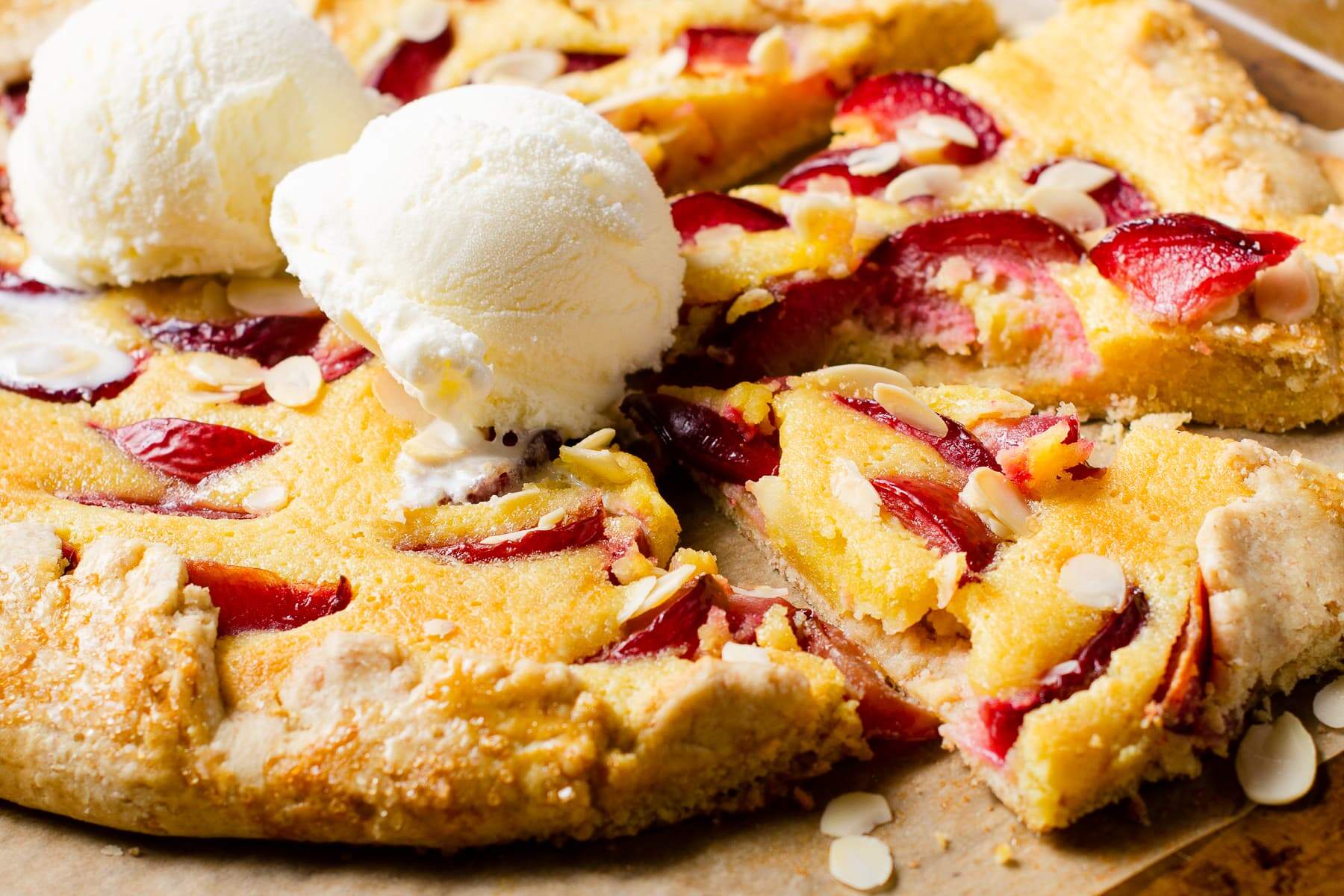 Serving suggestion
Plum and almond galette is delicious served warm, making it an ideal dessert to serve for a Sunday lunch. Serve is still warm with a scoop of vanilla or dairy ice cream or pour over some double cream or whipped cream. I don't tend to add flavoured ice-cream as it detracts from the flavour of the fruits.
However, you can also enjoy this galette cold as a delicious afternoon tea treat.
To make individual servings
Planning a dinner party? Then we recommend making individual plum and almond galettes. Make the same quantity of dough and filling, however, separate it out into individual sized portions.
Individual galettes can be made up earlier in the day and kept in the fridge until ready to bake. However, we do not recommend making a day ahead as the fruit juices will bleed into the frangipane mixture. Cooking times should be adjusted down for smaller galettes.
Recipe hints & tips
Don't overwork the pastry or you will end up with tough pastry.
Once assembled, and before baking place the galette into the fridge for 20-30 minutes to allow the filling to set before baking.
Gluten free alternative: for coeliacs or anyone following a gluten free diet, swap my homemade pastry with a store bought roll of gluten free shortcrust pastry.
Allergy advice: For comprehensive and detailed allergy advice go to Allergy UK.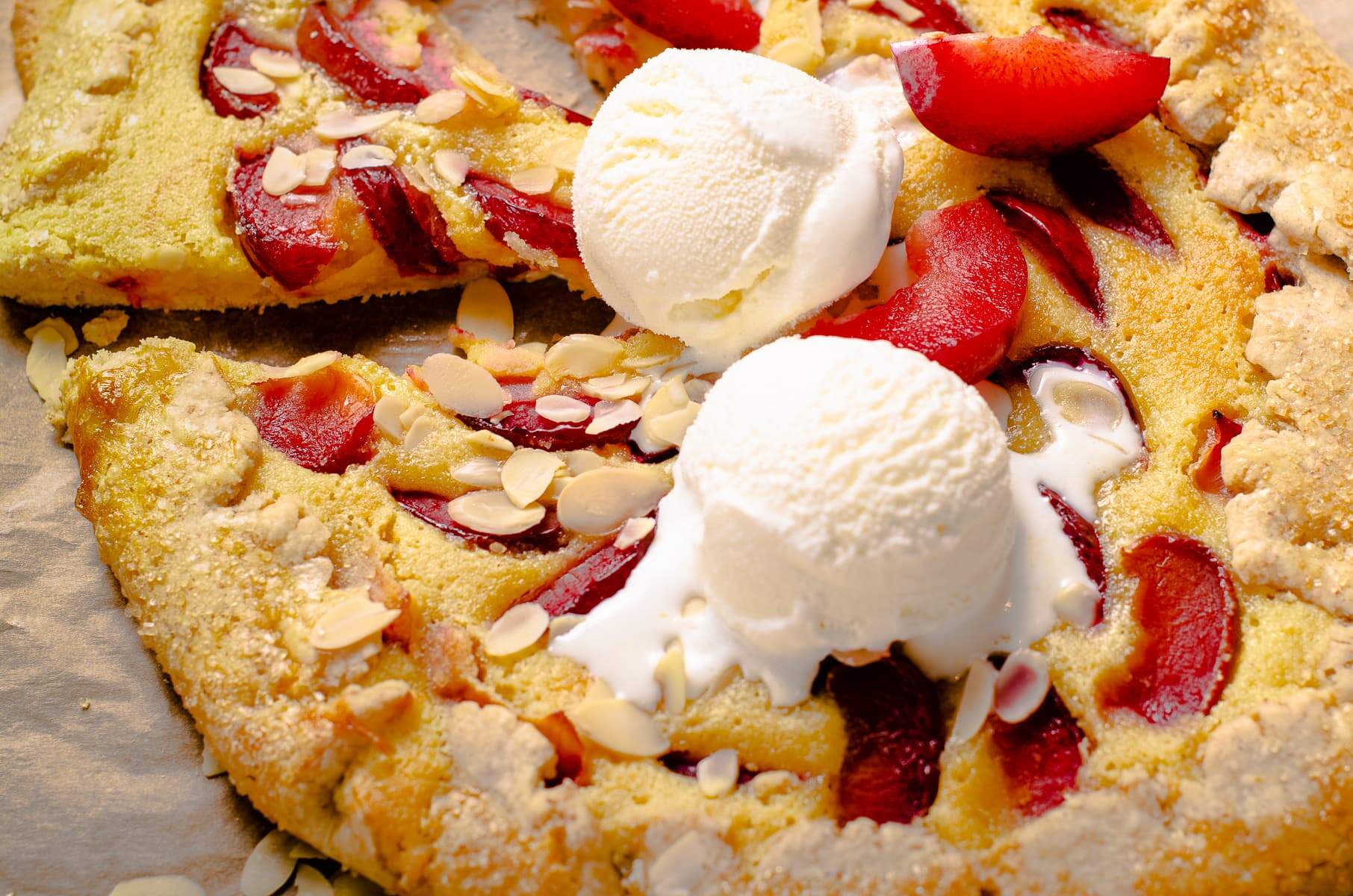 FAQs
Can I make plum galette without nuts?
If you have a nut allergy, or do not like almonds, simply leave out the frangipane filling. Also don't scatter the flaked almonds over the top of the galette.You can make plum galette without the frangipane filling.

Instead toss the fruit in some sugar, add a little flour and place the fruit directly on top of the pastry. Flour is added to absorb some of the juice from the cooked fruit, therefore avoiding soggy pastry. Once baked simply allow to cool for 10 minutes and enjoy warm.
Can I use ready made store bought pastry?
There is no problem in using shop bought shortcrust pastry in this recipe if you find you don't have time to make your own. I use shop bought pastry when I cook and are short of time!
How to store leftover fruit galette?
If covered and stored in an airtight container, at room temperature, this plum and almond galette will keep fresh for 2 days.
Can I freeze fruit galette?
Plum galette can be frozen for enjoying at a later date. Bake the plum tart and allow to cool completely before placing in an container suitable for the freezer. When ready to enjoy defrost the galette and we recommend popping it into the oven to warm it through and avoid the pastry bottom becoming soggy.
Pin the recipe
Additional recipe suggestions
If you enjoyed our plum & almond galette then try some of our other seasonal bakes:
Plum & Almond Galette (Tart)
A rustic tart filled with a franipane paste and topped with fresh plums. A perfect Sunday pudding topped with vanilla ice cream or makes a great afternoon treat.
Print
Pin
Text
Save
Saved!
Ingredients
Pastry
150

g

plain flour

50

g

wholemeal flour

pinch

salt

¼

tsp

cinnamon

120

g

unsalted butter

(cold and cubed)

2½

tbsp

cold water
Frangipane Filling
100

g

unsalted butter

(at room temperature)

100

g

caster sugar

100

g

ground almonds

2

eggs

(medium)

½

tsp

almond extract

(optional)
Topping
1

tbsp

demerara sugar

10

g

flaked almonds

5

plums

(de-stoned and sliced into wedges)

1

egg

(whisked)
Instructions
Pastry
Using a food processor, add the flours, butter, salt and cinnamon, if using. Pulse until mixture resembles breadcrumbs. If not using a processor then mix gently with your fingers and mix water in with a fork. Do not overwork the pastry.

Add the water gradually and pulse until the mixture is combined and forms a ball. (Depending on your flour you may need slightly less or more water).

Remove the dough, wrap in a sheet of baking paper and refrigerate while you prepare the filling.

Preheat the oven to 140° CFan or 160°C.
Frangipane Filling
First, wash and slice the plums in half. Remove the stone and then slice into wedges and set aside.

In the same food processor (or bowl if not using) add the ground almonds, soft butter and caster sugar. Pulse to combine. Add the eggs and almond extract, if using, and blend until combined into a loose paste. Set aside and work the pastry.
Pastry
Remove the pastry from the fridge. Dust the parchment with flour and roll out the pastry on the baking parchment. Roll until about ½cm thick. Don't worry about it looking rough around the edges, this is what you want for this rustic galette.

Spread the frangipane onto the middle of the pastry, leaving about 2.5cm all around.

Arrange the plums in a fan shape starting in the middle of the case until all used up and the tart is full.

Fold the pastry over the filling. You will have a rustic shape which gives the galette its signature look.
Topping
Sprinkle the top of the plums with the sliced almonds.

Brush the edges of the pastry case with the egg wash and sprinkle over the demeara sugar.

At this stage it is a good idea to chill the tart for 20 minutes in the fridge to allow the filling and pastry to firm up slightly.

Place the galette into the oven and bake for 45 minutes.

Once baked remove from the oven and allow to cool on a wire rack for 10 minutes before serving warm.
Nutrition Facts
Plum & Almond Galette (Tart)
Amount Per Serving
Calories 606
Calories from Fat 369
% Daily Value*
Fat 41g63%
Cholesterol 133mg44%
Sodium 26mg1%
Potassium 175mg5%
Carbohydrates 54g18%
Protein 10g20%
Vitamin A 1185IU24%
Vitamin C 5mg6%
Calcium 66mg7%
Iron 3mg17%
* Percent Daily Values are based on a 2000 calorie diet.
• Please note that the nutrition information provided above is approximate and meant as a guideline only •
Share on Facebook
This recipe has been shared with CookBlogShare, click on the link to find recipes by fellow food bloggers.