Sticky gingerbread is a family favourite bake. Slice and serve with a cup of tea, or warmed up and add hot custard for pudding perfection!
Sticky gingerbread is a simple cake that I love to bake. This traditional gingerbread is packed full of spice, but nevertheless is very easy to make.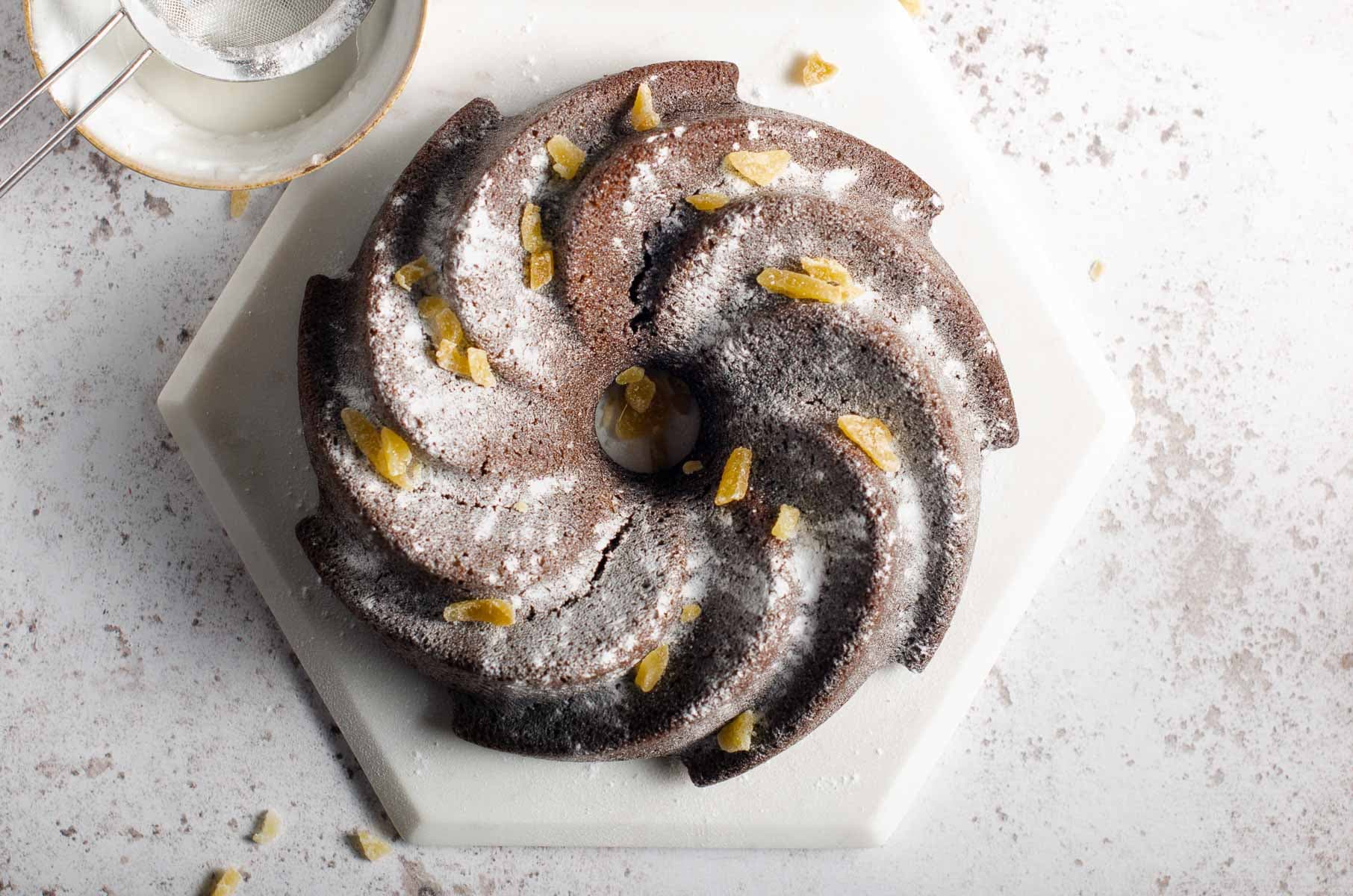 This classic black sticky gingerbread recipe is one that everyone enjoys. It is reminiscent of the shop-bought "Jamaica Ginger Cake" that I used to eat as a kid.
For me black sticky gingerbread is a year round bake. That said, I always bake more of it during the cold winter months, its warm spice aroma filling my kitchen as it bakes.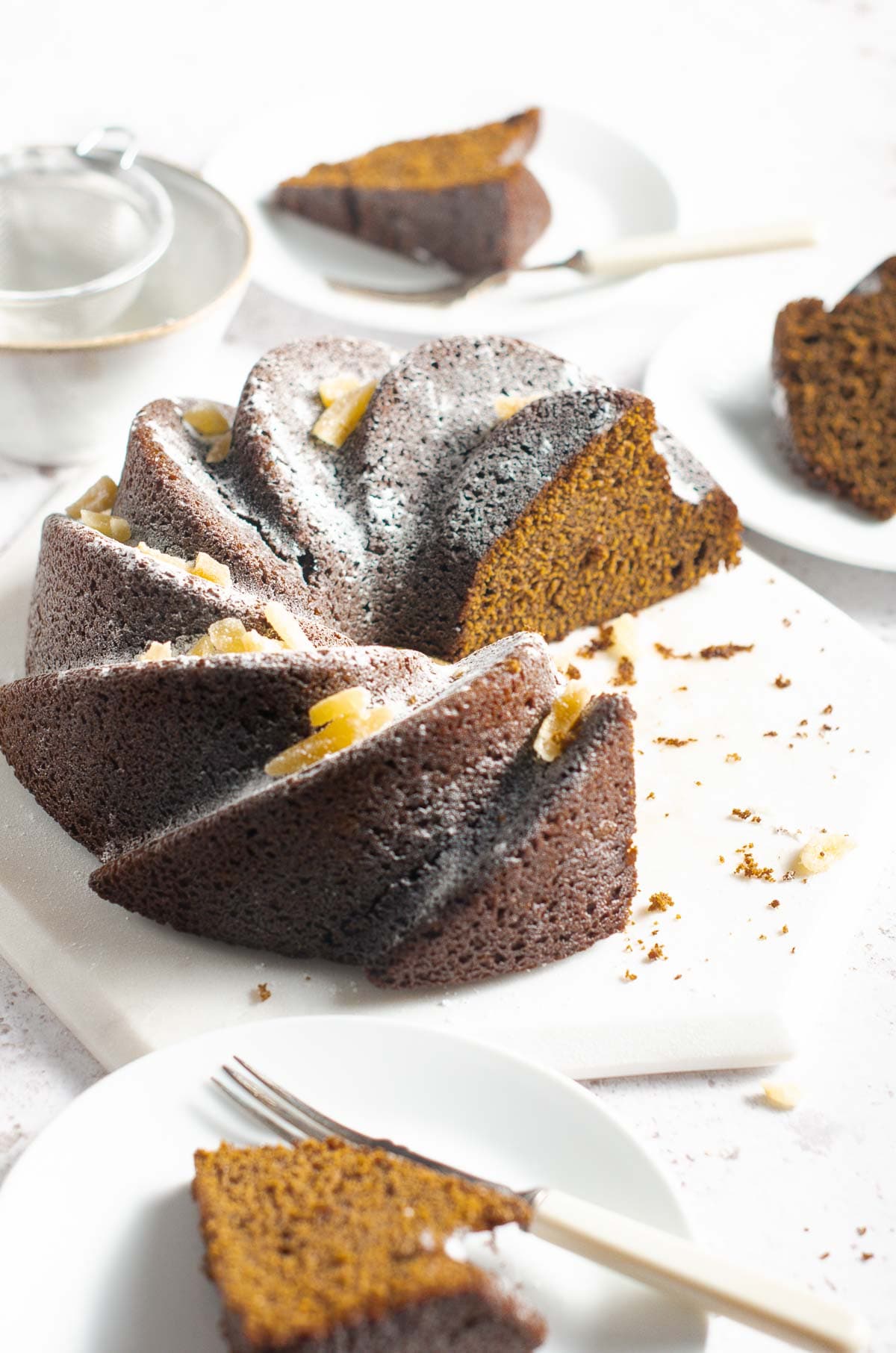 A simple bake:
This sticky gingerbread recipe might look complicated to some, however this is a straightforward bake. There is no need for fancy equipment either: a large mixing bowl; saucepan; whisk and a wooden spoon!
There are dry ingredients and warm, wet ingredients, it's simply a case of adding the wet into the dry and giving it a quick stir!
Recipe steps: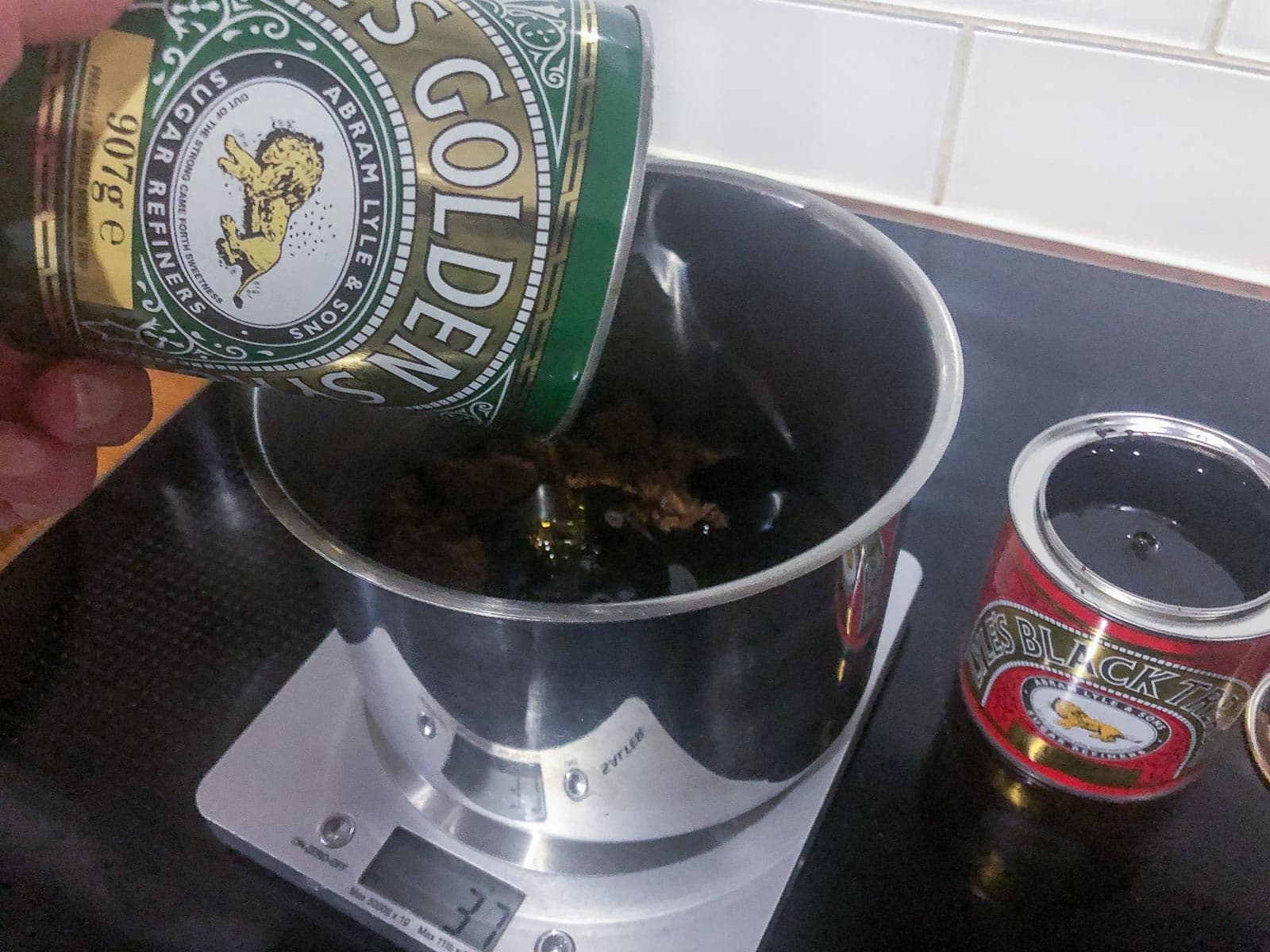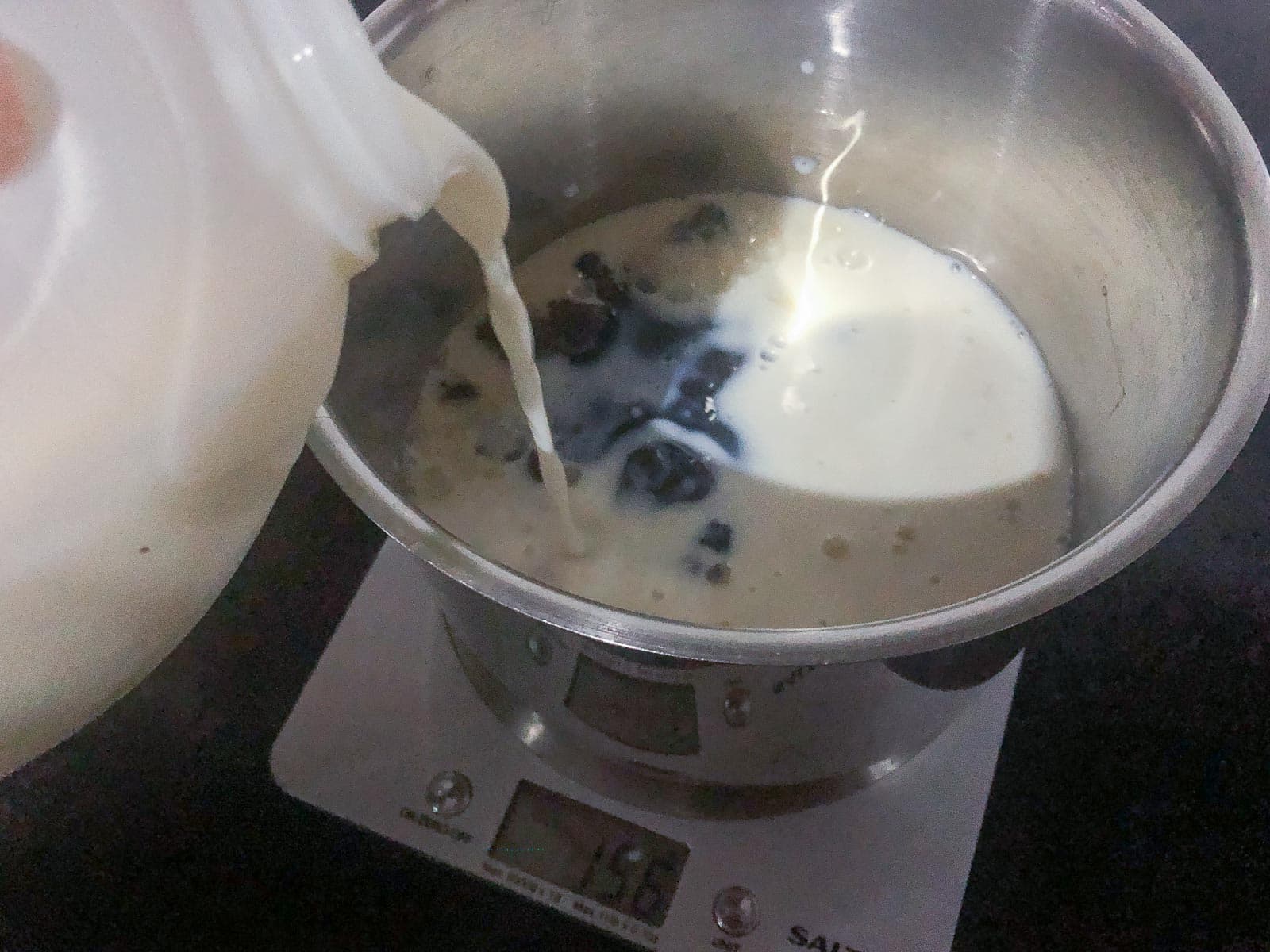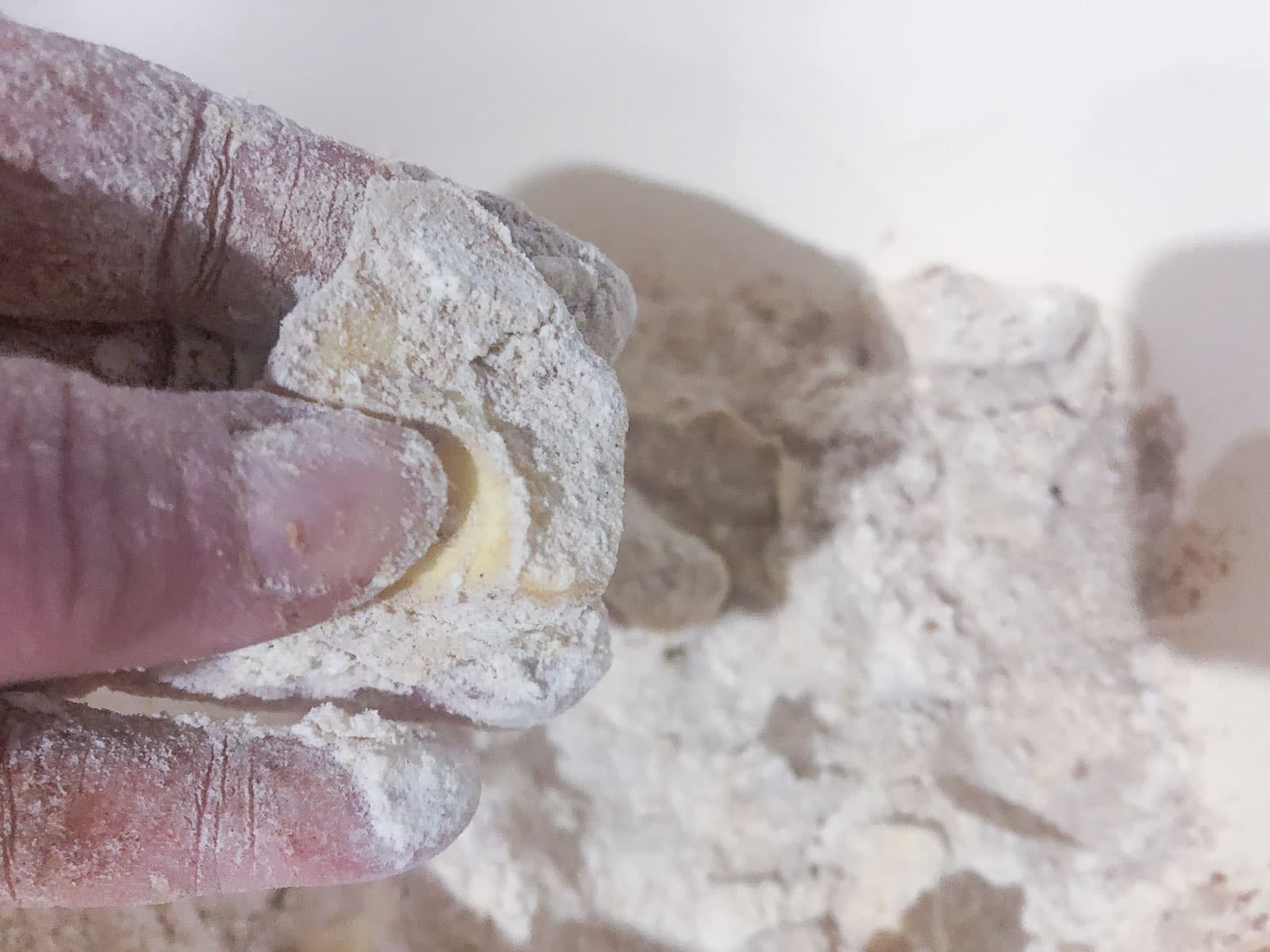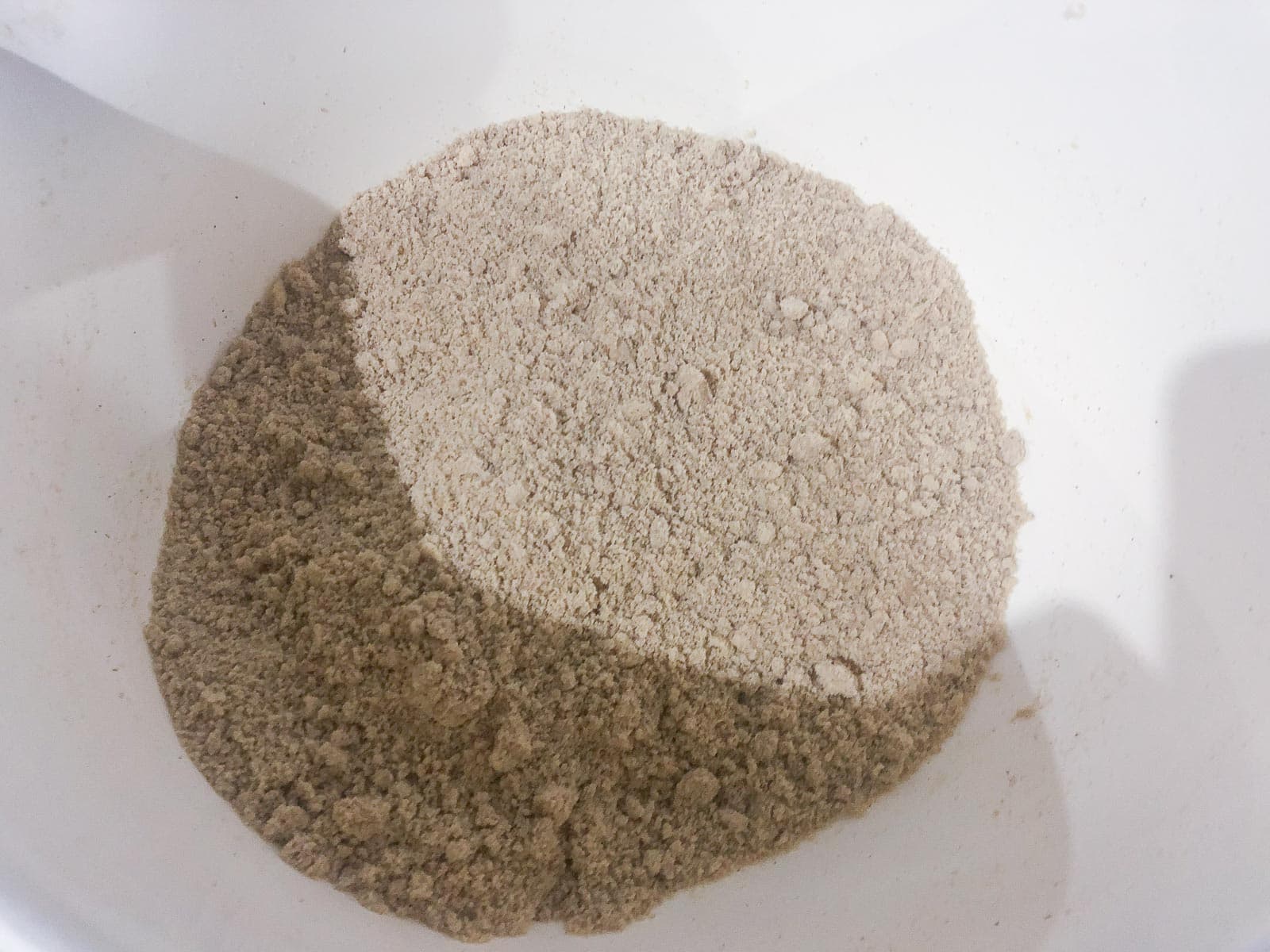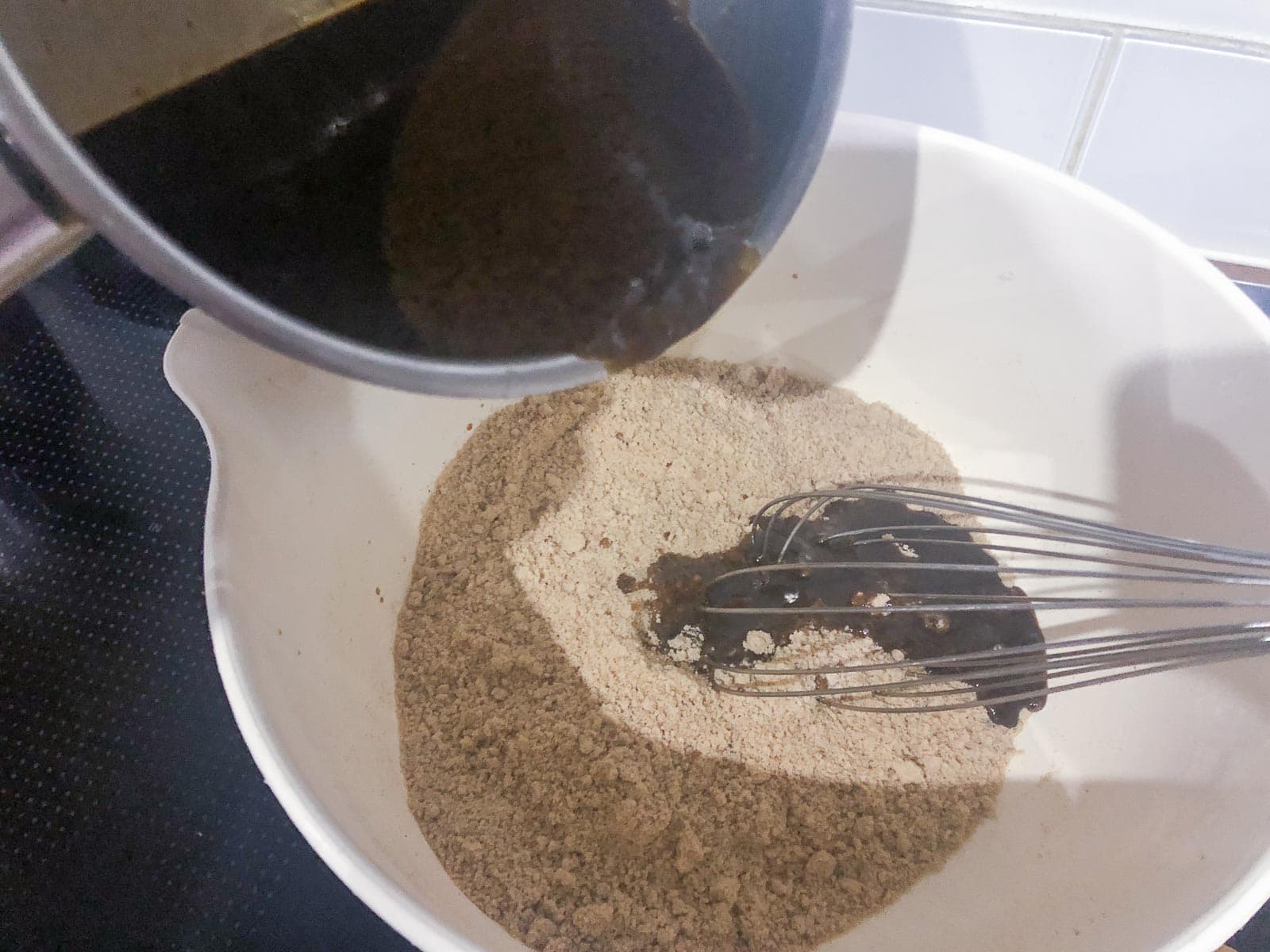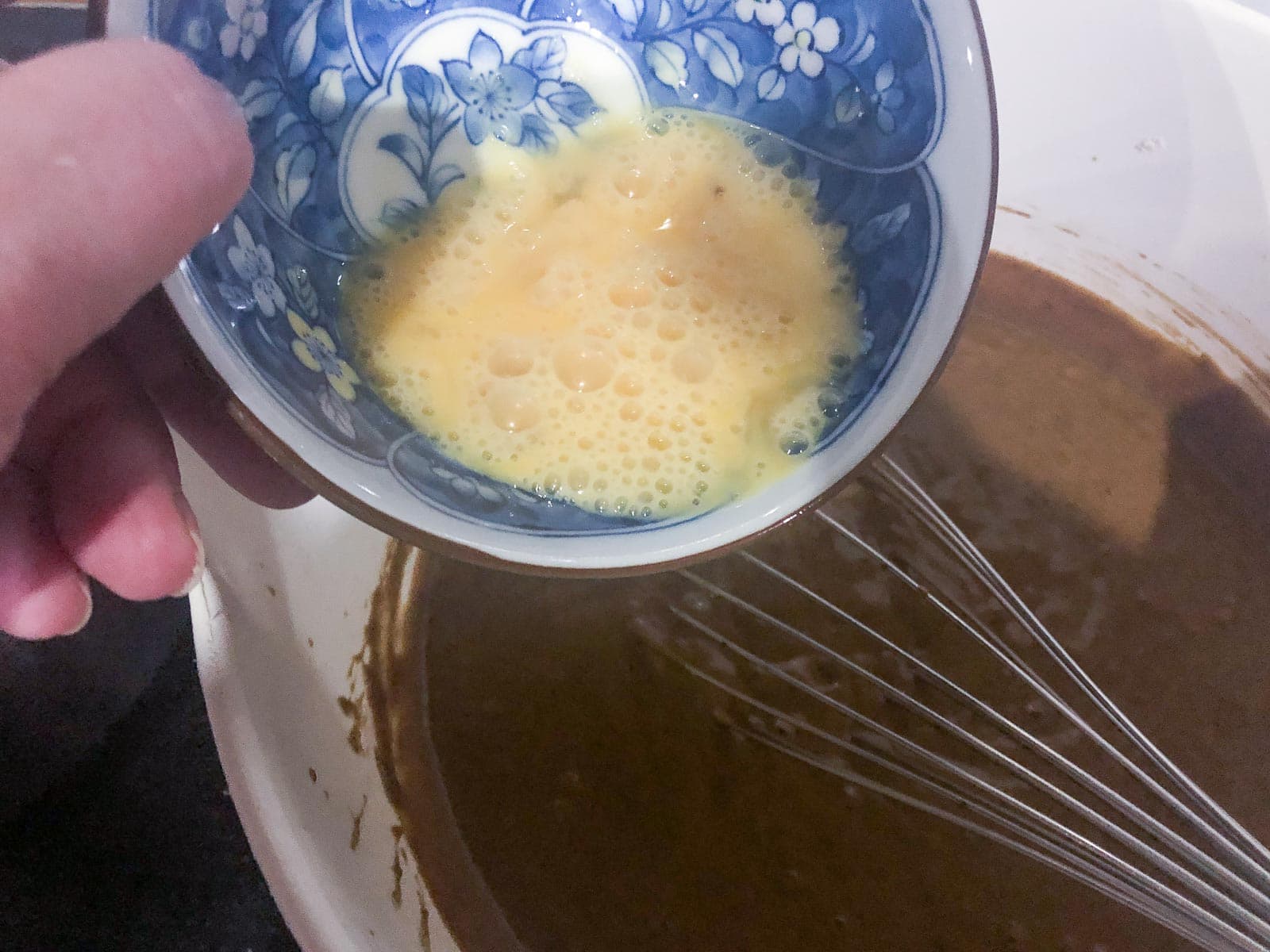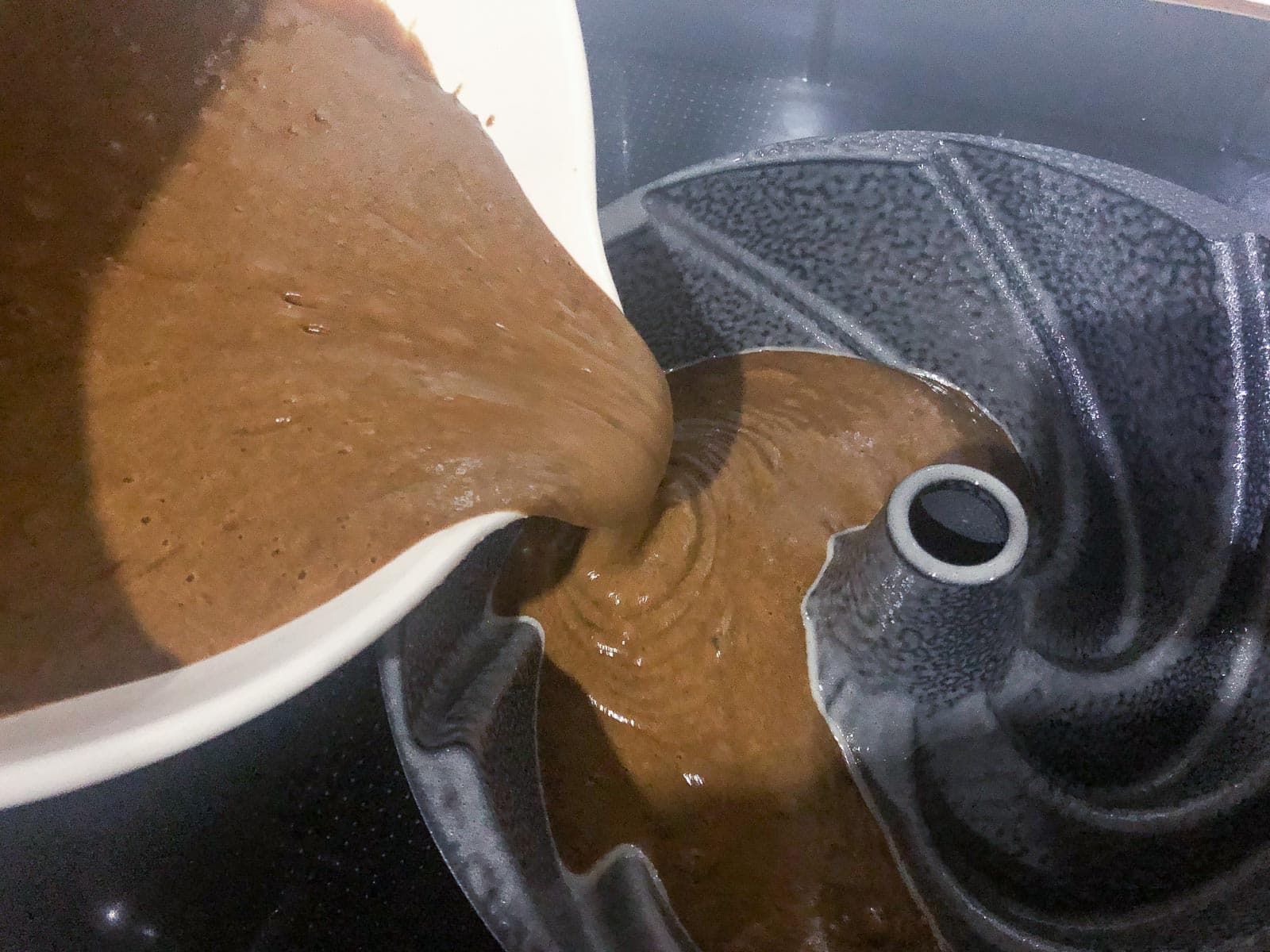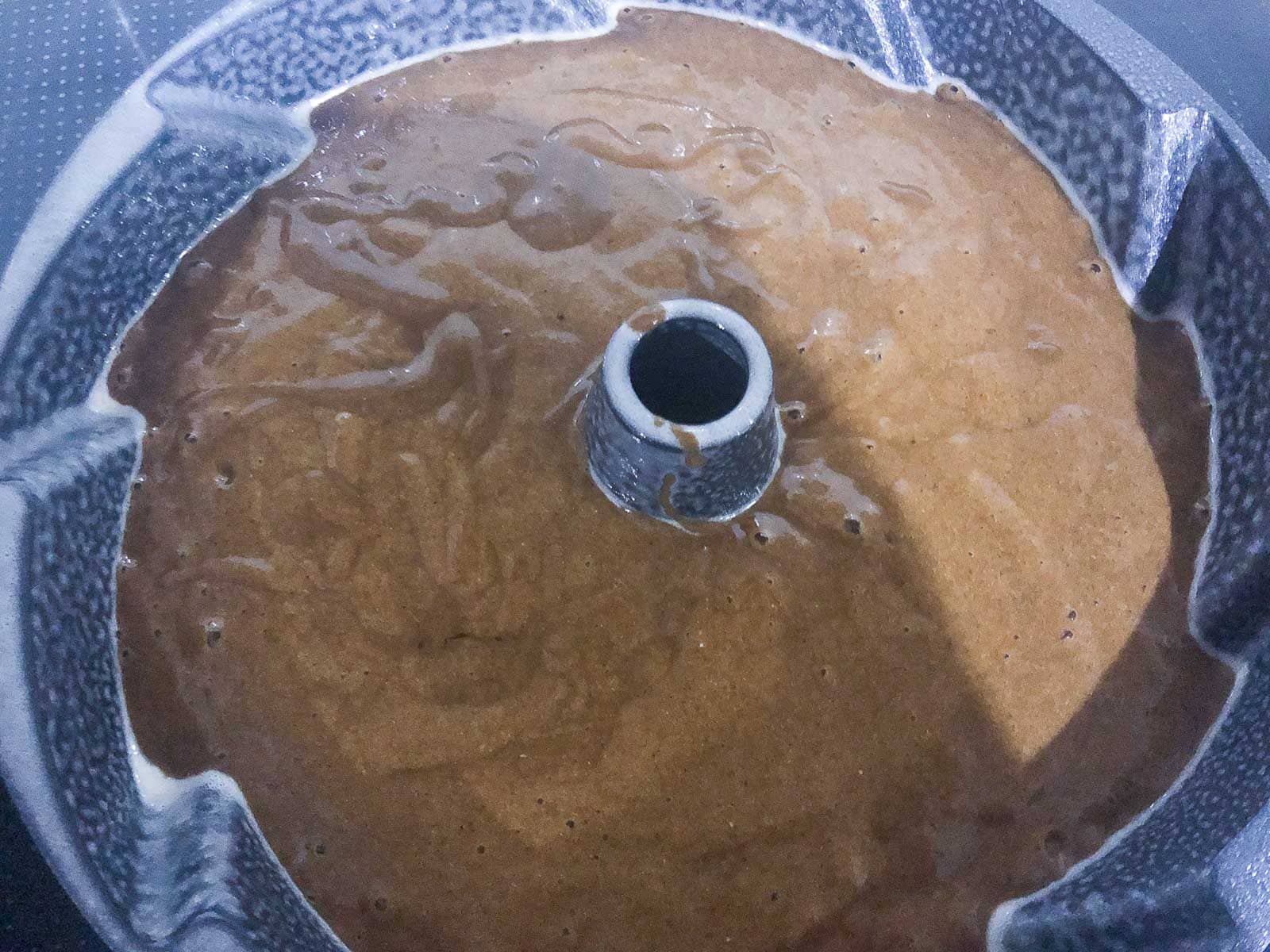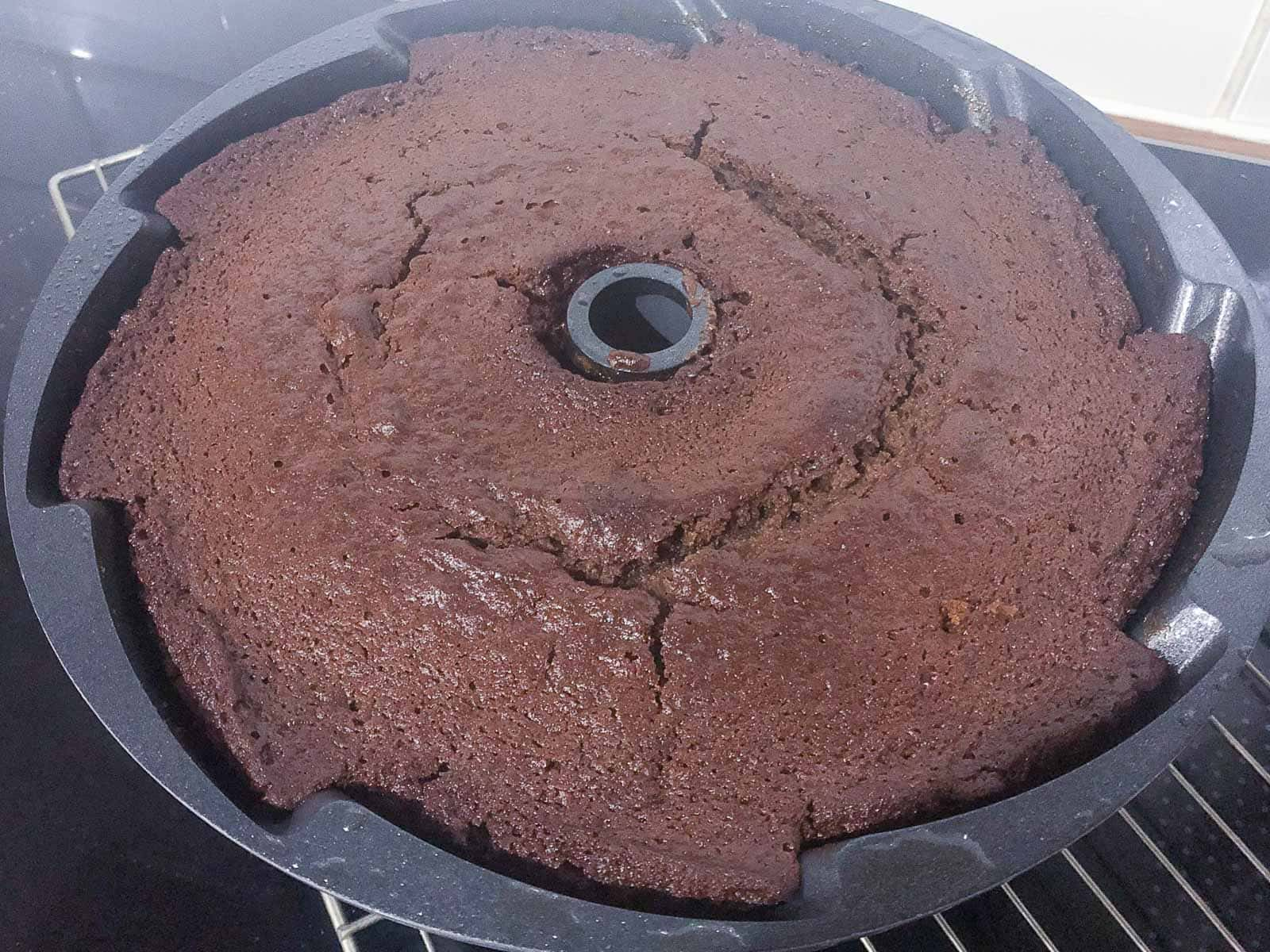 Substitutions:
Sugar:
This sticky gingerbread loaf recipe uses dark muscovado sugar which contains a high level of molasses which gives this cake it's dark, treacle flavour.
The best substitute would be dark brown sugar, which has slightly less of the deep molasses flavour.
Alternatively, you can also use light muscovado sugar, however it will lessen the richness, as light muscovado sugar has less of a molasses, treacle flavour than dark.
Spices:
This black sticky gingerbread recipe uses a blend of ginger, cinnamon and mixed spice to make the loaf.
I love the flavour of ginger so I like to added a heaped tablespoon of ground ginger so that it really comes through on the cake.
If you would like to add more cinnamon then add a little extra. Likewise if there is a flavour that you don't like, reduce it or leave it out altogether.
Do I need to use a bundt tin for sticky gingerbread?
I have used a bundt tin for this recipe as I have one. I use this cake tin all the time but please don't go out and buy a bundt tin.
However, you can also bake a round cake or make a sticky gingerbread loaf. Replace the bundt tin with a 22cm/9″ circular cake tin with a loose base or a large loaf tin as both will do the same job.
Preparing the tin?
Bundt tin:
If you are using a bundt tin, I would recommend using a cake release spray or a liberal amount of butter, dusted with flour to grease the tin.
Ensure you get into any ridges in the tin to stop the cooked cake from sticking to the tin.
There is no point using a beautifully shaped tin if the cake gets stuck when you try to turn it out!
Round cake tin or loaf tin:
Likewise use either a cake release spray; or grease with a liberal amount of butter and dust with flour; or line with baking parchment.
How to serve sticky gingerbread?
I love sticky gingerbread, sliced and served as it is with a cup of hot tea. However, my husband likes his with butter spread across it. It's entirely down to personal preference.
Sticky gingerbread also makes a perfect pudding. Warm up the gingerbread and pour over some hot custard, this is comfort food in sweet form for me. Alternatively you can add a scoop of ice-cream or pour over some double cream.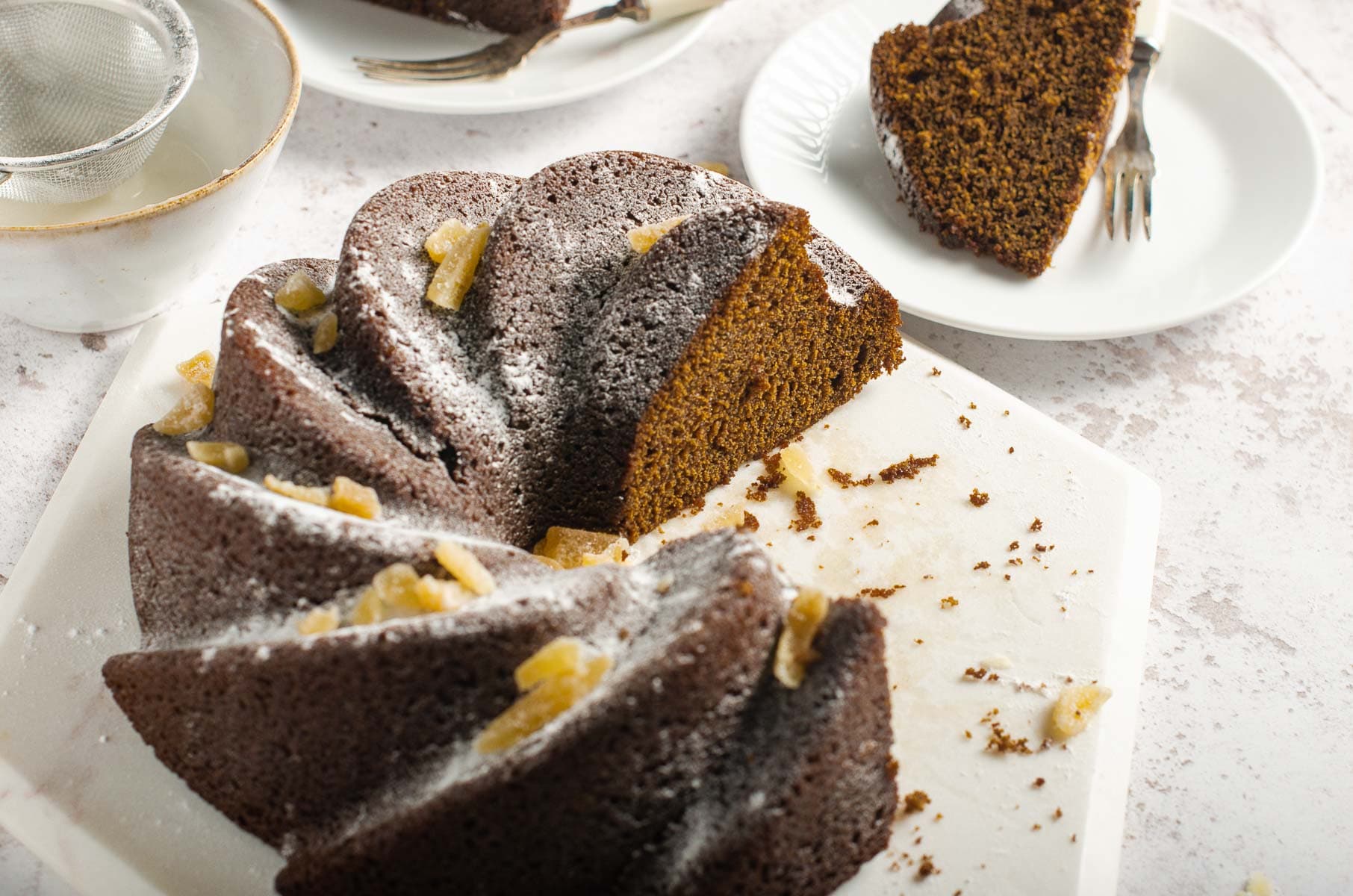 What is the difference between ginger cake and gingerbread?
Ginger cake is simply any cake flavoured with ginger, it could refer to a ginger sponge cake, or a light ginger loaf.
Whereas black sticky gingerbread loaf tends to refer a sticky cake that is rich with both spices (predominantly ginger) and dark molasses/muscovado sugar.
Not to be confused with gingerbread biscuits!
Of course this sticky gingerbread is not to be confused with gingerbread biscuits which are often used to construct gingerbread houses over Christmas. This type of gingerbread is a dough based biscuit/cookie recipe which is rolled out to form individual biscuit and cookie shapes – or indeed sides of houses if that's what you are building.
How long can I store black sticky gingerbread?
Sticky gingerbread is one cake that actually improves after a couple of days, assuming you can wait that long to eat it! Left to sit, the gingerbread will mature and only gets stickier, it's a deliciously moist cake.
Once baked and cooled, store the cake in an airtight container and it will last for 4-5 days without going stale.
Can I freeze gingerbread?
This gingerbread recipe makes a large bundt or loaf and can be frozen very easily. Simply allow the cake to cool completely on a wire cooking rack and then wrap in kitchen foil. Then place the cake in a suitable container and place in the freezer.
You can either freeze the whole gingerbread, half the gingerbread or cut into individual slices and freeze individually – ready for a sweet treat any time you fancy!
When you are ready to eat the cake, remove it from the freezer and allow it to defrost at room temperature. Ideally eat within 3 months of freezing to enjoy this cake at its best.
Pin the recipe:
Additional recipe suggestions:
If you like this sticky gingerbread loaf recipe then try some of our other warming, spiced bakes:
For other other great bakes have a look at our Ultimate Guide to Baking with Kids which is also great for any adult who loves baking. Full of helpful hints and tips, together with many more recipes.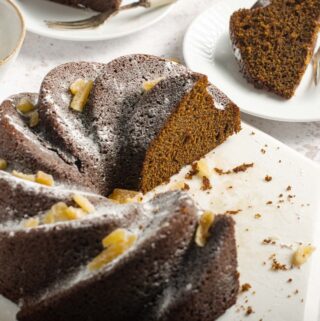 Sticky Gingerbread
Sticky gingerbread is a family favourite bake. Slice and serve with a cup of tea, or warmed up and add hot custard for pudding perfection!
Print
Pin
Save
Saved!
Equipment
Bundt tin (22cm diameter) or a large loaf tin (approx 24x12x7cm) lined with baking parchment
Ingredients
225

g

self raising flour

1

tsp

bicarbonate of soda

1

tbsp

ground ginger

(rounded)

2

tsp

ground cinnamon

1

tsp

mixed spice

115

g

cold unsalted butter

(cubed)

275

ml

whole or semi-skimmed milk

115

g

dark muscovado sugar

115

g

golden syrup

115

g

black treacle

1

medium egg

(beaten)
Instructions
Sift the flour, bicarbonate of soda, and all the spices into a large mixing bowl. Add in the butter and rub the butter into the flour mixture until you have the consistency of fine breadcrumbs. Set aside.

Add the dark muscovado sugar, milk, black treacle and golden syrup, to a small saucepan and heat up gently over a medium heat, stirring to dissolve the sugar. DO NOT BOIL THIS MIXTURE! Set aside to cool to lukewarm.

Now add the sugar and milk mixture to the flour and give it a quick whisk before adding the beaten egg and whisk to form a thick batter.

Pour the batter into a well greased Bundt tin or a loaf tin lined with baking parchment and place in a preheated oven at 180C/160CFan for approximately 45 minutes. Check the gingerbread to ensure it is cooked, by inserting a cocktail stick into the centre of the loaf, it should come out clean. If still sticky then pop back into the oven for a further 5 minutes.

Remove the gingerbread from the oven and place the tin on a wire cooling rack. Allow the gingerbread to cool completely in the tin before turning it out.

Once cooled wrap the cake in baking parchment and place in an airtight container.
Nutrition Facts
Sticky Gingerbread
Amount Per Serving
Calories 190
Calories from Fat 63
% Daily Value*
Fat 7g11%
Cholesterol 27mg9%
Sodium 93mg4%
Potassium 162mg5%
Carbohydrates 29g10%
Protein 3g6%
Vitamin A 222IU4%
Calcium 69mg7%
Iron 1mg6%
* Percent Daily Values are based on a 2000 calorie diet.
• Please note that the nutrition information provided above is approximate and meant as a guideline only •
Share on Facebook
This recipe has been linked up to CookBlogShare, click on the link to find recipes by fellow food bloggers.