Spiced almonds are quick and simple to prepare. Making them ideal for anyone who loves these spicy, smoky nuts, using the spices we have in our spice racks.
Spiced almonds are a quick and simple snack. Easy to prepare these almonds can be roasted and ready to enjoy in no time at all.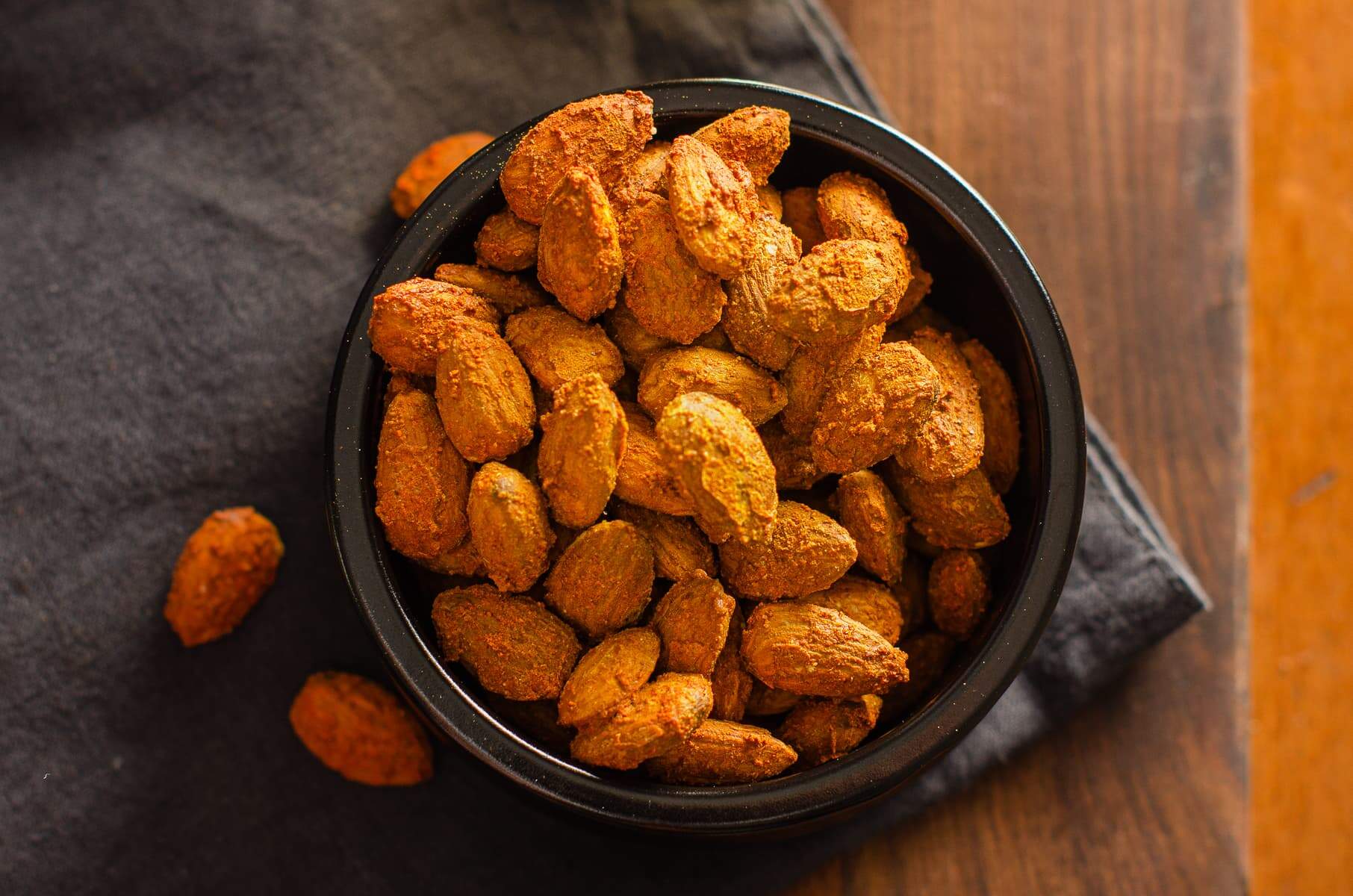 For me, these spiced nuts are the perfect snack served alongside some olives, pickles and a glass of something crisp and white when I am relaxing at a weekend.
However, more often than not, I find shop bought flavoured nuts too salty or sweet when what I really want is spice!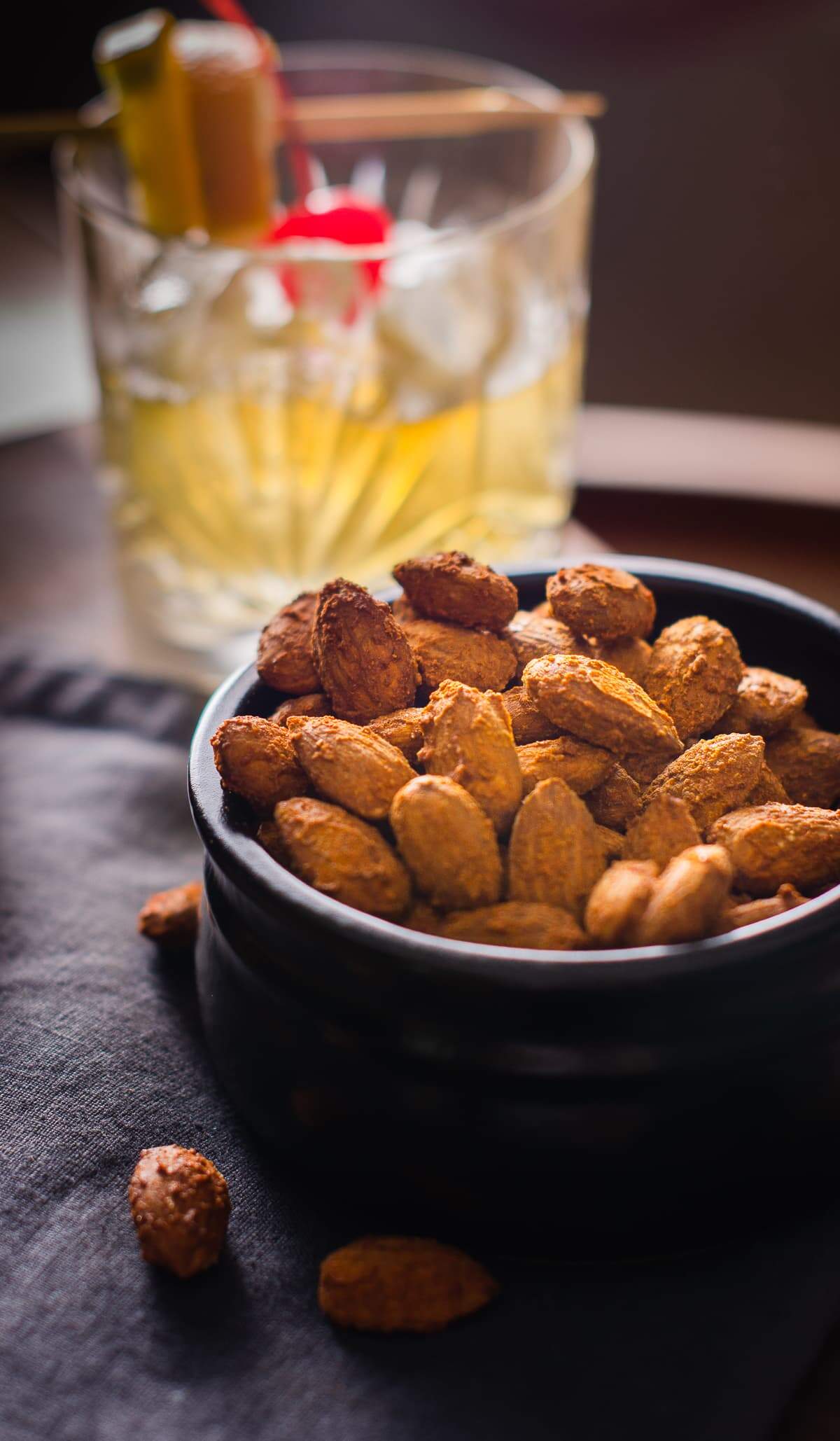 Ready spiced nuts can also be very expensive, especially so when you consider that you have most of the spices in your own kitchen store cupboard!
Another issue I have with shop bought spiced nuts is that they are often greasy as oil is used to get the spices to adhere to the nut. Instead I like to use egg white which does the same job, without the nut becoming slick.
These spiced smoked almonds are something I make often, whether for the weekend or when I have friends coming for dinner.
Potted up into a pretty jar they also make a great gift if I'm heading round to friends for dinner.
Recipe steps: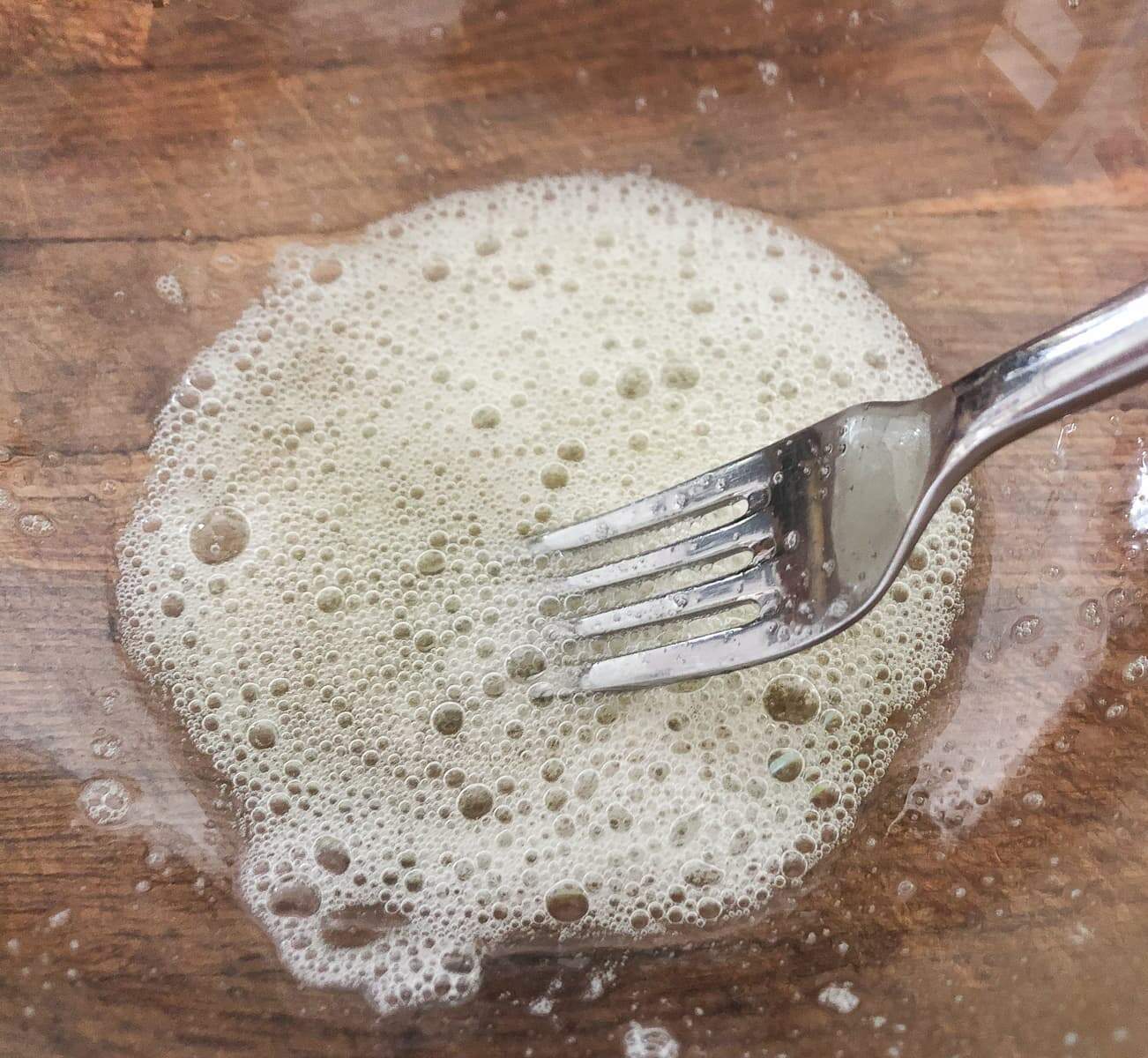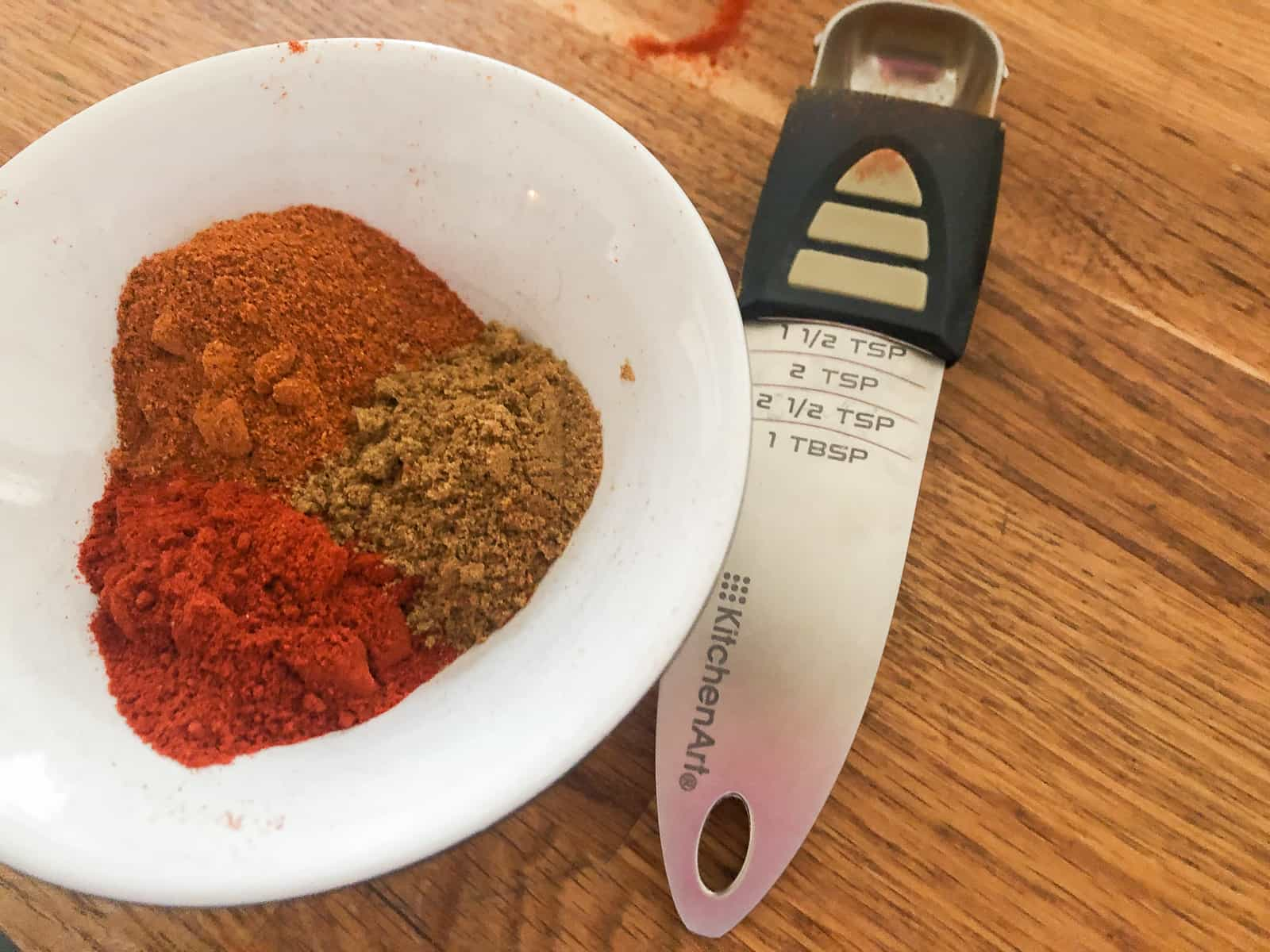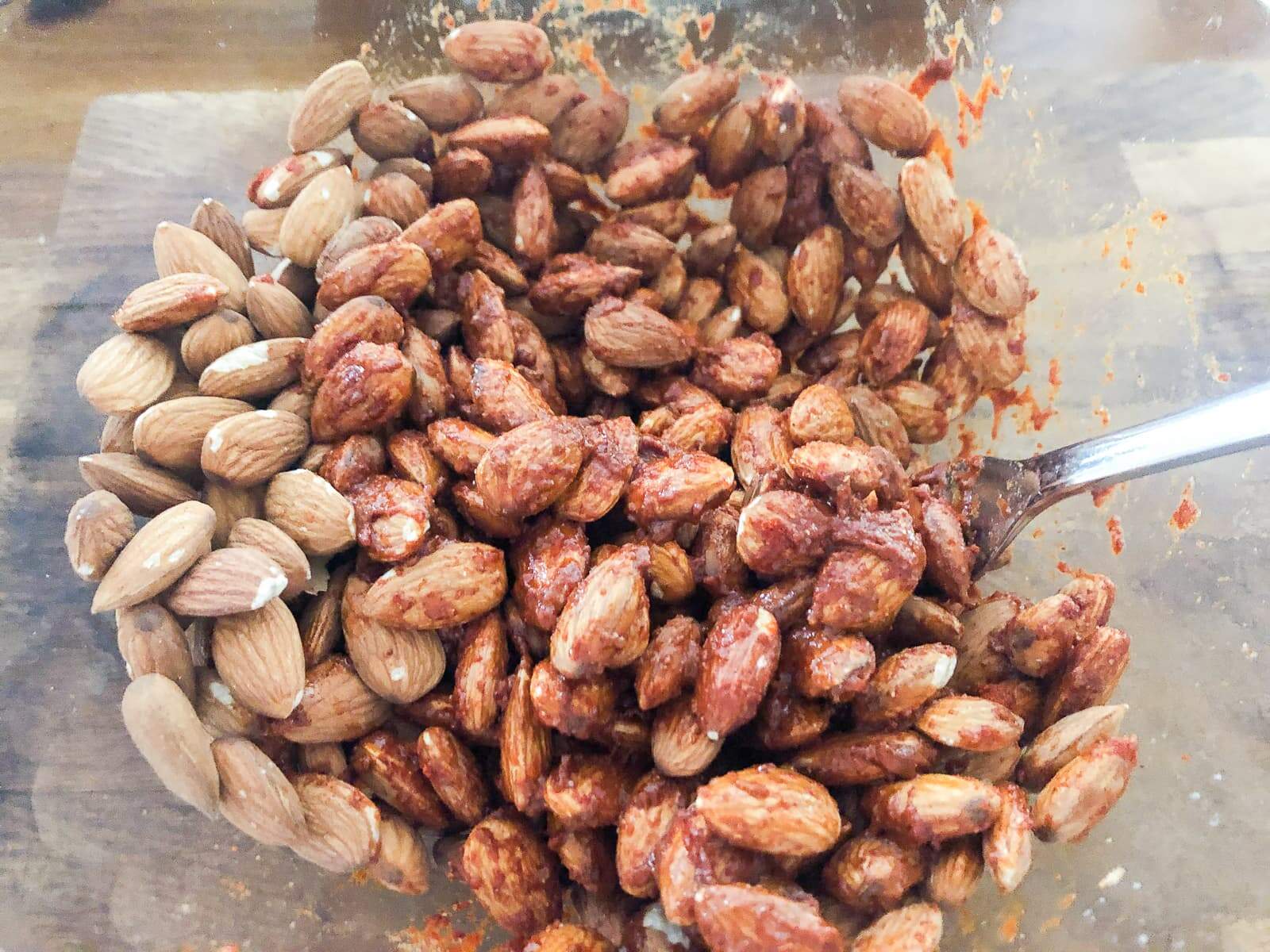 Alternative flavours:
Nuts:
We have used almonds in this spiced nuts recipe, however you can easily substitute other nuts.
As well as almonds I am particularly fond of spicing and flavouring hazelnuts, peanuts, pecans and walnuts. Worth noting, I don't ever bother skinning nuts before I add them to the spice paste.
You can also use a mix of different nuts, adding say almonds with peanuts or hazelnuts.
Spices:
This is the spice blend I like to use when making this spiced nuts recipe. The amount of chilli used gives some heat, but just enough to make them suitable for anyone to enjoy.
If you want to give them a hotter kick, simply add more chilli powder or use a hot smoked paprika instead of a sweet one!
Don't be limited by the spices I have used here either, as I love to experiment with flavours and spicing.
When using warmer spices like cinnamon or nutmeg with, say chilli, I like to balance out the chilli with a little soft brown sugar added to the spice paste.
Other flavour combinations to try:
Almond with anise, cinnamon, chilli, cayenne pepper, cumin and salt
Pecan with ginger, cinnamon, nutmeg, a pinch of cloves and soft brown sugar
Walnuts with cinnamon, nutmeg and soft brown sugar (great with pickled apples and a cheeseboard)
Just balance the amount of spice you want to use and don't be too heavy handed. Some spices like nutmeg, clove or allspice are delicious but can taste a bit medicinal if added in too large a quantity.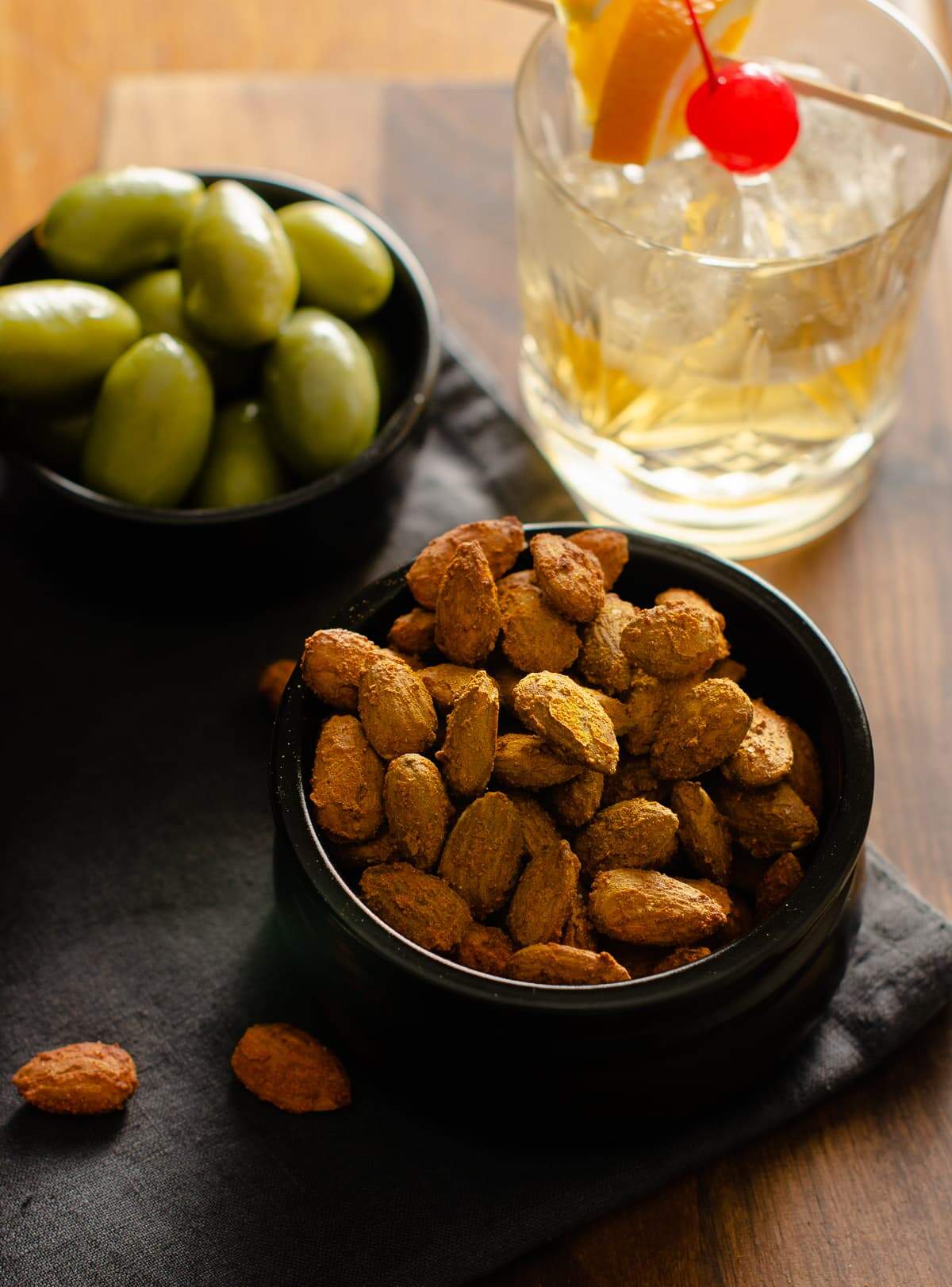 When would you serve spiced almonds?
I like to make these on a Friday, ready for the weekend. I like to enjoy them with a glass of wine, a cheeseboard, olives and some pickles. The perfect lazy Friday night grazing type dinner that I often want at the end of a busy working week.
However, they also make a great drinks party snack. Leave bowls of these spiced almonds around the room and people will simply help themselves.
I make these when I have friends coming round and they always disappear, they are very moreish!
If I am serving these nuts when entertaining family and friends I like to mix it up. I'll serve these spicy almonds, with a sweeter variation alongside, for example pecan nuts with ginger, cinnamon, nutmeg, clove and sugar.
The spice in one type of nut is balanced with the sweetness of another. However, I keep each variety in separate bowls otherwise the flavours become muddled.
I also think they make a great snack. Nuts are full of protein and therefore naturally filling.
I pick up a handful of these nuts as a snack if I'm feeling peckish or need a mid afternoon pick me up.
How long will these nuts stay fresh?
These spiced almonds will stay fresh for 2-3 weeks if stored in an airtight container or jar.
Allergy and dietary advice:
Firstly, do not serve nuts to anyone with a nut allergy!
If you are making these nuts for anyone who suffers from an egg allergy, substitute the egg whites for a little oil instead, enough to coat the almonds. This would also make them suitable for anyone following a vegan diet.
These spiced almonds are gluten free.
Pin the recipe: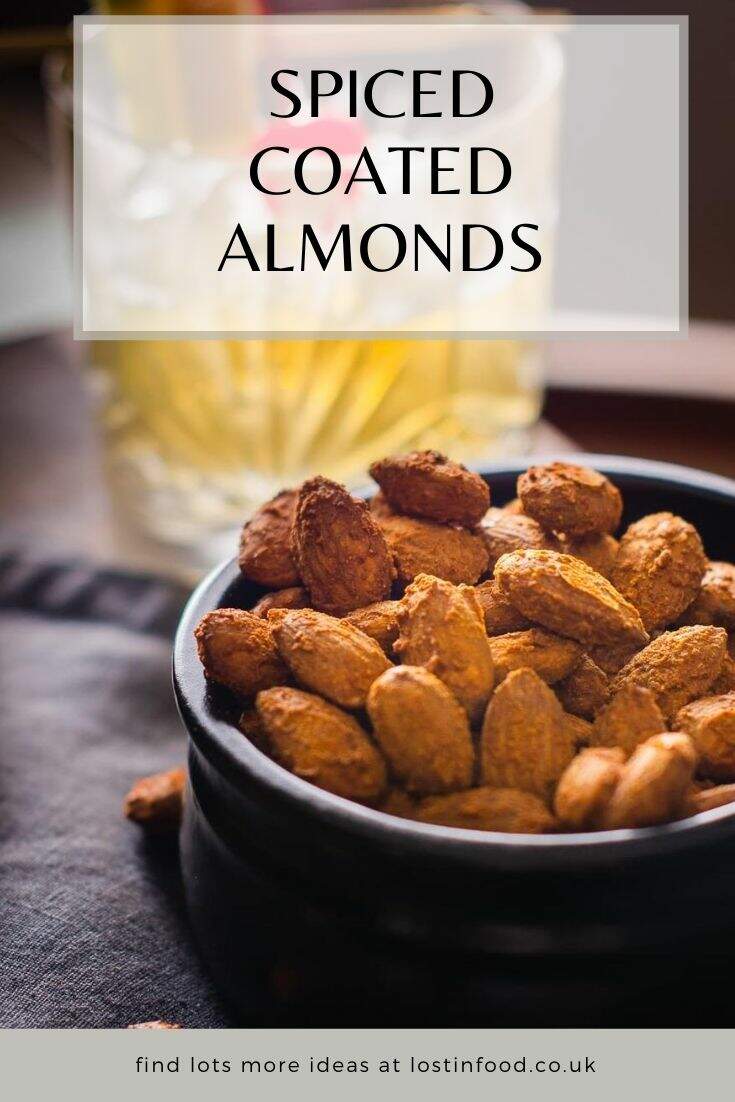 Additional recipe suggestions:
These spiced almonds are great for serving at a drinks party alongside some of our other canapes:
Spiced almonds
Our spiced almond recipe is quick and simple, ideal for anyone who loves these spicy, smoky nuts, using the spices we have in our spice racks.
Print
Pin
Text
Save
Saved!
Ingredients
2

egg whites

1

tbsp

chilli powder

1

tbsp

sweet smoked paprika

½

tbsp

ground cumin

½

tbsp

garlic powder

1

tsp

fine sea salt

400

g

almonds
Instructions
Place the two egg whites into a medium sizes mixing bowl and whisk until starting to foam.

Add in all the spices and mix thoroughly to form a wet paste. Now add in the nuts and give them a good stir in the spice paste so that each nut is covered in the spices.

Line a baking sheet with parchment paper and spoon the nuts onto the paper. Using a spoon gently press down on the nuts to form a single layer of nuts across the paper.

Place the tray in the oven at 160C/140CFan for 10 minutes. Remove the tray from the oven and give the tray a shake to break up the nuts and move them around a little. Return the tray to the oven for a further 10 minutes.

Now remove the tray from the oven and place it on a wire cooling rack. Allow the nuts to cool before popping into serving bowls. Or if saving for later, into an airtight container until ready to enjoy.
Notes
These nuts are great enjoyed when still warm. However, they are also great to store for a later date. Sealed in an airtight container or jar these nuts will keep for 2-3 weeks.
Allergies:
These nuts should not be served to anyone with a nut or egg allergy. However, if you want to serve to someone with an egg allergy you can replace the egg whites with some oil instead (this would also make them suitable for serving to vegan diners).
These nuts are suitable for anyone following a gluten free diet.
Nutrition Facts
Spiced almonds
Amount Per Serving
Calories 599
Calories from Fat 450
% Daily Value*
Fat 50g77%
Sodium 643mg28%
Potassium 834mg24%
Carbohydrates 25g8%
Protein 24g48%
Vitamin A 1455IU29%
Calcium 282mg28%
Iron 5mg28%
* Percent Daily Values are based on a 2000 calorie diet.
• Please note that the nutrition information provided above is approximate and meant as a guideline only •
Share on Facebook