Spiced pork bonbons, with the hint of star anise. Delicious served as canapes or for adding a touch of elegance to your Sunday roast!
Spiced pork bonbons are really simple to make and very moreish. The spicing we have used is rich and warm rather than hot with chilli heat.
These pulled pork bonbons make a fantastic canapé for any party.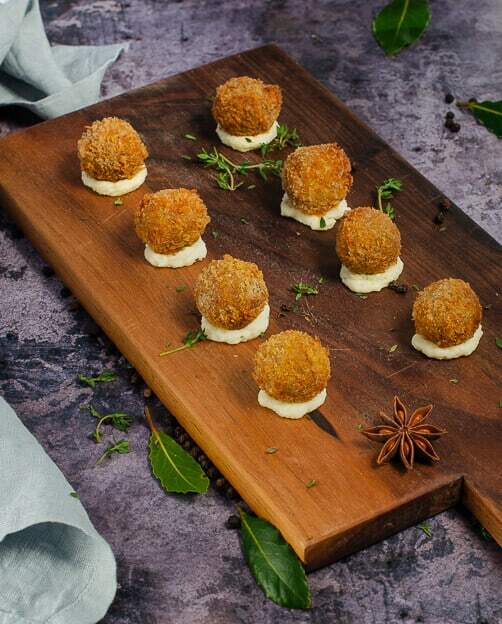 Drink's parties can be tricky to cater, you need food that can be eaten with one hand, as the other hand invariably has a drink in it.
A proper drinks party canapé should be something you can pick up and eat with your free hand!
Tasty mouthfuls of food, that ideally can be prepared ahead of time and heated up, or cooked just before your guests arrive.
Pork bon bon recipe steps:
Cooking the pulled pork:
Pre-heat oven to 140C/130CFan.
Slice the onions and lay on base of a roasting pan.
Unroll the pork shoulder, season with salt and pepper and lay on top of the onions along with the thyme, bay leaves, peppercorns and star anise. Add around 1 cm of water to the pan and cover with a lid.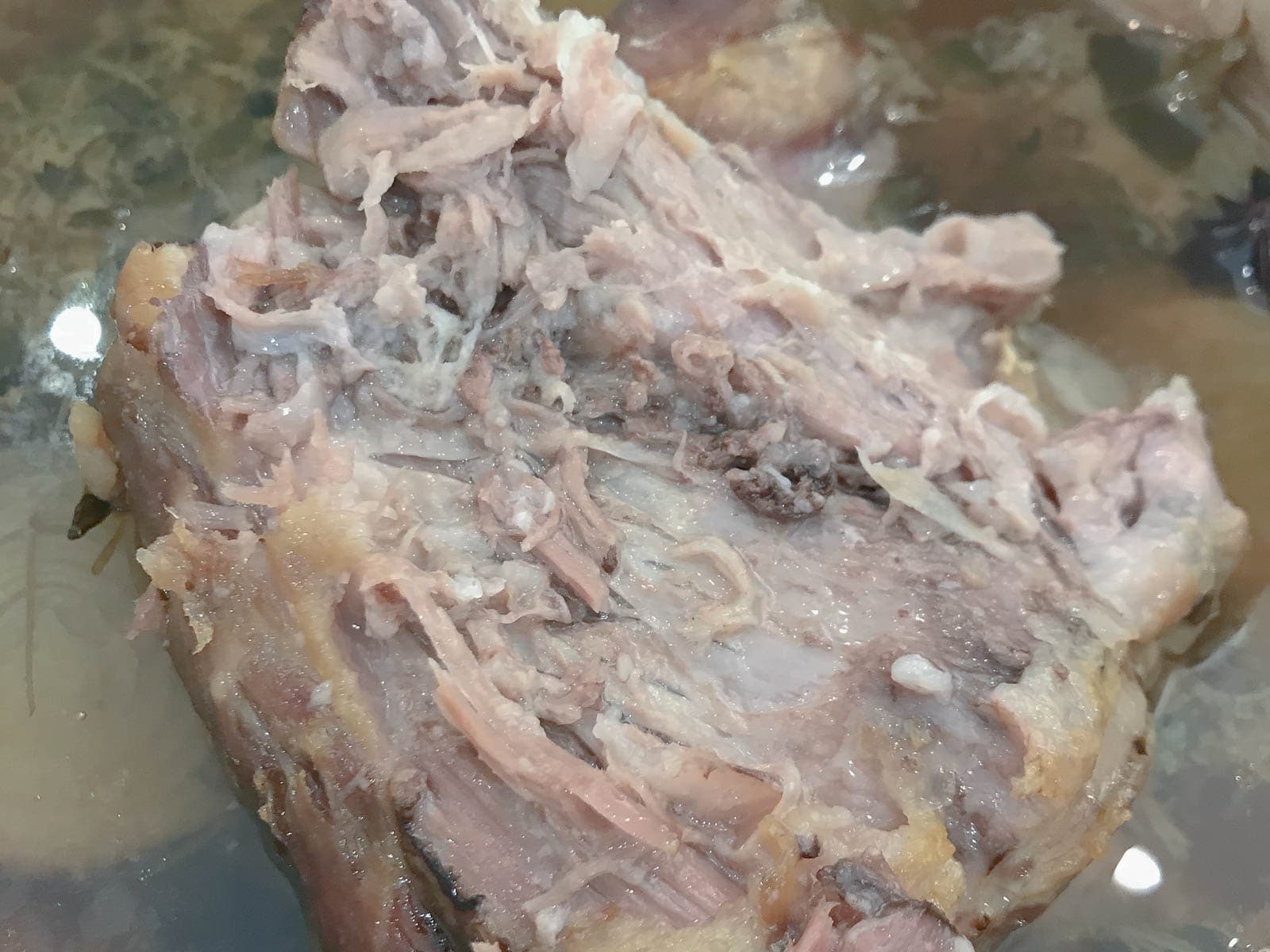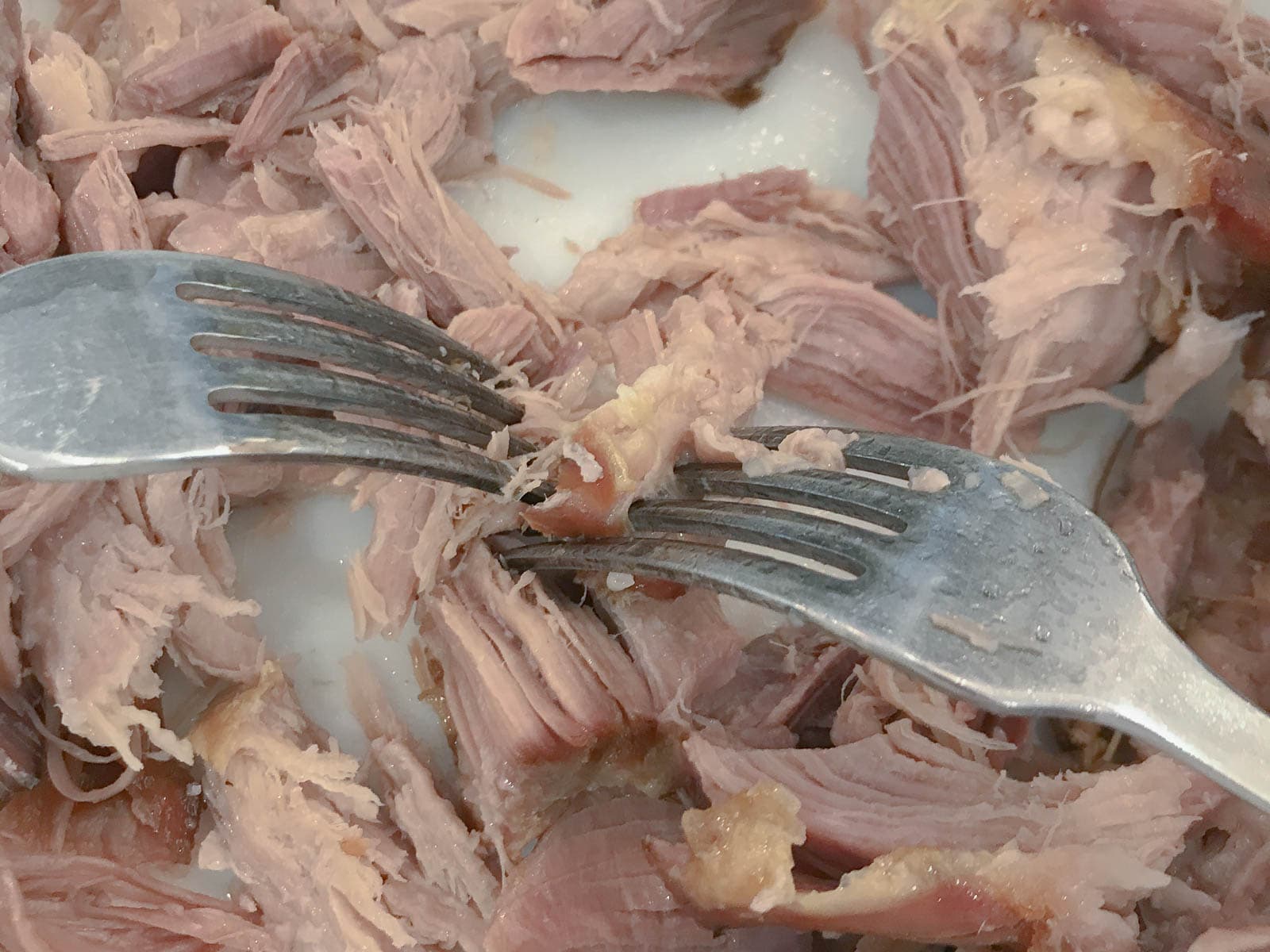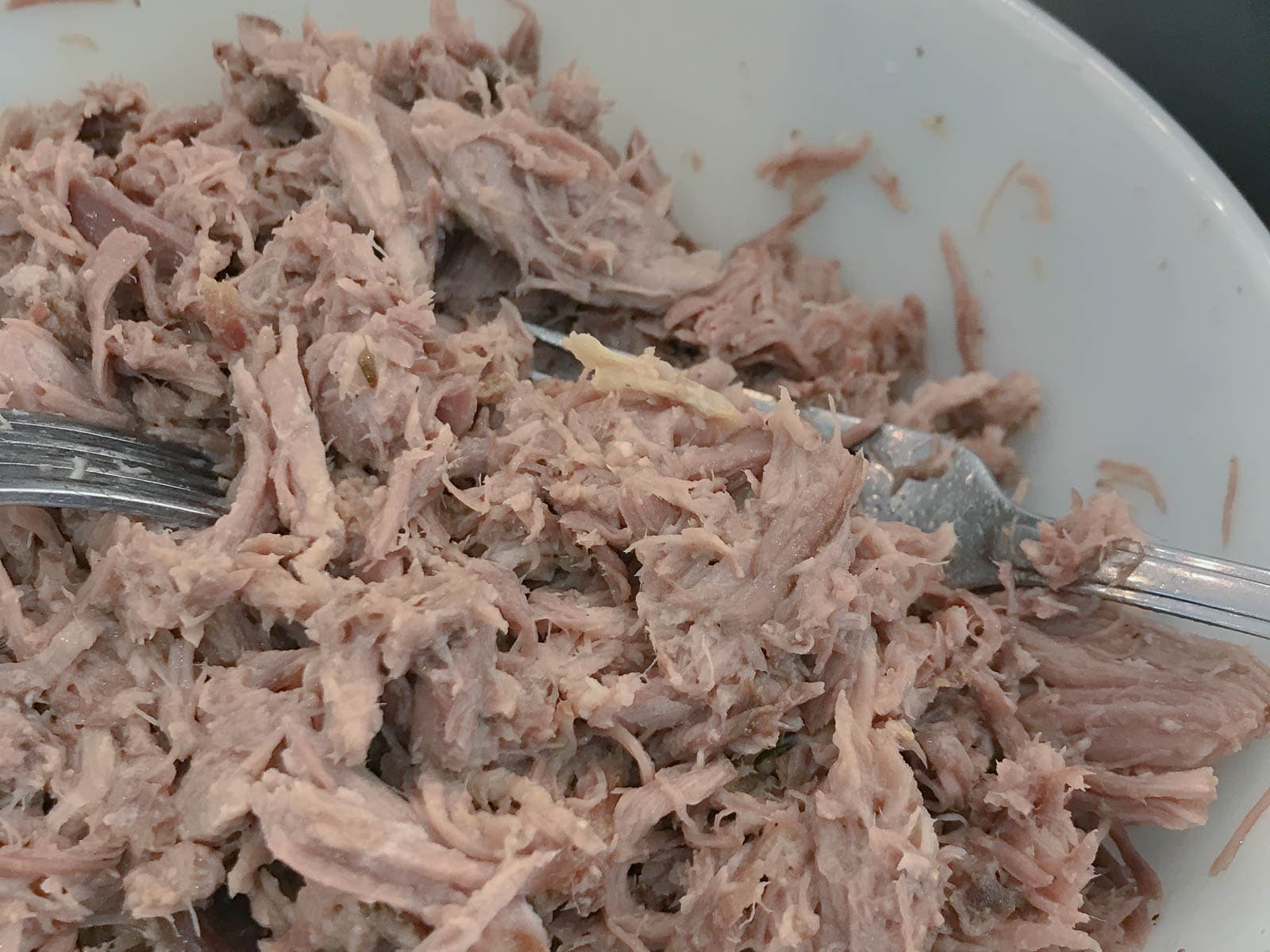 Rolling the pulled pork bonbons: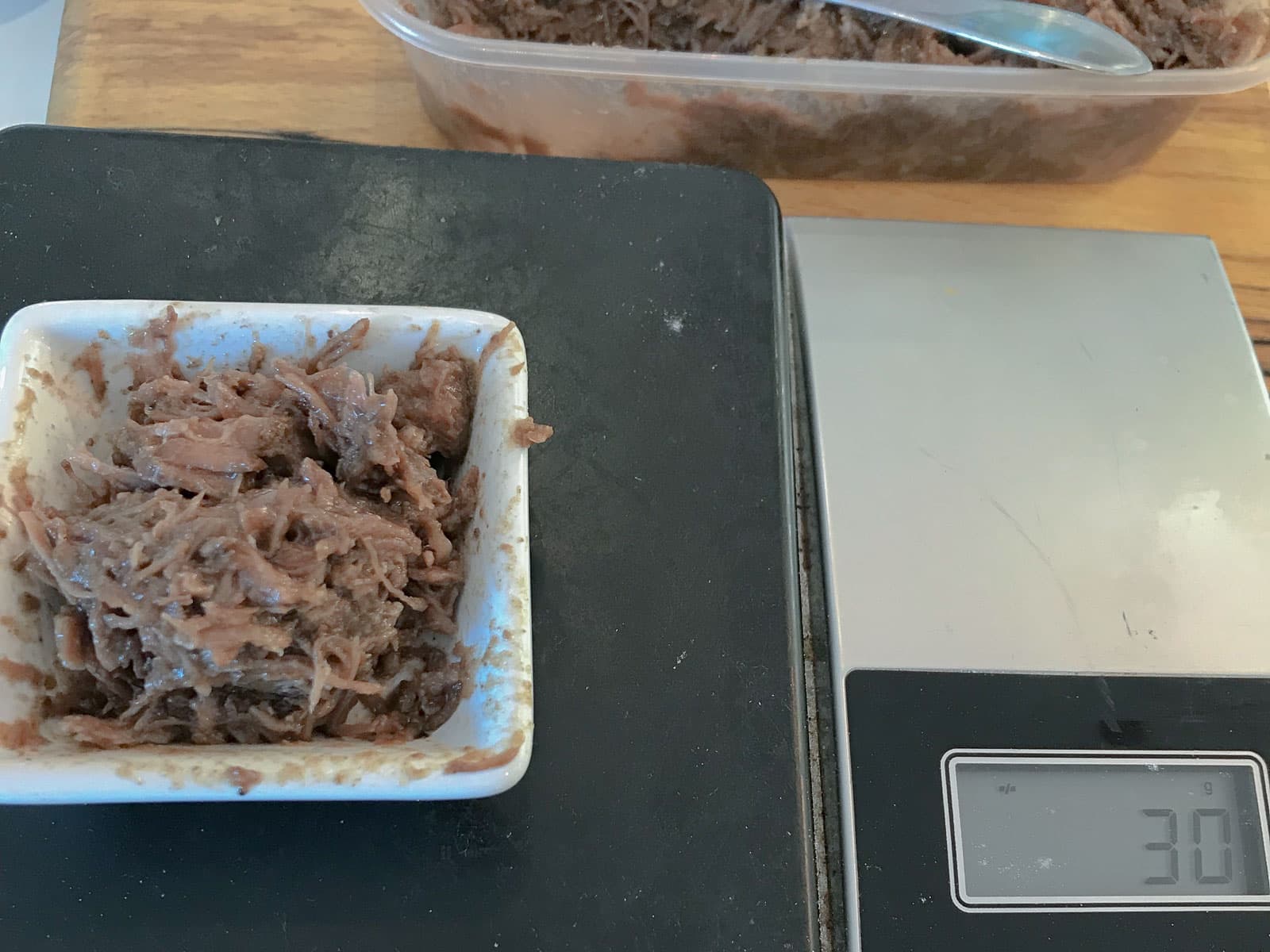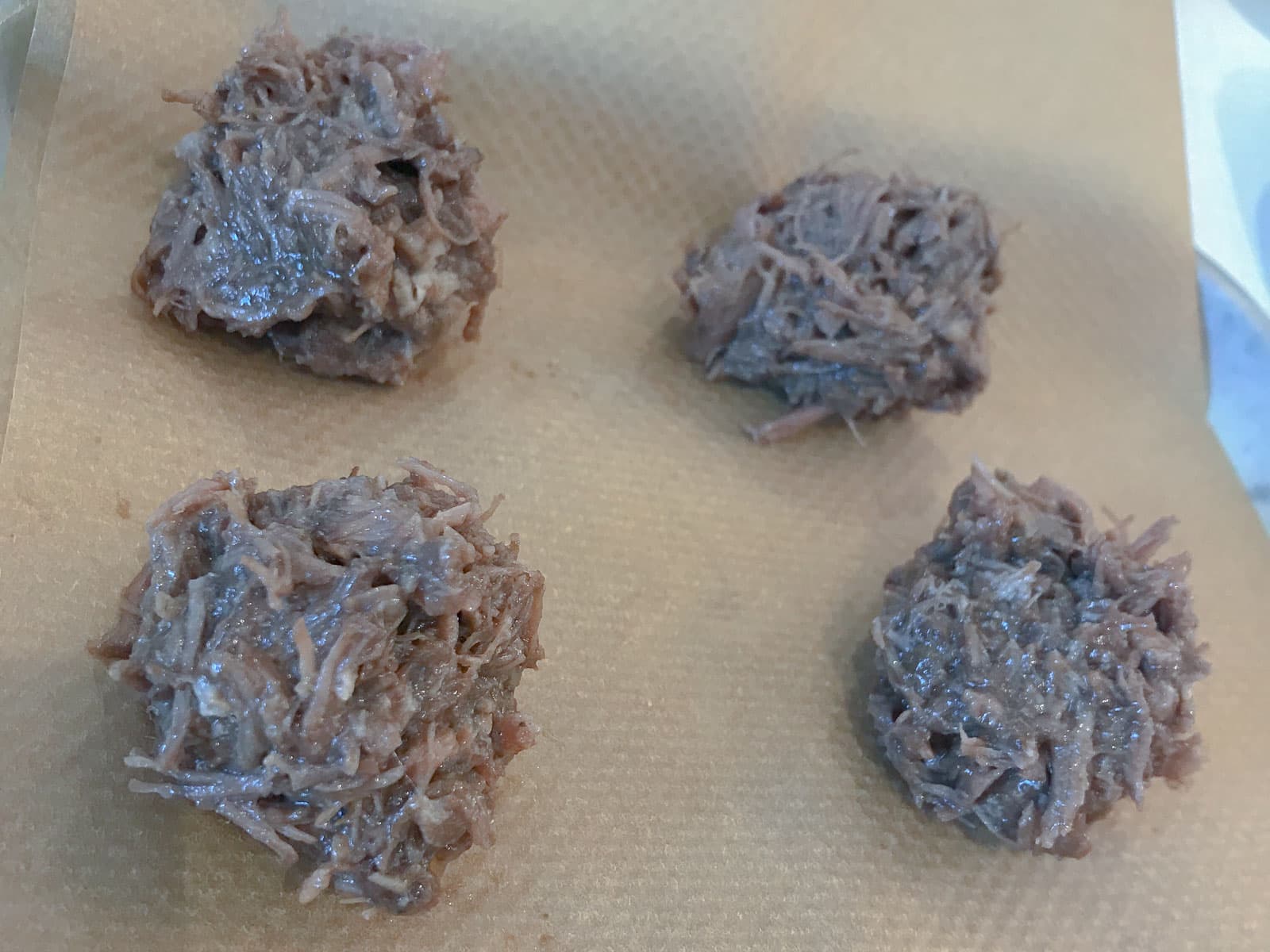 How to serve spicy pork bonbons?
However, these spiced pork bonbons aren't just great as a canapé, they also add a touch of elegance to a roast dinner. They add a different texture to a cut of roast pork.
They are a really great addition to Sunday lunch. Just make sure you make more than one per person as I've yet to meet anyone who was happy with just the one!
What to serve with spiced pork bonbons?
Our spiced pork bonbons are a perfect drinks party canapé, especially when served on top of a simple vegetable puree.
This lightly spiced pulled pork marries really well with the sweet creaminess of a parsnip, carrot or a butternut squash puree. However, beetroot or broccoli would also work here too.
By adding a simple spoon of vegetable puree you not only get something that tastes great and works with the bonbon. The puree also allows you to serve them without them rolling off the plate!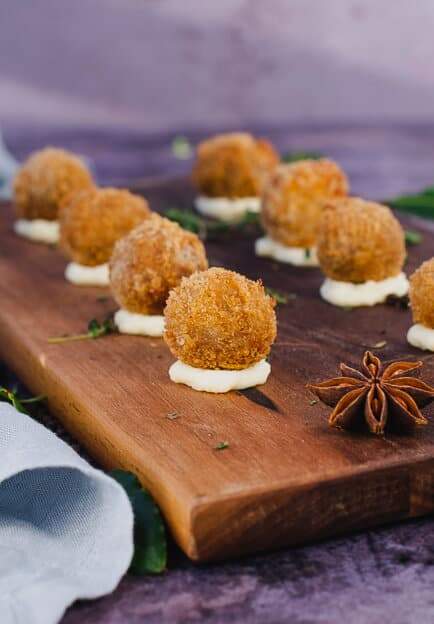 Can I substitute with other meat?
We served these pork bonbons alongside a pork main course at our Lost in Food Supperclub. They added a nice spicy element of crunch to the plate.
However, we have also served them as a canapé when guests arrive, something spicy and a little salty to wet the appetite.
Alternative flavour combinations:
Beef bonbons: pair with anise, cinnamon and chilli with a touch of fresh thyme leaves.
Chicken bonbons: try adding different herbs like thyme, sage, parsley or some ground coriander with some fresh coriander leaves finely chopped through.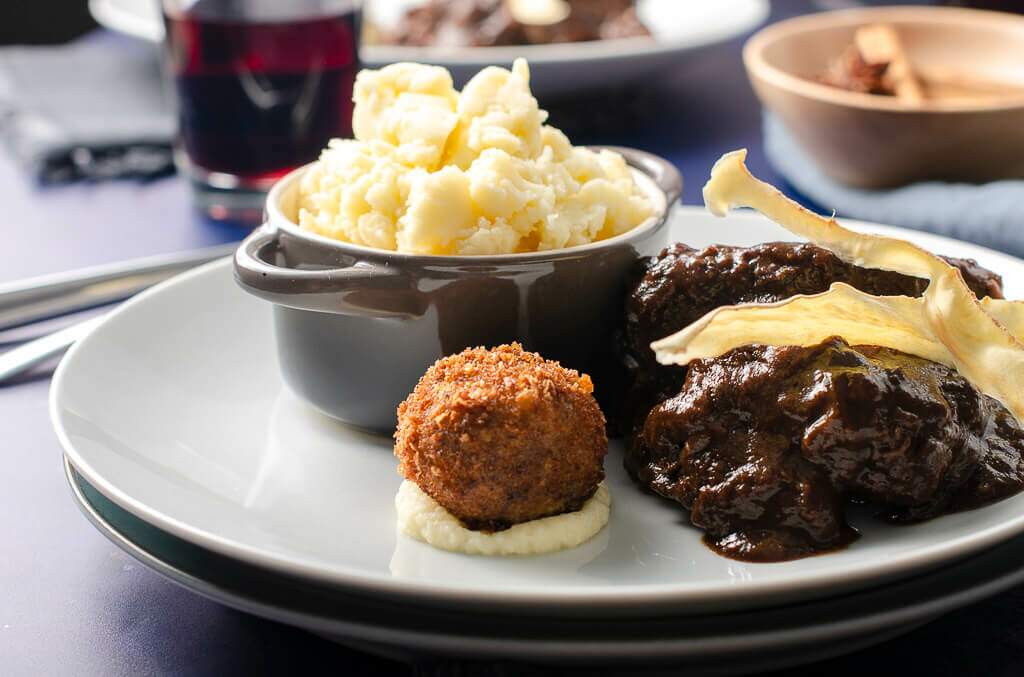 Can I make these bonbons ahead of time?
Elements of this dish can be made ahead of time:
Firstly, you can prepare the pulled pork mixture a couple of days ahead of when you need it. Simply allow to cool before covering and placing in the fridge.
On the day you want to eat them you can remove the pulled pork from the fridge and shape it into balls. I then recommend chilling the spicy pork bonbons for an hour after which time they can be removed from the fridge and you can continue with the breading process.
Once the bonbons have been breaded you can either cook them straight away or place them on a baking sheet lined with baking parchment and cover with cling film. They can then be returned to the fridge until you are ready to cook them.
Just remember to remove the pork bonbons from the fridge 30 minutes before you want to cook them, otherwise the centre of the bonbon will remain cold whilst the outside is cooked!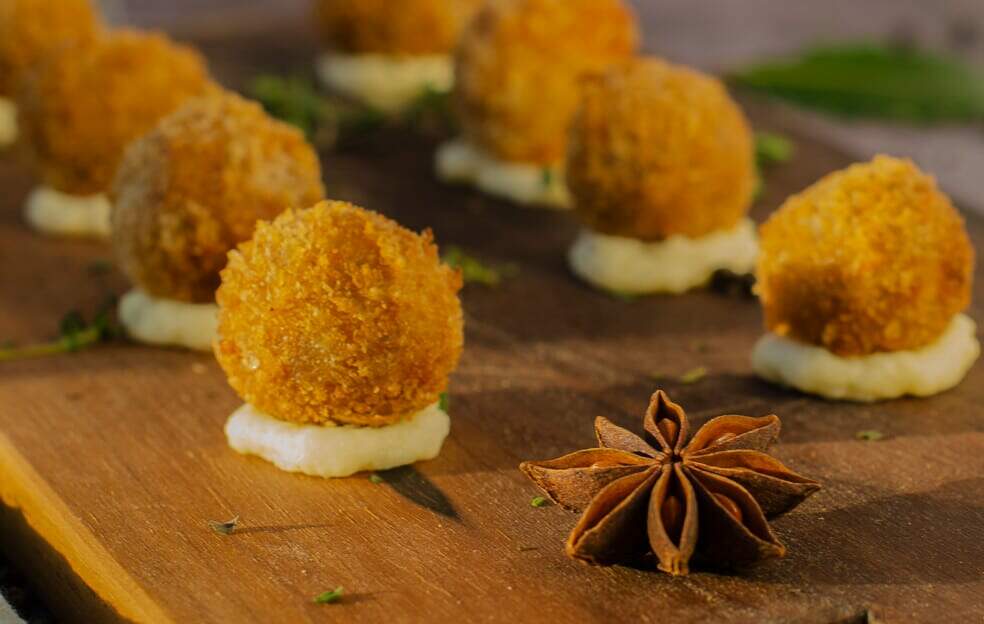 Can I freeze spicy pork bonbons?
There are a number of stages where you can freeze these bonbons.
Firstly you can easily freeze the pulled pork mixture. Cook the pork, pull it, and add back some of the reduced cooking liquor. Check the pork mixture for seasoning and once you are happy it tastes right you can then freeze this mixture into suitable containers for the freezer. This also allows you to either freeze the entire piece of pulled pork, or divide it into smaller batches, depending on how many you are cooking for.
You can also get to the stage of rolling the spicy bonbons into balls and freeze them individually before the breading process.
Finally, you can freeze them once they have been breaded but not yet cooked!
Whichever point you froze then pulled pork bonbons, when ready to cook simply remove from the freezer and allow to defrost completely. Then when ready to serve, continue with the recipe where you left off, before cooking the bonbons.
NOTE: I would not recommend freezing the pork bonbons once they have been breaded and cooked. The panko breadcrumbs would loose a lot of their crispy crunch in the freezing process.
Can I serve these bon bons cold?
These pork bons bons make a great snack served cold as well. The spicing will be subtle but they make a fantastic addition to a picnic for warmer months.
The breadcrumb coating won't be as crunchy but will be similar to that of a Scotch egg in texture.
Ensure they are cooled properly and store in airtight container in your picnic basket. Why not add a jar of our piccalilli to add to your picnic? The combination is delicious.
Pin the recipe: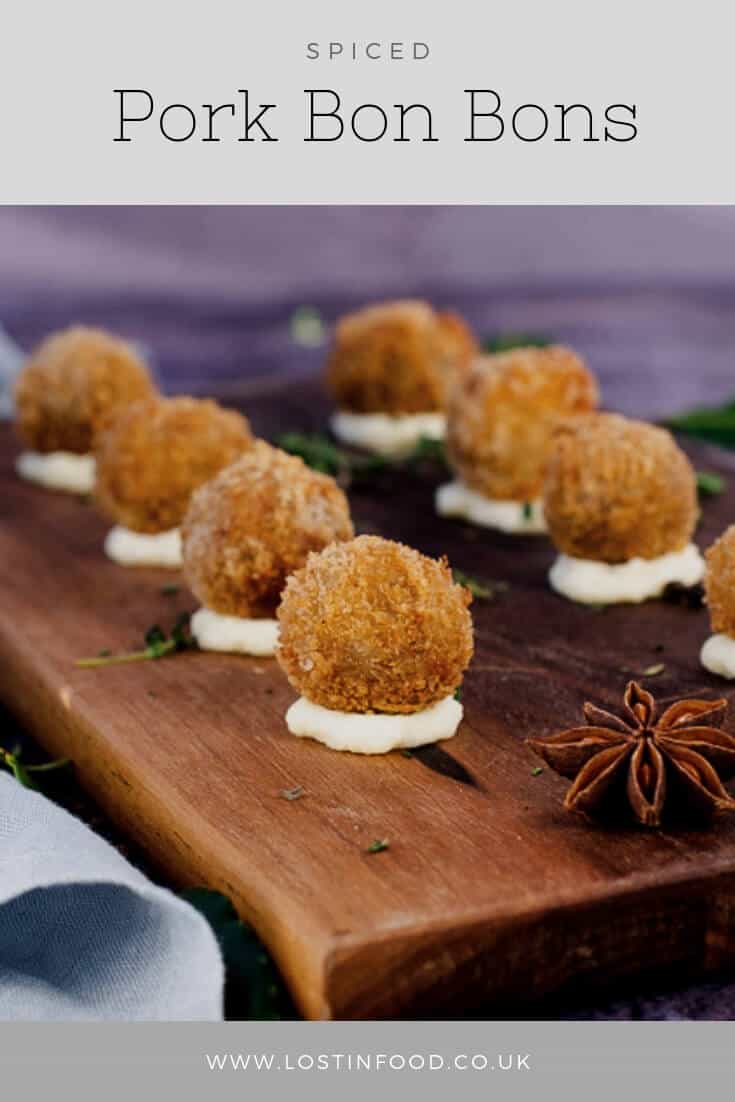 Additional recipe suggestions:
If you are planning a party and looking for further ideas for canapes why not try some of our other recipes: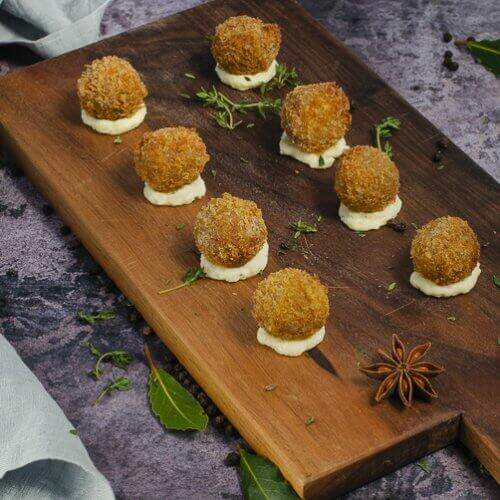 Spiced Pork Bonbons
A delicious and delicately spiced pulled pork coated in a crispy panko crumb. Makes a perfect canapé or an ideal element to raise your Sunday roast dinner. Serve with pureed parsnip for added elegance.
Print
Pin
Save
Saved!
Ingredients
1-1.5

kg

pork shoulder

1

star anise

2

bay leaves

(fresh if you can)

2

onions

(sliced)

handful

fresh thyme

tsp

black peppercorns

salt to season
Breadcrumb
4

tbsp

flour

1

egg

(beaten)

150

g

panko breadcrumbs

400

ml

sunflower oil

salt & pepper
Instructions
Preheat oven to 140C or 130CFan.

Slice your onions thickly and lay in the bottom of a roasting tin with a lid. Unroll the pork and cut any string away that may be attached.

Season the pork all over with sea salt and lay on top of the bed of onions. Toss in the thyme, bay leaves, peppercorns and star anise. Add a about 1cm of water to the bottom of the pan and cover with the lid.

Place in a preheated oven and allow to slowly cook for 3-4 hours. Check occasionally. You want the pork to pull apart easily. This happens when the internal temperature reaches 94-96 degrees.

Once at the pulling stage, remove the pork to another dish and pull apart using 2 forks. Save the juice from the pan and strain into a small saucepan and allow to reduce to intensify the flavours. Reduce by about 1/3.

Slowly add some or all of this reduction back into the pork mixing it well through. Taste and season with more salt and pepper if needed. At this stage you can allow the pork to cool and freeze either all together or in batches until needed.

If making the bonbons straight away then allow the pork to cool completely. Once cool, place into the refrigerator until cold and able to shape into balls.

Once cold, shape the pork into small balls on a baking tray lined with parchment paper and place back in fridge to keep cold.
Breadcrumb
Preheat the oil in a saucepan to approximately 180C, while you prepare the bonbons.

In 3 small, separate bowls prepare your flour, egg and panko breadcrumbs. Season the flour with salt & pepper. In another bowl whisk the egg. One by one, take each pork ball and cover it first in flour, then egg, then panko.

Once the oil is at the correct temperature, slowly fry the bonbons, careful not to overfill the pan or you will reduce the oil temperature causing the bonbons to become greasy. 3-4 bonbons at a time is sufficient. Turn over as needed.

Once golden remove with a slotted spoon to a paper lined tray. They can be served now or kept warm for a short while in a low oven till needed.
Notes
You can make and freeze this recipe at various stages depending on how you plan to serve them.
Freeze the pork mixture once cooled in a batches.
Freeze once rolled into pork balls before coating.
Freeze once they are coated, ready for frying.
In each case allow to defrost safely in the fridge overnight and only freeze cooked meat once.
Nutrition Facts
Spiced Pork Bonbons
Amount Per Serving
Calories 117
Calories from Fat 36
% Daily Value*
Fat 4g6%
Cholesterol 38mg13%
Sodium 109mg5%
Potassium 184mg5%
Carbohydrates 10g3%
Protein 10g20%
Vitamin A 16IU0%
Vitamin C 1mg1%
Calcium 29mg3%
Iron 1mg6%
* Percent Daily Values are based on a 2000 calorie diet.
• Please note that the nutrition information provided above is approximate and meant as a guideline only •
Share on Facebook