Cocktail sausages, done 3 ways, a favourite canapé for any party. Simple to make, roast the sausages in a variety of flavour combinations, and they're done!
These sticky cocktail sausages always go down a real treat and with only 2 ingredients they really could not be any simpler to make.
Roast the sausages in the oven with a variety of different flavoured glazes drizzled over, cooking doesn't get any easier!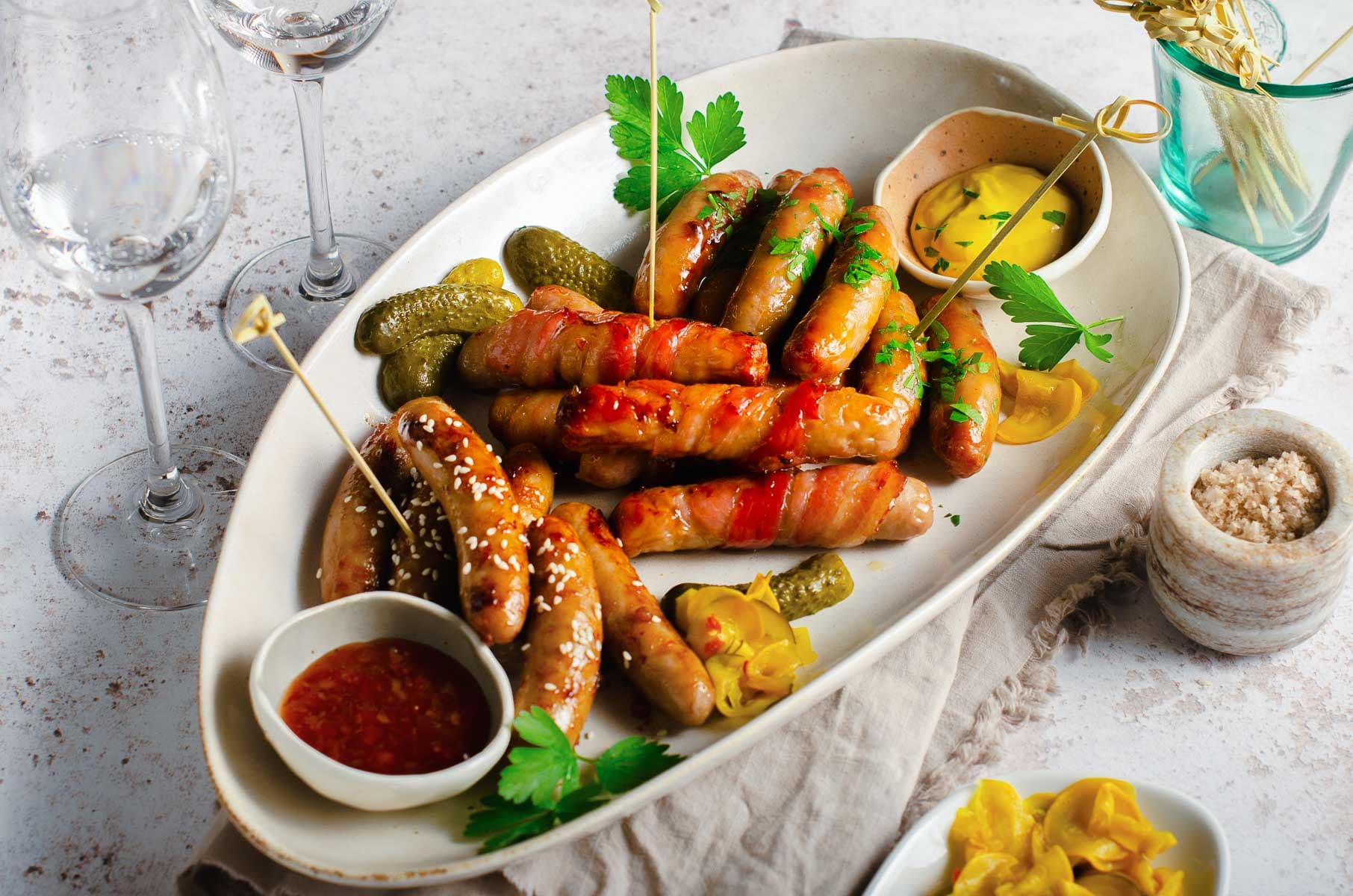 I first thought about this recipe for sticky cocktail sausages when catering one of our Afternoon Teas. Both Michelle and I find that whilst delicious, most afternoon teas do fall on the sweet side and we wanted something savoury to break up all the sweetness.
We like serving quick and easy canapés so, alongside our sandwich selection, we served up mini cheese and tomato tarts and maple sticky cocktail sausages.
If truth be told, we forgot about them entirely and we rushed to pop them in the oven about 10 minutes before our guests started arriving.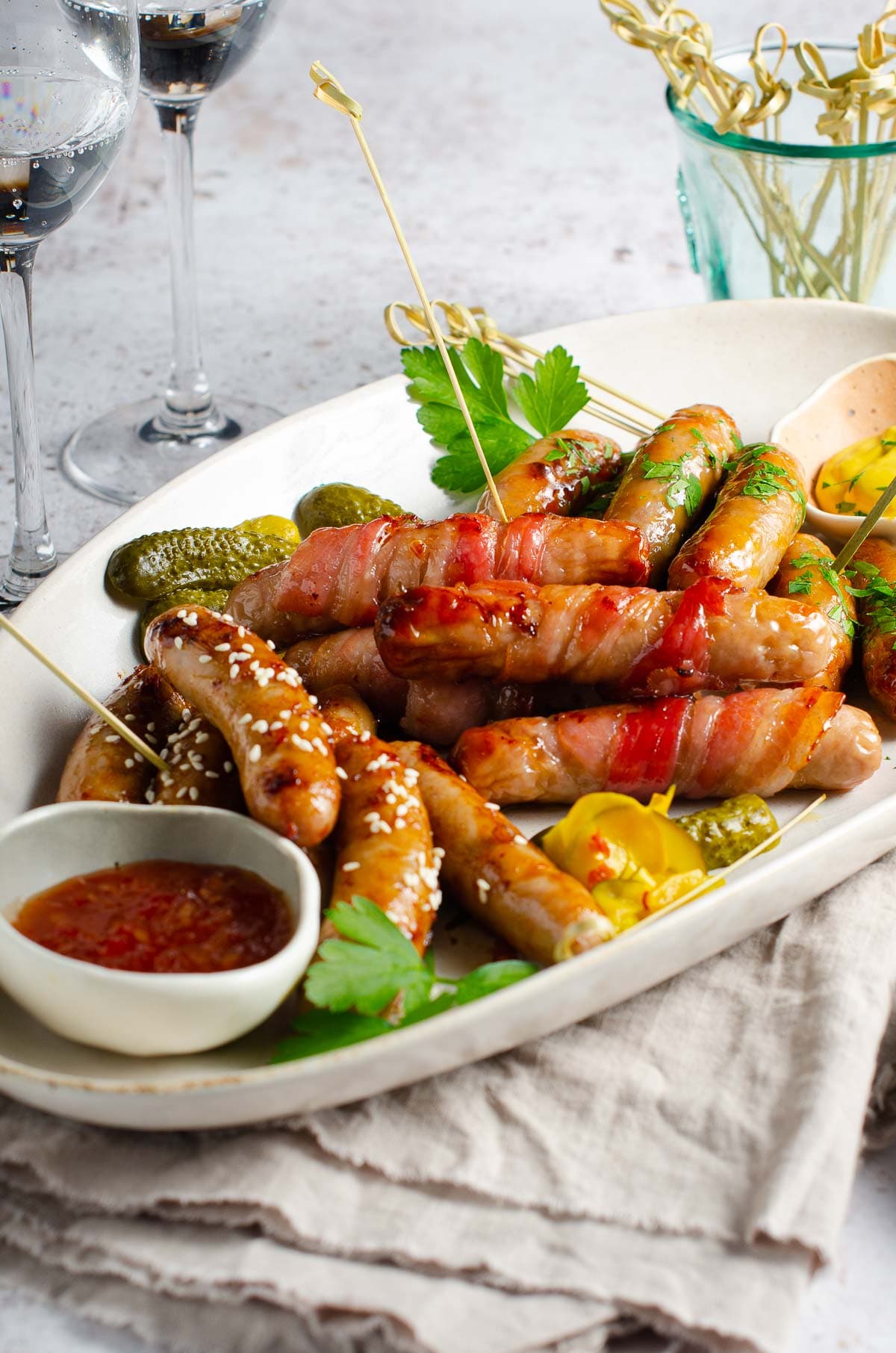 In the past I have cooked the sausages first, then added the maple syrup 5 minutes before they were ready to serve. But not that day!
That day we had so much to do the sausages were thrown onto a tray, drizzled with maple syrup, popped in the oven and forgotten about until they were cooked and ready to serve.
The funny thing being that our guests loved them and asked what we'd done as they were really tasty!
Sometimes getting things wrong turns out to be completely right! I've made them this way ever since!
Recipe steps: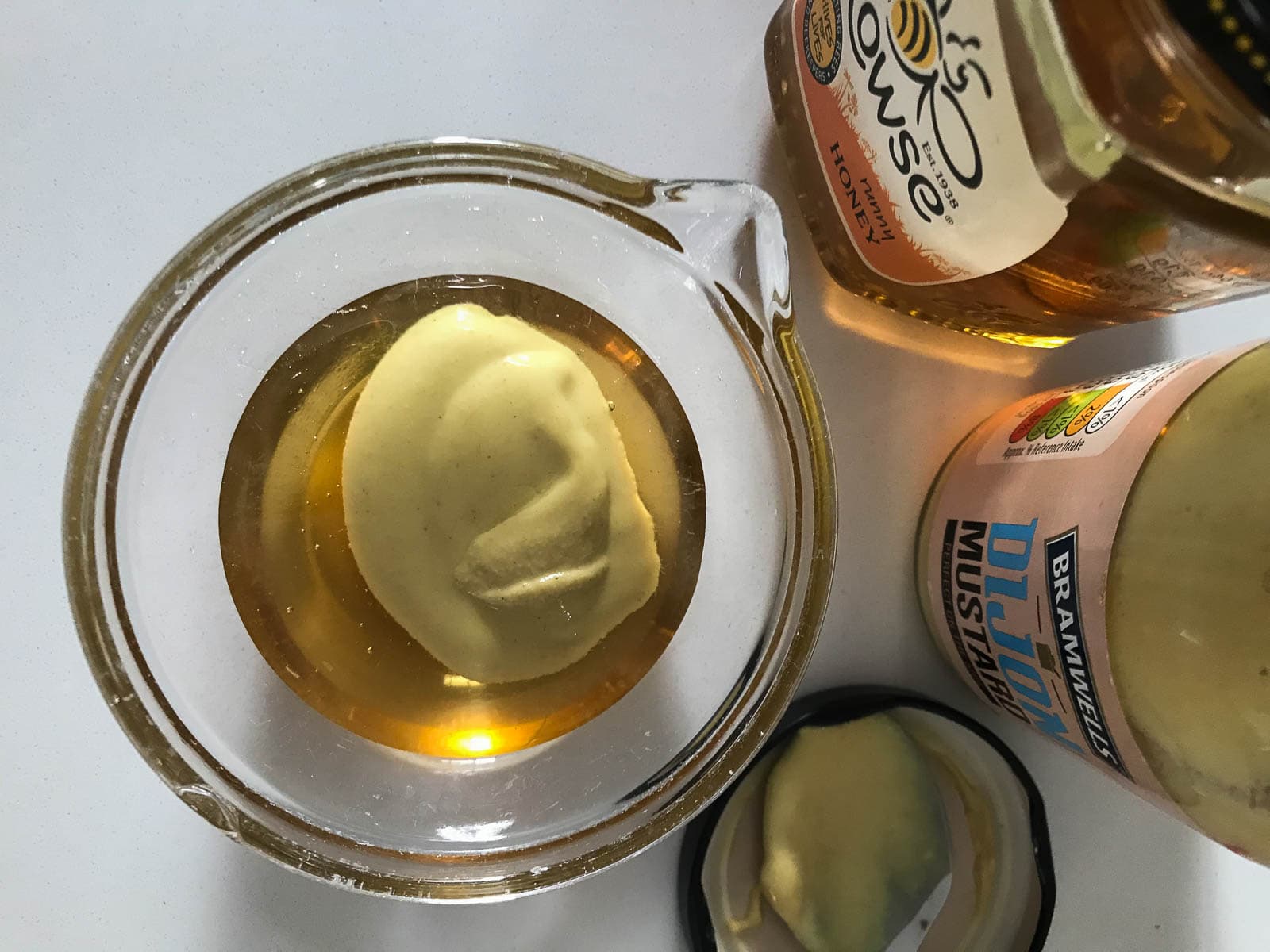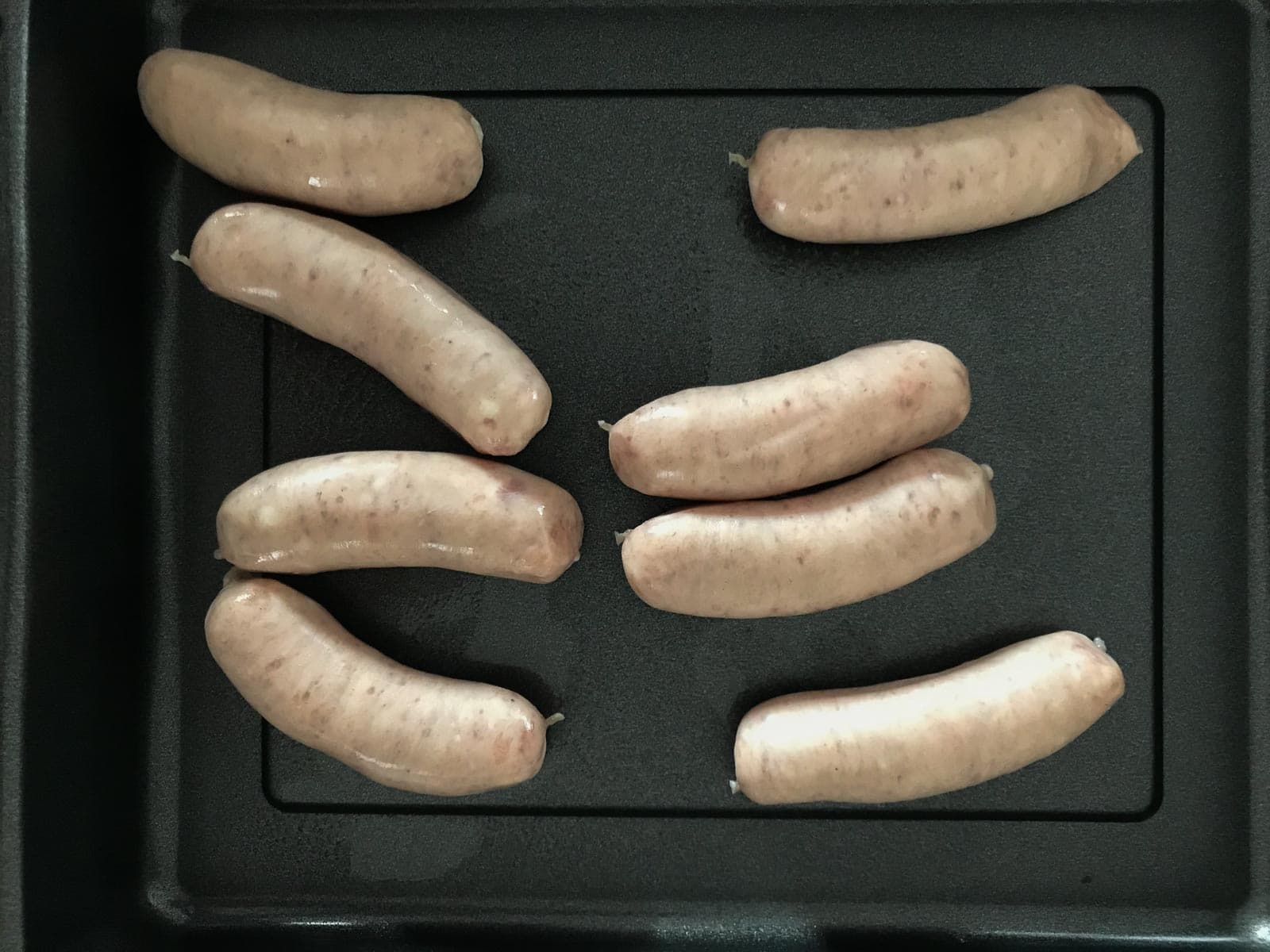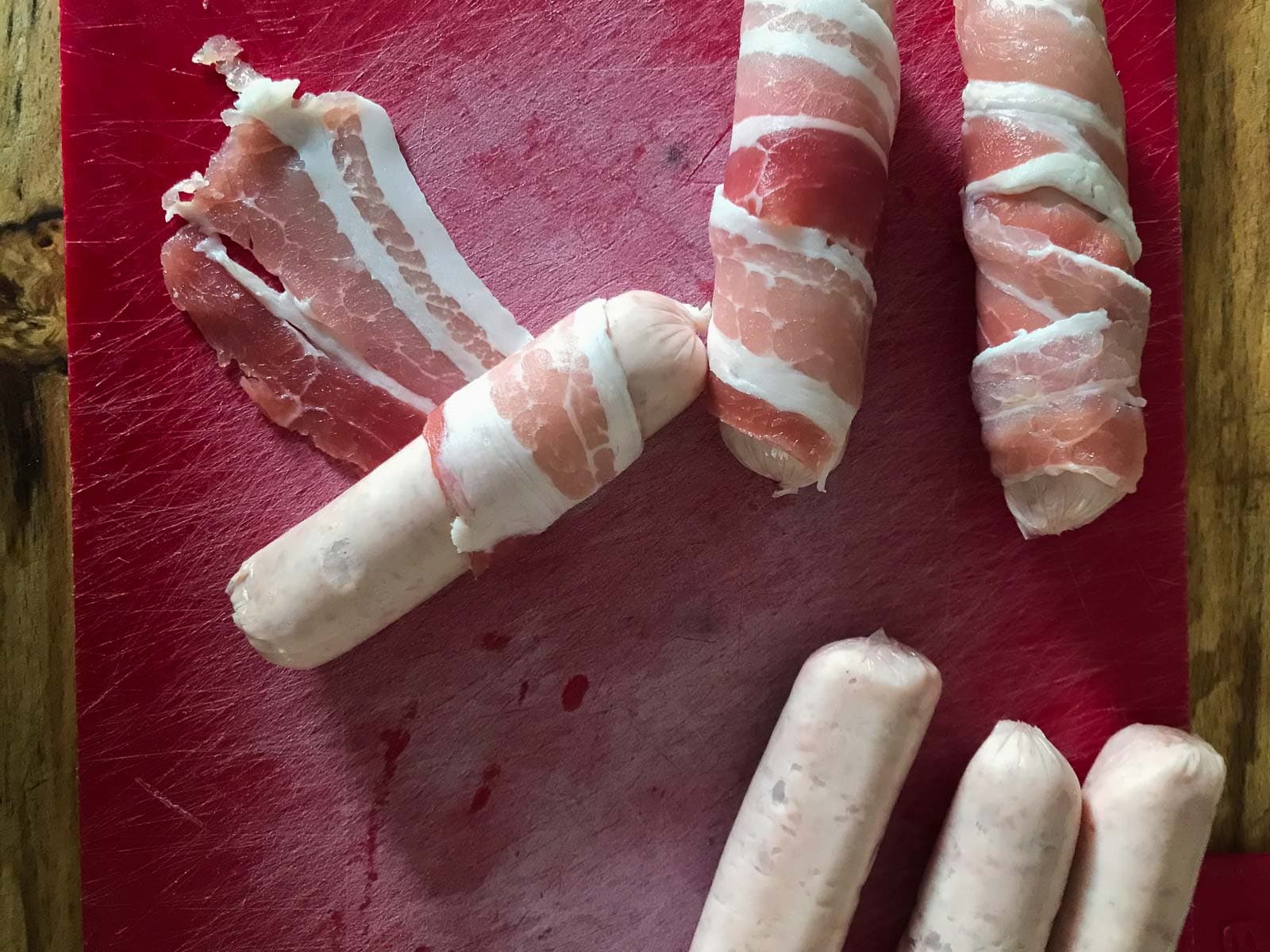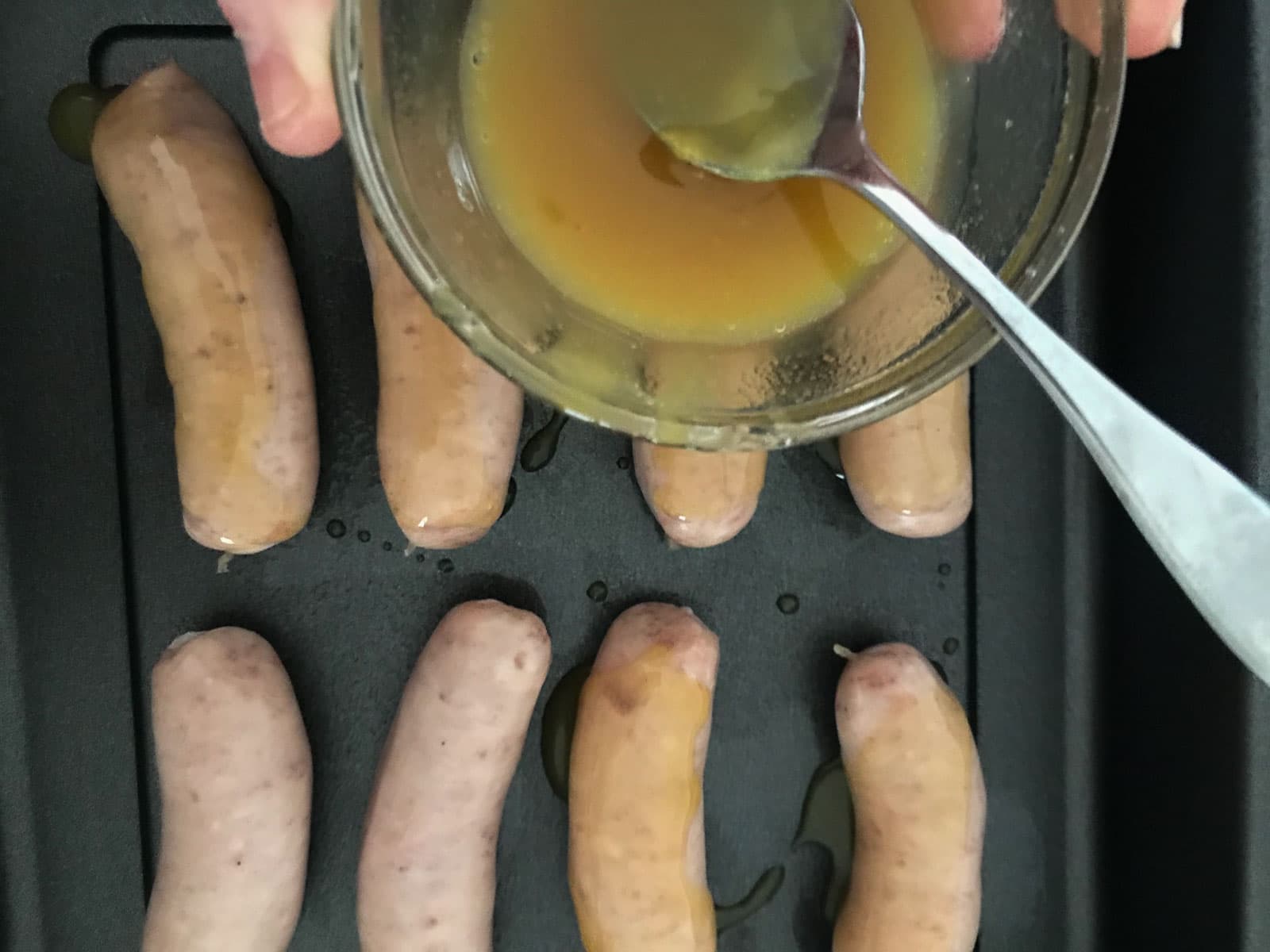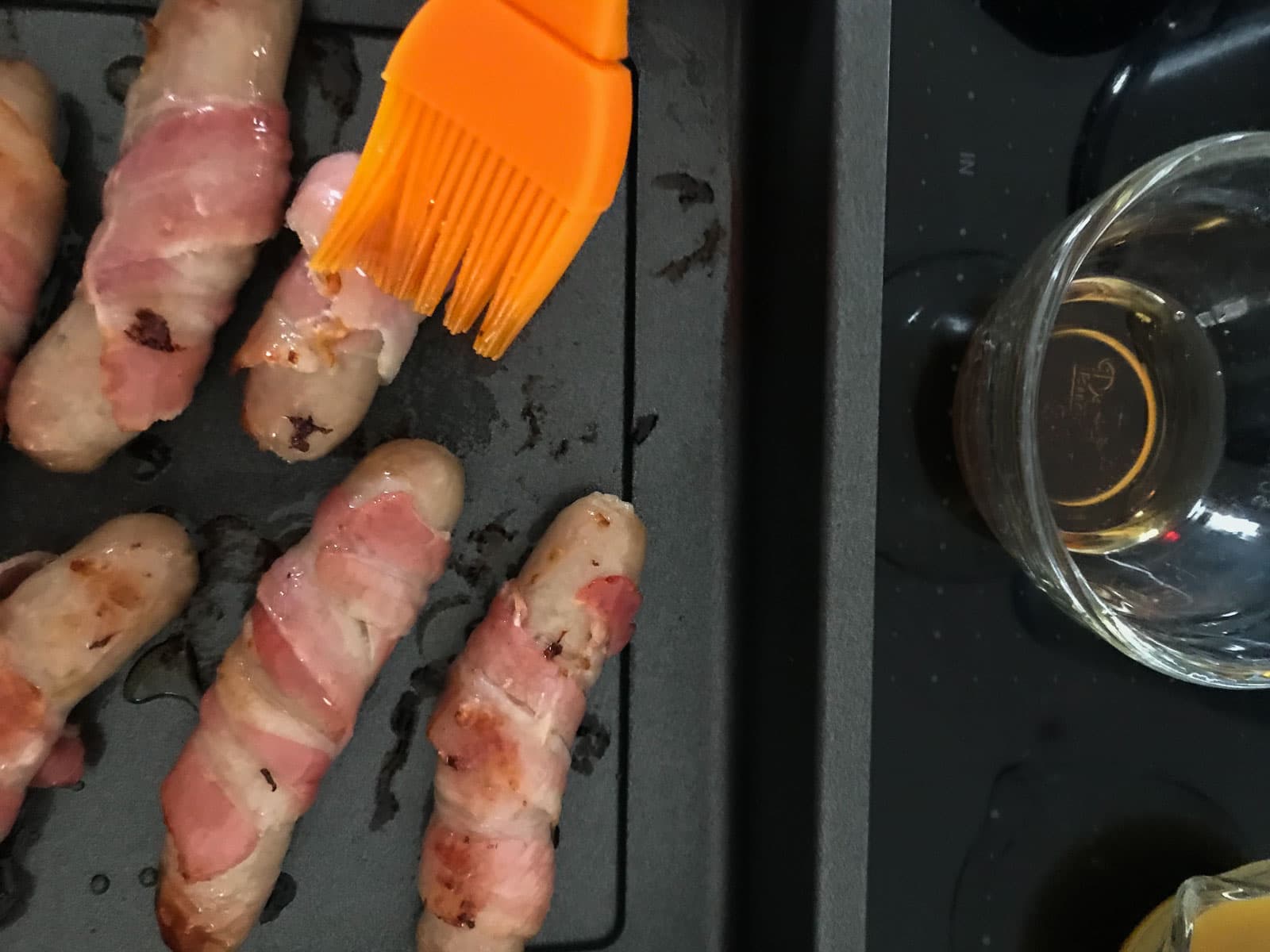 Party sausages 3 ways:
In this recipe post we have created our cocktail sausages 3 ways, using a variety of different flavour combinations!
However, if there is one flavour combination that you prefer, then you can simply make all your cocktail sausages that flavour.
Maple syrup & bacon wrapped sausages:
Maple syrup works really well with the pork. Pork is a sweet meat and there is a savoury note to maple syrup that perfectly matches the pork and balances the saltiness in the bacon that the sausage is wrapped up in.
Worth mentioning, this is also my favourite flavour combination when making pigs in blankets for the Christmas dinner table!
Honey and mustard cocktail sausages:
Honey and mustard cocktail sausages are a classic combination of flavours. Who doesn't love honey and mustard.
We have used Dijon mustard, but you could use a fiery English mustard or wholegrain mustard instead.
Soy, ginger and sweet chilli sausages:
Cocktail sausages with an Asian influence as we combine soy with ginger and sweet chilli for a sweet and spicy twist.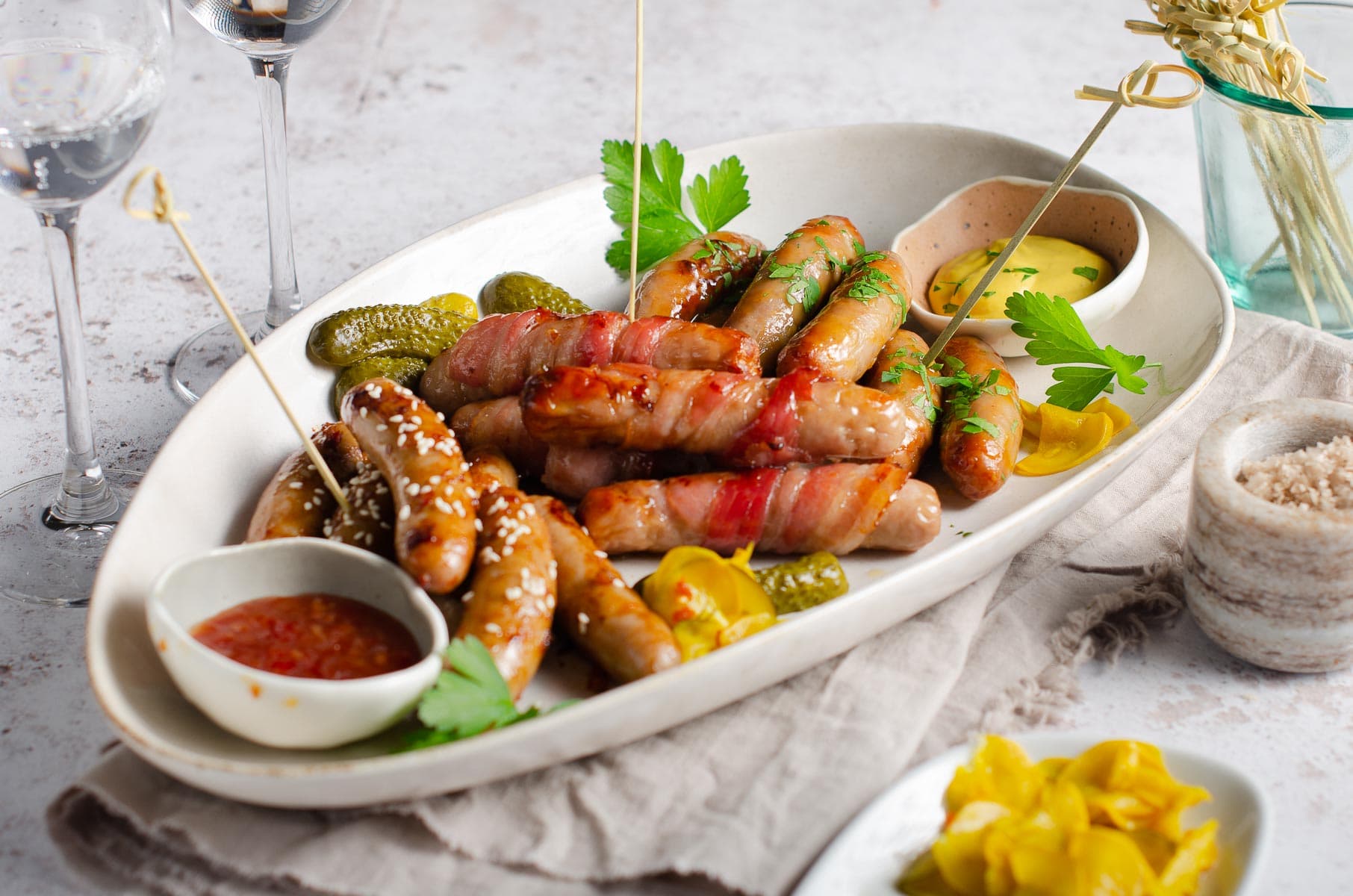 Substitutions:
Cocktail sausages:
We have used a high quality pork cocktail sausage for this recipe, a good quality sausage really does make all the difference.
While we are serving these as a canape, you could also use larger pork sausages in the same way for a simple twist on a family favourite dinner of bangers and mash!
Don't be limited by a plain pork sausage either, you could use flavoured sausages in place of a traditional pork sausage. Cumberland or Lincolnshire sausages would be great alternatives.
This recipe and these simple flavour combinations are a great way to pep up the humble sausage!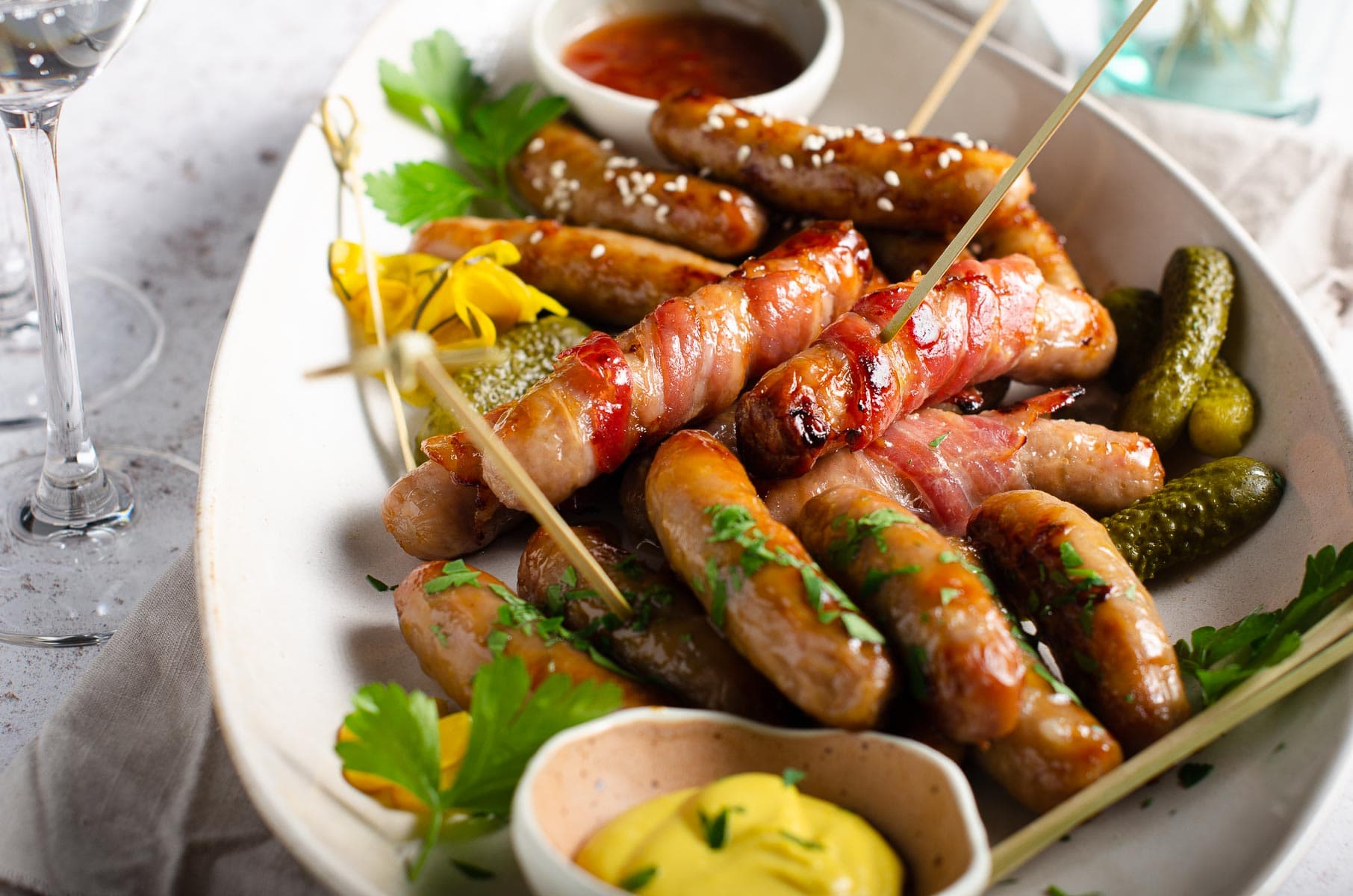 What can I serve to accompany these cocktail sausages?
These sausages are simplicity on a plate so we like to keep things easy when it comes to what to serve them with!
These sweet sausages work really well with sour pickles, so serve with some pickled onions, pickled gerkins or our Courgette & Shallot Pickle as we have here!
It's worth adding a dish with some cocktail sticks so that your guests have something to spear the sausages with. Particularly important if you are serving these at a dinner party!
We also like to add a couple of bowls of dipping sauces and here are some suggestions:
Sweet Chilli Sauce
Chilli Mayonnaise
Garlic Aioli
Tomato Ketchup
Mild Mustard
Barbecue Sauce
Can I make these ahead of time?
You can make these ahead of time and simply heat them up when you are ready to serve them. However, they are at their absolute best when served hot, straight from the oven.
Worth mentioning that any leftover sausages can be covered and popped in the fridge. They make a great cold snack the following day!
Pin the recipe: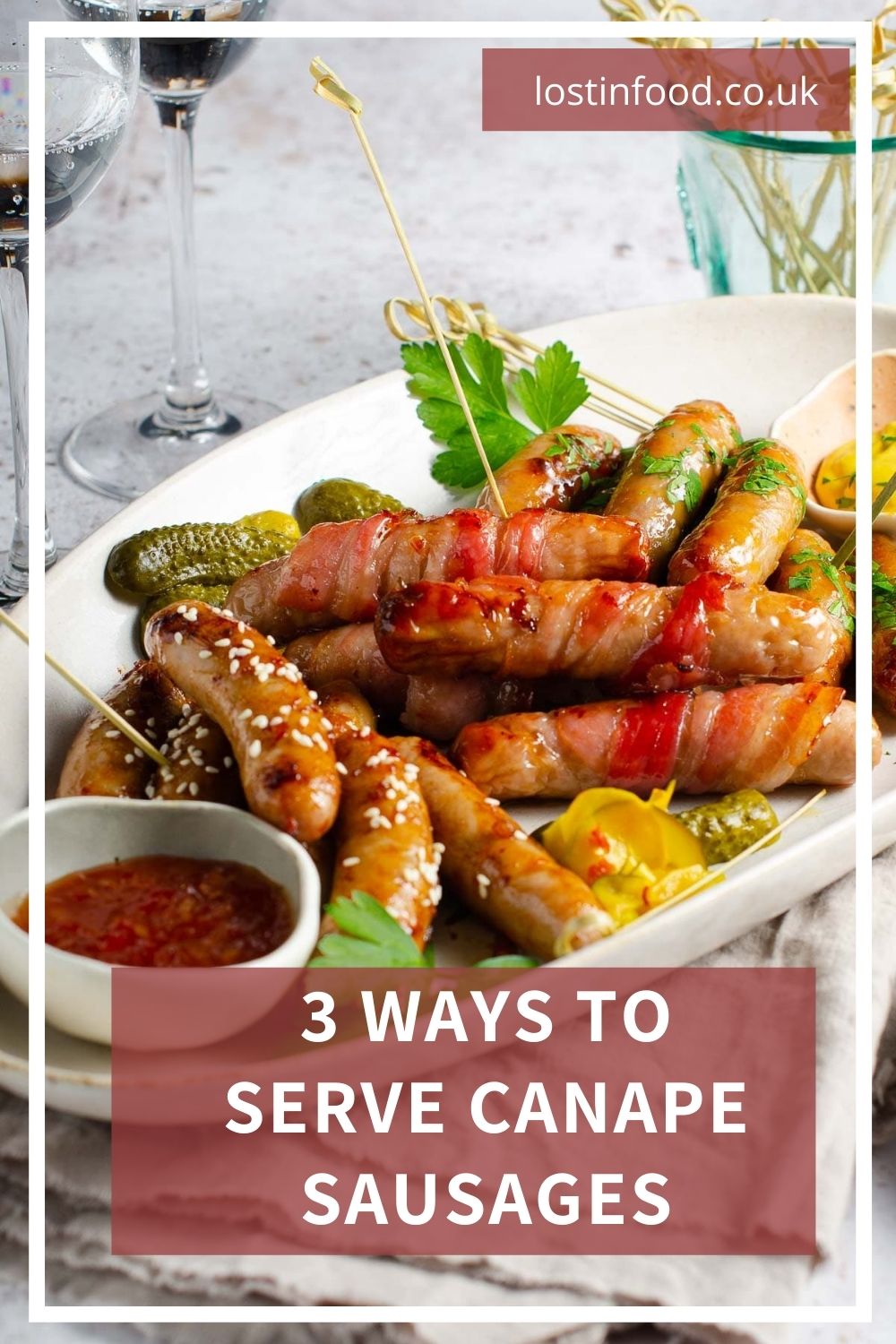 Additional recipe suggestions:
If you like this recipe then try some of our other quick and easy canapes:
Sticky Cocktail Sausages – 3 Ways!
Sticky cocktail sausages, a favourite canape for any party. Simple to make, roast the sausages in a little maple syrup and they're done!
Print
Pin
Text
Save
Saved!
Ingredients
12

pork cocktail sausages
Maple Syrup & Smoked Bacon Sausages
2

rashers of smoked streaky bacon

(cut into 2)

1

tbsp

maple syrup
Honey & Mustard Sausages
1

tbsp

runny honey

1

tsp

Dijon mustard
Soy, Ginger & Sweet Chilli Sausages
1

tbsp

soy sauce

½

tsp

ground ginger

1

tbsp

sweet chilli sauce

1

tsp

sesame seeds

(to sprinkle over cooked sausage)
Instructions
Pre-heat the oven to 180CFan and line a baking sheet with greaseproof paper.

Take the sausages and if they are linked, separate them out. Use 4 sausages for each of the different flavour combinations.

Take the two rashers of smoked streaky bacon for the maple and bacon sausages and cut the rashers in two. Wrap one half of the bacon around each of the 4 sausages.

Mix each of the remaining toppings together in individual bowls and dip the sausages into the mix, coating them evenly, before placing on the baking sheet.

When ready to cook, place the baking sheet with the sausages into the oven and cook at 180CFan for 25-30 minutes, giving them a shuffle in the tray half way through the cook. The sausage are ready one they are cooked through and the skin has started to colour.

While the sausages are cooking, toast the sesame seeds in a dry frying pan, taking care not to burn the seeds. Once they start to colour remove from the heat and pop into a dish to cool until ready to serve.

Remove from the oven and place on a serving dish or board. Sprinkle the Soy, Ginger and Sweet Chilli sausage with the toasted sesame seeds and serve immediately.
Notes
Mix and match these flavour combinations to suit your own tastes. Or if you prefer just make the flavour combination that you like the most.
This recipe is really easy to double up for canapes at any drinks party.
Nutrition Facts
Sticky Cocktail Sausages – 3 Ways!
Amount Per Serving
Calories 58
Calories from Fat 36
% Daily Value*
Fat 4g6%
Cholesterol 8mg3%
Sodium 219mg10%
Potassium 30mg1%
Carbohydrates 4g1%
Protein 2g4%
Calcium 4mg0%
Iron 1mg6%
* Percent Daily Values are based on a 2000 calorie diet.
• Please note that the nutrition information provided above is approximate and meant as a guideline only •
Share on Facebook