Mars bar slice is a childhood treat that I still love to eat today. This simple no-bake biscuit is great for making with children or grandchildren.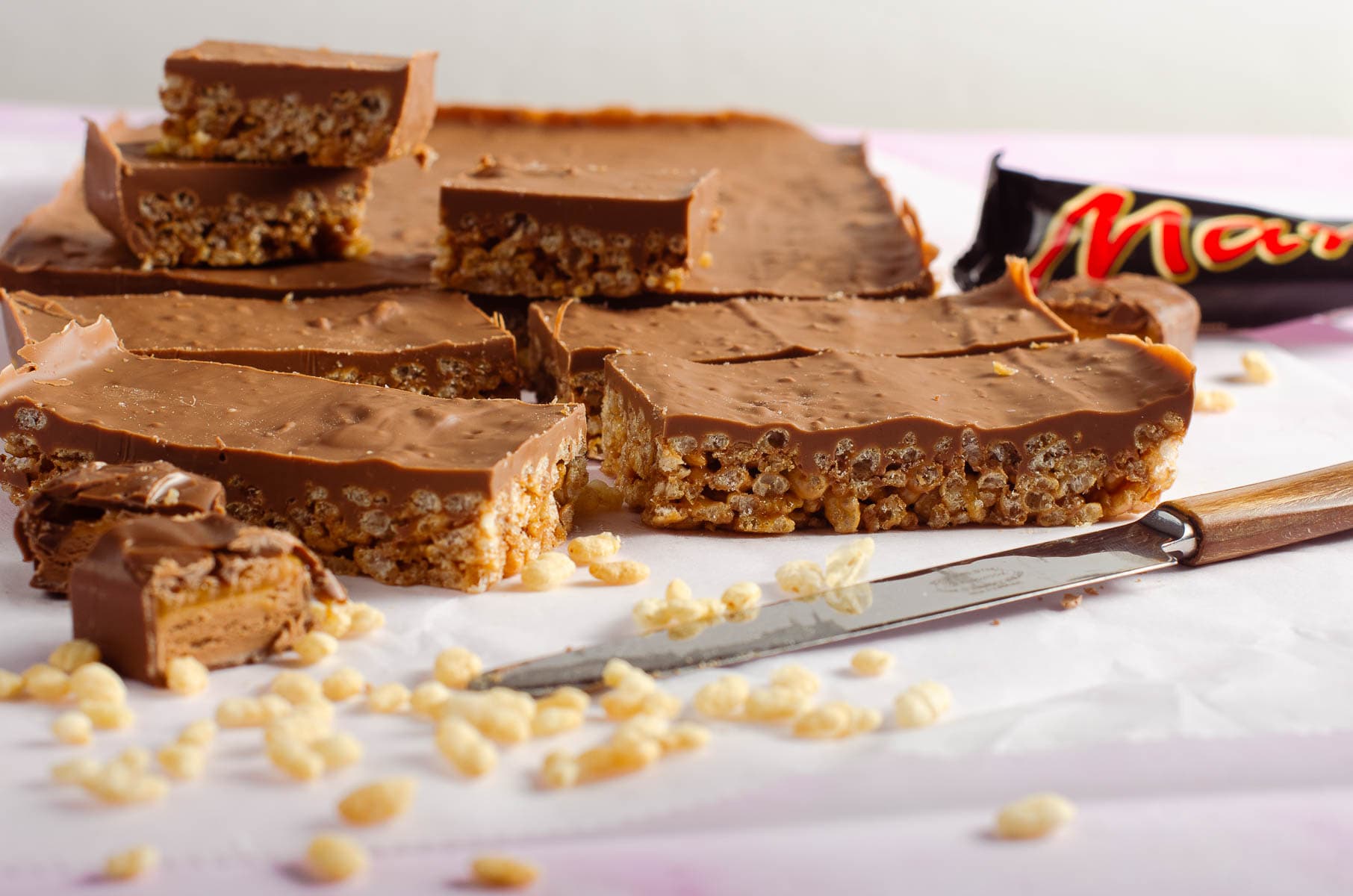 Mars bar slice is something that immediately reminds me of my childhood. However, this is a no bake mars bar slice that I still love as much today and make with my own children.
My Mum always made homemade Mars bar slice for my sisters and my Birthdays and also for Christmas. There was always a box in the fridge for us to enjoy and I always make them for my own kids for any celebration.
I really don't know anyone who doesn't like these simple squares of crispy, chewy chocolate!
I've made these Mars bar squares for years and confess that I don't really use a recipe these days, I've made them that often.
However, when I looked back my mars bar slice recipe so that I could actually assign weigh to the ingredients I had a laugh, as all my handwritten scribbles say is 2-3 Mars bars!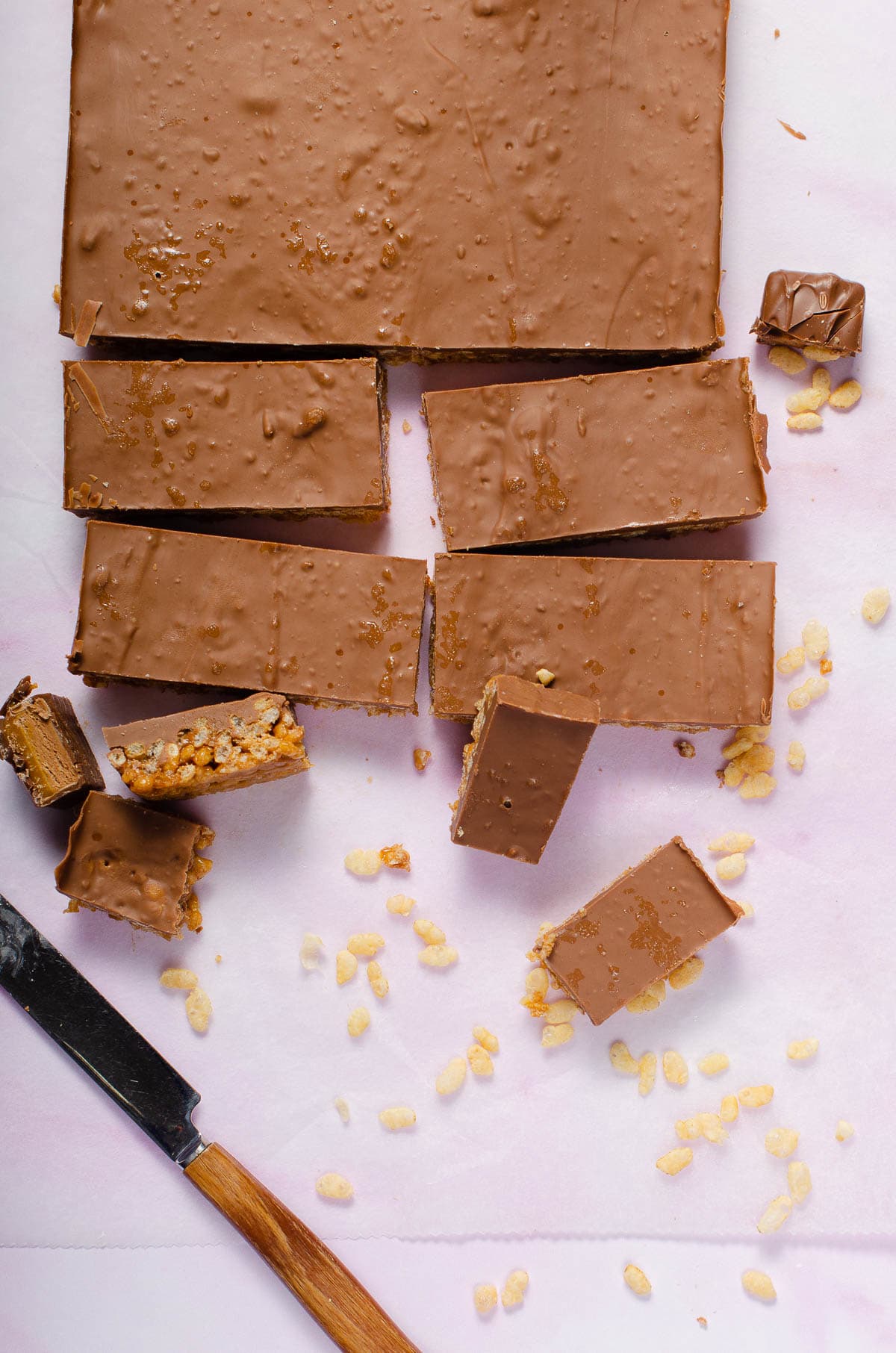 So, what's the problem? Well I was standing looking at the Mars bars in my hand and there's no way they are the same size as the bars I grew up with as a child, they are significantly smaller!
In fact I did a quick search and these chocolate bars have reduced significantly in weight by almost 20g per bar since my childhood!
How to make homemade mars bar slices: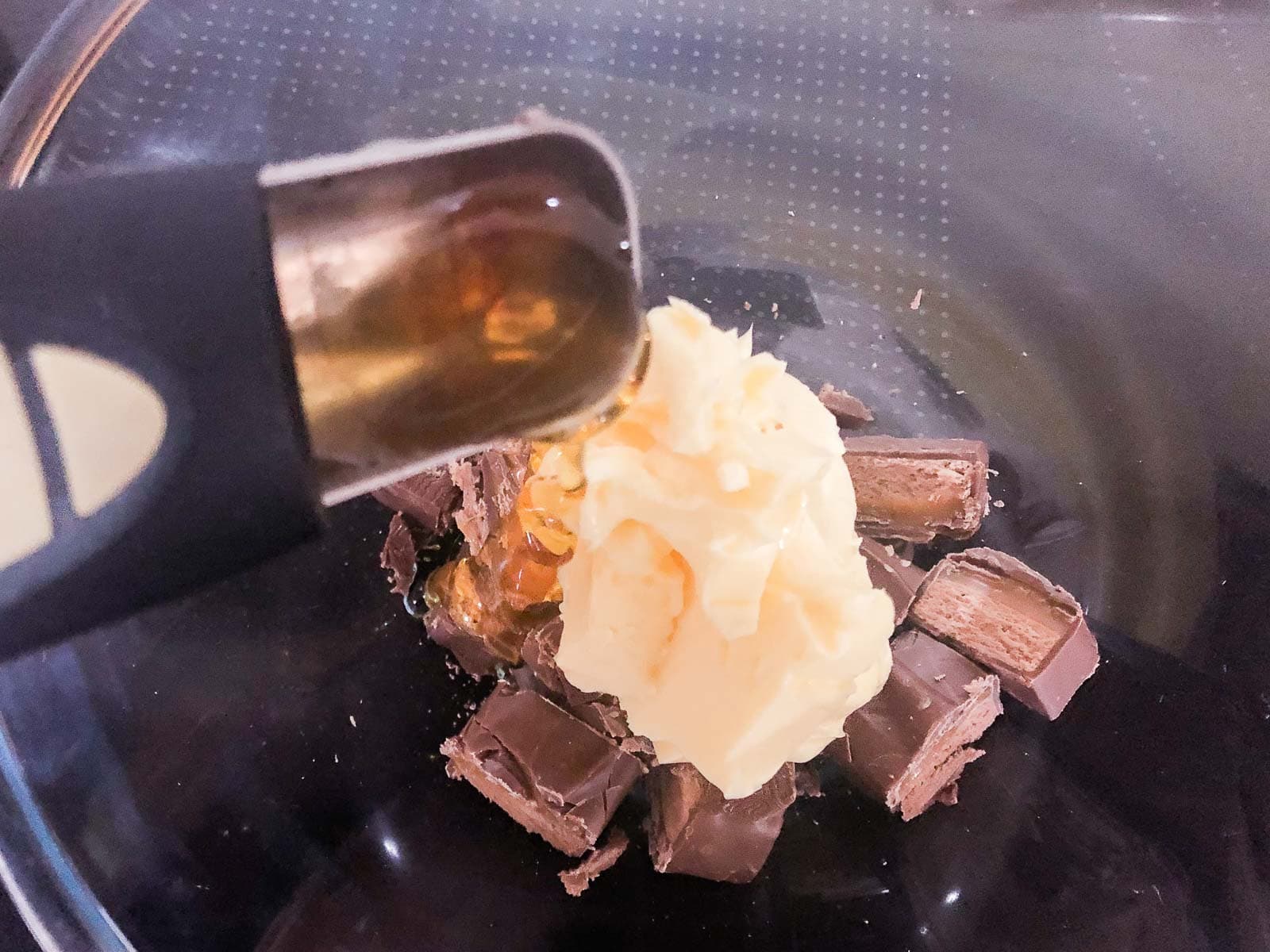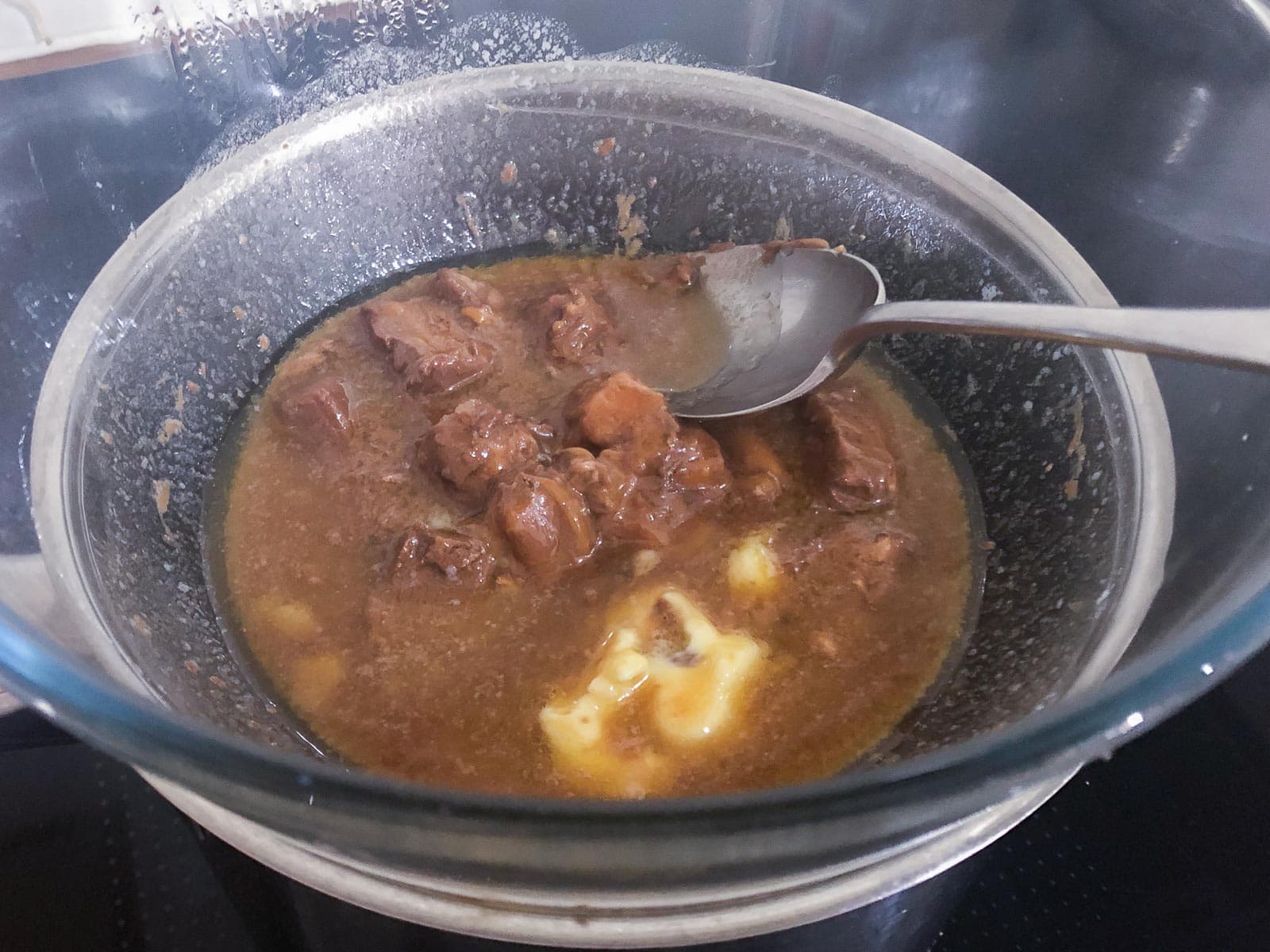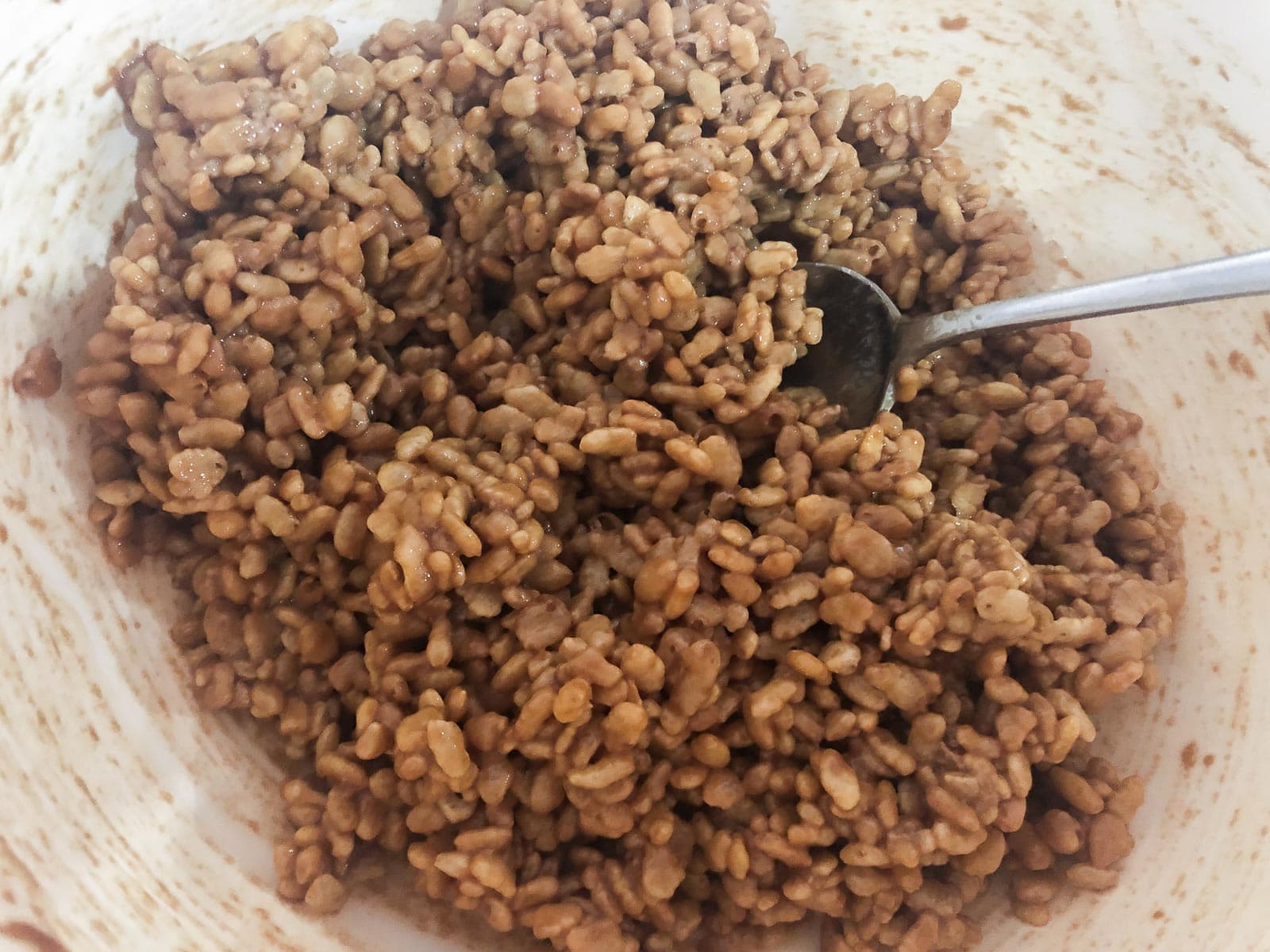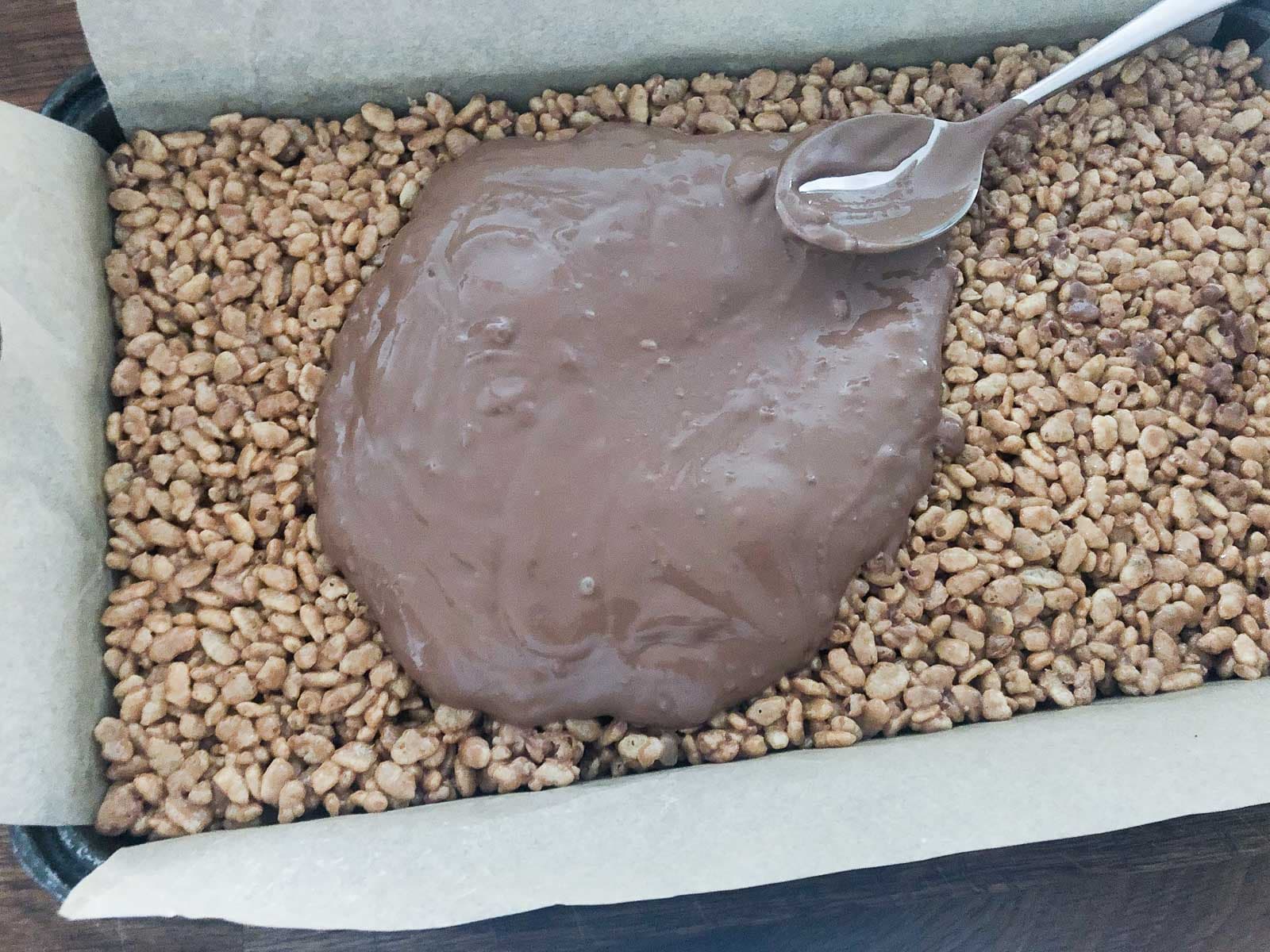 Great traybake for children or grandchildren!
These are not technically a bake, as there is no actual baking required. However, a no bake mars bar slice is a great cook with young children and I have made these with my own children for years. It's less of a bake, more of a melt, mix together and set in the fridge!
This simple recipe is perfect for young children, provided you supervise melting the mars bars over the hot water. It's a good recipe to start with young children, allowing them to mix everything together; getting them to line the tray; spreading out the mixture.
It teaches them basic skills and doesn't take too long either. As anyone who has ever baked with young children will tell you, the recipe needs to be quick so that you keep their interest!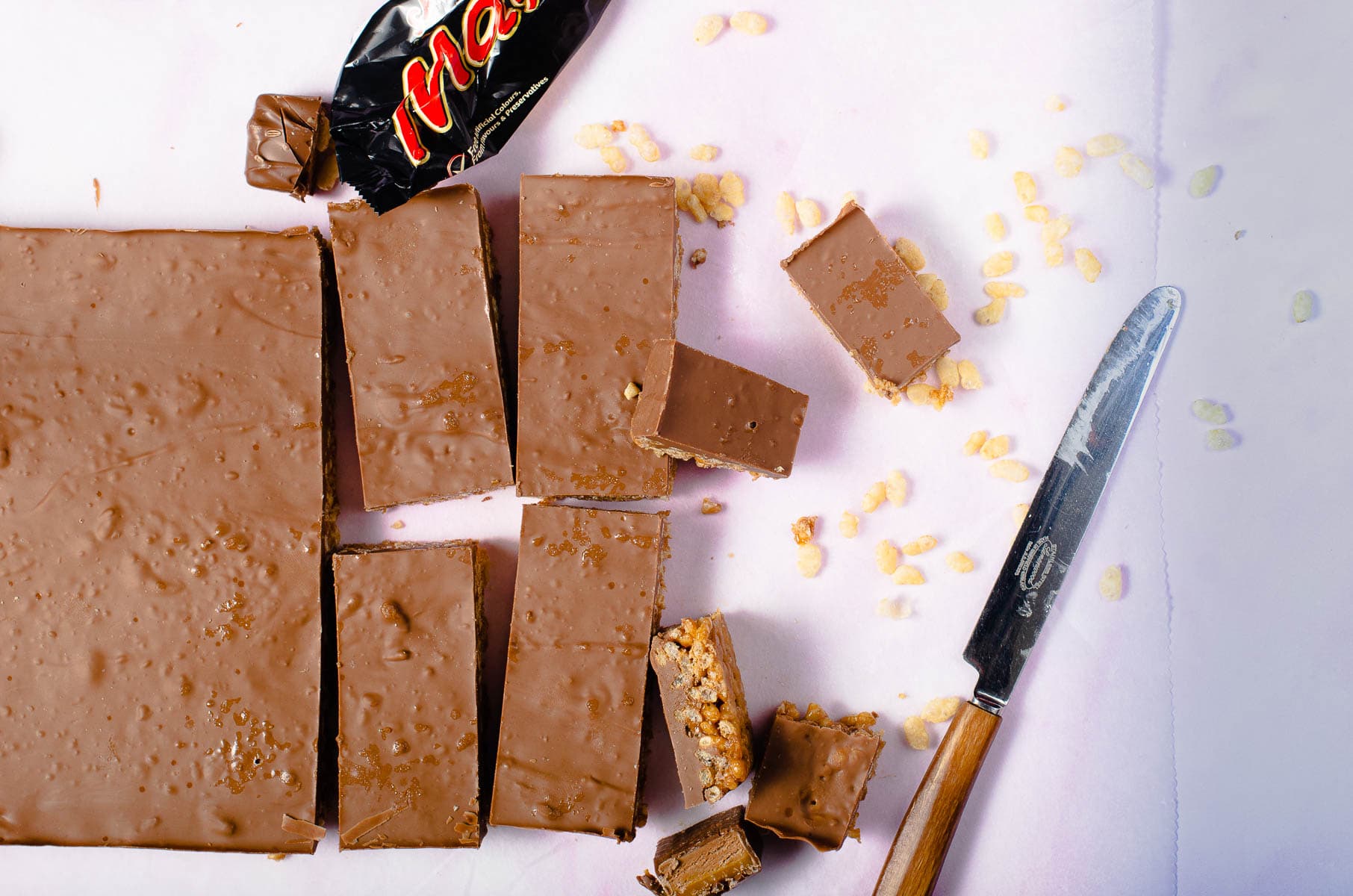 Recipe ingredients & substitutions:
I like these Mars bar squares, as they are, it's their simplicity that reminds me of my own childhood.
Mars Bar: these tasty chocolate bars add pretty much all the flavour to these homemade mars bar slices. They have the perfect addition of chocolate, caramel and nougat.
Cereal: If you don't have puffed rice cereal to make these mars bar slices, then substitute with another cereal. Cornflakes would also work with the chocolate caramel mix. You simply want a cereal that has a good amount of crispy crunch and pack together to form a solid base. Don't use cereal with added sugars or flavours as that would make the biscuit too sweet.
Syrup: I have added golden syrup to the chocolate mix as that is what my Mum used. However, you can easily substitute the golden syrup with honey or maple syrup if you would prefer.
Dried Fruit: add some dried fruit, along with the rice krispies if you wish. Dried cranberries, raisins or sultanas would all work and add extra chew to the slice.
Marshmallow: You could also add some marshmallow to the puffed rice mixture. Simply cut up each marshmallow into small pieces and stir through with the puffed rice.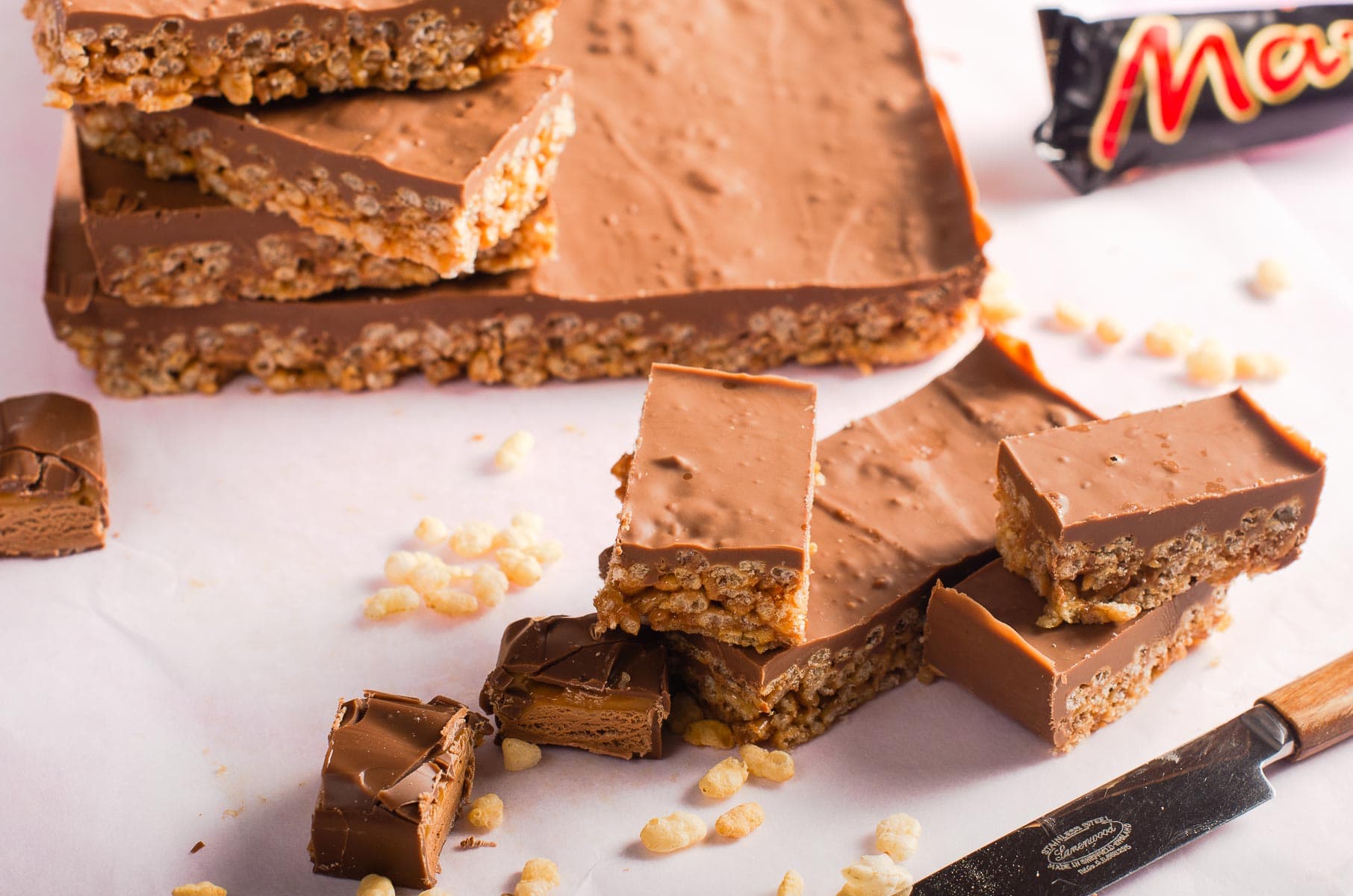 How long can you store Mars Bar Squares?
One these mars bar squares have been chilled and cut up place them in an airtight container and store then in the fridge for up to a week.
Can you freeze Mars Bar Squares?
You can freeze these mars bar squares. I like to make a batch, enjoying half and freezing and saving the other half for a later date. Simply place the cut slices into a container suitable for the freezer.
When you are ready to enjoy, remove from the freezer and allow to defrost on the kitchen counter. These biscuits will store in the freezer for 2-3 months.
Pin the recipe: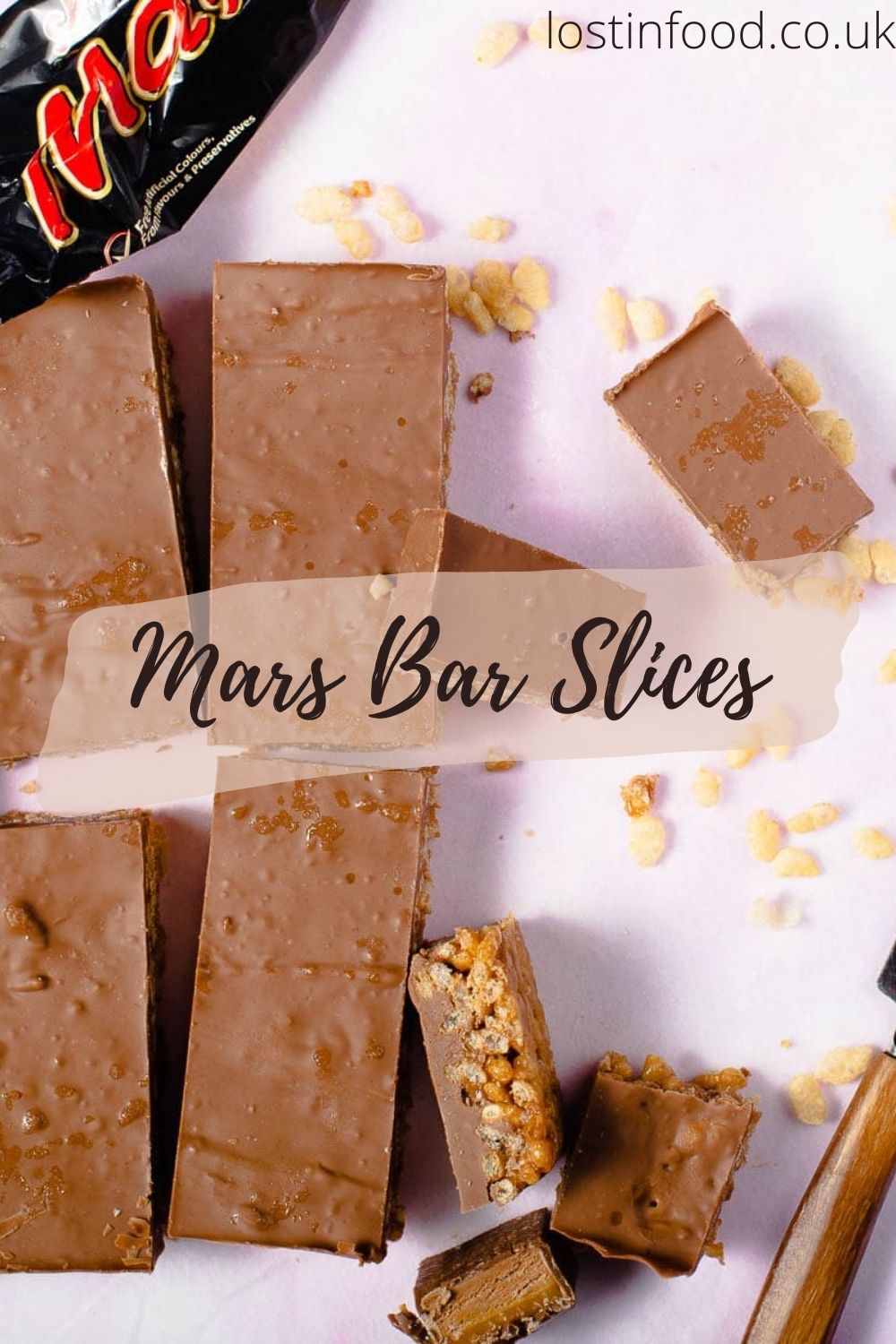 Additional recipe suggestions:
If you liked this bake then try our other simple recipes:
If you enjoy baking yourself, or want to try baking with your own children or grandchildren, then have a read of our Ultimate Guide to Baking with Kids. This useful guide is full of helpful hints and tips as well as many recipes to get you started.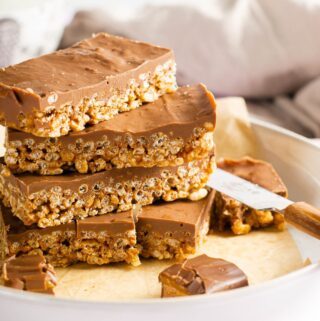 Mars Bar Slice
Mars bar slice is a childhood treat that I still love to eat today. This simple no-bake biscuit is great for making with children or grandchildren.
Print
Pin
Text
Save
Saved!
Equipment
20x33cm (5"x13") baking tray with medium/high sides
Ingredients
120

g

mars bar

(cut into chunks)

100

g

butter

2

tbsp

golden syrup

150

g

rice krispies

(or similar puffed rice cereal)

300

g

milk chocolate
Instructions
Add the chopped mars bars, butter and golden syrup into a large glass pyrex bowl. Place the bowl over a pan of just boiling water and allow the mixture to melt.

Meanwhile place the rice krispies into a large bowl. Once the mars bar mixture has melted, pour over the rice krispies and stir gently to combine, ensuring that all the cereal is covered in the chocolate mixture.

Now tip the chocolate rice mix into a lined baking tray. Using the back of a spoon press the mixture down gently to form an even spread across the tin. Do not be heavy handed, you want the puffed rice to keep it's shape and not break down.

Place the tray into the fridge.

Next break the milk chocolate into another glass bowl and place in the microwave for 2 minutes to melt the chocolate.

Remove the rice krispie tray from the fridge and pour over the melted milk chocolate. Spread out the chocolate to cover the top of the slice and return to the fridge for at least 2 hours to fully set.

Once set, remove the tray from the fridge and cut into slices. Store in an airtight container in the fridge.
Notes
Use any variety of puffed rice cereal that you have available. Alternatively you could replaces the puffed rice with cornflakes instead.
If you don't have golden syrup, substitute with maple syrup or honey instead.
Nutrition Facts
Mars Bar Slice
Amount Per Serving
Calories 158
Calories from Fat 63
% Daily Value*
Fat 7g11%
Cholesterol 2mg1%
Sodium 62mg3%
Potassium 67mg2%
Carbohydrates 24g8%
Protein 1g2%
Vitamin A 576IU12%
Vitamin C 5mg6%
Calcium 12mg1%
Iron 3mg17%
* Percent Daily Values are based on a 2000 calorie diet.
• Please note that the nutrition information provided above is approximate and meant as a guideline only •
Share on Facebook