Chocolate tiffin traybake, a straight-forward bake from childhood. Using digestive biscuits, it's a great first bake for children.
Chocolate tiffin traybake is something I've made for years, firstly with my Mum, these days with my own children. Everyone has some memories of childhood baking, the mere thought of those cakes, biscuits or cookies we make and enjoyed. They remind us of our childhood and evoke memories of those carefree days.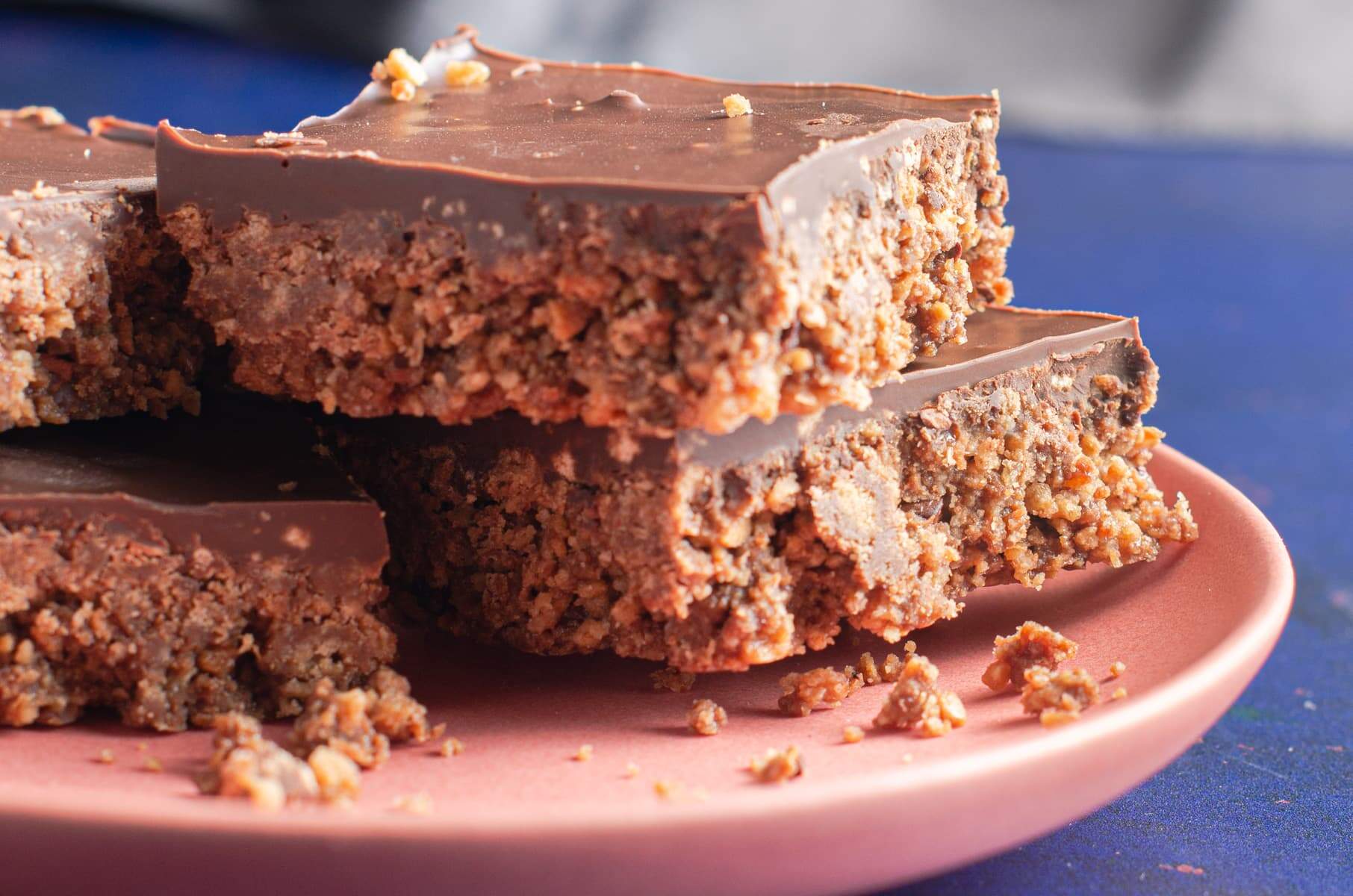 My Mum wasn't big on baking, not that she couldn't, it just wasn't something she particularly enjoyed. For that reason the baking she did with us was always simple. However, she did make lovely tray bakes and this no-bake chocolate traybake is one of them.
Clearly, with this particular recipe, there is no actual baking involved in the process of making chocolate digestive traybake! Instead it's a bit of bashing, melting and stirring. However, the simplicity of this recipe does not detract from the memories I have of making this with my Mum. It was always fun to bake. Certainly it is a delicious biscuit to eat.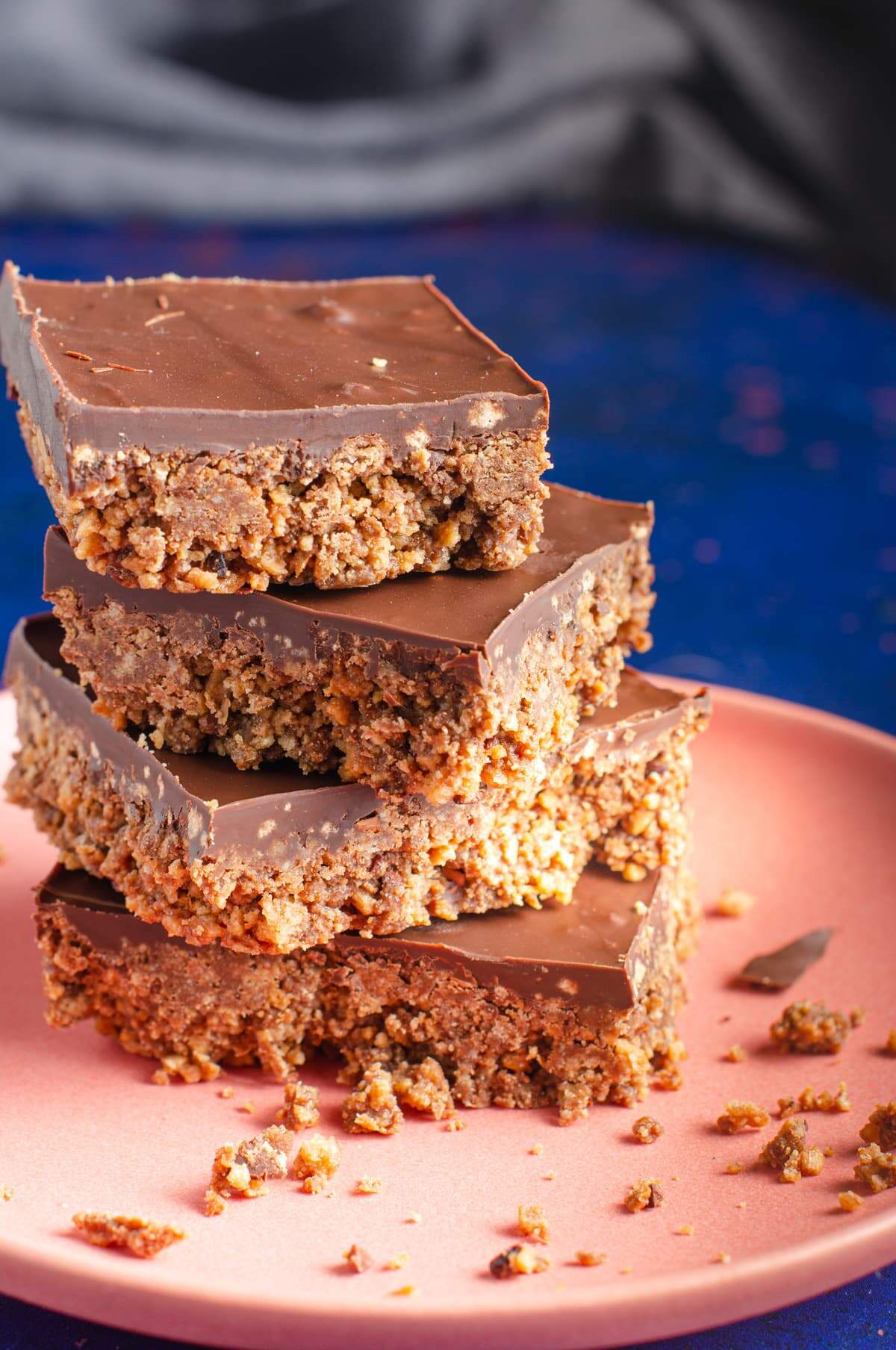 Doubtless, this simplicity is why I also enjoy making these chocolate squares with my own children. It's one of the first biscuits my daughters were allowed to do entirely on their own. Their first solo non-bake if you like!
I've tried many variations of chocolate tiffin (or chocolate fridge cake as it's sometimes know) over the years, but this recipe from my childhood remains my favourite. It does contain lots of chocolate, however I like to add cocoa powder to the mix. The cocoa powder is bitter and the addition of cocoa balances the biscuit so it's not too sweet!
Recipe steps: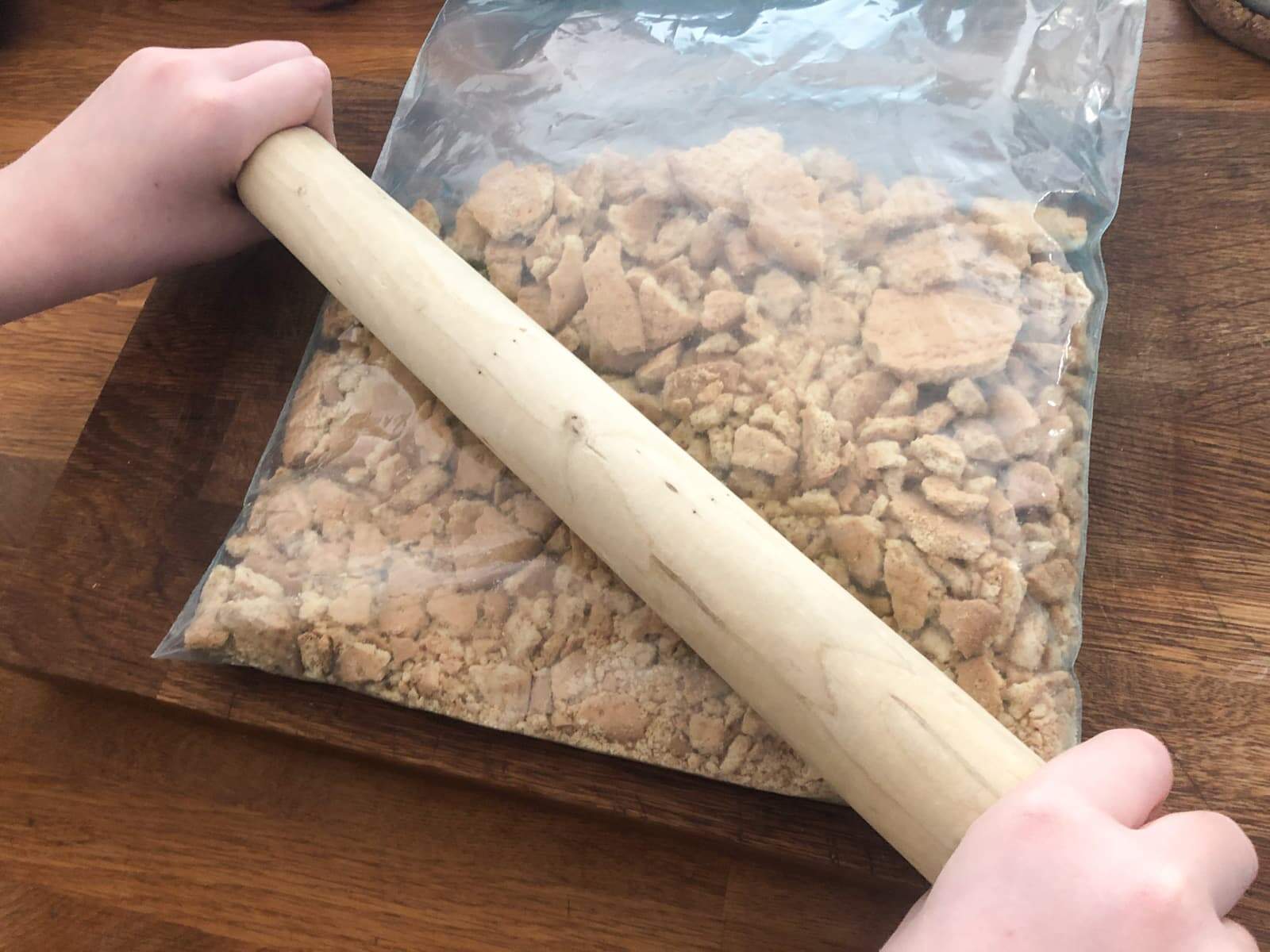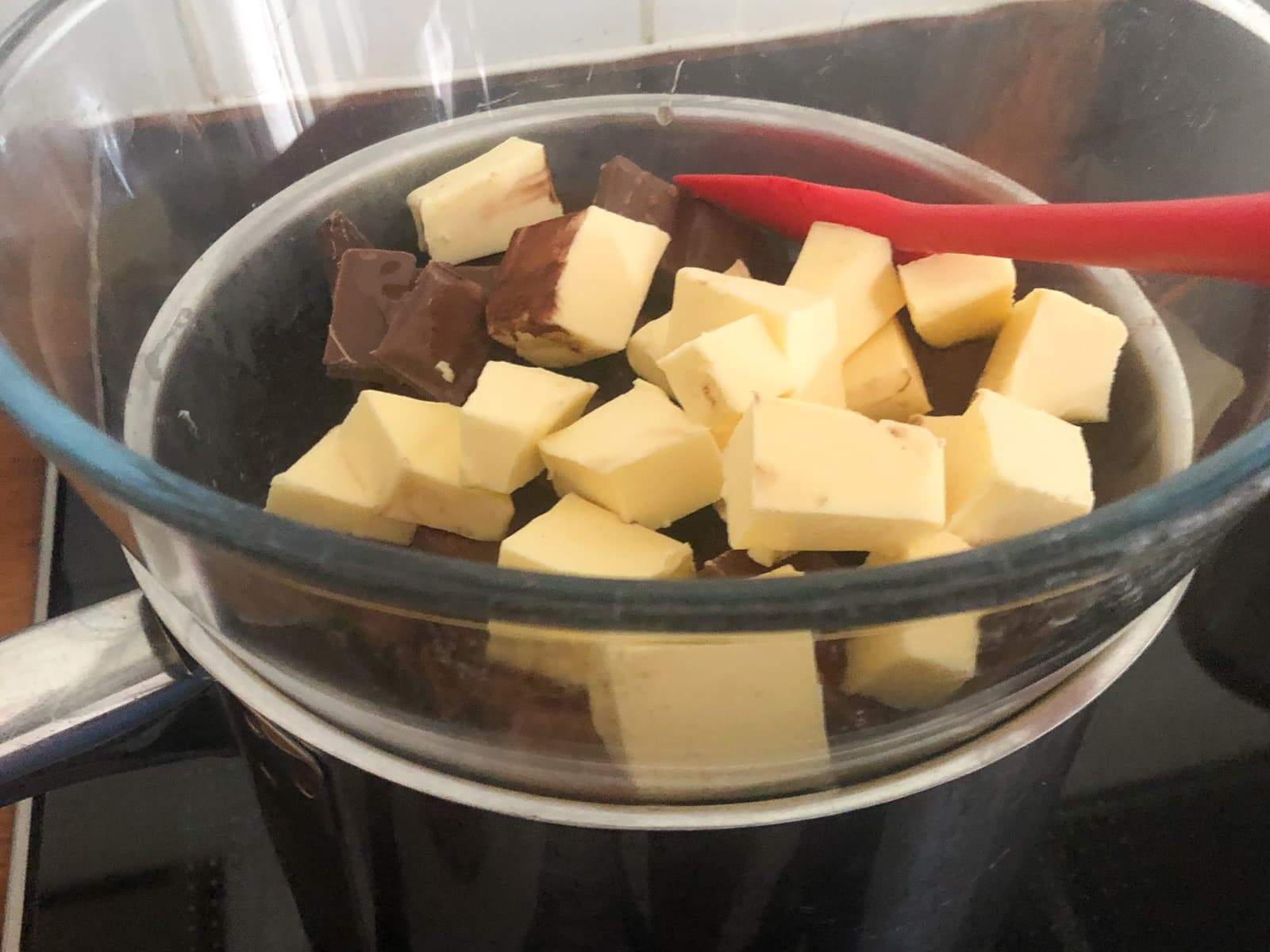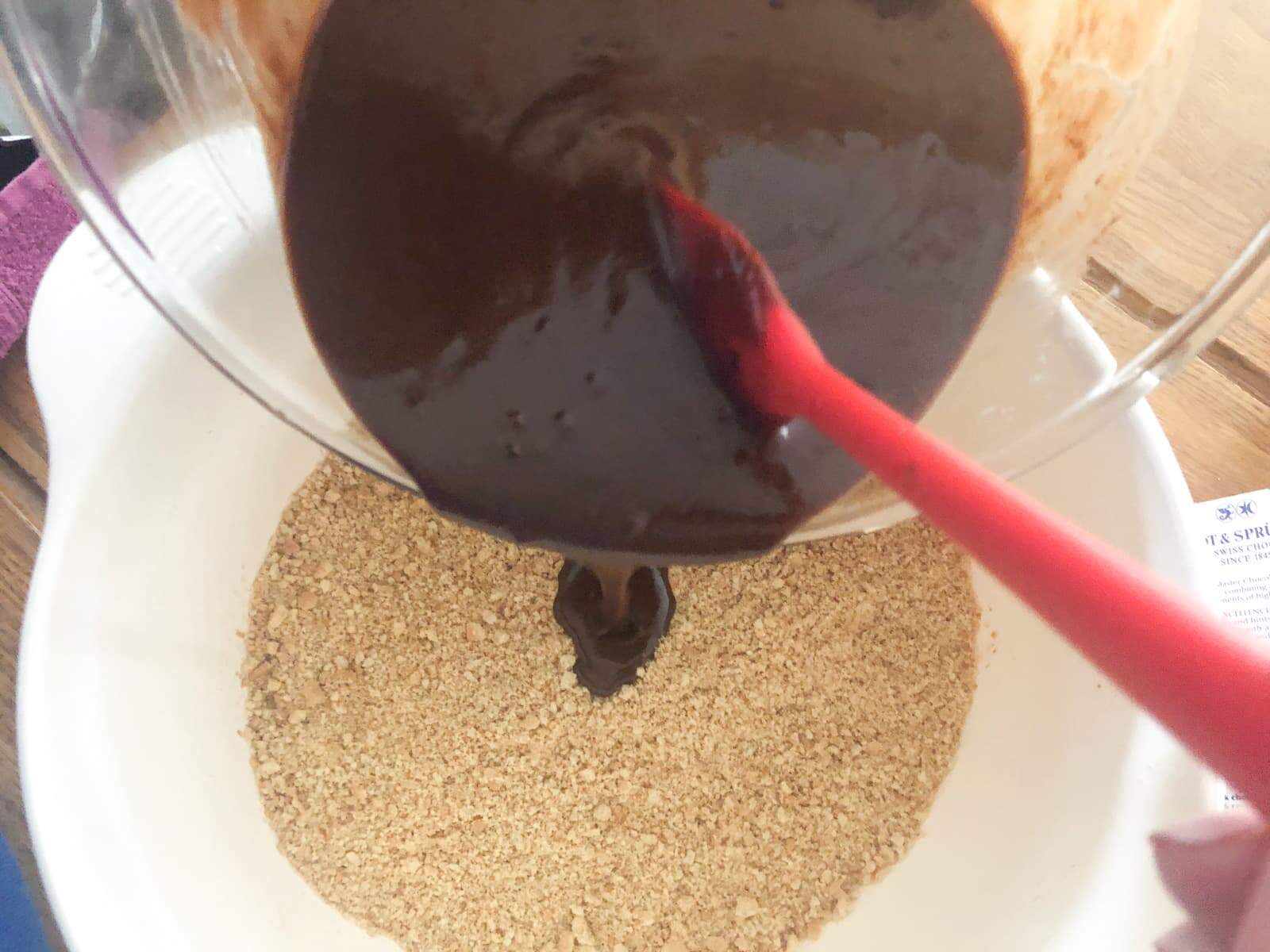 Alternative serving suggestions:
I like the digestive biscuit base just as it is in the recipe, however encourage you to make it your own.
Biscuit base:
Dried fruits, like raisins, sultanas, glace cherries, cranberries or chopped up dried apricots can be added to the biscuit base. Simply add them to the dry ingredients before you mix through the wet ingredients.
You could also add honeycomb to the biscuit base. Or, if you like maltesers, break some up and add it to the biscuit base. However, this will add to the overall sweetness of the biscuit.
If you decide to add extra sweetness I would recommend increasing the cocoa powder a little to stop the whole biscuit becoming too sweet. You might also find you've to add a little more butter to get it to stick together.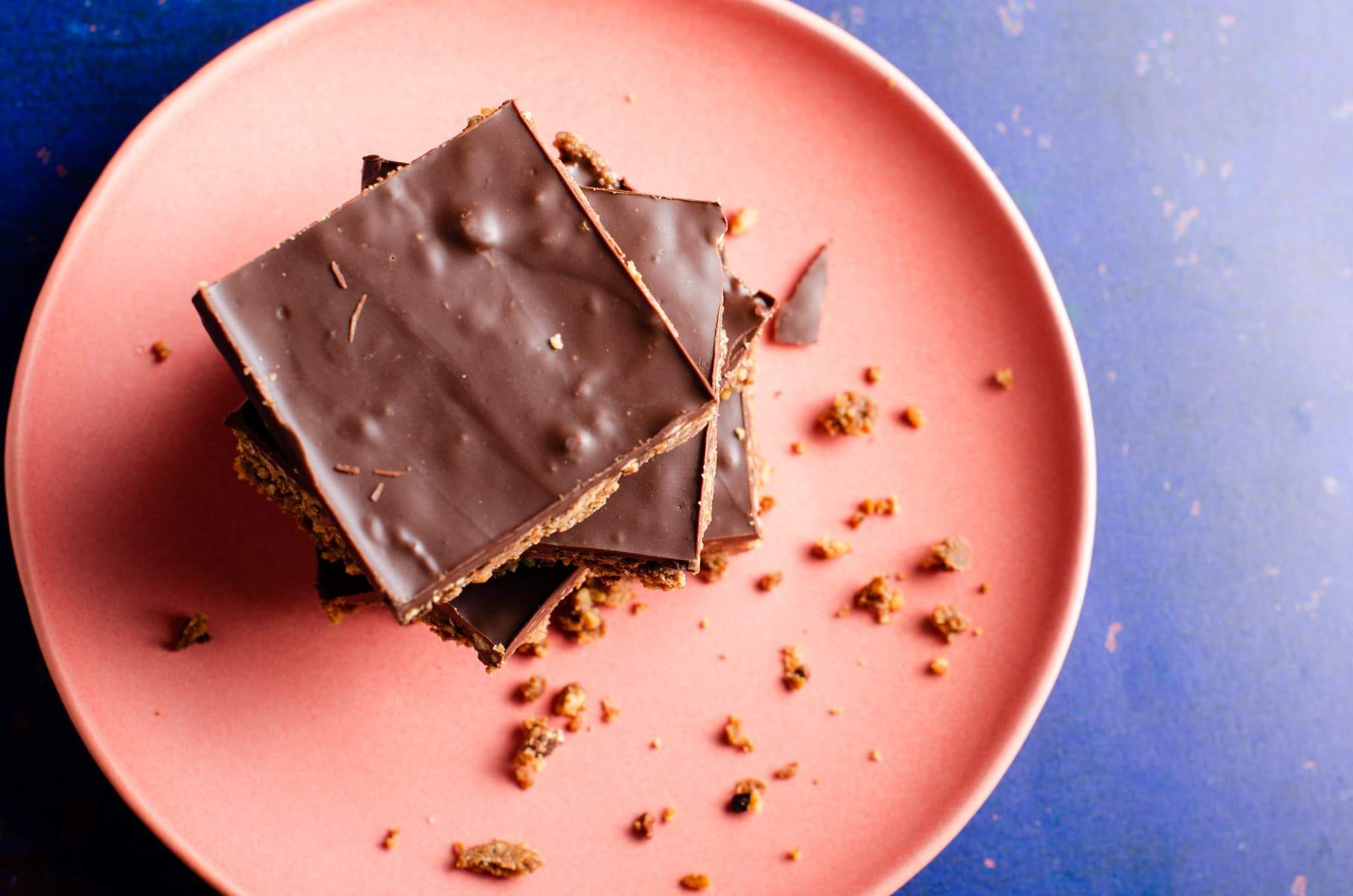 Chocolate topping:
This recipe asks for 200g of melted milk chocolate to provide a thin layer of chocolate topping for this tiffin biscuit. That's what I used when I first made chocolate tiffin traybake with my kids.
However, as they grow older I've adapted the topping a little. I use 150g of milk chocolate and 50g of dark, bitter plain chocolate instead. Sometimes, I'll use a 50:50 split between milk and dark chocolate.
I find the addition of dark chocolate balances out the sweetness of the biscuit. I'm lucky as both my children will eat dark chocolate. If you don't like dark chocolate then leave the recipe just as it is, this is purely for suggestion only.
How long will this traybake keep?
This chocolate tiffin is set in the fridge. However, once set I cut it into between 18 and 21 squares, depending on how generous I'm feeling. I then store it in an airtight container that I have lined with baking parchment. I also like to put a sheet of baking parchment between each layer of biscuit as I pile them up, as this stops them sticking together.
They will keep like this for 4-5 days – provided you can resist and they last that long. They rarely do in my house!
Pin the recipe: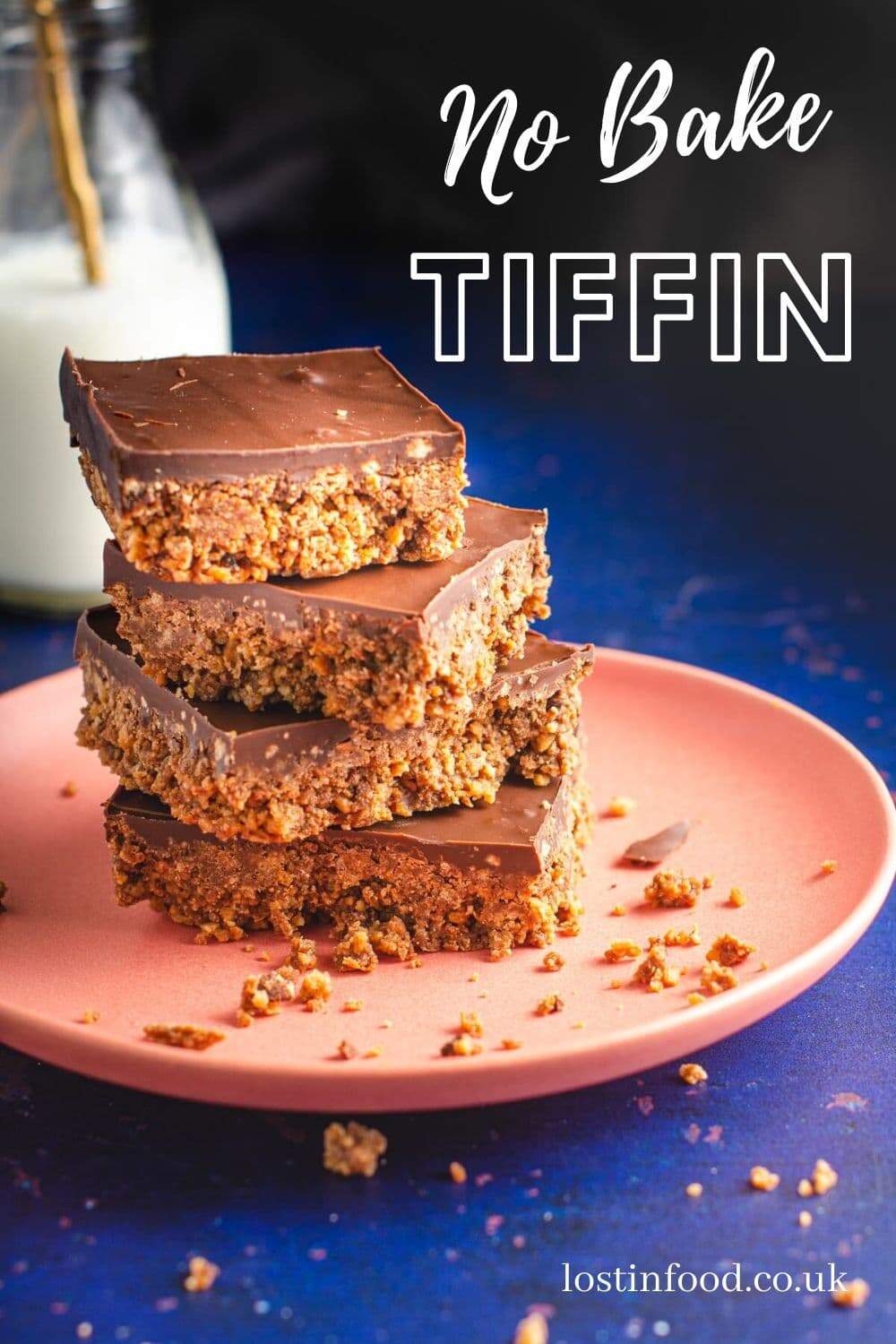 Additional recipe suggestions:
For other ideas for simple bakes try some of these ideas:
If, like us, you enjoyed baking then take a look at our Ultimate Guide to Baking with Kids, full of great recipe suggestions, hints and tips for baking with children.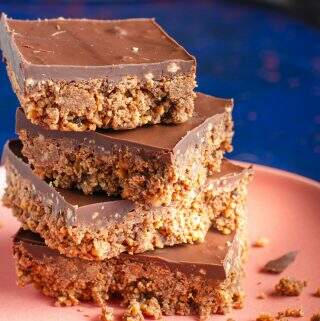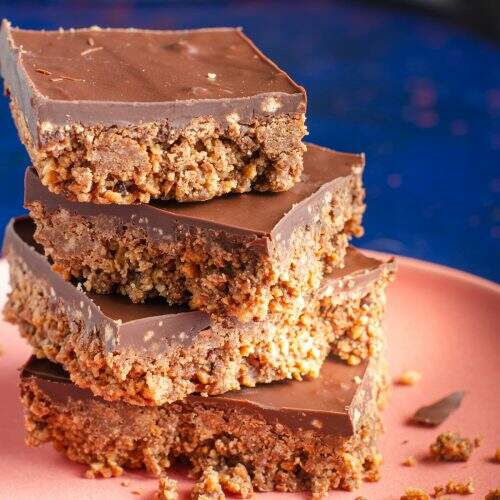 Chocolate Tiffin Traybake
Chocolate tiffin a simple traybake evoking memories of childhood baking, a great simple bake, perfect for when you fancy a chocolate treat.
Print
Pin
Save
Saved!
Ingredients
400

g

digestive biscuits

400

g

milk chocolate

150

g

unsalted butter

4

tbsp

golden syrup

1

tbsp

cocoa powder
Instructions
Place the digestive biscuits into a large plastic bag, seal and bash up to a crumb using a rolling pin. Empty the crumbs into a large mixing bowl.

Place 200g of the milk chocolate into a glass bowl and add the butter, syrup and cocoa powder. Place over a pan of boiling water and stir until melted together.

Pour the chocolate mixture over the digestive crumbs and stir until well combined.

Line a 32cmx18cm baking tray with greaseproof paper. Tip the biscuit mixture into the tray and using the back of a metal spoon spread the mixture, taking care to even it out and press into the corners. Place in the refrigerator for 30 minutes.

Break up the remaining 200g milk chocolate into a clean bowl and place over a pan of boiling water, stir until melted. Remove the biscuit tin from the refrigerator and pour over the melted chocolate. Return to the fridge until the chocolate has solidified before removing and cutting into squares.
Notes
This recipe can be added to easily with the addition of dried fruits or some crushed up honeycomb. Simply stir through along with the biscuit.
Nutrition Facts
Chocolate Tiffin Traybake
Amount Per Serving
Calories 283
Calories from Fat 153
% Daily Value*
Fat 17g26%
Cholesterol 18mg6%
Sodium 111mg5%
Potassium 101mg3%
Carbohydrates 35g12%
Protein 3g6%
Vitamin A 208IU4%
Calcium 13mg1%
Iron 1mg6%
* Percent Daily Values are based on a 2000 calorie diet.
• Please note that the nutrition information provided above is approximate and meant as a guideline only •
Share on Facebook