Lemon butter biscuits, delicious melt in the mouth biscuits fragrant with lemon. A simple bake, that's ready in minutes, making them a perfect afternoon tea treat.
Lemon butter biscuits are one of my favourite quick and simple bakes. This easy biscuit recipe is so easy to follow and the biscuit bakes in no time, making it ideal for a mid afternoon treat, along with a cup of tea.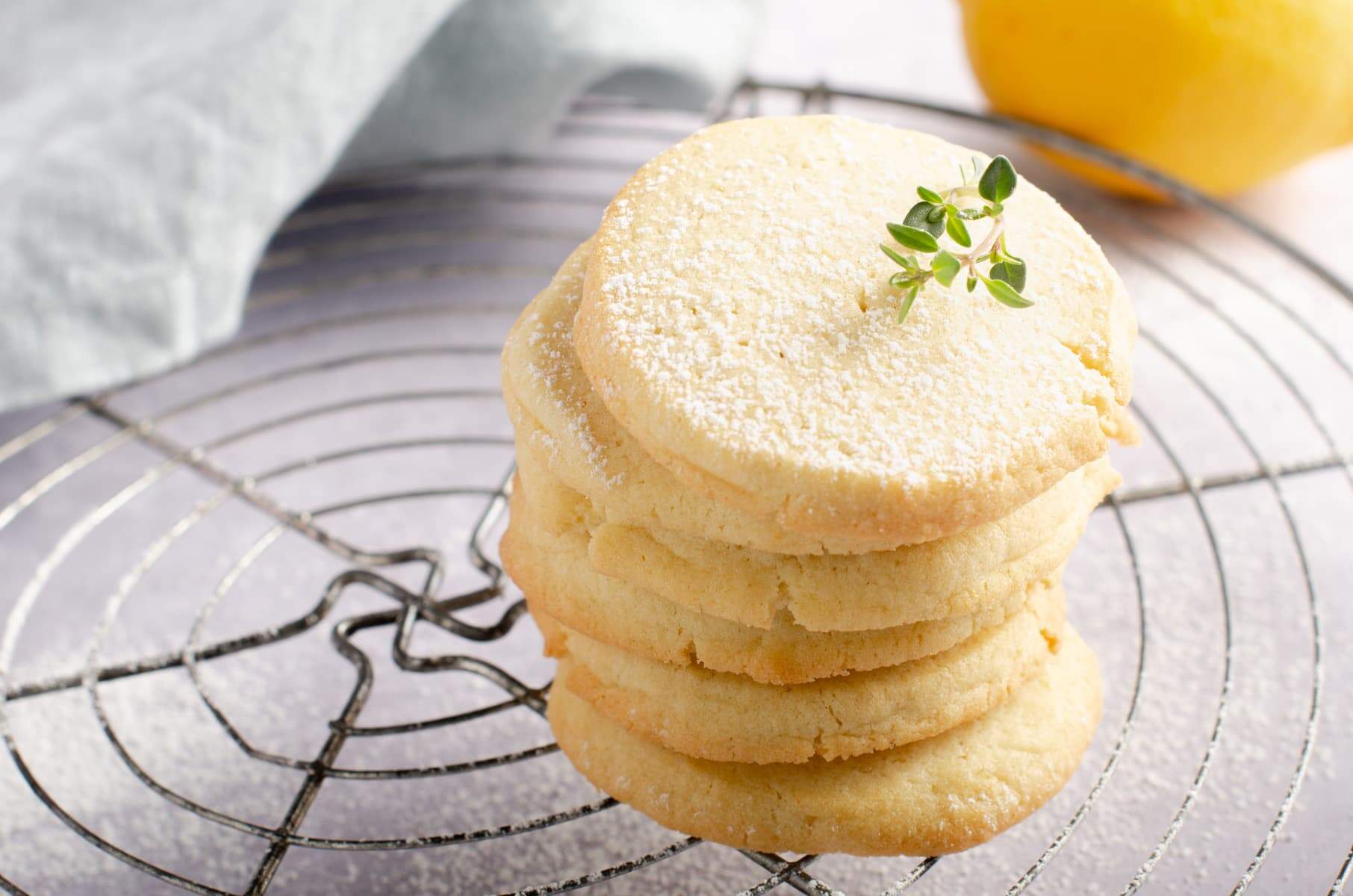 The fruit bowl in my home is never without this bright yellow citrus, be it for sweet or savoury cooking. I love citrus, but in particular lemon, which I cook with in both savoury and sweet dishes. It's up there as one of my top 5 favourite things to cook and bake with.
A favourite dessert of mine is Lemon Posset which is super simple to make. I like this dessert as it is both sweet and tart. I've never had an overly sweet tooth, so lemon desserts feature regularly in my household (along with sour rhubarb when it's in season).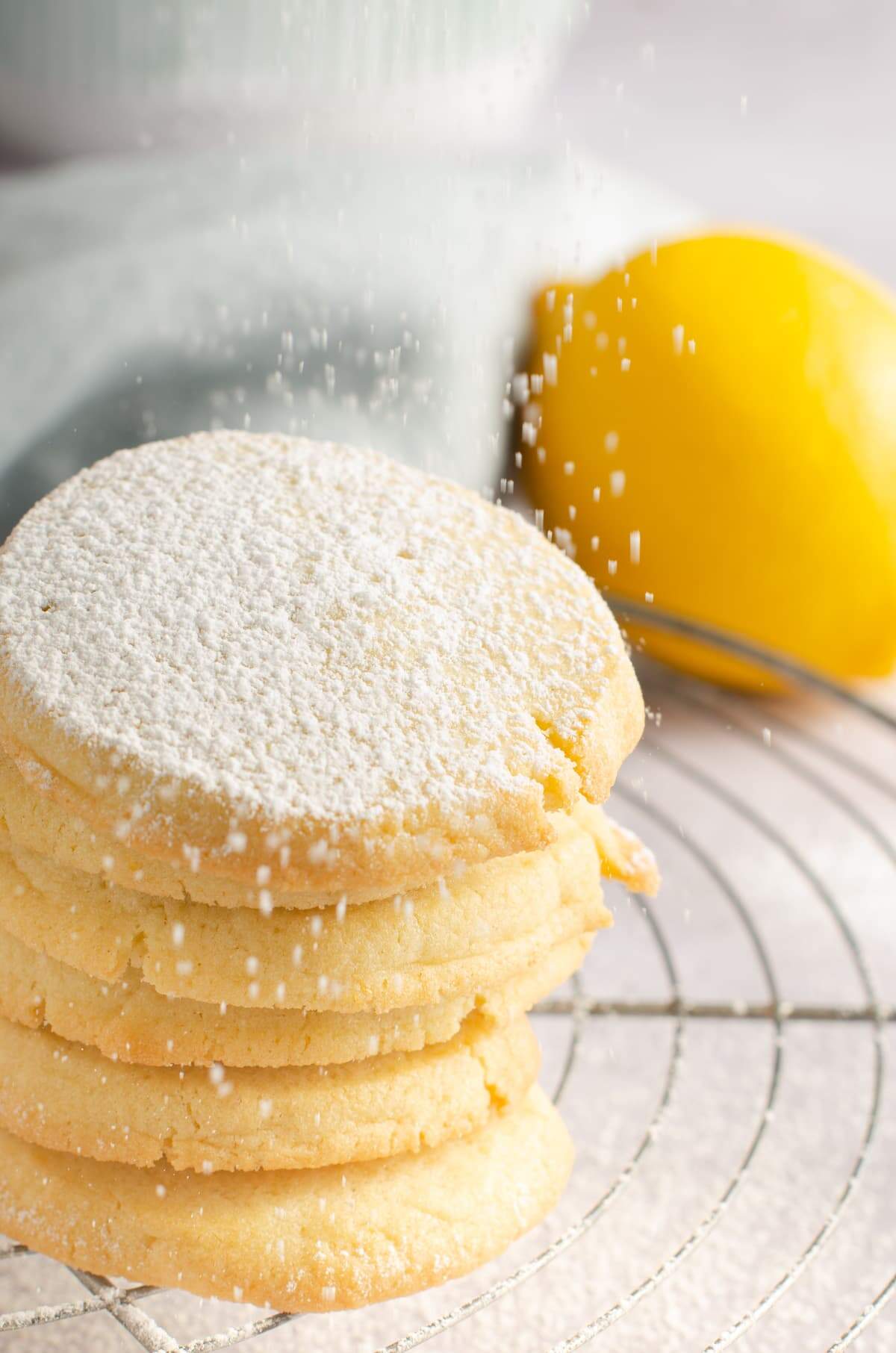 I like to pair lemon posset with something a little sweeter, to balance out the sourness, but not a biscuit that is too sweet. The posset doesn't take too long to prepare so you want a biscuit that can be ready quickly too. These simple lemon butter biscuits are a perfectly light, crisp biscuit with a good hit of lemon zest. They work a treat with the posset.
Recipe steps: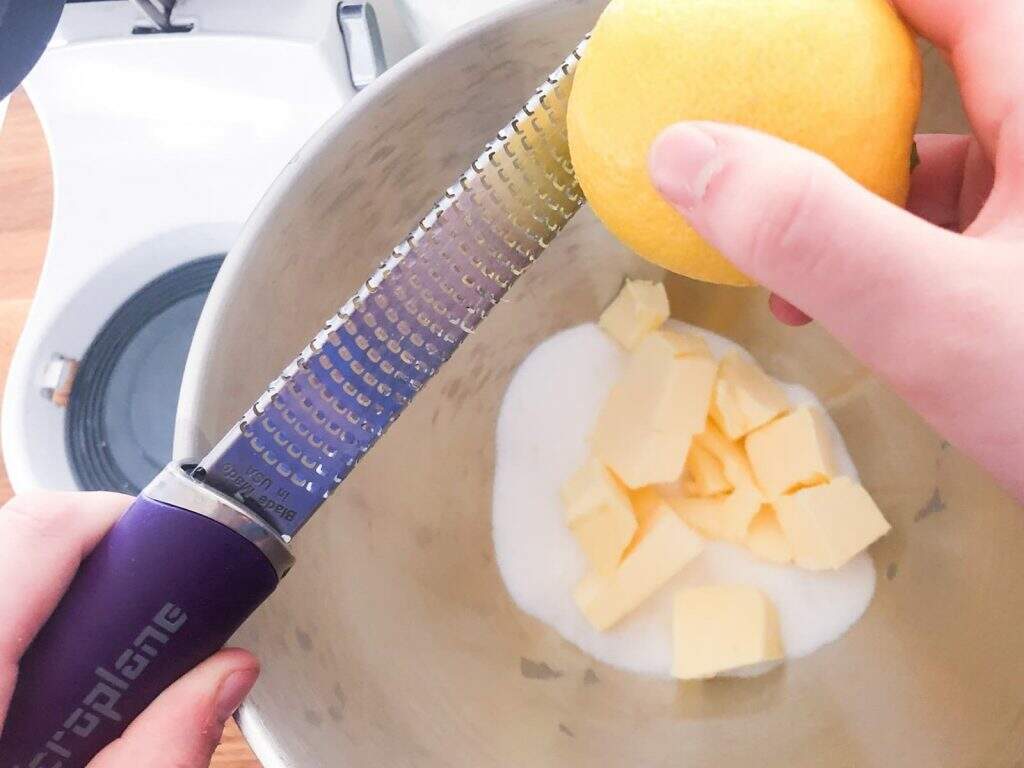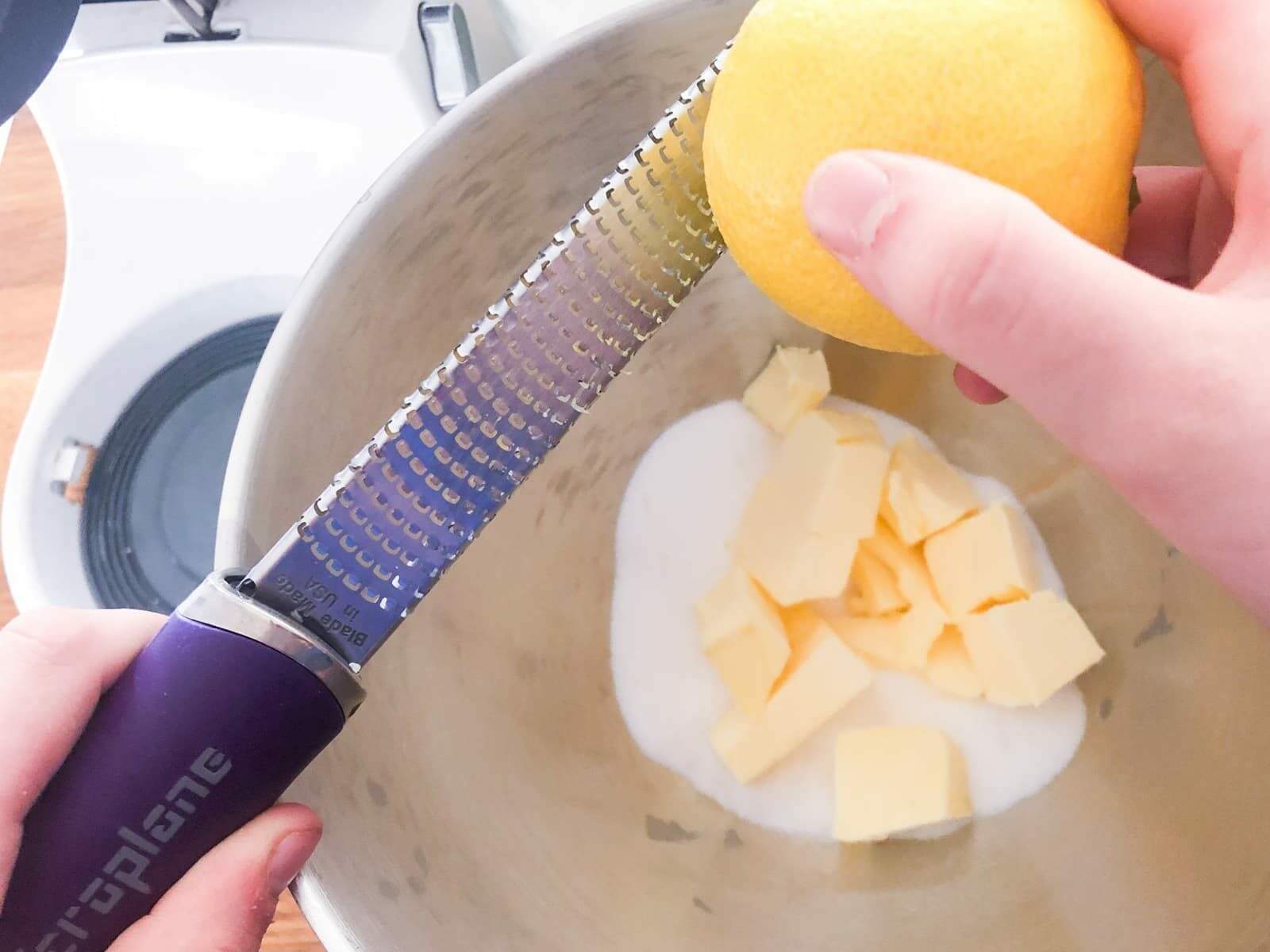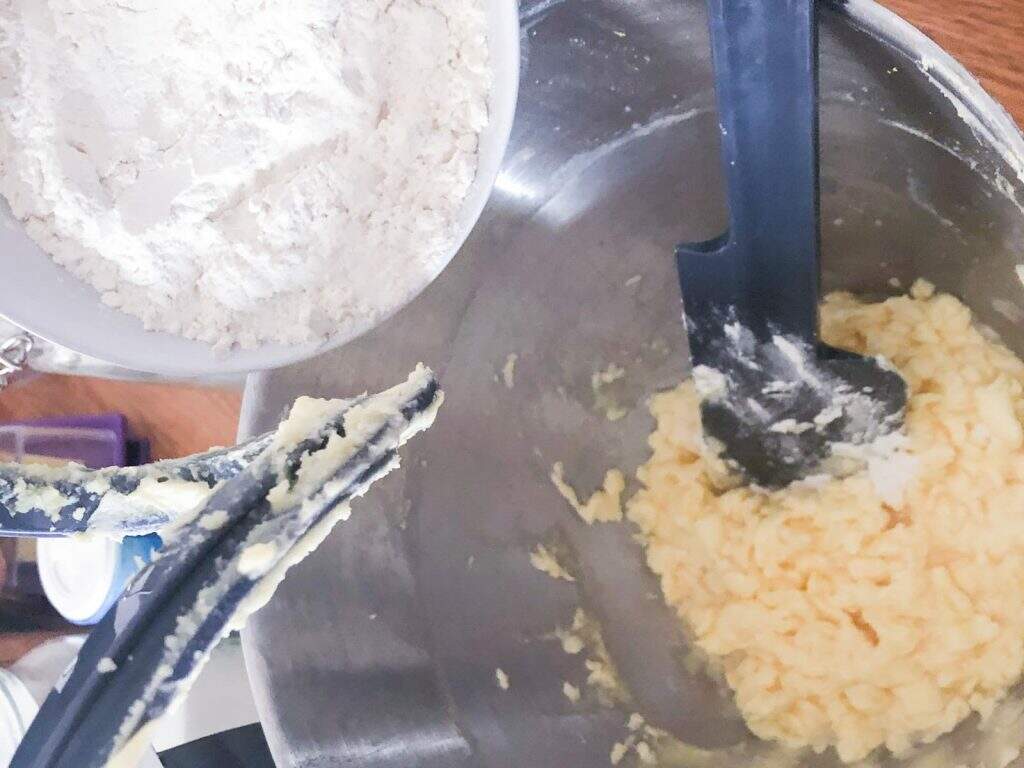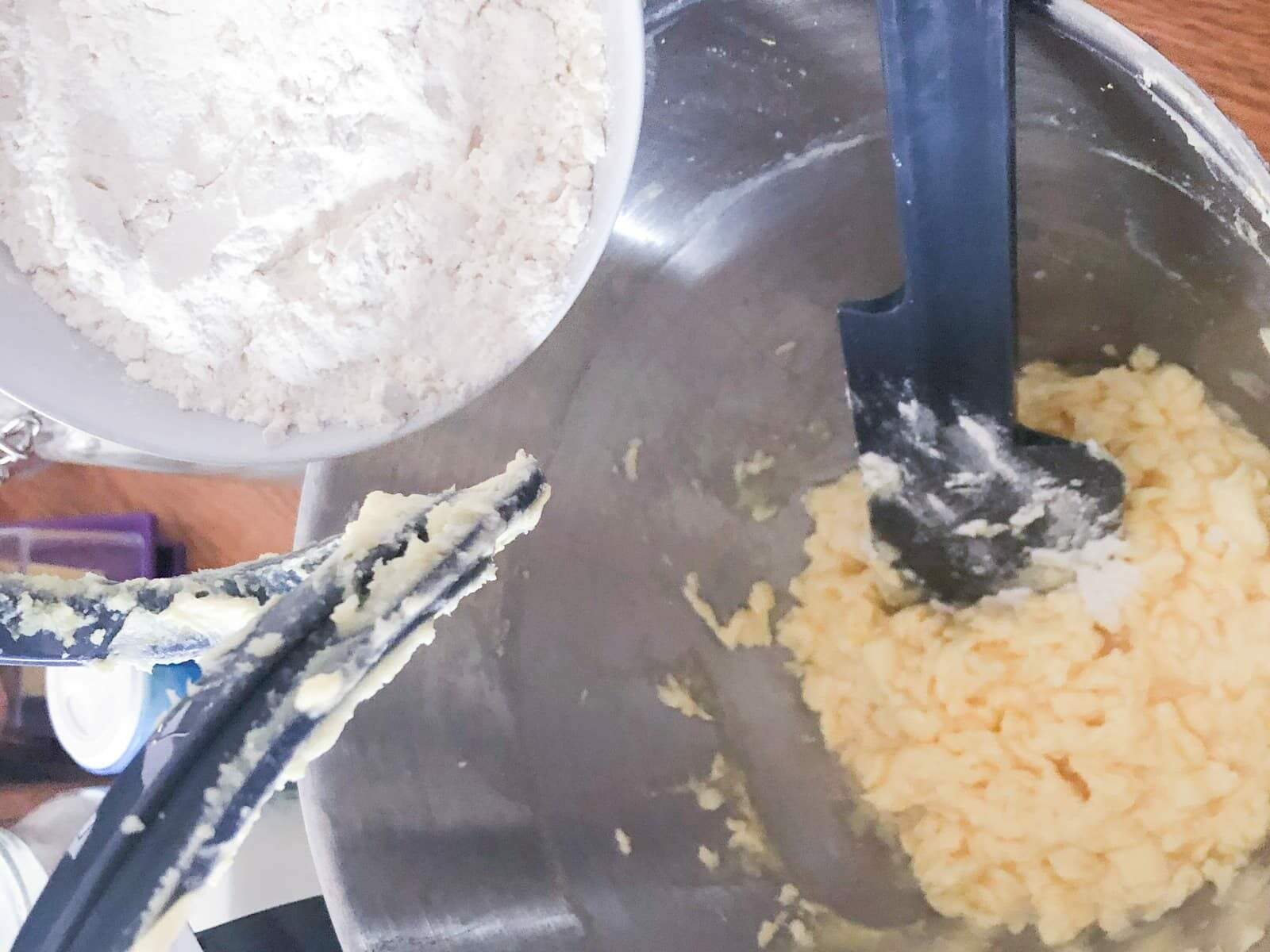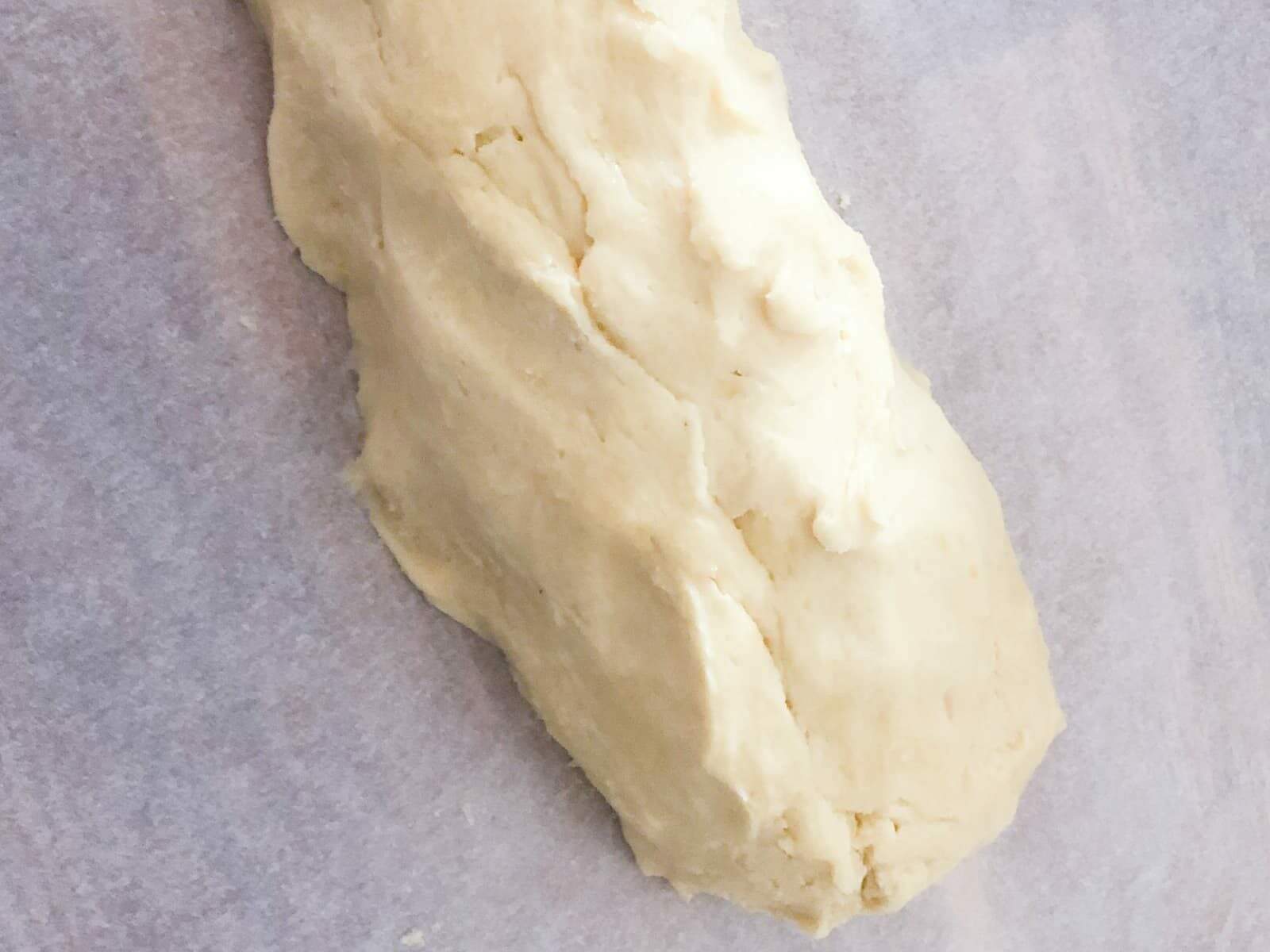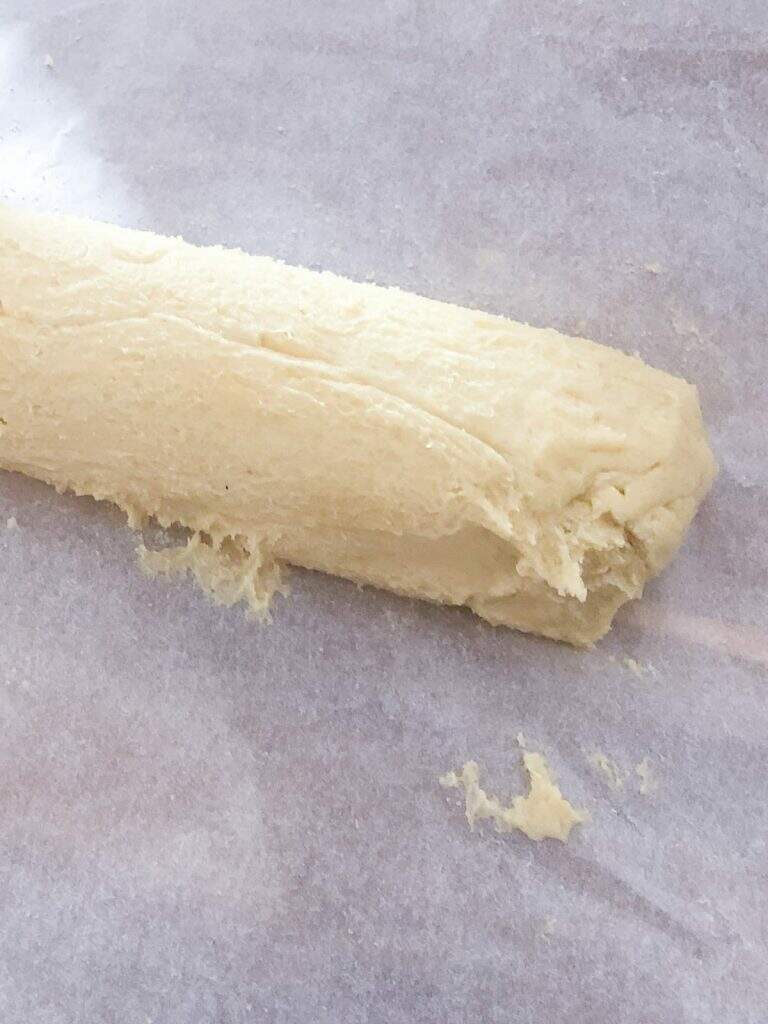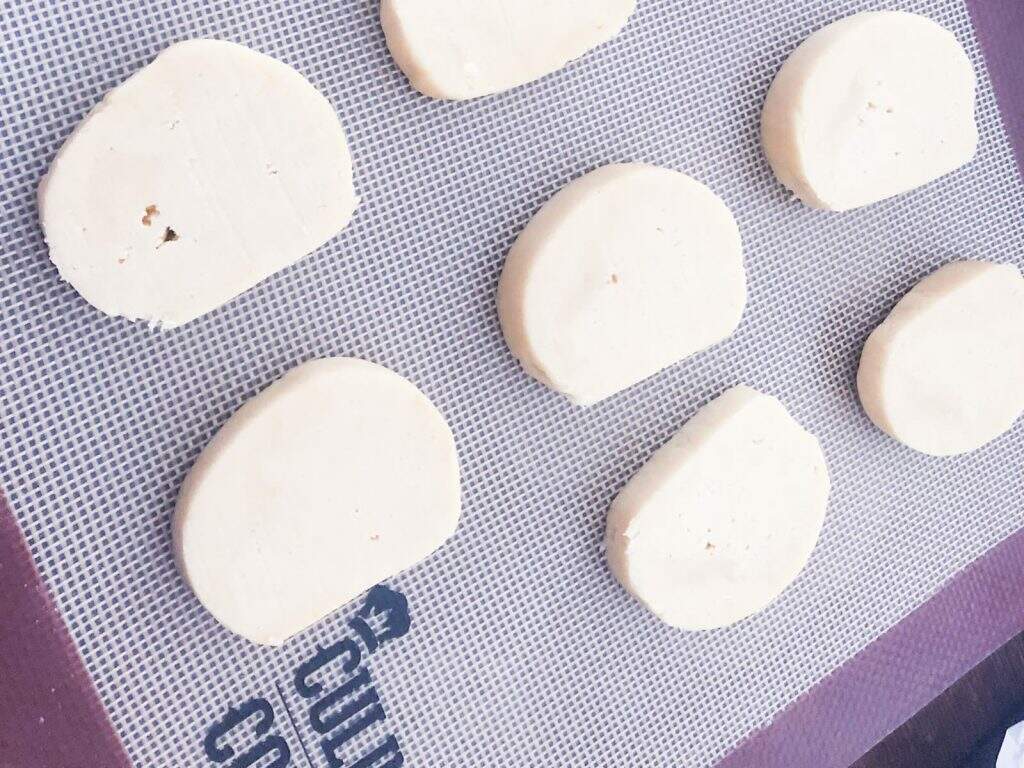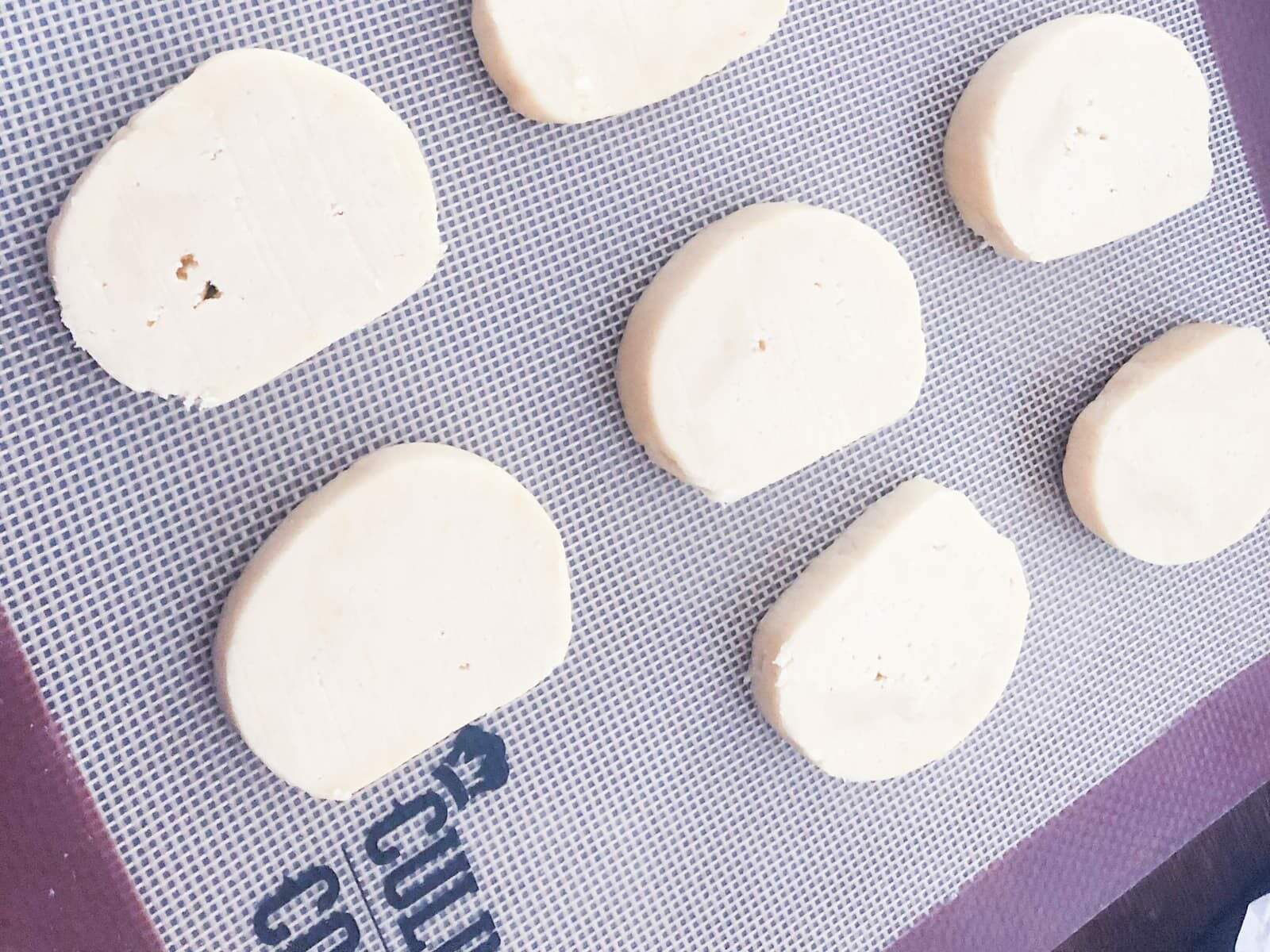 Different flavour combinations:
There is no complexity to this biscuit, using this easy butter biscuit recipe as a base, you can mix up the flavours to swap the flavours as you see fit.
The lemon can be easily substituted with other citrus flavours. Both orange or lime zest are a great alternative and would make a delicious biscuit.
However, don't be limited by thinking you can only use citrus flavours. Replace the zest entirely with chocolate chips or a tablespoon of cocoa powder, for a chocolate butter biscuit.
Another great option is to add nuts, chopped hazelnuts or almond would be a great choice.
Whilst we like the biscuits baked simply you could also dip them in melted chocolate or sandwich two together with butter cream. Make the biscuits your own and get creative!
Can you prepare lemon butter biscuits ahead of time?
These biscuits are great to make up in advance. Prepare the dough, roll it into a log, wrap it in baking parchment and place it in the fridge overnight. When you are ready to bake, simply remove them from the fridge, cut and bake as per the recipe card.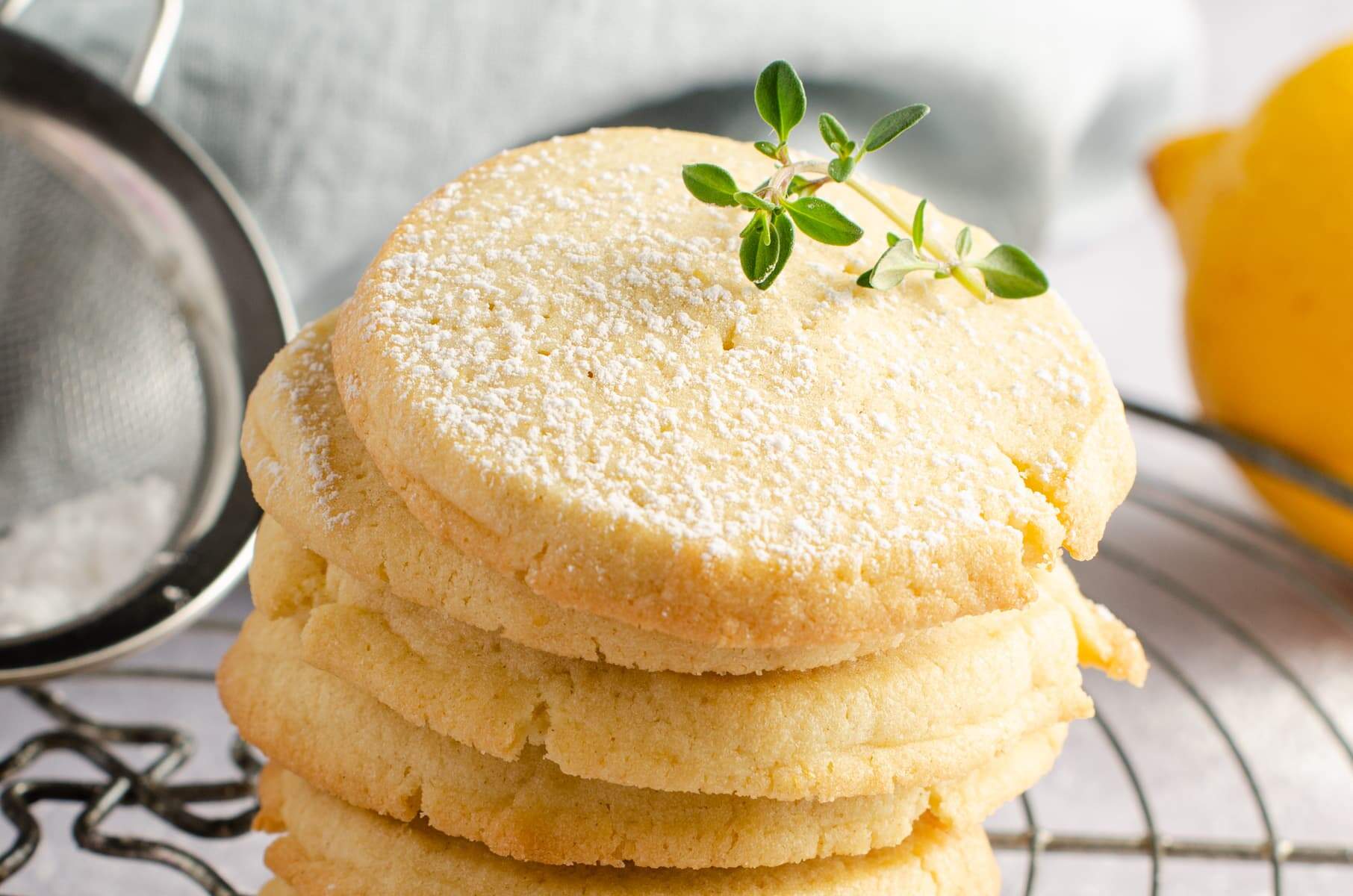 Can you freeze lemon biscuits?
The dough also freezes really well so I very often make a double batch of dough. One to enjoy now, one to put away and enjoy at a later date.
Once you have made the dough, roll and shape into an oblong then pop into the fridge for an hour to set. Once it is set, you can easily cut the dough into 1cm slices.
Place the slices of dough in a single layer in a suitable lidded box, ready for freezing. If freezing multiple layers, place a sheet of baking parchment between each layer of lemon biscuit. This will stop them sticking together and will make baking far easier at a later date.
When ready to bake simply remove from the freezer and cook directly from frozen. Simply increase the cooking time by 2-4 minutes when cooking from frozen.
What can I do with leftover lemon juice?
This recipe requires the zest of 3 lemons. Once the zest has been removed from the lemons they can dry out. I hate to see anything go to waste, so instead juice the lemons and pour the lemon juice into an ice-cube tray and pop in the freezer. Once frozen, remove from the trays, pop into a bag, label and return to the freezer. One cube is roughly the juice of 1/2 a lemon. I use these frozen lemon cubes in cooking, for marinades, or in a cheeky G&T!
Pin the recipe: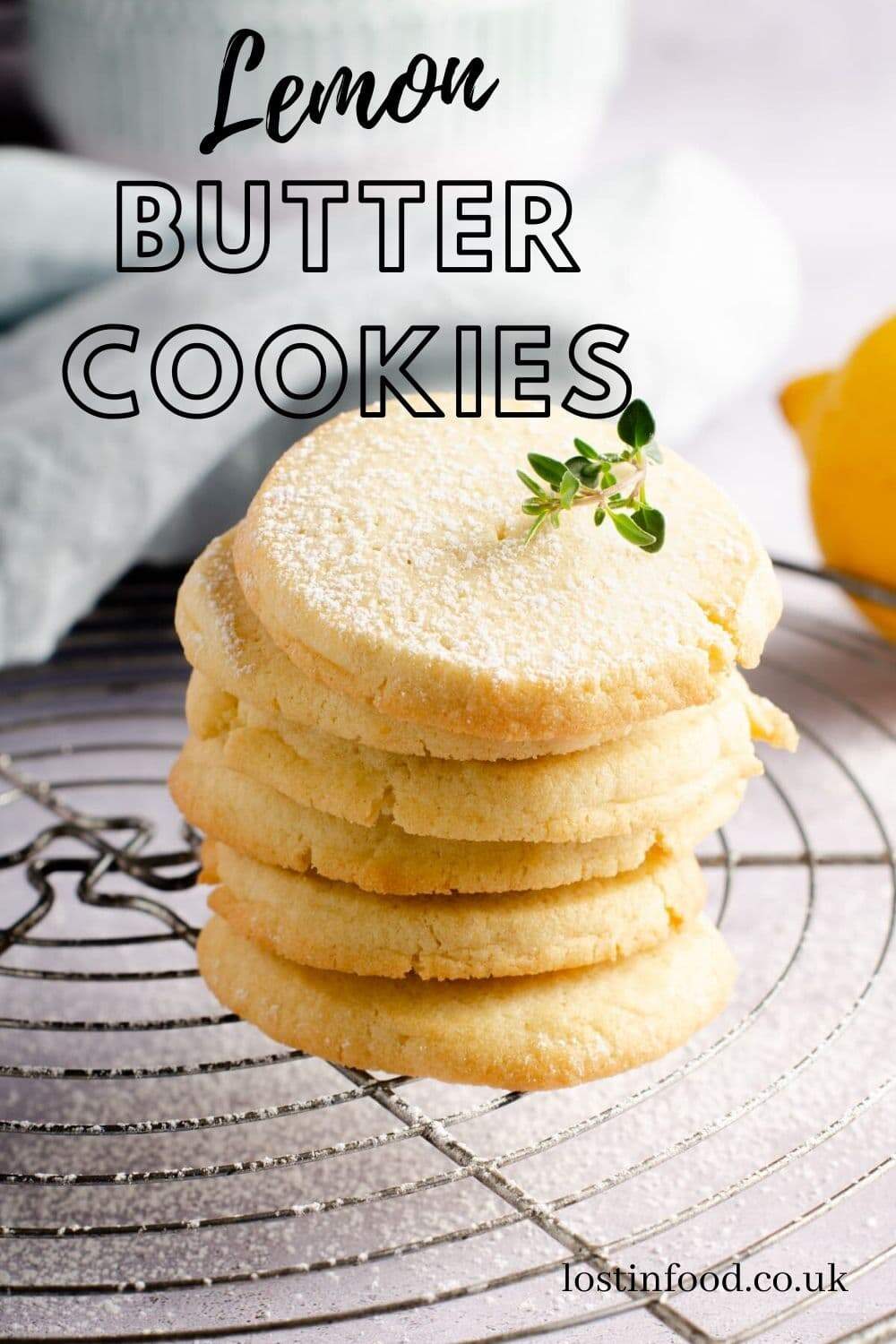 Additional recipe suggestions:
We like to pair this biscuit with our Lemon Posset, a simple but refreshing dessert. One that's ideal for warm Summer evenings.
For other simple biscuit bakes try some these recipes:
These delicious biscuits are all simple to make, and a great place to start of you are baking with kids. If you enjoyed this bake have a look at our Ultimate Guide to Baking with Kids, full of great recipe suggestions, hints and tips for baking with children.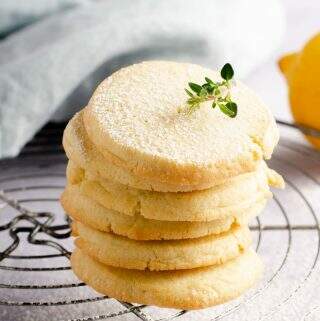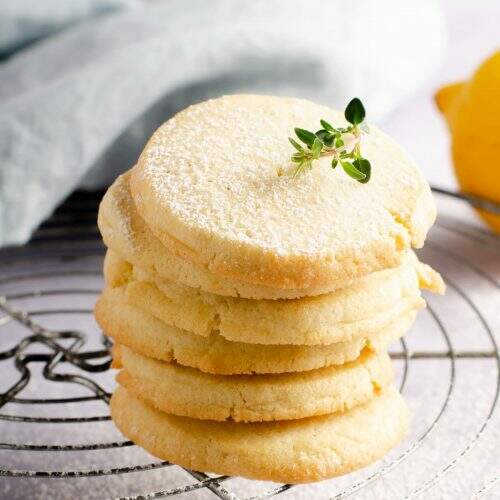 Lemon Butter Biscuits
Lemon butter biscuits, delicious melt in the mouth biscuits fragrant with lemon. A simple bake making them a perfect afternoon tea treat.
Print
Pin
Save
Saved!
Ingredients
100

g

caster sugar

130

g

unsalted butter

(block of butter only – at room temperature)

3

zest of lemons

(finely grated)

pinch of salt

1

large free-range egg

200

g

plain flour
Instructions
Place the sugar, butter, lemon zest and salt in a large mixing bowl and cream together until light and fluffy.

Add in a beaten egg and stir well to combine, before adding the flour and mixing to a stiff dough.

Place the dough on a sheet of baking paper, it will be a little sticky. Use the baking parchment to help you to form the shape of a log. Roll into a biscuit sized oblong shape, approximately 5cm in diameter and wrap up in the baking paper.

Place the dough in the fridge for 1-2 hours, until it has formed a solid block that you can slice. Or store in fridge overnight if preparing in advance.

When ready to bake, remove the dough from the fridge, remove the paper and cut into 1cm slices. Place the biscuits onto a lined baking tray.

Bake the biscuits for 10 minutes at 180CFan. Once baked place on a wire rack to cool.
Notes
DO NOT use margarine or spreadable butter in this recipe as it will not set the dough. You need to use a block of butter if you want to achieve a stiff dough that you can roll into a log.
These simple biscuits are easily adapted to incorporate other flavours. Replace the lemon zest with orange for an orange flavoured biscuit. Add chocolate drops to the butter mixture and created chocolate chip biscuits.
The dough also freezes really well. Once you have made the dough, roll into an oblong and cut into 1cm slices. Place the slices in a single layer in a box, place a sheet of baking parchment between biscuits if freezing more than one layer. Take out and cook from frozen, simply increase the cooking time by 2-4 minutes.
Nutrition Facts
Lemon Butter Biscuits
Amount Per Serving
Calories 110
Calories from Fat 54
% Daily Value*
Fat 6g9%
Cholesterol 22mg7%
Sodium 4mg0%
Potassium 36mg1%
Carbohydrates 14g5%
Protein 2g4%
Vitamin A 178IU4%
Vitamin C 9mg11%
Calcium 9mg1%
Iron 1mg6%
* Percent Daily Values are based on a 2000 calorie diet.
• Please note that the nutrition information provided above is approximate and meant as a guideline only •
Share on Facebook