Homemade Bolognese sauce is a simple pasta sauce that's easy to prepare and can be made ahead of time, making it an ideal mid week dinner dish for busy families.
Homemade Bolognese sauce is such a simple pasta sauce, and one of those dishes that many of us make regularly. Generally speaking it's one of those easy dinner dishes that the whole family will eat.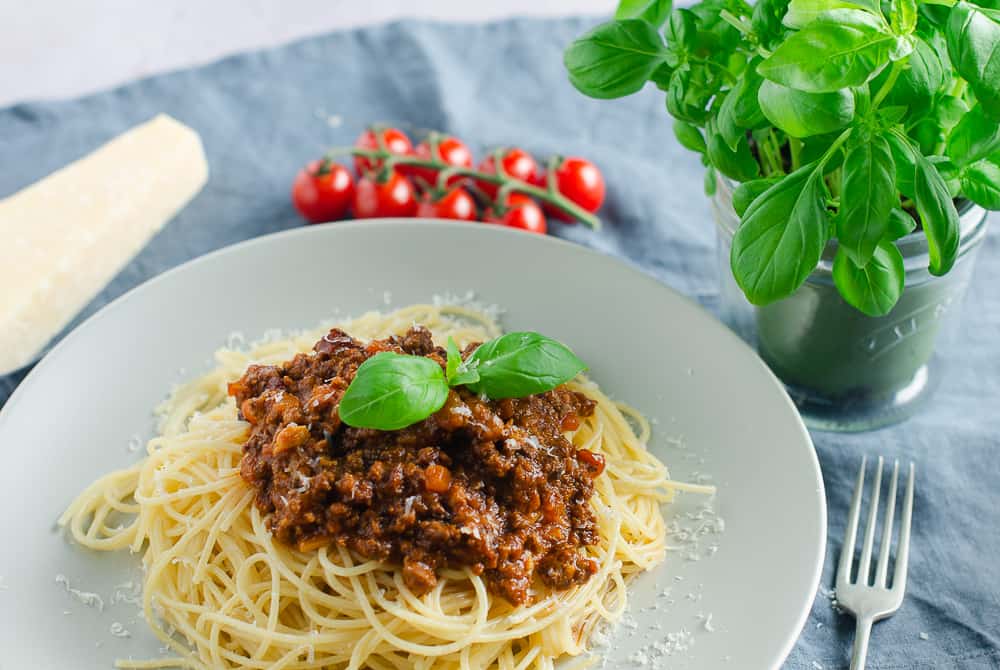 A meat sauce with some fresh cooked pasta, shave over some parmesan and voila! A family dinner that everyone enjoys without complaint.
This is the best version of Bolognese sauce that I've ever made. In fact it's not really my recipe at all, but my husband's. My husband is not the most confident cook, he doesn't cook that often. However what we as a family all agree upon is that he makes the best spaghetti Bolognese sauce. Yes, better than mine!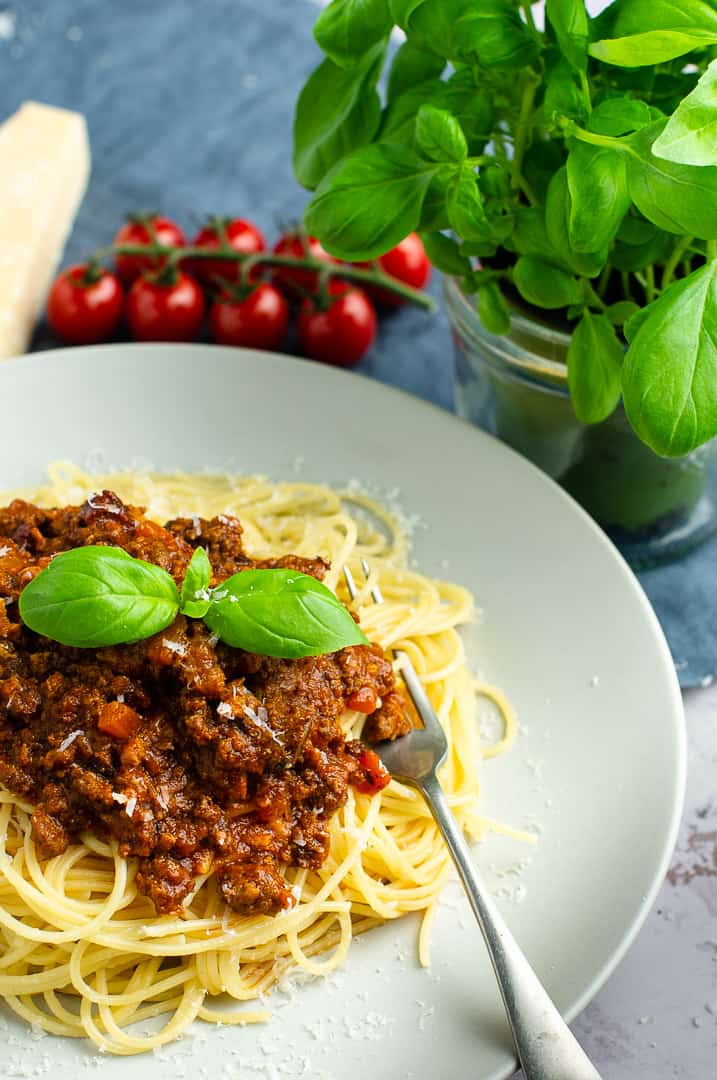 How to make Bolognese sauce?
Use a combination of pork & beef mince in your meat pasta sauce!
Homemade Bolognese sauce is a lot easier to make that you might think. First up, I recommend using equal portions of both beef and pork mince. This combination makes a huge difference flavour-wise.
We've tried using beef on it's own, but it doesn't have the same depth of flavour as you do when combining beef and pork.
Use high quality meat!
As with all dishes, the quality of the produce you cook with makes a huge difference to the finished dish. We buy our mince from Donald Russell as Michelle has always raved about their mince and now I know why.
In fact on the odd occasion when I've run out and don't use their mince, my family will ask "who's beef is this, it's not so good" as they can taste the difference.
Take your time to brown the mince!
This step is absolutely critical and makes the difference between a good homemade Bolognese sauce and a great spaghetti Bolognese sauce!
Take your time when browning the mince, don't be tempted to rush this stage. Place the mince into the pan in batches and brown thoroughly, before removing from the pan and starting on the next batch.
By browning the meat this way you will impart more flavour into the meat sauce.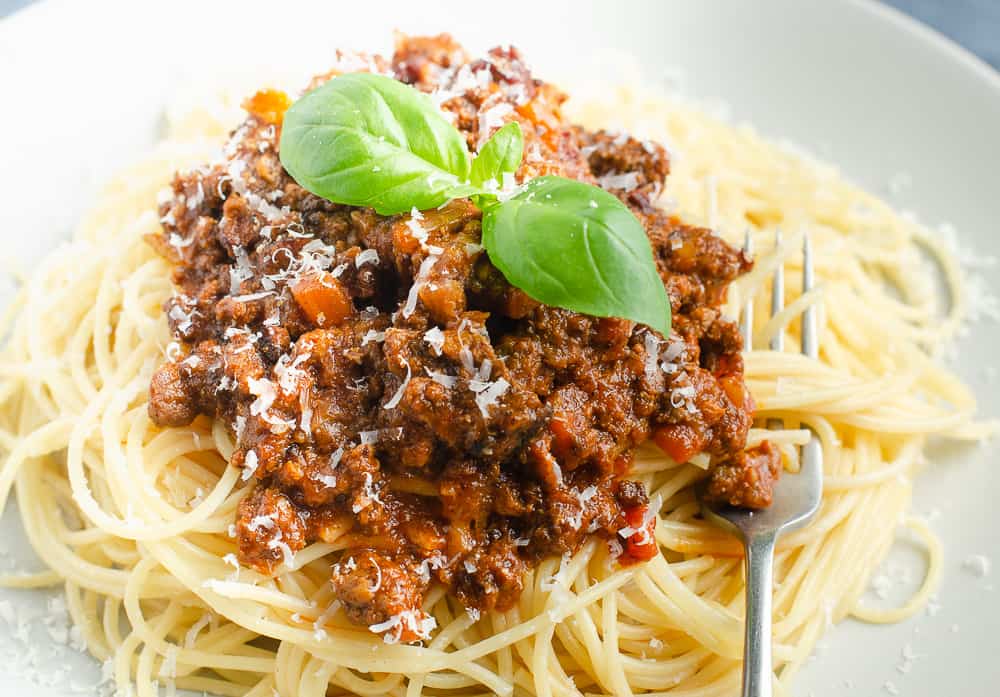 Recipe substitutions:
Meat:
As mentioned above and in the recipe card, this recipe suggests using a 50:50 mix of both pork and beef mince. However, if you would prefer you can just use 100% beef mince instead.
The recipe also uses cubes of smoked pancetta. However, if you can't get your hands on smoked pancetta a good smoked streaky bacon would be a good substitute in this spaghetti Bolognese sauce.
Vegetables:
Onion, garlic, celery and carrot form the base of the sauce. I would try not to leave anything out here as this combination of vegetables add a good base flavour to the sauce.
I use passata which are smooth, sieved tomatoes in this easy Bolognese sauce. However, you could substitute with fresh tomatoes or tinned plum tomatoes instead.
Can I make easy Bolognese sauce in advance?
This meat pasta sauces really does benefit from being made a day in advance. As with most meat based dishes, by allowing the sauce to sit overnight it will impart more flavour into the sauce.
Make this sauce up to 2 days ahead. Simply cool the sauce once cooked, cover the pan and place it in the fridge until you are ready to eat.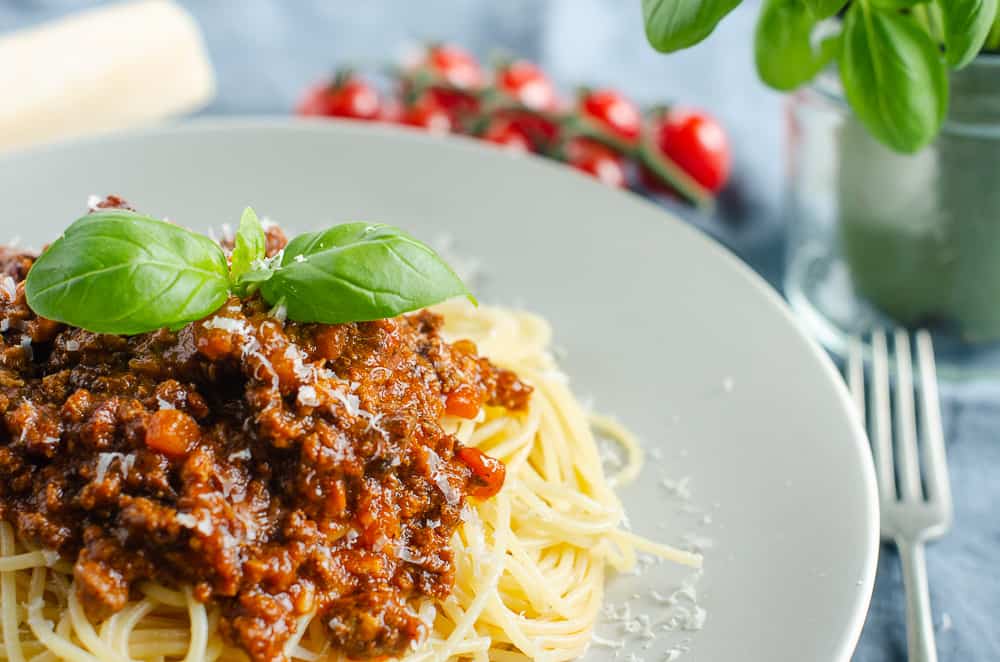 What other ways can I serve this sauce?
We have served this sauce with spaghetti, however it works well with all types of pasta. Tagliatelle and linguine are great substitutions for spaghetti. However, penne or fusilli would also work with this easy Bolognese sauce.
For something a little different is also works really well with some gnocchi. Simply cook the gnocchi and stir it through the sauce and serve!
This homemade Bolognese sauce also works works really well in an oven baked lasagne dish. Simply layer the sauce between lasagne sheets, alternating with a thick béchamel sauce, cover with grated cheese and bake in the oven.
Can I freeze Bolognese sauce?
This sauce freezes really well and for that reason I tend to double the recipe up, allowing me to freeze some for a quick midweek dinner at a later date, or to make the lasagne suggested above.
Pin the recipe: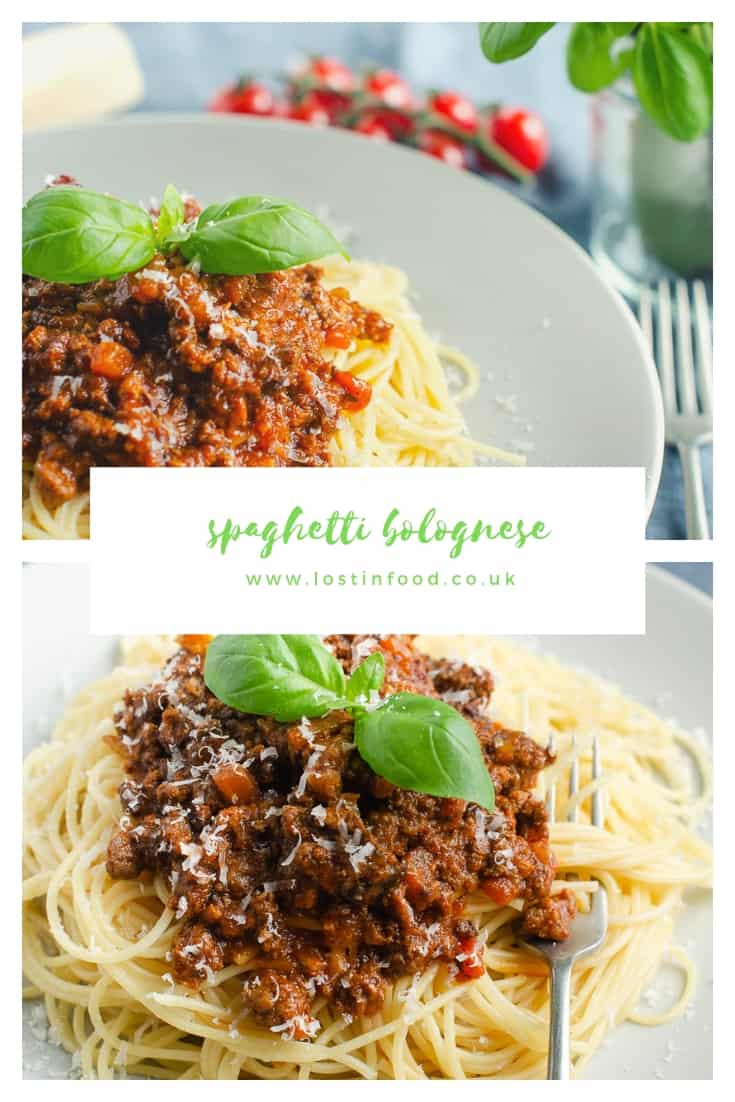 Additional recipe suggestions:
If you like this recipe then why not try some of our other great mid week dinner dishes for feeding the family:
Looking for inspiration for feeding the family mid week, then take a look at our Ultimate Guide to Family Dinners. Full of useful hints, tips and recipes.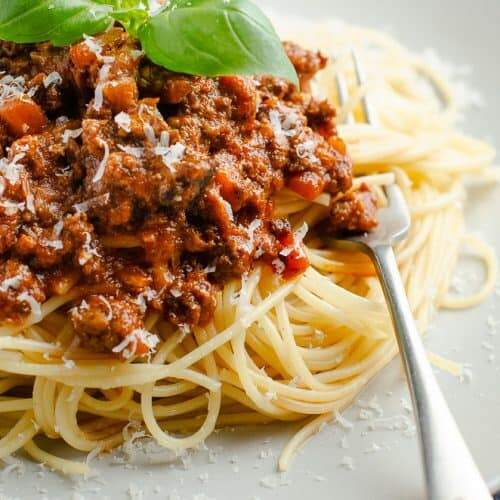 Homemade Bolognese Sauce
Spaghetti bolognese a simple dish that's easy to prepare and can be made ahead of time, making it an ideal mid week dinner dish for busy families.
Print
Pin
Save
Saved!
Ingredients
450

g

beef steak mince

450

g

pork mince

1

tbsp

olive oil

85

g

smoked pancetta

(cubed)

2

medium onions

(diced)

3

sticks celery

(diced)

3

medium carrots

(diced)

4

cloves garlic

(crushed)

250

ml

white wine

500

ml

passatta

1

Knorr rich beef stockpot

1

tsp

dried oregano

2

bay leaf

1

tsp

ground black pepper

salt
Instructions
Heat a large saucepan to a medium high heat. Add the steak mince and break up with a wooden spoon. Take care to brown it thoroughly as this is what gives the sauce a really meaty flavour. Remove the mince to a bowl.

Next add the pork mince to the saucepan and repeat the process, again ensuring you brown the meat really well. Remove the mince from the pan and add to the bowl along with the steak mince.

Now add the olive oil to the saucepan and fry the smoked pancetta until it is completely cooked and the fat rendered down, it will look a little crispy. Taking time at this stage to brown all the meat will ensure a better tasting sauce.

Add the onion, celery and carrots to the saucepan and continue to saute over a medium heat for around 5 minutes. During this process place the lid over the saucepan as this will help soften the vegetables and also remove any crispy bits from browning the meat. After all this is full of flavour and you want it in the sauce.

Now add the garlic to the pan and saute for a further minute.

Pour the passatta into the saucepan. Pour the wine into the passatta box, give it a swirl and this will remove any tomato juice left there. Add this to the saucepan.

Add the cooked meat back into the pan, along with the beef stock pot, oregano, bay leaves, black pepper and a little salt to taste (take care with the salt as the smoked pancetta is salty). Stir thoroughly to combine.

Simmer gently on a low heat with the lid on for 30 minutes, stirring occasionally to avoid sticking. Check seasoning before serving with the pasta of your choice.
Notes
As with all meat based sauces, they do benefit flavour-wise by sitting. Make the sauce the day before you need it and leave it to sit in the fridge overnight. This really allows the flavours to develop in the sauce.
This sauce freezes very well, as it is really easy to double up make twice the batch and freeze some for later.
Nutrition Facts
Homemade Bolognese Sauce
Amount Per Serving
Calories 424
Calories from Fat 261
% Daily Value*
Fat 29g45%
Cholesterol 87mg29%
Sodium 297mg13%
Potassium 750mg21%
Carbohydrates 12g4%
Protein 22g44%
Vitamin A 4145IU83%
Vitamin C 10.9mg13%
Calcium 51mg5%
Iron 3mg17%
* Percent Daily Values are based on a 2000 calorie diet.
• Please note that the nutrition information provided above is approximate and meant as a guideline only •
Share on Facebook