Smoked salmon pasta, a simple dish with few ingredients but one that is packed full of flavour. Quick and simple to cook making it an ideal mid week dinner.
Smoked salmon pasta is a regular dinner in our house, it's great on a busy week night. You know those nights where you've 15 minutes to get a meal on the table before everyone starts crying with hunger – yes we have all had those nights during the week!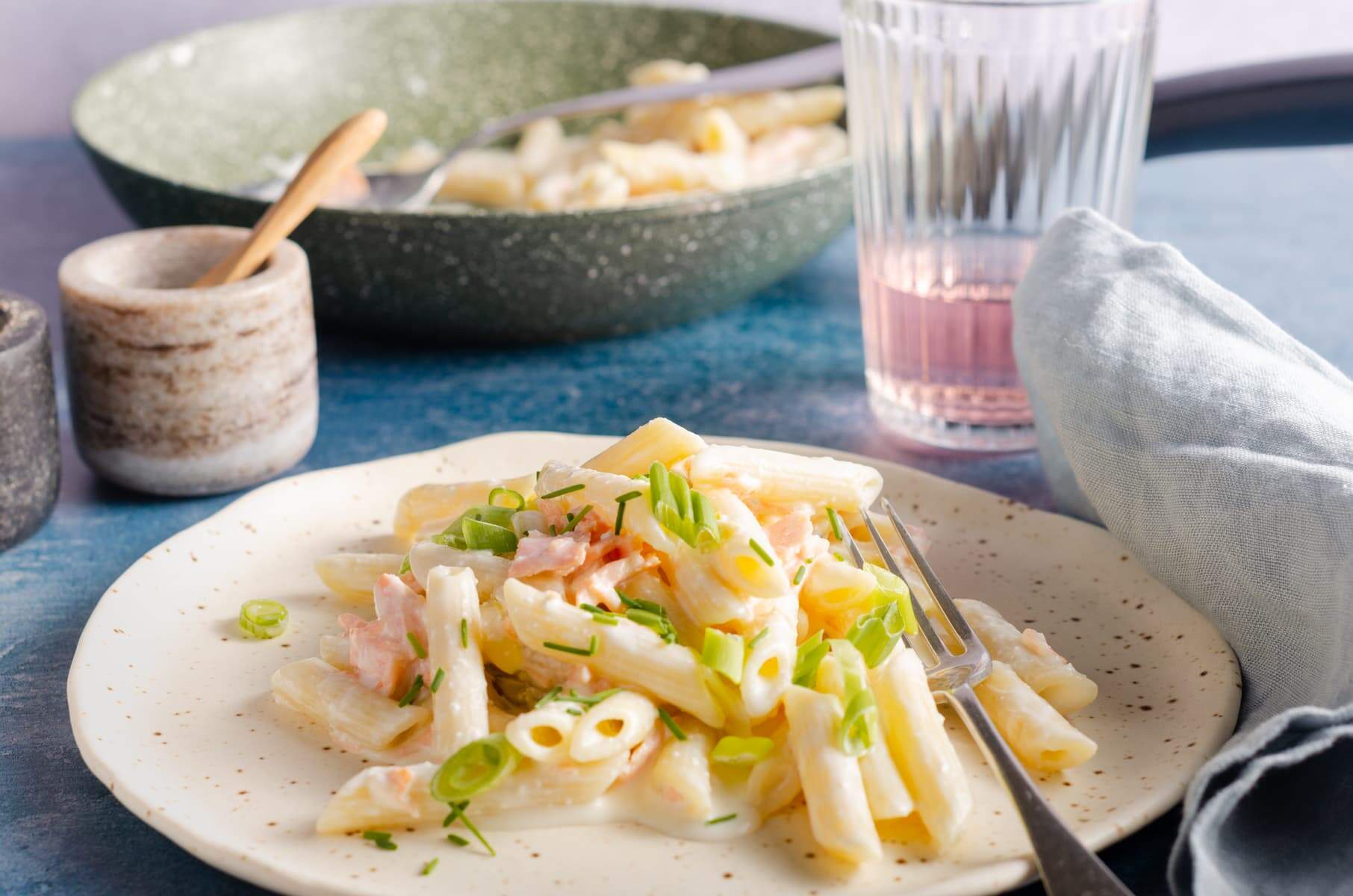 This smoked salmon and creme fraiche pasta recipe takes about as long to put on the table as it does to cook a pan of pasta.
The sauce being prepared and cooked, while the pasta boils away. You finish the dish once the pasta is done!
It also happens to be my children's favourite pasta dish and one they have scoffed without complaint since they were toddlers. Yes, even my fussy daughter, who admittedly eats a lot better now!
It also has the added bonus of getting more oily fish into the weekly diet.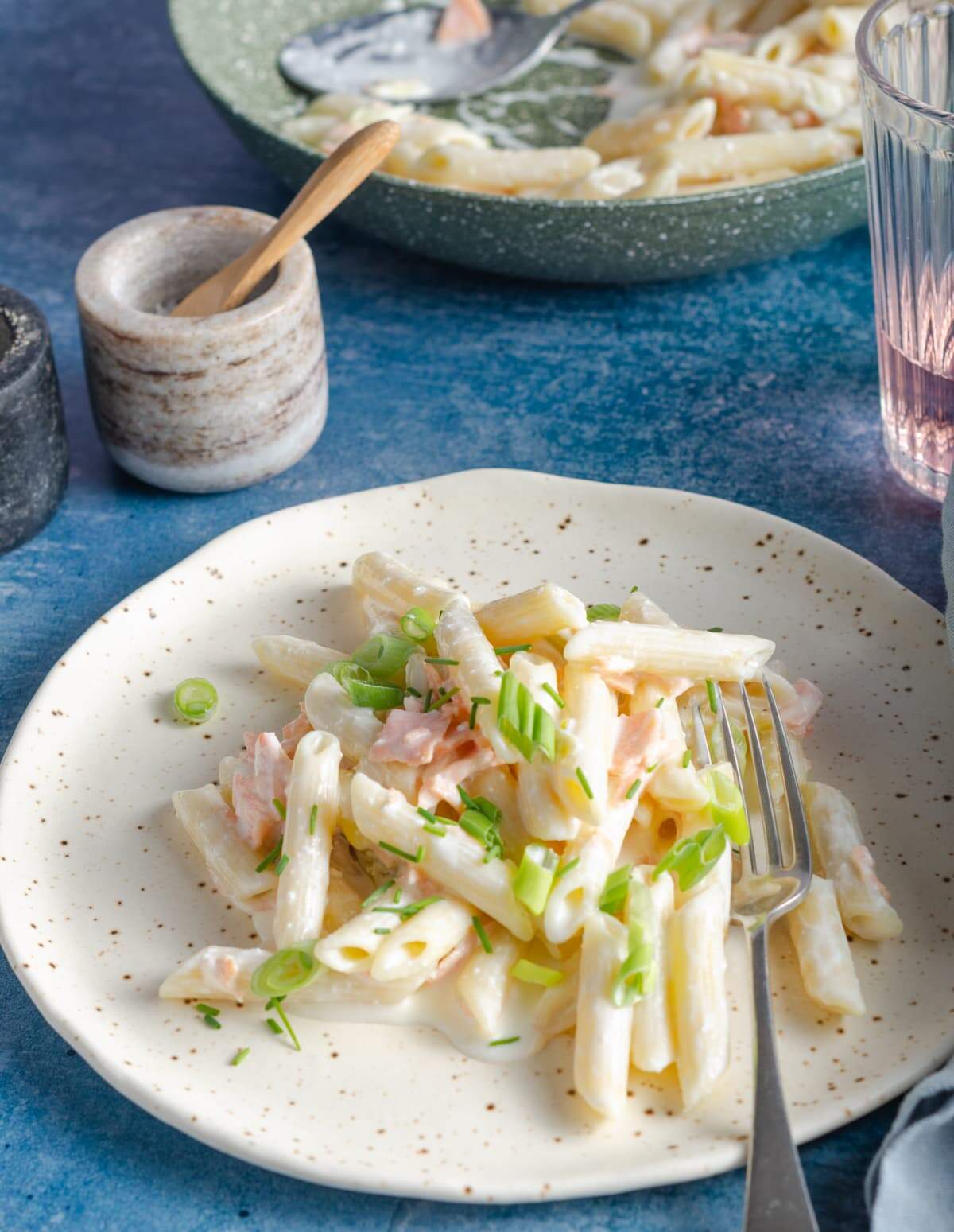 We have used penne pasta in this smoked salmon pasta recipes, however other pasta shapes will work just as well.
Linguine, spaghetti, fusilli will all fit with the dish. Use what you have in your store cupboards!
Recipe steps: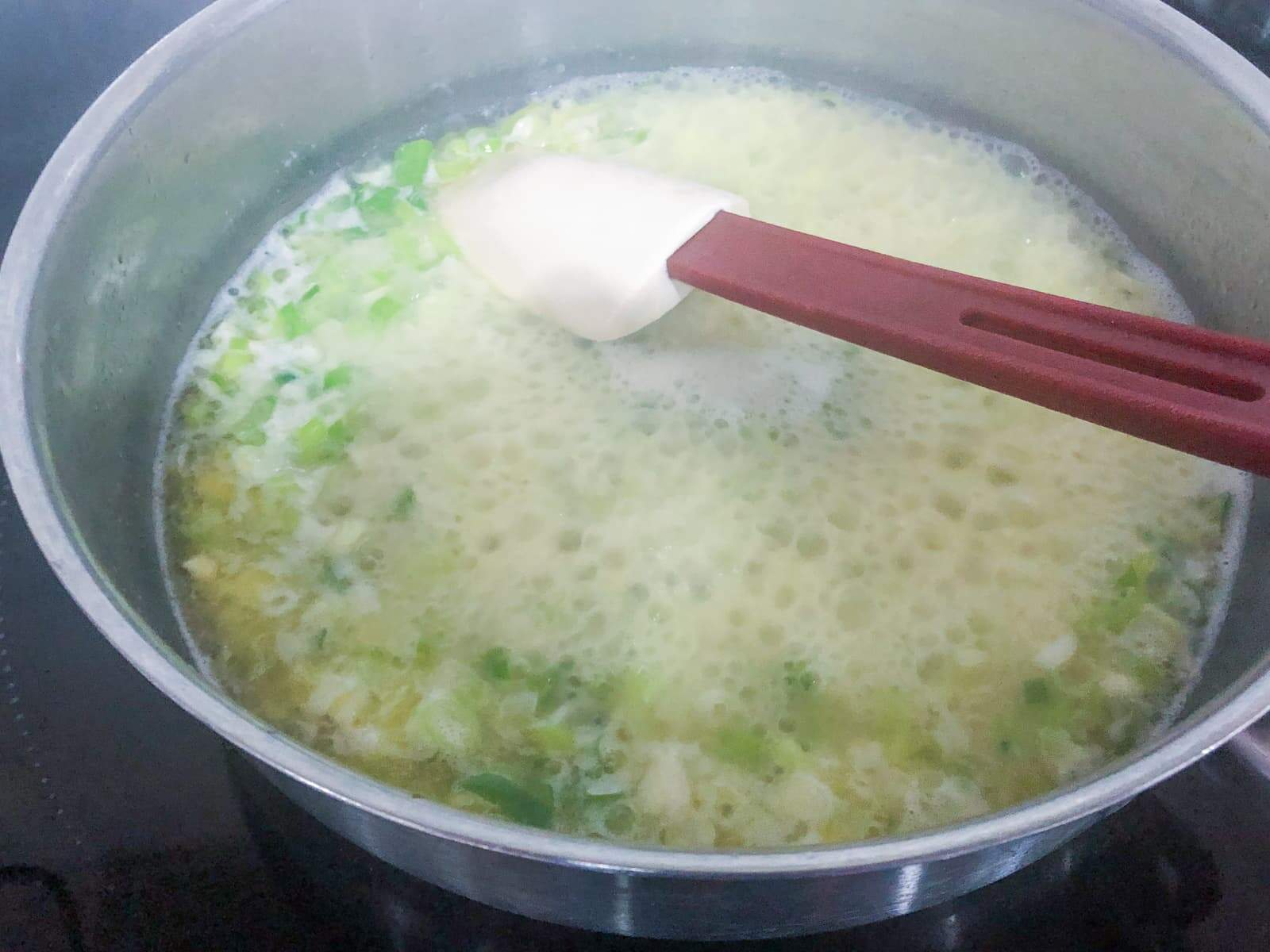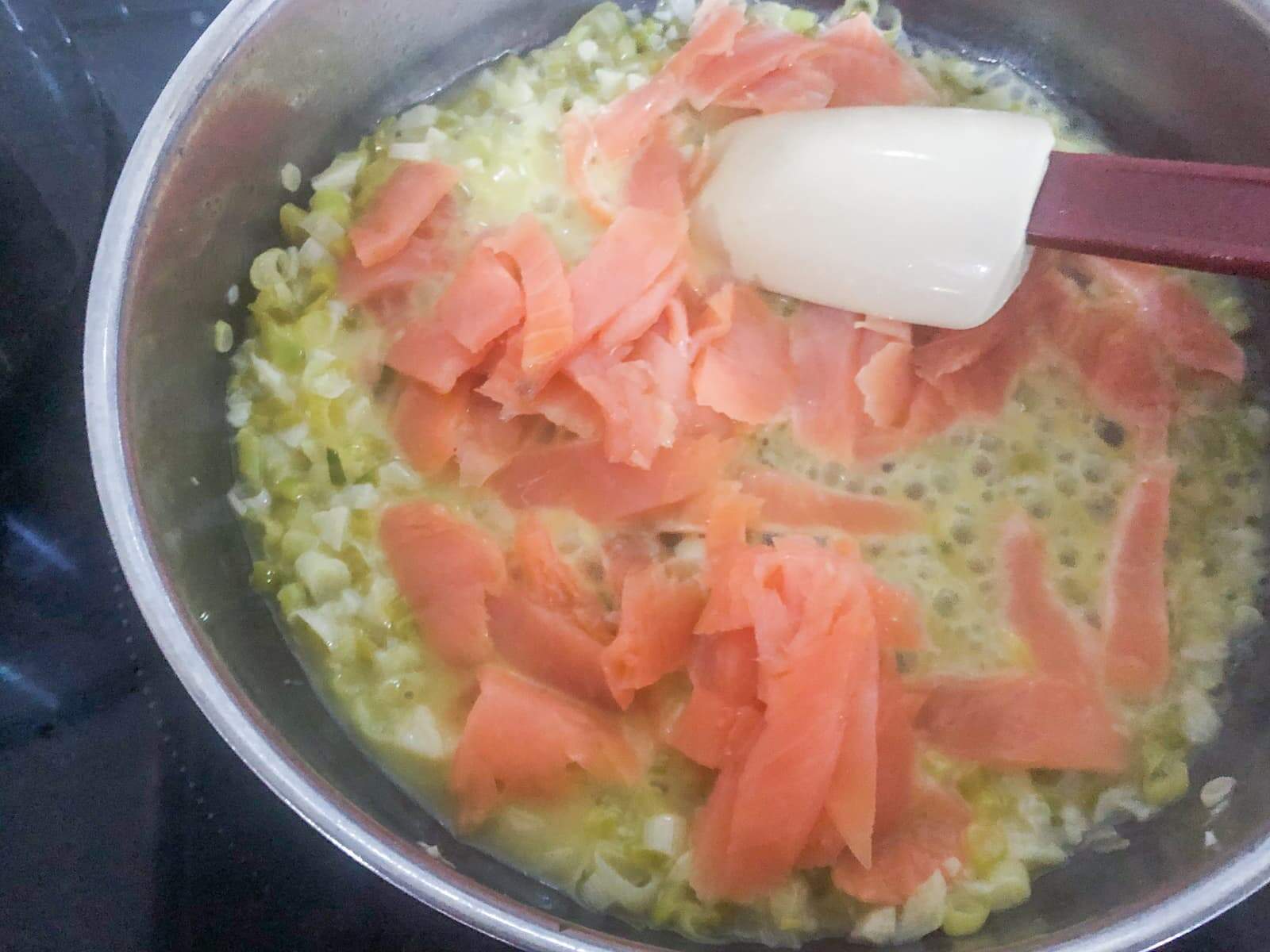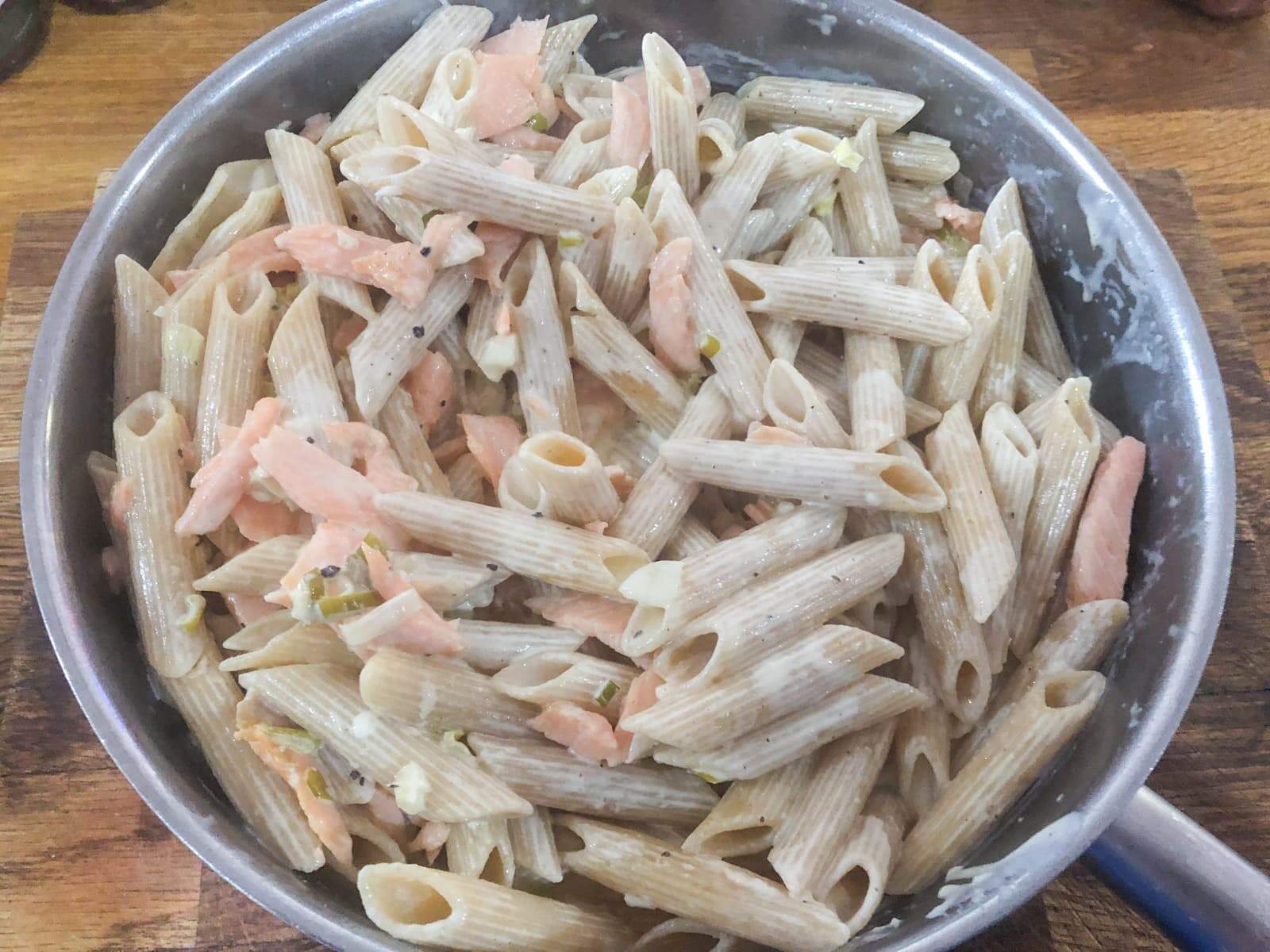 Can other fish be used in this recipe?
I have used smoked salmon in this dish, it's something I enjoy eating and I think it tastes great in a bowl of pasta.
However, it would also work well with hot smoked salmon or some smoked trout. Trout is another deliciously tasty oily fish, but with a slight lightness of flavour than salmon.
Either work lovely in the dish though, so its more a case of preference and what's available to you.
I would steer away from using white fish in this recipe, as I simply don't think the subtle flavour of white fish works with the creamy sauce.
When I'm cooking white fish like cod, haddock or hake, with pasta my preference is for a tomato based sauce with lots of fresh herbs like garlic, parsley and basil.
Likewise, when cooking shellfish like prawns, mussels, clams, my preference again is for a fresher tomato, garlic and herb based sauce.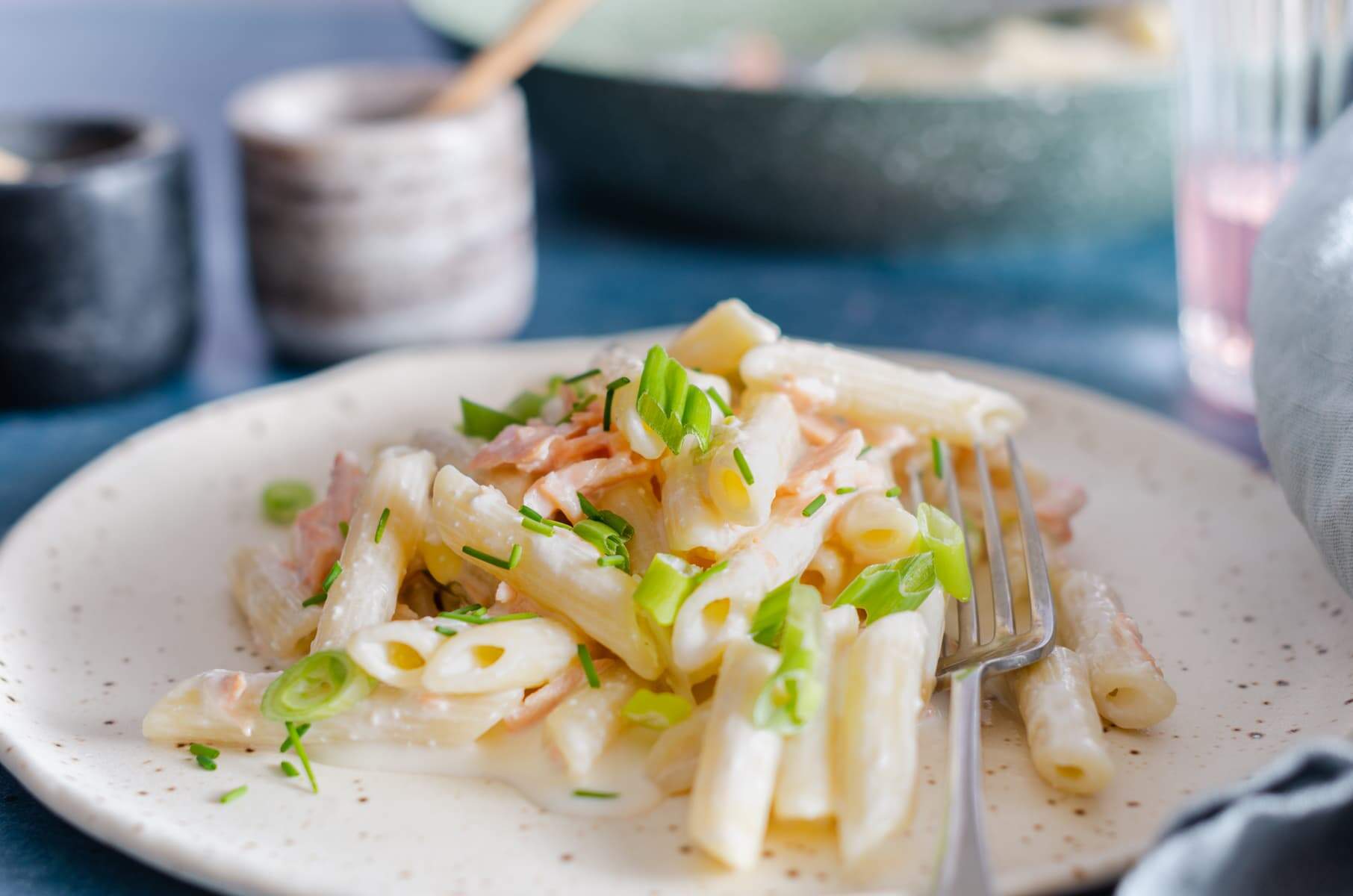 Do I have to use creme fraiche in this pasta recipe?
This smoked salmon & creme fraiche pasta recipe is how I like to make this bowl of pasta. Reduced fat creme fraiche add a slightly sour sharpness which works well in the pasta sauce.
This is my favourite way of cooking the dish as the creme fraiche cuts through the oily fish.
However, if you would prefer you can use full fat creme fraiche; single or double cream or even some sour cream.
I have used all these over the years, depending upon what I have in my fridge at the time and they all work. However, this smoked salmon & creme fraiche pasta recipe remains my firm favourite!
What other substitutions can be made?
I've mentioned the other fish you can use, but there are other simple substitutions that can be made to this pasta dish.
Onion flavour:
Firstly, I've used garlic and spring onion in this recipe for smoked salmon pasta. I like using this combination as it cooks quickly. However, you could substitute both with leek, onion or shallot, all would work well with the salmon.
It's worth softening these vegetables for just a little long in the pan, say 5-8 minutes, before adding the wine to the sauce. Not only will this soften the vegetables, but it will take away the rawness of flavour.
Fresh herbs:
For an added freshness towards the end, I've even added some fresh cut chives to the pasta just before serving.
You could also add some freshly chopped parsley, basil or dill, all of which work with the rich smoked salmon flavours.
Can I add lemon to the sauce?
I love lemon in any seafood dish, it's a great pairing of flavours. If you wish to add lemon add it just after you have reduced the wine in the pan, and before you add the creme fraiche.
However, I tend not to add lemon to the pasta sauce as not all my family enjoy the taste. Instead what I do is serve a lemon wedge on the side of the plate so that those who want the flavour of lemon can add as much or as little as they wish.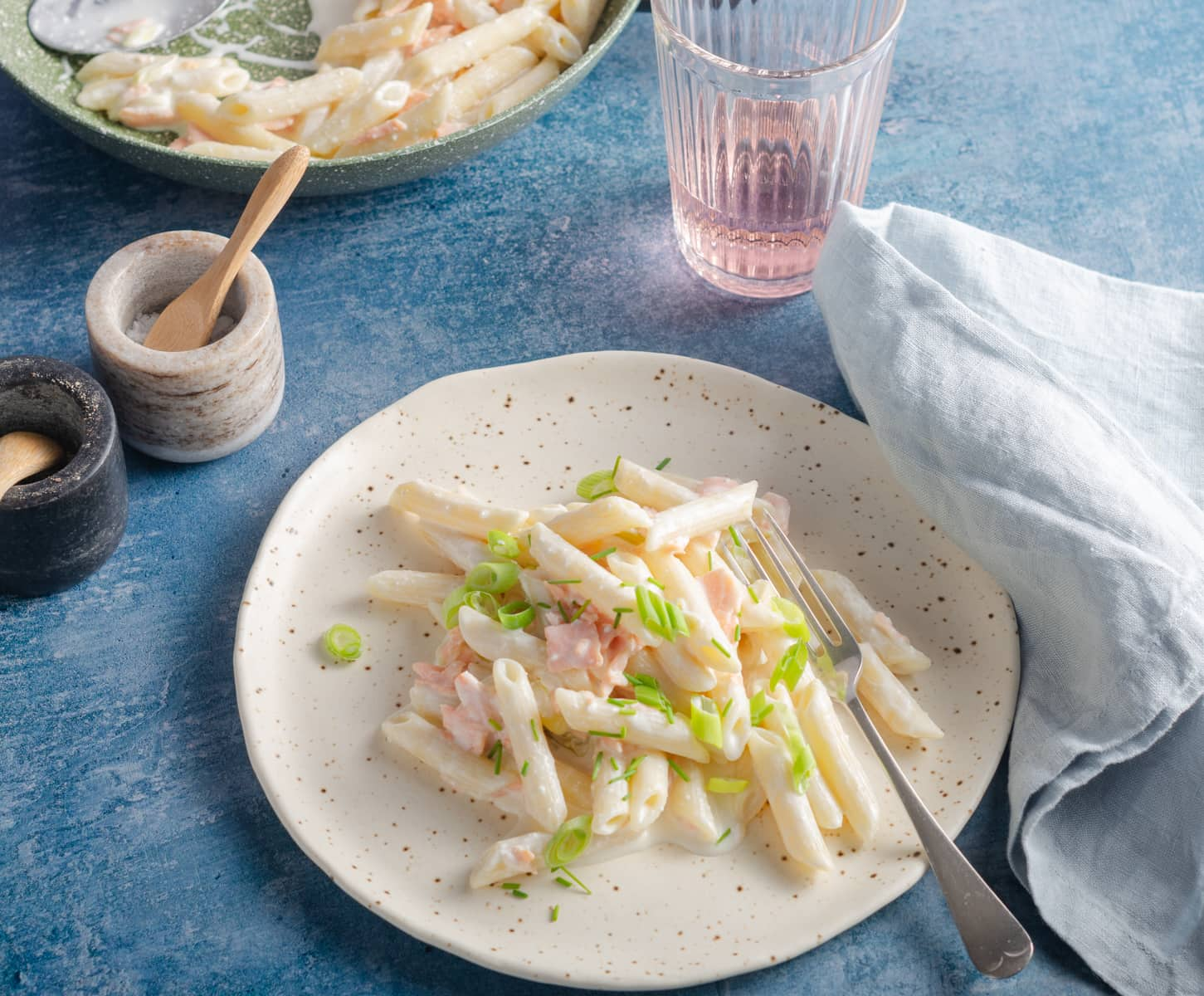 Can I add cheese to the pasta sauce?
Now here we could start some debate! Ask an Italian if they would pair cheese with fish and the answer is likely to be no! In this particular instance I tend to agree.
Seafood and cheese really don't pair well together; with the former tasting light and subtle; the latter heavy and pungent!
I am of the opinion that the robust flavour of cheese, particularly something strong like Parmesan, will simply overpower the flavour of the fish. I don't grate Parmesan over the top of my smoked salmon pasta, nor do I add any cheese when cooking the sauce.
The beauty of this dish is the smoky flavour of the salmon coming through, something that you can ruin by adding cheese.
However, as with most things, if you want to add a fine grating of Parmesan cheese, then do so. After all, you are the one eating the dish so you should enjoy it any way you like!
Can I make this pasta dish in advance?
This is one of those dishes that benefits from being cooked and served immediately. If left to sit, this sauce will split and the pasta becomes chewy. It is not a dish that I recommend heating up either as the pasta will solidify in the sauce.
This is definitely one of those dishes best eaten freshly cooked!
Pin the recipe: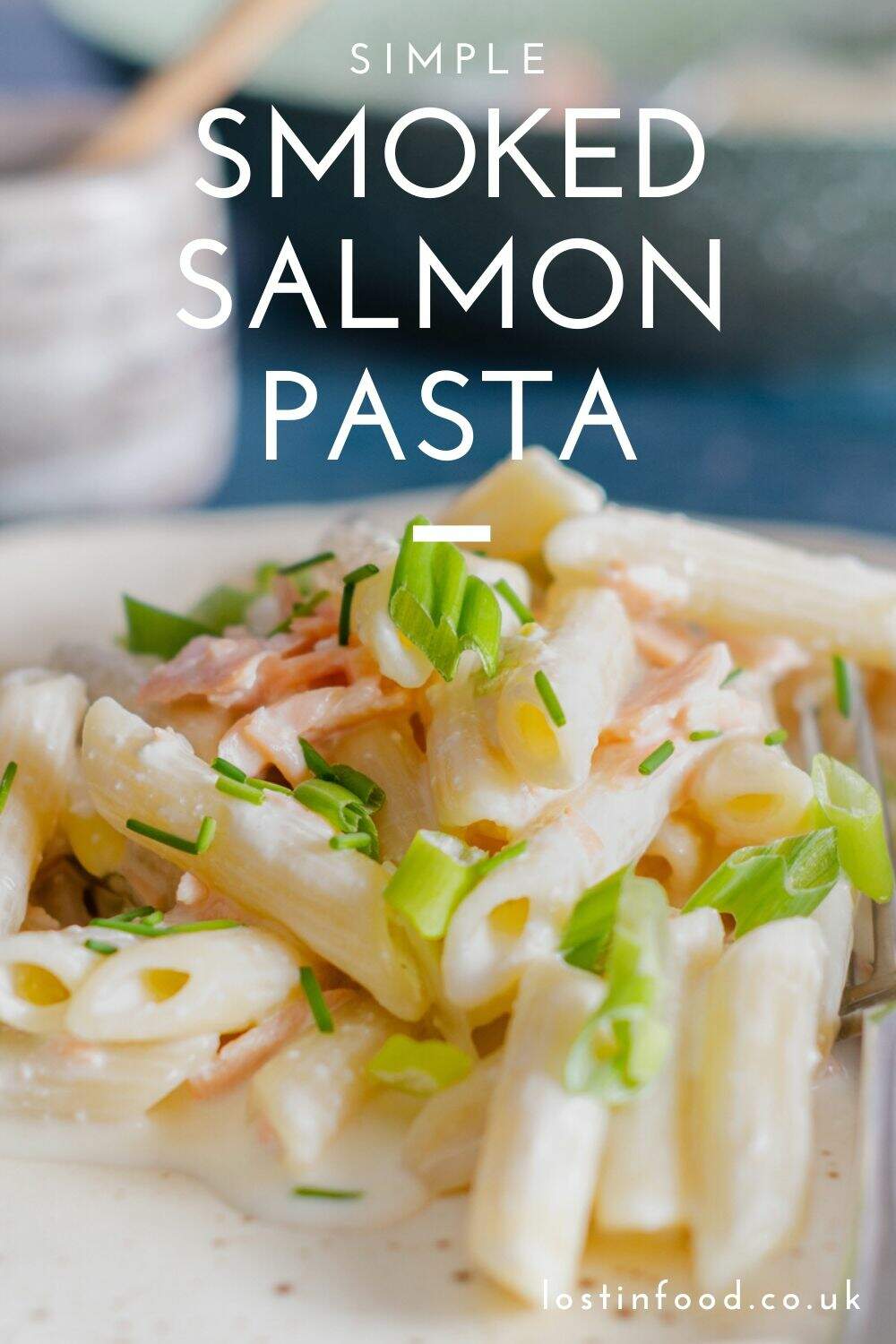 Additional recipe suggestions:
If you like this recipe then try our other great pasta dishes for feeding the family:
Some other suggestions for mid week dinners that are quick and easy to make then try some of these recipes:
Looking for inspiration for feeding the family mid week, then take a look at our Ultimate Guide to Family Dinners. Full of useful hints, tips and recipes.
Smoked Salmon Pasta
Smoked salmon pasta, a simple dish with few ingredients but one that is packed full of flavour. Quick and simple to cook making it an ideal mid week dinner.
Print
Pin
Save
Saved!
Ingredients
300

g

dried pasta

20

g

butter

1

bunch of spring onions

(sliced)

2

cloves

garlic

(crushed)

180

ml

dry white wine

300

ml

reduced fat creme fraiche

200

g

smoked salmon

(cut into ribbons)

salt & pepper
Instructions
Place the pasta of your choice in a pan of salted boiling water and cook as per packet instructions to al-dente. Drain the pasta, leaving a little of the cooking liquor, and leave to the side the sauce is ready.

Meanwhile, over a medium heat, melt the butter in a large frying pan and add the spring onions and garlic, saute gently for a minute then add the white wine to the pan. Increase the heat and reduce the wine by two-thirds.

Add the creme fraiche to the pan, stir to combine then add the smoked salmon, stir to combine before adding the cooked pasta to the pan. If the sauce is too thick add a little of the pasta cooking liquid. Season with salt and pepper and serve immediately.
Notes
You can substitute the crème fraiche with either sour cream, double or single cream if that is all you have that to hand.
Serve a wedge of lemon on the side of the bowl for those diners who would enjoy adding a fresh squeeze of lemon.
Nutrition Facts
Smoked Salmon Pasta
Amount Per Serving
Calories 538
Calories from Fat 171
% Daily Value*
Fat 19g29%
Cholesterol 22mg7%
Sodium 435mg19%
Potassium 287mg8%
Carbohydrates 61g20%
Protein 22g44%
Vitamin A 198IU4%
Vitamin C 1mg1%
Calcium 28mg3%
Iron 2mg11%
* Percent Daily Values are based on a 2000 calorie diet.
• Please note that the nutrition information provided above is approximate and meant as a guideline only •
Share on Facebook